11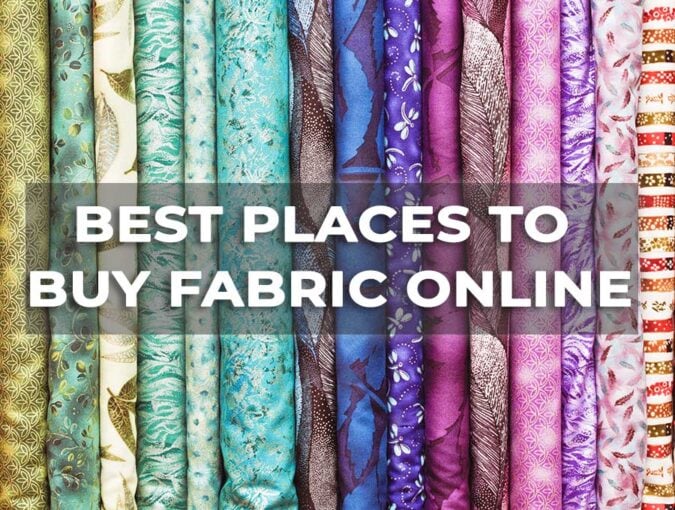 Best Places to Buy Fabric Online in the US, CA, UK, and AU
I love online fabric stores as I can shop at any time, from the morning with a steaming cup of coffee at hand, to late into the afternoon and evening as the shadows lengthen, with a glass of red wine to relax, as I ponder the color and textures of the latest ranges, and how I'm going to use them. The last eighteen months have seen a massive up-tick in buying online. Right at the point when we have the time to try out all those sewing projects that have been in the 'mind cloud', we have also often been unable to access our favorite in person fabric stores, where we have been used to feeling the fabric and seeing how pattern combinations would work. So before I tell you which I believe are the best places to buy fabric online, let me give you a few tips and words of advice before you go shopping.
From inexpensive picks at tried-and-true places to resources for higher end, designer-favorite brands and handmade fabrics you won't find anywhere else, these are some of the best places to buy fabric online. It doesn't matter what your budget is, these online fabric stores are sure to have what you're looking for.
Why shop for fabric online?
The choice is far wider online than in your own home-town, and you don't have to get dressed up, negotiate traffic, find and pay for parking, or slog from one place to another to find the perfect fabric! In this article we bring you the top online shops for fabric across the US, Canada, the UK and Australia. The aim is to help sewists find online suppliers who have gained a reputation for their great fabric ranges, quick shipping and easy to negotiate sites. Many of the online fabric suppliers listed here will ship worldwide.
Tips for buying fabric online
Make sure you know exactly what type of fabric you need, and its qualities before ordering. If you are unsure read up on the fabric stats online.
Colors can look different on the screen to when you see them in real life. If you are going to be ordering quite a bit of fabric ask for samples. If a company won't offer samples, then buy the minimum amount in a particular fabric type so you can check how well it will work for the project you have in mind.
Check whether items are marked as color fast and whether they have been pre-shrunk. It is soul-destroying to invest time in making a garment or décor item and having the color run, or shrinkage after the first wash. Beware of tumble driers too – they are notorious for shrinking fabric.
If ordering internationally check first whether import tariffs will be imposed by your country. Sometimes these can make your fabric purchase a very expensive one.
Check shipping costs – many companies offer free shipping if the order is over a certain value – but that may not apply internationally.
To gain an idea of what may be suitable for projects, check what sewing bloggers are recommending – they often get packs of the latest fabric from suppliers, and will provide you with useful tips and links to online fabric stores.
Check the blog on the website of the online store you are ordering through, as they often provide videos and tutorials showing how their fabric is used.
Best online fabric stores in the US

 JOANN
Based in Hudson, Ohio, Joann is an American company with a wide range of fabrics and craft supplies. It operates the retail chains JOANN Fabrics and Crafts and Jo-Ann Etc and operates nationally. The options are for home delivery or to collect at your nearest store. Unlike some fabric companies you can order by the yard, unlike some companies that impose a minimum order of 5 or 10 yards/meters per fabric type. At the JOANN online store you'll find virtually every fabric necessary to complete a project from quilting to décor or clothing. The price points vary, so you'll be able to find something to suit your budget.
Michaels
There are thousands of prints to choose from at Michael's and they have everything for the garment maker, the home décor enthusiast, and the crafters. Their site is a mine of useful information about the quantities you'll need and the types of fabric for various projects as well as enough fabric types and prints to send you off into creative hyperdrive, your head spinning with inspiration. They ship only to contiguous states within the US.
Loom Décor
Shop for exclusive type fabrics you won't find easily elsewhere. Loom Décor sells by the yard and the site allows for you to filter your search according to the following criteria: Category – e.g. décor, clothing,fabric type, color, pattern, fabric weight and price.
Spoonflower
This company has artisans producing individual prints that you won't find elsewhere. If you have an idea of an unusual print search their collection by theme. Spoonflower has art prints to suit even the wildest imaginations and although the cost may be a bit higher, you are paying for unique designs. I am in love with delicate watercolor style Wild Flower fabric by Ninola Designs, and the Bats and Hearts with Pink background, by Andrea Zuill, is too adorable for words. For a throw pillow I can see Sandstone Desert by Wren Leyland working well with its flow of warm colors interspersed with an earthy turquoise. They have the most adorable fabrics – I could go on listing them forever! You seriously need to get onto this site if you are into creating one-of-a-kind sewing projects.
Minted
Probably best known for their wall art, Minted also has fabrics by the yard and the best is that they are designed by artists so you get to support the arts and get some really cool fabrics that you won't find everywhere else. Choose by color, pattern, design and scale – the scale part is really important when you are mixing and matching fabrics to get some unity.
West Elm
Although the fabrics here fall into the upholstery category, you'll find plenty that can be used for projects from pencil cases to tote bags, throw pillows and drapes. At West Elm they usually sell by the yard, but not on all fabrics. The company is best known as a retailer of classy furniture and home goods.
Fabric.com
Cheap shipping if you are a Prime Amazon member, and free shipping with sales over $49. Fabric.com have a vast range to choose from and you can shop for fabrics to suit almost every taste and budget.
Fat Quarter Shop
With that name you would expect this online fabric store to have plenty of quilting fabric, but they have lots of fabric you can use for other projects. If you buy for $80 or more orders are shipped free within the US. If you buy under that amount the shipping cost is $4.95. They also ship internationally. Fat Quarter Shop sells half-yard bundles – all coordinated to save you time selecting patterns and colors, as well a fat quarters, fat eighths and yard bundles, plus more options.
Organic Cotton Plus
Same day shipping on most orders and free shipping within in the US on orders over $50 is the kind of service sewists love. When we have a project in mind, we want to start it NOW, and we don't want the cost of fabric to double once shipping is taken into account. As the name suggests Organic Cotton Plus offers fabrics that are 100% organic – much of it from a fifth generation family owned organic cotton farm in Texas. The company supplies both woven and knit fabrics such as voiles, sateens, French terry, flannel, cotton and linen.
Onlinefabricstore.com
The inventory of top-quality apparel, upholstery, drapery and industrial fabrics is HUGE. When you shop online at OnlineFabricStore you will find fabric you would have difficulty sourcing elsewhere. And the prices are good. They bear most of the cost of shipping, keeping rates low.
 Raspberry Creek Fabrics
If you want a custom fabric printed in-house from your own unique design they will do it. They also supply retail and wholesale fabrics to help you realise your sewing dreams whether it is a one-off garment, for your Etsy store or for markets. Raspberry Creek Fabrics provide the stats on their fabrics and guidance on what suitable projects each fabric type.
Connecting Threads
This company works with manufacturers and designers to produce top quality quilting fabrics. When I scroll through their site with the arrangements of fabrics my fingers start itching to create. The selection of Christmas fabrics is stunning, and I know it's a bit late to create for Halloween, but next year… At Connecting Threads you will find collections from Wyndham, Moda, FreeSpirit, Henri Glass, Riley Blake, Anthology, and Hoffman Fabrics to name but a few. They sell by the yard and also supply quilt kits. Free shipping on orders over $65, for the US, is advertised, but Hawaii and Alaska plus a couple of other places require a purchase of $75 to qualify for free shipping. Check online to see the threshold for free shipping to your country as currently they ship to the US, Canada, Australia and the UK. I love how well organised their site is. They sell LUXE fabric, which if you are a quilter, you will know is the best of the best in terms of quality if you are producing heirloom type quilts.
Good online fabric stores in CANADA
Blackbird Fabrics
This online fabric store takes ships from Vancouver, worldwide. The store collection is curated by sewists with a focus on garment fabrics. At Blackbird Fabrics you will find natural fibres, and attractive custom prints as well as the haberdashery needed to complete a garment with a professional finish. Their hand woven cotton fabrics from India are worth taking a look at.
Dinkydoo
Started in 2015 as an online store ONLY, Dinkydoo now have a physical shop in Pitt Meadows, BC, Canada. The company ships to Canada, the US, and internationally. Some fabrics can be bought by the yard and others are bolt size – 12 meters. On their recent bolt sale, prices averaged around $10 CAD, per meter which is pretty good, considering they do free shipping in Canada if the order is over $199, and if it's less they charge a flat rate of $11.99. This is a go-to shop if you're into quilting but they do offer lots of bright and pretty prints to suit many projects.
Fabricville
Fabricville is the largest Canadian fabric supplier with everything you could want. They have 50 stores across Canada as well as their online store. Prices are good, but there is no free shipping – for example – for orders under $50 a flat $7.95 shipping applies in Canada.
Fabric online
Cotton, flannel, fleece, vinyl, lace and linen, plus home décor fabrics and quilting ensure there is something for every sewist. At Fabric Online free shipping applies on orders over $150 throughout the US and Canada. The store is based out of Fabric Depot in Calgary, Alberta.
Fridays Off
Fridays Off is a company that offers a fabric subscription where they do all the work of coordinating fabrics and supply you with a selection – what a time saver for those who just want to sit down and sew using fabric from current on-trend designs.
Where to buy fabric online in Australia and New Zealand
Homecraft Textiles
This company has a wide range of fabrics to suit all sewing needs from active wear to evening, quilting and whatever else you plan to sew as they have over 10, 000 products. Curtaining and upholstery as well as fashion and apparel fabric, is sourced from around the world. You can see it in their two physical shops in Perth, Western Australia, or order from their online store Homecraft Textiles. Free shipping on orders over $300 AUD is offered, and any amount under that has a flat rate of $14.99 for shipping. This family owned and operated business has been around from 1999, and offers fabric by the meter as well as wholesale rates to the public on quantities of 25 meters or more.
Lush Fabrics
This Australian business will ship via Australia post at a flat rate of $12.99 for any orders under $50 AUD. Lush Fabrics have a variety of fabrics to suit varying projects, including Lycra for swimwear and activewear.
Sew Unique Fabrics
With the Australian passion for the outdoor life, it's no wonder this company stocks top quality cotton Lycra fabrics. Check out their Rainbow Sloths, a design created exclusively for Sew Unique Fabrics.
The owner created the online store when she was looking for unusual fabrics to use in sewing projects for her own children. Soon she had a loyal following of like-minded sewists, looking for that unique touch from designers commissioned to create work exclusively for the company. They also stock plain colors. Currently they ship to the US, Canada, UK, and New Zealand, besides Australia wide.
Missy Rose
This online fabric store stocks a wide range of fabric ranging from canvas to French terry, knits, wovens, performance activewear, swimwear and more. Many of their prints feature iconic Australian fauna such as the platypus, galahs, kangaroos and koalas, although they also have the traditional Christmas prints and prints with international appeal. All orders are sent via Australia Post. Contact Missy Rose if you are buying from outside Australia to check whether they ship to your country.
The Fabric Store
New Zealand based, The Fabric Store ships from Auckland, and places an emphasis on fine craft and quality in a world often overrun with mass produced and inferior fabric. Their items are carefully sourced with an eye to sustainability. Designer dress fabrics and mill overruns are offered online and at their nine retail stores around New Zealand and Australia.
Super Cheap Fabrics
As the name indicates this company has fabric at really good prices and often have sales with discounts of up to 30%. They do not supply samples, so you need to be aware of the stats on the fabric before you buy, to ensure it is suitable for your projects. They will let you buy by the meter so you can get an idea of the quality before committing to a bigger order. Stock moves in and out fairly fast so if you like something you need to hustle and order online at Super Cheap Fabrics.
Top Online Fabric Shops in the UK
Minerva
Poplins, cottons, knits, chiffon, and lots more – Minerva online fabric store has plenty to keep sewists busy. They even have a brand ambassador program that gives you an opportunity to participate in challenges to keep you sewing! Free shipping applies within the UK if you spend over £30, and free internationally in you spend over £50.
Organic Textile Company
This company ships worldwide but does warn customers there may be import duties imposed by your own country. Their range is huge – muslin, bamboo silk, denim, corduroy, cross weave fabrics and more. They offer samples. Being in the UK they sell per meter – 39.37 inches as opposed to the 36 inches in a yard. Organic Textile Company works with various suppliers in Turkey, India and China ensuring that GOTS certification criteria are met for their organic fibres.
Simple Life Fabrics
With an emphasis on organic cotton, jersey and kids' fabrics the company aims to bring attractive and unusual fabrics right to your door. If you are working on small projects or quilting you can buy ½ meter lengths, which is perfect for baby clothing. I'm crushing on their Bunny Rabbits at Toadstool Home cotton jersey fabric. The owners created the company as they felt that creating brings pleasure and reconnects us to family – a simple but fulfilling life. Simple Life Fabrics offers free delivery in the UK.
I hope this online fabric stores list helps buy fabrics online with confidence. It's your turn now. Where you buy fabric online? Which are your favorite online fabric shops and why. Drop a comment below and tell us.
I'll be adding to this list frequently, so make sure to bookmark it and circle back from time to time for fabric inspo!