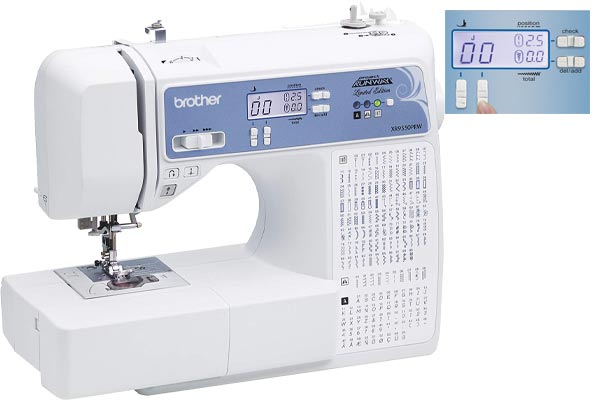 Brother XR9500PRW Review
Buy the Project Runway Edition Brother XR9500PRW for the beginner seamstress in your life. Its easy-to-use speed control and solid stitching are perfect to get your seamstress started on her own creative designs. The free arm and drop feed features allow the beginner to make better-than-average progress on advanced garment patterns even if she is new to garment construction.
The Brother XR9500PRW has light monogramming capability, 110 beautiful stitches, eight different buttonholes, and one alphanumeric embroidery set is perfect for the designer, garment maker, and quilter looking to expand their skill set. You will find that the quiet motor and brightly lit wide table are just right for many happy hours spent making beautiful garments, quilts, and other crafts whether it is late or early in the day.
We occasionally link to goods offered by vendors to help the reader find relevant products. Some of the links may be affiliate in nature meaning we earn a small commission if an item is purchased. Read my full disclosure here
Major Features of the Brother XR9500PRW
The major features of the Brother XR9500PRW are the 110 stitches, the LCD screen, the alphanumeric embroidery set, the automatic needle threader, the automatic bobbin winder, the wide table, and the eight automatic buttonholes. This is a solid beginners model without too many extra bells and whistles, which can be confusing and difficult to navigate.
The machine comes with eight pressure feet that change out easily. These are the quilting, monogramming, blind stitching, overcasting, button holes, zippers, and zigzag feet. These are a great addition to the initial kit that comes with the machine because they enable almost every type of sewing.
The LCD screen on the Brother XR9500PRW allows you to pick your stitches so easily compared to an older model without a screen. It is well lit and bright enough to see even in the darker hours.  Just push the stitch number, make sure you have the right foot, and you're ready to go.
Eight automatic buttonholes are an excellent feature for the home seamstress on the Brother XR9500PRW. In the past, buttonholes had to be sewn manually and the feeds could jam if they weren't done just so. This machine takes care of those worries for you with a jam-resistant bobbin and the automatic settings on the buttonholes.
Perhaps two of the most important features on this machine are the free arm capability and the drop feed. The free arm is one of the easiest ways to get cuffs and sleeves done, which can be difficult if the arm is not freed at all. The Brother XR9500PRW streamlines the sewing process, enabling a beginner to attempt more advanced sewing with the aid of some automatic features and the free arm capability.
The drop feed action allows for free motion quilting and sewing, and this model is equipped to handle the heavier fabrics that often come with these types of projects. You will notice a difference when using heavier fabrics such as a quilt or denim, so make sure you adjust the speed accordingly and use the correct needle and thread. Other than that, you should be good to go for quilts, denim hems, and even bag straps in heavier fabrics.
Who is The Brother XR9500PRW For?
The Brother XR9500PRW is a user-friendly machine for beginners and our budget sewing machine for denim pick. It's a good standby for a more advanced sewer also, but beginners will find that this machine does basically everything they could ask for including a few heirloom stitches. The Project Runway edition really says it all, as this is a really good introductory machine for designers and dressmakers.
The versatility of this machine to work on heavier fabrics is a huge asset for the beginning designer, since you can work on denims, bags, and even quilts with the free arm and drop feed actions. The seams are quite solid. Sometimes on beginning machines there aren't quality stitches or speed control, but this machine is a great example where those things are offered at an affordable price.
Ease of Use and Set Up
This machine is super easy to set up, making more time to design with. It has automatic threading and bobbin winding so you don't need to spend a lot of time learning how to use the machine.  This machine comes with both a manual and instructional DVD's.
What's In the Box?
In the box are eight presser feet, a wide table, a hard case, four bobbins, three spool caps, an extra spool pin, a seam ripper, an eyelet punch, a cleaning brush, a power cord with the pedal, a needle set, a ball point needle, a twin needle, a paper owner manual and DVDs, and an accessory pouch.
Warranties and Support
There is a one-year limited warranty only if purchased through an authorized seller or re-seller. The Brother website has fabulous support and Frequently Asked Questions, and you can either call or e-mail them for more info if your question isn't already online.
Drawbacks
The Brother XR9500PRW has few drawbacks as it is a well-researched and solid little model. It isn't a high-powered model, so you will need to slow down for heavier fabrics, but that is really about it. You can use it for just about everything and get quality sewing out of it.
Perhaps the major drawback for this machine is that it is very simple. It will probably not entertain a more advanced sewer all that much. It doesn't have very many fancy stitches beyond a blind hem. If you need extremely fancy sewing or something that powers through drapery at full speed, this is not the model for you.
Conclusion
The Brother XR9500PRW has solid seaming and heavy fabric capability plus quilting capability. It will bring many happy hours to a beginning seamstress or designer. It definitely enables the beginner to learn more advanced techniques by way of the free arm and the drop feed features, so consider this a great learning machine. This machine has a good selection of stitches that includes a blind hem, so you can anticipate many well-made garments from it. The Brother XR9500PRW is perhaps too simple for the advanced or intermediate seamstress, unless they prefer simpler machines.
Useful resources:
User manual – Brother XR9500PRW Instruction manual (PDF)