2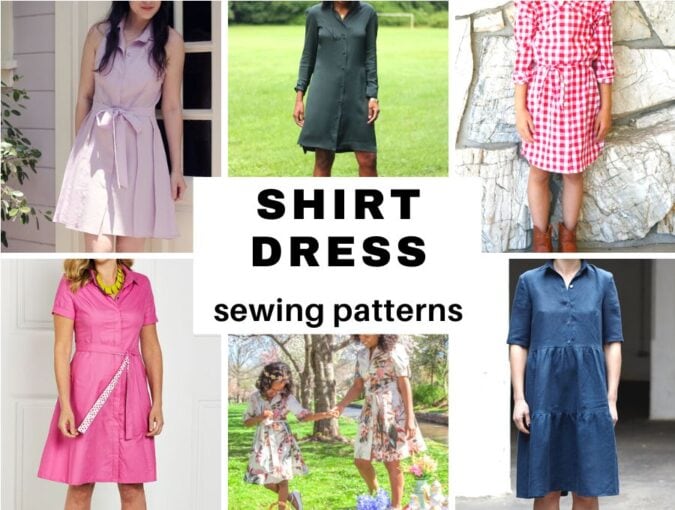 11 Amazing Shirt Dress Patterns – Easy Button Up Dress Sewing Patterns
Get a comfortable and casual look with a shirt dress sewing pattern – it's a timeless addition to your wardrobe. All these have simple cuts and flattering lines to last you a long time. Do not play catch up with the ever changing trends and designs. Sew up one of these shirt dress patterns and add a timeless addition to your me-made wardrobe. You can make a shirtdress any way you want it –  modern, retro, vintage or classic; in any fabric and color combination you want to. The choice is entirely yours as long as the bodice have some buttons or snaps down the front (or at least until the waistline) you will still have a stunning shirtdress to wear all summer long.
11 + Lovely sewing patterns for shirt dresses
Linen women's shirt dress pattern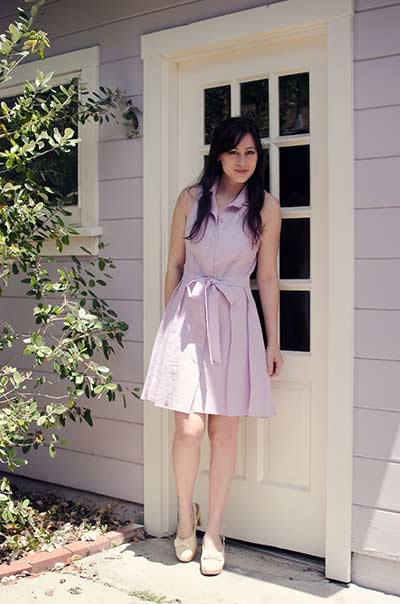 Adorable and stylish, that's what this dress is all about, with a lovely one-button collar, a bodice that has waist darts and no sleeves, a waistband complete with a fabric belt you tie at the front, and a skirt that reaches to your knees and has pleats at the front.
sizes: US 00-32
by MoodFabrics
Button up shirt dress pattern with waist tie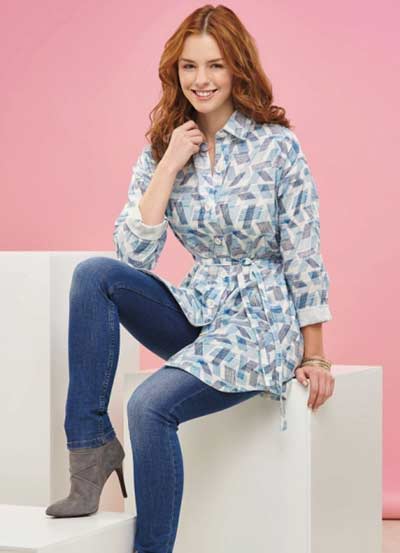 When you make a shirt slightly longer and much more stylish, you get this beautiful shirt dress with long sleeves you can fold over to make them seem as if they have wide cuffs, a collar, an open front with buttons as closure, a fabric belt at the waist, and a straight bottom hem that goes to your mid-thighs.
by SewMag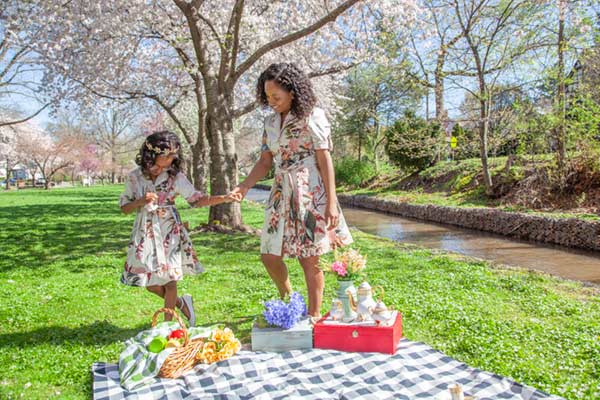 Become the most adorable mother and daughter that have these matching dresses with shawl collars, long sleeves that have ties with buttons so you can fold up the sleeves and secure them in position, front button-up closures, a tie at the waist, and a lovely flared midi-skirt with pleats and a wavy bottom hem. The best thing is that the size range of this shirt dress pattern is pretty inclusive!
Women sizes US 2 to 30
Girls Sizes 4, 5, 6, 7, 8
by MoodFabrics
Linen vintage shirt dress pattern- Diana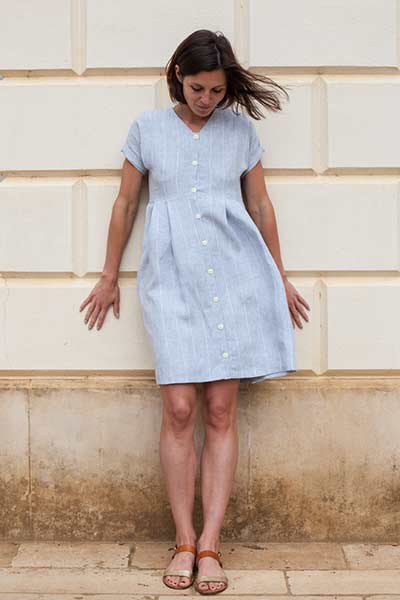 Let's take a trip to the past with this pretty, vintage dress that has a triangular neckline, a front closure with buttons that goes from the neck to the bottom hem, two handy pockets on the sides, and a skirt section that has six cute pleats and reaches to your knees.
sizes US 4-6 to 20-22
Sleeveless vintage shirtwaist dress pattern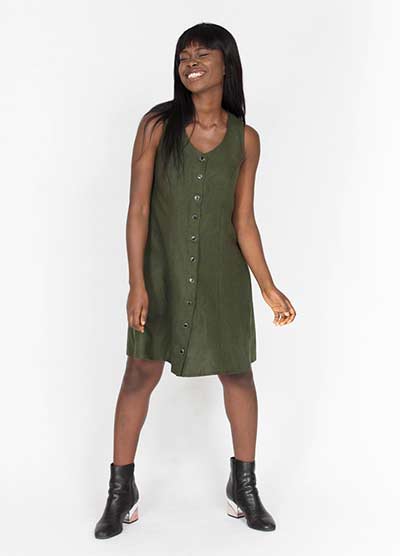 Here's a dress you can wear on its own or over a shirt, featuring narrow shoulder straps and a deep curved neckline, darts below the arms, a button-up front closure along its entire length, and a bottom hem that is straight and comes to your mid-thighs.
sizes: A to J (bust from 30 to 51" or 76 to 131cm)
Plus size shirt dress pattern – Rosalie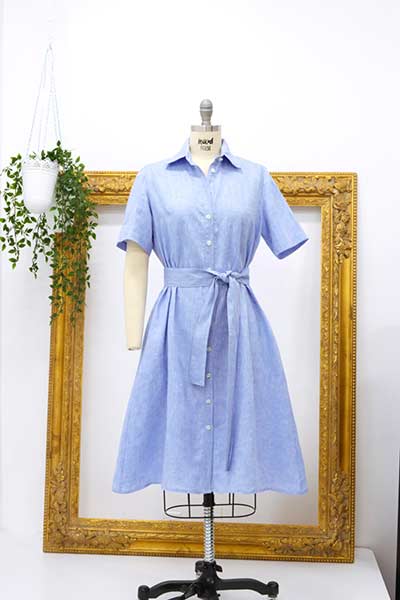 No need to worry if an outfit will fit you when you make it, especially if the outfit in question is this splendid plus-size dress with a wing collar, short sleeves, a button-up front, a fabric tie at the waist, and a flared skirt section that covers your knees.
sizes: US 00-32
by MoodFabrics
Maxi shirt dress sewing pattern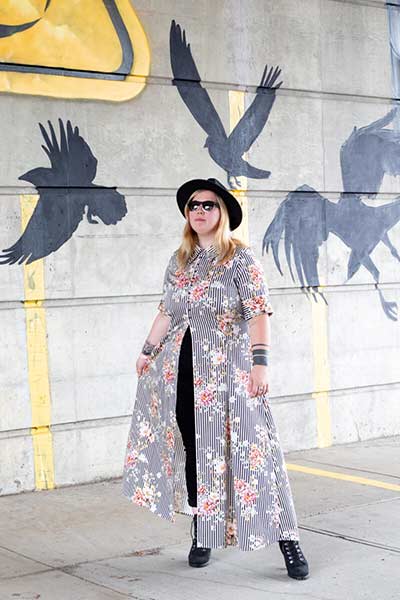 There's something special in long, coat-like dresses that makes them classy and attractive, just take a look at this one, with long sleeves complete with cuffs, a beautiful collar, an open front with a waist tie at the back, and the flared bottom section long enough to get to your ankles.
sizes: US 00-32
by MoodFabrics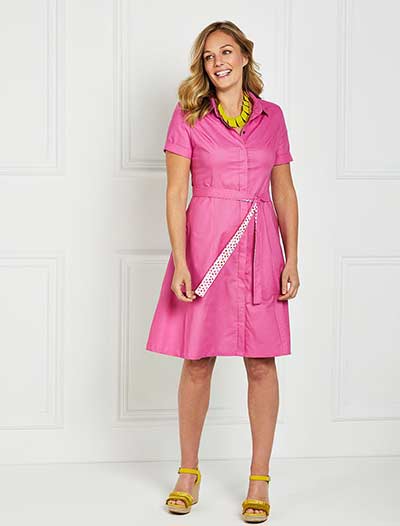 Here comes an outfit that shows how great a simple design can look, it's a dress that comes to your knees and flares a bit towards the bottom, has short sleeves, a collar, and a front closure with buttons, as well as a matching fabric belt you tie at the front. If you want to be the star of the office this is just the right shirt dress sewing pattern you need!
by Craftworld
Easy shirt dress sewing pattern – Avery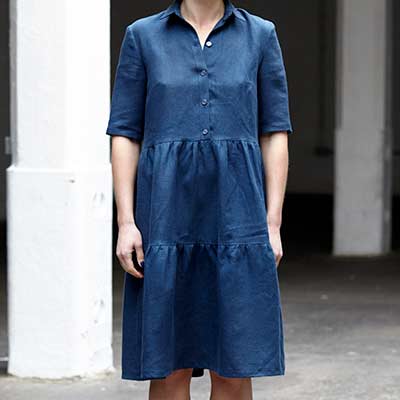 Combine a shirt with a layered skirt to get this lovely dress that features a bodice with a button-up closure at the front, sleeves long enough to reach your elbows, a neat collar, and a knee-length skirt section that consists of three flared segments below each other. Although it's not the easiest shirtdress pattern on this list due to the gathers and sections of the skirt, it's definitely one of the fanciest.
Sizes: 0/2 to 12/14, 16/18 to 28/30
Easy upcycle: Turn a XL women's shirt into a girl's shirt dress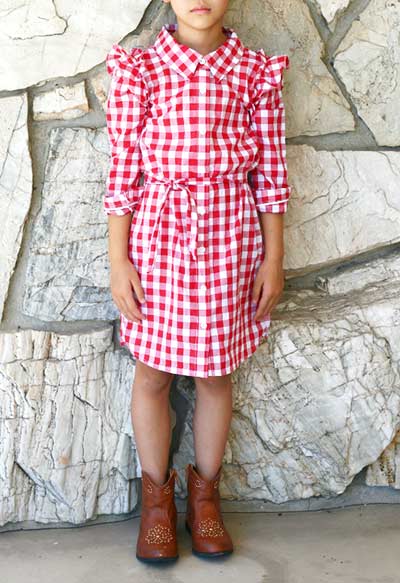 Use this shirt dress sewing pattern to transform a regular shirt into a brand new, cute girl dress with long sleeves that have adorable ruffled flaps on the shoulders as decorations, a nice, wide collar, a thin sash you tie around the waist, and a straight bottom hem that goes to the knees. If you have a little girl to sew for and a suitable extra large shirt, this is the perfect upcycle project! It's probably the easiest one to sew!
Silk shirtdress pattern with long sleeves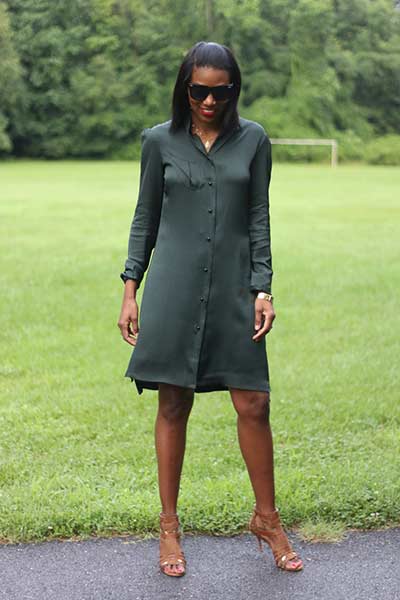 Pleats on an outdoor are a kind of a symbol of elegance and cuteness combined, so it's no wonder this midi dress emits those characteristics, with its long sleeves that have pleated shoulders, an inverted pleat at the bottom of the back of the dress, a pleated front pocket, a subtle collar, and front button-up closure. The fabric that is recommended for this dress is silk and it is extremely good choice for an outdoor party or walk as satin does not stain when wet.
sizes: US 00-32
by MoodFabrics
What did you think of these gorgeous shirt dress patterns? Is there a special shirtdress pattern that caught your eye already? Share your thoughts with everyone in the comments below. And if you want to know when new stuff like this article comes out on this website, subscribe to the mailing list and we got you covered. Now go and dazzle everyone with your new shirt dresses!