4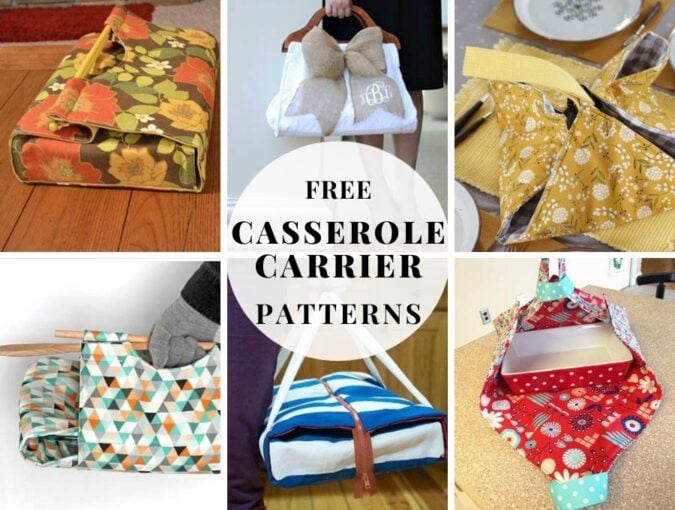 12+ Casserole Carrier Patterns and Tutorials for Your Next Potluck
One of the best things about the holidays is the chance to get together with family and friends around a beautiful table filled with traditional dishes. Between Thanksgiving, Christmas, and all the other activities I am involved in, it seems I am always carrying a hot pan of food along with me. I definitely needed a casserole carrier in my life and when I whipped up one, I decided to make few easier ones as gifts. This would make a wonderful gift for the foodies in your life. Make the pretty carrier and a matching mitt or two, then wrap up a new baking pan you've filled with yummy homemade treats!
Easy Reversible insulated casserole or pie carrier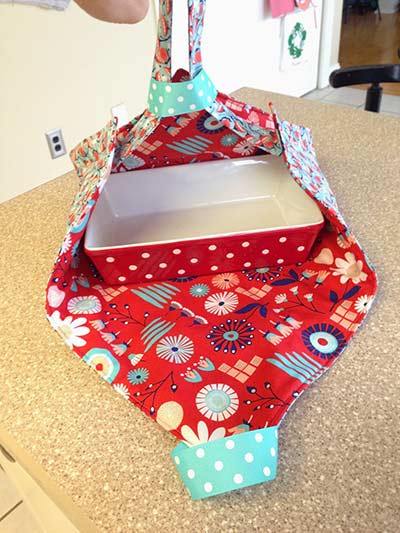 These carriers will carry just about any size dish you can find from a pie to a 11 by 14in!  They are reversible, cute and quick! Takes just 20 minutes to make
Bring food to your friend's party in style with this fancy casserole carrier pattern. This is one of the simplest casserole carriers you can make but it looks just as cool as the complex ones. The trick behind it is in the folding. It's square so when you fold each corner to the middle and secure them together your food instantly becomes safely stored inside and ready for transport! Oh, and it's reversible as well!
Insulated Casserole Carrier with Fabric Handles and Utensil Holder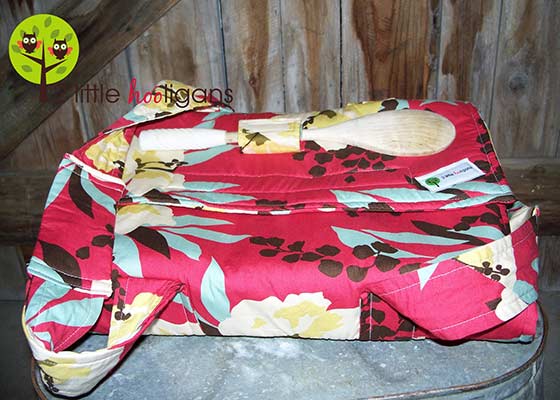 The next casserole carrier is great for those times when you need to bring a spatula with your food since it has a neat loop that can hold it! The design of the entire carrier is simple and fits either a 8×12″ or 9×13″ rectangular pan, it's cross-shaped so that you can place your food at the center and fold the four flaps over it to keep it nicely covered. The carrier also has fabric handles and an insulated interior that will keep the food warm until it reaches its destination.
Quilted Casserole carrier
Here's a casserole carrier pattern that's similar to the first one on our loop. The shape is identical, it's a square with a strap going diagonally across from one corner to the other and loops on the other two corners. You place the food in the middle, bring the corners together, then thread the strap through the loops to secure the dish and you can carry it anywhere you like! And since it's reversible, you get two carriers for the workload of just one!
By TheCraftyGemini on YT
Sturdy Casserole Carrier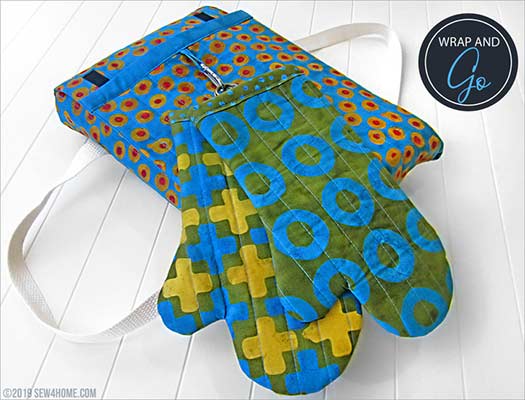 Quilted Casserole Carrier with Carabiner for mittens and pocket for utensils
You know those bags pizza delivery guys carry? This pattern is a lot like one of those, but better! When open, this carrier looks like a plus sign, and when you place the food inside, you close up the flaps and it becomes like that pizza delivery box. It has two handles for carrying, a pocket for essential tableware, and a hook for kitchen mittens on the outside.
by Sew4Home
Casserole Carrier with Zipper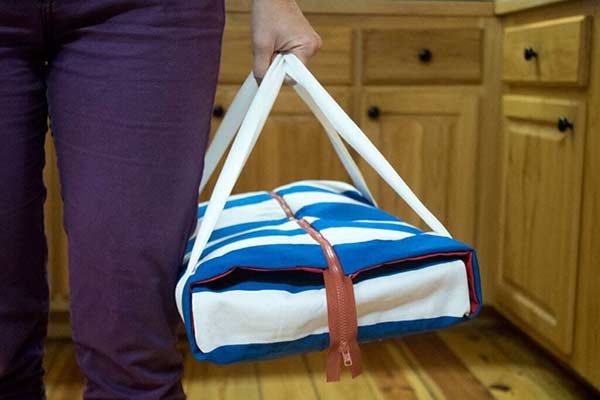 This next pattern is similar to the previous one, with one big difference. It has a zipper! The base is plus-shaped to allow easy packing just like in the last pattern. But when you fold the flaps, you secure them shut with a zipper! That casserole won't be going anywhere without your permission thanks to the zipper!
Hot mess casserole carrier with all around zipper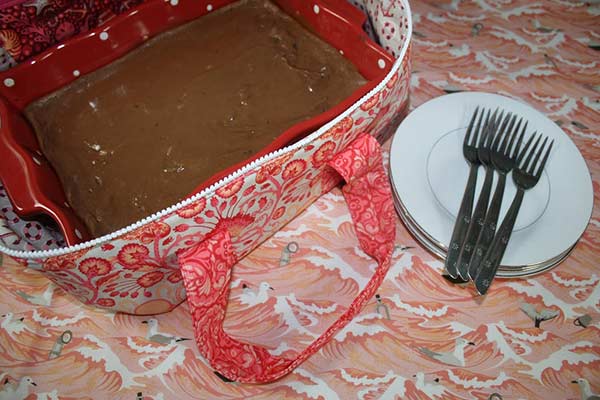 Here comes another pattern with a zipper, the hot mess casserole carrier! This one is completely different from all the patterns on the list so far because it doesn't fold up at all. It's a sturdy box with a cover that has a zipper on three edges of the top side. The carrier has two handles on the sides so that you can easily carry it.
by SewSweetness
Furoshiki Casserole Carrier – fits various sizes
carry objects of about every shape and size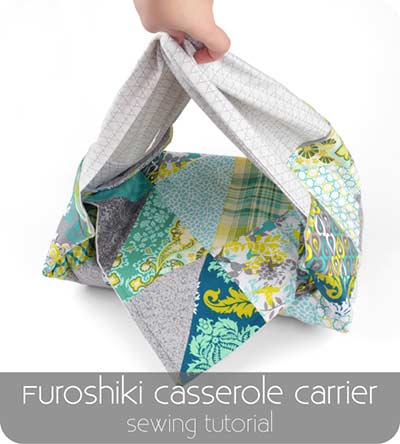 When it comes to carrying ready meals that would spill if they aren't laying flat on the bottom of a bag, the Japanese are the experts. This pattern combines their minimalistic style with that knowledge to give you the furoshiki casserole carrier. It's a square piece of fabric with handles that you put your food on. Then just fold it up and pick it up by the handles!
by CholyKnight
Casserole Carrier with spoon handles
When you bring a casserole somewhere, you usually bring spatulas or spoons as well. This pattern utilizes that in a fun way, it uses the spoons as handles! It's a cross-shaped carrier like a few on our list. Place the food at the center, fold the long flaps over it, then fold the short ones as well, stick the spoons through the loops and pick the carrier up by them! Be sure not to use plastic spoons though, you'll need sturdy ones for this!
Fabric Pie Carrier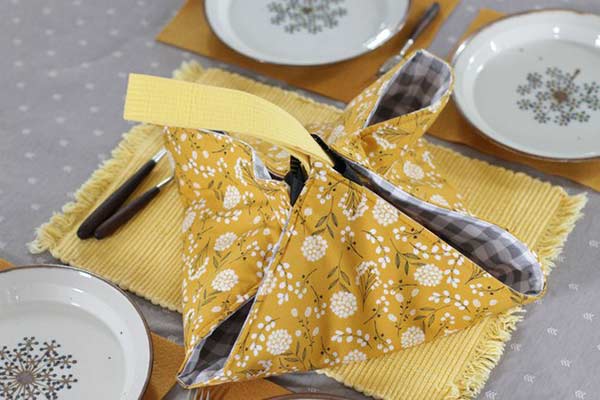 Bring a pie to a party in style with this stylish homemade pie carrier! The simple pie carrier pattern features a design with a square base allows you to put the pie in its middle, fold the corners with loops to the center, pull the strap through them, and voila! You can safely carry your pie anywhere! This carrier is relatively small, so it's just for pies and similar dishes.
Casserole carrier using peg board and dowels
If you liked that previous pattern that has spoons as handles, this one should pique your interest to say at least. It's a lot like that one, with a difference in handles. Instead of using spoons, this carrier uses a dowel that stays there permanently. Another difference is that this carrier has a pegboard to keep the casserole nice and flat so it doesn't spill.
Casserole Purse Carrier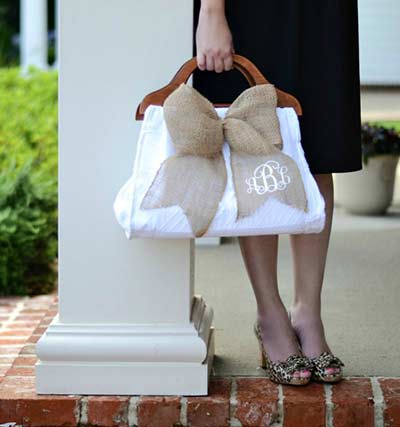 Need a chic casserole carrier? Then here's a pattern just for you, a purse casserole carrier! It's a purse with a flat bottom which allows it to hold your meals without spilling a drop of them! The bag is adorable, it has a big ribbon on its side and beautiful wooden handles. No one will think you're carrying food in it, they'll think it's just a designer purse!
Image by AimeeBroussard
Pattern by Simplicity (paid) https://www.amazon.com/Simplicity-Casserole-Carriers-Sewing-Pattern/dp/B00CBM2H06/
Casserole or pie carrier with binding and D-rings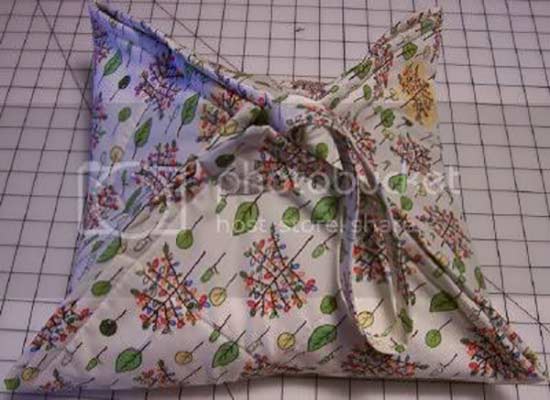 For all of you who often carry ready meals somewhere, here comes a reliable and sturdy casserole carrier. The design of this one is a square with a strap going diagonally across and D-rings at the opposite corners. The D-rings are a lot sturdier than fabric loops and will withstand more wear and tear, so you don't have to worry if the carrier will fall apart after some time.
by Sewingmamas
Casserole carrier out of placemats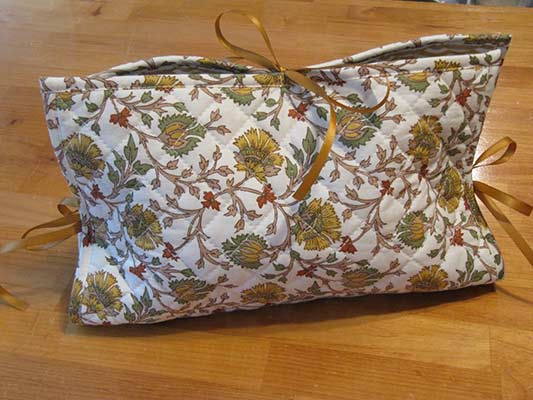 Do you have placemats you don't use anymore but don't want to throw out? Turn them into a casserole carrier then! This pattern helps you upcycle placemats into a neat carrier in less than ten minutes. Make a folding carrier out of one placemat and some ribbons or make it out of two placemats stitched together into a sleeve that has a handle on its back for carrying it.
by Sewmanyways
With all these casserole carrier patterns, you are now ready to bring food anywhere you want! Each one of these carriers is great, but we'd love to hear what are your favorites! Tell us in the comment section below. When you finish with that, feel free to subscribe to our mailing list so that we can let you know as soon as we post new fun stuff. Have fun at picnics and garden parties with your new casserole carrier!