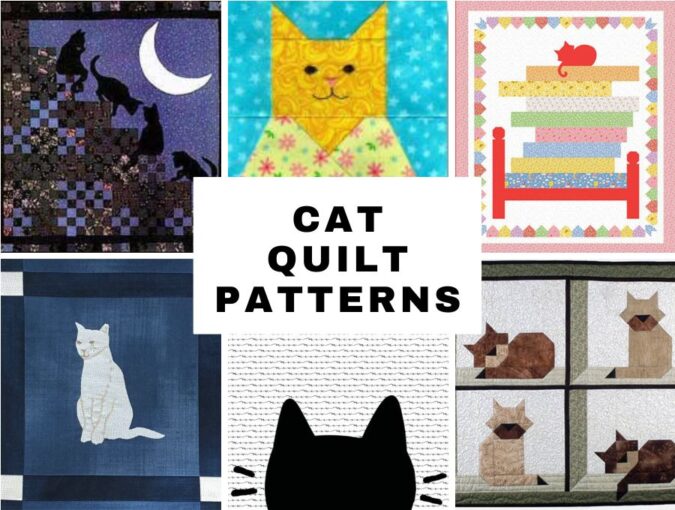 20+ Free Cat Quilt Patterns and Cat Quilt Blocks [Modern+Lovely]
Here is a purrfectly curated collection of free cat quilt patterns and cat quilt blocks. Many of these are easy and sew up rather quickly, and are perfect for cat lovers. Cats love to snuggle in soft quilts, so it makes perfect sense to make a cat quilt. Stitch multiple cat blocks together to make a full quilt. You can either use the same block in different colors throughout the quilt or give each kitty unique shape and personality.
Choose your favorite of these quilt patterns with cats and start your fun project today!
Modern Cat quilt patterns
Pins & Paws Cat Quilt Tutorial
using 10″ squares of precut fabric (layer cakes)
Finished quilt size: 68″ x 77″ (cm)
Fans of quilt patterns with cats, try and hold your excitement back when you see this pattern that features a white background with a wide frame around the edges, and a 6 x 7 grid of ten-inch squares that have silhouettes of sitting cats on a white or dark background, arranged so that some face towards the left and others towards the right.
Cats on Cats Quilt Tutorial
60 x 72″, but is easy to add or remove rows or columns to get the perfect size you need.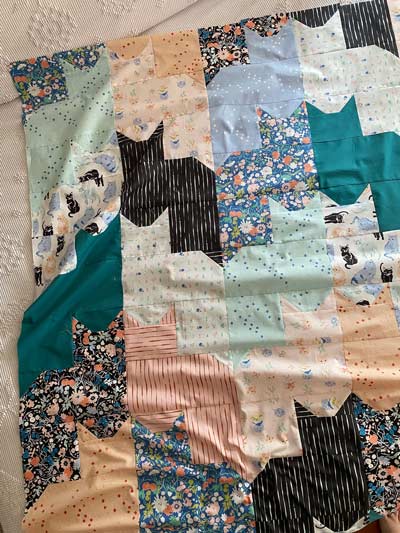 Picture this, a bunch of patchwork pieces in the shape of a sitting cat, all in various colors, but equal in size, set next and above each other so that the ones that are above go over the cat shapes below them, creating an appearance of many cats sitting close to each other and you'll know how this cat quilt looks like.
by Birchfabrics
Cats in the attic
Features 4 different cat quilt blocks that you can even mix and match as you please
Finished size: wall quilt pattern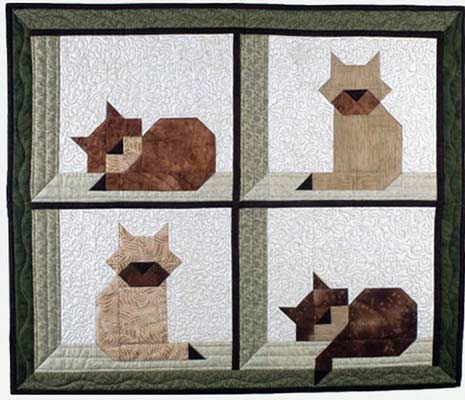 Here's a quilt with cats in four blocks in a 2 x 2 grid, with each block representing a depiction of a cat in different colors, from brown to beige, and different positions, sitting or curled up and sleeping, that you can arrange in any way you like, as long as they remain in a 2 x 2 grid.
by Pamsclub
Tic Tac Cat Quilt Pattern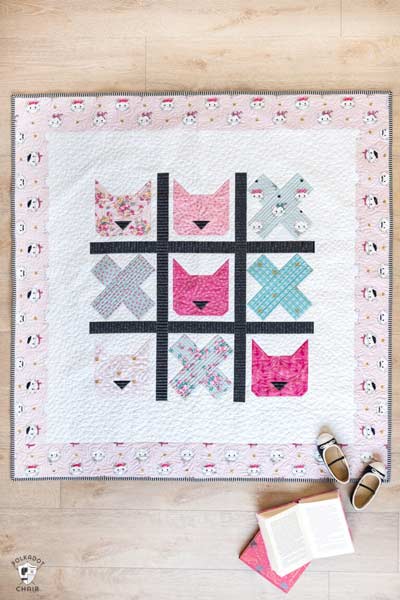 Reinvent that game we all played in school with this cats quilt pattern that has a white background, a soft color frame around the edges, and the main feature in the form of a tic tac toe board filled with X marks and little cat faces in a few different colors, scattered randomly across the board.
Hipster pattern for cat quilt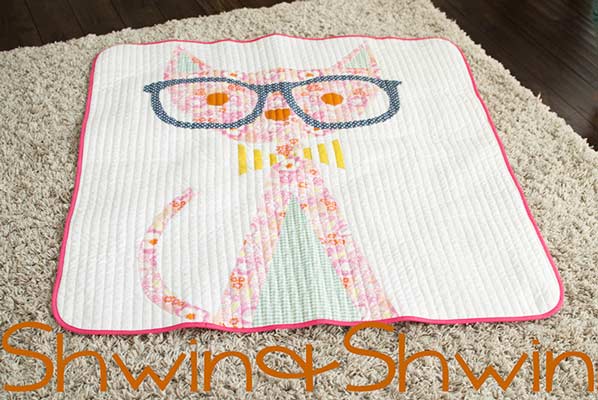 Bet you didn't imagine you'd get to see a hipster cat among these free cat quilt patterns, but here you are, with such a thing in front of you, featuring a white background and a thin pink border along the edges, complete with a sitting pink cat that has a funky bow tie and those hipster glasses with a large frame.
Stairway To Cat Heaven – quilt with cats
Finished Quilt Size … 56 1/2″ x 56 1/2″
Number of Blocks and Finished Size
36 Nine-patch Blocks 6″ x 6″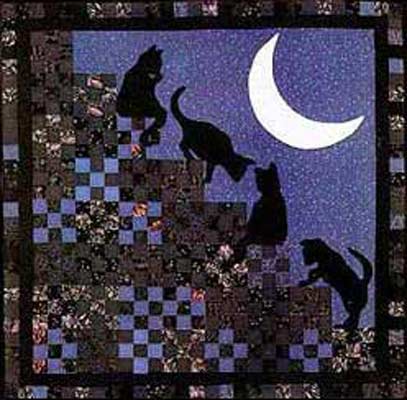 The quilt we have here is a complex one recommended for experienced quilters, but the extra effort pays out when you see the product in the form of a quilt that is almost like a picture that depicts a night sky with a crescent moon, a set of stairs looked at from a side, and four cats on those stairs, some of which are sitting, some climbing up, and some climbing down.
by Mccallsquilting (web archive copy as the site is no longer online)
Salem mini quilt patterns with cats
Finished size: 8 x 12"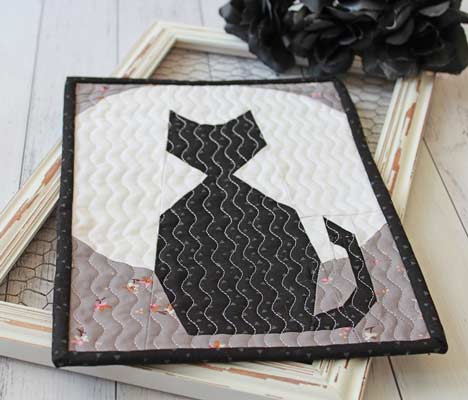 Mystic powers may and may not dwell in the quilt we have here, as it represents a scene of a trustworthy companion of the witches, a black cat, sitting on a rectangular quilt with black thin edges all around it, and a combination of gray and white fabrics that create a scene of a full moon on the night sky behind the boxy cat.
Cat & Bird – cat quilt pattern
Finished size: 52½in x 73½in (133.3cm x 186.7cm)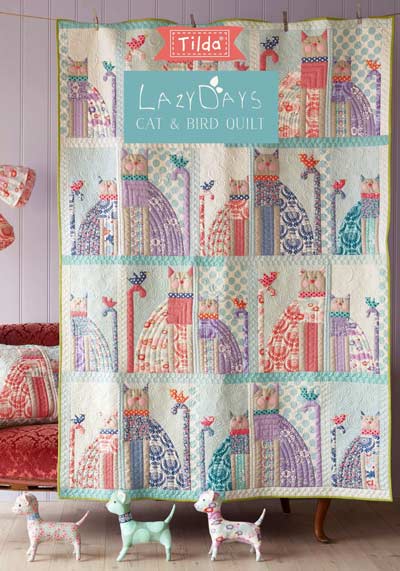 Cats and birds sure can be friends, states this cat applique pattern for a quilt and a pillow, with several boxes that have two colorful sitting cats inside, one small and one big, with a tiny bird that stands on each of their upward, cane-shaped tails.
Instructions (PDF) , Pattern (pdf)
by Tildasworld
Cheshire cats quilt
Finished Size: 74″ x 86″ (187.97cm x 218.40cm)
Finished Block Size: 10″ (25.4cm) square
Evoke the old memories of colorful retro games with a quilt that has a wide frame around its edges in one color, another thin frame inside of it in another color, the main background in a third color, and a bunch of vibrant blocks with laying cats facing right or left, arranged in a 6 x 5 grid.
Pattern (pdf)
Kitten love – cats quilt pattern
Finished size: 57" x 71"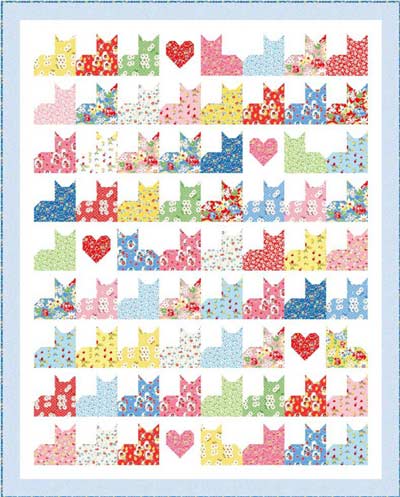 Demonstrate your love for the feline companions to all who visit your home with a quilt that features a wide baby blue frame around a white background and a 9 x 8 grid of laying cat blocks in a few bright colors facing right or left and occasional heart blocks in red or pink.
Pattern+instructions (pdf)
By Wendy Sheppard for Windhamfabrics
Knickknacks & Kitty Cats quilt pattern
size: 55" x 63"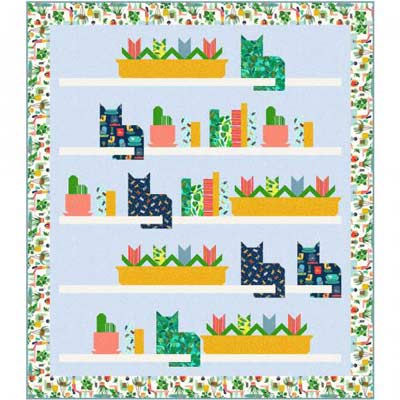 Cats like to sit on whatever they think appropriate for their toochies, even quilts, is what this pattern for cat quilt explains with its depiction of five horizontal shelves set above each other, filled with potted plants and random cats in two different colors among them, laying with their heads up and tails dangling off the edge of the shelf.
Pattern+instructions (pdf)
Cat Walk Quilt
Finished size: 36 x 51″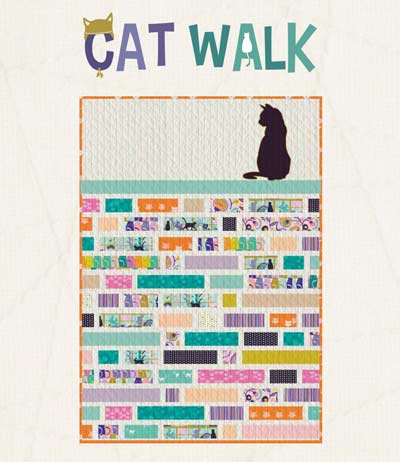 We all know where cats often walk and so does this quilt that shows their favorite runway, a brick wall made of colorful long and short rectangles in fourteen horizontal rows, a cat sitting on top of the wall with its back turned to you, and big 'cat walk' letters spelled at the top section of the quilt.
Pattern and instructions (PDF)
Chat and Charmed quilt
finished size: 73 x 88″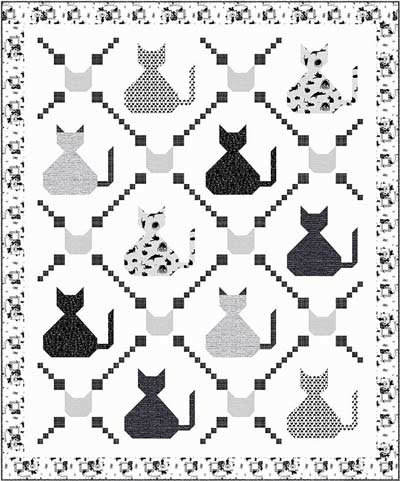 Here comes a quilt pattern that uses only black, white, and gray fabrics to create a 5 x 4 grid with randomly alternating blocks of sitting cat silhouettes and small cat heads with four arrows pointing at them in an X-mark manner.
I heart kittens quilt pattern
size: 50 x 62″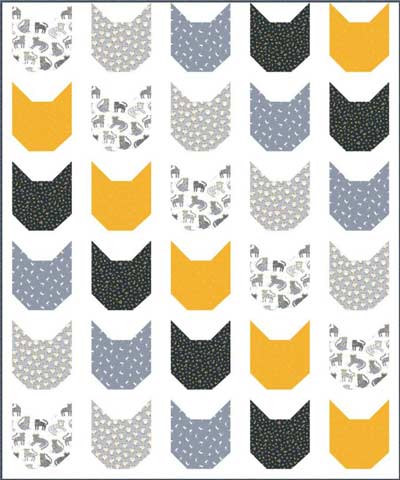 This one is for the minimalistic design fans, a quilt with a simple white background and minimalistic cat head shapes in five different colors set in a 6 x 5 grid so that diagonal rows retain one color regardless of the number of cat head blocks in a row.
Sleeping cat quilt
Size: 72 x 84"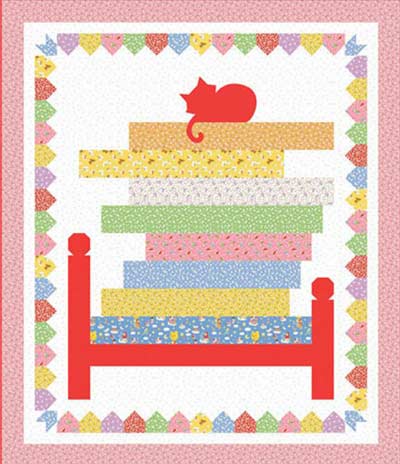 The red cat on this quilt is spoiled beyond reason, just look at it sleeping on a red bed that has eight mattresses in various bright colors stacked offset on top of each other, finished with a lot of small colorful trapezoids that form a frame, and a regular frame around that one as well.
Cat silhouette quilt
Finished size: 30 x 40"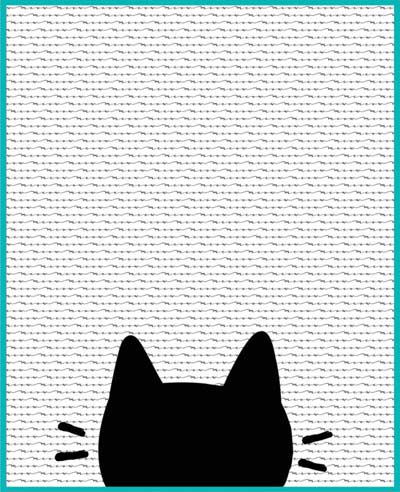 Sometimes all you need to make your day better can be a plain white quilt with an extremely thin green border all around, and a black silhouette of a cat's head with two pairs of two whiskers next to its cheeks, set in the center of the bottom third of the quilt, so be sure to give this one a chance.
Pattern and instructions (PDF)
by Camelot Design Studio for Camelot fabrics
Free cat quilt block patterns
Dressy cat quilt block – 6"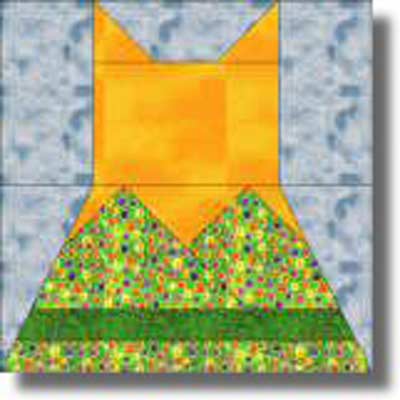 Stylish kitty incoming, try not to get stupefied by the looks of this cat that's the main feature of this quilt with yellow boxy cat head and chest, wearing a green sweetheart type dress with a darker green sash around the waist, ready to rock the red carpet.
by Bellaonline
V-Neck Kitty- 6″ Cat Quilt Block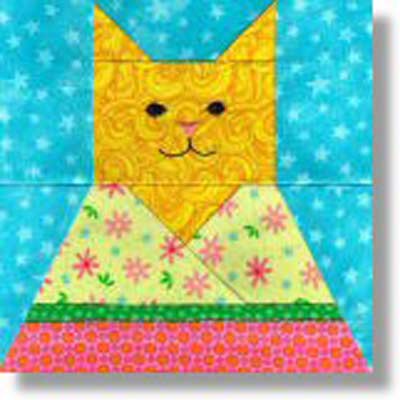 Some cats are royalty by birth, like the one on this blue quilt, featuring a boxy head and upper body with a smile, perky nose, and dot eyes, as well as a gorgeous luxurious kimono that has a light green top section, a dark green waist tie, and a pink bottom section, much like those high-class Korean traditional clothes.
by Bellaonline
Cat applique patterns
Here's a set of many different cat design ideas ranging from basic silhouettes of standing and sitting cats to detailed cartoon-style cats that you can check out so you can find yourself the perfect cat quilt block for your next quilt fast and easily.
by Freeapplique
Cat applique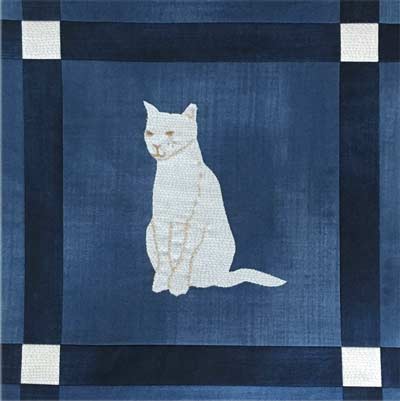 One of the more realistic cat representations among free cat quilt patterns, this quilt features a dark blue background with even darker blue strips that intersect at 90 degrees and form a box, with white squares on the intersection points, and a white sitting cat in its center that has her features pointed out with a golden thread, making the facial features, ears, legs, and paws clearly defined.
by Auribuzz
I hope you enjoyed this collection of free cat quilt patterns and free cat quilt blocks. Now you'll be able to make yourself or your loved ones beautiful and one-of-a-kind quilts that you'll love for years to come. Happy cat quilting! All feature step by step instructions and patterns. Which one of these quilt patterns with cats is your favorite?
RELATED:
Cat quilt patterns and easy quilt blocks YOU can make