1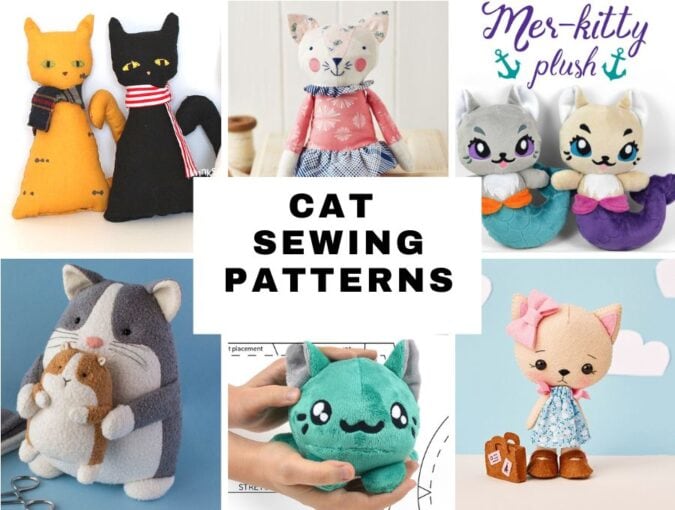 30+ Free Stuffed Cat Sewing Patterns – Adorable Plushies
I wanted to make a kitty toy for my niece and as luck would have it, there were so many adorable cat sewing patterns that I spend hours after hours searching for the perfect one. I decided to pick the cutest free ones and share them with you! Check out these cat patterns to sew and the detailed tutorials how to make a stuffed cat out of felt, fabric, socks or even scrap materials! There is a cat sewing pattern for every taste and skill level – no matter whether you are a complete beginner or a seasoned pro who would like to attempt an intricate toy.
It's the perfect gift for a cat lover! Kids simply adore them! You can count on hours of fun if you make cat plush sewing pattern
Stuffed cat pattern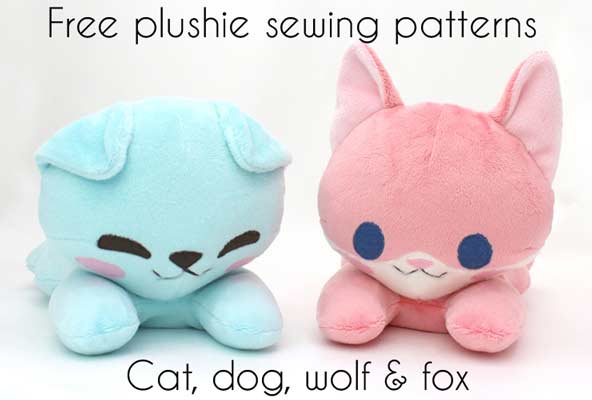 The cat sewing pattern we have here is one of the most adorable cat patterns free to download out there since it helps you make a little soft kitty that stays on its belly with front and hind legs stretched out, and a tail in nine available shapes, and a cute round head with ears, eyes, mouth, and a snout that come in a few different variations so you can even make a fox, wolf, or a dog that can be great friends with the stuffed cat.
by Teacuplion
Cat plush pattern

For those of you who love plush toys in the shape of irresistible chubby animals, here comes a free stuffed cat sewing pattern of just that, a lovely cat with short, stumpy legs, a tail, a bean-shaped body filled with beans, believe it or not, and a sweet round head with ears that have contrasting fabric interior, and a face with open or closed eyes, a smiling mouth, and an optional nose.
by Cholyknight
Free cat sewing pattern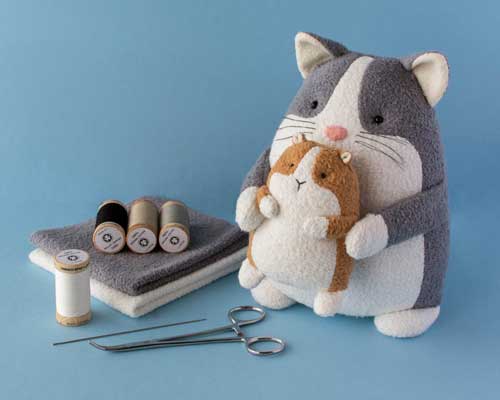 If you don't like it when plush animals are alone, this cat toy pattern might just capture your heart because it allows you to make a little cat that sits upright, has a two-toned body with tiny beads eyes, and a pink nose, with unavoidable car ears made of contrasting fabrics, whiskers, and a miniature friend guinea pig she holds with her front paws in her lap that seems a lot like her version of Mini-Me.
by Fluffmonger
Sleepy kitty – pattern for stuffed cat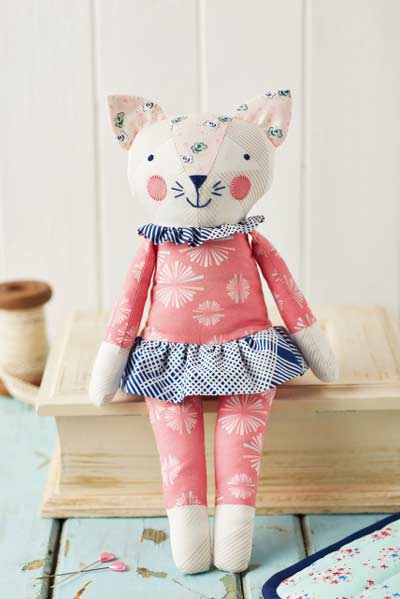 Surprise your little princess with a friendly cat that will sleep next to her in a miniature bed of her own and keep her safe from closet monsters at night, featuring a plush doll body type with arms and legs, an adorable tutu dress, and a round head with cat ears, embroidered snout and whiskers, dot eyes, and blushing red cheeks.
by Sewmag
Cat sew pattern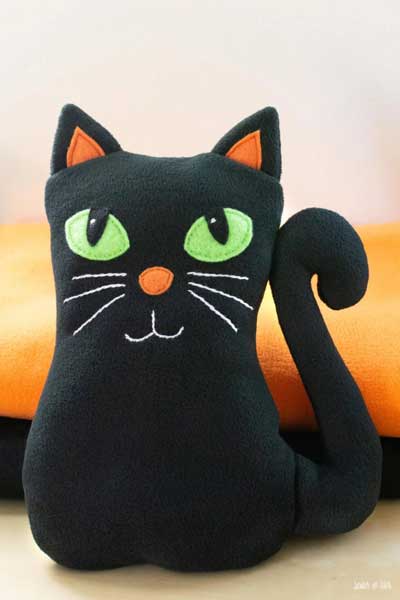 Get ready to learn how to make stuffed cat with little fabric and complete beginner skills with the pattern we have here that allows you to sew a pillow-like plush toy in the shape of a sitting cat silhouette, with an upright curved tail, a cat head that has large eyes, whiskers, and a nose and a mouth embroidered onto its face.
Stuffed cat sewing pattern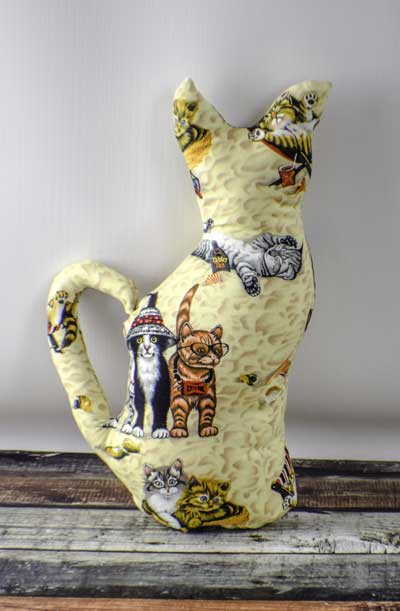 When it comes to simple but effective designs that provide you the chance to make a neat addition to your home interior and use up some fabric leftovers as well, this cat sewing pattern free of charge takes a place at the top section of the bar, with its beginner-friendly shape of a sitting cat silhouette and without any decorations like facial features that would require more time and skill you'd have to use in the process.
Cat stuffed animal pattern from scrap fabric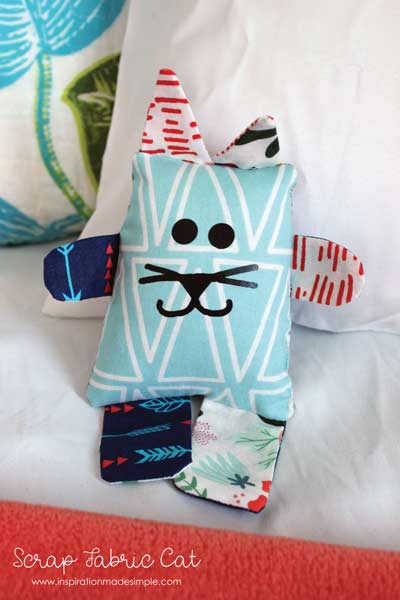 Here's one of the cat sewing projects you can enjoy together with your kid and use the opportunity to teach them about sewing in a fun way as they follow your instructions to sew together small pieces of fabric by hand and create a colorful boxy plush cat that has small arms at its sides, legs at its bottom, pointy ears on top, and a cute embroidered face on its rectangular body.
Felt cat plush pattern free
Pattern (PDF) – print pages 2 and 3 from Mollie makes magazine issue 67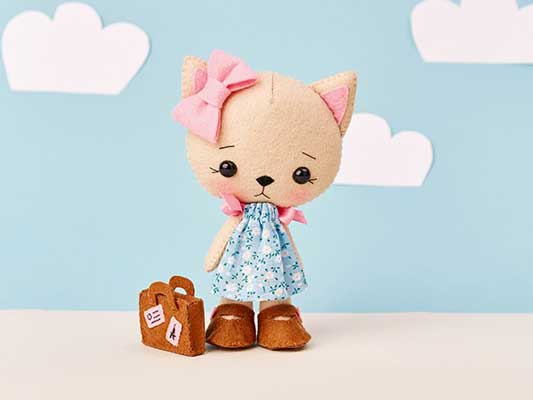 Get ready for cuteness overload because here comes a pattern for stuffed cat straight out of a cartoon, featuring a felt delicate body with a large round head that has magnificent eyes, nose, mouth, blushing cheeks, characteristic cat ears, and a neat pink bow, as well as proper miniature arms, legs, and belly of a human doll, allowing you to sew brilliant tiny clothes like dresses, shoes, and even a suitcase for when your new plush pet has to take a trip.
by Gathered
Cat sewing from a furry sock
This rounded chubby cat will make your day whenever you feel down but also help you reduce the waste you leave behind because this free cat stuffed animal pattern utilizes a sock as the main material that will become a kitty with short stumpy legs, a heart shape on its belly, and a joyous face with a small smiling mouth, round eyes, and two pairs of whiskers.
Stuffed animal cat pattern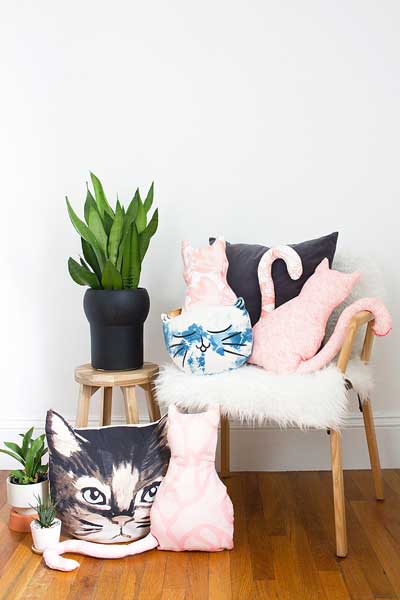 There's no need to have regular pillows in the house when you can substitute them all with a cat-shaped alternative this printable free cat sewing pattern will allow you to create, with   the main features being the shape of the pillow that looks like a sitting cat silhouette, and a wavy tail about as long as the main body on one side of the cat.
Witch kitty – cat plushie pattern

Here comes one of those cat sewing patterns that will put a spell on you with its charm, it's a witch cat that has a body with short arms and legs, a short tail, a cloak around the neck, a lovely round head larger than the body with detailed cat eyes, a smiling mouth and a little nose, unavoidable cat ears, and a small witch hat with a bow on top of the cat's head.
by Cholyknight
How to make a cat plush out of a sock
This stuffed cat sewing pattern free puts together two awesome activities, sewing and being environmentally friendly, to produce a splendid creation in the form of a plush cat that has her front and back legs stretched out, while her tail is upward and curved toward her back, as she lays on her tummy and looks to her left side with shiny black eyes and a tiny, smiling mouth.
Printable stuffed cat sewing pattern free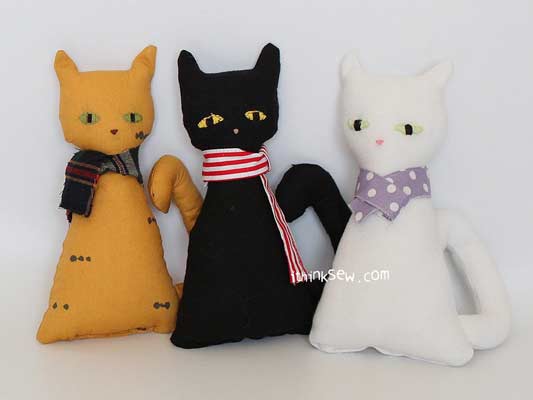 If you feel up for some cat toy pattern sewing and you like minimalistic designs, here's a pattern for you, a stuffed cat that has a simple triangular body, a tail in the shape of an inverted letter C, and a cute head with cat ears, eyes, and nose, complete with a decorative scarf around her neck that shows the cat's got style!
by Ithinksew
Printable simple cat plush pattern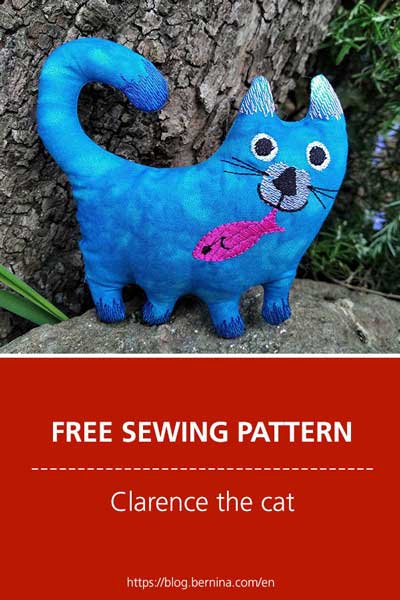 Turn a cartoon drawing of a cat into reality with the pattern we have here and make a soft kitty that has an appearance of a walking cat where you look at it from a side, complete with embroidered eyes, mouth, nose, whiskers, paws, tail and ear tips, and even a fish that she caught along the way and holds it in her mouth!
by Bernina
Mermaid cat plush sewing pattern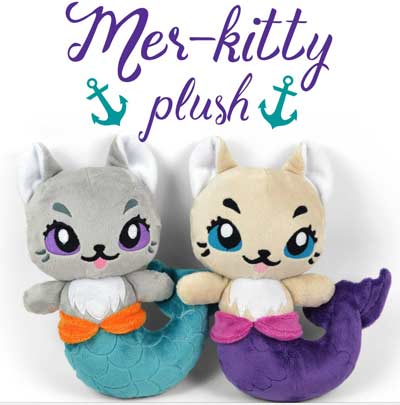 People who say cats don't like water never saw this mermaid cat that has a fish tail curved to the side instead of legs, short arms and a torso with contrasting fur on it, and a beautiful big head with cat ears that have contrasting interior fabric, as well as detailed large eyes, eyebrows, whiskers, nose, and mouth with a tongue sticking out.
by Cholyknight
Cute Kawaiii stuffed cat
Big adorable ball of positive energy, that's what you can call this stuffed cat pattern because it helps you sew a round, fluffy ball with tiny cat ears, stumpy legs, a tail, and a face with dots for eyes, with a tiny nose and a frowning mouth that are extremely cute and will make you want to hug the plushie whenever you see it.
How to make a cat stuffed animal the easy way
Use up those socks creatively and whip up a few kittens that sit on all four with their tails on one side, have a face with eyes that are almost entirely pupils, a pair of three thin whiskers, a small triangular nose, a tiny open mouth, and a couple of optional accessories like scarves, hats, and clothes.
How to make a stuffed animal cat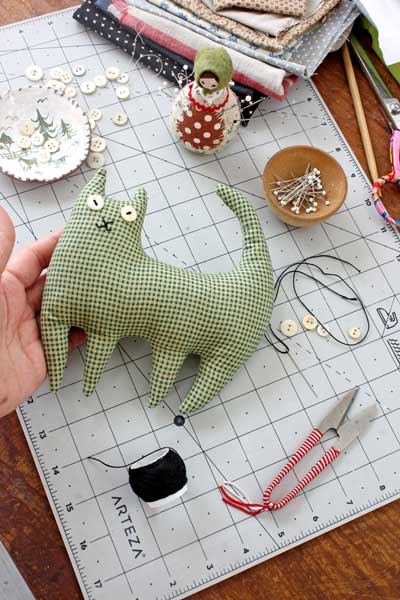 If you're looking for cat patterns to sew quickly and easily, here's one that might suit you, since it lets you turn a bit of fabric and stuffing into a small stuffed cat profile with four legs, an upward tail, and a head that has the essential cat ears, an embroidered mouth that resembles an X mark but with bottom ends curbed outward, and eyes made of buttons.
Simple cat sewing pattern from scraps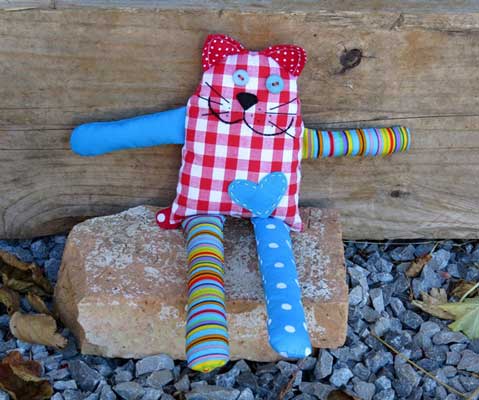 This free cat sewing pattern presents a fun way to use up your leftover fabric scraps and turn them into a fun cat with a rectangular body, long sausage-like arms and legs, cat ears, buttons for eyes, a felt heart on its belly, and an embroidered wide smile with whiskers and a felt nose.
by Sewtoy
Grumpy cat – free cat plush pattern
Here comes the cat plush pattern of a pet that took the internet by its horns with its grumpy face, featuring a white body in the ogive shape, a long brown tail, brown felt ears, a pink embroidered nose, and a frowning mouth, and eyes made of felt in different colors that form that semi-open bothered glare characteristic to the famous cat.
Cat doll pattern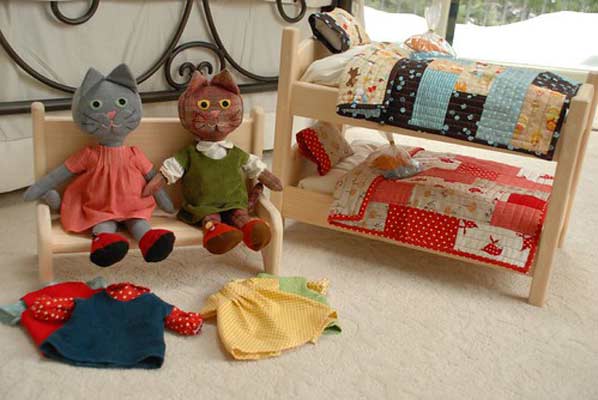 Get ready for a bit of old-school style toy sewing because this cat sewing pattern brings that to the table and by the time you finish and get the cat that has a humanoid body with a head with a detailed face of a surprised or clueless cat, both you and your child will have a new thing to enjoy, the little one will get to play with the doll while you get to sew tiny clothes for it!
Pattern +Instructions (PDF)
by Sewliberated
Cat stuffed animal pattern free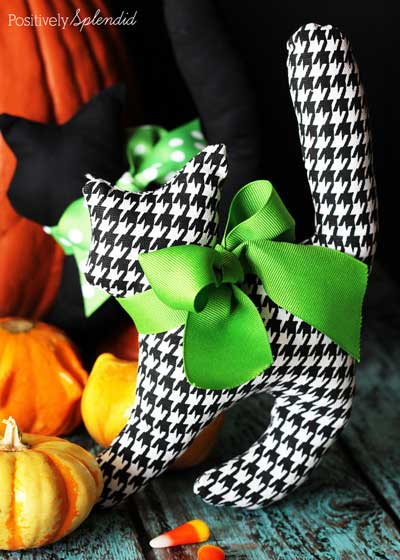 Quick and simple free stuffed cat patterns to sew unique presents for your friends like this one that allows you to make a miniature pillow in the shape of a cat silhouette with two legs and an upward tail curved toward the head, complete with an optional neck bow are great to have around so you can suddenly surprise someone you care for with a thoughtful gift.
Kitten doll – cat toy sewing pattern
Here's one of those stuffed cat patterns that give you the opportunity to sew a doll like your parents or even grandparents had, a cat with a long body, arms, and legs, a head just like a real cat's, with pink felt ear interior and nose, gorgeous bead eyes, an embroidered mouth, and all kinds of dresses, skirts, shirts, and clothing accessories that you can make for the cat to wear.
Get the pattern here (PDF)
I hope you enjoyed this roundup of stuffed cat patterns as much as I did!
Well, what do you think of all these free cat sewing patterns? I bet you already have a favorite. Be sure to give it a try and tell everyone in the comments how it turned out. After that, you can go ahead and subscribe to our mailing list and get regular update notifications. When you finish all that, all that remains is to enjoy your new plush feline friends or keep making them to give as gifts to the people who share your love for cats!
RELATED:
Cat sewing projects – more than 30 ideas for cute kitty plushies – ideal for the cat lover in your life