2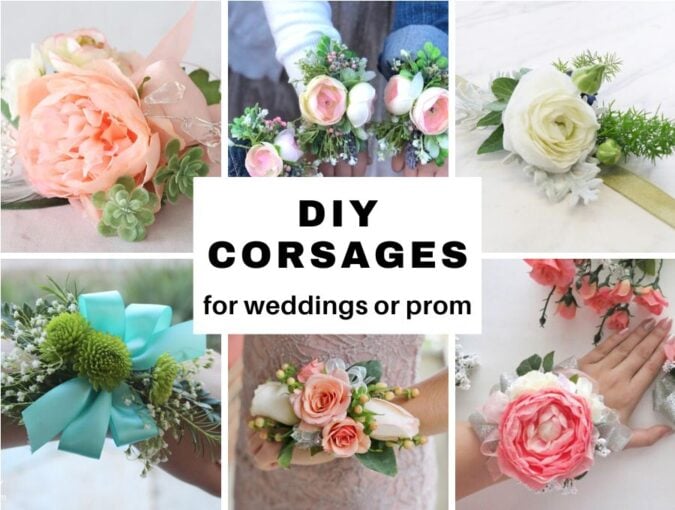 15+ DIY Corsage Ideas and How to make a Corsage for a Prom or a Wedding
Nothing makes a woman look more beautiful than some flowers on her dress, top, or around her wrist. This ornament can make a special occasion like weddings or proms even more wonderful because it makes the lady who wears it feel and appear that much stunning. It's no wonder they've been around since Ancient Greece.
As long as the Corsage in question is the right one for her style, and that it was made right.
You can make a DIY corsage quite quickly and easily if you know a few tricks and tips. This list of homemade corsages is here just for that, to provide you with a plethora of various, equally dazzling handmade Corsage ideas, complete with straightforward instructions on how to make a corsage from scratch. With a DIY corsage on you, you're bound to become the star of the night.
How to make your own corsage out of silk flowers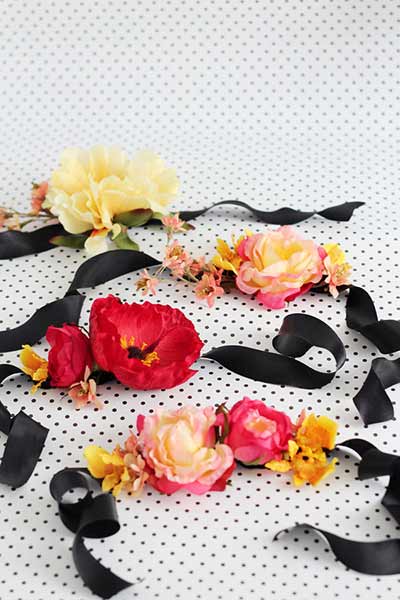 Get your entire girl gang ready for the wedding with this corsage that you make out of silk flowers and a satin ribbon that acts as the main materials that you can use in any form and color they come in, meaning you can create a bunch of unique corsages in the same way.
How to Make a Wrist Corsage or Boutonniere with Fresh Flowers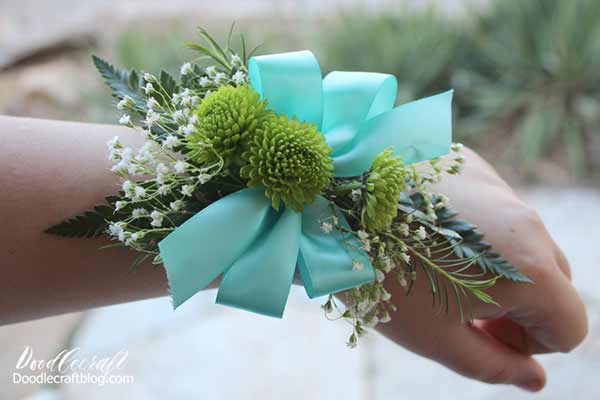 For those of you who prefer real flowers on your corsages, here comes one that you place around the wrist, featuring a ribbon bow with six ends and a few lovely flower types like the baby's breath as the base, as well as a carnation or a rose on top of the ribbon bow.
Diy ribbon wrist corsage
The ribbon wrist corsage we have here is so simple yet so beautiful if made properly, with a felt square as wide as your wrist that represents a base for the carefully glued arrangement of baby's breath, leafy greens, and a flower of your choice at the top as a finishing touch.
by ChristineMyLinh on YT
DIY prom corsage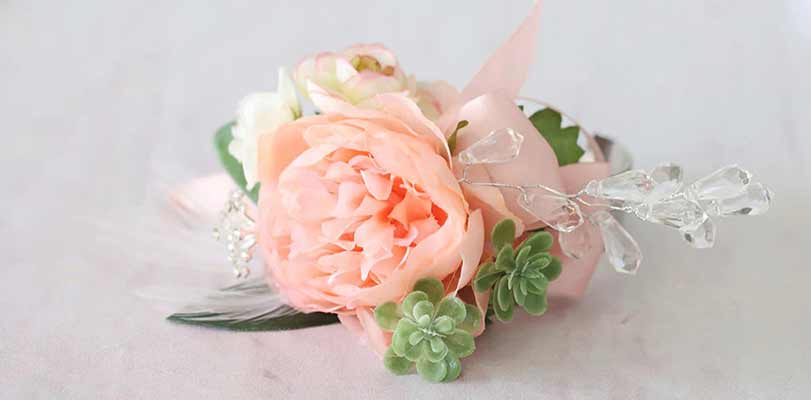 Your princess will look dazzling at the prom with this corsage around her wrist that has a cute silk bow, faux leaves, a colorful faux flower head, and a sparkling jewel as a decoration, all sprayed with just a dash of glitter so it shines subtly when the lights go dim and the dance starts.
by Afloral
DIY felt flower wrist corsage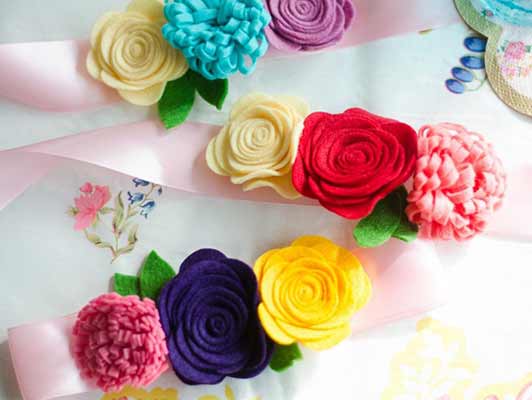 This corsage is here to stay so that you can use it over and over on special occasions, due to its durable body made of a ribbon and three different but equally gorgeous felt flowers that have a few felt leaves behind them and are set next to each other, going almost all around your wrist.
How to make a corsage for a prom or a wedding
Here's a three-in-one corsage project that helps you make a corsage necklace, ring, or bracelet that you can place on your upper arm instead of the wrist, or set around your wrist, and all three options are made of natural leaves and flowers like hellebores, astrantia, and more.
by HGTV Handmade on YT
DIY wedding corsage without a wristlet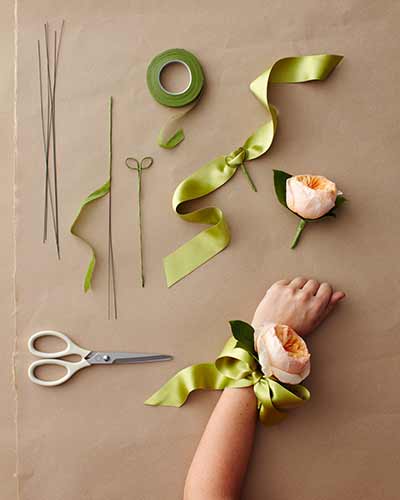 Old school cool incoming, a corsage with a ribbon body that you tie around your wrist, a bit of spread-out lemon leaves, and a flower head of your choice, glued onto a wire base in the shape of a pretzel that you thread onto the ribbon to complete the corsage.
DIY wrist corsage for a little girl
Make sure your kid is the most adorable one at the wedding with the help of this children's corsage that features a silver bracelet with all kinds of plastic and metal sparkling leaves and flowers attached to it, as well as a big faux flower on top that completes the look wonderfully.
How to make a corsage with ribbon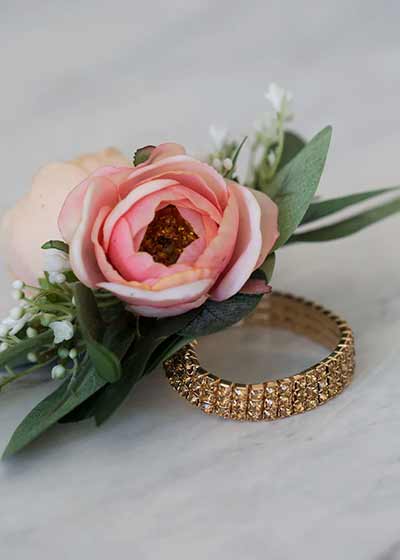 With the power of creativity and a bit of skill, simple things can look like something amazing, just take a look at this corsage that turns ordinary leaves into a butterfly that has a flower head on top, with all of it sitting on a cute ribbon or a bracelet, depending on your preferences.
by Afloral
DIY prom corsage or boutonniere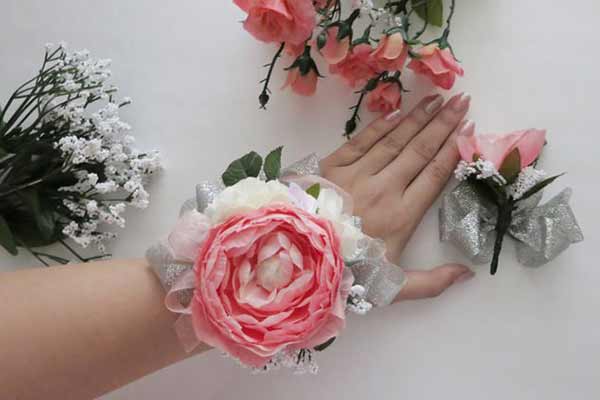 No prom dress is complete without a matching corsage, and this wrist boutonnière goes with any dress, thanks to its bracelet and plastic base, glitter ribbon decorations, a bit of baby's breath, and some lovely silk flowers like roses or peonies that altogether make a special decorative accessory.
How to make a corsage with fake flowers
Faux flower corsages can look just as good as those real flower kinds, says this wrist corsage boldly, flaunting the wonderfully arranged bits of faux baby's breath, spring flowers, and a few faux roses neatly set on a plastic that's glued to a black hair tie, indeed looking as good as the real flower corsages.
How to make a wrist corsage with roses
Here's a fun and fast way to whip up a beautiful corsage, you just create a regular bouquet with three roses, add some leaves to it, then tie them with a wire, cut off the stems, tape the ends, and glue the mini bouquet onto a bracelet or a ribbon.
How to make a wrist corsage with an elastic band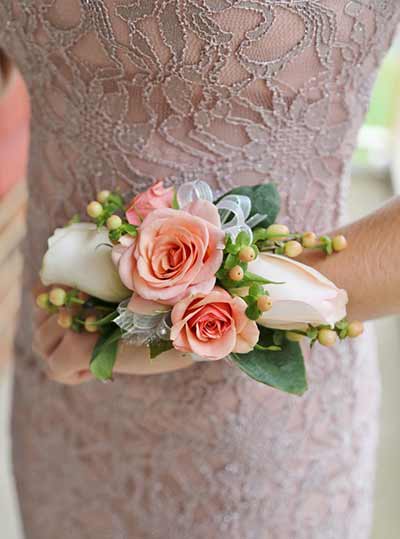 Luxurious corsages don't have to be expensive when you know how to turn store-bought flowers into them, as this one proves, with its velcro strip bracelet base that has two tea roses, two spray roses, three hypericum berry flowers, and some additional flair like optional rhinestones joined together and glued to the bracelet.
by Sandandsisal
how to make a single rose wrist corsage
Only one rose and four different kinds of leafy greens can become a gorgeous wrist corsage when you tie them together with a bit of wire and floral tape, glue them to a piece of cardboard, then glue that whole piece to a strip of ribbon you can tie around your wrist.
DIY spray roses wrist corsage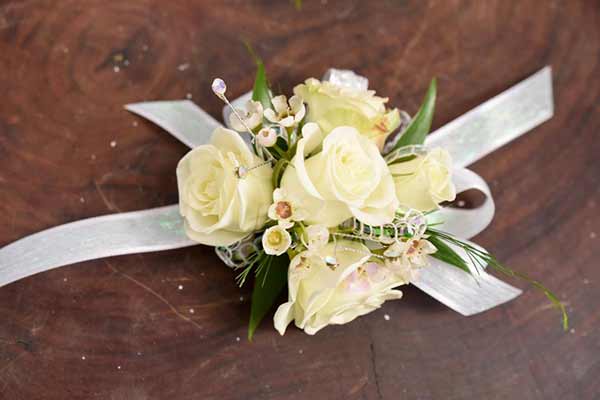 Complete your daughter's prom outfit with a marvelous DIY corsage for prom that has pretty flowers, greenery, and smaller filler flowers as the main parts, with rhinestones, ribbons, and feathers as additional decorative parts that you can use or leave out, depending on the look you want to achieve.
You should be set and prepared for all of the special occasions in the near future with these easy corsage projects. Did some of them already stand out as your potential favorites? Share your thoughts with everyone in the comment section below because it's nice to hear fellow crafts enthusiasts and their opinions. Keep in mind that you can always subscribe to the mailing list if you want to receive news and updates. Have fun making your new corsages!