2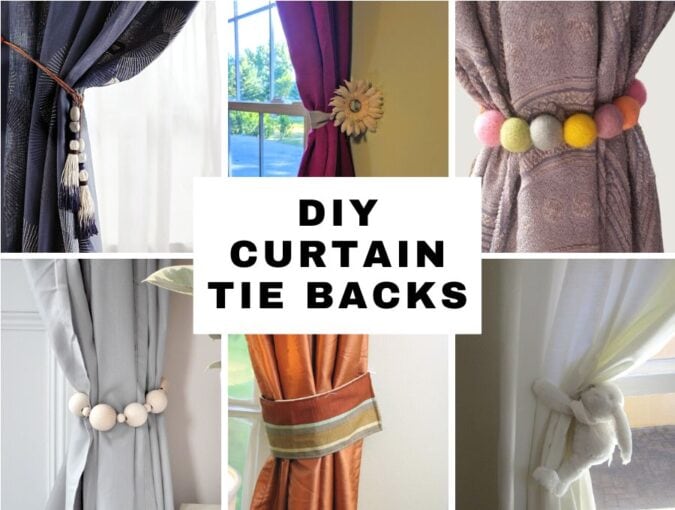 DIY Curtain Tie Backs – Unique, Functional and Decorative Ideas
Upgrade your window treatments with handmade curtain tie backs. They are both functional and decorative, and add a little flair to the room. The good news is that they are super easy to make yourself! Browse through all the fun options to tie back your curtains – from fabric and wooden balls to leather belt curtain tie backs – I'm sure there are plenty of options to suit your space and style. Let the sunshine in with this unique DIY curtain tie backs.
These handy little things can make sure that your curtains look gorgeous even when they're not doing their main job of covering the windows. Besides, you want that sunlight in as much as possible, and you need something to keep the curtains open in style.
Everyone has their favorite kind of curtains and not all tie backs go with all curtains, so I prepared a neat list with many different options for you to choose from. I hope you'll find one or more that will suit your needs perfectly.
Unique DIY curtain tie back ideas
How to make curtain tie backs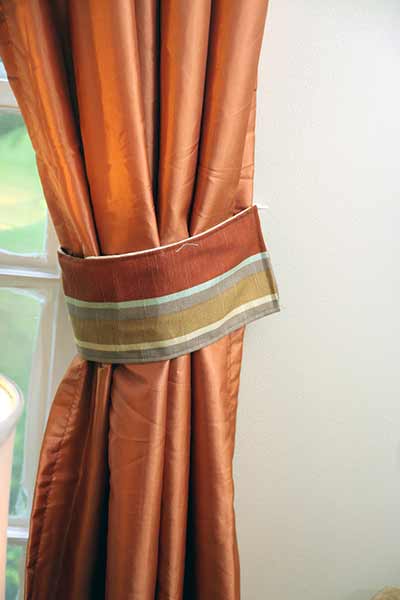 Use this pattern to whip up a set of simple yet elegant tie backs that are about as wide as your palm, double-folded to have more durability and last longer, and have two plastic rings at the ends that you slide onto the hooks you install on the wall to keep the curtains neatly tied away from the window.
How to make professional curtain tie backs
Here's a set of tie backs that are easy to make but despite that emanate luxury and quality with their interesting shape that has one long straight edge and one curved long edge, as well as two rounded short edges at the sides, their lined interior, and the essential rings to hook them onto the wall.
DIY curtain tie backs with rope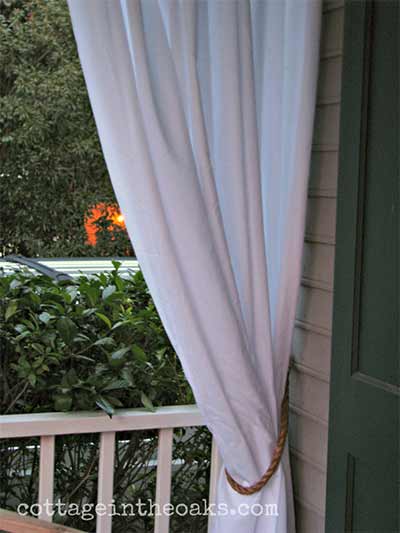 In case you have outdoor curtains, you should have this fun pattern nearby because it allows you to make an environmentally friendly variant of tie backs, made completely out of natural rope that you tie in a specific manner and add small twine loops for hanging as a finishing touch.
Jute rope curtain tie backs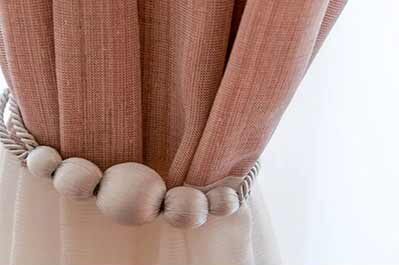 Tie backs don't have to be particularly fancy as long as they do their job and look decent, much like this jute rope variant that is made of a regular jute rope with pipe couplings attached to the rope via the good old fabric tape.
by Kwikhang
DIY macrame curtain tie backs
When you weave a cord the right way, you can make all kinds of amazing macrame products, like these tie backs that will go great with almost any type of curtains, due to their stylish and charming look, featuring two diamond braids joined together, with loops on one end and tussle-like finish on the other.
Cheap curtain tie backs in just 5 minutes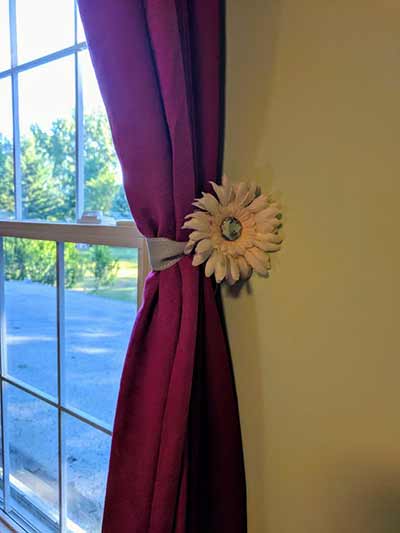 For those of you who prefer extremely simple and fast patterns, here comes a tie back option that requires little time and effort, because all you need to do is to cut a fabric strip, tie its ends into loops, set the hooks onto the wall, tie the fabric around the curtain, and attach it to the hooks.
by Mamaandmore
Beautiful wooden tie backs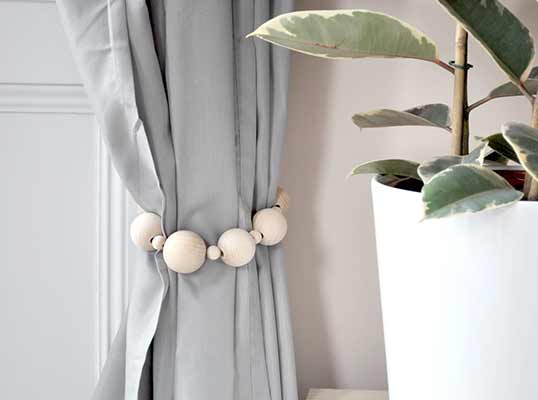 Wooden decorations can breathe life into a room, and these tie backs are no different, with their plain string body that has wooden beads in different sizes threaded onto it so they alternate between small and large, complete with ends of the string tied into loops that you can hook to the wall.
DIY stylish felt ball curtain tie backs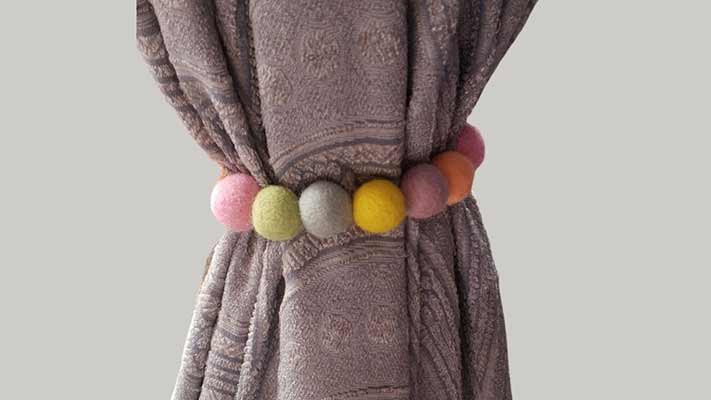 Add a bit of color to both your room and your curtains with these fun tie backs that consist of a yarn that goes through a bunch of colorful felt balls that are tightly arranged together, giving them the appearance of those candy necklaces we all loved when we were kids.
by Glaciartone
DIY rope curtain tie backs
Turn a plain rope into a creative piece of home decor as you use this idea to tie the mentioned rope into a tie back that has a large woven ball at one end and a loop at the other, allowing you to wrap it around curtains and pull it through itself to keep the curtains open and let the sunshine in.
How to sew curtain tie backs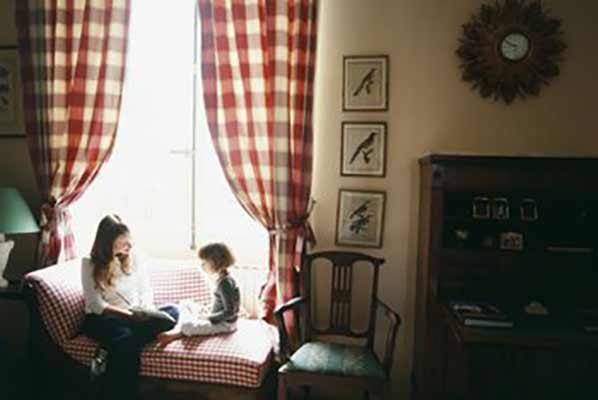 Use this pattern to learn how to sew a set of tie backs from scratch and make them look as you please, in the same color as the curtains or in a contrasting shade, featuring a tying method that requires you to install hooks on the wall behind the curtains.
by Sfgate
Curtain tie backs using picture frames
Crafts lovers, hold on to your horses, because here comes an inventive solution for curtain tie backs, an idea that will help you transform a plain picture frame and a long knitting needle into a unique and classy tie back that will give your curtains a proper luxurious look.
DIY curtain tie backs with ribbon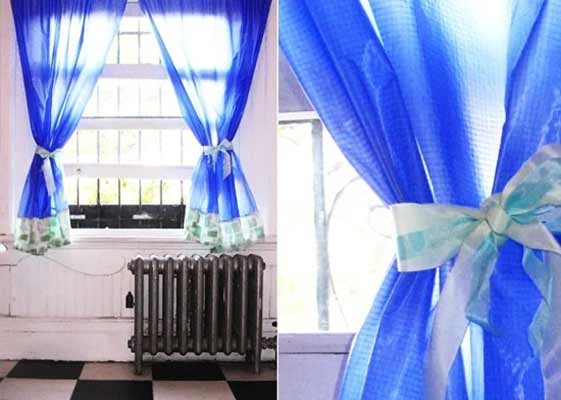 Certain curtains and rooms need delicate and lightweight pieces of decor, such as this fine ribbon tie back that looks as light as feather and as soft as silk, even though it's ridiculously easy to sew because you just need to cut the strips and tie them together into a cute bow.
by Mjtrim
outdoor curtain tie backs diy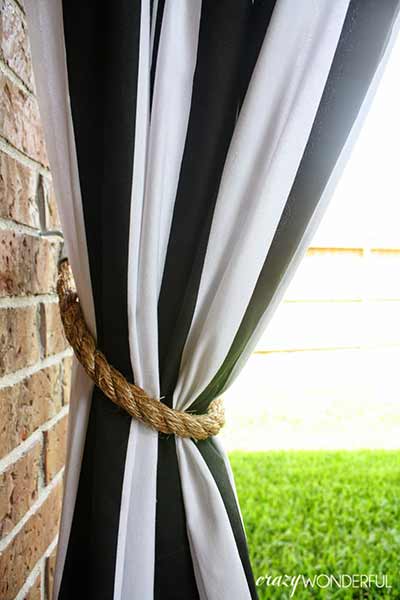 Keep those outdoor curtains open wide in style with tie backs that give off that tiki village vibe due to them being made of a thick natural rope that has metal coupling pieces at its ends so that you can tie the curtains and secure the rope to the wall.
DIY fringe curtain tie backs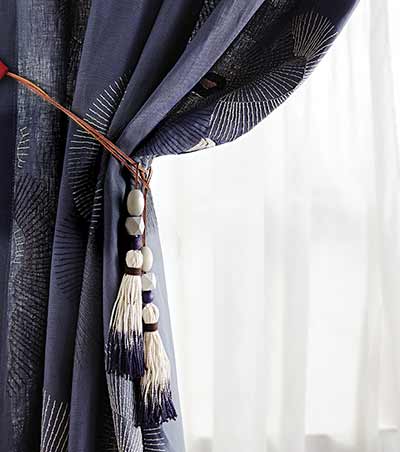 Combine some cardboard, a bit of twine, some beads, and a few other things to get this dynamic curtain holder that features a twine body with beads threaded onto it, and fun tassels at the ends, giving this subtle piece of decor an eye-catching appeal.
by Houseandhome
Magnetic Curtain Holdback DIY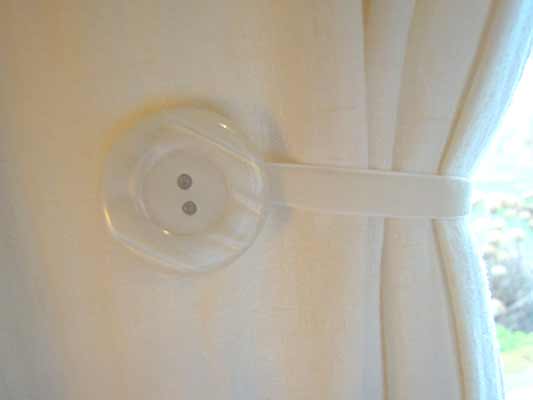 It's time for physics without sewing because here come tie backs that stay in place all thanks to the magnets at their ends, but that's not all they do, they also look great and present an opportunity for your imagination to run wild by trying out all kinds of decorations on these pieces of ribbon.
by Nikkidesigns
DIY outdoor curtain tie back out of leather belt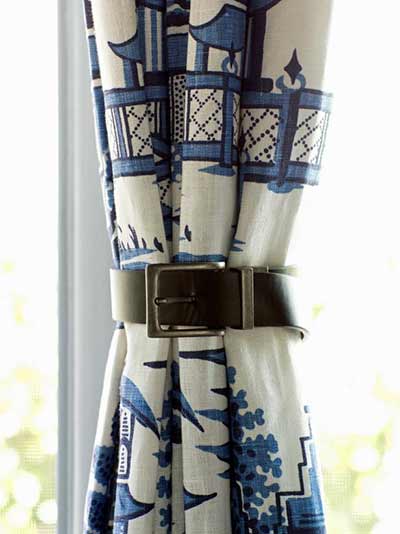 Don't throw out your or your husband's old belt just yet, for it can become a splendid curtain holder for your patio or gazebo, most likely in its original shape, or if it doesn't fit, with a minor adaptation in the form of punching out a new hole on the belt.
by Hgtv
DIY curtain tie back for a nursery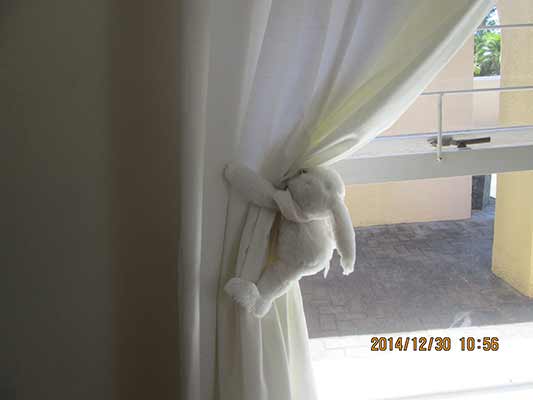 Make the nursery room of your precious little angel even more adorable with these tie backs that you can create out of old metal ones by sewing them onto the hands of a cute plush toy and turning that toy into a curtain holder.
DIY door knob curtain tie back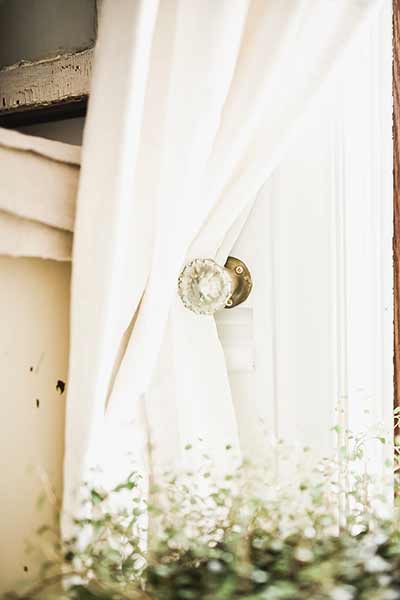 Hop off to your nearest antique store and grab a few beautiful doorknobs because they can act as splendid curtain holders due to their body that's ideal for such a task since you can attach them to the wall behind the curtains, push the curtains behind the knob and voila!
by Lizmarieblog
Curtains are one of those pieces of decor that can completely change the charisma and the atmosphere of a room. But here's the trick, even if you choose the ideal ones for your room, you have to know how to draw out their full potential by setting them up properly.
No matter what kind of curtains, what type of room, or the overall style of your home is, you're bound to find the perfect tie backs on this list. Your feedback is valuable, so please tell everyone in the comments which idea you like the best. And feel free to subscribe to the mailing list and you'll get news about fresh posts on this website. Enjoy your bright rooms and your new tie backs!
That's what these DIY curtain tie backs are for. They are handy, quick to make and instantly upgrade a room. Now what are you waiting for – whip up some quickly!