7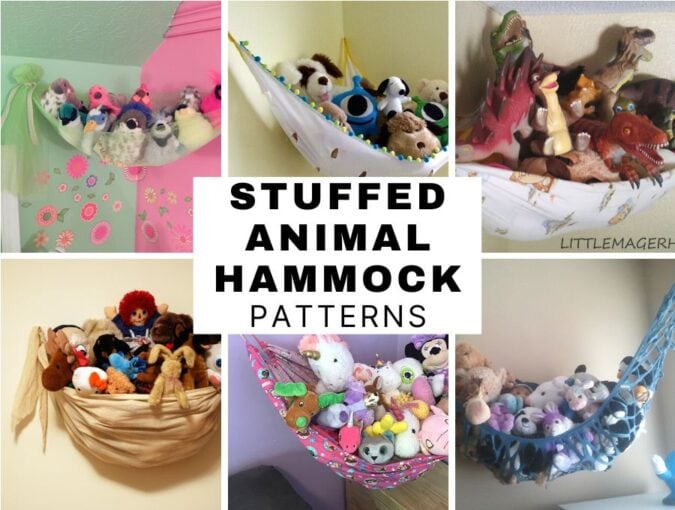 DIY Hammock for Stuffed Animals to Keep Them off the Floor
This DIY stuffed animal hammock is great when you need a diy stuffed animal storage off the floor. All these handmade toy hammocks will do a great job of keeping those stuffed animals and creatures in one place that's easy to reach and acts as a cute room decoration. Don't try to sit on them though, they're for toys only! They are perfect for those cute plushies tend to multiply quickly and occupy all the floor space in the room. From sewn and macramé hammocks to no-sew options, there sure is a DIY hammock for YOUR stuffed animals.
10+ Easy to Make Stuffed animal hammocks and hanging toy storage
Easy stuffed animal hammock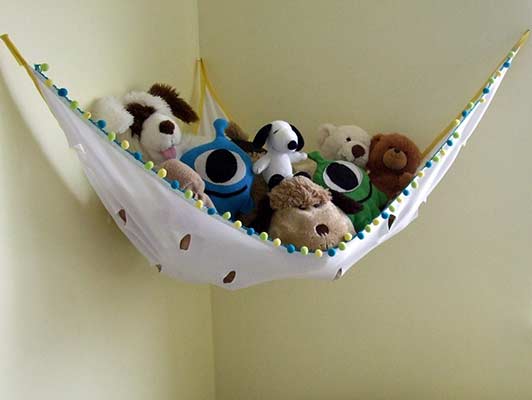 Keep those cute plushies away from the ground in this useful diy stuffed animal hammock that has adorable edges decorated with a contrasting bias tape complete with small cotton balls in various colors, as well as cuts all over the whole thing and three anchor points so that you can set it up in the corner of the room.
Turn a t-shirt into toy storage
Don't throw away that old shirt when you can turn it into a fun hammock for stuffed toys, featuring a net body that will catch the tiny legs of the toys and hold them firm, and three points on which you can hang the creative toy holder somewhere in your kid's room.
by Hunnibunnife
Quick to sew stuffed animal hammock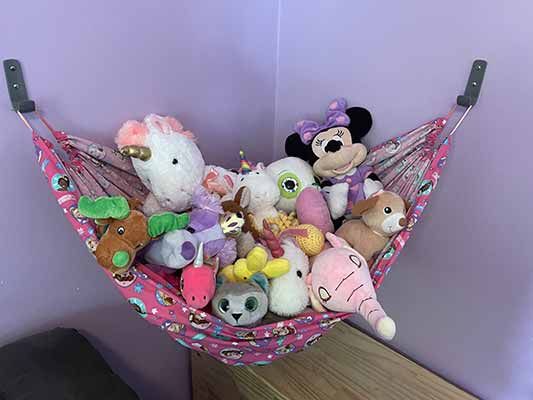 Here's a lovely pattern that will help you make a hammock that is simple but looks great and does its task even better, with a rectangular body that has rope or ribbon loops at its short sides, so you can hang them on adequate holders you will screw into the wall.
by 5outof4
NO-sew: diy stuffed animal hammock from a fitted sheet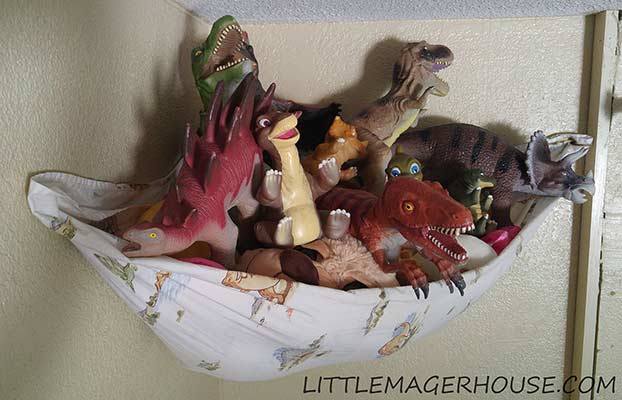 In case you find yourself without your sewing tools but still want to whip up a nice holder for stuffed toys, this pattern could prove itself useful because it allows you to turn bedsheets fitted with elastics into a hammock that you can hang on three screws in a corner of a room.
No -sew: DIY toy hammock for stuffed animals (storage net)
There's no need to fire up your trustworthy sewing machine to make this neat hammock for all of the plush dolls your children have, just a large piece of netting fabric, a pair of scissors, and adhesive wall hooks, together with your goodwill will be sufficient for this addition to the kids' room that you hang on two points.
Tulle stuffed animal hammock no sewing required
Learn how to make your own tulle hammock net to hold all the precious stuffed animals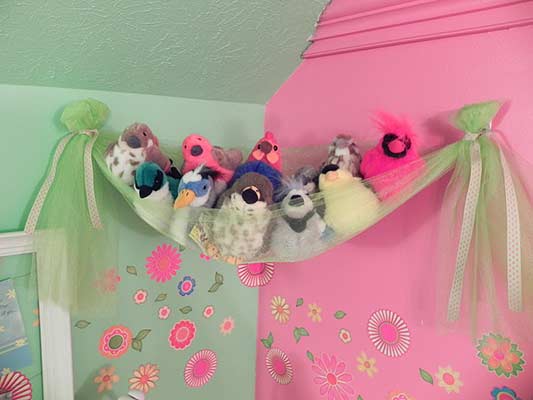 Girls adore tulle in all forms, so your little princess ought to love this cute tulle hammock that will hold her favorite soft fabric animal friends safe above the ground, suspended on two hooks, with ribbon decorations at each anchor point as an extra dash of loveliness.
Toy hammock for straight wall
If the place for the stuffed animal hammock is not in a corner, then this solution is for you!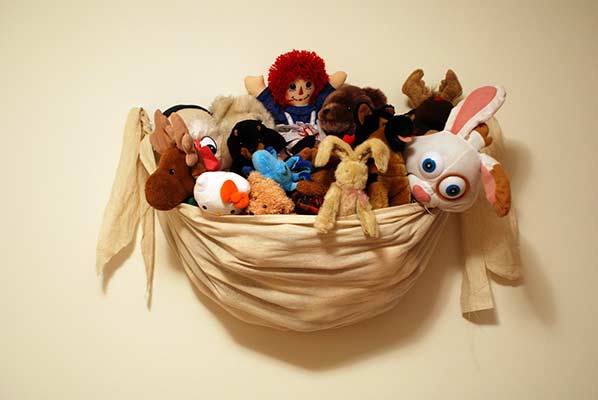 Here's a hammock for toys that is practical for all who don't want or can't hang such a thing in the corner because you hang this bad boy that features a fabric body with a ribbon casing all around, complete with ribbon loops, at its ends on a straight wall with two hooks.
Macrame stuffed animal hammock diy for straight wall
Get those fingers ready for some weaving action because you'll be making this cool web hammock that has two wooden rings at its ends that you can hang on a straight wall or in a corner, as well as optional wooden beads as decorations that can go along the outer edges of the toy holder.
Macrame toy hammock
Let your creativity run wild with this pattern that will help you make a unique macrame toy hammock that has two bamboo sticks with ropes tied between them to form a web and beautiful braids on the bottom stick that embellish the practical wall storage for all plush pals your little ones love.
How to crochet a toy hammock
Here comes a special treat for all of the crochet enthusiasts reading this, a crochet hammock that you can make while watching your favorite show or that movie you missed out on, as you try out different yarn colors combinations to get a fun product that is one-of-a-kind and only you have it!
I hoped you liked all those ideas to make a DIY Stuffed Animal Hammocks. Drop in the comments below to tell me which one you like best! Be sure to subscribe to the mailing list if you want to receive updates about new posts like this one. Now go and surprise your kid with a wonderful new home for their buddies!