2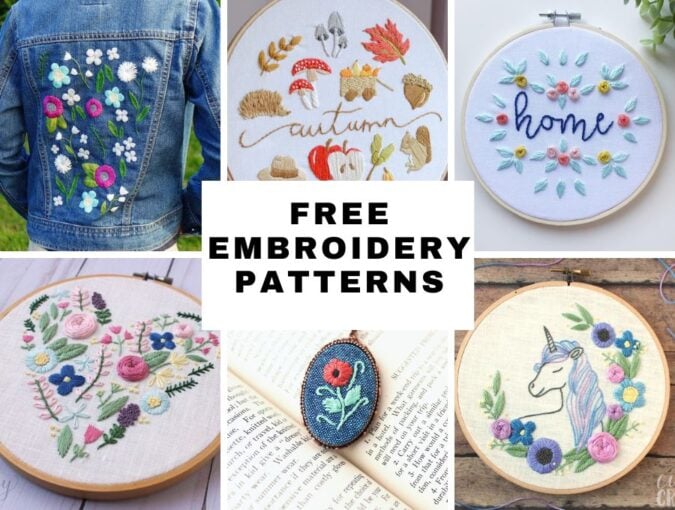 26+ Free Hand Embroidery Patterns (Adorable and Easy)
Browse our extensive collection of free embroidery patterns to download and get you inspired for your next sewing project! Embroidery has the power to transform a plain looking dress or a shirt into a fashion statement. Incorporate some sophisticated hand embroidery design into your everyday clothes and they will instantly look more luxurious and elegant. So if you are looking for free hand embroidery patterns, take a look at these various designs below. From cute, simple and fun embroidery designs to intricate and modern embroidery designs with flowers and animals, you will find an array of brand new look for your outfits or the items you sew.
So.. why embroidery? If I have to quote the dedicated reddit sub, embroidery is for
When you don't know whether to make art or stab something. 
How do I make my own embroidery pattern?
Free Embroidery Designs
Modern embroidery pattern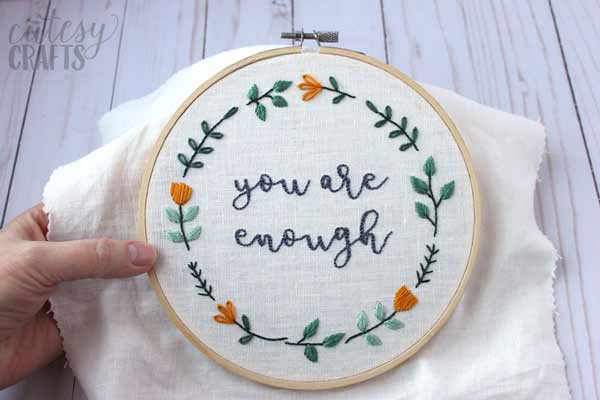 Our free embroidery patterns vary from antique to modern to suit every taste and style, but this inspirational message is one of my favorite modern embroidery patterns.
Boost your mood and confidence with a round embroidery design that isn't just beautiful, but also motivating as it features a round frame made of flowers that have long, thin stems with leaves, and cursive writing in the middle that tells you powerful and true words, you are enough.
by Cutesycrafts
Cute easy embroidery designs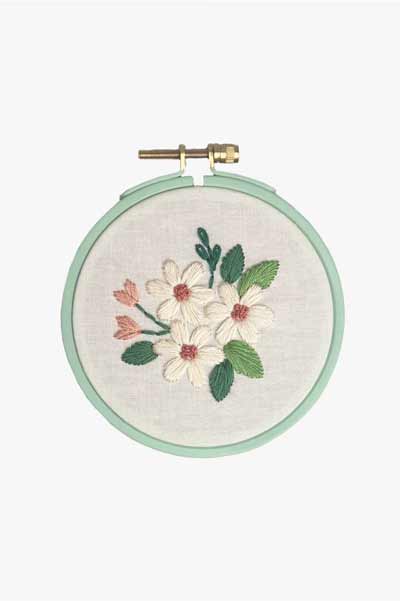 If you enjoyed this floral design, browse the site for more pdf embroidery patterns. All are free to get!
Here's a pleasant embroidery pattern that looks great on a round hoop, with three chamomile flowers that have six petals each, two pairs of leaves in the top-right and bottom-right corner, a single leag in the bottom left corner, and three stems with buds on the left and right of the top-left flower.
by Dmc
Baby embroidery pattern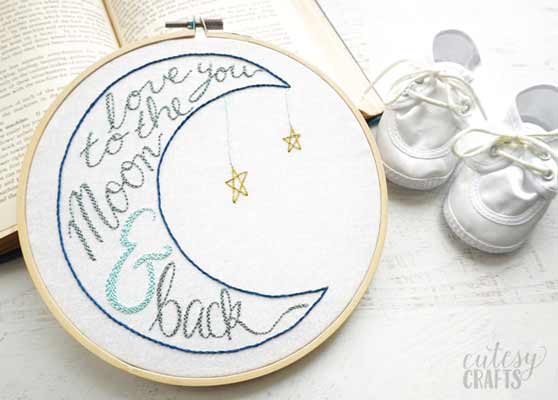 This pattern is perfect for you to decorate your baby's sheets or bibs, as it helps you make an embroidered depiction of a crescent moon with two small yellow stars dangling off a thread tied to the top of the moon curve, and cursive writing saying 'I love you to the mooning and back' inside the moon body.
by Cutesycrafts
Flowers embroidery outline designs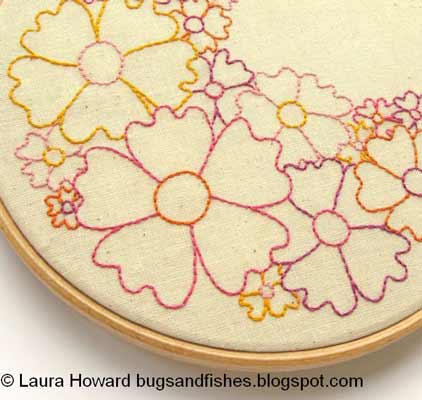 Here's a pattern that might attract some bees because it's all about flowers, but not your ordinary flowers, instead it is full of flower outlines in different sizes and colors, with each flower having a circle in the center, and five wide petals with wavy outer edges around the circle.
Embroidered denim jacket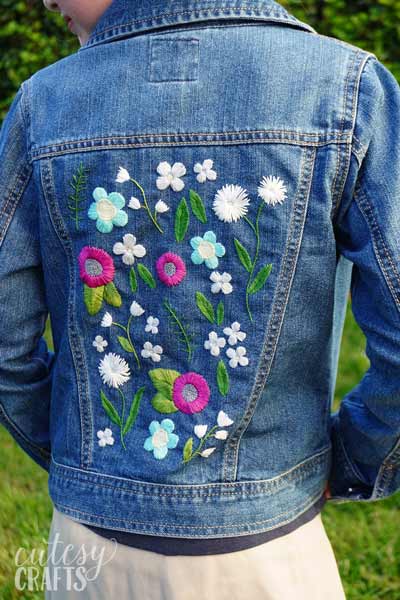 Use this cute embroidery pattern to turn a plain denim jacket into a cheerful piece of clothing that has its back filled with all kinds of flowers in various colors and shapes, with long or short stems, and with one or more leaves, as well as a couple of stems, flower heads, and leaves, like a real meadow!
by Cutesycrafts
Embroidered bouquet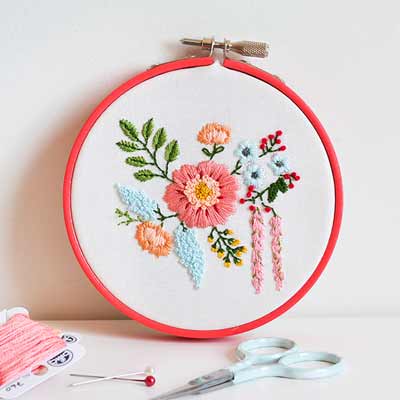 Here comes a pattern that will help you create a depiction of some flowers that's a lot like those Japanese ikebana arrangements in the sense that there aren't too many flowers there nor too few since there are a few small flower heads, a couple of stems and leaves, two hanging flowers, and one large flower, all set next to each other in a compact circle.
Free hand embroidery necklace patterns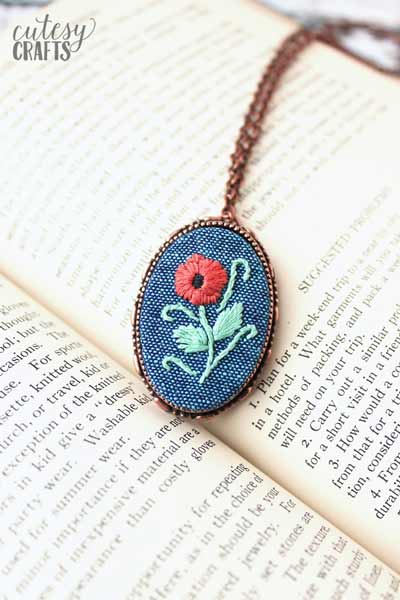 Get your fingers ready for some hand sewing action because you're about to make some adorable embroidery necklaces that are oval or round, with a dark or bright background, and a main motif of one, two, or three flowers with stems and leaves in the center of the necklace.
by Cutesycrafts
Fun seasons embroidery patterns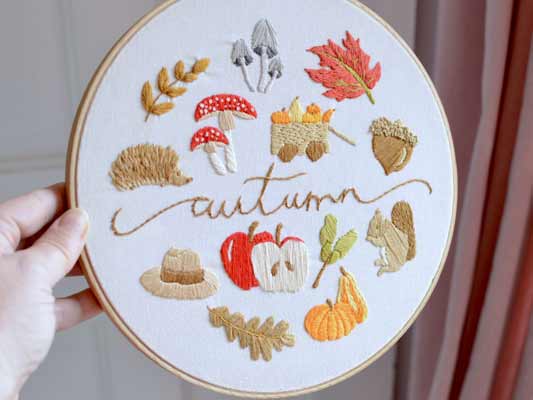 Greet and welcome the four seasons properly with an embroidery pattern for each season individually, with those specific trademarks tied to each one like some apples, leaves, and pumpkins for autumn, tropical fruits and animals for summer, blooming flowers and chirping birds for spring, and a snowman, a scarf, and a mistletoe for winter!
by Frenchmango
Floral unicorn embroidery pattern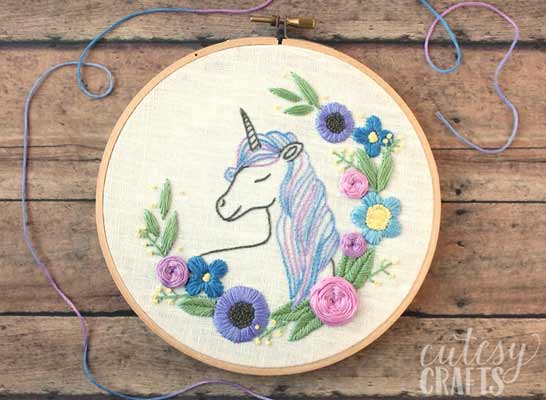 There's nothing more majestic than a unicorn, says this pattern that features a round depiction of a thick floral chain with a beautiful head of a unicorn who has closed eyes, a long and wavy gorgeous mane in rainbow colors, a gentle smile, and the ever so fantastic horn on its head.
by Cutesycrafts
Mother's day embroidery design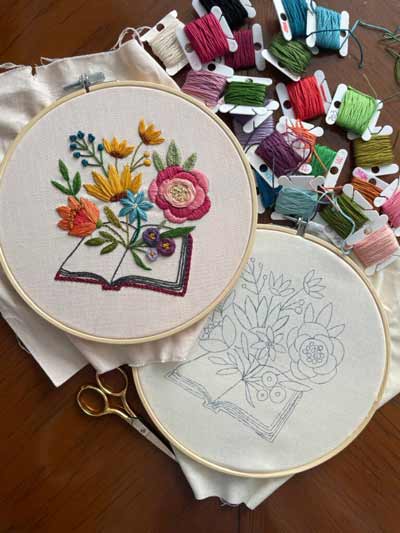 Knowledge and imagination bloom out of books, that's the statement behind this pattern that will allow you to make an embroidery design with a big open book as the main motif that has loads of different colorful flowers rising from the pages, nourished by the book contents.
Floral heart embroidery design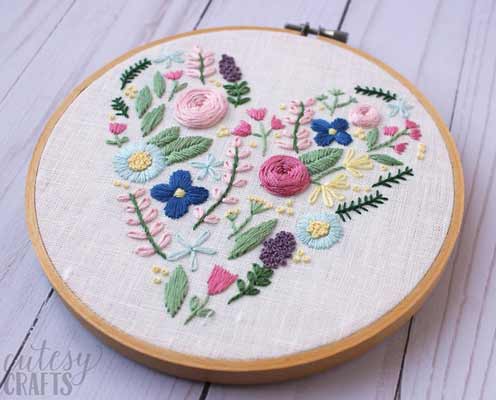 Use the pattern we have here to demonstrate your love for flowers, as you embroider many flowers in different colors, sizes, and shapes, some of which have stems and leaves, with a few flower heads protruding away from the fabric, all arranged together into the shape of an adorable heart.
by Cutesycrafts
Family embroidery design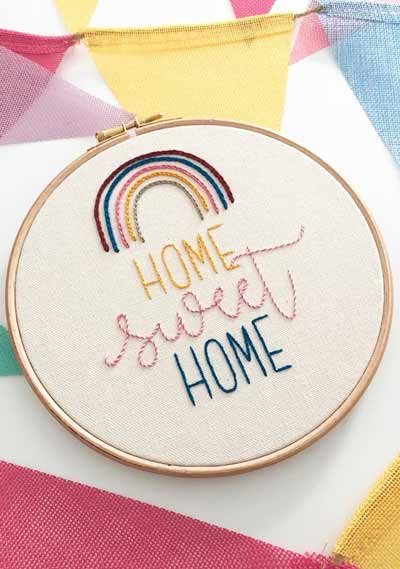 There's no place like home and with this pattern that can become a fine decorative piece if you stitch it onto a round hoop, you will be able to tell everyone visiting just how much you love your humble abode, since it features a simple rainbow arch under which there's a colorful text saying home sweet home, with the word sweet written in cursive letters.
by Lovecrafts
Easy embroidery pattern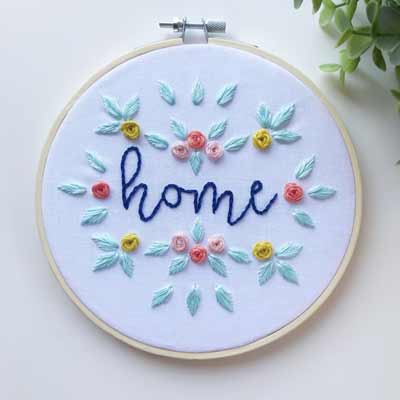 Apart from this lovely quote, this site contains hundreds of downloadable embroidery patterns. Browse and enjoy this eye candy!
Take a round embroidery hoop and utilize this pattern to embellish it with the word home in cursive, surrounded by flower petals and flower heads that point away from it as if the word is a blooming flower as well, then hang it on your living room wall or shelf to make the area ever warmer and more wholesome.
by Lovecrafts
Small embroidery patterns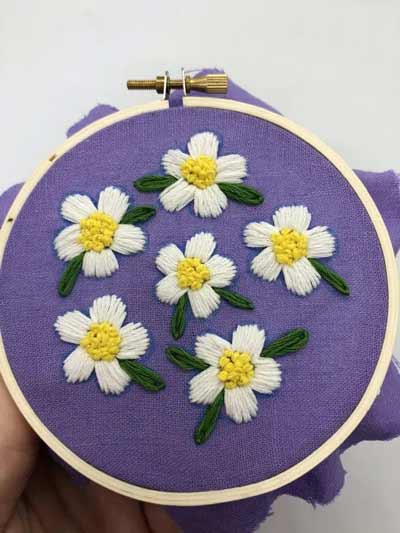 Daisy flowers have something especially cute and gentle going for them, and the pattern we have here puts that characteristic to good use as it helps you make an embroidery design with those qualities, featuring five daisies set in a circle around a sixth one, all with five white petals and yellow middles, with some that have one, two, or three green leaves around them.
by Crewelghoul
Embroidery name designs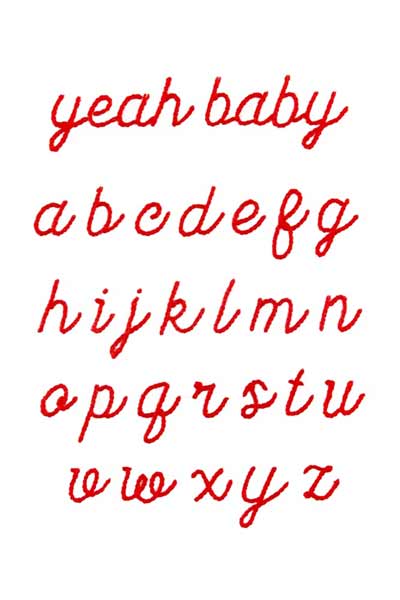 This pattern is a bit different in the sense that it won't help you make one embroidery design but instead, teach you a technique that will allow you to make a bunch of custom embroidery decorations, and that technique making embroidered words in cursive words, which is great for embroidering anything from motivational phrases to personal names or messages.
by Lovecrafts
Botanical embroidery designs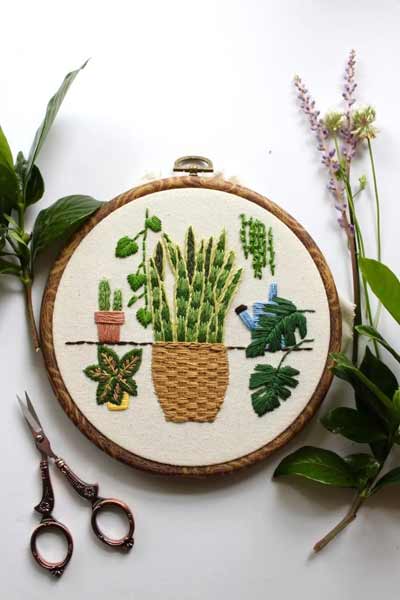 Here's a special treat, five similar but still different patterns in one, all on the same topic of leafy green plants, with one of the patterns representing a potted green plant with a few smaller ones around it, one that represents a plant that has two large leaves and sits in a wide pot, one that depicts a few thin branches with narrow green leaves on them, one with eight different cactuses, and one with a plant that has high thin branches with thin leaves and sits in a narrow, high pot.
by Crewelghoul
Funny embroidery pattern – embroidered clock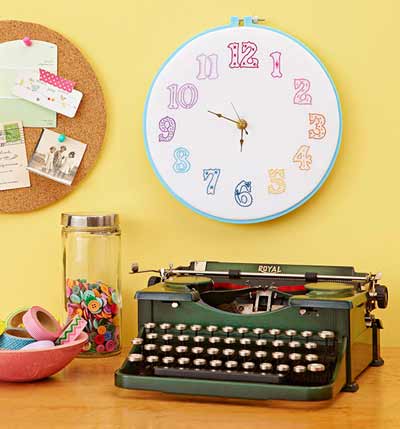 Confuse your house guests with an adorable gag that combines creativity with fun to produce a beautiful decoration for your living room that will make your friends look at it at least twice since it bears the appearance of a regular wall clock even though it's an embroidered design on a round hoop.
Constellation embroidery pattern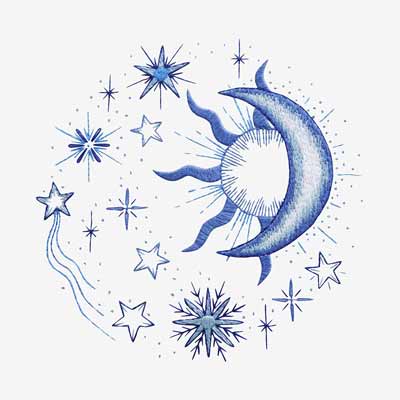 Get in touch with the stars that align for you as you create this embroidery design that is all about the celestial bodies, with a depiction of a beautiful crescent moon behind which a sun with wavy light rays peeks out, accompanied by several shining stars in different shapes and sizes all around the two.
by Lovecrafts
Countryside embroidery template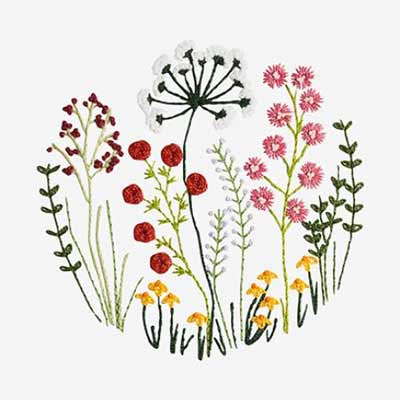 When you think of the countryside you think of vast meadows full of those gorgeous flowers that were cultivated by nothing but nature, and that is the same sentiment that this embroidery pattern will awake in you, with a presentation of numerous standing flowers that have thin and long stems, with small but lovely flower heads attached to those stems from about halfway up.
by Lovecrafts
Antique sewing machine embroidery design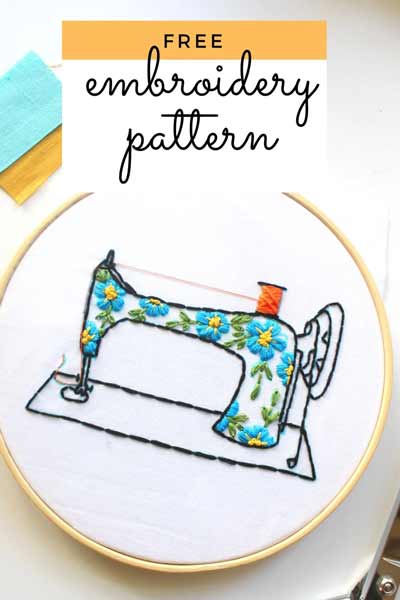 Demonstrate your love for sewing with an appropriate decorative piece on your home wall that has an embroidered illustration of those old-school sewing machines our grandmothers used without needing electricity to run them but instead doing it by hand as they turned the wheel on the side of the machine, worked the pedal by foot, and stitched their projects simultaneously without making any errors in the process.
by Crewelghoul
Rainbow embroidery template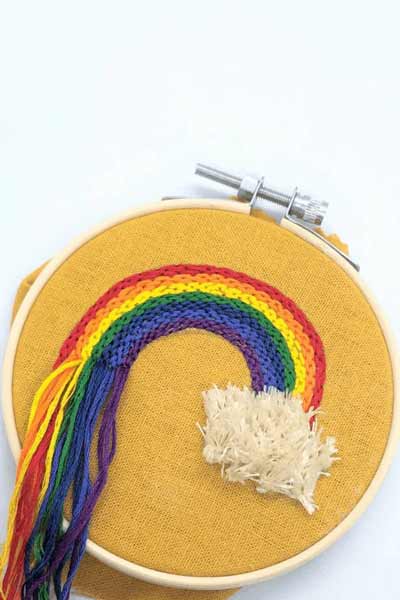 Play with the transition between 3D and 2D objects with this interesting and inventive pattern that will help you embroider a beautiful rainbow arch that has a fluffy cloud that protrudes away from the fabric at one of its ends, and threads in rainbow colors that leave the fabric in the same manner at the other end of the arch.
by Crewelghoul
Primrose botanical embroidery pattern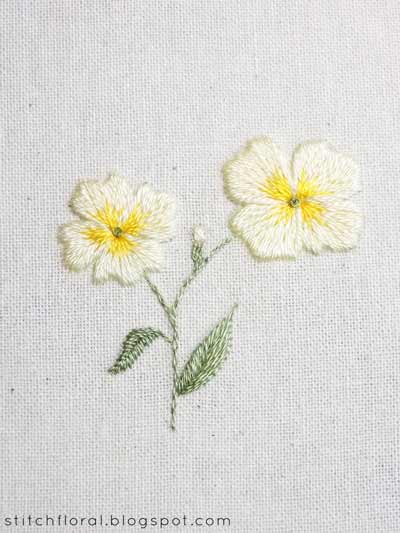 The primrose flower is a symbol of gentle and elegant nature that hides many positive traits, due to its beauty and healing properties, so an embroidery design like this one that depicts a gorgeous primrose flower with a stem that splits into two that each have that lovely flower head on top will emanate those qualities to all who see it.
by Stitchfloral
Free cactus embroidery pattern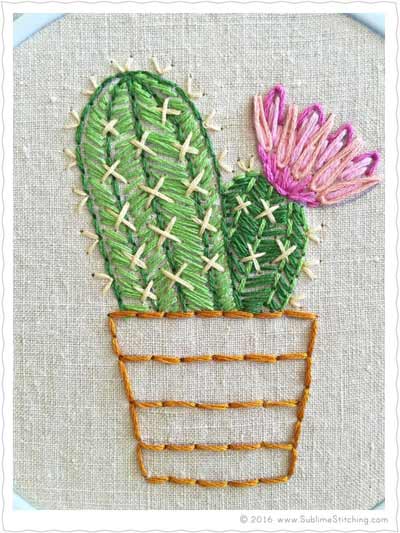 The desert beauty cactus has a special charm that this pattern places on the fabric for you, featuring a short, stubby cactus with needles all over, as well as a smaller one next to it that has an adorable pink flower blooming from its top, all fitted into a small pot that resembles a woven basket.
Simple eucalyptus – free succulent embroidery design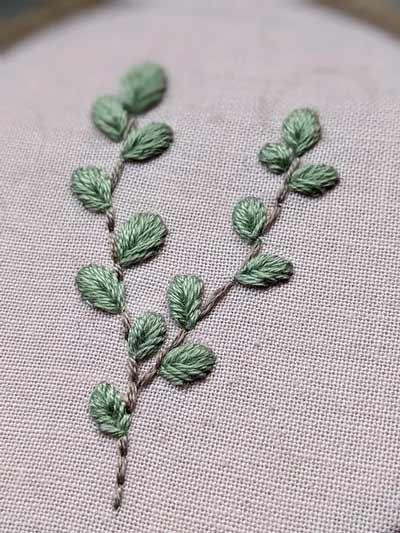 Be careful not to place this embroidered design next to a Koala because they'll gobble it up since it features a Y-shaped branch with loads of small, oval, thick eucalyptus flowers on each side of each branch, bringing a dash of Australian vibes into your embroidery projects.
Stitch for Ukraine – embroidery with a cause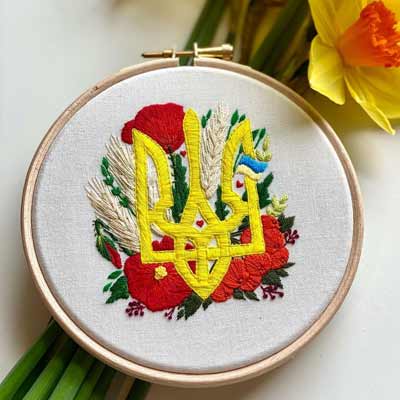 Say no to war and donate what you can to stop the conflict in Ukraine and as thanks, you will get these two beautiful embroidery patterns that feature some of the traditional Ukrainian motifs like the insignia of the country, their national flowers, the Ukrainian flag, and a girl in the traditional clothing of the nation.
Embroidery wreath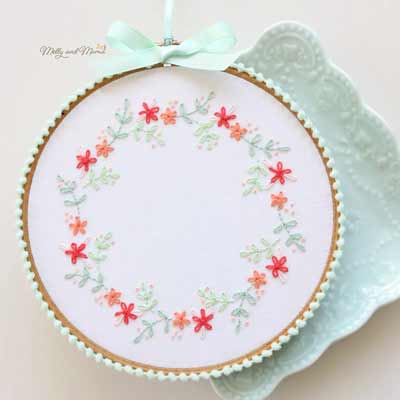 Wreaths come in the form of embroidery too, and they look absolutely stunning, just take a look at this one that has a bunch of small flowers in many different colors with thin petals and stems, set in a circle to create a lovely vibrant wreath.
by Mollyandmama
Embroidery Pattern FAQ
What is an embroidery pattern?
What are the six basic kinds of embroidery stitches?
The basic embroidery stitches are: running stitch, backstitch, split stitch, stem stitch, satin stitch, and French knots.
If you are not sure which stitch is which, Mary Corbet of needle'n'thread has an extensive collection of videos showing all sewing and embroidery stitches HERE
How Do I Transfer an Embroidery Pattern?
I hope you enjoyed my roundup of simple printable embroidery patterns and free hand embroidery designs. Most are fun and easy so you can incorporate them quickly in your work but some of the free hand embroidery designs are so intricate that your clothes will look like they were made for red carpet fashion show.
Which one of these embroidery templates is your favorite? Which one of these free embroidery patterns are you going to stitch?
All these hand embroidery patterns have something unique to them, but all are amazing and will be fun to give a go regardless of which one you choose to try out. Feel free to tell everyone in the comments which one you liked the most and which one was the easiest or hardest for you to make. And remember to subscribe to the mailing list to stay up-to-date with new posts like this one as soon as they get published. Have fun working those fingers and embroidering beautiful designs by hand!