2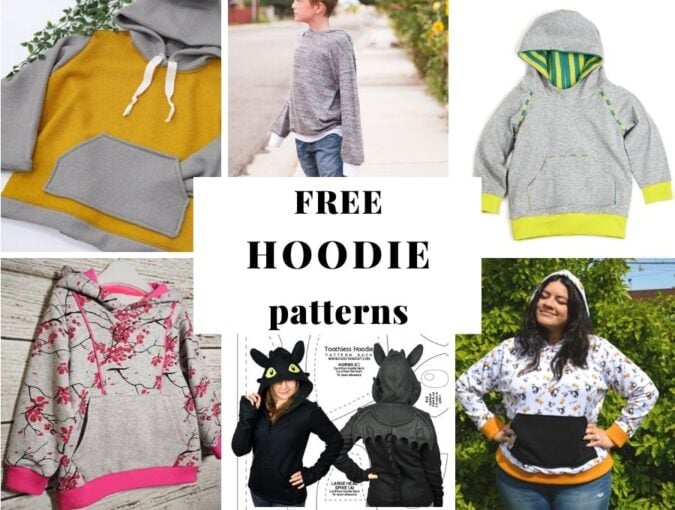 20+ Free Hoodie Sewing Patterns for Stylish Layering (Wear Anywhere and Everywhere)
Hoodies seem to be super popular these days, you can wear them anywhere and everywhere. What started as a humble hooded sweatshirt, has taken the world by a storm. It's the hoodie world we're living in. Hoodies make for a stylish but cozy layering. If you're looking for a solid option that can stand up to pretty much everything you throw at it, make yourself a hoodie using one of the free hoodie patterns below. Dive right in, we have hoodie designs for women, men, boys and girls. No matter whether you need a classic, zip up, sleeveless or even crop top hoodie, browse the hoodie sewing patterns below to find the right one for you.
Free hoodie patterns for women
Free zip up women's hoodie
Sizes 2 -24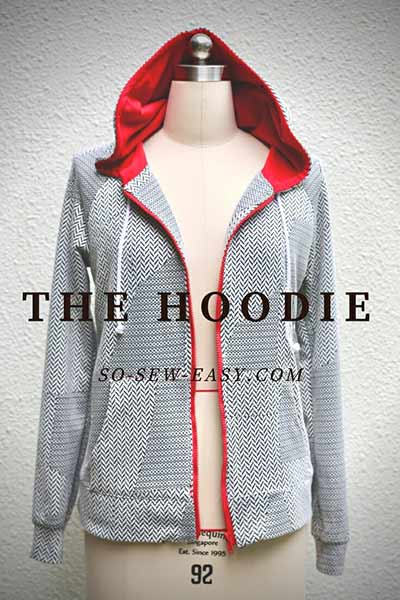 Use this pattern to sew a beautiful lightweight hoodie that has a lined interior, a front zipper along its entire length, and practical front pockets that can keep your wallet or phone perfectly. The sleeves have elastic cuffs at the end that fit your wrists snuggly for windy days, while the hoodie has a drawstring you can tighten and tie if you need to cover your head and protect it from the elements.
by So-sew-easy
How to make a hoodie pattern from your favorite hoodie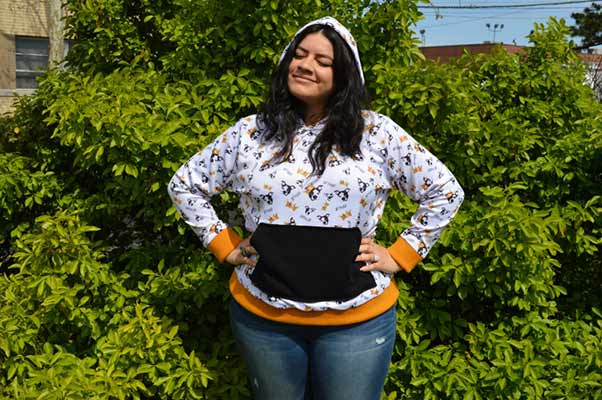 For those of you who prefer pullover hoodies, here comes one that has a matching bottom hem band and cuffs, a large front pocket with openings on each side, and the crucial hood. Use fabrics in different colors for the body, pocket, and cuffs to give the hoodie the cheerful appeal it deserves.
by Moodfabrics
Women's cowl neck sweatshirt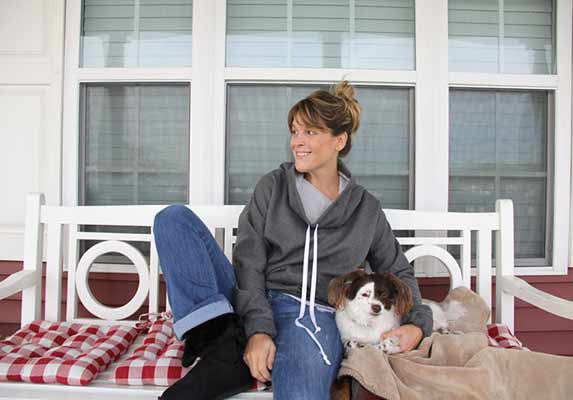 Get ready for a particularly comfortable hoodie that has sleeves that are slightly longer than they should be so you can tuck your hands in them and a cowl neck that can act as a soft scarf when necessary. The cuffs and the bottom hem band are elastic so they stay close to your body. The cowl is loose but fitted with a drawstring that allows you to tighten it if you're chilly.
by Mesewcrazy
Women's cropped hoodie
Size 2-36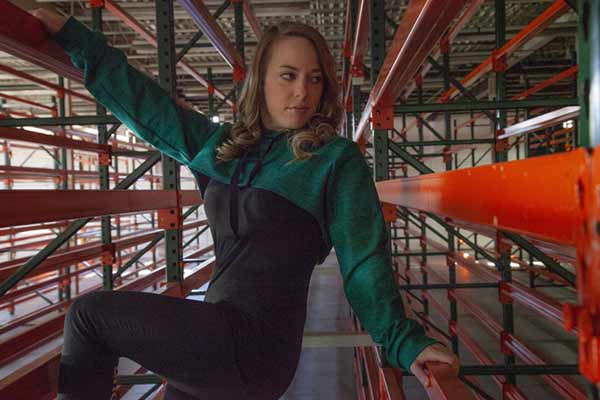 Sometimes when you're training you need an extremely light hoodie like this one that covers just the top half of your torso and your arms. The sleeves have elastic cuffs that keep them from rolling up as you move your arms when you're running or doing some bag punching. A drawstring under the hood comes in handy if rain catches you during your jog because you can tighten it and keep your head covered and protected.
by Moodfabrics
Free MEN's hoodie patterns
Free men's hoodie
Sizes: XXS – 5XL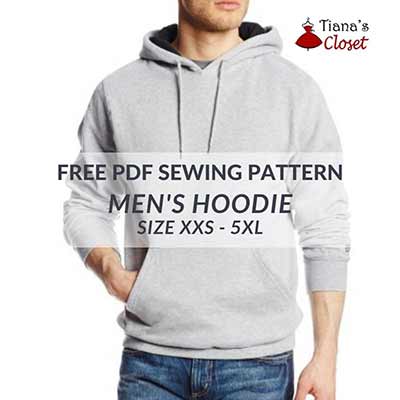 You can't go wrong with a classic hoodie like the one we have here, featuring long sleeves with wide elastic bands at their ends, an elastic waistband, and a wide hoodie. Another notable thing about this hoodie is its large belly pocket that can act as a much more masculine alternative to a fanny pack.
by Tianascloset
Men's hoodie vest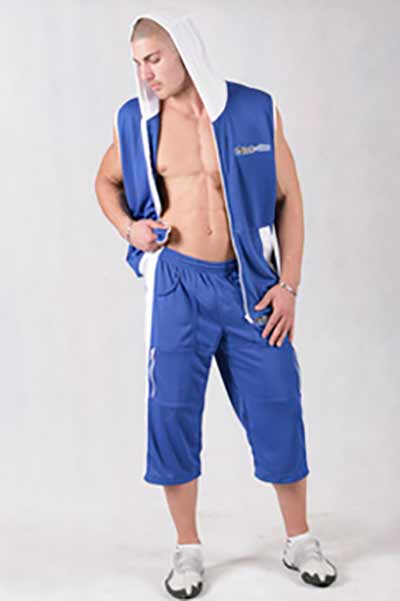 Guys who box or jog often love this vest hoodie because it's so practical and easy to wear, due to its sleeveless shape and a light hood, together with a zipper that goes along the whole thing and two side pockets that are perfect for storing energy or protein bars.
Men's wool hoodie
Size 2-30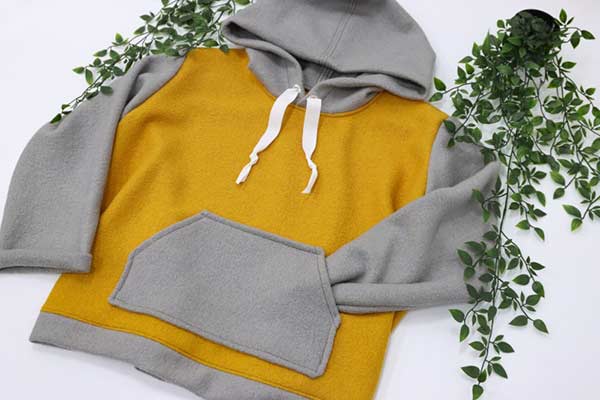 Think of this pattern as a closed vest layered over a hoodie that's a bit boxy, with a pocket, an elastic waistband, and cuffs, as well as a drawstring-fitted hoodie. There are two pocket options for you to choose from, the famous hoodie belly pocket, or a smaller chest pocket like the ones you can see on jackets. No one's stopping you from making both at once though, that's perfectly fine if you prefer or need extra storage room.
by Moodfabrics  
Unisex hoodie templates
Unisex hoodie – HUGO
Sizes: XXXS – 4XL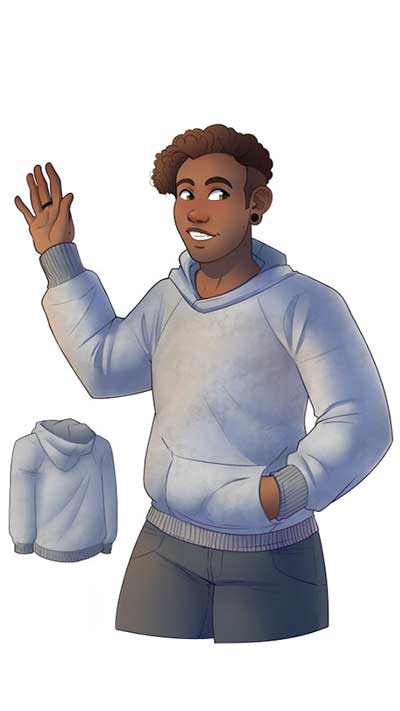 Make matching outfits for you and your significant other with the help of this unisex pattern that will let you make a hoodie that has long raglan sleeves, an elastic waistband, and elastic cuffs that fit you snuggly, plus a wide hood. You can also add an optional front pocket that will keep your hands warm when a chilly breeze starts to blow.
Tutorial by Freesewing
Pattern: https://freesewing.org/create/hugo/
Sew unisex hoodie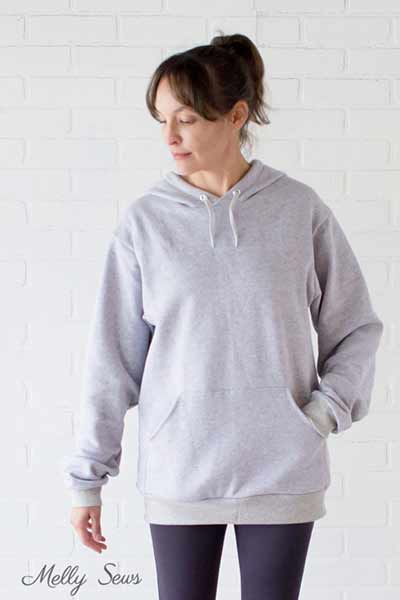 Here's a slightly but noticeably different unisex hoodie that has normal sleeves, elastic cuffs, and a matching waistband, a hood that has a drawstring that enables you to tighten it and keep your head and neck warm, and a large front pocket. This pocket has clipped top corners where the openings are, unlike the previous one that has openings on its sides.
by Mellysews
Free hoodie patterns for kids
Free kids hoodie with scuba hood
Sizes: 0M – 6T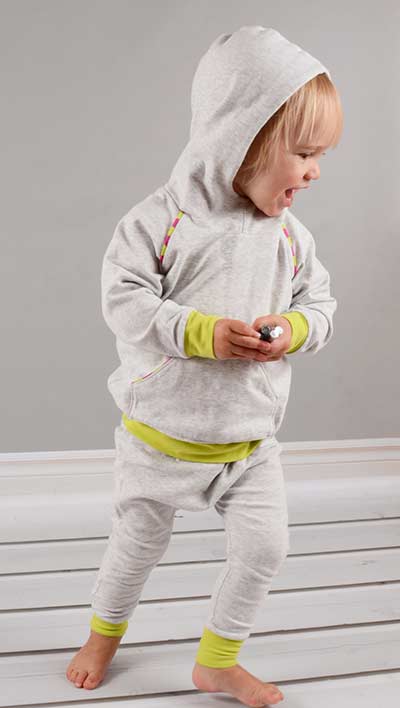 Whip up an adorable hoodie with raglan sleeves, a scuba hood that can stay on the little one's head even during playtime, and elastic cuffs, as well as an elastic bottom hem for your kid to wear when it's nippy outside. The hoodie has a big front pocket with openings at the top corners that are clipped at an angle and is ideal for the small cute human to keep their most important toys close by just in case.
Tutorial by Brindilletwig
Pattern at Brindilletwig
Kids hoodie pattern – Lotus
size: 1.5-11 years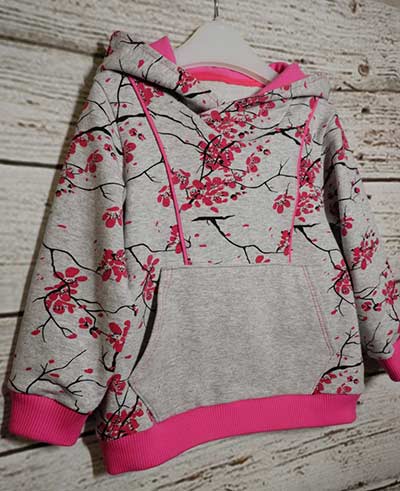 This colorful autumn garment for kids looks unbelievably cute and feels comfortable to wear, thanks to its elasticated waistband and cuffs, a wide and loose hood, and a belly pocket that can act as a gloves alternative if the weather gets too cold. The pocket is shaped like a trapezoid, with openings at the edges that are at an angle.
Free fleece hoodie pattern for kids
Size: 3-8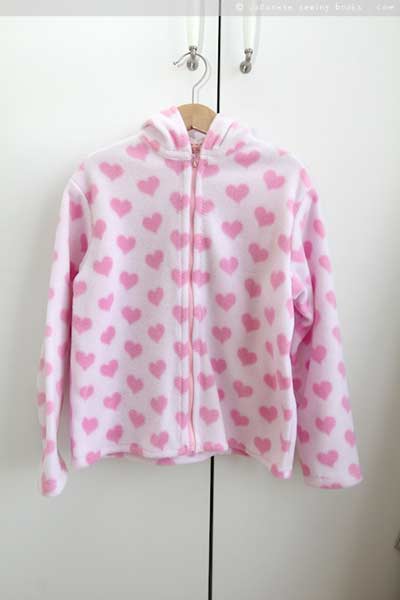 When your little one is at a place that's not as warm as you'd like it to be but you can't quite request to turn up the heat because you're guests, you want to have a light and warm piece of overclothing like this fleece hoodie with a zipper closure at its front and a light hood that can quickly warm up your child. It's easy to make and extremely useful to have around whenever you go somewhere
Tutorial by japanesesewingbooks
pattern at: Porcupinepatterns
Boy's hooded sweatshirt

Boys don't need anything flamboyant as far as their clothes go, all that they want is a comfortable and practical garment, like this basic hoodie with a lined interior, boxy body, wide hood, and elastic bottom hem and cuffs. Just use a nice fabric in the color they prefer and they'll love the thing.
Oversized hooded sweatshirt for kids
Size: 2-9 years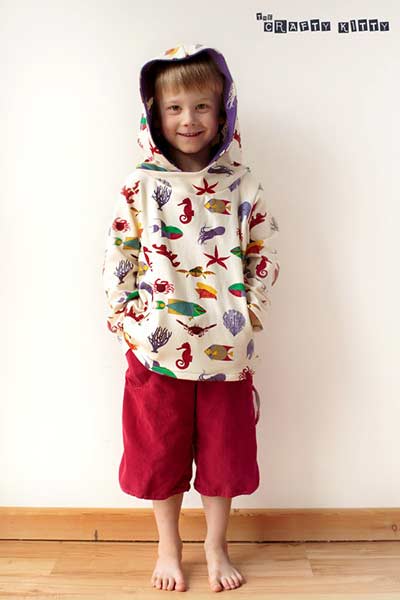 Baggy clothes always look and feel great, as this hoodie proves, with a hood that wraps around the neck, and loose sleeves without cuffs. You can opt to add a large trapezoidal front pocket with openings on its sides, kids usually adore that pocket because it's fun and big enough to keep all kinds of things in.
by Birchfabrics
Night fury hoodie add on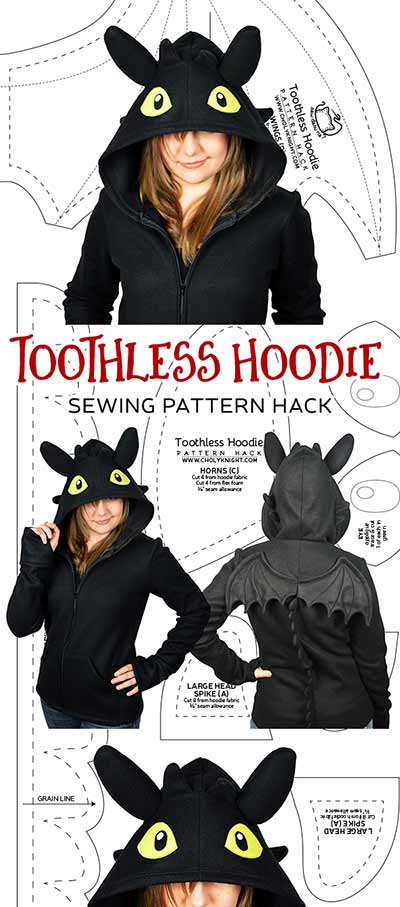 Make a comfortable and adorable Halloween hoodie that has long sleeves with thumbholes, a front zipper closure, and a beautiful hood in the shape of a dragon head. The head has cute eyes, ears, and even small protrusions that look just like real dragon scales!
by Cholyknight
Hoodie scarf
found on Instructables
Turn any piece of clothing you're wearing into a hoodie with this separate hood that has a scarf-like bottom you can tuck into your top and make sure both your neck and your head stay warm and safe from the elements. The hood is slightly wrapped so it doesn't have a large gap that would let the cold get to your neck.
Hoodies galore, you are now equipped with enough hoodie patterns to satisfy all your autumn needs when it comes to clothes you can quickly put over your outfit. Come back here when you've tried out some of the patterns and let everyone know how your creations turned out in the comments. If you want to be notified when more patterns like these get published on our website, fill out the subscription form and you'll get an email as soon as that happens.