2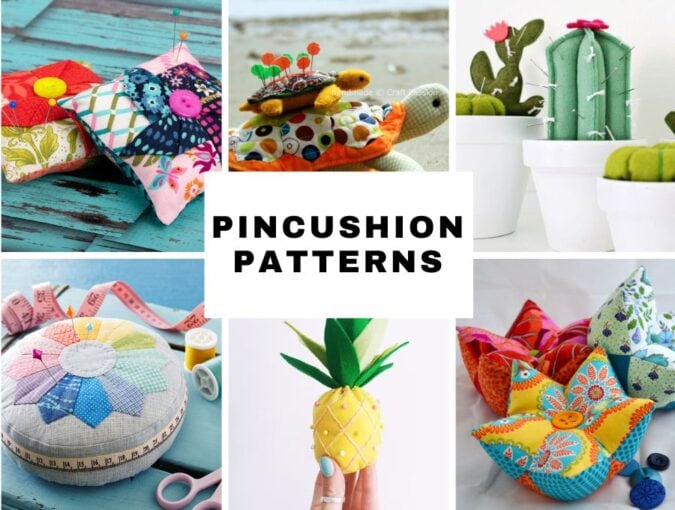 50+ Free Pincushion Patterns to Sew and Use
Sewing a pincushion is a fun project and a great way to reduce those ever accumulating fabric scraps. One of the first things a new sewist makes is some of her/his own tools. Advanced sewists need more than one pincushion to keep all of their pins in order. Think one pin cushion on the sewing machine, one wrist pincushion, one standard pincushion (pumpkin style), and maybe even one fancy pincushion. So here there are – more than 50 free pincushion patterns for virtually any style and taste.
Make a Pincushion that Attaches to Your Sewing Machine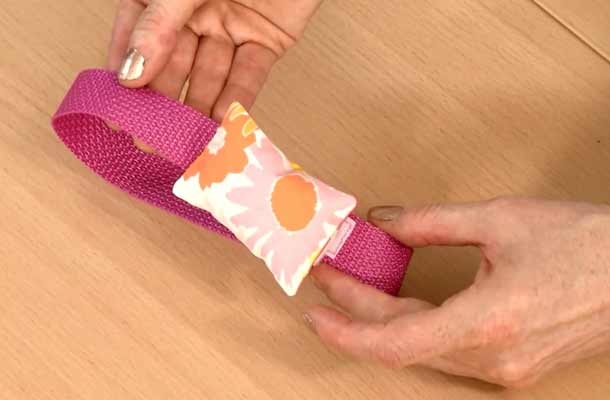 This pincushion is all about practicality and wisely using up your workspace, giving you the chance to keep it on your sewing machine thanks to the strap with velcro ends attached to it, meaning you can safely store away your pins as soon as your stitch goes over them and not worry if accidentally dropped one somewhere while you were sewing.
Remix pincushion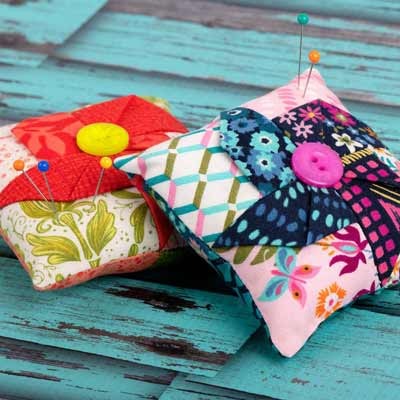 The adorable pincushion we have here will keep your pins safe and sound in style, and you'll have fun making it, as you make a small square pillow as the base, then sew a few polygon pieces of fabric in four different colors so they form a windmill, and finish it with a button of your choice in the center of the pinwheel.
Five pointed star pincushion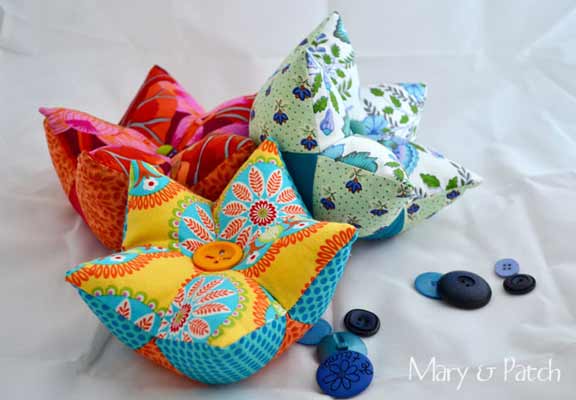 You can use as many pins as you wish, it's alright, this little guy shaped like a star can hold them all with ease, thanks to its five thick points that are each big enough to be an individual pincushion for a set of pins according to their size or shape, so it's like you get five cushions in one.
by Maryandpatch
How to Make an English Paper Pieced Pincushion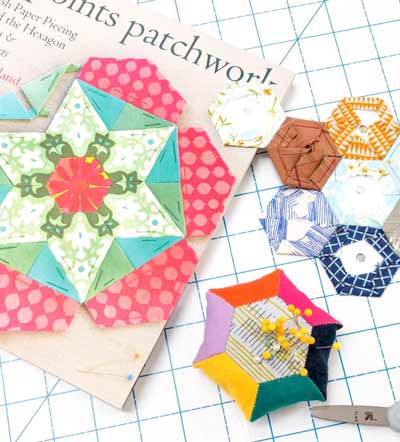 The paper pieced pincushion like this one is almost a miniature quilted pillow since you get to do some small-scale quilting as you join little hexagon pieces together like a honeycomb, then quilt it so it can hold your pins in its little hexagons of different colors like a beehive holds its honey.
Scraptastic and Simple QAYG Strip Pincushion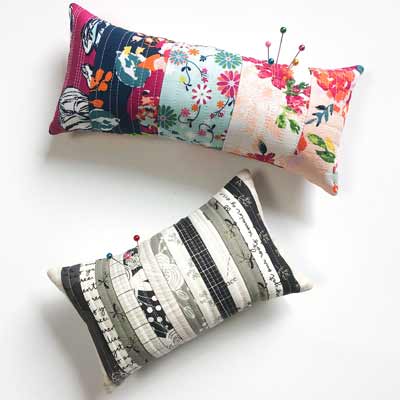 Here comes a treat for all of the quilting enthusiasts, it's s pincushion that will help them turn their quilting fabric leftovers, including batting, into a beautiful and useful pincushion that is long and oval, tightly packed with filling to be able to hold any kind of pins, even the longest ones you have in your arsenal.
Color Wheel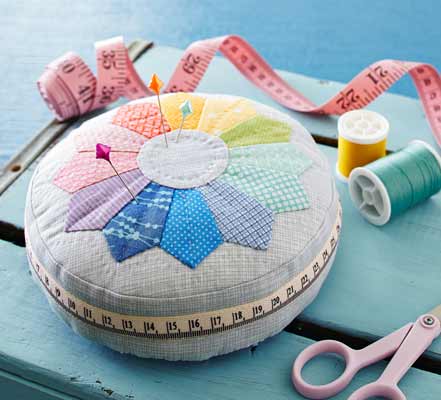 Unleash your creativity on the unsuspecting pincushion project and use this pattern to make yourself a round, thick pincushion that has a big flower on top, with each petal in a different color, together forming an adorable version of a color palette on your pincushion.
DIY: Toadstool Wrist Pincushion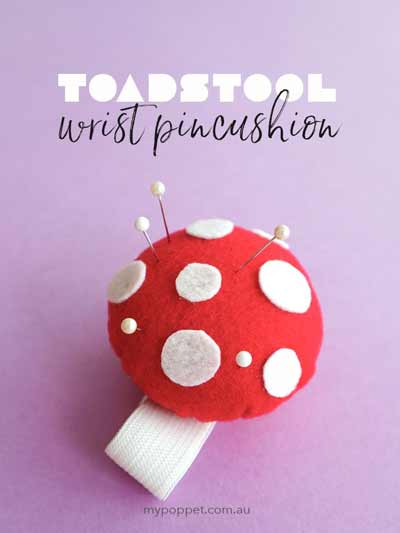 Hold your pins around your wrist so you can quickly take and put down the pointy tools with this inventive and unique pincushion that is shaped like a big, round, red mushroom with many white spots on its top, and an adjustable hand strap on its bottom side.
by Mypoppet
Spool Pincushion Tutorial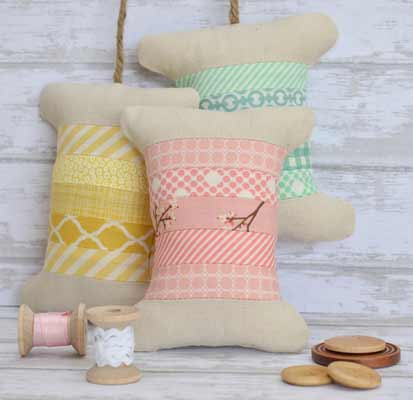 Here's a pattern that will let your love for sewing transfer onto your tools, as it allows you to make a ridiculously creative pincushion that's shaped just like a spool with a colorful thread wrapped around its middle section, big enough to keep any type of pins stuck into it.
Wrist Pincushion Tutorial
No, you're not at a wedding and that is not a corsage even though it looks just like it, it's actually a useful pincushion you can hold on your wrist that has a button-up strap, a flower underneath the cushion, and the dumpling-shaped cushion on top that will hold your pins nearby at all times while you do your sewing activities.
Scrappy Armrest Pincushion Tutorial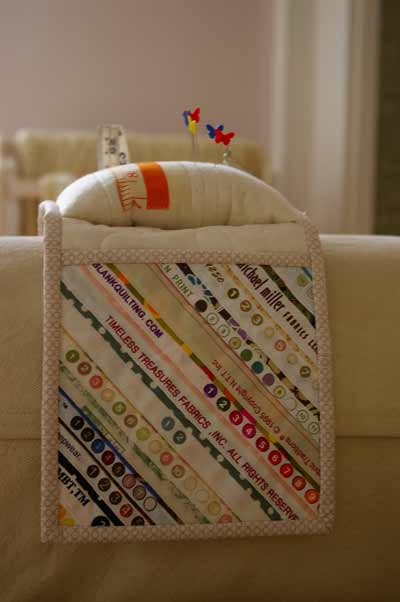 Those of you who use chairs with armrests in front of your sewing machine might find this one ideal for you, it's a large pincushion that sits on a small quilted rectangle you can place over an armrest to keep the thing securely set in place so it doesn't use up space on your desk.
Sew Stylish Pincushion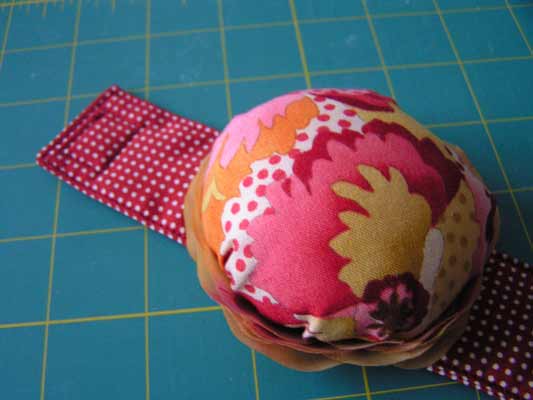 Cardboard, a bit of velcro, some stuffing, a bit of fabric in the color you prefer, a silk flower, and this pattern is all you need to whip yourself up a useful and beautiful pincushion that stays on your wrist and has a round little pillow with a flower underneath at the middle of the strap for you to hold the pins on as you work.
by Tearosehome
Thumb Pin Cushions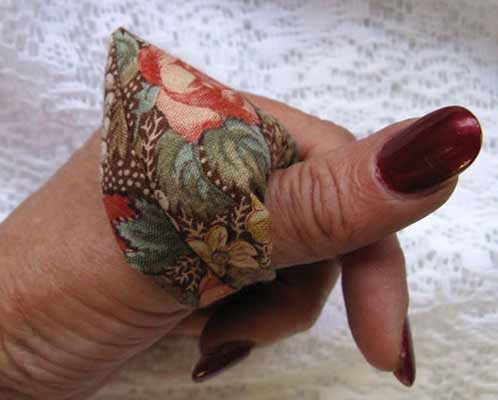 Small, adorable, and extremely handy, that's what this pattern boasts as its best traits, giving you the opportunity to make a pincushion that you can hold wrapped around your thumb so it doesn't get in the way on your workspace while it does its job and keep your pins nearby for you.
by Loopylace
Little Birdie Pincushion Tutorial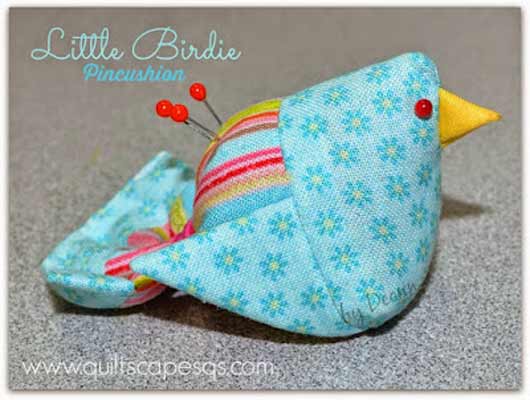 Here comes a little bird that's colorful and cute, but it isn't an angry one, on the contrary, it will happily help you out with your sewing and keep your pins safe on its body made of a few squares and rectangles stitched together and filled loosely with the stuffing of your choice.
Mouse Pincushion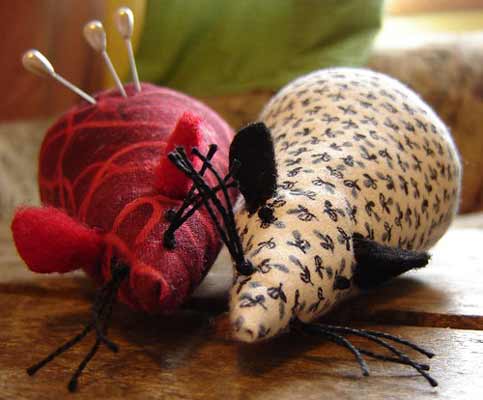 It's not Jerry but it is a kind and helpful house mouse that we have here, this pincushion shaped like a cone with tiny ears, eyes, nose, and whiskers at its pointy end looks almost like a real mouse and is far more beneficial for your projects because it will store your pins safe in one place.
by Mybyrdhouse
Kitty Kat Pincushion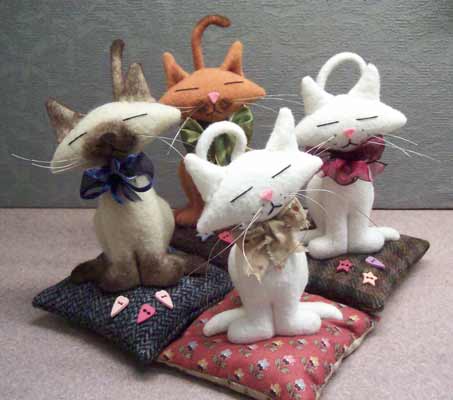 Cats find their way into everything, including sewing, because now you can have an adorable cat with a wide face, squinting eyes, tiny nose and mouth, whiskers, pointy ears, a long upward curly tail, and a bow around its neck sit upright on your workspace and watch over your sewing as it holds your pins on its soft felt body.
Turtle Pincushion Pattern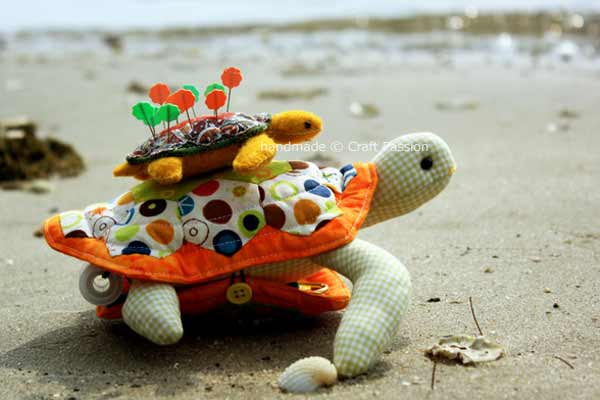 Turtles can't be just teenage ninjas, they can also be your trustworthy sidekicks for your sewing endeavors if you choose to use this pattern and make an adorable pincushion shaped like a real sea turtle in two available sizes that will look at you with its head lifted up and keep your pins on its back during your projects.
by Craftpassion
Summer Garden Pincushion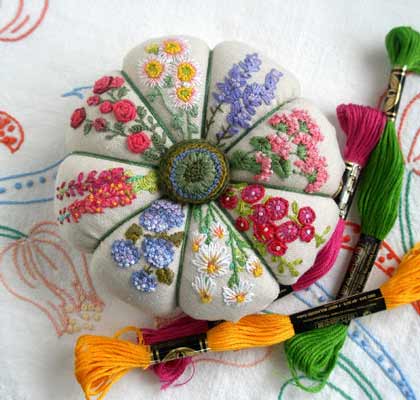 This pattern will bring the beauty and colors of a meadow right to your sewing desk, as it helps you make a lovely, thick round pincushion in the shape of a flower head that has a different type of flower embroidered onto each of its petals that you will enjoy using for holding your pins.
Mason Jar Pincushion with Bonus Embroidery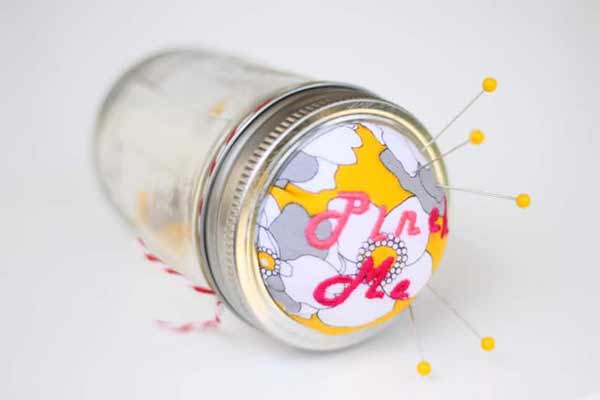 Turn a jar into a fine pincushion that all of your sewing enthusiast friends will envy you for with this pattern that shows you how to add a small cushion to the top of the jar lid, then embroider it with a wonderful design that has a cursive text saying pinch me written across.
Embroidered pincushion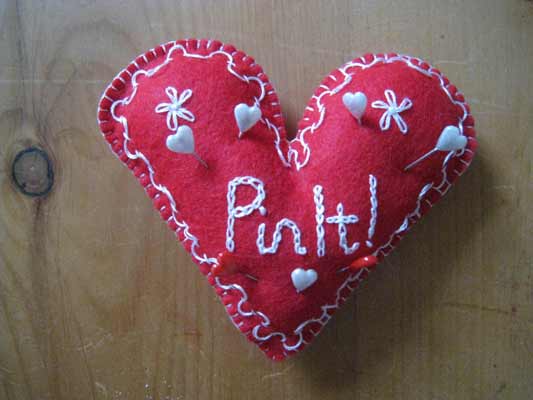 Heart-shaped objects can always bring out a smile on people, so in case you don't already smile enough while you enjoy sewing, go ahead and whip up this heart pincushion that has a bit of embroidered decorations like small stars and wavy lines, with a text saying pin it in the center of the cushion.
by Rosmademe
Pear pincushion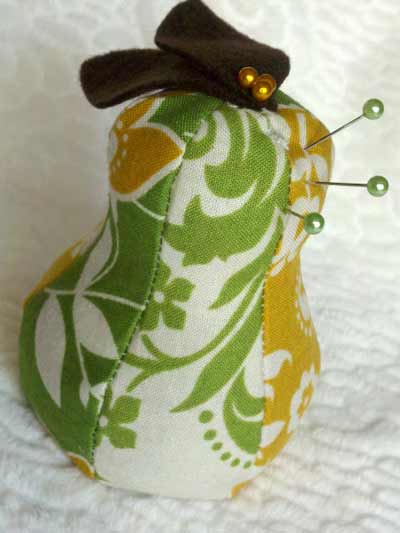 Isn't that a tasty pear, oh wait, it's a pincushion that is only shaped like a pear, complete with a couple of short brown flaps on the top that represent the stem and a stray leaf that remained on the stem, that does a fine job of decorating your sewing area and keeping your pins safe simultaneously.
Pin-apple cushion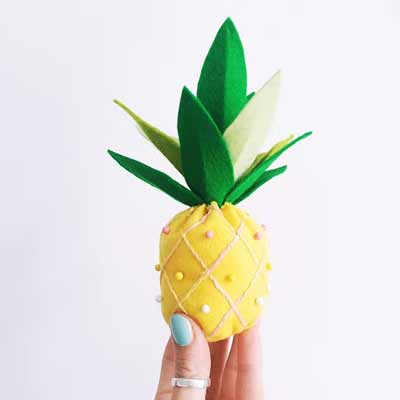 Make yourself feel like you're on a tropical beach with a fruit bar while you sew with the help of this gorgeous miniature pineapple pincushion that has big pointy felt leaves coming out from its top, an egg-shaped main body that can hold your pins nicely, and decorative thread set diagonally over the body to create those diamond shapes every real pineapple has.
by Lovecrafts
Toadstool Cottage and Mushroom House pin cushion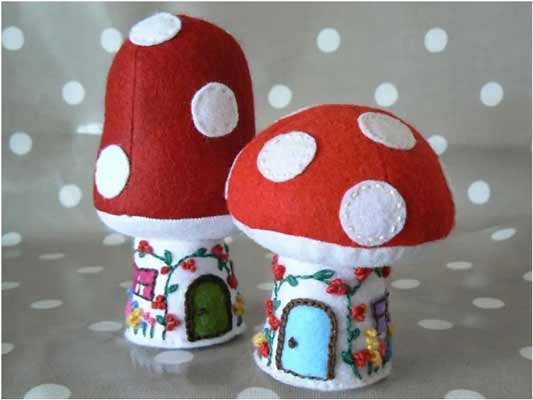 Use this toadstool pincushion pattern to make adorable stuffed red and white pincushion mushrooms in two slightly different shapes as one is a bit more elongated than the other, with little doors and windows, together with some decorative embroidery that turns the mushrooms into tiny houses just like the ones Smurfs live in.
Mini 9 patch pin cushion tutorial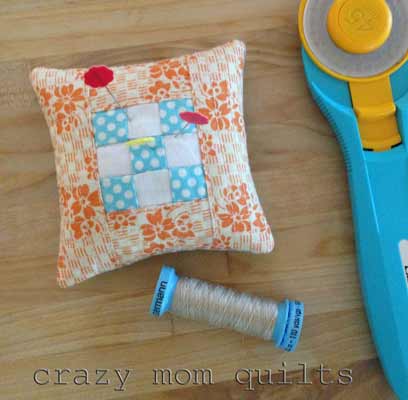 Quilting skills won't get you just those beautiful large covers or some decorative wall hanging items, it can also get you this lovely miniature pillow that's square and about as thick as two fingers, with a tiny 3 x 3 quilt block grid where the corner and center pieces are in one color, while the remaining four are in a different, contrasting color.
Pin Cushion Hang Up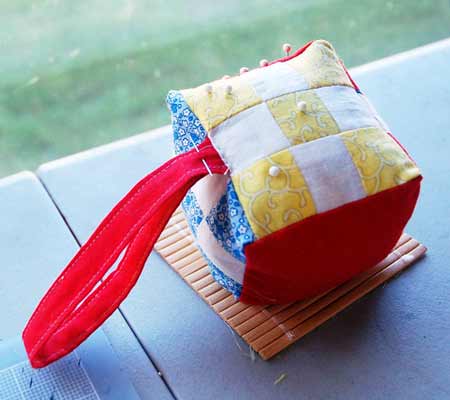 Here's a fabric version of a Rubik's cube that has 3 x 3 grids in two colors on each of its sides, with each side predominantly in a certain color like the toy it resembles, finished with a hanging loop that allows you to keep this cute pincushion wherever you can hang it in your sewing room.
Faux Cathedral Windows Pincushion Tutorial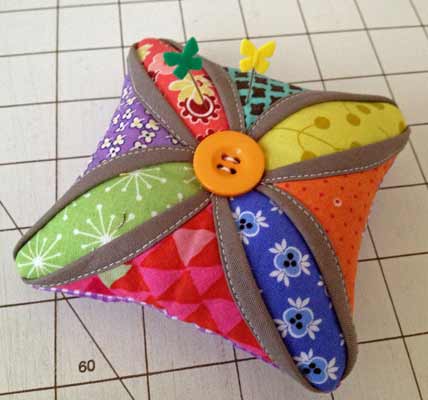 Here comes a pincushion pattern that will give you a tiny rectangular pillow to act as a pincushion, featuring four petal shapes in different colors with bordered edges and a button stitched into the center of the flower, complete with differently colored areas between the petals, producing a lovely and colorful little cushion.
Herringbone Pincushion Tutorial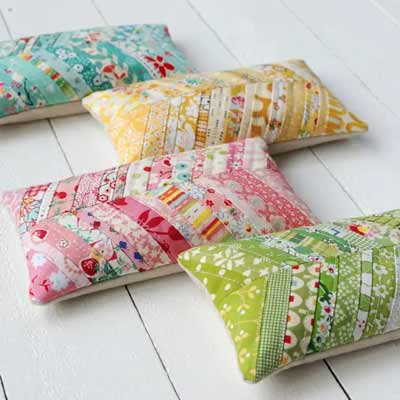 This one makes me hungry because it somehow reminds me of pastries with its rectangular body that isn't too thick and its most prominent feature, the gorgeous herringbone design in one color but in different hues of that color on the top side of this inventive pincushion.
Pincushion Crumb Crush template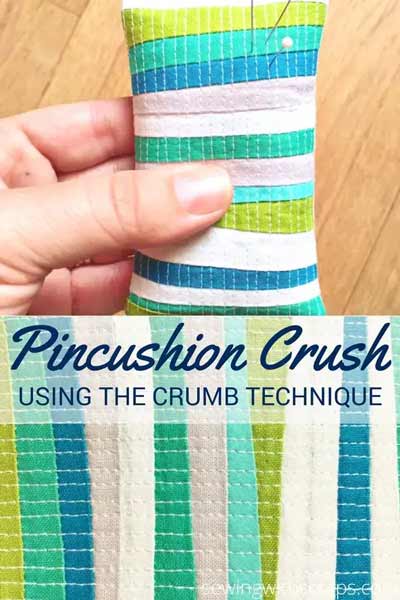 Don't throw away your fabric scraps, not even the smallest ones because this amazingly useful pincushion pattern will teach you how to join those scraps with a technique called crumbing and add a bit of filling to it to make a fine pincushion shaped like a flattened tube.
Mini Pouf Patchwork Pincushion Pattern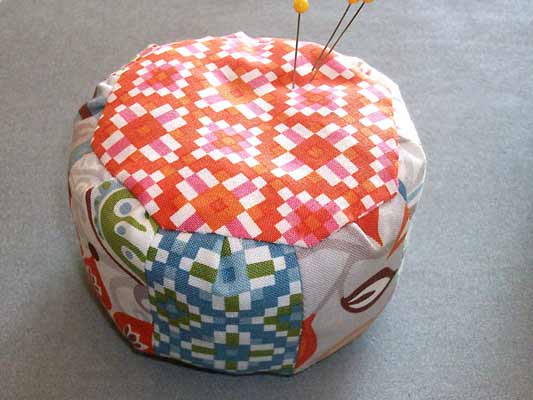 Poufs are more popular nowadays than back in the Victorian Era when aristocracy adored them, so you can find them anywhere from stores to coffee shops, and even your sewing table, at least in their miniature form like this one that is round and can hold your pins perfectly.
by Sew4home
Dresden Pincushions Pattern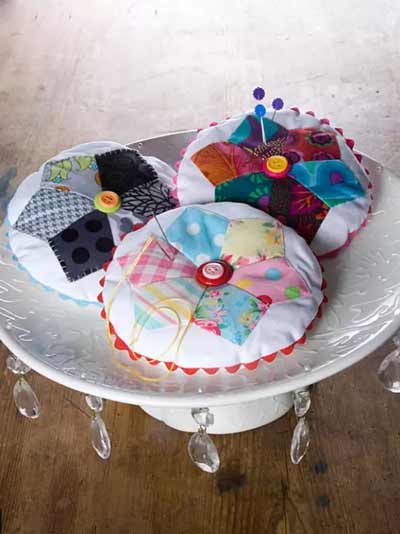 Here's a pattern of a pincushion that's so beautiful, you could easily make one in large size to use as decorative pillows, with a round body that has small pieces of fabric around the edges to give them a wavy finish resembling a flower, and a colorful Dresden star with a button in its center at the top side of the cushion as the main feature.
Wagon Wheel Pincushion Tutorial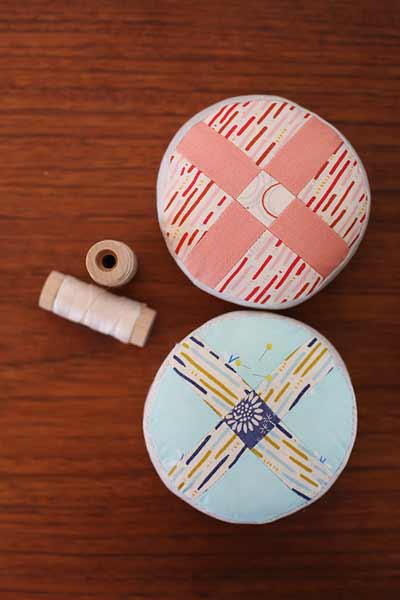 This cute pin cushion is simple but beautiful because of it, with a round body that isn't stuffed too tightly with filling and a square piece of fabric in its center on the top side, with four rectangular contrasting straps stretching away from it towards the outer edge of the pincushion.
by Noodle-head
Woodland Cottage

There's something special about cottage houses, and this cottage house pincushion pattern shares that trait since it looks like the real thing, with tiny windows and doors made of fabric and stitched to the cottage-shaped cushion, creative roof blocks made of many small fabric pieces stitched together to get that dragon scale look, and a hanging loop made of crochet fabric.
Heart Shaped Pincushion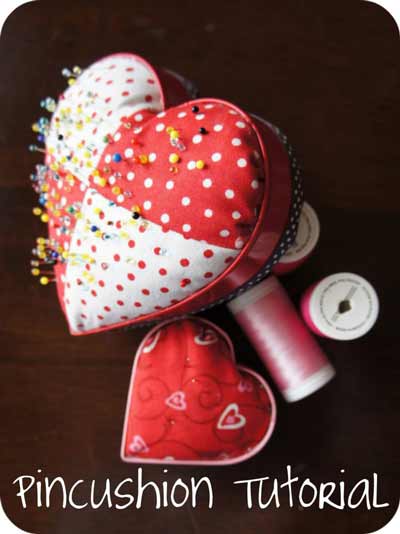 Those of you who love to combine sewing with other crafts will love this pattern because it shows you how to make a pincushion shaped like a heart, with its diagonal quarters in matching color like the mi-parti dresses, finished with a hard backside and a hard frame around the edges made of Styrofoam.
by Angelapingel
Flower Pot Pincushion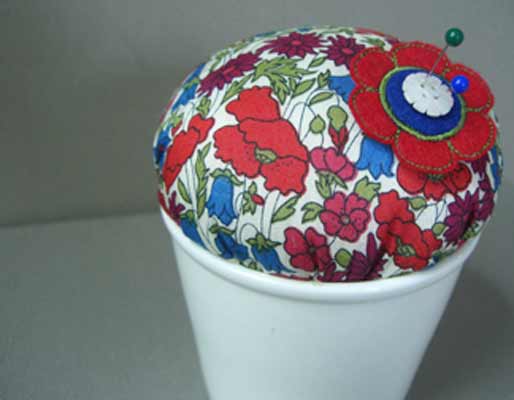 Here comes a pincushion project that will let your machine rest since it doesn't require any sewing, you just need a small flower pot, a bit of fabric, some filling, a hot glue gun, and this pattern to guide you through the process after which you'll get a little pincushion that you will be able to hold on your desk with pride.
Framed Pin Cushion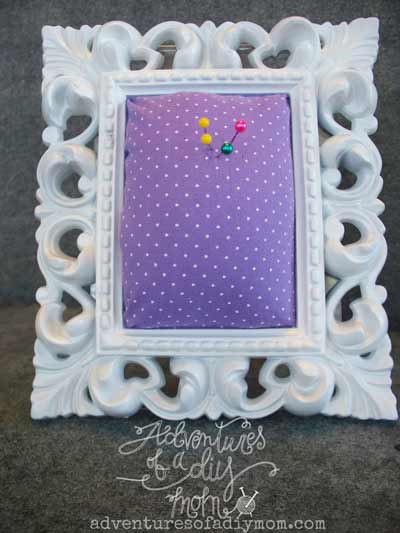 Those beautiful picture frames you can find in thrift stores or flea markets aren't just for pictures or small paintings, you can turn one into a fancy pincushion if you use this pattern and see how you can turn the section where the picture goes into a thin pillow perfect for storing pins with class.
Triangular Log Cabin Pincushion Tutorial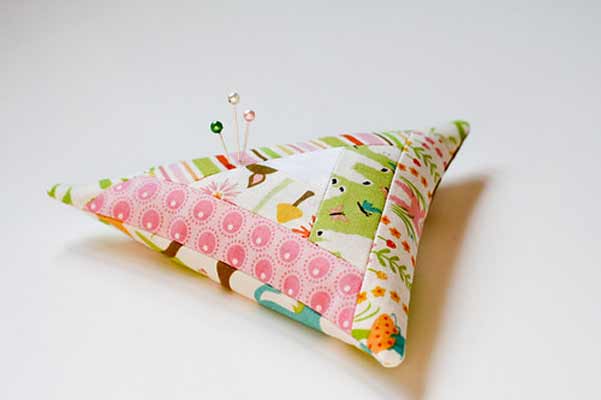 Pillows and cushions, even small ones like this pincushion, don't have to be rectangular or round, just check out this beautiful triangular one that doesn't just look good but also is a great way for you to use your printed and solid fabric scraps and turn them into something useful.
by Incolororder
Wide bottle cap pin cushion Tutorial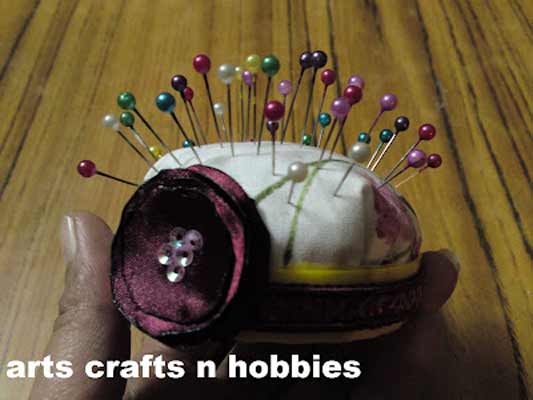 Reduce the amount of waste you leave behind you and use this pattern to recycle a wide bottle cap into a fine pincushion that has a hard bottom side and a soft pillow at its top side, decorated with a button or something more if you opt to add a touch of your custom style to it, thick enough to keep your pins safe and sound.
Soccer ball pin cushion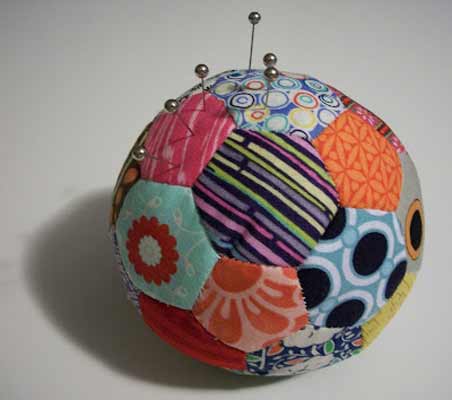 Join in on the football craze that captured most of the world and is slowly captivating the USA by the looks of it, as you cut your fabric scraps into small pentagon shapes in equal size, stitch them together into a ball, stuff the ball, and get yourself a miniature football that does a splendid job at holding your pins.
Scallop pin cushion tutorial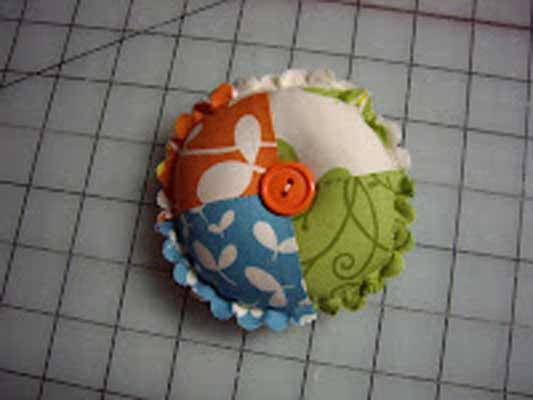 This pin cushion is simple but adorable, featuring a round body made of four different fabrics joined together so each fabric covers a quarter of the pincushion, a lovely finish around the entire thing that gives it a scalloped edge, and a decorative button in the middle of the top side.
Square deal pincushion pattern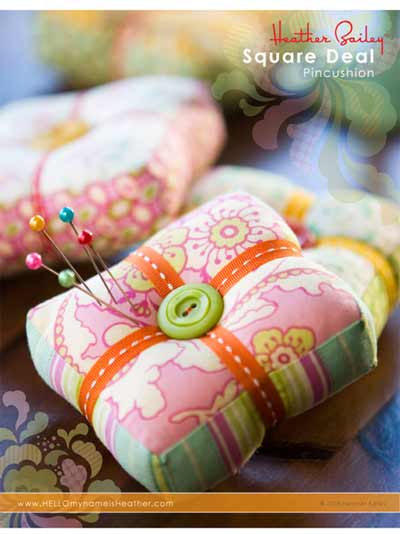 Here's a square pincushion pattern that will allow you to make a thick square pincushion that has colorful sides and a slightly compressed body due to the narrow ribbon tied and stitched across it so it forms a plus mark, with a finishing touch in the form of a decorative button in the cushion center.
Cactus Pincushion DIY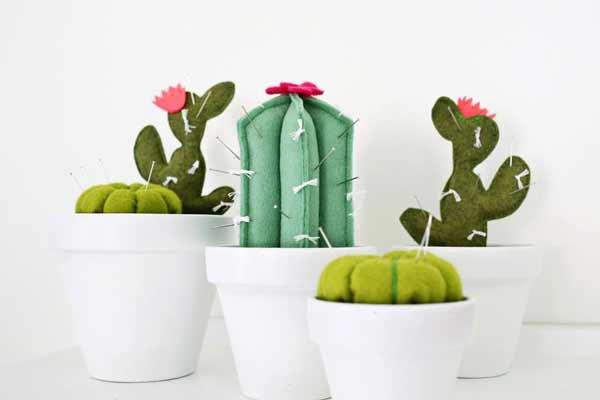 Make yourself feel like you're sewing in a desert oasis with these adorable pincushions that are all shaped like cactuses but each one unique and different from the others, one being small and round, the other being tall and thick, and the last one being thin with a few branches that slightly spread out to the sides.
Teapot pincushion pattern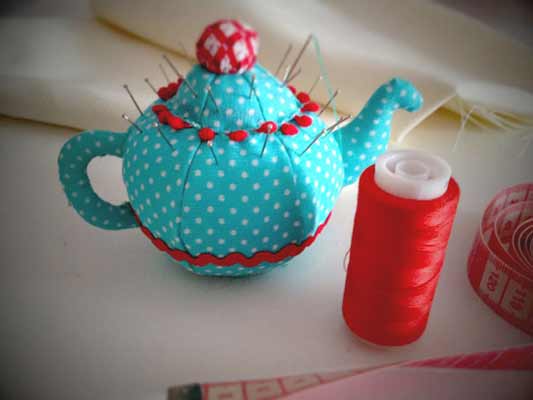 This is my handle and this is my spout, says this ridiculously adorable pincushion that is shaped like a teapot, with a handle on one side and the spout on the other, a decorative contrasting scalloped stitch around its body below and above the handle, complete with a decorative ball on top that matches the scallops.
by Jointhemood
Spool pin cushion tutorial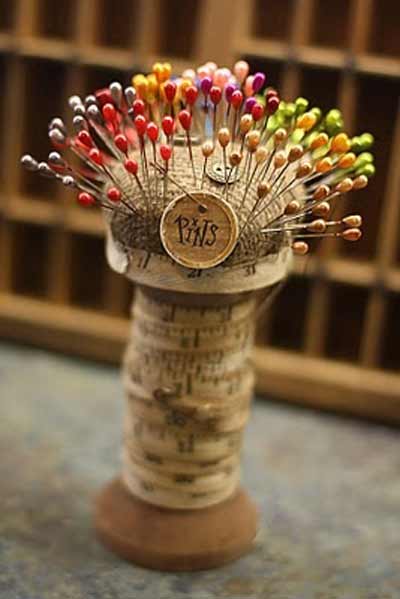 Breathe new life into a delightful vintage spool made of wood, as you glue some fabric, filling, and a few decorations onto it according to the instructions in this pattern and get a fine and unique pincushion that looks so good you'll consider placing it in your living room as a decorative piece.
Hexie Caddy Tutorial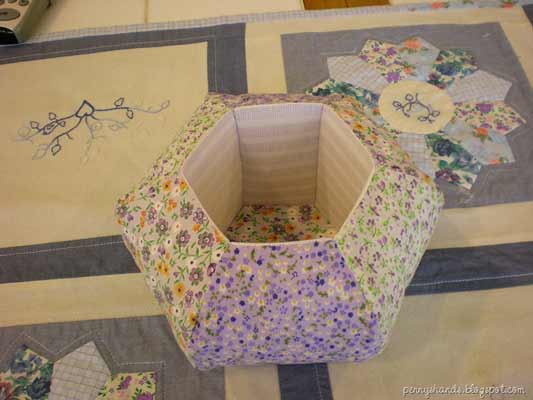 Here's a fun project that will teach you how to make a fabric box in the shape of a hexagon, with a pillow-like material in the same shape around the box that can act as a splendid pincushion while the box itself can be great for storing small tools like scissors, rulers, or measuring tapes.
by Pennyshands
Offset square wrist pincushion tutorial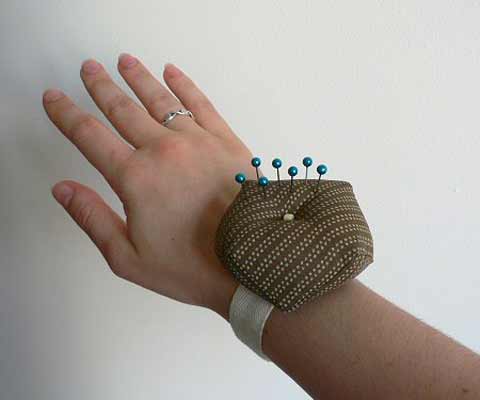 Make sure you always safely store away your pins with a practical pincushion in the shape of a pentagon with a bead or a button in its center that pulls the material from both sides towards itself will while the cushion stands around your wrist thanks to the strap with velcro it sits on.
By Planetjune
Pincushion galore, now you have enough patterns to make a different pincushion for every day of the month, with a few extras for the days when you need a change during the day. Let everyone know which one captivated your heart from the get-go and which one of these patterns turned out the best for you.
I hope you liked these free patterns for pin cushions. I love the convenience of a jar pincushion as I can put some sewing clips in the jar and keep pins and clips in one place and I also love my pumpkin pincushion. It's an eye candy! Drop in the comments below and tell me which are you favorites. Don't forget that you can subscribe at any time to receive the newest content as soon as it comes out on the website.