3
Free Quiet Book Patterns
Quiet books are a fantastic (and quiet!) way for little ones to do some tactile play and learning. Excellent for helping to develop fine motor skills, color and number recognition and just plain fun.
You can mix and match the pages from these various patterns to create your own unique quiet book design.
People have some really clever and creative ideas for crafting quiet books! Seriously. To help you with your own book design, I've rounded up more than 30 free quiet book templates and pages for you. These are all templates for making felt quiet books.
Individual quiet book page ideas (FREE):
Barn Page with farm animal finger puppets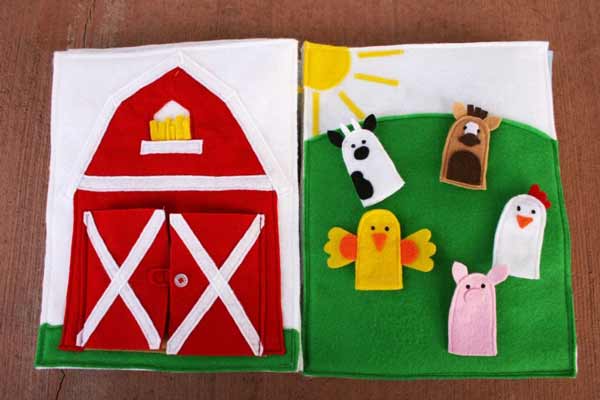 This beautiful quiet book tells a story of a calm red barn in the countryside, and five different animals that are also finger puppets of a cow, chicken, pig, turkey, and a horse, all with tiny adorable faces, playing around on a green meadow bathed in the sun that stays in the top-left corner of the scenery.
Felt safari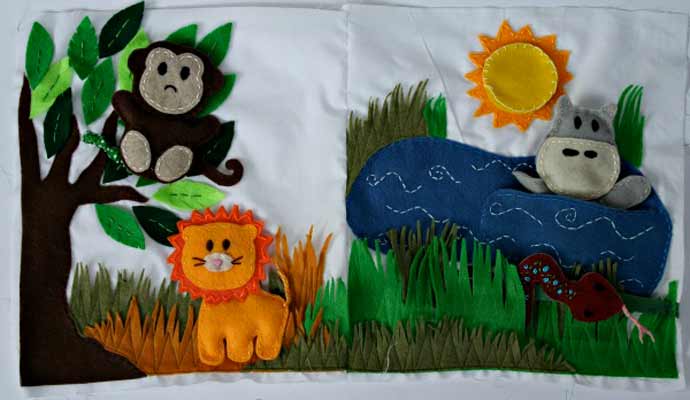 Bring your little one on a fun trip to the African savanna and let them enjoy a friendly safari with a quiet book that shows a grassy field with a big baobab tree, complete with a cute lion with a happy face standing around with his friend monkey who sits on the tree, while their pal hippo relaxing in the river while the sun shines behind him.
Pirate Island Tic-Tac-Toe Quiet Book Page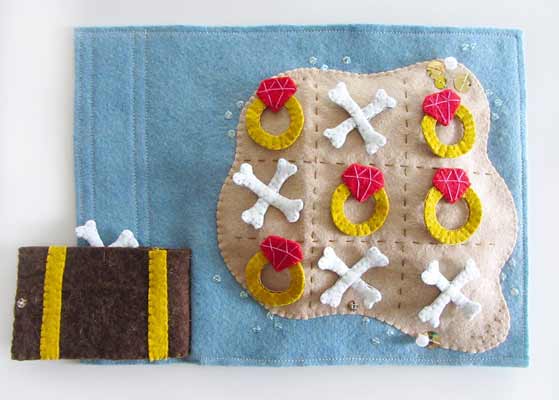 This quiet book pattern lets kids go on an adventure, play games, and learn about shapes and colors in a fun way with a little island like those you can see on old sailor maps, split into a 3 x 3 grid the kids can fill with small x and o shapes that stay in a fabric chest when they're not playing the game of tic-tac-toe.
Dinosaur page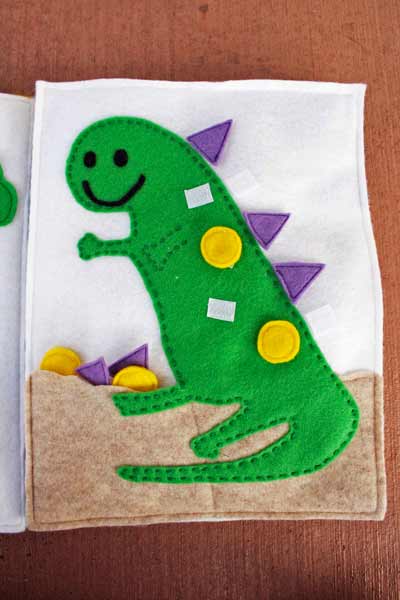 Here's a book that's interactive and adorable, with one page that has a tall lush tree on it with many velcro bits on the leafy part where the kids can attach the little red apples with velcro on their back sides, as well as an additional page with a happy dinosaur that they can decorate in the same manner with little yellow spots and purple spikes made of fabric and velcro.
Mr.Potato head page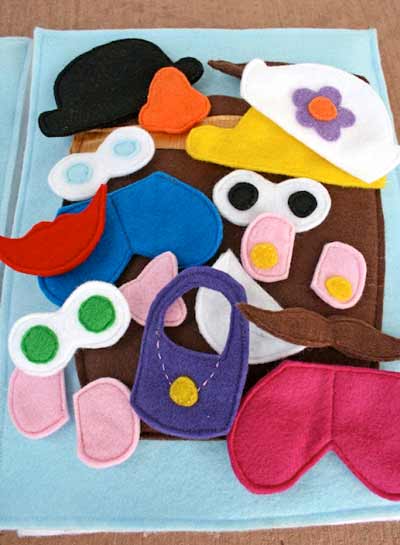 Most people our age know who Mr. Potatohead is, and now your little one can get to know him too through this book that has many parts of the distinguished gentleman that kids can assemble together in any way they like to create their unique version of the character.
Haloween costume page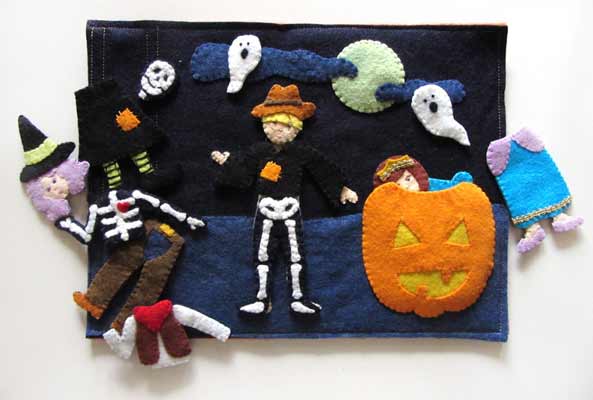 Here's a fun Halloween-themed quiet book that has a depiction of a spooky field at nighttime, with a cloudy sky and a full moon, and a skeleton girl that comes with many different articles of clothing and clothing accessories your child can put on her as they find the perfect Halloween costume for her.
Piggy Bank Quietbook Pattern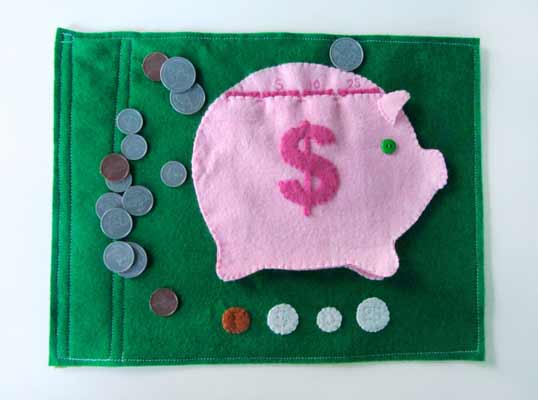 Teach your children the value of money and the way to save it early on with a fun activity that is much like a game, as you show them how to use this quiet book page with a piggy that can store their coins in its tummy and even sort it according to the value of the coins.
Lion quiet book page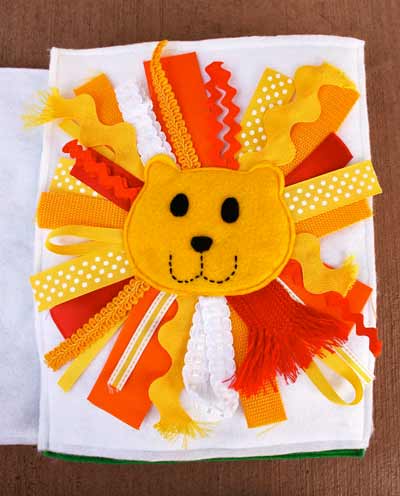 Here's an extremely simple page with a cute lion face that has felt eyes, a nose, and a stitched smiling mouth at its center, and a lush mane around it made of a lot of different straps in terms of color, shape, texture, and hardness to teach them all about the differences between objects that they get to touch and see.
Number train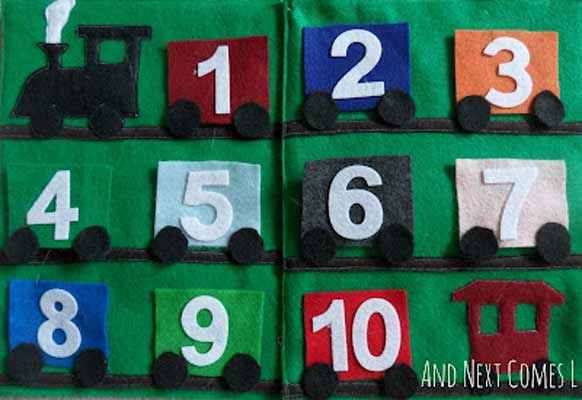 This train that drags a lot of carts behind it can teach kids a thing or two about textures, fine motor skills, and above all, numbers and counting, since the carts can hold small rectangular pieces of fabric that have a number from one to ten written on them, allowing the child playing with this book to arrange the numbers onto the carts properly and learn how to count.
Car quiet book page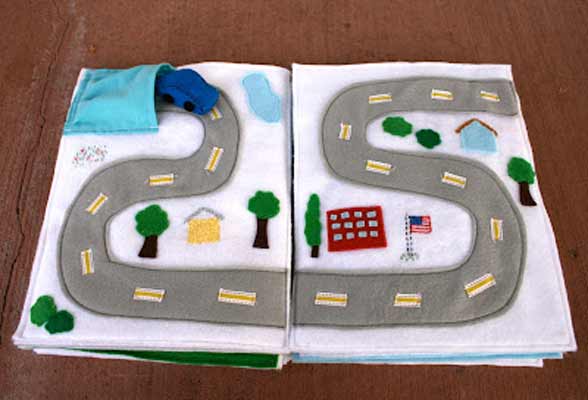 Let your kid go for a ride in the neighborhood with a quiet book that has a depiction of a wavy road with stops along the way like houses, school, and some trees, with a small garage at the beginning of the road where a felt car that they can play with stays and waits for them to drive it.
Sock Matching Quiet Book Page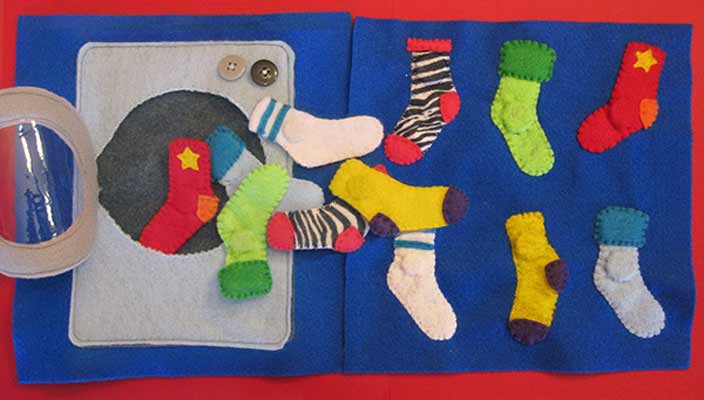 Here we have a fun little washing machine that has a door that can open and close, as well as room inside to keep all of the little socks that come with it, the socks being in different colors with a matching pair each so that kids can sort them together according to their colors before placing them into the machine.
Ladybug and flowers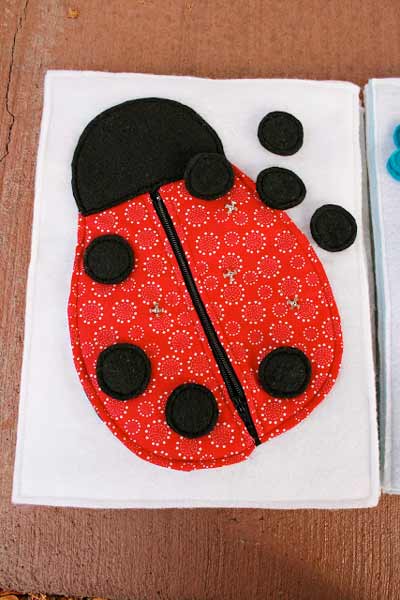 Work those little fingers on the tiny hands of your kids and help them improve their fine motor skills with a ladybug that has a zipper across its back inside of which felt spots stay that your kids can take out and place on the bug's back, accompanied by some flowers with buttons on their heads and petals with buttonholes that they can take off and put back onto the stem as an exercise.
Color matching flowers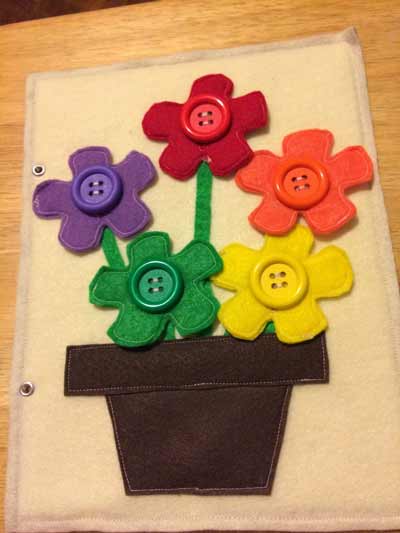 A color sorting game taken to another level because it also incorporates practicing grabbing and holding small objects properly as it gives kids the opportunity to match the colors of the flower heads in the pot with the corresponding set of petals and attach them to each other with the button on the stem and the buttonhole on the petals.
by Ftmlosingit
Let's cook breakfast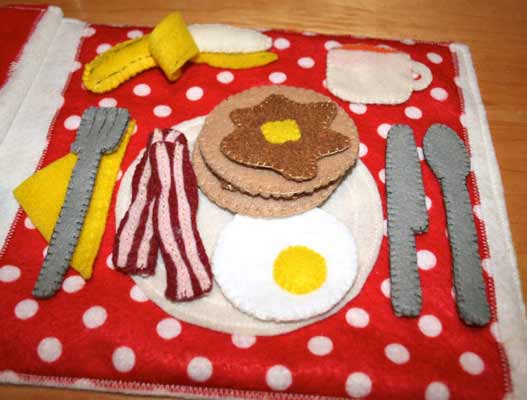 This quiet book page pattern will make you want to play with it as an adult how much fun it seems to be, at least it does that for me, with one side of the book representing a stove that even has a heat dial, where kids can play cooking with the pan and the ingredients made of felt, while the other side of the book represents a table with a plate where they can serve the dish they prepared so carefully.
Weaving page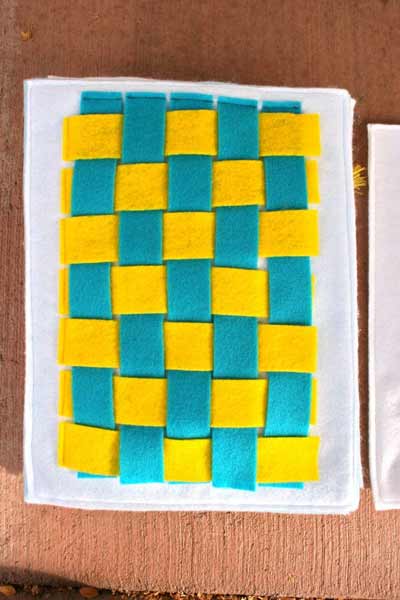 Here's a page that can be a great last page in your custom quiet book because it is simple yet immensely beneficial for the development of motor skills, as it presents an opportunity for young ones to familiarize themselves with weaving, pulling fabric strips over, and under each other without worrying they'll unravel since they're stitched to the book on one end.
Five little monkeys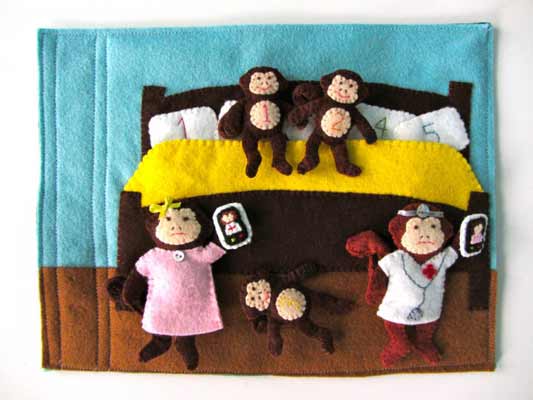 This little family of monkeys needs help from your child, they have a large bed with five pillows, one for each monkey, but they don't know who the pillows belong to, but your little one can help them by matching the numbers on the pillows with the numbers on the monkeys and tuck them in the sheets for a good night's sleep.
Numbers page
It's time to learn how to count to five, says this quiet book page with a cute colored slot with a transparent plastic for the owner's name on one of its sides, and a blank other side that has enough space on it to store the colorful numbers that go with the set, giving the child playing with it The opportunity to arrange them from one to five and learn how to count!
by Ftmlosingit
ABC QUIET BOOK PAGES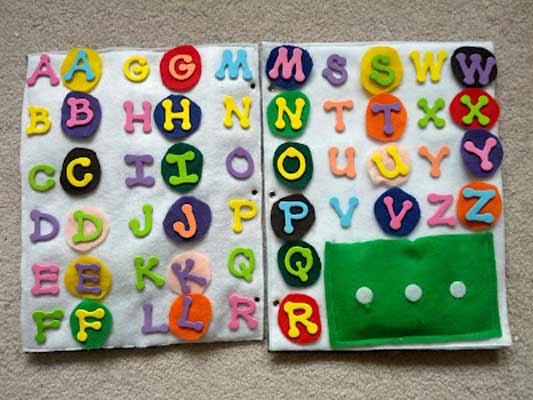 The sooner children get familiarized with letters, the easier it will be for them to learn how to write and read later on, and this book can help with that, featuring a list of letters that are secured to the book while their corresponding pairs can be moved all over so your kid can match them and when they get a bit older, even use them to form short words on the little felt blackboard in the book corner.
Rainbow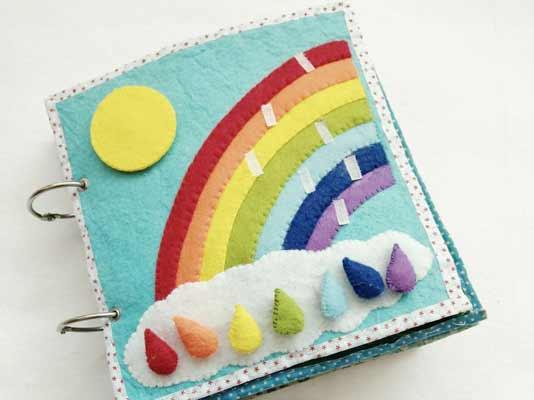 Here comes a lovely page that has a blank white background, a shining sun in the corner, and a set of rainbow rays set in that characteristic arch, with a cloud below it, and a bunch of raindrops that match the colors of the rainbow and can be attached with velcro onto the rays in their colors, or under them onto the rainy cloud.
Rocket ship
Houston, we have a takeoff, this space rocket has left the Earth's atmosphere and is heading to the moon along the zipper that can be opened to reveal a big flame coming out the end of the rocket as it propels it closer to its target in space.
Under the sea: sea creatures pages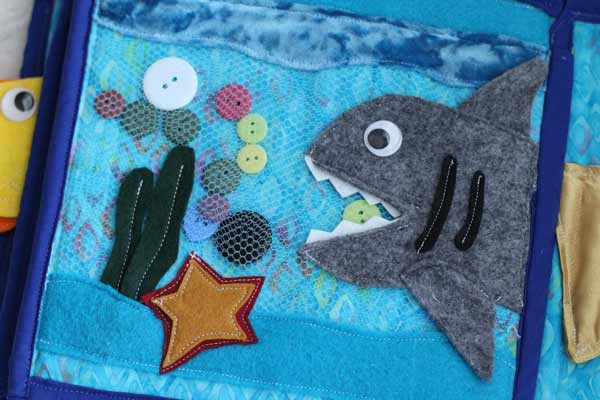 Have your kid peek into the life under the sea with this quiet book that shows a few different animals of the oceans, like colorful fish hanging out together, a shark gobbling up some buttons as a snack, a few clams that hide pearls inside, a jellyfish with long thin tentacles and so on, all in different colors and textures.
Circus train quiet book page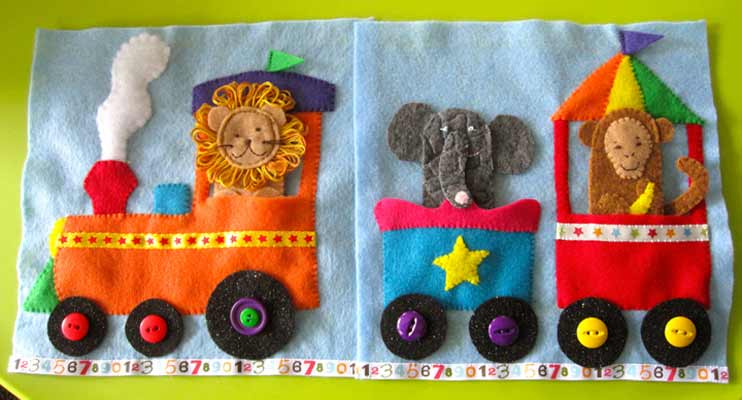 The circus is coming to town and they're coming with an adorable colorful train that drags two carts, one open and one with a roof, all occupied with passengers that are also finger puppets, with the boss lion in the steam engine driving the train, the elephant inside the open cart, and a monkey in the last cart.
Sandcastle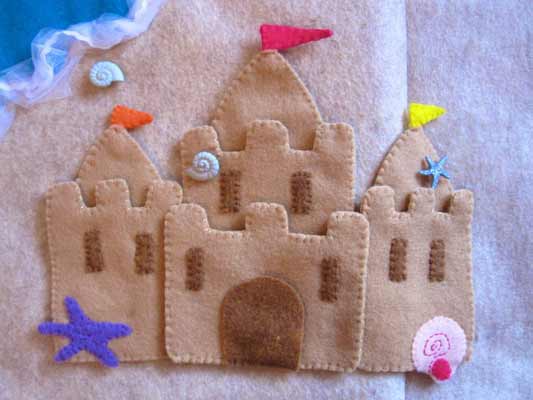 You don't have to go to the beach for your little one to make a sandcastle, nor do you have to make a mess, you just need this neat quiet book page that has a little fabric bucket and a lot of different sandcastle parts inside it that your child can take out and assemble on the blank space of the page any way they like.
Dress me quiet book template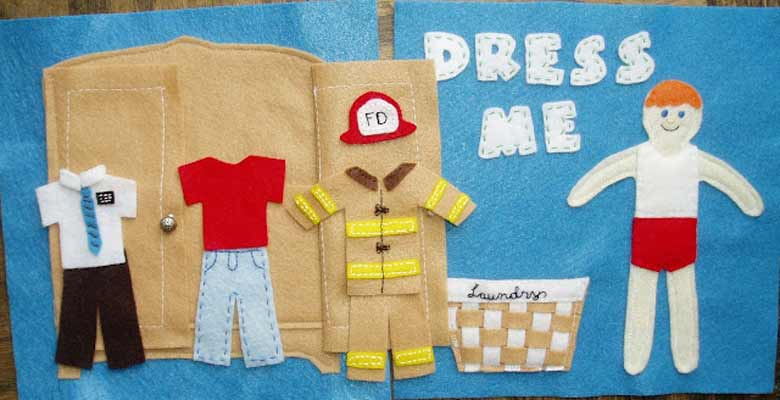 Here's a little guy who needs to get ready for an activity like his job, a meet-up with his friends, or his shift at the fire department where he volunteers, but he can't get dressed on his own since he sometimes puts on the wrong clothes, so he'd appreciate it a lot if your boy or girl could help him out with that.
by Cutesycrafts
Icecream parlour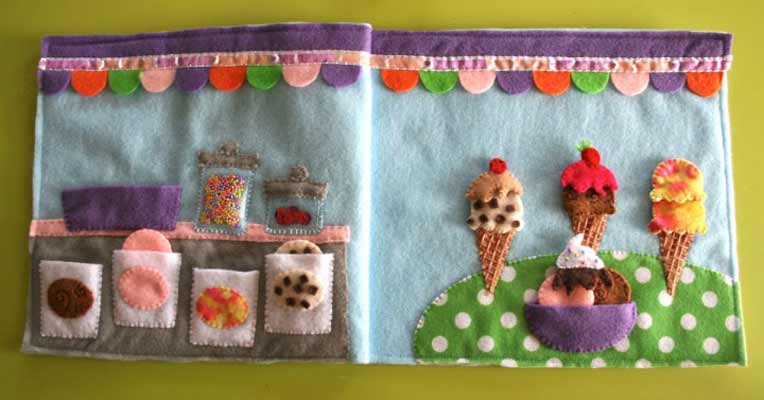 Kids can see what it's like to run a fine ice cream parlor with this amazing page that has a counter with ice cream and other delicious sweets on one side where they can assemble the orders and some tables on the other side where they can serve their orders to the customers.
Camping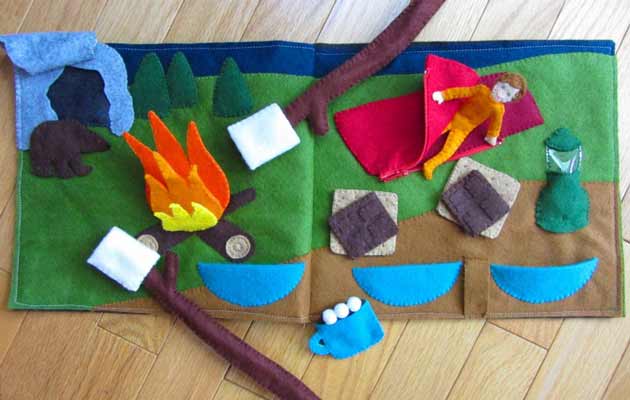 It's time for a camping trip inside a book with this quiet page that has all a camping trip needs, a tiny camper full of enthusiasm, his sleeping bag that can open and close, a camping light, a campfire, and the unavoidable marshmallows with sticks to cook them over the fire, as well as crackers, cocoa, and bowls to assemble the treat in.
Variety of individual Quiet book pages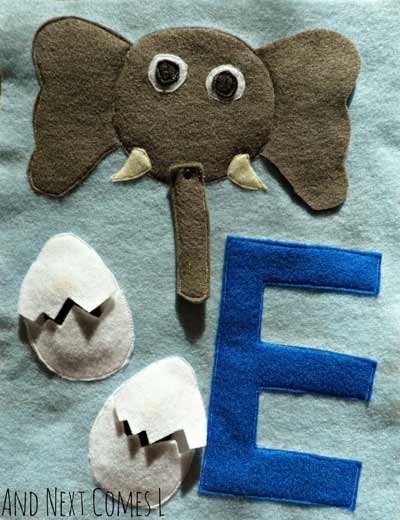 Here comes something a bit different because it's not just one pattern but instead many of them that share a common theme, they all represent a letter of the alphabet, with one that has a cute giraffe and some grapes with numbers on them, another one that has a flower pot with some gardening gloves, one with an elephant with some eggs, and so on.
Disney princess quiet book activity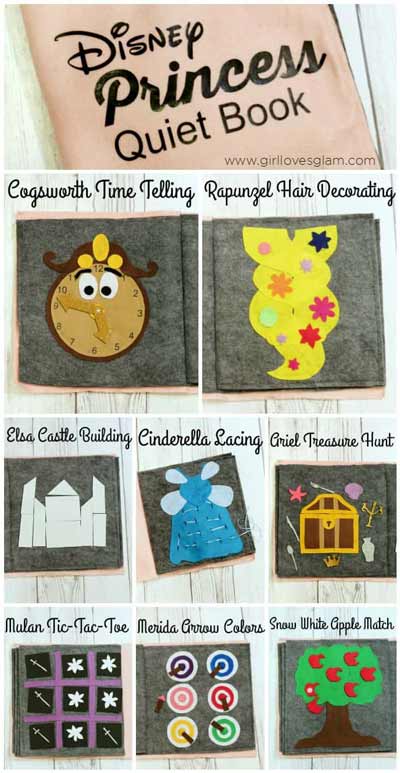 Have fun and learn with pages inspired by Disney princesses, one of them featuring Cinderella's dress that needs to be fastened, the other one with Cogsworth who will teach kids how to tell time, another one with a game of tic-tac-toe inspired by Mulan and many others, each with a different kind of appeal that stimulates kids' development in different areas.
Whole quiet books (FREE):
12 Page Book Tutorial (sew-along)
This quiet book has twelve pages that all focus on numbers, like the pages with a phone or the one with the abacus, discerning colors, like the pages that have strips of fabrics in different colors with the color names on them, and fine motor skills like the pages where kids can tuck a bear into his bed, tie a bag with a drawstring, or fill up a purse and close it up.
Quiet book by the pilgrimlife
Use this pattern to create an educational toy that will last for years, featuring pages with different ways to interact with each one, as one page has a few buckles sewn to it that kids can open and close, a page that features a barn with doors that can open and hold tiny felt animals inside, a page with Noah's ark that opens with a zipper and keeps many little animals inside, as well as many others.
quiet book for girls
Here's a quiet book template especially for girls, with pages that range from one with a big ladybug that has a zipper on its back inside of which there are many small ladybugs, over an unavoidable dress-up page where they can put different clothes onto a little girl, to a page with a ballet shoe that has a ribbon they can tie, and many more that all teach your girl something new.
quiet book for boys
Give your fine little gentleman a book with boyish pages such as a page with a toolbox and many tools they can place in it, a soccer cleat with laces they get to tie, a traffic light with movable lights that they can arrange properly, a face with accessories like helmets and beards they can place on it, and more.
Quiet book template by pink lemonade
This book features eight different pages that will stimulate the brain of your little ones with games like a puzzle kite, a dress-up character, a barn with doors that open and can keep animals inside, a tennis racket that lets them weave the strings properly, a mailbox with letters inside, a miniature blackboard with movable letters, a flower with petals that have numbers on them, and a monkey with balloons in different colors and shapes.
No-sew quiet books templates:
No-sew quiet book
No need to fire up that sewing machine to make this lovely quiet book that features pages such as a four-piece square puzzle, a little washing machine with a clothesline for washing and drying clothes, a face with a mouth that can open so the guy can eat his veggies off the plate, a jungle with many animal finger puppets in the bushes, and a few more of the kind.
template here: Dlaffinbabies
No sew – dry ease book: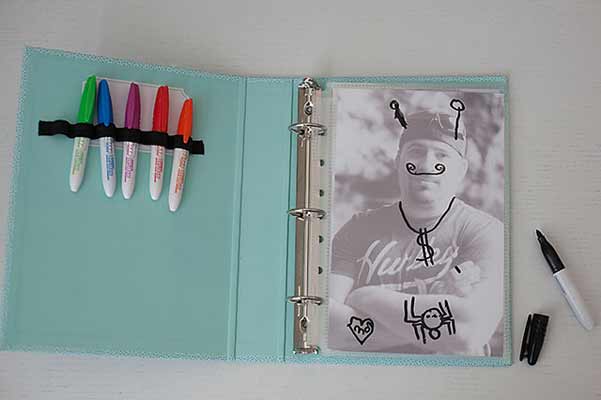 This book is a bit different from the others because it's like a reusable coloring book, with one page that has holders for the colored pens, and the other that has a picture that's black and white like the ones in the coloring books, covered with a transparent plastic in the same size on which kids cal color all they want, then when they finish, you just wipe it off and it can be colored over again.
Boy, oh boy will your kids have fun playing with these quiet books! Did one or more of these cool quiet book patterns already captivate your heart? Share with everyone in the comments how your books turned out and if you had any difficulties. Keep in mind you can subscribe at any time to get news about fresh updates on our website. Have fun making quiet books!