4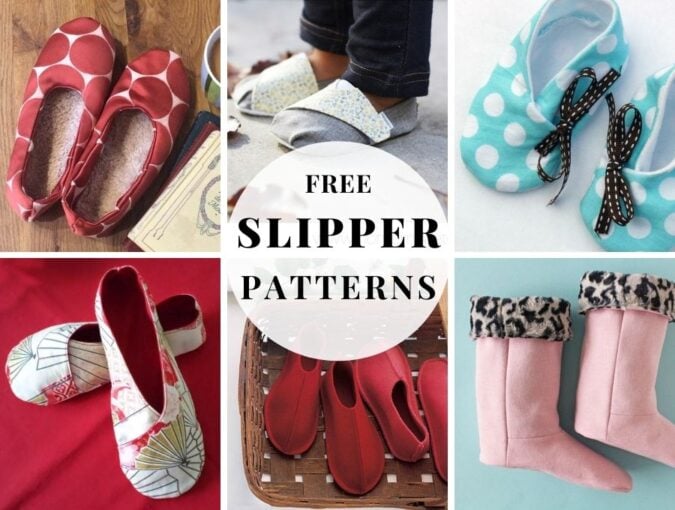 12+ Cozy Slipper Sewing Patterns to Keep Your Feet Warm and Comfy
Oh boy, it's cold outside! My feet are always cold so I wanted to make myself a new pair of cozy slippers. If you think sewing footwear is complicated, you are wrong! Sewing slippers is definitely a beginner friendly project and you can get these on your feet in an hour (or less). From fleece slippers and fur lined slipper boots, from traditional homemade slipper patterns to sew to boots and even baby slipper patterns, I'm sharing the best slipper patterns that I found around the web. There are even tutorials to show you how to upcycle your old wool sweaters into COZY toasty warm homemade slippers. Some of the free slipper patterns don't have the full range of sizes or only have one size but the tutorials show how to you adjust the pattern to make it fit your size. Enjoy and happy slipper sewing, friends!
Comfy and Cozy Free Slipper Sewing Patterns
Homemade flannel fabric slippers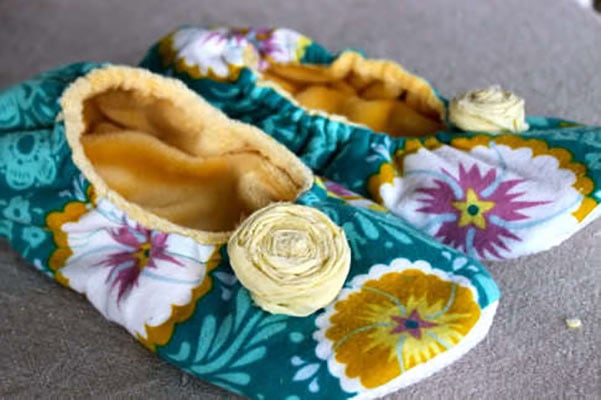 The first pair of slippers on our list is a cute, yet stylish and practical flannel set. These slippers are ideal for all of you who have hardwood or tiled floors in your home. They have a non-slip sole that keeps your living room from turning into an ice rink when you put the slippers on. An over-the-heel design and an adorable fabric flower above the toes are their main traits.
Fleece slipper pattern
These adorable fleece sleepers have fur lining to keep your feet toasty warm! Yay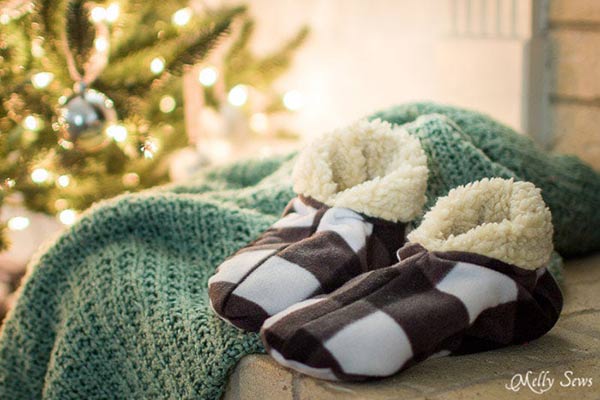 Next up are these extra warm fleece slippers. Thanks to the fur lining inside, your feet will stay warm and cozy even if your heating slacks off a bit. You can make them soft or add shoe inserts to give them a sturdy shape. Depending on how cold your feet feel, you can keep the cuffs over the ankles or flip them over downward a bit.
by Mellysews
Kimono slipper pattern Free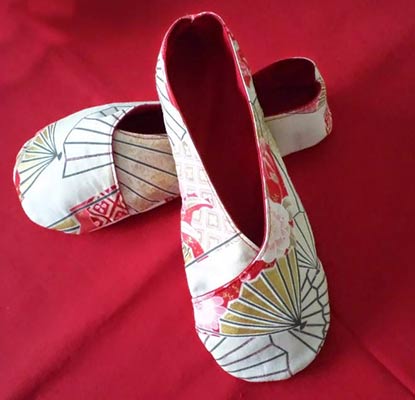 Here's a treat for the kimono lovers, the kimono slippers! They have a design that draws inspiration from the characteristic Japanese clothing piece. The fold-over section above the toes is the main feature of these comfortable slip-ons, along with a lined bottom. Make them out of two different color fabrics for an even more creative look.
Photo and tutorial by Esheepdesigns
pattern: Laurenefabrications
How to make slippers in ANY size
Do you want to make slippers for your entire family? This fleece slippers pattern is ideal for such a feat. These slippers come in different sizes for all your family members and they look lovely. They have a non-slip sole and a cute bow tie on the front, along with a lined interior and a rubber band around the opening to keep them snuggly on your feet.
by SewingTimes on YT
Upcycle a sweater into these DIY slippers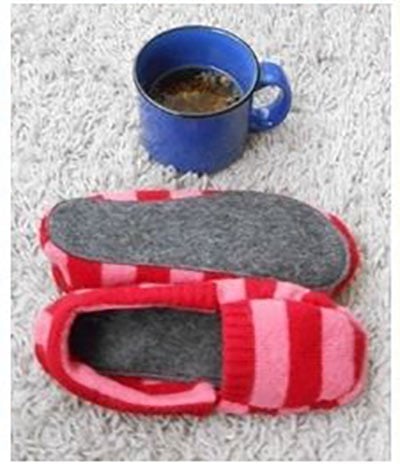 Time to put some old clothes to good use with this upcycling pattern! It helps you turn a sweater you won't wear anymore into a pair of comfy slippers! These slip-ons have a non-slip sole and warm, thick body that will keep your feet warm even if you turn off the heat.
Free Kimono Baby Shoe Pattern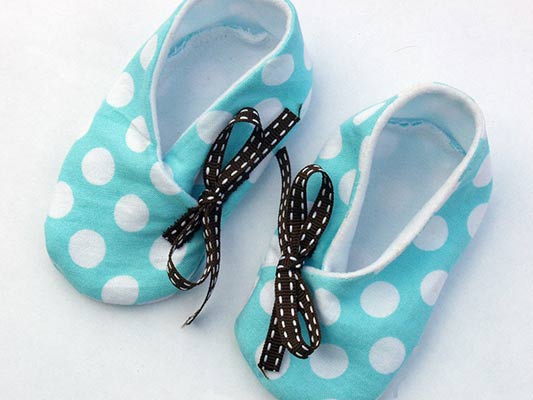 Brace yourself because here comes the cutest pattern you've seen in a while, the kimono baby slippers! These baby slippers have a design similar to the kimono slippers we covered earlier with a few notable differences. Apart from being for babies, they have an adorable ribbon at the front and they don't have the lined bottom as the adult version.
Toddler bunny slippers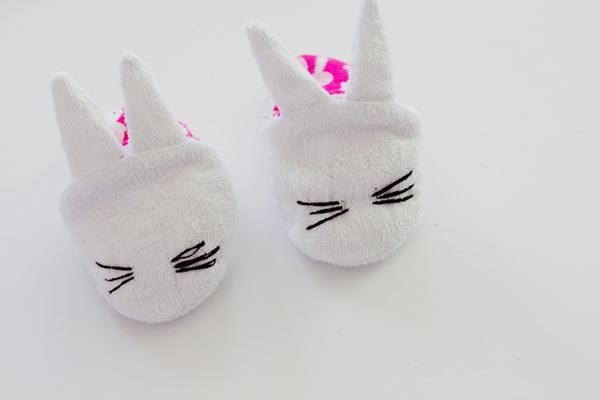 We'll stay in the adorable zone for another project, the bunny toddler slippers. Their name tells most of the story, they are slippers in the shape of a bunny. Unlike the slippers we had so far on this list, these don't go over the heels. They have bunny ears and a fluffy exterior, with cute squinting bunny eyes at the front.
by AikHeotay (Google translation)
Fleece slippers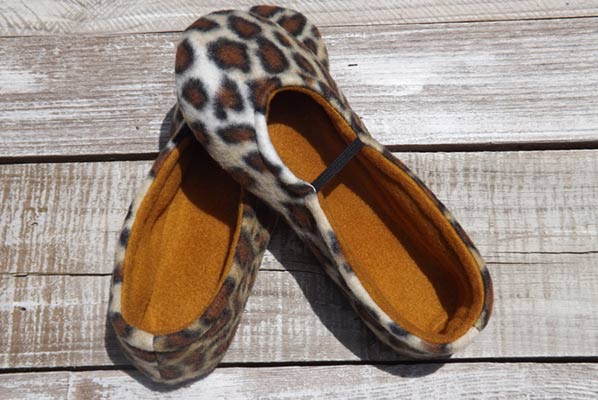 Here's another slippers pattern that will help you make yourself cozy fleece slip-ons. You just cut out four pieces of fleece, make the lining out of two and the exterior out of the other two, join them together, add the elastic, and voila! The elastic here is visible, it goes over your upper foot, like a single shoelace that gives the slippers a nice, characteristic appeal.
by Lovetoknow
Turn old flip flops into fashionable jean slippers
Got some jeans and flip-flops you wouldn't mind repurposing? This pattern will allow you to turn them into a pair of comfortable slippers! These slippers look so classy, they could even pass as moccasins if you wore them outdoors. They are super simple too, you just cut two pieces of jeans and handstitch them to the flip flop soles with a visible yet stylish seam all around the slippers.
by Sewing Ideas on YT
Supersoft slippers pattern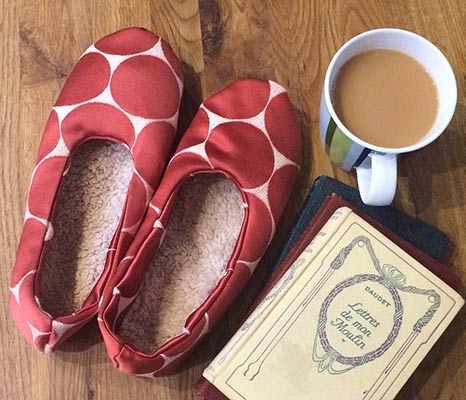 We all often don't want to leave our bed simply because it feels so comfortable, but we have to. With these slippers on though, you'll feel as if you're still laying in the bed, that's how comfortable they are! They have a soft, fluffy interior bottom, a rounded opening, and a snug slip-on shape that caress your feet as you walk.
by Laura Casey for Bernina blog
Easy DIY felt slippers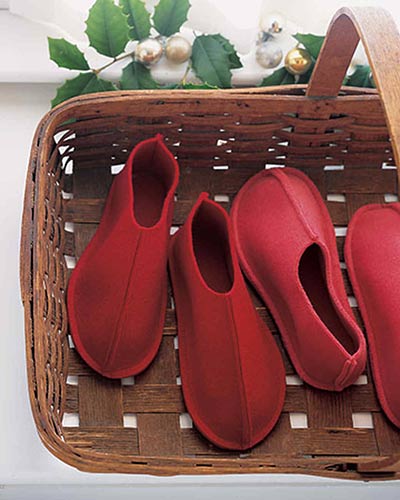 When you find yourself in the need of a pair of slippers ASAP, you'll want a super quick project like this felt slippers pattern. Cut out the pieces and stitch them together and that's it! If you want to decorate them a bit, use embroidery floss to add a motif or stitch out your name onto them.
Baby and toddlers slippers to sew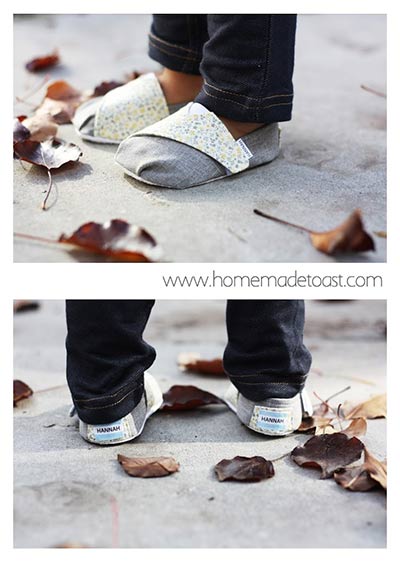 Make your kid a pair of adorable slippers with this baby and toddler slippers pattern! The slippers in question are slip-ons with a rectangular toe and a velcro strap that will keep them from falling off the little ones' feet even when during playtime. They also have cute name tags at the back of the heels.
Free slipper boot sewing pattern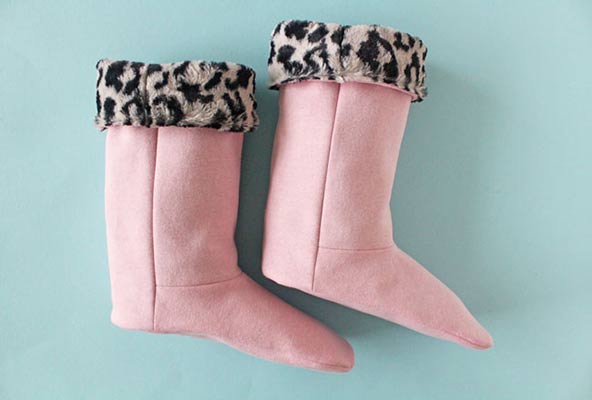 These boots are made for walking, in your own home, that is. For all who want to keep their ankles and lower calves warm as well, here comes the boot slippers pattern! The design of these slippers resembles those Christmas stockings we all love so much. They are lined, have a non-slip sole, and faux fur cuffs. How chic!
What do you think about our cozy slippers pattern list? We hope you found yourself the ideal pair or more to make! Tell us how they turned out in the comments below and don't forget to subscribe to our mailing list. We have a lot more fun projects coming up that you wouldn't want to miss out on!