6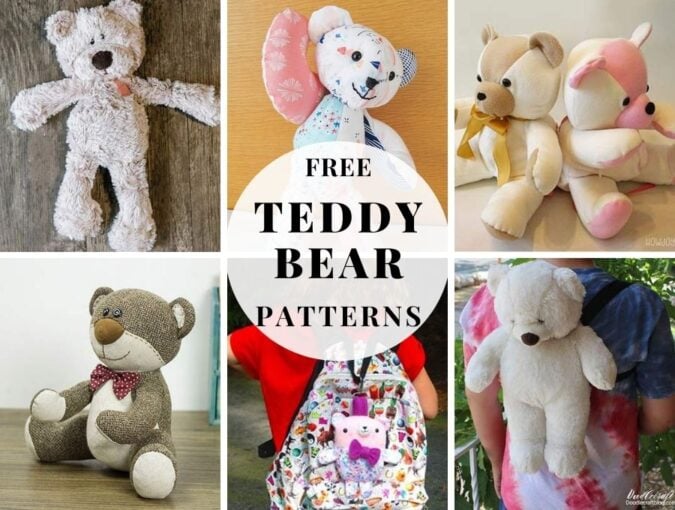 15+ Free Teddy Bear Patterns To Sew {Adorable}
Boys and girls, the little ones and the not so little ones all have one thing in common. They all love teddy bears!
The all-time favorite kids' toy is the teddy bear, it has been ever since the first one came out all the way back in the early 1900s. Unfortunately, nowadays most teddy bears you can buy are poorly made and as such can't last long. And when your kid gets attached to their bear, they will want him around for a long time.
That doesn't mean you should deprive your little one of their fluffy woodland companion though! You just need to make one yourself.
With these free teddy bear patterns at your disposal, you shouldn't have any difficulties completing that task.
The Cutest Free Teddy Bear Patterns You Can Sew
Stuffed teddy bear pattern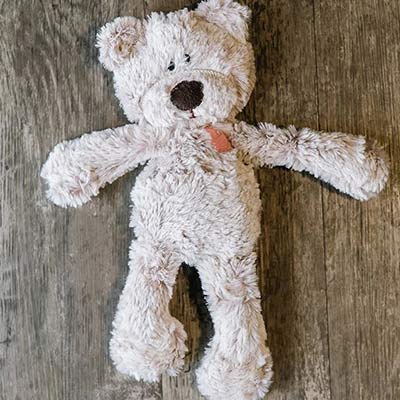 Sew a stuffed teddy bear for children in need. Teddy bears are a symbol of innocent and carefree childhood, but sadly, some kids don't have such childhoods. For them, a teddy bear can provide emotional support to help them through hard times. That's the idea behind this stuffed bear pattern, a teddy bear for the kids in need. Sew a few of these cute guys and take them over to your local charity center, or better yet, directly to someone you know would appreciate it and cherish it.
Teddy bear sewing pattern

Make an adorable two-toned stuffed teddy bear with this teddy bear pattern. This one is a kind of multipurpose bear if you can call it that because it can act as a decorative piece, a proper plush toy, or a thoughtful gift for adults as well, on Valentine's Day or birthdays! The bear is in a sitting position with stretched arms which makes it even cuter because it looks like you're about to get a hug from him!
by HowJoyful
Memory bear from baby clothes
Make a cute bear out of the clothes your baby has already outworn.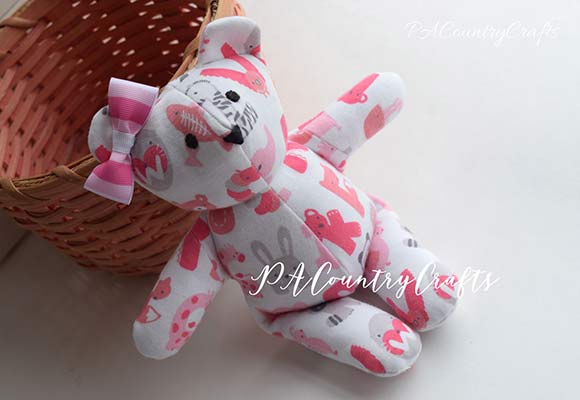 Parents have a hard time when the time to throw out the clothes their baby has grown out of comes around. With this pattern, that time doesn't have to come at all! Here's a teddy bear that will help you put those clothes to good use and save them at the same time by making them into a bear! This one has its arms and legs stretched out, with the legs being sewn in a way to allow you to sit it up.
Homemade teddy bear with joints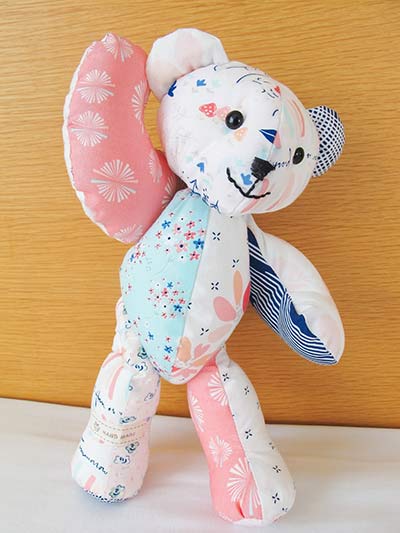 Here comes a pattern that's slightly above the rest in terms of quality because it's a teddy bear with joints! This pattern will help you make a lovely plush bear that has its arms and legs attached to the body in a way that allows you to move them as if the teddy is an action figure! You can set it up in sitting, standing, running, and many other positions!
by ZakkaArt
Easy teddy bear pattern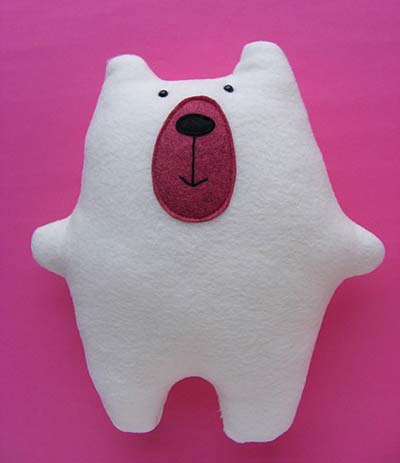 This teddy bear pattern is another one that will allow you to make some less fortunate kids happy by giving them a new, unique teddy bear just for them. This one is slightly different than the previous charity bear we mentioned but just as adorable. It's small and simple, quick to sew, so that you can make many with ease, and has a specific cartoonish charm thanks to its tiny ears and eyes, and a wide snout.
DIY Teddy Bear Backpack
Turn any stuffed animal into a cute backpack
Do you know what kids love even more than stuffed toys? Stuffed toys they can carry with them everywhere. That's why they go crazy over plush toy backpacks, like this one! This pattern is a repurpose type of pattern. It will help you turn any plush toy into a backpack! It's great for kids in preschool who always have to carry something important with them.
If you prefer written tutorial – check DoodleCraftBlog
Backpack bear pattern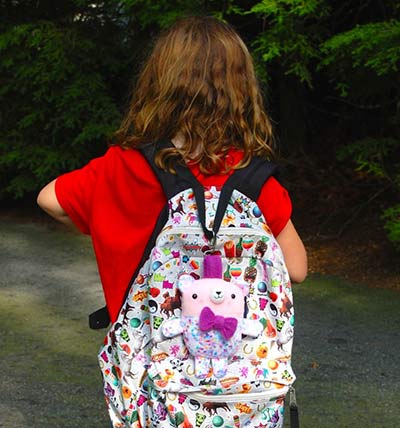 Oftentimes, when the new school year kicks off, the enthusiasm in the little ones isn't quite high, so any kind of support is welcome. This adorable guy will follow them to school on their backpack and help them get accustomed to classes faster and easier. It's round with tiny protruding ears, legs, and arms, and a cute ribbon. The teddy also has a keychain loop to attach itself to the backpack.
by WhileSheNaps
Teddy bear pattern for beginners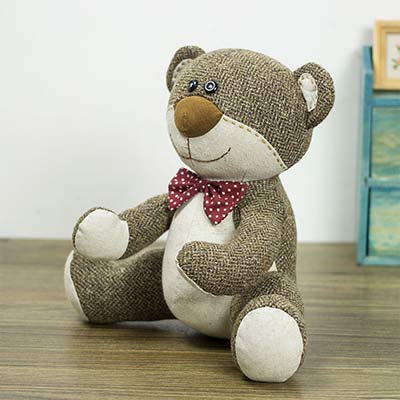 Make a medium size two-toned gentleman teddy with this bear pattern! This teddy is in a sitting position with its arms spread into a hug. It has a large snout and small eyes, along with a stylish bow tie and a charming smile.
by Sewenir <- link reinstated, pattern is no longer free but some of you fell in love with the cute bear, so I linked up the paid pattern
Easy teddy bear plushie out of a sock
Turn that plain sock into a cute chubby plush teddy bear! It's an easy teddy bear pattern that almost everyone can make – even complete beginners. This is an upcycling project with an end product that easily beats most store-bought teddies in terms of quality. The bear is big enough to fit into your palms and has an adorable face with a tiny tongue and snout, together with chubby hands and a fluffy, small tail.
By Oktocrafts on YT
Felt dress up teddy bear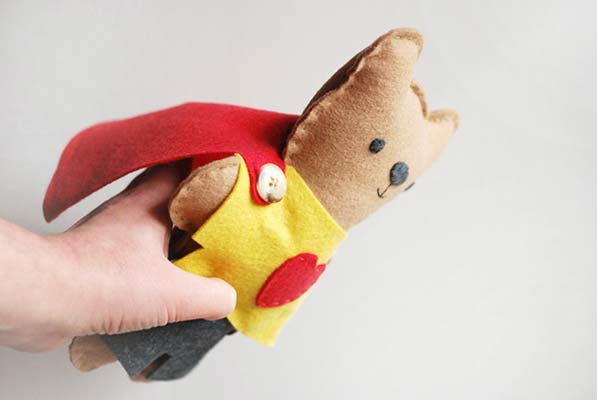 Does your kid love to play dress-up with their toys? Say no more, here's a dress-up teddy bear pattern! This bear is small and almost flat, with four buttons on its body for attaching the clothes. Sew a bunch of different miniature clothing pieces like skirts, shirts, overalls, and more so that your kid can dress the bear up in all kinds of different outfits!
by HelloBee
Cuddly teddy bear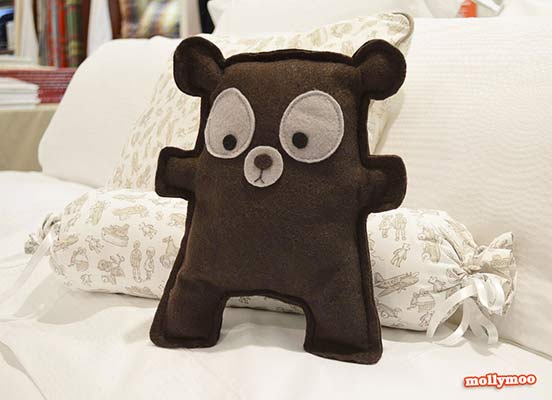 Here's something a bit different, it's a pancake teddy bear! This flat, rectangular bear has adorable large eyes and a tiny snout, as well as short rectangular arms and legs, and round little ears. It's peculiar in an irresistible way so kids fall in love with it almost immediately as they see it.
Fleece polar bear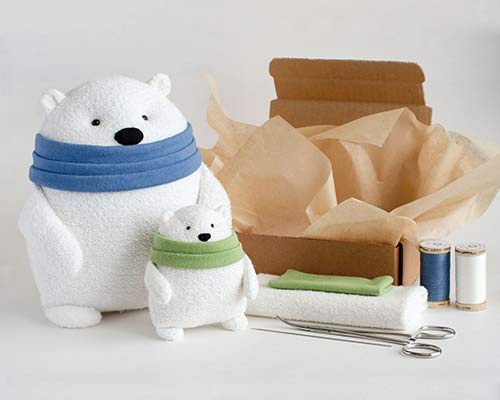 Polar teddy bears seem to be a rarity, so it's about time to break that rule. This lovely polar teddy bear is just as appealing as your usual teddies, if not more than that. It has a chubby, round body with short hands and legs, together with miniature ears and eyes, and a cute snout. The bear also has an optional heart or cowl scarf it can hold and wear.
by Fluffmonger
Amigurumi teddy bear crochet pattern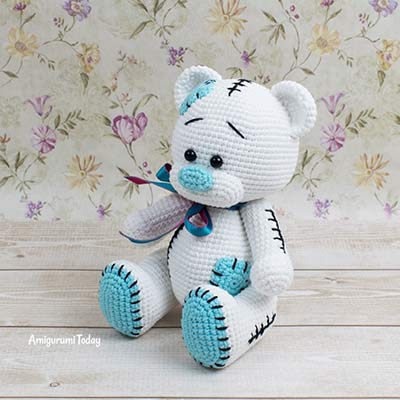 The last teddy bear on our list is for crochet lovers! This pattern is an amigurumi style bear that is a bit more complex and time-consuming, but worth the extra effort. It has a lovely mouth and nose, with bead eyes and adorable eyebrows on its face. The legs and arms are quite agile, so you can set the bear up in various positions.
Now you're all set with a bunch of new plushie bear friends! Do you have a favorite one maybe? Did some of them cause you trouble while you were making them? Let us know in the comments below. Once you finish that, feel free to subscribe to our mailing list to receive notifications when we post new articles. Have fun with your teddies!