2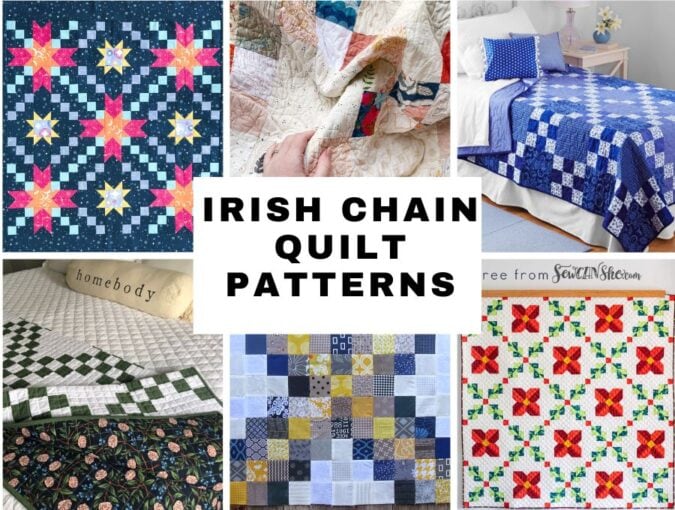 20+ Irish Chain Quilt Patterns – Free and Easy to Whip up
If you are a beginner quilter looking for easy patterns, look no further. I know just how overwhelming it may be to find suitable patterns that you can tackle. Check out the Irish Chain Quilt Patterns below – you will find patterns for single (the easiest), double (advanced) as well as triple Irish chain quilts (the most tricky one). Browse the selection below to pick up the one you like the most.
There are many stunning designs that will help you hone your cutting and piecing skills. Irish chain quilts feature timeless designs that are relatively quick to make considering their size.
Irish Chain Nine-Patch Quilt Tutorial
classic nine-patch (or Irish Chain) quilt
Quilt size: 42″ x 54″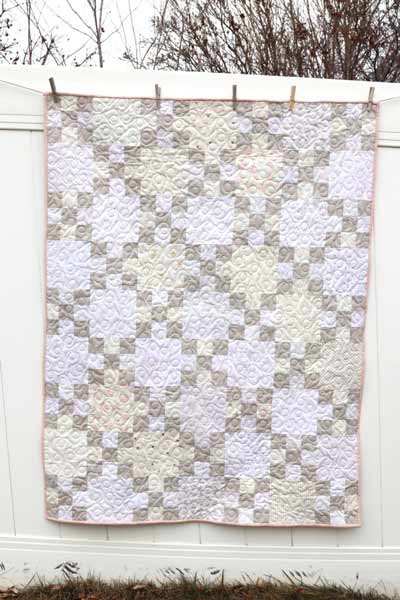 An Irish chain quilt that is ideal for living rooms or even your porch furniture thanks to its mild colors ranging from beige, over gray, to eggshell white, and its calm design consisting of squares in those colors arranged in four columns of diamond shape patches, complete with contrasting miniature squares that border each diamond all around.
Super Scrappy Single Irish Chain
Quilt size: 84 x 84"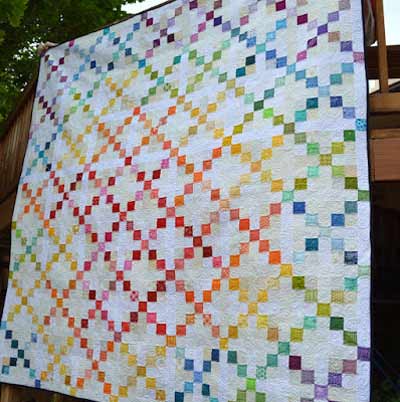 Prepare yourself for a fun picnic in the park or even your backyard with this cheerful quilt large enough for you and your family to sit on, featuring the Irish Chain design of columns made up of white diamond shapes that are bordered with small squares in colors in the rainbow specter, starting with red at the quilt center and changing to orange, yellow, green, blue, and purple towards the quilt edges.
Single Irish Chain Quilt Tutorial
Quilt Size: 62 x 72"
It's hard to find a pattern that will teach you how to make Irish Chain quilts easier and more fun than this one that has a pure white base of white squares set into diagonal lines, with little squares in all kinds of colors, set all around each of the white patches, together creating a fairly large quilt you can use to show off your skills to fellow quilters!
Stars at dusk Single Irish Chain quilt
Finished quilt: 28-1/2″ square
Finished block: 8″ square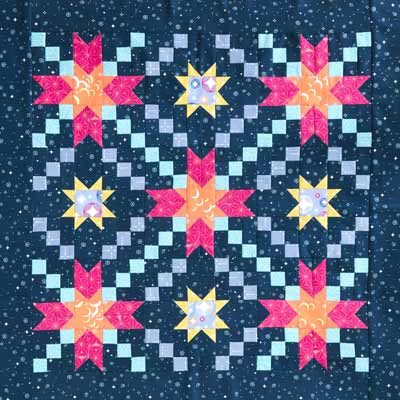 Turn your baby crib into a gorgeous depiction of the night sky when you cover it with this quilt that features a dark white background with small spots resembling distant stars, and an Irish Chain design with Froebel stars in the center of each diamond shape, as well as elongated Froebel stars on their corners, complete with baby-blue borders in three tones made of tiny squares between the diamond patches.
Rhapsody in Blue Single Irish Chain quilt
Finished quilt: 72 -1⁄2×90- 1⁄2″
Finished blocks: 9″ square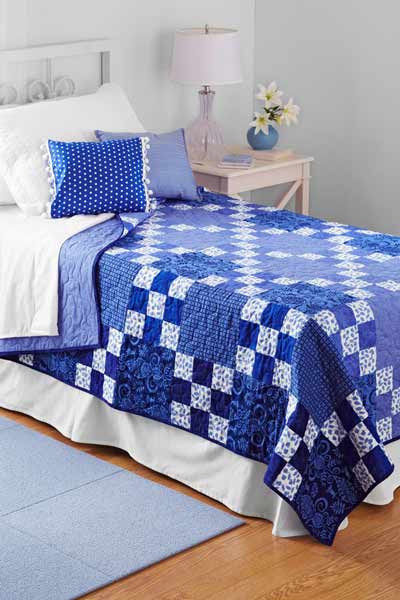 Blue is a royal, classy color, and so is the quilt we have here that boasts a fun and creative combination of square patches that range in color from dark blue, over medium blue, to squares made up of nine smaller squares that alternate between white and blue and are set in a 9 x 9 grid.
Chain links – free Irish chain quilt pattern
Finished Size 90 x 96"
Here we have a quilt that shows how a simple design like the Irish Chain can become something unique and special with just a bit of creativity that in this case, can be seen in the form of arranging white, colorful, and checkered square patches set in diagonal rows that alternate in colors.
pattern: Jordanfabrics
Christmas Irish Chain Quilt
Finished quilt: 77'' x 77''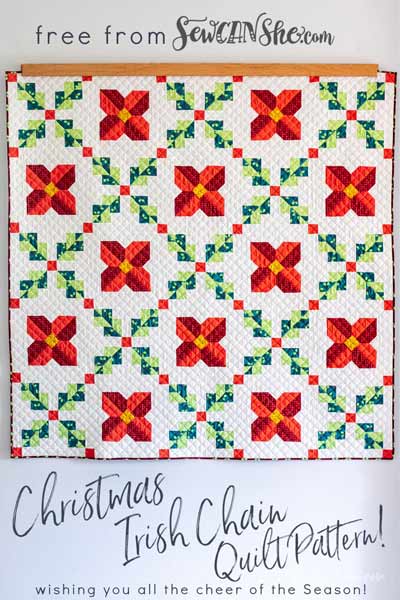 White diamond patches set in columns of two and three, with lovely orange flowers in their centers and leafy green borders around each patch is what this quilt is all about, waking up that Christmas holiday sentiment inside you whenever you take a look at it.
by Sewcanshe
Half-pint Irish chain quilt
Finished quilt size: mini version (41″ x 41″) or a full size (59″ x 71″)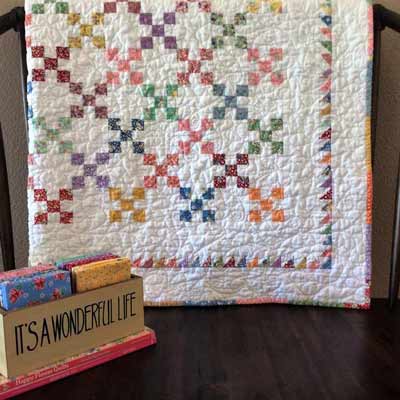 This quilt that comes in small and regular sizes has one rainbow-colored thin frame, then a wide white frame, and another thin rainbow-colored frame around the edges, followed by a grid of squares that alternate between blank white and rainbow-colored checkered squares.
Double Irish chain quilt pattern
Simplicity turned into a high-quality product, that is what this pattern stands for, as it allows you to cut up small squares in different colors and join them in a 5 x 5 grid in two different manners, then join the larger squares you get in an alternating fashion to get a quilt that has columns of white diamonds bordered with a double frame consisting of colorful miniature squares.
Double Irish Chain quilt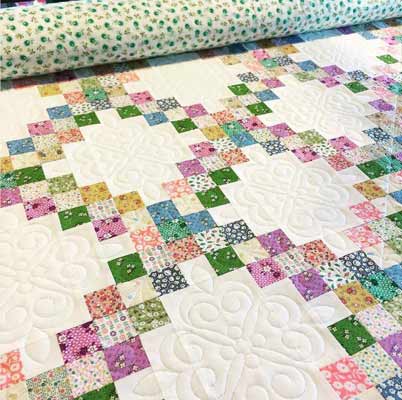 Spice up a plain Irish Chain design with this double Irish chain quilt pattern that will help you stitch together a bunch of small squares in a specific way so that, by the time you finish, you create a quilt that features those characteristic columns of diamond patches with a twist, a vibrant triple frame border around each patch.
by Zarkadia
Make it Modern – Double Irish Chain Quilt
Finished size: twin 70" x 90" or queen 90" x 90"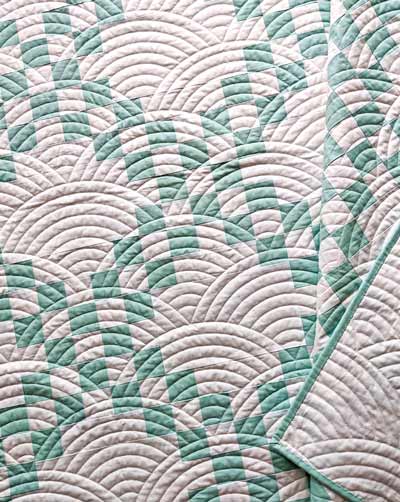 The quilt we have here might seem that it's just a usual Irish Chain kind made of white and light green patches, but upon closer inspection, it reveals its true peculiar and inventive character through the multiple semicircle stitches that give it a look resembling large fish or dragon scales. A true modern Irish chain quilt pattern that is completely free!
pattern: Gigisthimble (at the bottom of the post)
Red and white Irish chain quilt with two borders
Finished size: 56″ x 68″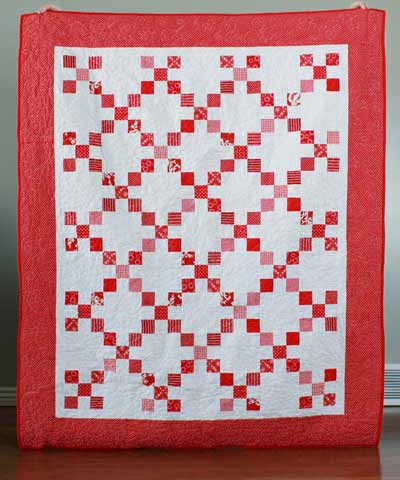 They say red calls for joy, so you can feel free to call this quilt joyous thanks to its wide red frame around the borders, a white base in the middle, and a 7 x 9 grid of squares that alternate in color between clear white and checkered with red, white, and pink miniature squares.
Triple Irish Chain quilt pattern
Finished quilt size: baby quilt 44" square, large lap quilt 66″ x 88″, queen quilt 88″ x 88″
Finished blocks: 22" square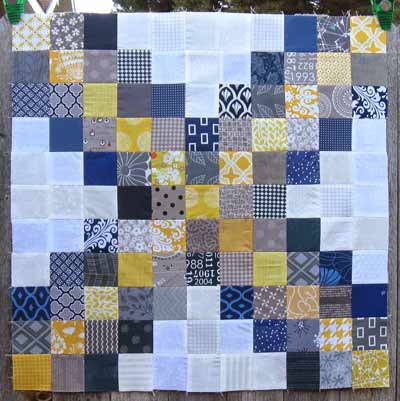 Now is the time to put those leftover fabric scraps to good use and make this beautiful quilt that takes a bit of extra work since each large patch consists of a 9 x 9 grid of small squares in three colors of your choice, but it will be worth the effort because you'll have a dazzling quilt in one of the three available sizes when you're done.
Single Irish Chain Scrap Quilt
Finished Quilt top measures 47 inches x 58 inches
80 Nine Patch Blocks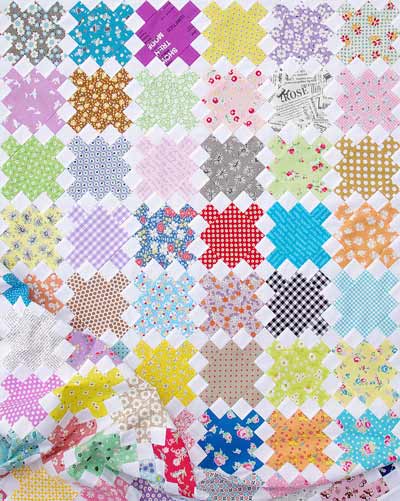 Reinvent the old Irish Chain with this pattern that takes the famous design and does something like a negative photo effect to it, switching the white squares with the colored ones, producing a quilt that has a 7 x 6 grid made of colorful squares with serrated edges and white borders between each square.
Easy Single Irish Chain tutorial
Size – 108×108″
Blocks – (72) 9-patches and (72) background blocks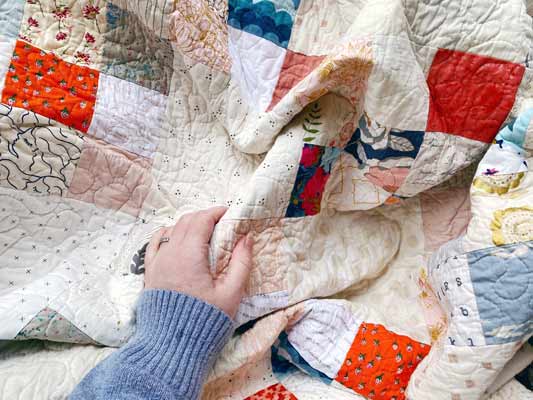 Enjoy a therapeutic quilting session with the help of this pattern that will let you use your fabric scraps to whip up a simple, yet wonderful quilt made of many small squares joined into larger checkered squares that form a larger grid with the well-known Irish Chain design.
No matter whether you need a modern Irish chain quilt pattern or a more traditional one, you will find it among my handpicked Free Irish chain quilt patterns. From simple and quick-to-make, to complex and challenging, but just as fun, all these patterns present a creative, fresh take on the Irish Chain. Whichever one you decide to make, you'll get a fine and praiseworthy quilt that you'll be happy to have around. Which one is your favorite? Which one do you think you can tackle? Drop in the comments below and let me know.
If you enjoyed this article and would like to see more, feel free to check out the website and subscribe to the mailing list for prompt updates. Happy quilting!