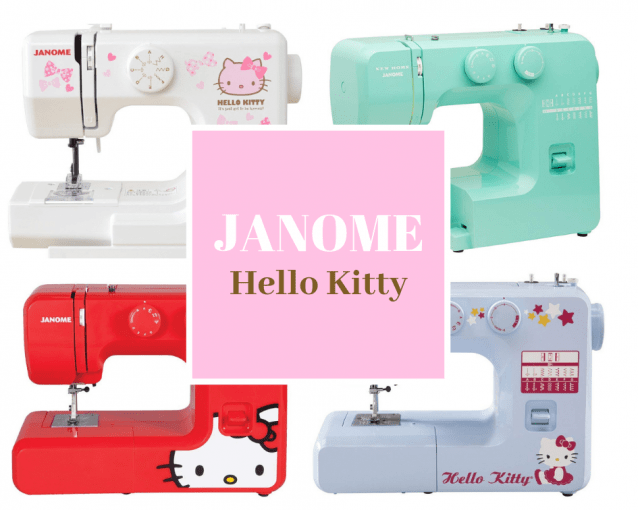 Janome Hello Kitty Sewing Machine Reviews (So Cute!)
There is no better way to get your young kid to sew than to make it fun and easy. Big and unfriendly beginner sewing machines are not fun to play with and soon you will find they are collecting dust in the closet. However, sewing one of our easy kids projects with Janome Hello Kitty sewing machines is super fun. Not only they are full sized and fully functional, but they are really affordable as well.
People who can repair and create new clothing from base materials are not only saving money, but are capable of having a unique look for themselves, instead of settling for the corporate, mass-produced default.
However, these confidence-boosting, money-saving life skills need to be nurtured from an early age in order to settle in.
Janome, a Japanese specialist in sewing machines, knows this very well. As a result, they have connected the very popular children's cartoon character Hello Kitty, created by Yuko Shimizu, with a series of models appropriate for children in order to ease them into this fun and useful craft.
All of them are affordable while covering different aesthetic tastes, so all you have to do is find out which sewing machine would serve as the perfect gift for your kids and grandkids!
We occasionally link to goods offered by vendors to help the reader find relevant products. Some of the links may be affiliate in nature meaning we earn a small commission if an item is purchased. Read my full disclosure here
Janome Hello Kitty KT-W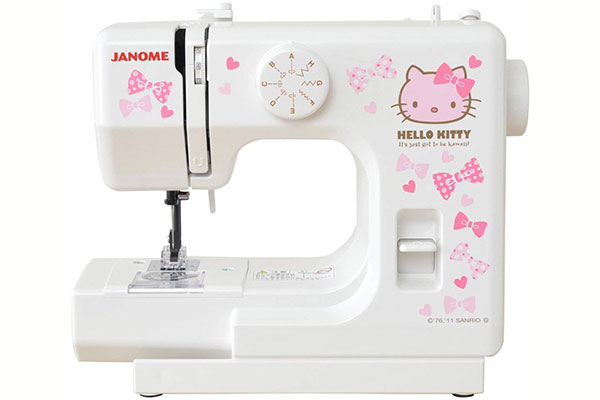 The look and weight of this sewing machine reveals it all.
Lightest of the series weighing at just 6.75 pounds (2.2kg), and adorned with cute pink hearts and bowties, this one is clearly intended as a gift for your daughter or granddaughter.
It's ultra-compact as well with 8.6 inches in height and 11.4 inches in width. And believe it or not, it consumes merely 6W of power, which is less than most lightbulbs!
Obviously, it is designed for light work for the timidest of kids, who may be even under 8 years old.
Indeed, you will have a limited option of only 8 stitches, of which 5 are straight and 3 are zigzags. All of which are depicted on the single stitch-selection dial.
As you would expect, the accessories are barebones, just enough to get you started: 2 needles, 1 foot presser, bobbin, needle threader, and the AC adapter.
What is there more to say? You know what to expect and for whom it is intended, but if you see the same-sized and similarly designed sewing machine in a shopping mall, don't opt for the general brands. Buy a dependable, specialized Janome instead.
Janome Arctic Crystal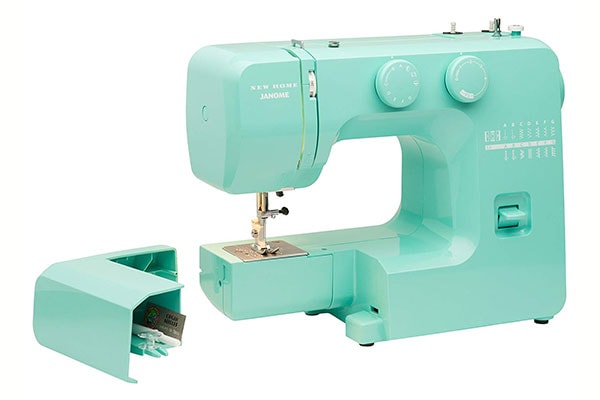 Departing from the Hello Kitty theme, the Arctic Crystal is already a clear winner when it comes to the price. In fact, this may be the cheapest sewing machine we have ever encountered.
Still, Janome is Janome, so you can still expect quality and functionality.
Surprisingly, you still get 15 built-in stitches like with other pricier models, along with a 4-step buttonhole, and a sturdy metal frame that help keep the machine stable while you work your sewing magic.
Additional features include:
Reverse lever.
3-piece dog feeder system.
Removable free arm.
4 presser feet.
Darning plate, super helpful for free-motion sewing.
Standard fare accessories.
Spools pins which you can retract, dual.
Front-loading bobbin system, comes with 3 bobbins.
Integrated LED light.
12 pounds' weight.
25-year limited warranty.
Janome Arctic Crystal is completely beginner-oriented, offering video tutorials, quick-start guide, and the more in-depth, well-illustrated manual. It even has an integrated bobbin loading guide to make the most basic of sewing tasks that much easier.
The 3-part feed dog system is great for feeding it fabric without a hitch, and the maximum sewing speed is moderately high at 800 SPM.
Overall, if your kids are not familiar with the Japanese Hello Kitty cartoon, the Japanese Arctic Crystal is quite a competent product, especially for the ultra-affordable price tag.
It's sturdy, it runs smoothly, it's compact, and it's exceedingly easy to use for all sorts of sewing work – quilting, decorative, hemming sleeves and pants. What more would you want?
Given the price, it just might be the perfect beginner sewing machine. Janome certainly outdid themselves with Arctic Crystal.
Janome 13512 Red Hello Kitty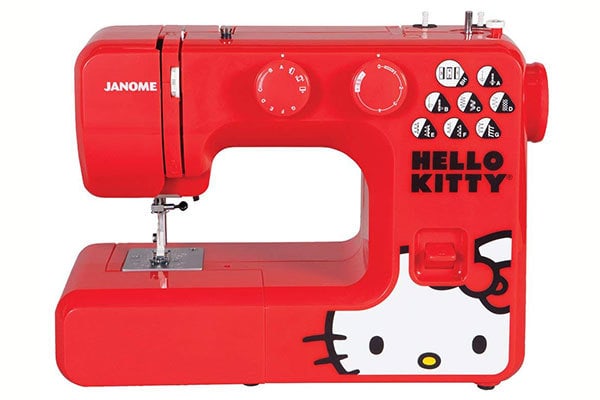 Of the bunch, the 13512 is definitely the most colorful one, but don't be fooled. It's a serious sewing machine that even adults can use to great effect. In fact, even sewing machines in this category are better than the ones you would be able to get decades ago. That's just how technology perpetually upgrades our standards. You will get the following features:
Helpful needle plate markings so that stitches can be sewn straight.
A range of 15 built-in stitches.
Easy dial for controlling the stitches.
A lever for reversing the stitches.
The ability to control thread tension.
Positioning the needle in two positions.
Bobbin hook that is places vertically.
Light-weight but sturdy aluminum frame.
4-step buttonhole process.
Integrated light.
Unlike with most sewing machines in the Hello Kitty series, the two needle positions is the feature that stands out. Basically, it widens your sewing flexibility by positioning the needle more to the left or more to the right, which will come handy for more advanced projects.
The plate markings are excellent for complete beginners to start learning, removing that nagging feeling like you are underperforming. This is not a common feature among this class of sewing machines, so this confidence-building feature is highly welcome. Notwithstanding serious illnesses that impair motor function, anyone who uses it will be able to keep the stitches straight.
The red Hello Kitty performs at 650 SPM (stitches per minute), which is more than sufficient for the intended category.
The total control of stitches and speed is achieved by two front dials with very clear markings, which are also quite responsive. Of course, you will find which stitch to use on the prominent side diagrams.
Although it is light-weight at 14 pounds, it is still a full-sized sewing machine. Nonetheless, there is no reason why a kid from 8-years old and upwards would not be able to effectively use it, under initial guidance.
Janome 15312 Hello Kitty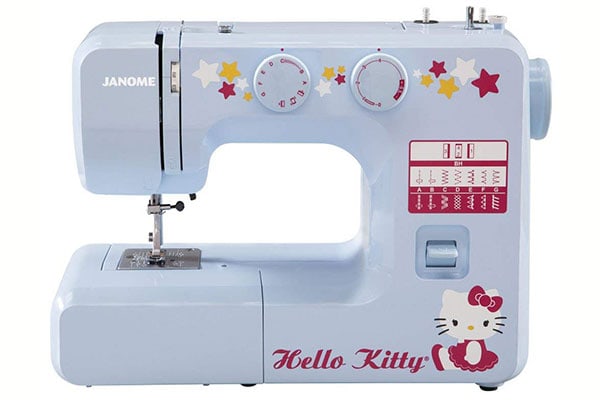 Similar in every way to the red model above, but more cheerful, lighthearted in design, more compact and easier to use. Still, it's not a child's toy despite that a child can view it as their favorite one!
Isn't it wonderful that fun can be so easily combined with productivity, and make it child-friendly to boot? That's really the criteria that you should apply to every gift you consider for your children or grandchildren.
Here are the features that come along with this light blue Hello Kitty sewing machine:
A 15 built-in stitch span.
4-step buttonhole making.
Bobbin system that is front-loaded and auto-declutching bobbin winder.
Flexible stitching with adjustable length and zigzag width. Maximum 5mm for both width and length.
Reverse button.
3-piece feed dog.
Free arm that can be removed, great for making sleeves and pants.
Spool pins, dual and retractable.
4 feet pressers.
Miscellaneous accessories for beginners.
Light weight at only 13.2 pounds.
Fantastic 25-year warranty, although limited.
With Janome, you know you will get a machine that will just work. And you will encounter no flimsiness at all, even in this price/class category. It doesn't matter if it is intended for younger customers, it needs to be sturdy to perform effectively, and the Janome 15312 Hello Kitty is no exception. No distracting rocking and bobbing of the machine whatsoever thanks to the solid metal internal frame.
Furthermore, it has an impressive stitching speed of 860 stitches per minute, which can rarely be encountered with much pricier sewing machines!
However, you can't expect it to have an automatic needle-threader, but that's why you should read the very helpful manual that will guide you from beginning to end of the learning curve.
As always, at the front you will find the two dials for cycling through the stitches along with stitch diagrams. It doesn't come with a cover, so you might want to buy it separately, as it will keep away the accumulation of dust on the delicate, moving parts.
What lacks in cover it compensates in accessories: various presser feet (general, zipper, buttonhole, blind hem), needle set, bobbins, and seam reaper. It has a storage area just right for keeping the smaller items in.
On a final note, don't let the looks of this cheerful sewing machine deceive you. You can easily buy it for your adult self, and have no regrets whatsoever. For children, it's an outstanding choice.
Final Words
It's really great when a specialized and reputable company like Janome embarks on creating a series of Hello Kitty sewing machines specifically catering to beginners and children (girls in particular).
Because, what we end up getting are sewing machines that are more than suitable for even experienced adults to effectively use. Of the four models, the only exception in this regard would be the cute Hello Kitty KT-W, which is still a good sewing machine for kids, but not something that will serve them for years to come, like is the case with other models.