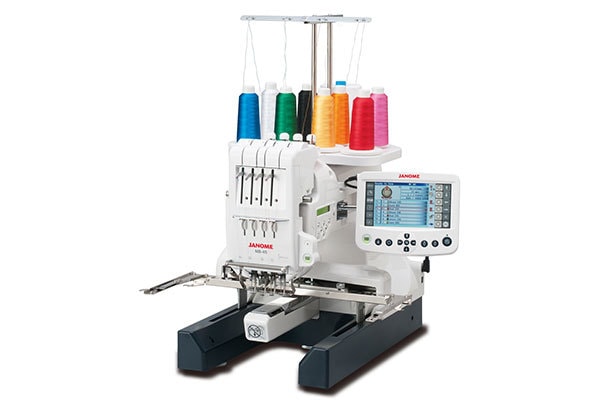 Janome MB-4S Review – Multi-Needle Embroidery for Large or Repetitive designs
All of you ambitious and industrious sewing enthusiasts out there who have a desire to turn your favorite hobby into something bigger, better and more important, should probably pay attention to this article. If you have thought about starting your own home sewing business, one specifically focusing on embroidery, but wasn't sure if your machine can handle it or not, then consider purchasing this model
Although its main focus point is home embroidery and it's advertised as a machine in that category, the Janome MB-4S embroidery machine actually provides a lot of other things to its potential customers. Precisely because of this, it represents an ideal choice for a small start-up embroidery business.
On top of that, this Janome multi needle embroidery machine is backed by a company name which boasts commendable reputation and history in the world of sewing machine manufacturing, the Japanese giant Janome.
However, all of that means nothing if the actual machine isn't good. Having said that, let's see for ourselves in this Janome MB-4S review, if this model the right choice for you or not.
We occasionally link to goods offered by vendors to help the reader find relevant products. Some of the links may be affiliate in nature meaning we earn a small commission if an item is purchased. Read my full disclosure here
My review of Janome MB-4S
Let's start off this review by pointing out that this is a quite complex machine with a hefty price-tag so it obviously isn't meant for beginners, maybe not even for intermediate sewing practitioners. With a very wide range of capabilities and not much beginner friendly solutions, it's a good choice only if you have plenty of experience and are decently skilled at sewing.
This model is a bit special because it's a home embroidery machine but it has four needles which is usually a trait of industrial models. It also has a couple more industrial like characteristics but we'll talk about that a little later on. Modern features make this machine one of the most technologically advanced in its category, providing possibilities which other models simply cannot imitate.
It's time to see what are the main traits of this commercial embroidery machine and what it offers to its potential buyers.
Features and functions:
With four needles you can simultaneously use four differently colored threads without having to interrupt your work. A multi needle embroidery machine provides you with a possibility to create colorful embroidery in a relatively short time period which is a huge plus over the single needle slow work. MB-4S also got featured in our best multi needle embroidery machine for home use roundup!
50 built in embroidery designs allow you to swiftly commence your projects and work without having to worry about your finished products looking like each other. If, however, you're feeling particularly inspired, you can use a computer and either modify an already existing design or create your own from scratch. After that just transfer the file to a USB stick, plug it into the machine and you'll use that design whichever way you want to. Since the machine has its own memory of 3mb, it can easily store 100 of these designs if needed. See for yourself how easy it is to use the machine
Threading the machine is a very simple task. All you have to do is follow the color coded printed paths with the thread and that's it. It's not automatic but as far as practicality goes, it comes very close.
RCS or the remote computer screen lets you manage different settings, just like the LCD screen which this machine possess. But the LCD screen doesn't allow you to see a visual image of designs and settings you're using which makes it a great addition. Yes, that's right, unfortunately it's an addition and it doesn't come with the machine, instead you have to purchase it separately.
Ten monogramming fonts let you apply your initials on all of your creations, thus pointing out who is the mastermind behind them. Or, put his and hers writings on the bathroom towels so that they never get mixed up again.
Embroidery area tracing and the maximum embroidery size invite all home business owners to get this model. At 9.4″ x 7.9″ or 238mm x 200mm for everyone who's in dispute with the imperial system, it offers you a possibility to cover a large area, much larger that most home embroidery machines can.
Maximum embroidery speed of 800 stitches per minute allow you to finish your projects in record time. This is basically the fastest possible speed for all home embroidery machines, meaning none can go faster, unless it's an industrial model we're talking about.
Programmable jump thread trimming ensure your embroidery stays tidy and precise while saving up time and improving your productivity.
Upper thread and presser foot sensor prevent accidental mistakes by locking up the machine if they detect improper settings and positions of both.
Keep an eye out on the statistics of your embroidery with a stitch counter and a stitch out time indicator. No more surprises in the middle of a stitch for you.
Standard hoop sizes come in the forms of M1: 9.46" x 7.88" , M2: 5" x 4.3", M3: 50mm x 50mm. Hat embroidery hoop is available but also optional.
Bobbin is about 40 percent larger than normal bobbins which makes it very suitable for embroidery work. Also, the motor which is responsible for the bobbin lets you wind the bobbin without unthreading the machine.
Lighting: The work area is excellently illuminated thanks to the four white LED lamps located above the needle.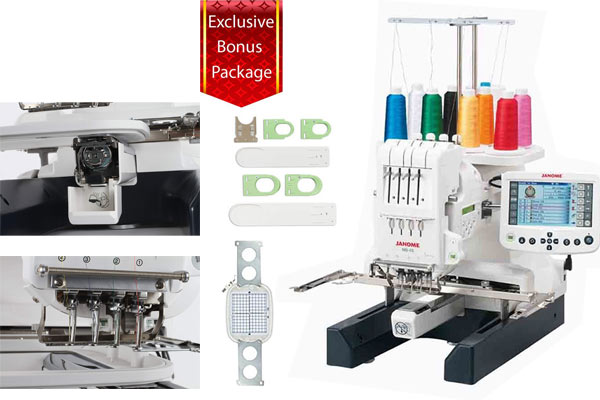 A fair number of complimentary accessories come inside the original box together with the machine itself. They consist of three aforementioned hoops, a pair of scissors, five bobbins, a lint brush, a seam ripper, a needle threader, five spool caps, nine spool nets, an oiler, a pair of tweezers, an accessory case and four different screwdrivers for maintenance work.
Warranty can be registered online on the manufacturer's website where you can also find support if needed.
Downsides
Let's start this section with perhaps the biggest downside which is the price tag of the Janome MB 4s. It will definitely stretch your budget, ranging from around five thousand dollars to over seven thousand dollars. And since this is an embroidery only machine, you should think hard and well before deciding whether you'll purchase it or not.
Next up on the downsides list is the fact that Janome mb4s  is computerized. This is very handy indeed but if your machine malfunctions or brakes, it will turn into a disadvantage, forcing you to find a specialized repairman who'll charge you a fair amount of money for the fix.
Presser foot cannot be lifted high nor can its pressure be adjusted, meaning you can't embroider thick or multiple layers of fabric.
RCS and the hat embroidery hoop don't come as standard accessories so you will need to buy them separately. It's a shame though since both of them are very useful to have along the 4 needle embroidery machine.
Lack of knee lift might slow your working process a little and the fact that this model doesn't come in variants with different voltage means you'll have to buy a converter if your home voltage isn't adequate.
Takeaway
As far as advanced home embroidery goes, the Janome mb-4s embroidery machine is a very good choice. The price tag is a bit scary but if you have a small home embroidery business, it will most likely pay for itself very quickly.
With a couple of features of an industrial machine and its modern characteristics, this model surely stands out when compared to other home embroidery machines. Is it the right choice for you though? Well, you have to decide that by yourself.