1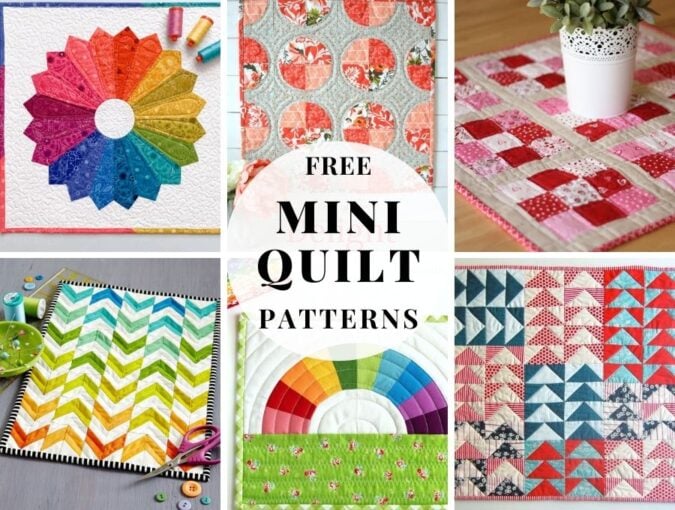 20+ Gorgeous Mini Quilt Patterns
Learn how to make a small quilt with these free mini quilt patterns and tutorials. I love small sewing and quilting projects! They are much easier and quicker. They don't take a lot of time, fabric or commitment – and they are perfect for giving quilting a try, getting rid of scraps, or trying a NEW technique without committing to a large quilt. Even though I love sewing sometimes I just don't have the time or the desire to tackle a big project.  In this roundup you will find a variety of miniature quilt designs – I'm sure you'll find a small quilting project for every skill level.
The vast majority of these small quilt patterns are free, but there are a few paid ones as well.
20+ Mini Quilt Patterns You Can Whip up Quickly
Nine patch mini quilt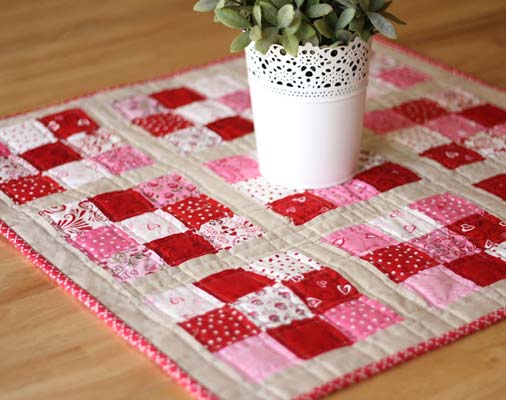 The first mini quilt on our list is a cheerful one that looks wonderful when you make it from white and red or pink fabric scraps! It's a square quilt with nine colorful, smaller squares on top. All those squares are made of nine, even smaller colorful squares as well! It's squares inside squares inside squares. The Squareception quilt, if you will, acts as a lovely table topper or as a tea set coaster.
Rainbow Chevron mini quilt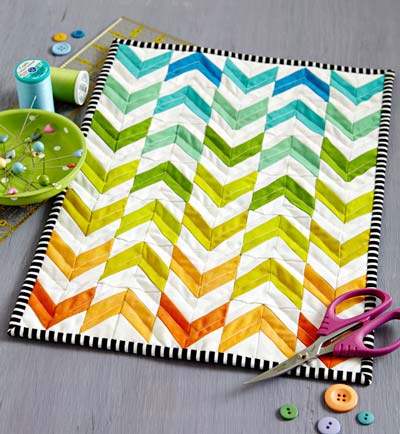 Brighten up your home with a fabulous rainbow mini quilt! This rectangular quilt has gorgeous chevron stripes going across it. They aren't just any chevron stripes though, they are rainbow-colored with white sections between each color that make the contrast more pronounced and create the illusion that the chevron stripes are moving!
Shoo-Fly Miniatures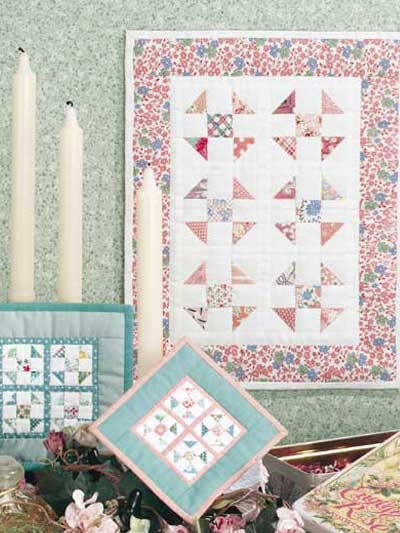 This mini quilt pattern is a bit different because it's a three-in-one kind of pattern. It will help you make one larger rectangular quilt and two smaller square ones. All of them have an almost identical look, with squares that have triangles around the corners as main motifs. The rectangular one has six such squares while the square quilts consist of four of them.
Designed by Elizabeth Kuennen
Get the pattern at freepatterns.com
Rainbow mini quilt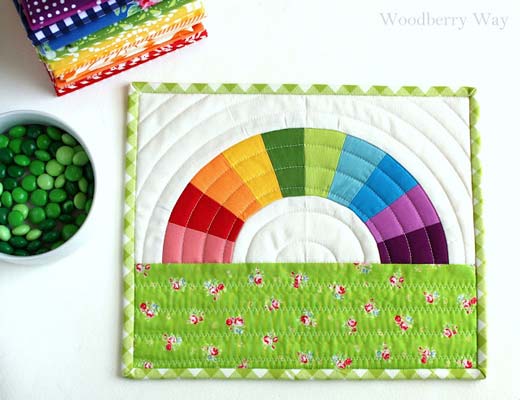 Here comes another rainbow mini quilt, but this time it's a St. Patrick themed rainbow! The quilt depicts a green meadow with a rainbow arc on top and white background that emphasizes the play of colors. Kids love this one so feel free to use it as a coaster for your little one's meals and snacks.
by Woodberryway
St.Patrick's mini quilt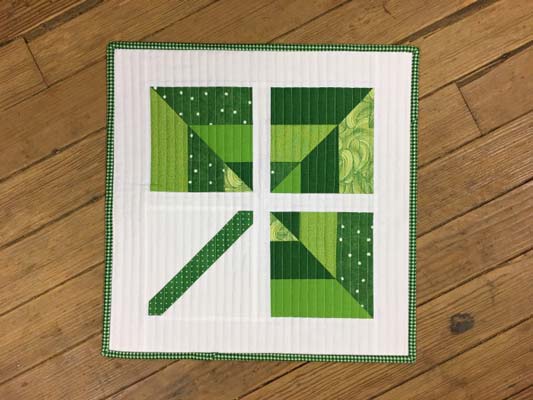 We're staying in the St. Patrick mood for one more mini quilt pattern. Summon a bit of that luck of the Irish with this neat square quilt. The white background and the three green squares as leaves, together with a short line as a stem represent a minimalistic yet beautifully creative clover that might just get that leprechaun to come over and maybe bring a gold coin or two as a gift!
Ships and sails mini art quilt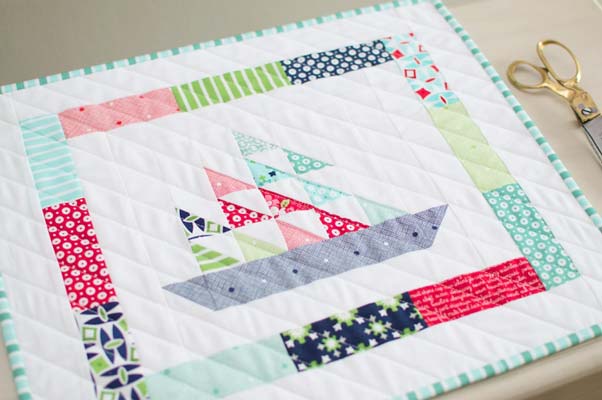 Way hay and up she rises on this mini quilt. All the sailors, pirates, privateers, and other seamen would love to have this quilt around in their houses. It's a patchwork with a colorful frame and a bunch of triangles that form the shape of a cool ship with large sails. Where to, captain?
Classic Amish diamond quilt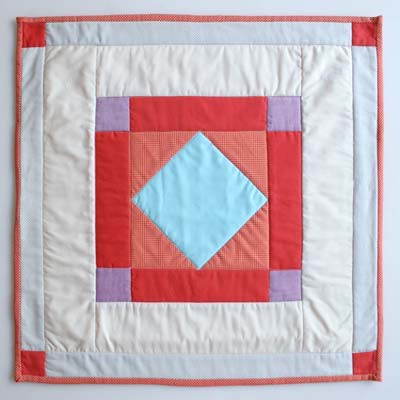 Amish crafts are creative and special, and this mini quilt is no exception to that rule. The design could be called simple, yet its appeal doesn't fall behind the more complex kinds of quilts. It has a diamond shape at the center, with a contrasting color square behind it and multiple frames around the two. The central frame and the outer frame both have square patches at their corners.
by Purlsoho
Dresden plate mini quilt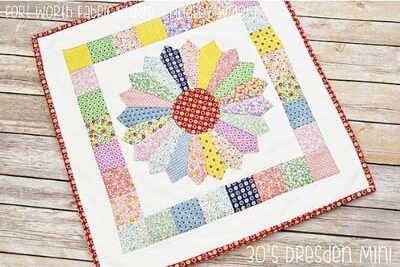 Dresden plate is one of the funkier and more cheerful patchworks that instantly liven up your quilts. This pattern makes full use of that fact and helps you make a lovely joyous mini quilt. The vibrant Dresden plate sits at the middle of this white background quilt, while a frame made of colorful squares stands around it and a thin uncolored frame at the edges of the quilt.
Rainbow Dresden plate mini quilt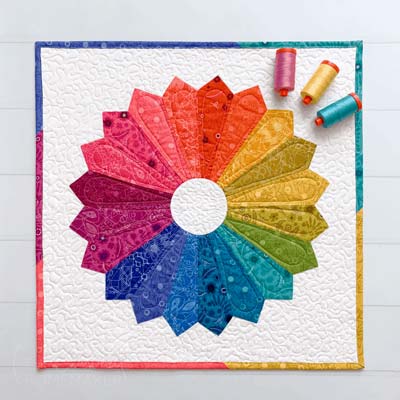 We'll stay in a similar mood for one more mini quilt with this rainbow Dresden plate pattern. Much like the previous one, this quilt also looks best with a white base on which you set the rainbow Dresden plate. Unlike most Dresden plates, this one has a hollow center that emphasizes the various colors around it.
Circle of fun: Delight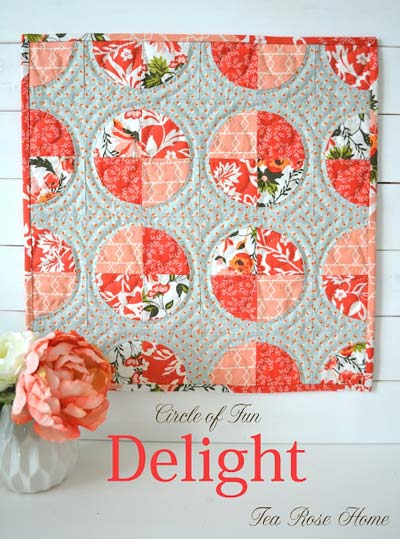 Are you tired of rectangular and triangular shapes on your quilts? Change it up a bit with this circle of fun mini quilt. It's a rectangular quilt with full circles, semicircles, and quarter-circles all over it. Each circle is made of four pizza slice pieces different in color combined into a regular circle.
by Tearosehome
Mini bookshelf quilt
Here comes a treat for the book lovers in need of a mini quilt, the bookshelf quilt. This interesting quilt is rectangular in shape with a thin frame around the edges and a framed blank rectangle along the bottom edge. Above it are vertical rectangles of different sizes that represent books on a shelf, complete with a diagonal one that looks like a book that slid a bit to the side, just like they tend to do on real bookshelves.
Mini scrap quilt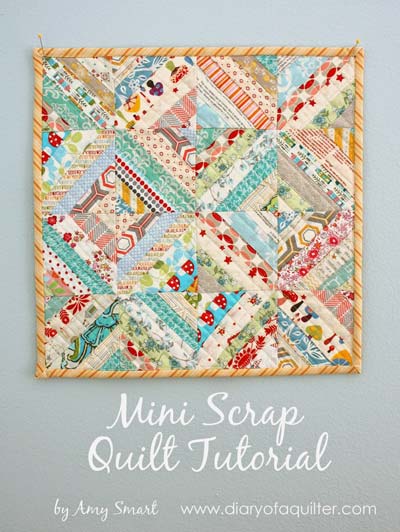 Use up those scraps in a creative way with this scrap quilt pattern. This square mini quilt is made of a bunch of square bits joined together into a fine colorful quilt. The special trait of this pattern is that it uses fabric scraps cut on the bias, which adds a fun new depth to the final look of the mini quilt.
Tutorial at Flamingotoes
Mini Christmas tree quilt
Spread the holiday joy with this Christmas tree mini quilt! This pattern has a wide green frame around the edges, an eggshell color background,  and a beautiful pine Christmas tree made of upward-pointing triangles with a flat top set on each other. Mind you, this Christmas tree doesn't come with gifts included.
by JordanFabrics on YT
Get the pattern HERE
Flying geese mini quilt
Let's make a triangle bonanza with this flying geese mini quilt! It has a thin frame around the edges and a whole lot of triangles on contrasting rectangular background pieces. Most triangles point upward, with the exception of the top left section where the triangles are pointing to the right.
by Purlsoho
Spool mini quilt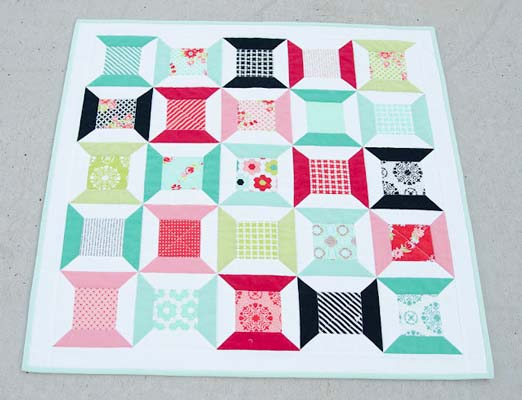 Make a mini quilt that shows just how much you love sewing with this thread spool mini quilt pattern! The quilt has a white base and colorful spool shapes on top, arranged in five rows and five columns. The spools alternate between standing upright and on their sides to make the quilt more dynamic.
Heart mini quilt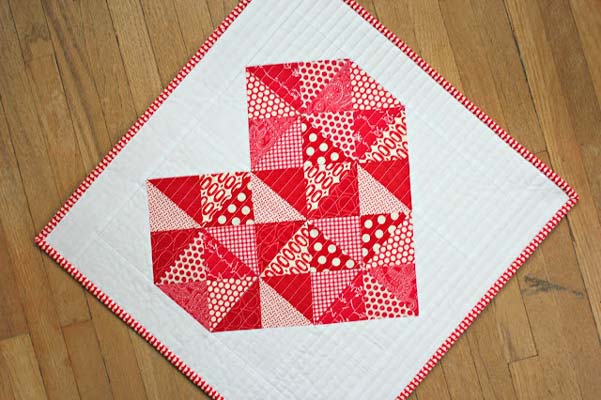 Spread the love with an adorable heart mini quilt. This pattern has a base like most on this list, with a white base and a thin frame around the edge. The main motif is a cute heart assembled out of triangle patchwork pieces in red and pink colors. Whip this one for Valentine's day to make it even more special.
Lovely, Paid Small Quilt patterns
Nebula miniature quilt (paid)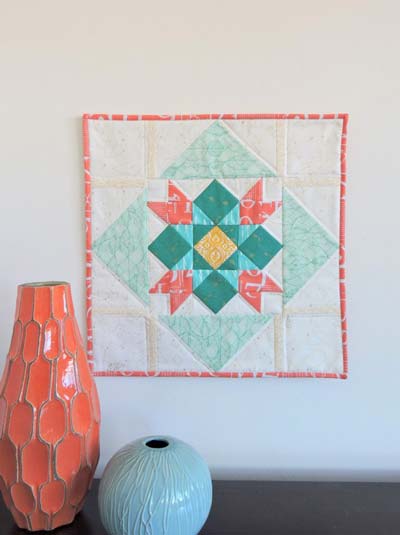 To wrap up this list we have prepared a few paid quilts. The first one is this nebula miniature quilt. It has a beautiful lotus-style diamond flower in the middle and four brightly colored triangles around it that point outward. The pattern is beautiful so you can place it anywhere you like in your home, from walls to tables, it will look great anywhere.
Stitched with love mini quilt (paid)
Here's a pattern that's the most adorable one on this list, stitched with love. It's a quilt with a proper sewing machine depicted on it. The machine has a bunch of beautiful details like threads, a needle, and even a little patchwork under the needle as a work in progress. This pattern is definitely worth the price it costs.
pattern: https://www.etsy.com/listing/624822538/stitched-with-love-quilt-pattern-from
Rainy days small quilt (paid)
The last pattern on our list is reserved for rain lovers, the rainy days mini quilt. The base of this quilt is gray to represent an overcast sky, while the main motifs are the large puffy cloud and colorful raindrops falling from it. Each drop is different in color so even though the quilt is all about rain, it's not depressing but cheerful and bright instead.
get the pattern at Etsy
I hope you thoroughly enjoyed my collection of small quilting projects with a ton of free mini quilt patterns and tutorials. Which one you want to make? Let us know in the comments below, we love hearing from you! Be sure to subscribe to our mailing list to stay up to date with our new articles and tutorials as soon as we post them. Enjoy your new mini quilts!