1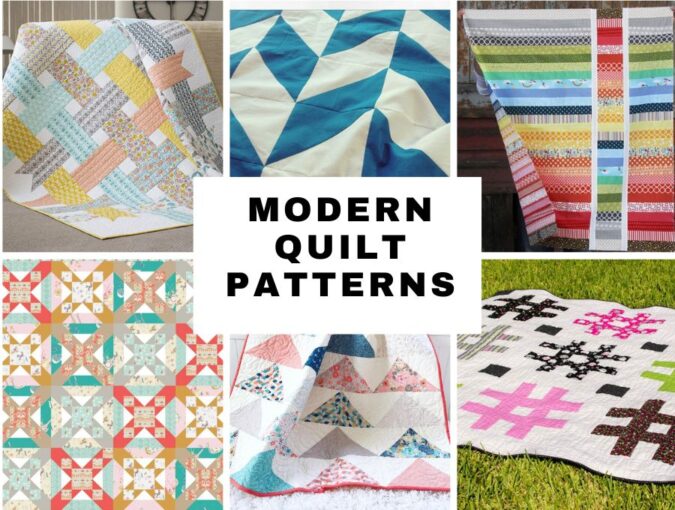 Free Modern Quilt Patterns for Beginners and Advanced Quilters
Create a beautiful trendy quilt with these free modern quilt patterns in a variety of styles. Simple, easy and beautiful trendy quilting patterns and blocks. No matter whether you are just a beginner quilter or you have many quilts under your belt, you will find a ton of inspiration among these new popular designs. From modern geometric quilt patterns, abstract and cool to elegant and beautiful choose yours now.
Free Modern Quilt Patterns for Beginners
Ribbon box quilt
Finished size 55 " x 63 "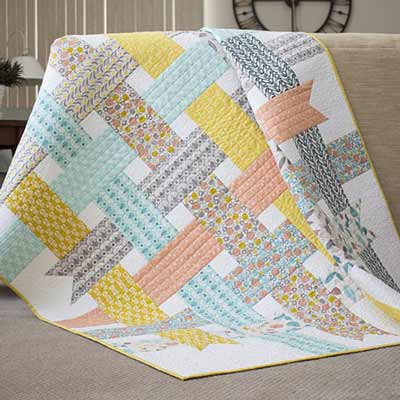 Imagine weaving a bunch of rainbow-colored ribbons together, threading them below and above each other, then take that mental picture and transfer it onto a quilt with the help of this pattern that allows you to create that exact thing on a white base quilt big enough to keep your legs nice and warm while you read a book on the porch.
Huskers Houndstooth Modern Geometric Quilt Pattern
Finished size: 51 x 63"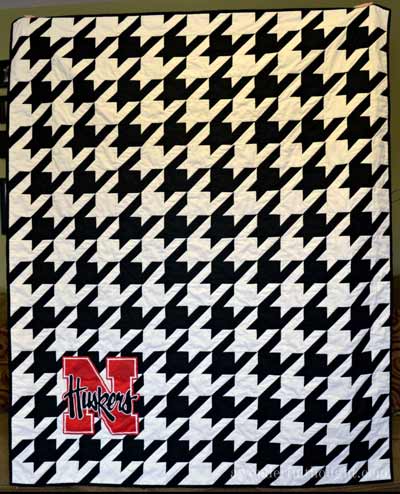 Although houndstooth design seems complex and challenging to make, it isn't hard at all, at least not with this pattern that will show you how to make small squares in three colors of which two are contrasting and the third is striped diagonally, and then arrange them alternating to create the houndstooth quilt, a tough foe of many quilting enthusiasts.
Tiny Tile Quilt
Finished dimensions: 50 inches x 60 inches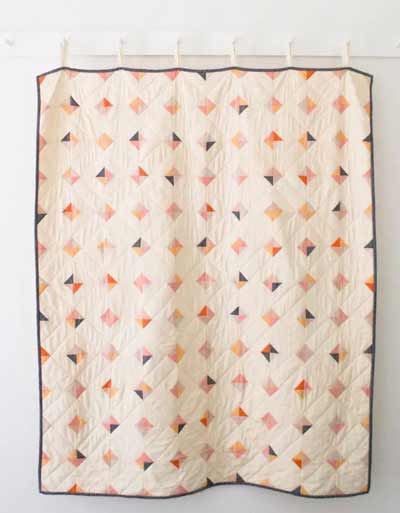 Creativity and uniqueness through simplicity, that is the idea behind this lovely quilt that has rounded edges and a thin red frame all around them, with rows of white squares that have all four corners in different colors, so when they match the corners of the squares next to then, they create little vibrant diamonds all over the quilt.
by Purlsoho
Minimal Triangles Quilt Pattern
Finished quilt size: 80″ by 80″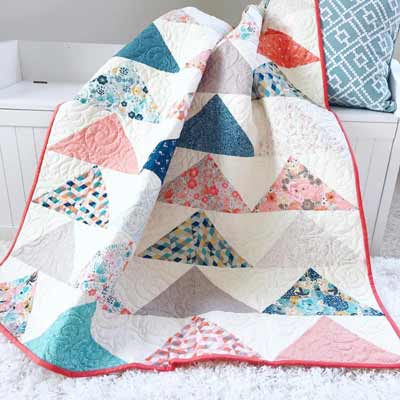 All of you who prefer quilts with triangular shapes over those with squares or stripes, this one is for you, a quilt that has a thin frame in the color of your choice around the edges, a bright base, and colorful upward-facing triangles set in a grid of 8 x 4 with their colors alternating.
Jumbo hashtag quilt pattern
Finished quilt: ~72" square
Quilt blocks: 18"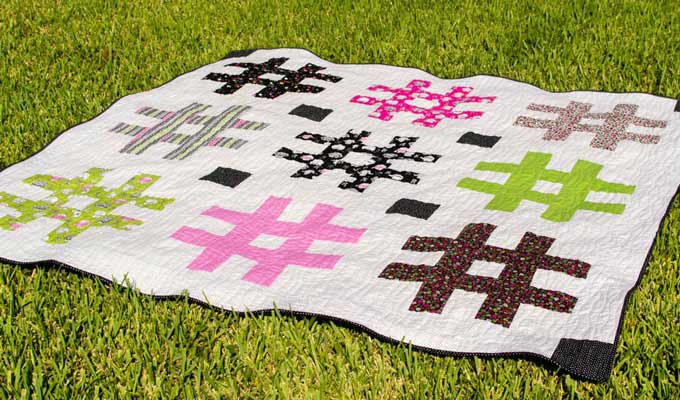 Those who say you can't use hashtags offline for art have never seen this adorable quilt that features a white background with a 3 x 3 grid of hashtags in various colors, complete with small dark squares in the corners around the central hashtag, as well as the corners of the entire quilt.
by Sewcanshe
Liberty & Flowers Quilt Pattern
Finished size: throw-sized quilt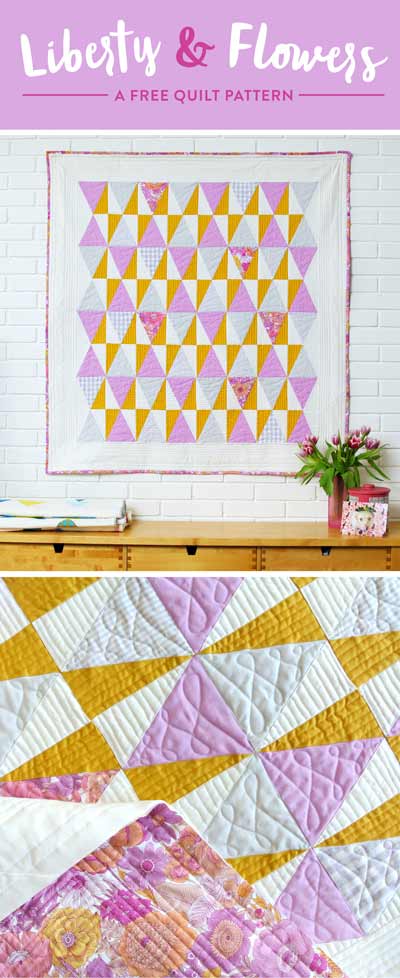 Here's something a bit different, a modern quilt pattern that has a thin colorful outer edge frame, then a wide white frame inside, with a grid made of squares, however, those squares are all made of pink, gray, white, and gold triangles carefully set together so when you look at the quilt from a distance, you see a bunch of golden diamonds shining above a floral background.
by Suzyquilts
Taffy quilt pattern
Finished quilt size: 53" x 57"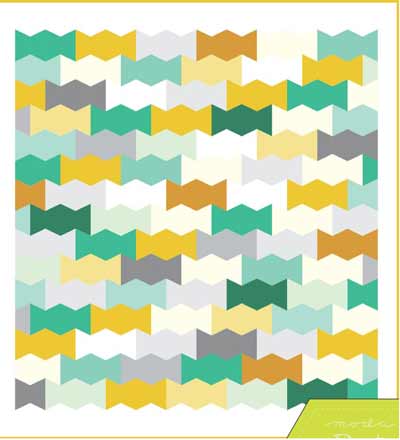 Quilters who love candy can now have some on their quilts too, with the help of this modern quilt pattern that allows them to make a quilt that has plenty of colorful wrapped candy shapes arranged in rows above each other, creating a wrapped candy alternative to a brick wall design, with a white frame around it.
by Modafabrics
Acute triangle modern quilt
Finished size: 80 x 60"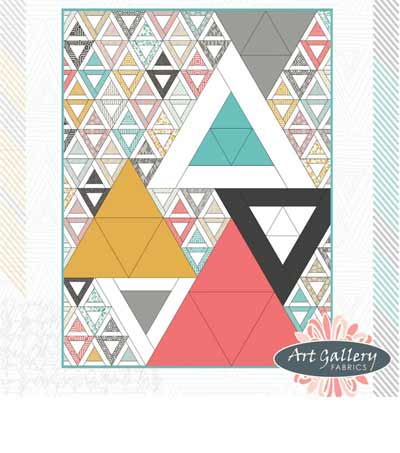 It's time for a bit of modern art in the form of a trendy quilt that is made up of a lot of different triangles in terms of color, size, and orientation, set all over the quilt so they create an abstract design with a few big triangles with hollow or full bodies, as well as many small ones, pointing either up or down.
Simple and Easy Modern Quilt Patterns
Colour explosion
Finished size: baby quilt 36″ x 48″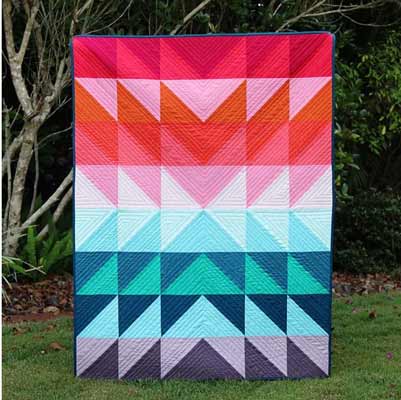 This is one of my favorite modern quilt patterns. Use it to learn how to arrange square patches made of two triangles in all of the colors of the rainbow to create a quilt with a representation of polygon arrows pointing to the center from each side, all in gradient rainbow colors from top to bottom.
Herringbone quilt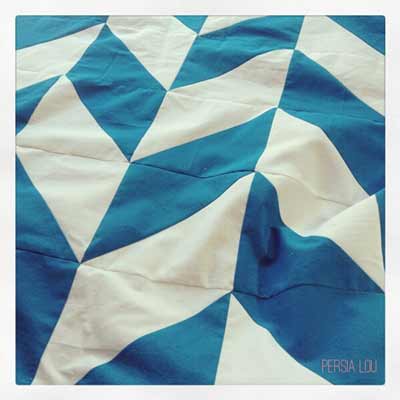 The herringbone design is hard to resist in any form it appears, and this lovely quilt is no exception to that rule, its specific charm will make your living room or bedroom that much prettier, with its downward pointing polygon arrows that are half white and half color of your choice, arranged so their colors alternate and produce that famous look of a herringbone.
by Persialou
Strip and Flip Baby Quilt
Finished Size:  36″ x 41″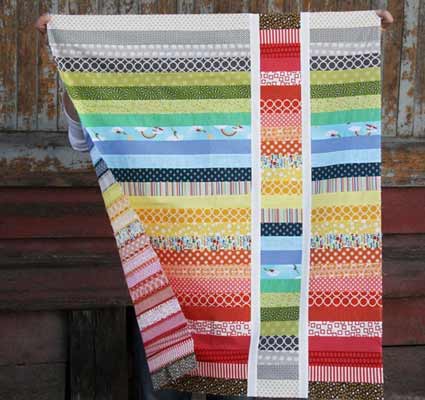 Plain horizontal stripes as a quilt design can be a bit dull, but if you do as this pattern tells and add an unexpected element of a narrow, framed section with the same colorful horizontal stripes, just in reverse order, on one side of the quilt, you'll get a fresh and creative take on the whole horizontal lines concept.
Hourglass quilt in grey and mustard
Finished size: 44″ x 54″
Gold and silver represent high class and luxury, and when you add an hourglass patchwork to it, you get this gorgeous quilt that gives off the vibes of ancient Egyptian royalty, with the hourglass shapes surrounded by solid gold and silver squares, all on crisp white background, ready to turn your room into Cleopatra's classy chambers.
Free modern quilt block designs
XOXO quilt block design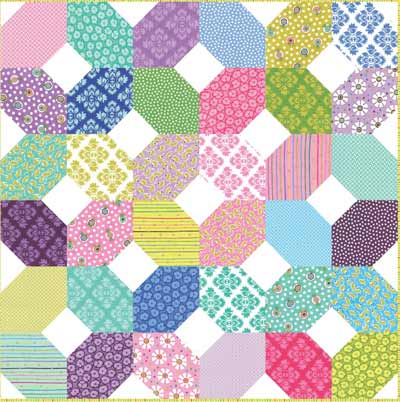 Here comes a quilt that would most likely make Homer Simpson drool, as the main features are donut shapes with their quarters in different colors, and a center hole in the shape of a diamond, arranged in a 3 x 3 grid on a white background.
Madcrosser free modern quilt block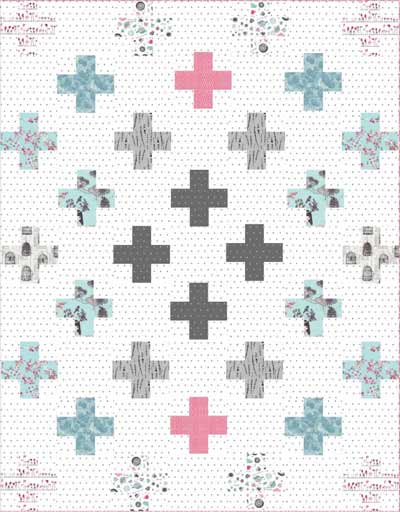 Minimalistic and extremely simple, yet chic and beautiful, that's how you can describe the quilt we have here, featuring a white base with tiny black spots, covered with patches of plus shapes in all kinds of colors that allow you to use up your leftover fabric creatively and smartly.
Botanical modern quilting block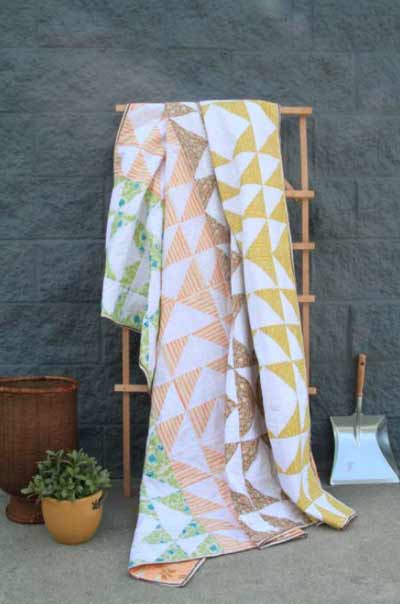 This quilt is a bit abstract, but still gorgeous to have around, with its interesting design of numerous hourglass patches set to form either polygon arrows or big diamond shapes, all sectioned vertically into four groups in their individual colors.
Melodic block – modern quilt design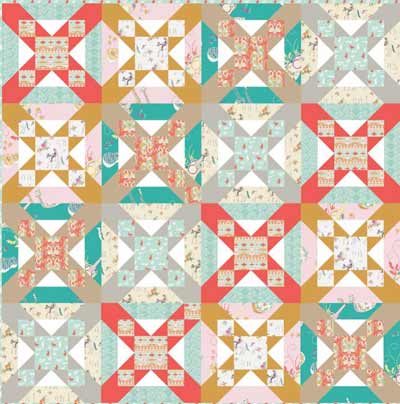 Here's a quilt that combines two designs into one to create a new and original look, square patches in various colors with X marks across each one, together forming an appearance similar to those romantic espalier fences with flowers or vines across them in the countryside
As you can see, quilting doesn't mean making traditional or old-school quilts only, you can also make some modern versions that will show off your youthful and trendy side through the good old quilting craft. I hope you liked my collection of minimalist modern quilt patterns and absolutely free modern quilt block designs you can use to design your own quilt. There are quilt patterns suitable for all skill levels, I aimed to add enough beginner modern quilt patterns so even if you are just getting started, you will have a pdf pattern to download and start with. So, which one of these trendy quilt patterns are your favorite? Share in the comments below. And keep in mind that you can always subscribe to the mailing list and get notifications as soon as new stuff gets published. Have fun trying out these patterns!