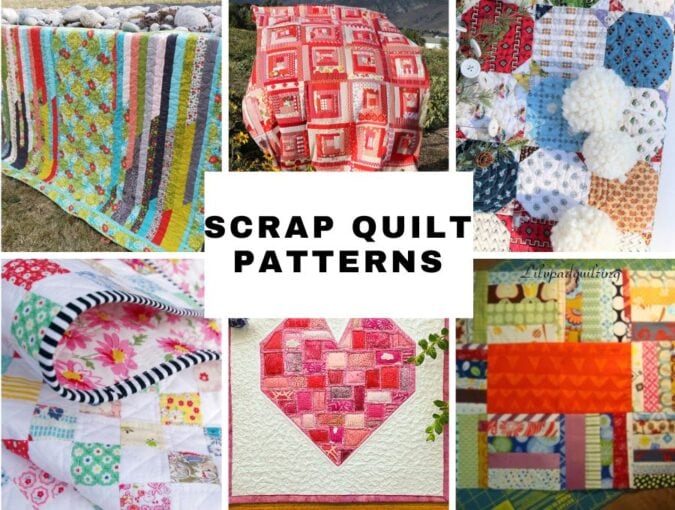 33+ Scrap Quilt Patterns: Create Something Beautiful from Your Leftover Fabric!
Quilting is a wonderful way to express your creativity and make something beautiful, but it can also generate a lot of leftover scraps. The good news is that with scrap quilting, you can put those scraps to good use and create something new and beautiful at the same time. These scrap quilt patterns are the perfect starting point, with options for every size of scrap and every skill level. Whether you're looking to create a small project or a larger quilt, you'll be able to find a pattern that suits your needs and helps you make the most of your leftover fabric. So why not take a look and see what you can create with these scrap quilt patterns?
A Scrap Quilt and Bear Paw Block Tutorial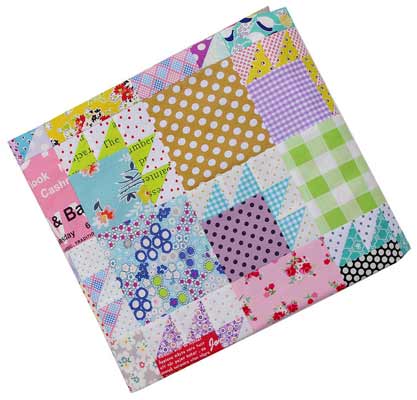 This scrap quilt pattern will give you a nice quilting block or the entire quilt, all made of those numerous scraps of fabric you have left from other projects, combined together to create patches with colorful triangles and squares arranged to create the shape of a bear claw on each block.
True scrappy quilt
Use up all the scraps you have, even the small ones, says this pattern that shows you how to snip the leftovers into short strips in equal dimensions, then stitch them together in pairs to form blocks with alternating horizontally and vertically set strips.
The Haphazard Quilt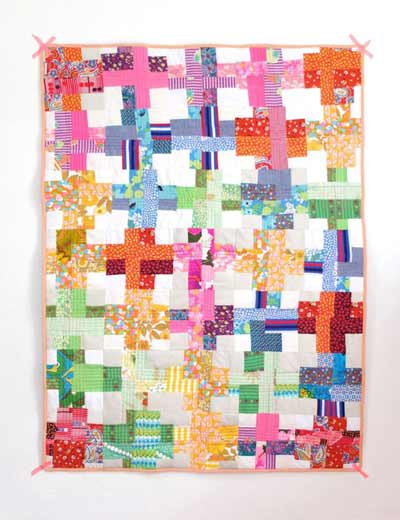 Slice up your scrap fabric into identical narrow strips, sort them by color so you have a few sets in matching hues, then use them with this pattern to create a wonderful quilt with a white background and a grid of imperfect cross blocks made up of the scrap strips.
by Mypoppet
"Ticker-Tape" Heart Quilt Block made with Scraps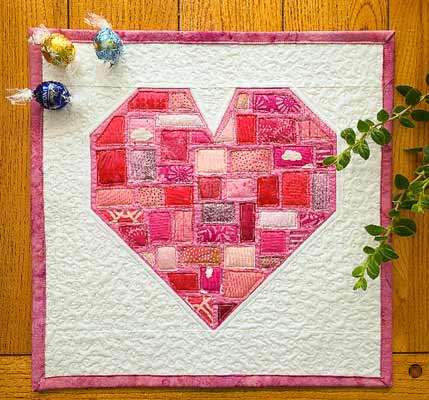 Turn the leftover material in pink and red hues into a lovely scrap quilt with the help of this pattern, featuring a thin red frame around the edges, a white base inside the frame, and a big polygonal heart made of scraps arranged in a mosaic manner in the quilt center.
Bricks & Stepping Stones quilt pattern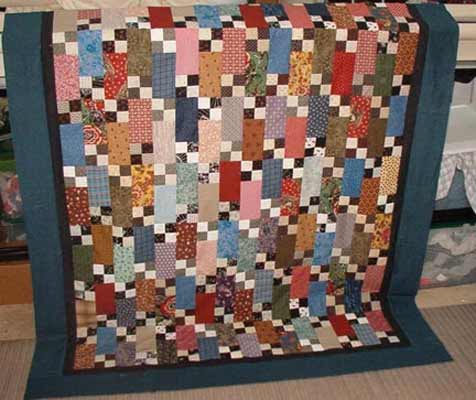 Make a stylish and contemporary quilt with this pattern and use up the scraps you have leftover creatively as you cut them up into strips in identical dimensions, then join them by their long edges so their short edges are a bit below each other, with small checkered squares set on both ends of each strip.
by Quiltville
From scraps to quilt blocks – 10 blocks from scraps
This beautiful scrap quilt pattern won't show you how to make a single quilt, but instead help you make ten different quilting blocks and use them to make numerous quilts, with blocks such as a checkered square made of four smaller squares, a square made of two strips joined by their long edges, a cross block, a block made of two triangles, and many more.
Easy as pie quilt pattern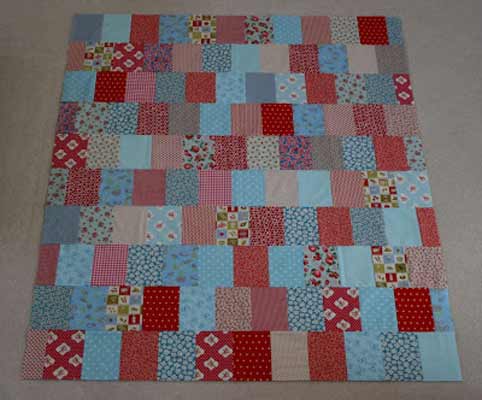 Give your living room or bedroom a bit of additional cheerful spirit with this colorful quilt pattern that will show you how to snip the fabric pieces you have into small rectangles, then join them together into a quilt that consists of lines made of those rectangles in alternating colors, with each line slightly offset compared to the lines above and below it.
Fat Quarter Fancy Quilt Pattern using 9 Fat Quarters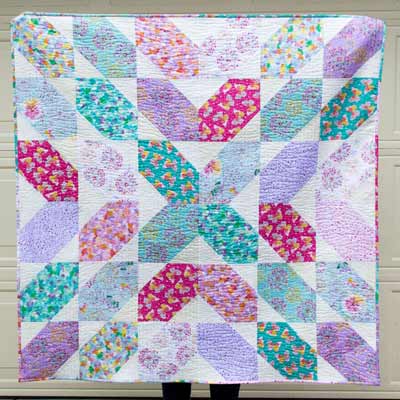 Here comes a pattern that shows you how to make blocks with colorful gems on them, made of colored fabric with white triangles in each corner of the square, then arrange them so they create a quilt with gems going from all sides to the center, where they form a vibrant X mark.
By Sewcanshe
Easy Jigsaw Puzzle Quilt Pattern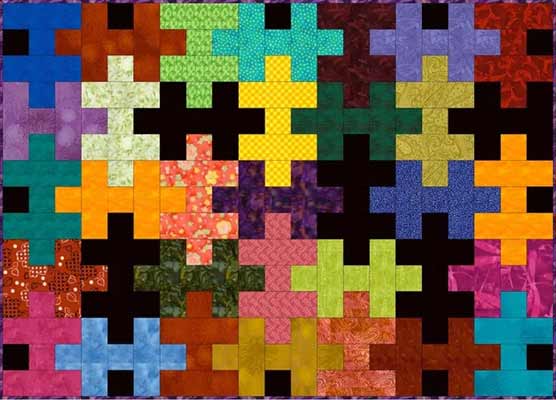 Get ready to put together a jigsaw because this quilt is just like a jigsaw game, with blocks that are shaped like the letter H with a longer middle line, giving them the appearance of jigsaw pieces, arranged so they alternate between vertical and horizontal positions and complete the look of an assembled jigsaw puzzle.
Scrap Quilt Tutorial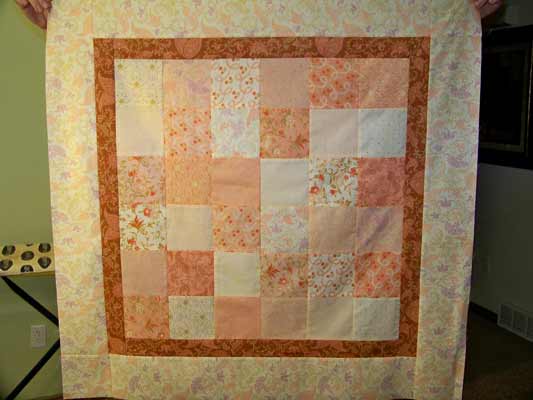 Simple yet beautiful, that's the idea behind this pattern that will help you make a quilt that features a wide frame around the edges, a smaller contrasting one inside it, and a central section made of squares in numerous different colors set in a 6 x 6 grid.
by Jandidean
Scrappy Log Cabin Quilt Block Tutorial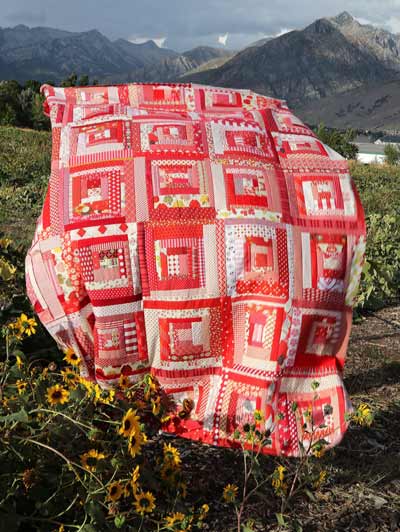 Here's a scrap quilt pattern that will show you how to make gorgeous log cabin quilt blocks with using just the scraps you have left over from other projects, as you cut them up into strips of different lengths, then join them together so the longer ones act as frames on the outer edges of the blocks while the shorter ones fill the middle.
Scrappy Strips Quilt Tutorial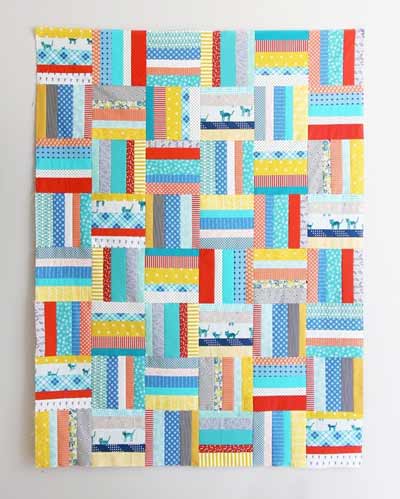 This pattern will remind you of jelly roll fabric with its colorful and cheerful charm, featuring blocks made up of vibrant strips of fabric joined by their long edges, then set in a 6 x 8 grid so they alternate between horizontal and vertical orientation.
Scrappy Summer Tutorial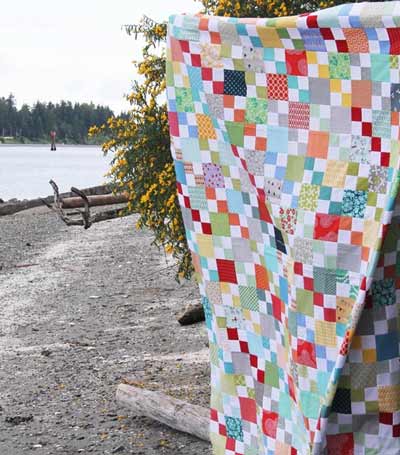 Scrap fabric in many colors, a bit of white fabric, and this pattern is all you need to whip up a lovely quilt that consists of numerous little squares in equal dimensions, half of which are monochromatic while the other half is checkered, all put together to create a design with diagonal white lines running from top-right to bottom-left across the entire quilt.
X Marks the Scrap quilt pattern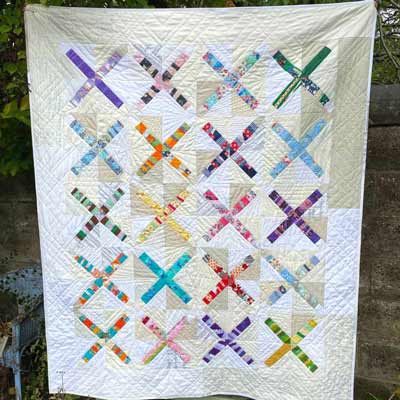 Get creative and let it show through this quilt as you make square blocks with colorful strips set in an X mark shape on them, then join them together into a quilt that has a wide bright frame around the edges and a 4 x 5 grid of the colorful X shape blocks inside the frame.
Free scrappy quilt
Play with shapes and use your scraps creatively with this pattern that will allow you to make a quilt with blocks that have a diamond shape in their middle and four differently colored triangles in the corners around it, of which some blocks have the central diamond made of small squares set in a 3 x 3 grid.
String Quilt Pattern and Tutorial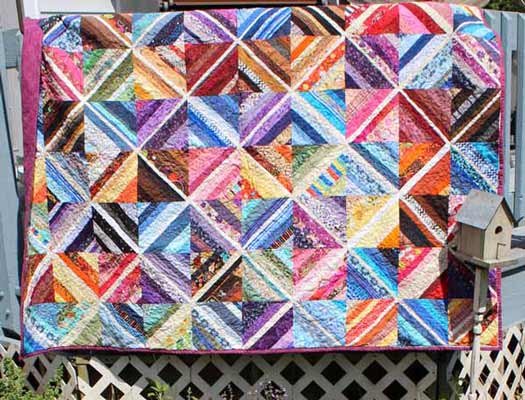 Some quilts make you take a second look at them to see if your eyes are playing with you, like this one that has blocks colorful with diagonal lines on them, arranged to match up with the blocks around them to create a 3D illusion of tilted square frames just like lattice fences have.
Checkerboard Quilt to turn Fabric Stash Turn Into Beautiful quilt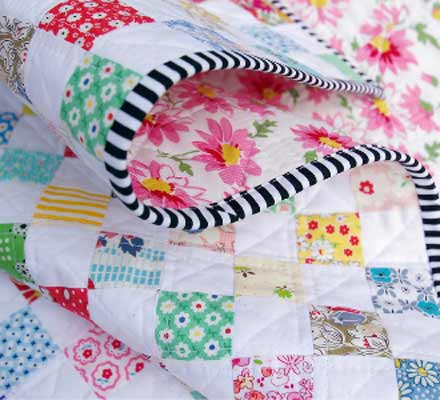 Here's a pattern that will require a bit of patience and meticulous work from you but it will help you to creatively upcycle small pieces of fabric you have in your material stash by turning them into little squares and combining them with matching white squares to create a checkered quilt with many rows of squares that alternate between colored and white
Pastel+Rails quilt pattern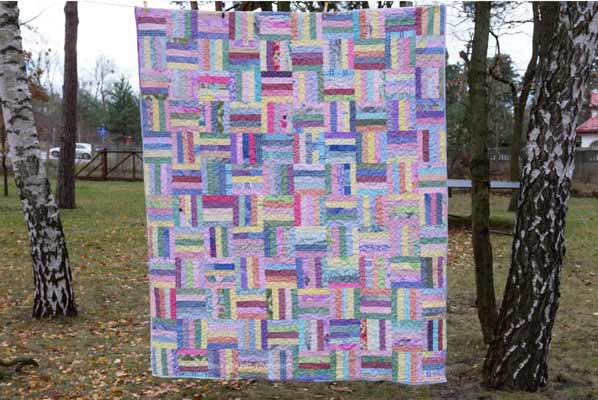 Get ready for fine quilting work because here comes a pattern that will make you cut up a large number of small, narrow strips, then create quilting blocks with five strips a piece, and join the blocks together so they alternate between horizontal and vertical orientation in a 12 x 10 grid on a splendid scrap quilt.
by Becky Tillman Petersen at Static1.squarespace
Waves Jelly Roll Quilt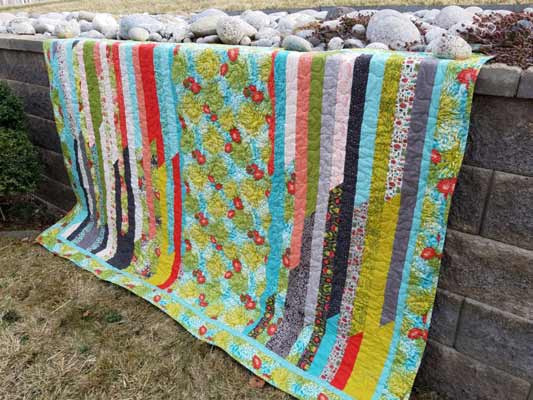 Reinvent the jelly roll as a quilt with this pattern that will show you how to cut up your excess fabric from previous projects into narrow strips with one end cut diagonally, then join contrasting strips together by those diagonal edges to make longer strips that you'll stitch together by their long edges, and finish the quilt off with a nice frame around the edges.
by modafabrics
Monkey Wrench Charm Square Quilt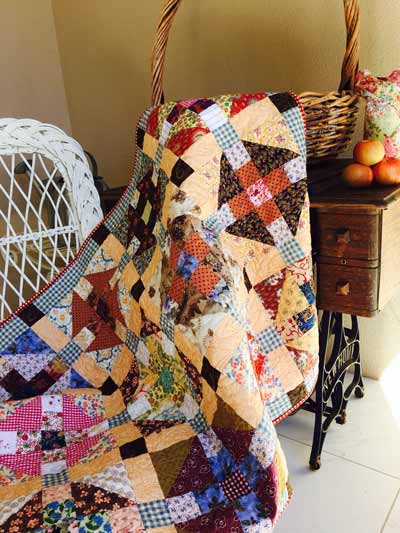 Here's a pattern that proves how monkey charms are perfect for using up scrap fabric because they consist of many small pieces that come together to form a square with a diamond inside and a plus mark across both of them, so when you make a quilt out of them you won't just get a beautiful decorative piece, but also wisely and creatively use the most out of the fabric you have.
"Phone book" blocks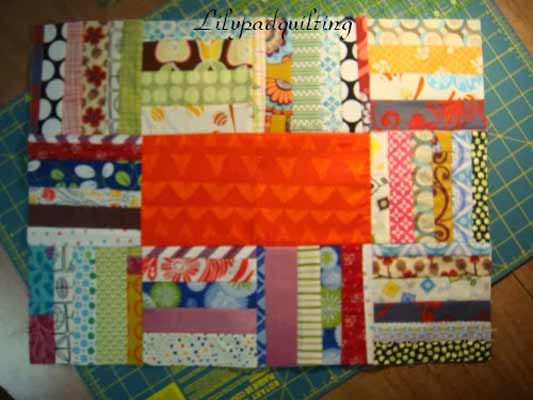 Pull out that old phone book because here comes a pattern that will show you how to use phone book pages as a base for a quilting block that is made up of six narrow fabric straps in different colors stitched to each other by their long edges.
Lazy Gardener's Quilt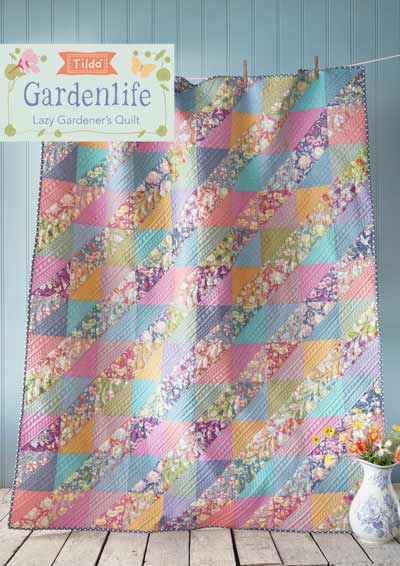 This quilt is adorable and cheerful enough to liven up the vibe in whichever room you decide to decorate with it, featuring a large 12 x 10 grid of small squares in multiple alternating bright colors and diagonal lines in similar colors running across the entire quilt.
Ohio Star Quilt Block: 4-1/2″, 6″, 7-1/2″, 9″ and 12″ finished blocks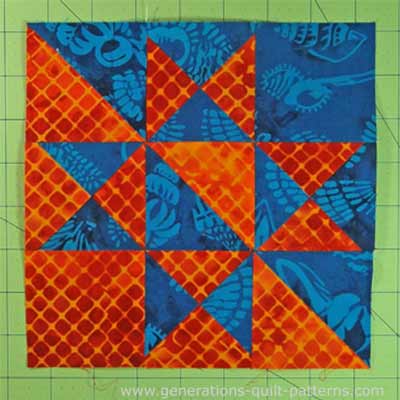 Here's a pattern that will show you how to make a quilting block in five sizes with an Ohio star design on it, a miniature 3 x 3 grid with a combination of a plain, hourglass, rotated hourglass, and diagonally split in half blocks made of two colors, arranged to form a sawtooth star in its center.
Eat your fruits and veggies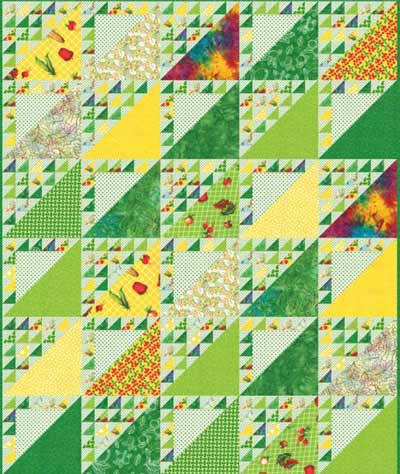 This pattern will have you cutting up triangles in a couple of different sizes, then stitching them into blocks that have their bottom-right halves monochromatic with contrasting top-left halves that have many small colorful triangles near the outer edges or across their entire surfaces, set in a 5 x 6 grid to produce a gorgeous quilt for indoor and outdoor use.
by Patsloan
Scrappy Snowball Sew Along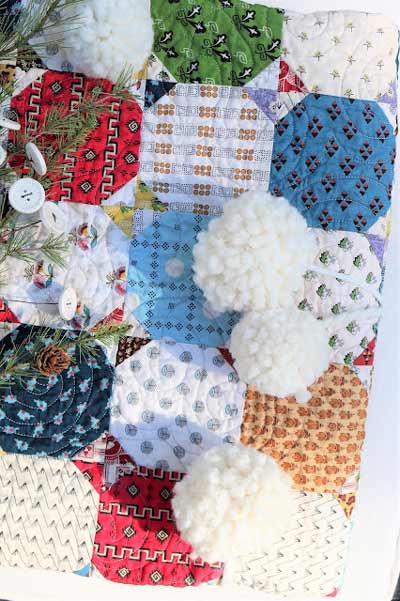 Here comes a fun pattern that won't just help you use up the leftover scraps creatively, but also give you an opportunity to enjoy quilting mini sessions every day and get a beautiful product after a few weeks, as you make little blocks with tiny colorful triangles in each corner and stitch them together into a big beautiful quilt.
Pinwheel Quilt Pattern Tutorial for Beginners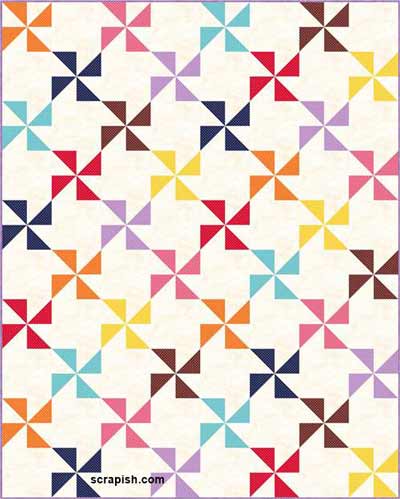 Feel those summer vibes through this gorgeous quilt that is vibrant with its many bright colors, resourceful since it uses up your fabric scraps, and plain fun, with a 10 x 8 grid of squares that alternate between pure white and white with colorful little windmill shapes made of triangles on them.
by Scrapish
Free Scrap Stash Plus Quilt pattern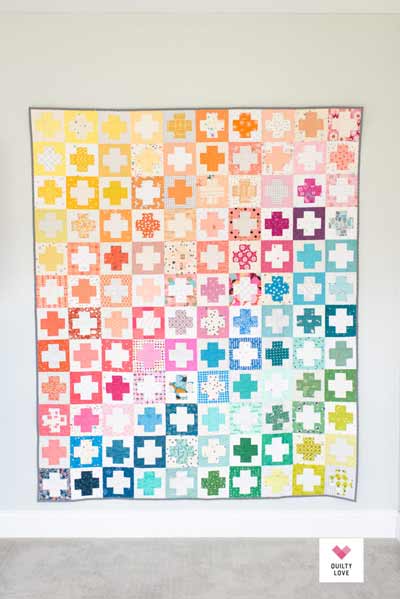 This pattern produces the best results when you use white and rainbow-colored fabrics, but it will look great no matter which colors you use, with its 12 x 10 grid of squares that alternate between white and colored, with contrasting plus shapes in their middle, changing colors in a gradient manner from the top left to the bottom right corner of the quilt.
by Quiltylove
Scrappy strip quilt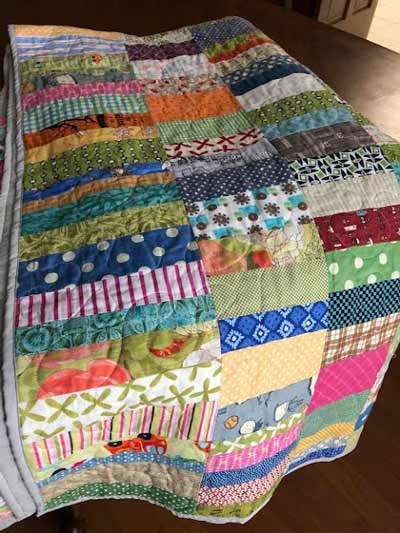 Gather your leftover fabric and use this pattern to learn how to transform them into a lovely quilt that has rows of short fabric strips in different widths stitched together by their long edges, set in multiple rows under each other, together forming a splendid cover for your patio furniture or even your living room couch!
 Twirling at the Disco Quilt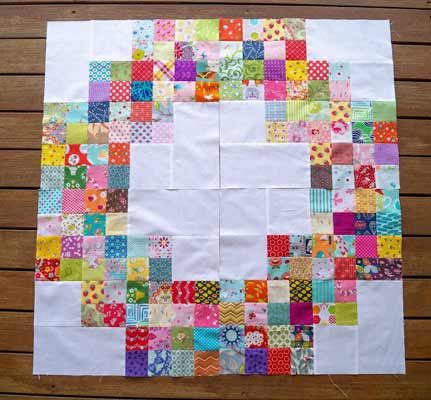 Make yourself feel like you're on the dance floor in the disco with a quilt that has a white background and a large ring like a donut over it, made of numerous little squares in all kinds of colors that you cut out from your scrap fabric.
by Sameliasmum
How use up scrap fabric – crumb quilt tutorial
Those small fabric leftovers you thought you wouldn't be able to use for anything other than decorating your sewing projects can become a beautiful quilt with this pattern that teaches you how to join little strips vertically and horizontally into rows that you can stitch together into a quilt of almost any size!
Easy Scrap fabric quilt block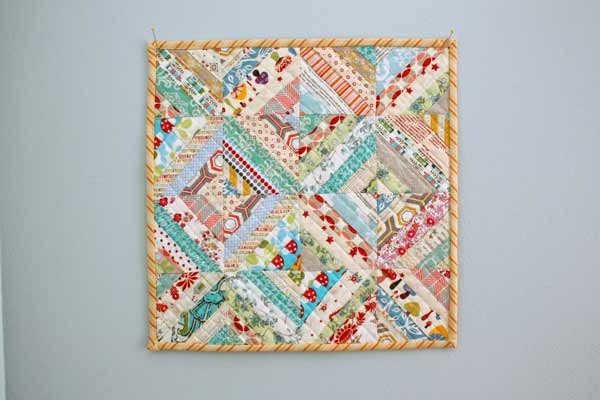 This block is a bit demanding since it requires you to cut tiny strips and triangles, then put them together to make a square with colorful diamonds resembling lattice fences all over it, with which you can later make entire quilts fitting to your taste, made entirely from upcycled materials.
Scrap quilting has a long history, dating back to the Victorian age when upper-class women would create crazy quilts to show off their wealth and stitching skills. But today, scrap quilting is an accessible and fun way to create something new from what you already have on hand (an make a dent in your scrap pile :). These scrap quilt patterns are the perfect way to get started, with options for every skill level and every size of scrap. Whether you're a seasoned quilter or just starting out, you'll be able to find a pattern that suits your needs and helps you put your scrap pile to good use. So why not give it a go and see what you can create?
With all these awesome patterns in your quilting arsenal, you will never again have to throw away excess fabric. Instead, you'll just turn them into amazing pieces of art! Let everyone in the comments know which ones were your favorite and which ones turned out the best for you. And don't forget to subscribe to our mailing list to receive fresh updates regarding articles like this one. Have fun making gorgeous environmentally-friendly quilts!
If you liked this roundup, make sure to subscribe to our insider newsletter full of sewing tips, hacks and free patterns