8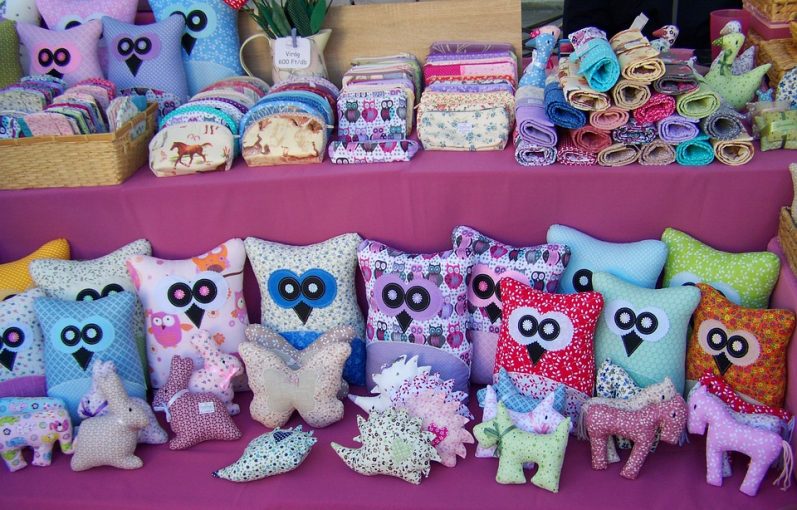 Sewing Projects That Sell Really Well
Basic sewing skills are all you need to get started on a home sewing business. With a starter sewing machine, good iron and chic fabric choices, you can create crafts for many ages that will sell really well. People love to shop for handmade items in boutiques and fill their closet with unique, well-made items.
Some of the most common objects that sell really well are different types of bags, and you really don't need advanced sewing skills to get started with these. From small coin wallets to leather totes, there is a wide variety of items you can make by hand for sale in this category. You are sure to have a lot of fun sewing with creative fabrics and unique trims. Whether your style is hippie or preppy, you can create items for sale that have a point of view and are made with quality.
What makes a good "Sew to Sell" Project?
1. Profitability
Your supplies and overhead, plus the time spent making a project, plus profit should be covered by the price of the product
A good "sew to sell" project is built on several principles, but one of the first things a person should think about is profitability. Many people price their items to sell, but they don't realize that they are cutting themselves short when it comes to profits. Overhead should be a main concern with items that are made for sale; if you spend too much money on materials, you won't be able to charge a reasonable price for the item. In the end, too high a price will inhibit the sale of the item. You will need to pick a "sew to sell" project that uses materials that sell at a good price point. For some items, you may be able to use a more expensive material like leather if the item is a bestseller and you have a good niche. For more common items, you may need to invest in cheaper overhead and get more common goods like linen and twill.
2. Appeal of the product to the target market
Get to know your customers really WELL, research their likes and dislikes
The second thing to consider about a good "sew to sell" project is appeal. The item needs to carefully match a niche in a target market. Getting to your target market is all about mixing the right pieces with design that is aimed at the same market. Too many people mismatch the type of fabric and design they are using relative to the target market. In the end, they confuse the consumer. You will want to make sure that you do a little research on common products for your target market to check the fabric and design choices against your own. A simple example would be to pair cutesy fabrics with infant clothing and more sophisticated linens and tweeds for seniors.
3. Priced right
How much are customers actually willing to pay for the item vs costs plus profit
Your item should always be priced right. You will want to consider how sophisticated the design is as well as how useful the product really is. A very sturdy bag is usually more expensive than a small wallet, but the opposite can be true if the materials on the wallet are really expensive or if it is embossed. You will want to make sure that the price correctly reflects the time investment as well as the real cost of the materials that you have to pay for. Don't shortchange yourself on time and labor, and get the best materials that you can for your items.
Many people offer pricing based on bulk and wholesale prices of materials, but this may not be the situation for every small retailer. You should pay yourself a reasonable hourly wage, charging more for the complexity of more difficult materials and complex designs. Then factor in the real cost of your materials. If you are able to buy materials in bulk, you can pass that on to your customers. If not, though, you can charge the real amount that you pay for small runs of materials.
4. Size / weight
In an ideal world, you should be selling products which are light and are not huge so that their shipping does not cost an arm and a leg
Size and weight are huge considerations when it comes to projects that you are sewing to sell. Ideally, you will want something that is lightweight and fits inside an envelope or small box. To help with your shipping expenses, you can get a business shipping account. But you still want to keep costs down by creating pieces that are light and on the small side. Wallets, folding tote bags, and hair decorations are all examples of small items that would ship for small amount in an envelope or small box.
Customers are very sensitive to shipping prices. You will want to consider not only keeping your costs down for shipping, but also lowering the shipping costs for your items relative to the cost of the item. For example, you don't necessarily want a five dollar item to ship for five or ten dollars. Try to make sure that your shipping stays low compared to the price of the item. The best way to do this is to manage the weight of your items. Try using lighter findings and fewer metal pieces where you can.
5. Popularity vs Competitiveness
Find just the right balance between enough demand for your products and not too much competitiveness as you don't want to be competing against a gazillion online retailers
The popularity of your item is an important consideration when it comes to "sew to sell" items. While you don't want to make something that comes by the million at online retail stores, you want to make sure that your item is popular and in-demand. Check out the online market before you decide what to make in quantity, and try to make sure that your particular product has a unique spin.
Some things are in demand and everywhere because they are always used. If this is the case for your product, try to make sure that you have something really special to offer. An example is embossment or personalized embroidery on small items. You can also go for unique materials like hand-printed fabric or patent leather, if it is within your customer's price range. An example of products that can sell better with embellishment even though they seem to be everywhere is wallets and tote bags. No matter how many people buy, they seem to wear out faster than you can get them. Keep the utilitarian purpose in mind, but also try to make something new and chic for items in these categories.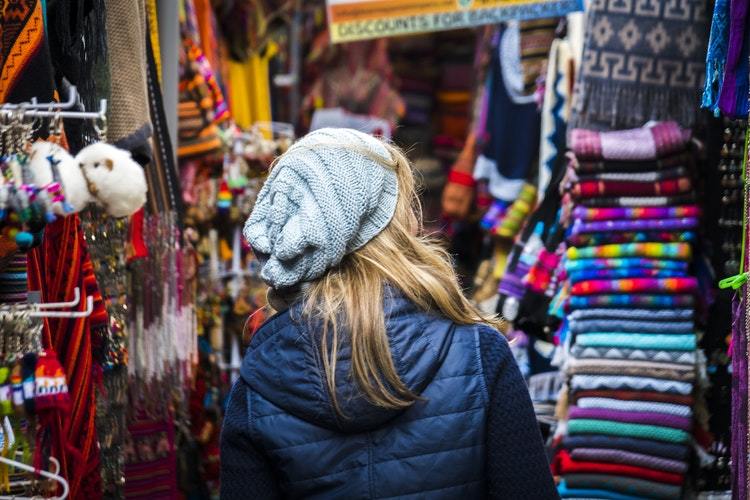 10 Bestselling Sewing Projects
Here is some inspiration for quick and easy sewing projects to sell at craft fairs or online on Etsy or Facebook
Baby items are always popular, and they can really benefit from the creativity of the home sewer. Keep in mind that baby items have to meet safety standards and extra standards for things like fireproofing in the United States.
Messenger bags have surged in popularity lately, and they come in so many types it's hard not to make at least one! Stick with a sturdy handle and a little bit of hardware for an updated look.
Tote bags are something it seems you cannot get enough of. Try using unique fabric or silkscreening on the bag to get a unique look.
Zipper pouches seem to keep everything together, whether you are getting your child ready for school or organizing your own desk. Try mixing and matching prints or embroidering initials to mix things up.
Doll clothes are something that take a lot of creativity, but they are worth it. A properly clothed doll brings hours of fun for small ones and teaches them to use their imagination.
Stuffed animals are popular among both children and adults. The teddy bear has millions of interpretations ranging from miniature sizes to over three feet long.
Cushions and pillow covers can keep a sewer busy for hours as she mixes and matches prints. Try adding unique trims and handmade fabrics for a sturdy cushion or cover that will last a while.
Slouchy bags are essential for the hobo chic look, and will provide hours of shopping stamina. Try leather if you are up for it, but really any sturdy fabric will do.
Tablet and phone covers are so important these days to prevent scratches. These come in seemingly every color and shade under the sun, so use your imagination to bring something unique to the world!
Organizers are a little more difficult than other things to sew, but they are worth it. Making sets or coordinating prints with common interior themes is a good way to sell more items.
All in all, you could put your efforts towards tons of crafts, but these things are among the best sellers. You should always do what interests you and inspires your creativity, but sewing needed items in large quantities also provides its own special satisfaction aside from creative endeavors. You may find that the more you sew, the more you are inspired to make something that meets your own vision. But you can also start out with a basic free pattern to get the sales going. There are many patterns online, and some you can make fairly easily as well. Be sure that you follow copyright law as you pursue your endeavors and get a commercial permit to use someone's pattern if you need to. Happy sewing and designing!