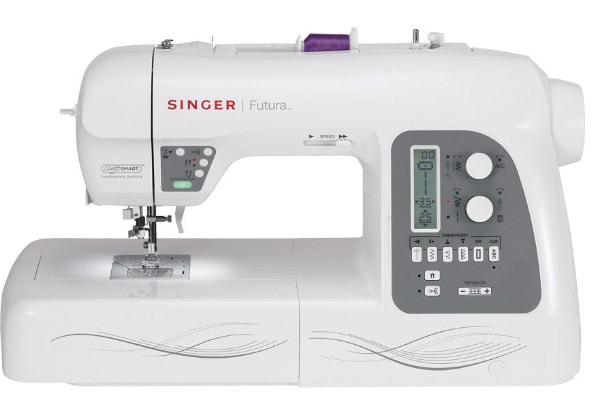 Singer Futura XL-550 Review – Let your Imagination and Creativity Bloom
If you are a fan of fine arts in the sewing sphere, or more precisely embroidery, and you are also fond of hat making, you will probably like this machine a lot. Backed by a great name in the world of sewing machine manufacturing, Singer, this model provides durability, reliability, quality and versatility. Its strong side is embroidery but it doesn't lag in other areas and tasks either.
Singer Futura XL-550 represents the future of sewing because it combines technology and creativity, allowing you to let your imagination and creativity bloom by creating unique and never before seen embroidery designs and patterns.
Without further ado, let's dive into this review together and see what this embroidery sewing machine is all about.
We occasionally link to goods offered by vendors to help the reader find relevant products. Some of the links may be affiliate in nature meaning we earn a small commission if an item is purchased. Read my full disclosure here
My review of Singer Futura XL-550
Singer had main concept in mind while they were designing this model and that can be noticed right away after taking a look at it. They wanted to make a user friendly embroidery machine which offers just a bit more than any other model on the market. Did they succeed at it? As far as embroidery goes, yes. But let's not jump to conclusions because even though it is an embroidery machine, plenty of other small details other than the ability to perform embroidery determine whether it's better than its counterparts or not.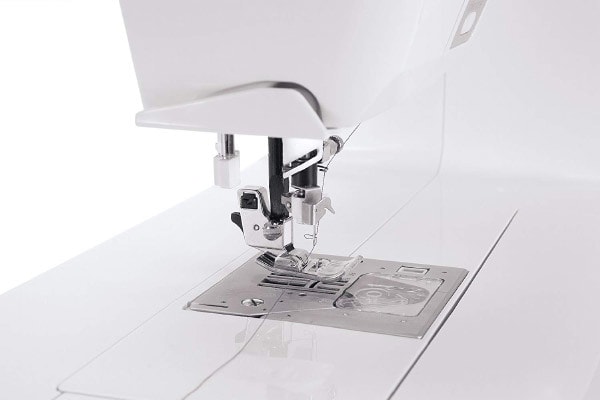 Having said all that, it's about time we take a look at Futura XL-550's specifications and features and see what it offers.
Imagine a unique embroidery pattern and then create it by using the computer, or to be precise, the provided software found on a USB inside the original package. After that just plug your machine to your PC via the USB cable and you'll be able to sew the pattern on anything you want.
Even if you don't feel like creating your own embroidery design, you're still left with a vast range of possibilities with 250 built in embroidery designs of which 50 are endless design types.
Endless hoop capability provides you with a possibility of sewing embroidery that's connected end to end.
Turn your plain towels into classy luxurious towels by adding embroidered letters which spell your name in a stylish font. Choose among 20 different fonts which include foreign letters as well.
As far as sewing characteristics go, this model offers 215 built in stitch types which can be selected easily by using the dial. Both the stitch length and width are adjustable, further expanding your customization capabilities. Any choice you make will be displayed on the LCD screen.
Create buttonholes in a flash with the one step buttonhole system which offers seven different kinds of buttonholes for you to choose from.
Strengthen your stitches if the need arises with the reverse option.
Snap on system lets you replace the presser foot very quickly and easily. The presser foot also has an ability to be lifted quite high in order to work with thicker materials or multiple layers of fabric. The foot also possess a sensor so it won't work unless you lower it properly.
A lot of automated functions will make your work much easier and let you sew faster, resulting in improved productivity. Automatic needle threader requires you to only set the thread in the appropriate groove and the machine will do the rest. And the automatic tension setting as well as automatic thread cutter will allow you to do your thing without unnecessary interruptions along the way.
Top loading bobbin is set inside a see through plastic container which means you can see it at all times while sewing. Aside from being easily threaded, it can also be wound without removing the thread from the machine, thanks to its separate motor.
Needle Up/Down – you can set the needle off position to both up or down, or even program the off position yourself. And with the twin needle option, you get to sew richer and prettier seams in zig zag.
Due to the fact that this machine possess a drop feed, free motion sewing or button sewing is a breeze. Quilters rejoice.
Six bright lights illuminate the work area perfectly so that you can work at night or with very dark fabrics without any problems.
Create hats and apply wonderful embroidery designs on it with the help of a free hand.
Work on large projects easily with the help of the extension table.
With the knee lifter you can easily and quickly raise the presser foot without moving your hands at all. Very useful when you're working with big sheets of material.
If you wish to sew without pressing the control foot, you can just use the on/off button to power the machine instead.
After seeing these features and functions, you can see why Singer Futura XL 550 takes a top spot in our embroidery machine for home business list. Despite the fact that it has a lot of automated features and plenty instructional additions like tutorials and such, the bottom line is this. It's simply too good for a beginner. With all the advanced possibilities and complex options like twin needle sewing or free motion sewing, it would just overwhelm them and potentially ward them away from sewing. So it's actually meant for intermediate and experienced sewing machine users.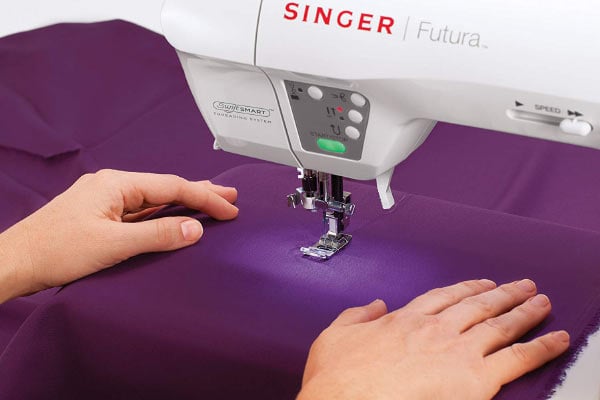 Singer XL-550 Futura Embroidery and Sewing Machine comes with a very nice number of complimentary accessories inside the original box. They consist of a 6.75″x4″ endless embroidery hoop, another 10″x6″ embroidery hoop, as well as a 4″x4″ embroidery hoop, a USB stick with bonus software, a knee lifter, a USB cable, an embroidery foot, six presser feet (all purpose foot, zipper foot, buttonhole foot with underplate, blind hem foot, satin stitch foot, button sewing foot) thread spool nets, thread spool caps, an auxiliary spool pin, a spool pin felt, a pair of scissors, a pack of needles, some bobbins, two screwdrivers, a seam ripper and a lint brush and last but not least, a vinyl accessory bag.
Warranty on the Futura XL-550 model is a 25 years limited warranty type. Thanks to that, together with the online support Singer offers, you should enjoy this machine for a very long time.
Downsides
Singer XL-550 may look ideal but unfortunately, nothing in life is ideal, not even this embroidery machine. It does have some drawbacks so let's take a look at the most important ones. First, the price tag which is well above thousand dollars. But to be fair, embroidery machines are usually quite expensive so we may overlook this particular issue.
Tension causes troubles now and then. This is a bit weird because it is automatic which means it shouldn't cause any problems at all. Next, the bobbin thread may knot up occasionally. This really deteriorates the quality of your finished pieces, particularly in embroidery cases. Technical issues with the software and the USB stick it's on also malfunction in some cases. This could lead to a disaster if it does that while you're doing embroidery.
Since this is a computerized machine, repairs might turn out to be very bothersome. Only specialized repairmen can fix it and it costs a fair amount of money. And if the warranty covers the repair, you will need to send it back to the manufacturer to replace it, which will take a lot of time. Time during which you won't be able to sew or do embroidery.
And lastly, it's a 110V model only. So if you intend on using it somewhere where the voltage is different, you'll have to buy a converter.
Takeaway
When all is said and done, Singer Futura XL-550 is a very good embroidery machine. It also can do a nice job at regular sewing so it does offer decent versatility.
But, considering the price tag and the potential issues it can have, it might be a bit risky purchase after all.
However, it's highly likely that you'll have no problems with it at all. So it pretty much comes down to you. Do you like it or not? That's all that matters in the end.
Useful resources:
User manual – Singer Futura XL-550 Instruction manual (PDF)
"