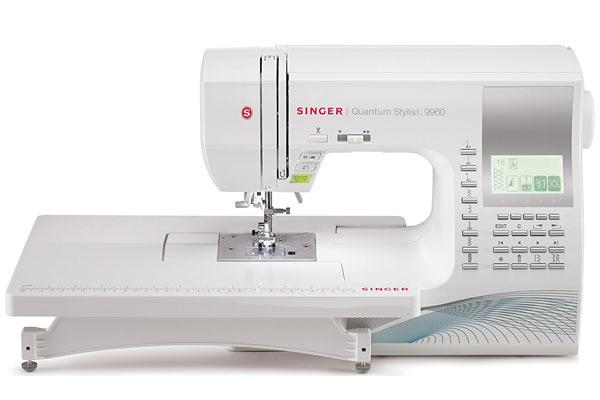 Singer Quantum Stylist 9960 Sewing Machine – Our Honest Review
You might have an exceptional talent for making clothes and fashion design, but a good sewing machine is necessary to turn your ideas into reality. Regardless of the talent, every sewist wants quality, durability, as well as an effortless operation and impeccable results.
The famous sewing machine brand Singer brings you one of their top models so far: Singer Quantum Stylist 9960 sewing machine. It handles heavy fabrics such as denim and canvas very well, but it will also amaze you with the possibilities with fine embroidery, lace, fonts, and decorative stitches.
It is great for intermediate users and aspiring fashion designers. This model is the best choice for delivering customized, unique projects. Let's learn more about the extraordinary Singer 9960.
We occasionally link to goods offered by vendors to help the reader find relevant products. Some of the links may be affiliate in nature meaning we earn a small commission if an item is purchased. Read my full disclosure here
Singer Quantum Stylist 9960 Features
The 9960 is an advanced model best for intermediate and advanced users, as well as aspiring fashion designers and those at the beginning of their career. Therefore, its impeccable basic and advanced functions shouldn't surprise you.
STITCHES: This model comes with the amazing 600 stitch programs! You will be able to find the most appropriate stitch type for regular, special, and decorative sewing. Don't get scared of such a high number of programs. Those can be easily customized via the simple letter system which allows you to fully program your machine.
Another great overall characteristic of this machine is the fact that all its features are designed and incorporated with two main goals:
helping you make exceptional clothes
enabling you to do it effortlessly.
AUTO NEEDLE THREADER: You will save time and energy with its automatic needle threader. You will never get tired as the Singer engineers made sure that the 9960 model has a comfortable presser foot change feature.
The new generation of sewing machines by Singer, including this model, makes sewing so easy that you can actually become addicted to it! Its computerized system informs you of everything you need to adjust during the sewing process via an LCD screen. Its super-easy user interface is suitable for everyone. Simple and understandable graphics will allow you to get used to this amazing machine in no time. Both audible and visual signals will let you know if you have to change the stitch program or adjust the pressure. In addition, you will not have trouble with the annoying shadows, as the machine is equipped with two LED lights, one on each side.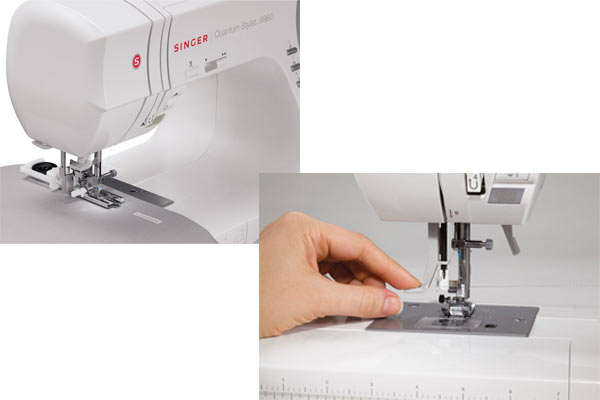 SEWING FEET: Singer didn't miss out on the opportunity to include additional useful features, such as the walking foot, 1-press thread trimmer feature, and the extra feet.
The walking foot will help you achieve impeccable, even, and precise results – every single time! The simple 1-button thread trimmer allows you to cut both the top and the bottom thread simultaneously and precisely once you are done with stitching. The reason why so many users simply adore the Singer 9960 is a large selection of additional feet.
Except for the general-purpose foot, there are satin, zipper, cording, narrow and blind hem foot, overcasting, buttonhole and button sewing foot, the even feed foot we simply can't imagine working without, the embroidery foot, quarter-inch, and the open toe foot. Furthermore, you will benefit from the adjustable bias binder foot, the braiding, stitch in the ditch, and clear piping foot. The creative ones will especially appreciate the fancy trim foot.
We believe that you have so far realized that there are no tasks impossible for this model to handle. However, we're not done yet. There are many more reasons why this Singer model won so many prizes worldwide.
NEEDLE UP/DOWN: Its "needle up and down" feature will make your pocket sewing, applique, and topstitching so easy that you will definitely wish to add unique details to your models. Variable speed control is a feature we all already expect from Singer. The Singer model 9960 is not an exception. You can easily select the preferred speed, from the "sew slowly" setting up to 850 stitches per minute! Sewing curtains, tablecloths, and linens were never faster. Opt for the fast sew option and the even feed foot and you're ready to go! The best thing is – you can easily control the speed. This sewing machine is very responsive. The chance of making a mistake is minimum.
BUTTONHOLES: Another feature which will improve your results is the versatile buttonhole maker choice. First of all, you can pick from 13 different styles. Secondly, it is very easy to make the button holes, as Singer quantum stylist 9960 model has an integrated 1-step buttonhole system. Its 7-segment feeding feature, automatic bobbin, and the lock-stitch function will help you deliver impeccable results.
LCD screen: We love the way in which Singer, a brand with more than 160 years long tradition and experience, gradually but brilliantly introduced state-of-the-art technology and top features to its sewing machines. Singer 9960 quantum stylist computerized sewing machine has an LCD screen and the one-touch simplified button panel. The automatic tension settings will make your work much easier and ensure a flawless end result. The auto-pilot feature will allow you to have a rest while the machine does the job for you.
EMBROIDERY / MONOGRAMMING: If you are keen on enriching your work with embroidery and turning it into a mesmerizing, unique, invaluable masterpiece, you will love this machine. Some of its greatest benefits both for the intermediate users and the aspiring fashion designers are the embroidery-friendly settings. Decorative stitches and five beautiful fonts will boost your creativity in unexpected ways. If you love experimenting during the design and sewing process, you will definitely benefit from its stitch elongation feature. Furthermore, you will be surprised with the stitch mirror feature which basically enables turning those 600 stitches into 600 more interesting stitch options!
Who is it for?
During our research for this Singer 9960 review, we found that it is the perfect choice for you if you would grade your sewing skills as intermediate, with an aspiration to become a professional. When developing this extraordinary sewing machine model, Singer engineers had a creative, talented, and versatile fashion designer in mind.
This machine is perfect for anyone who is keen on using different materials, from the most delicate ones to the heavier ones; for those who are not afraid of experimenting with stitches and appliques, as well as those who seek for perfection in details.
Ease of use and setup
This model is very easy to set up. It comes in one piece, already assembled, with the multi-purpose foot already on. Stabilizing the machine is easy and convenient. Changing the feet is simple and effortless. The start-up is very easy and quick too, as well as the threading and control. You will benefit from its simplified, user-interface and commands. The extended table provides a large working area essential for effortless curtain and quilt sewing.
What's in the box?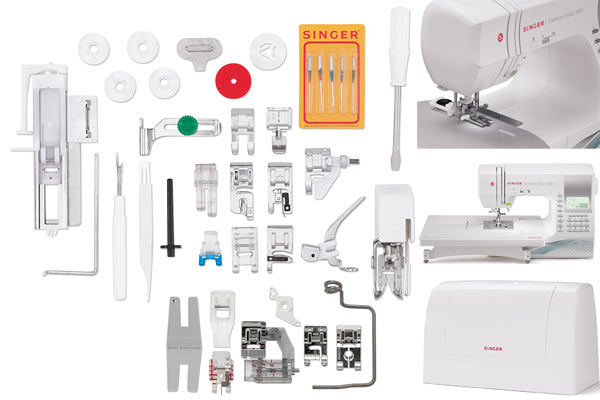 The Quantum Stylist series 9960 sewing machine by Singer comes in a hard case which makes it perfect for transporting this portable sewing machine. The box contains lots of useful accessories. The already mentioned 18 different presser feet come inside the arm storage area.
Additional elements include a pack of needles, class 15 bobbins, two screwdrivers, and 2 spool caps. You will love its extra-wide extension table and the clearance plate.
The accessories include seam ripper and guide, spool pin and felt, lint brush, the quilting bar, and the shank for presser feet.
Warranty and support
As Singer is well-known for its superb quality, millions of private, commercial, and fashion industry users trust this brand for more than 150 years. This is why we are used to excellent warranty terms and conditions provided by Singer. This extraordinary sewing machine comes with a 25-year warranty by the manufacturer.
Drawbacks
It wasn't easy to find the drawbacks of this sewing machine. However, there are two flaws we want to point out.
First, the machine is suitable only for the USA and Canada users, as it is designed for 110 V only.
Secondly, some users would appreciate the touchscreen. Instead, the Quantum Stylist series 9960 sewing machine from Singer comes with a nice LCD and a button panel.
Useful tips
 Watch the educational videos made especially for this Singer model
Use the free arm to sew sleeve cuffs, hems, and other project segments requiring special attention
Benefit from the extra high presser foot when you work on very thick fabrics
Never leave the machine plugged in when unattended
Unplug the machine before cleaning or moving
Use only a special brush and soft, dry cloth for cleaning.
Takeaway
Singer Quantum Stylist 9960 sewing machine might not be the top of the league product for a professional runway designer, but it definitely delivers runway-ready products. Its flawless operation, effortless use, simple user-interface, and thousands of different possibilities for expressing your creativity make it stand out from all other models within this category.
The European users will, unfortunately, have to choose a different model, due to the 110 V limitation.
All those residing in the USA or Canada will benefit from the amazing 600 different stitches, extraordinary 18 feet options, and endless possibilities to express your creativity with this portable, durable, highly customizable and computerized Singer 9960 sewing machine.