1
19+ Free Star Quilt Patterns and Star Blocks
Star quilts are incredibly versatile and relatively easy to piece together. Star quilts are one of the most valued gifts of the Native Americans – Lakota (Sioux) people and are given to mark important life events such as weddings, child birth, or graduation. For them it represents honor and generosity. Here you will find template for every taste and skills. We have star quilt patterns for beginner quilters as well as more advanced star quilt block patterns for those with a lot of quilting experience under their belt.
STAR QUILT PATTERNS (FREE)
Double star
Use this pattern to create a quilt that has a beautiful large octagram star that is made of many diagonally set rhombus patches in different colors, with contrasting, smaller rhombus patches in the center of the star that form a smaller star of the same kind as the big one.
Reverse Sawtooth Star Quilt Pattern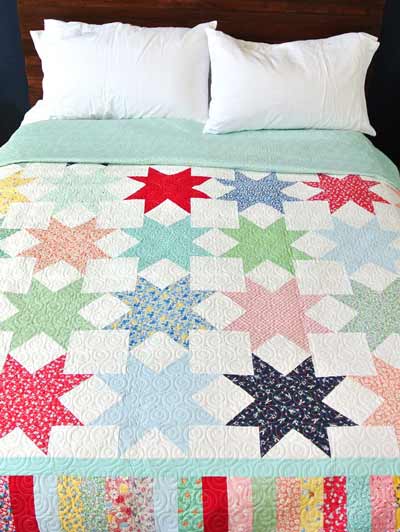 The star quilt pattern we have here won't help you make a certain quilt but instead show you how to make a quilting block with a sawtooth star that has a contrasting square inside it or is entirely in one color, with which you will be able to create numerous different quilts, making this pattern a useful tool for almost all of your custom quilting projects.
by Suzyquilts
Offset star quilt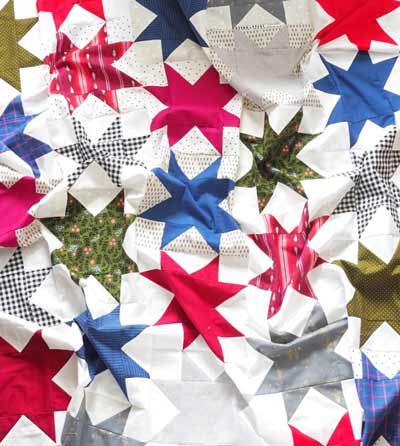 Tilted Froebel stars known as sawtooth stars are what this pattern is all about, as it features them in various colors, arranged in a 5 x 5 grid with every second star in the last and first row cut in half, and each star points touching the points of the neighboring stars, creating diamond and pentagon shapes from the quilt background.
by Thencamejune
La conner stars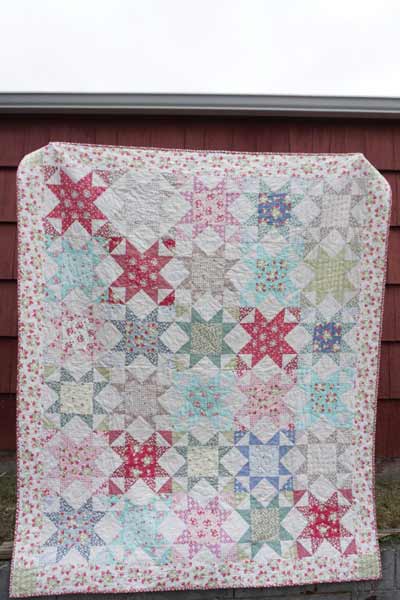 This quilt might bring back childhood memories – your grandma's comfy bed you slept in when visiting her, featuring a medium-width frame from a colorful fabric around the edges, and a 5 x 6 grid of sawtooth star blocks that have a white background with a single color star on top and matching color triangles in the corners around it.
Easy Carpenter Star Quilt
Those of you who are tired of quilts with grids will most likely love this pattern that has a white background with a colorful frame around the outer edges and a big, colorful star with a smaller sawtooth star on a white background in its center, all made from rhombus patches in various colors joined together.
Counting stars quilt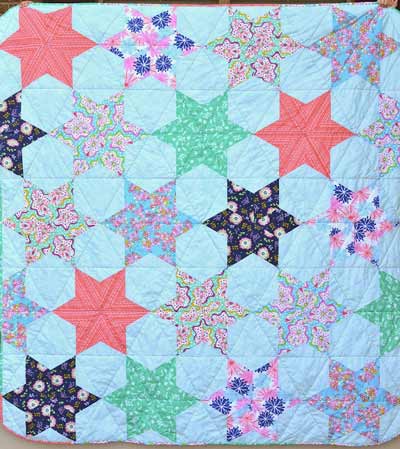 Take out those fabrics that have all kinds of designs over them and get ready to make a quilt with a single color background and a bunch of stars in the shapes of the star of David, each one in a different color, arranged in a 4 x 5 grid with some stars in the top and bottom row sliced in half.
by Tearosehome
Pint size baby quilt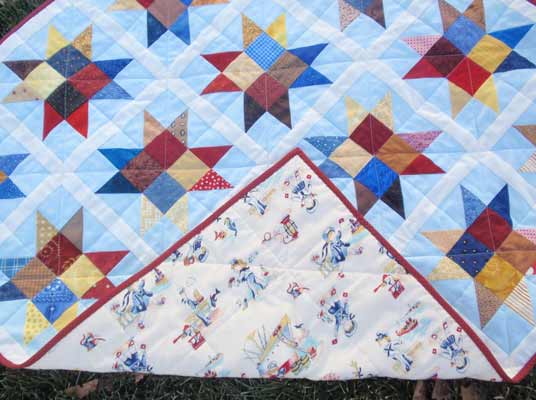 This pattern helps you make a beautiful baby quilt with a thin dark frame around the edges, a 4 x 4 grid of blocks separated by thin, slightly lighter straps between them, and a main motif on each block in the form of a square made of four smaller contrasting squares with contrasting triangles on their outer edges that together create the famous Froebel star.
Giant star baby quilt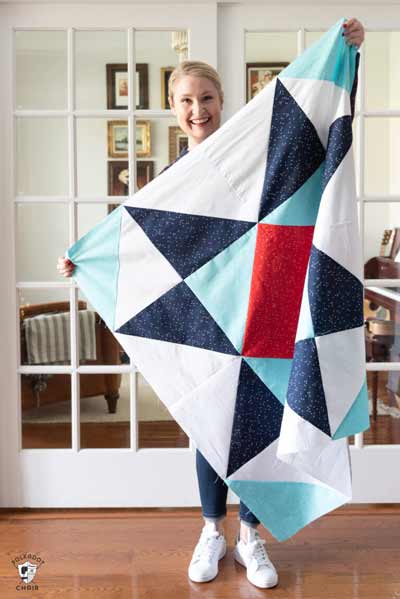 It's always fun to sew a star quilt with one big motif like the one here that features a bunch of triangles in four different colors arranged together to create the depiction of a big dark blue Froebel star with a red diamond in its center, a white background, and matching color triangles in its corners.
Scrap jar stars
Here's a star quilt pattern that helps you make a quilt in the size of your choice since it shows you how to make a lovely quilt scrap block with a white base, colored squares in each corner, and a colorful Froebel star that has a vibrant square made of many smaller squares in its middle that you can whip up in batches and join together to create a fine quilt.
by Gigisthimble
Free cathedral stars quilt pattern
Elegance embodied as a quilt, that's what this pattern is about, with blue Froebel stars that have lighter blue strips in a plus shape starting in their centers and stretching outward, set on the white background so they form a diamond shape that seems as if it's sparkling brightly.
Scrappy Hunter's Star
Stitch a few triangular pieces together to make an hourglass patch, add a double frame made of rhombus pieces in different colors around its edges, make sure the rhombuses are set properly, then sort such patches into a grid and you'll get this gorgeous quilt with framed square blocks that have vibrant Froebel stars at the corners between them.
Farmhouse Star Quilt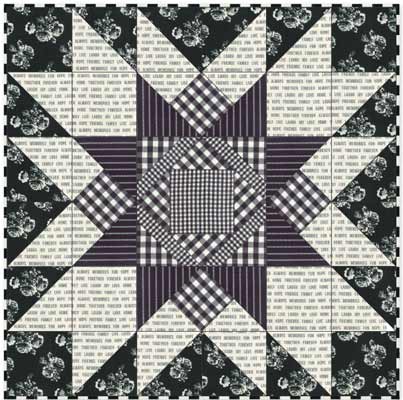 Black and white will always stay classy and appealing, a statement proved by the pattern we have here that features a black background with a giant white Froebel star in the center of which sits a smaller star of the same kind in contrasting color with a gray square in its middle, set on a gray diamond shape, altogether playing with colors and creating a visual effect of a twinkling star.
by Crochetandquilt.whatsnanamaking
Glowing Lone Star Quilt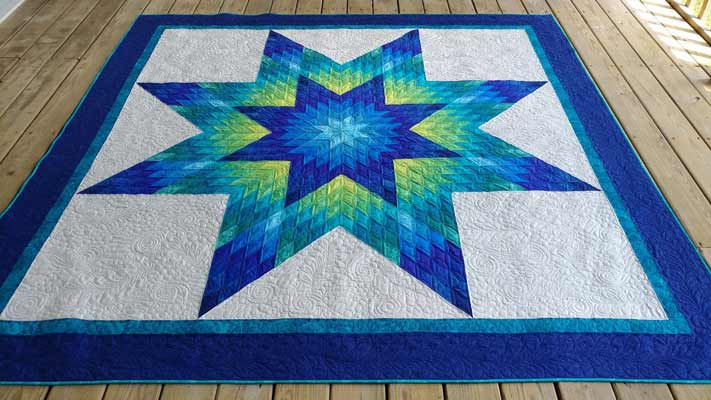 Here comes a quilt that resembles those gorgeous blue, green, and turquoise shapes on the feathers of a peacock, since it has a deep blue frame around the edges, a thin baby blue frame inside it, then a large Froebel star that's blue on its outer rims but turns wisteria green towards its middle, where sits another identical star smaller in size, blue in color with a baby blue central section.
Faux Feathered Star Quilt Pattern
Finished size: 40.5×40.5"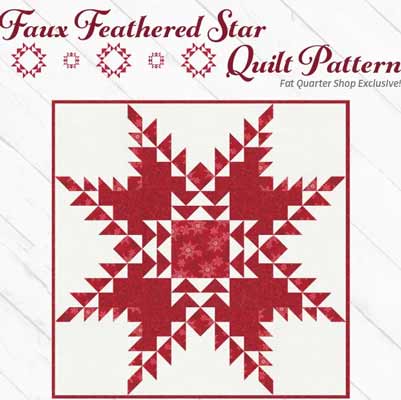 This pattern will show you how to cut up a lot of squares, rhombuses, and triangles out of deep crimson fabric and sew them to a white background fabric so they form a large octagonal star with its outer edges jagged and a center area with alternating triangles pointing inward to a square, together looking like a star made of feathers.
Spring Joyful Barn Star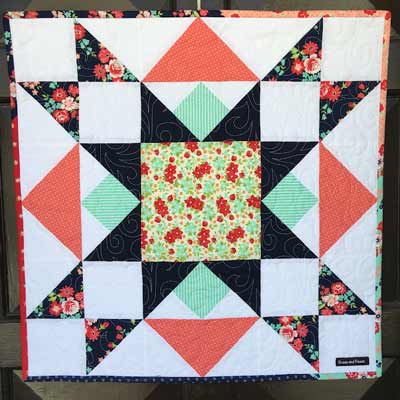 Get ready to feel the spring come into your home with a quilt that features a thin colorful outer frame that has one sawtooth star on a colored diamond inside it, set on a white background, as well as a small Froebel star on a green diamond with a white square background inside the larger star, finished with a colorful square in the center of the small star.
Star cluster mini quilt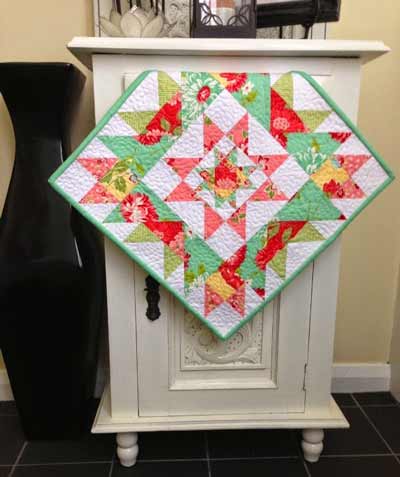 This one is all about squares and triangles in many colors, as it uses those shapes to create a square frame with outward-pointing triangles on ita edges placed on a white background, and a Froebel star inside it that has a white square in its center with an even smaller additional star in the same shape.
Star blocks patterns
Lone star block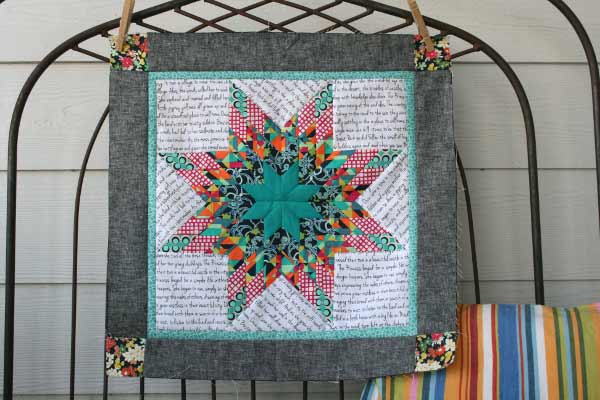 The lovely quilting block we have here has a magnificent Froebel star on a white background as the main motif, but the amazing part about it is the illusion it creates, making it seem as if there's a circle inside it even though it's just colorful rhombuses around an additional, smaller Froebel star.
Lemoyne star quilt block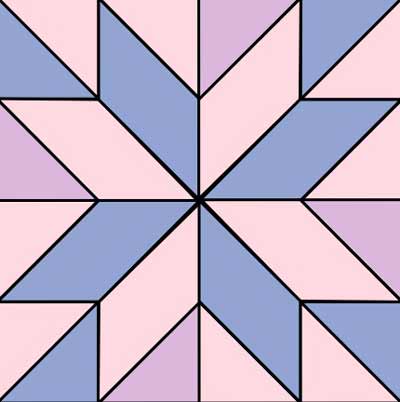 Three different colors and three shapes, a rhombus, and a triangle, with thin strips for borders, combine together bordered by thin black strips around each patch piece to make this framed block that looks just like a mosaic or stained glass version of a sawtooth star, transformed into a fabric for your next quilt.
Star spangled block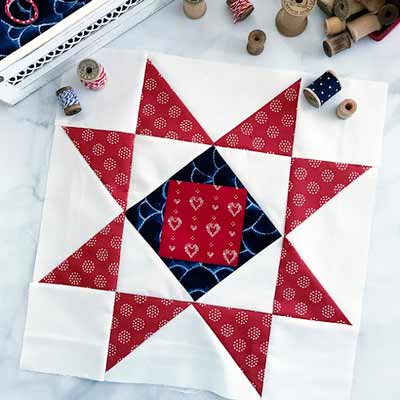 Take a few red, white, and black triangle pieces of fabric, then stitch them onto a white square so they create a sawtooth star with red tips, a white square with a black diamond on it, as well as a small red square inside the diamond and you'll have a fine block for your quilting sessions.
These neat patterns are all based on that characteristic octagram star shape that's popular among quilters, but each one is unique and different from the other, so whichever one or ones you choose to make, you'll get a gorgeous and creative quilt you'll enjoy seeing in your room. Share your thoughts and tell everyone which star is your favorite in the comments below. Then head to that subscription section and put your info in it to get regular updates about new patterns, tutorials, and project ideas!
So which of these free star quilt block patterns and free star quilt patterns you want to attempt? Are you going for fast and easy or for a more elaborate and eye-catching style? Let me know in the comments below.