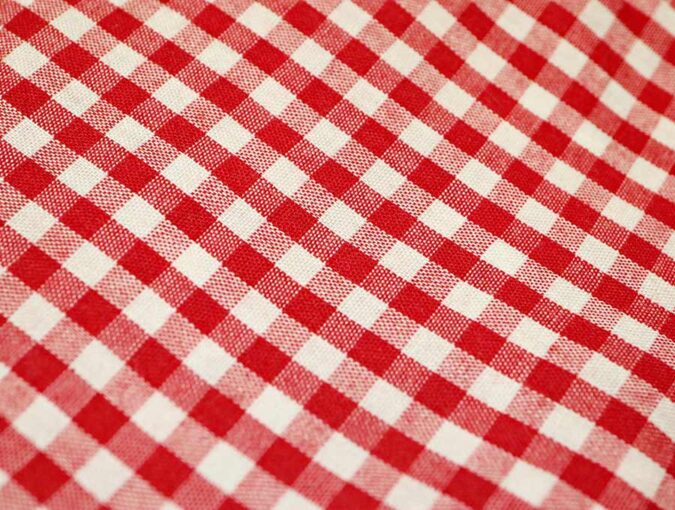 What is Gingham? What is it, Different Ways to Use and Wear Gingham
Gingham has been on the European runways this season, with design houses like Prada showcasing gingham creations at the spring/summer shows, prompting a resurgence in interest in this classic fabric, characterized by its checked pattern. That's cool, but..
What is gingham?
Traditionally, gingham is made up of white and a color such as red, green, blue, or yellow and is usually woven in cotton. However, pink checked gingham made its appearance on the runway this year, as well as other color variations.
The fabric is made by dyeing yarn in two different colors before weaving, then weaving one color on the warp and the other, usually white, on the weft to create a fabric that is the same at the back as the front. It is, therefore, not a printed fabric. If a fabric is printed to look like gingham, it is not actually gingham at all!
The Origins of Gingham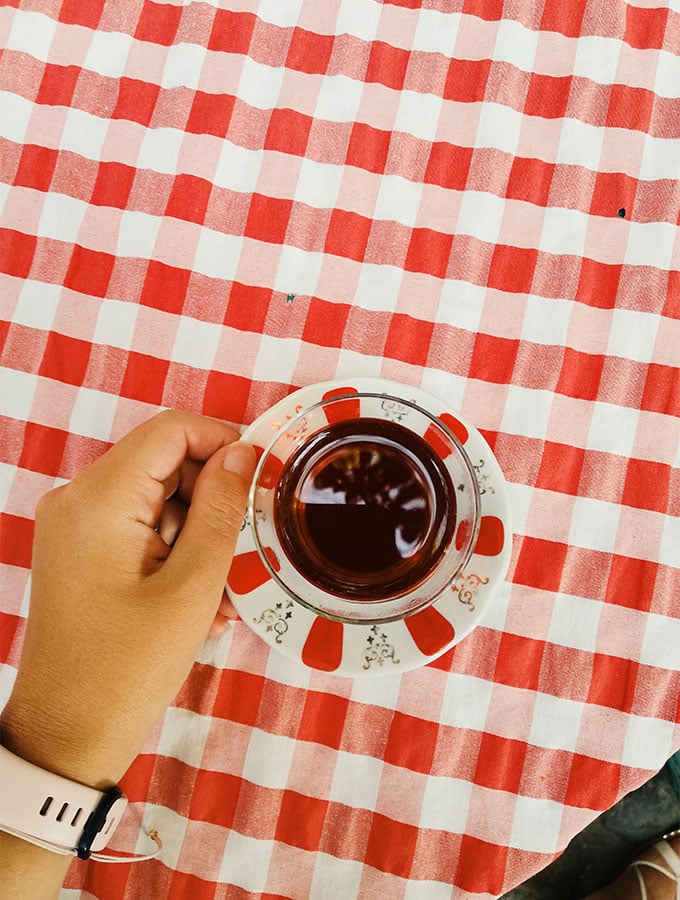 Gingham is synonymous with summer. If you think of traditional Italian trattorias, they usually have red and white gingham tablecloths on the tables set out on a covered terrace trailing with bougainvillea overlooking the azure hue of the Mediterranean Sea.
When it comes to clothing, gingham adds a little nostalgia to outfits – think gingham dresses with cute puff sleeves, gingham shorts, and gingham bikinis for a day at the beach. Once you conjure up those images, you're likely to think of the 50's when gingham was all the rage. Then you'll think of gingham shirts for boys, men, and girls who usually tied theirs in the front.
But gingham didn't originate in the 1950s – its history goes way back to the 17th century when it was introduced to the European market from Southeast Asia, where it was woven in silk. It wasn't a checked weave but a striped one back then. Later, it was woven in cotton, and because it was lightweight and breathable, it became popular, allowing air to circulate, keeping you cool and comfortable in hot weather.
As for the name, there are various suggestions. The one making the most sense is that it came from the Malay word genggang, meaning striped. Then, the Dutch traders who initially brought the fabric to Europe in the 17th century called it gingang. The word then became gingham in English. The English also changed the original fabric production from a woven stripe to the checked style we are all familiar with.
What is gingham used for?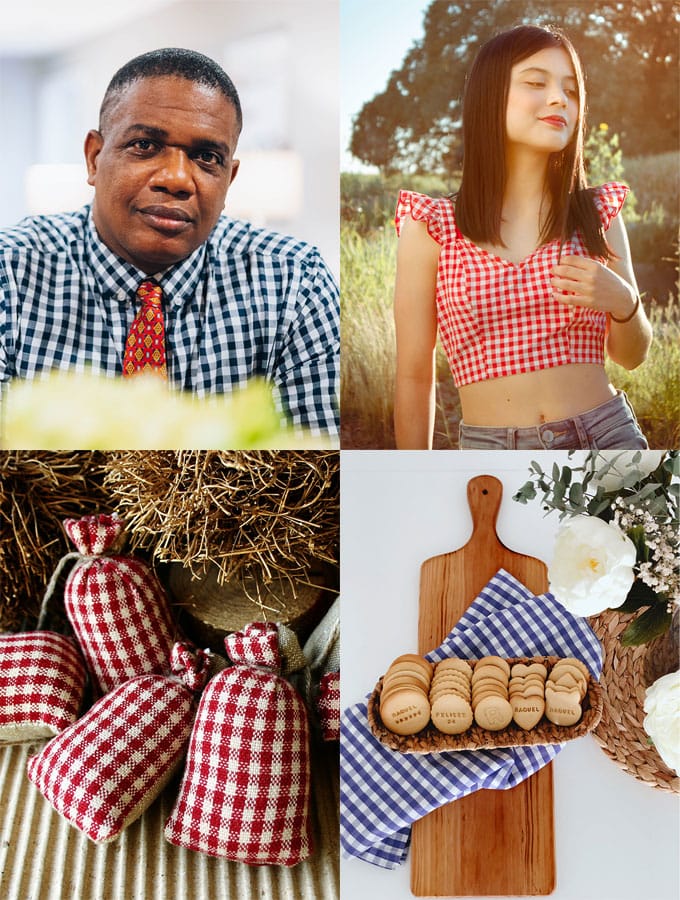 Initially popular as table linen and aprons, gingham found its way into fashion clothing, starting with the American preppy style in the 1950s when iconic figures like Audrey Hepburn and Grace Kelly were photographed wearing gingham items. It was seen as feminine and elegant in summer dresses, skirts, and blouses.
Why has gingham remained so popular?
Well, it's versatile – it can be dressed up or down. Think of a pair of faded blue jeans, western boots, and a red and white gingham shirt for a ranch-style look. Then think of Prada's 2023 pink and white linen oversized check gingham jacket paired with elegant shorts and heels, and you have a whole different look. A strappy gingham dress with flat sandals or sneakers means a day spent exploring the sights, stopping for a gelato or maybe at a trattoria for a glass of red wine over a pasta dish. Then, gingham shorts look cute when riding a bicycle in summer, complete with a bunch of daisies in the front basket, maybe a bottle of wine and some crusty French bread!
The secret to gingham's everlasting popularity seems to lie in the fact that the pop of color in gingham is offset by the crisp white in the weave, making it look fresh and summery.
What is gingham paired with?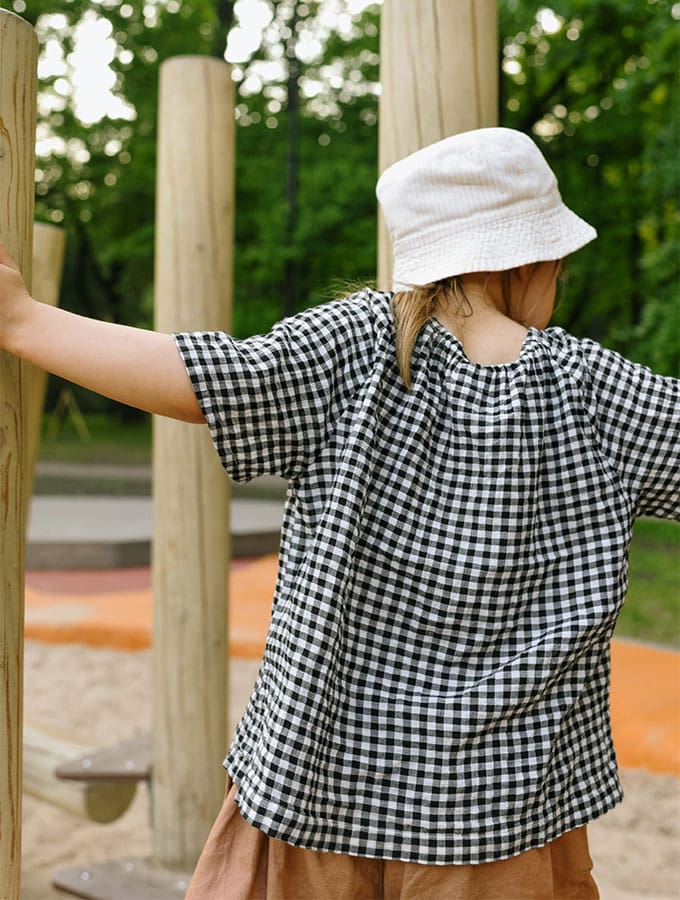 Gingham can be paired with other prints and colors to create endless styling options. Try mixing gingham with stripes or polka dots for a bold and playful look. The key is choosing patterns with a similar color palette or scale to create a cohesive outfit.
If you prefer a more subtle approach, gingham can also be paired with solid colors. A gingham skirt, pants, or shorts can be paired with a plain white or black top for a classic and timeless look.
Gingham's Popularity in Celebrity Fashion
Despite its long history, gingham has always stayed in style. Its timeless appeal lies in its simplicity and versatility. Many celebrities have been spotted wearing gingham in various forms. Stars like Taylor Swift, Reese Witherspoon, and Alexa Chung have all embraced gingham in their summer outfits. When a celebrity is seen wearing a particular print or style, it often sparks a trend and inspires others to follow suit, which is happening now.
GINGHAM VS PLAID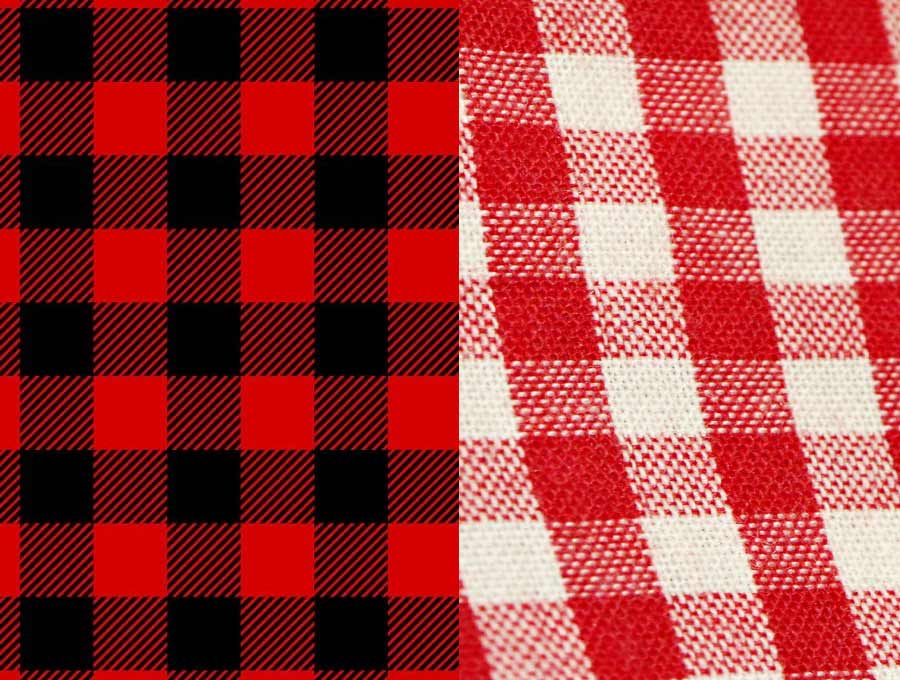 Gingham is one of the types of plaid, we've already discussed. If you wonder how to distinguish gingham from plaid, this section is for you. The main difference between gingham and plaid is the pattern itself. While plaid consists of stripes in that could be in different sizes and colors, gingham only uses one color and white. Also, the horizontal and vertical lines in gingham are equal, while they may be different in plaid.
How to Incorporate Gingham into Your Summer Wardrobe
If you're looking to incorporate gingham into your summer wardrobe, there are plenty of options. Dresses and skirts are classic choices and can be dressed up or down depending on the occasion. Pair a strappy gingham dress with sandals for a casual day out, or dress it up with heels for a more formal event.
If dresses aren't your thing, try gingham straight-cut pants, shorts, or a sleeveless collared top with a tie front. Pair your gingham jacket with jeans, shorts, or skirts for a chic and effortless look. For a more subtle approach, gingham accessories such as scarves or headbands can add a contemporary twist to your summer outfit.
Gingham is a classic, enjoying a renaissance right now. So why not add some gingham to your summer wardrobe? Embrace the charm and nostalgia of the fabric and make a stylish statement wherever you go.