5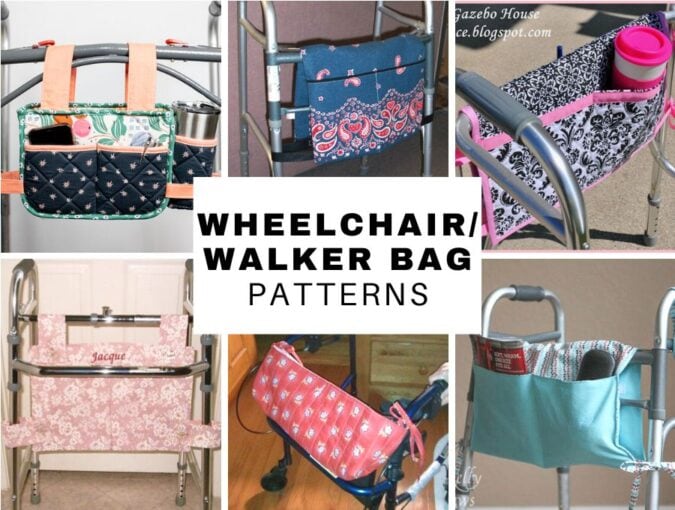 Free Wheelchair and Walker Bag Patterns
These wheelchair or walker bag patterns come in many different forms and they are a great gift for anyone who needs to use a walker or wheelchair. These mobility walker bags, caddies and pouches have easily accessible with pockets so they offer a quick and easy way to keep things organized and easy to find. If you are using a walker/wheelchair/mobility scooter or have a dear friend that uses one, you can definitely make a bag for the walker to make moving things around more easily or to keep the essentials on hand if going out and about. They are perfect for using up scraps, storing the daily essentials, and easy to create for gifts.  All the wheelchair and walker bag patterns have provided measurements, but you want to make sure it would fit perfectly, you can measure the width between the handles and an approximate depth for the caddy.
Free patterns for bags for walkers and wheelchairs
Walker caddy tutorial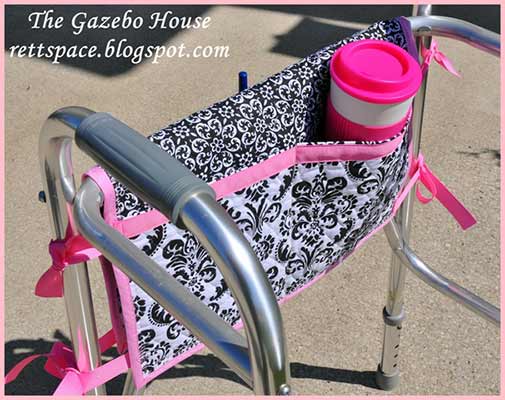 This simple, yet neat and stylish walker bag has an adorable pink binding finish on its edges, ribbons in the same color that you tie around the waller frame, and two large pockets that you can divide into smaller pockets of different sizes so they can hold all necessities of the person who uses the walker.
by Rettspace
Quilted wheelchair tote bag – attaches to the arm of the chair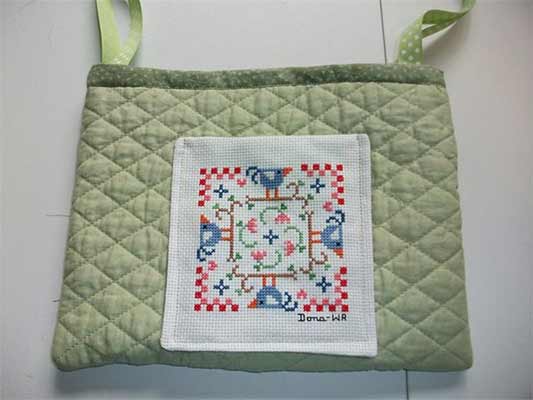 Here comes a nice, large bag that you can hang on the back of a wheelchair, featuring a quilted body that is durable and can fit a lot of things inside, handles that are rotated by 90 degrees so they can easily go over the back handles of the chair, and a pretty embroidered square as a decoration on the bag center.
by Quiltwoman
Velcro bag for walker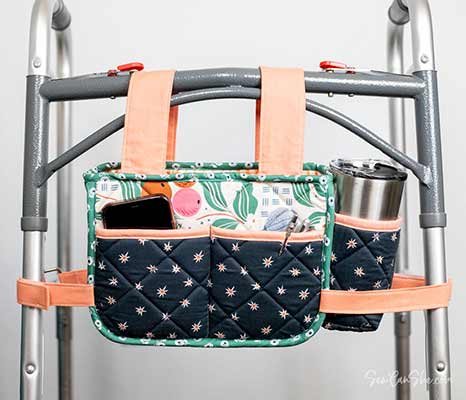 The colorful caddy we have here attaches to the walker with two wide vertical velcro straps and can hold larger items like books in its big pocket, as well as smaller items like glasses, a phone, or medicine dosers in two front pockets, and even a water bottle in the side pocket designed for it.
by Sewcanshe
Hanging bag for walker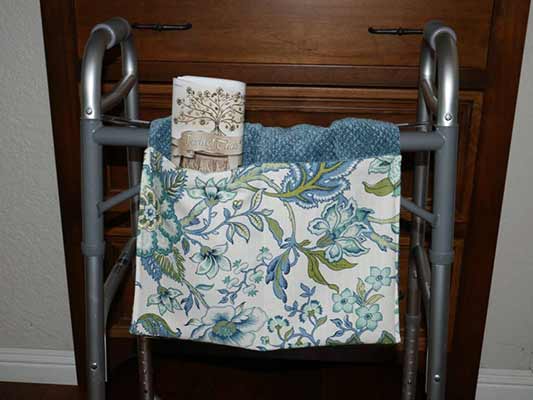 The simplest is often the best, that's the idea behind this walker bag that is easy to make, yet just as practical as its more complex counterparts, thanks to its body made of home decor fabric that has a big, deep, and wide pocket, with a velcro strap that you wrap around the walker frame horizontally.
Walker bag with pockets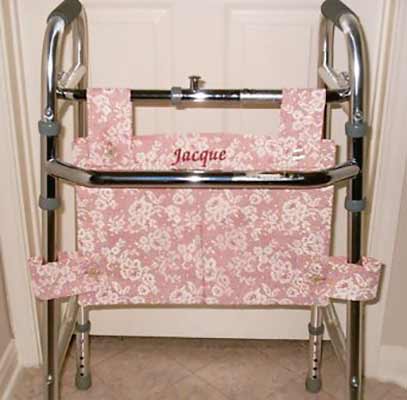 Here comes a walker bag that shows these handy things can be classy and unique, with a custom name embroidered near its top edge as the most prominent feature, two big pockets out of which one has three sections while the other has two, and two button-up strap pairs that are oriented vertically and horizontally.
Tote bag for walker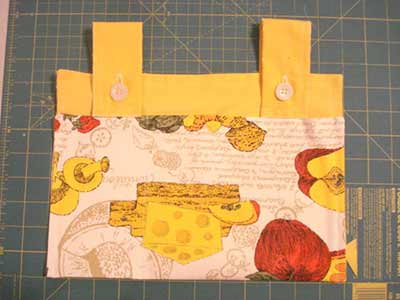 Some people have to use a wheelchair and a walker interchangeably and this bag that has a rectangular body with a wide pocket and upright button-up straps is meant for them because it can be attached to both those assistance tools and help them carry their essentials with them everywhere they go.
Wheelchair caddy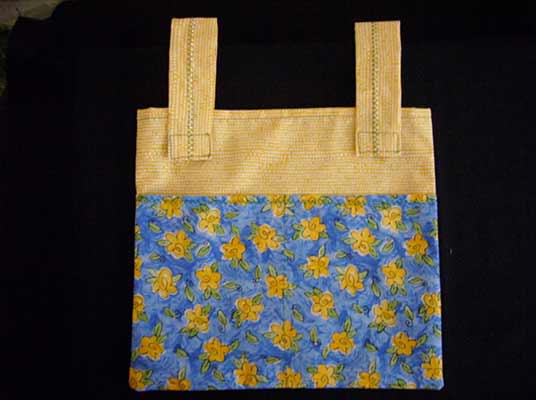 The adorable wheelchair caddy this pattern will get you has a shape of an upright rectangle and can fit many items in its deep main pocket, as well as a bunch of slightly smaller ones in its front pocket made of contrasting fabric, and attaches to the wheelchair with its vertical velcro strap handles.
Wheelchair caddy bag
Just because someone's in a wheelchair doesn't mean they can't go on adventures, says this splendid wheelchair bag that features a contrasting lining and main fabric, one large open pocket with a smaller zippered pocket and two open pockets inside it, and an outer front pocket ideal for items that need to be easy-to-reach.
Walker organizer bag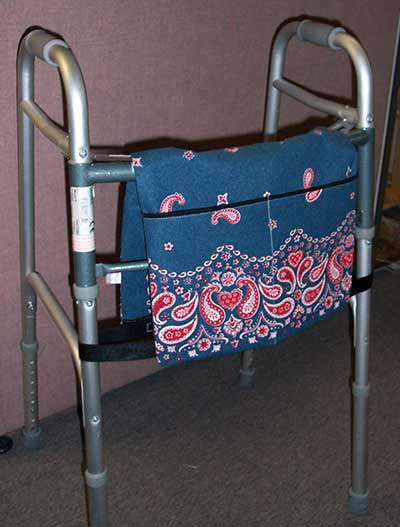 Here's a walker bag that you just place over the horizontal bar so one large pocket is on the side closer to the person who uses it, while two smaller pockets that can fit a water bottle or a book go on the front side of the walker, with straps at its corners that you wrap on the vertical bars of the frame to keep the bag securely in place.
Walker carry bag from placemats
Repurpose those plain placemats into something far more useful like this walker bag that has vertical button-up handles, three open pockets set below each other, with the topmost being the largest and the bottom one being the smallest, but big enough to fit glasses, medicine dosers, or a phone.
Pattern for walker bag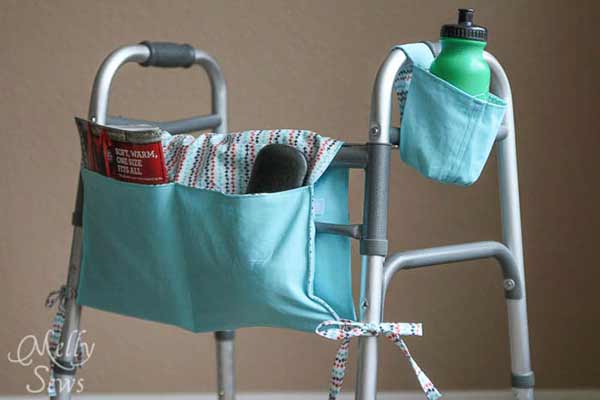 The walker bag you will get from this pattern sits over the walker frame horizontally and has three pockets ideal for items like wallets, phones, and candy bars, on one side, with two slightly bigger pockets that can hold items such as water bottles and even chessboards on the other side, complete with strips you tie to the walker near its bottom.
by Mellysews
Walker pouch
Reinvent the backpack as a bag you can set on wheelchairs thanks to its big wide handle or on walkers thanks to the velcro straps that resemble shoulder straps of a backpack, featuring a deep main pocket with velcro closure and two outer pockets with zipper closures.
Free pattern for walker bag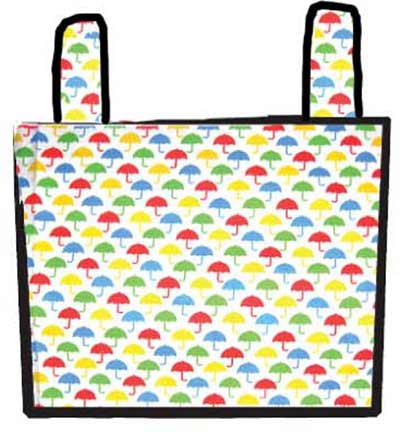 Here comes a wheelchair bag that is simple and extremely easy to sew, as the only notable features on it are the vertical handles that go on the back handles of the wheelchair, and a large pocket that has no closure so you can easily reach for the stuff you need.
by Morsbags
Wheelchair or walker bags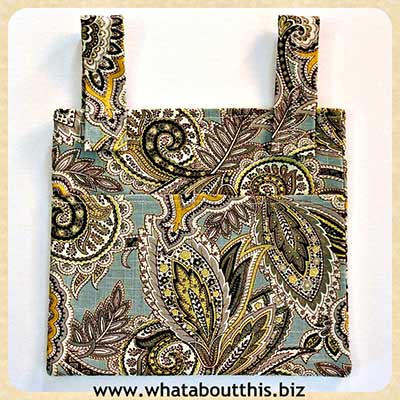 Surprise your grandma who uses a wheelchair or a walker with a lovely bag that has handles with velcro straps at their base, allowing her to strap it onto her movement assistance tool with ease, a large main pocket, and a divided front pocket that can hold all of grandma's necessities.
Wheelchair/Walker bag with tutorial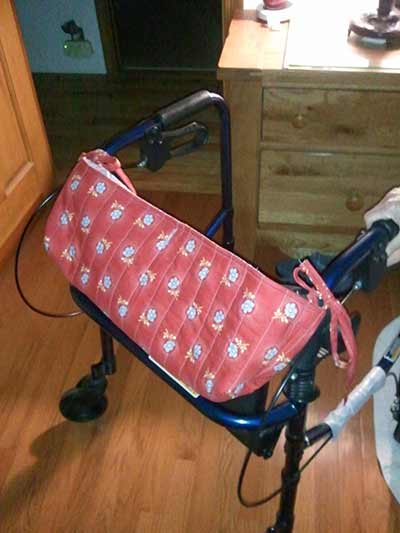 This combo bag can go on both a wheelchair and a walker, making it ideal for most elderly people who have difficulties walking, as it will keep their important stuff nearby at all times in its wide but shallow batted body that has one pocket able to hold their medicine, glasses, water bottle, etc.
I hope you liked this roundup with wheelchair patterns and walker caddies. I can easily imagine them in different colors and will perhaps embroider the initial of the recipient just in case. It would be better if you use heavier duty fabric and heavy duty needle, or if you really want to use cotton fabrics, remember to interface them to make the bag more durable. Also, tell the recipient not to use it for heavy items as this will make their walker unbalanced and may even tip it over.
It doesn't matter if you're going to make these handy bags for your friends, family, or even complete strangers as s gift, they will love the thought and effort you put behind it. If you have suggestions on how to make these accessories even better, share your ideas with us in the comments. And remember to subscribe to the mailing list so you can stay up-to-date with new projects and tutorials!