5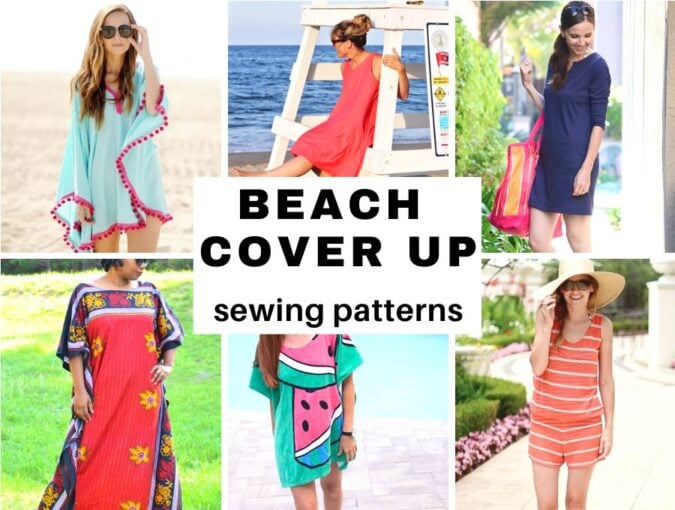 15+ Beach Cover Up Sewing Patterns – Stylish and Easy Swimsuit Cover-up Patterns
Looking for a quick and easy sew for the summer? Look no further than this roundup with wonderful and free beach cover up sewing patterns. No matter whether you just need a simple swimsuit cover-up or really want to sew yourself up something stylish for an upcoming trip, this roundup is for you!
Free Beach Cover up Sewing Patterns
Easy beach cover up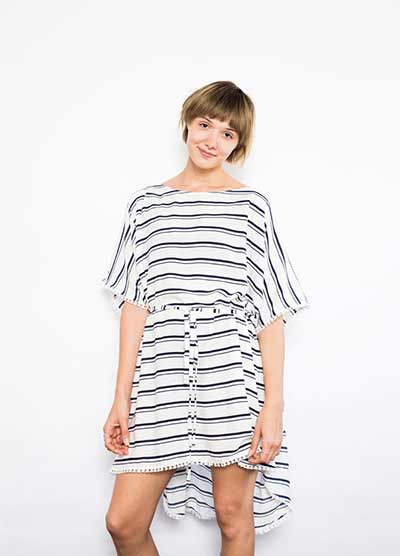 Kaftans are one of the best summer outfits and as such, great for the beach as a swimsuit cover, with its wide and relatively short sleeves that reach to your elbows, a high bottom hem that goes to your mid-thighs, a cute fabric belt at the waist, and cheerful tassels along its bottom hem. This free beach cover up pattern is loose fitting and covers a range of sizes.
Sizes: 1-5 (from 30 to 50" bust /76 up to 126cm bust)
Pom pom trim – free beach cover up pattern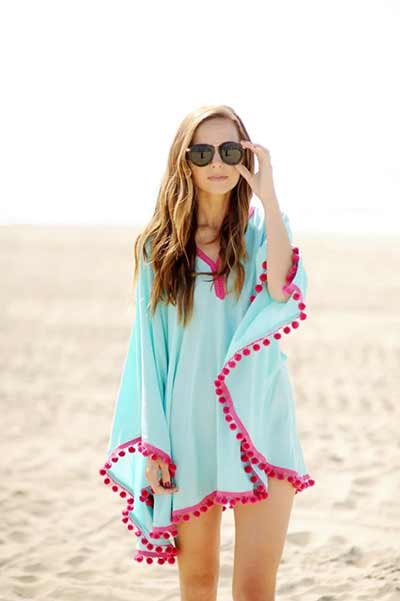 If you ever wondered if there was a summer poncho, wonder no more because here is something like that, a rectangular outfit with a neckline hole in its middle that you just put over your head and let it cover your body to your thighs at the bottom, and to your elbows at the top. The hem around the opening has adorable pom-pom decorations along its entire length.
by Merricksart
DIY Victoria's Secret Swimsuit Cover-Up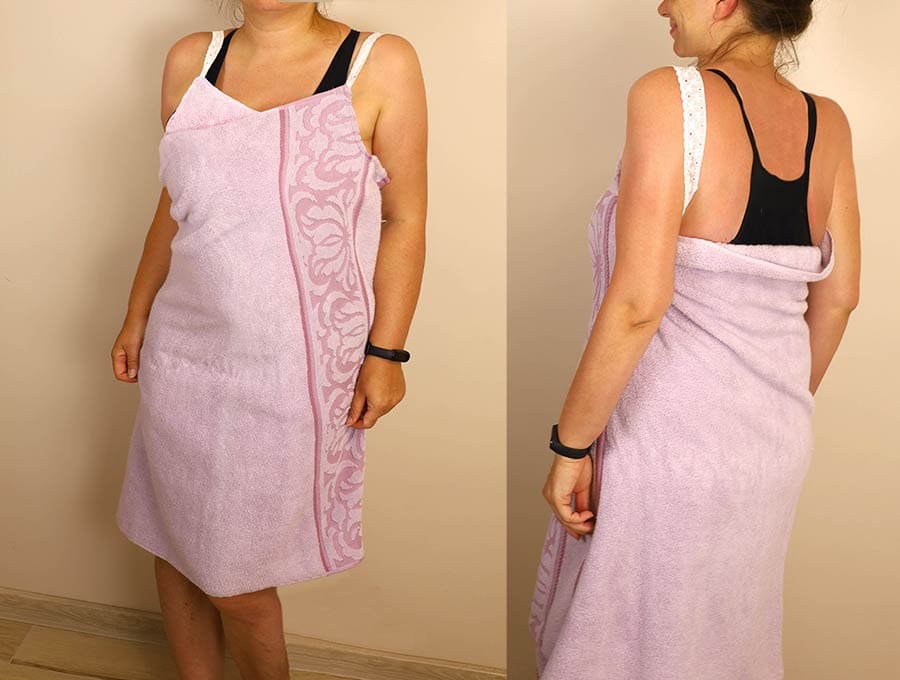 Just a bit of snipping and sewing by hand is all it takes to make this gorgeous cover that's basically just a bath towel that has loops that act as shoulder straps, allowing you to wrap the whole thing around yourself so it forms a beautiful dress with spaghetti straps, a V-neck, and a bottom hem that reaches to your thighs.
DIY beach towel cover up by HelloSewing (that's me!)
Towel swim cover up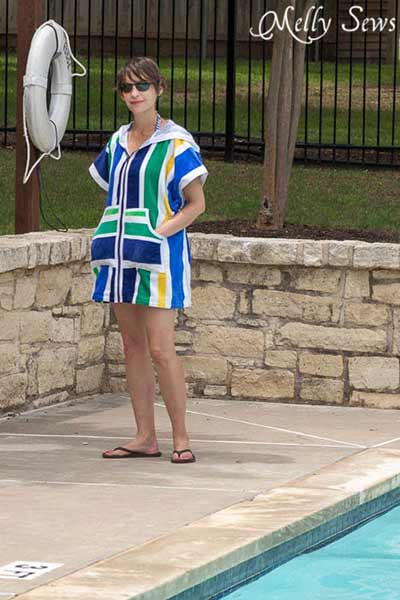 Imagine a sweatshirt made of towels that is light and comfortable enough to use as a swimsuit cover, that's what this pattern is, featuring a bottom hem that just covers your swimsuit, zipper closure at the front, a hood, and a large rectangular pocket split into two smaller pockets at the belly.
by Mellysews
Kimono swim cover up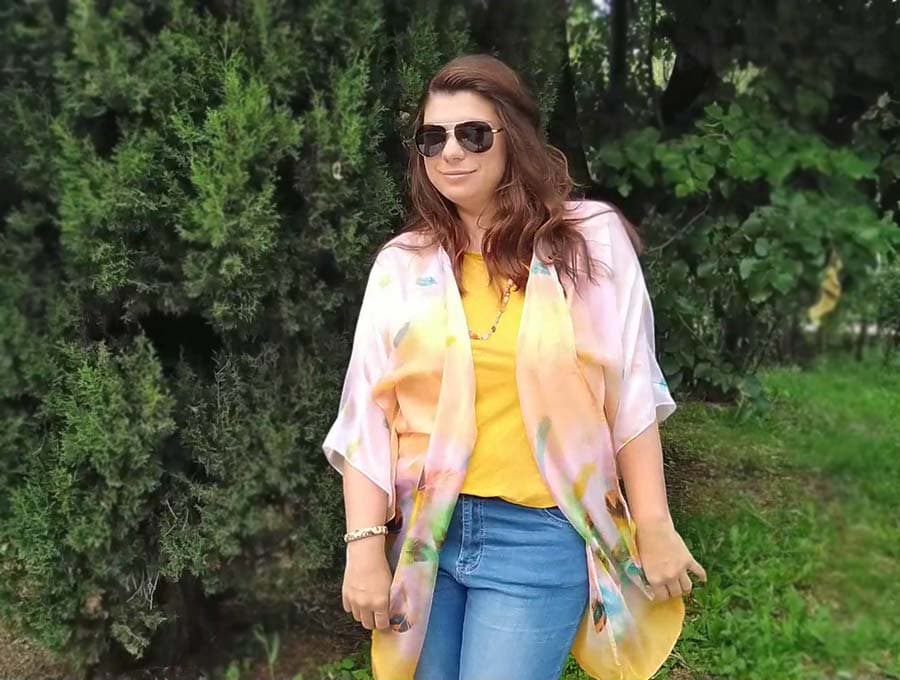 Get ready to transform your old scarf into a lovely, open kimono-style cover perfect for the beach, due to its breezy form and stylish look, with wide sleeves reaching over your elbows, a double-folded front hem and neck, and a straight bottom hem that goes to above your knees.
by Hellosewing
Trapeze tank dress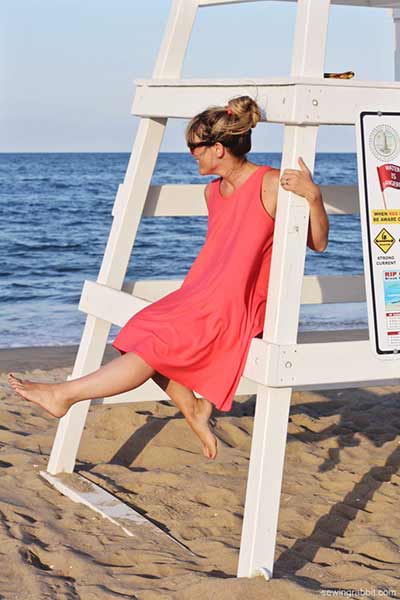 Not many garments beat tank tops in terms of comfort and means of feeling not too hot in the sun, and this cover uses that to its advantage, utilizing shoulder straps, and the form of a tank top that's long enough to reach your thighs and cover your swimsuit.
by Mesewcrazy
Loose African print caftan with 4 seams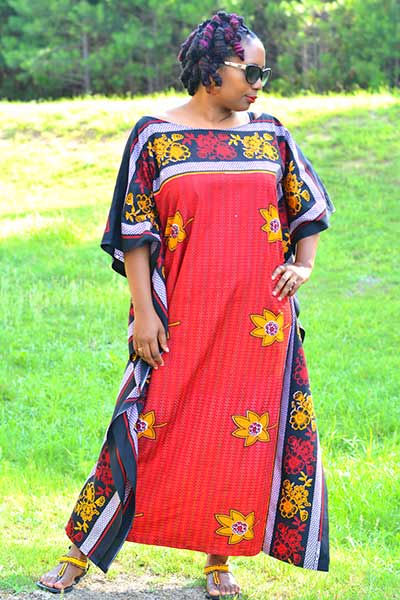 Let the exotic African charm shine in style at the beach with a cover that resembles the outfits of Africa, a long and colorful kaftan with a round neckline, wide sleeves long enough to get to your elbows, and a straight bottom hem that goes to your ankles.
pom pom beach cover up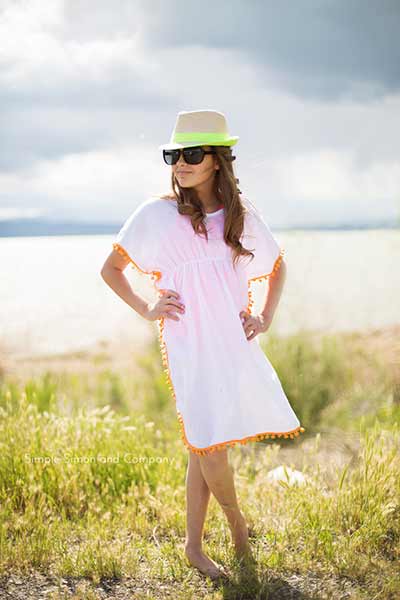 Be careful with this beach cover up pattern because it will turn you into the most adorable person at the seaside, thanks to its lovely kaftan shape with a slightly gathered waistband, short and wide sleeves, a curved bottom hem that comes to your knees, complete with a contrasting bias binding and decorative pom-pom balls attached around the sleeves and the bottom hem.
Beach towel poncho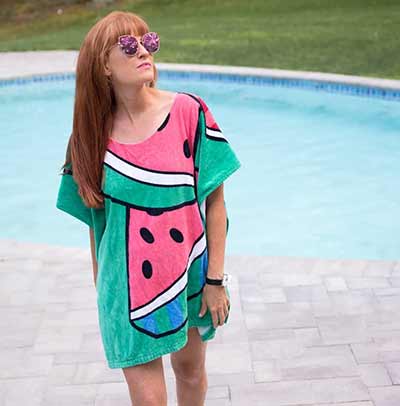 With the help of this practical pattern, your plain old towel can become a beautiful new poncho that has straight edges and a round neckline, with a bottom hem that goes to your mid-thighs and covers your arms to elbows. The poncho is also handy for drying yourself, since it's a towel, so it's two-in-one!
by Gina-michele
Beach poncho with pom poms (without a pattern)
It's time to upcycle those towels into a cute and fun top that you can wear over your swimsuit even when it's wet, because this poncho that reaches over your hips, has a scoop neckline, and a creative hem finish with pom-pom decorations can dry you and make you look stylish at the same time.
by Gina-michele
Stylish beach cover up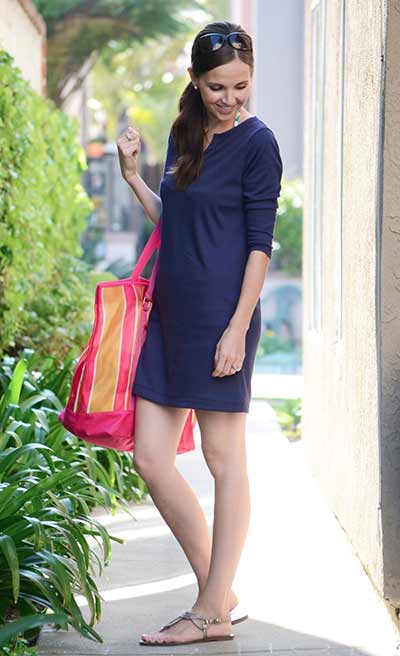 Simple and basic is often the best choice as well, and this cover proves that point in style, featuring a rounded neckline with a V cut at its center, sleeves that cover your elbows, and a straight bottom hem that covers the top half of your thighs to hide your swimsuit.
by Merricksart
Summer romper cover up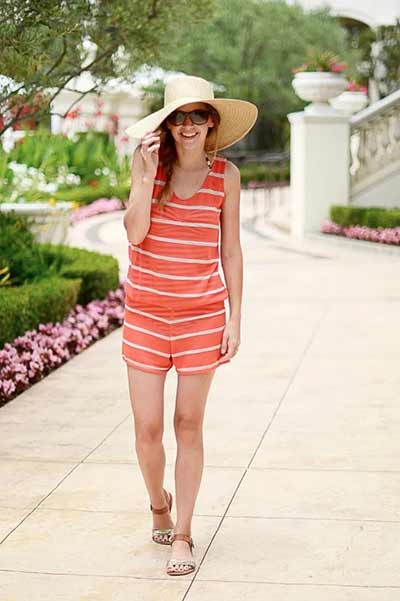 Feel like a carefree girl again while you wear this cute cover that's like a tank top connected to a pair of shorts at the waist, giving you the freedom to play in the sand as much as you want without worrying if your bottom will fall off!
by Merricksart
Towel swimsuit cover up
Wrap that towel around yourself, add a bit of sewing magic, and you'll get a brand new cover dress that has spaghetti shoulder straps, a curved bottom hem, and a semi-open wrap closure front that has a slit that starts on your chest. The flap has two buttons at the top that let you unwrap the dress into a towel.
Cinch dress cover up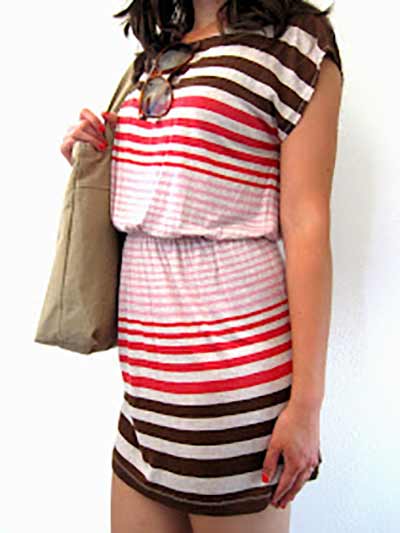 Make a charming mini dress that starts as a rectangle on which you add a round, high neckline, armholes, and an elastic waistband that creates a nice border between the top and the skirt sections, as well as a bit of ruffle on the skirt. This outfit is chic enough to wear as a regular top, not just as a swimsuit cover.
Which free beach cover up pattern you liked the most? Drop a comment down in the box and let me know!
Did you like these patterns? Whichever one you choose to make, you're bound to be the most stylish, best-looking person at the beach! Be sure to give at least a few of them a shot, you might like the result much more than you thought you would. When you finish, go ahead and subscribe to the mailing list to stay up-to-date with the latest tutorials, articles, and patterns. Have fun at the beach!