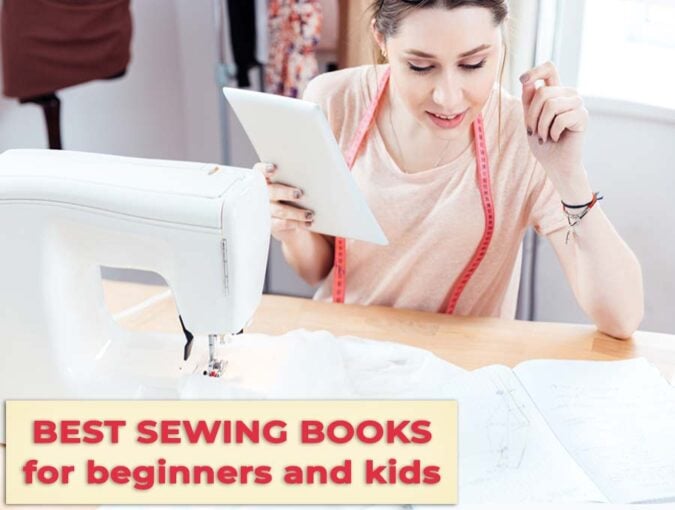 Best Sewing Books for Beginners and Beyond
Old people like to say that a book is a man's best friend. In the case of sewing books, they are a sewing enthusiast's best friend.
Nowadays, there are a lot of great youtube channels and instructional videos on the internet that can teach you a lot about sewing, one project at a time, which is great. However, sewing books can help you learn every little thing you need to know in a more structured manner.
With sewing books, you can easily learn all about setting up your sewing machine, when to use which stitch, how to make seams, and much more crucial information that a beginner needs to know.
To help you choose the ideal sewing book for YOU, we have prepared a list of the best sewing books for beginners, along with a brief explanation for each one so that you can select your favorite, or favorites.
We occasionally link to goods offered by vendors to help the reader find relevant products. Some of the links may be affiliate meaning we earn a small commission if an item is purchased.
I. Best sewing books for beginners
First Time Sewing: The Absolute Beginner's Guide
Sale
First Time Sewing: The Absolute Beginner's Guide
If you need a book that goes to the bases and explains every little thing in simple terms, this one is for you. If you have been sewing for months or years without any formal training, this book will give you a lot of helpful tips and will really help you understand what you are doing and why you are doing it.
Likewise - if you feel intimidated after unboxing your machine and trying to sew few simple items, this sewing book is for you. Have you ever followed a tutorial that claims to be beginner friendly but then it ends up using unfamiliar terms, techniques or equipment and you just felt lost? This book will help you gain the confidence you need to start sewing!
For all of you who are fresh in the waters of sewing and don't know anything about it yet, here comes First Time Sewing.
This book will help you master the basics of sewing with little effort and great speed. Just follow the step-by-step instructions and thanks to the great illustrations, you will learn about hems, seams, sewing machine settings, and more.
The book also shows you how to use patterns and make aprons, pillows, tablecloths, T-shirts, and so on.
The Sewing Book: Over 300 Step-by-Step Techniques
Sale
The Sewing Book: Over 300 Step-by-Step Techniques
The Sewing Book covers over 300 techniques in detail to help you improve your sewing skills, review your current methods, and find out if you've been doing something wrong up until now. It's great for quick reference if you ever need some memory refreshment for some techniques you haven't been using for a while. The fully illustrated book will help you demistify even the trickiest technique!
Do you feel like your sewing techniques might be lacking and need improvement? With this sewing book, you will be able to solve that problem!
Sew Everything Workshop: The Complete Step-by-Step Beginner's Guide
Sew Me! Sewing Basics: Simple Techniques and Projects for First-Time Sewers
Sale
A Beginner's Guide to Sewing with Knitted Fabrics
All New Fabric Savvy: How to Choose & Use Fabrics
Sale
All New Fabric Savvy: How to Choose & Use Fabrics
People tend to make an honest mistake thinking that choosing fabrics isn't all that difficult. It's the opposite, in reality, choosing the right fabric for a sewing project is a miniature science in itself.
You need to know the properties of fabrics, the way they handle different roles, how to handle them, and similar.
Experienced sewing enthusiasts learn that in time, but beginners need help with it. That's where this book steps in. Consult it before you choose fabrics for your next project and you'll choose the perfect one for sure.
II. Best Sewing books for kids
Sewing School 2: Lessons in Machine Sewing
Sale
Sewing School ® 2: Lessons in Machine Sewing; 20 Projects Kids Will Love to Make
Teaching kids to sew is always a smart move. Not only will they have a creative hobby that can help them put their imagination to good use, but they will also have a practical skill that will help them in their life when they're older.
So after you've taught your little one the basics of sewing by hand, it's time to slowly have them learn how to use a sewing machine. This book will make that process easy and fun, thanks to their step-by-step instructions and informative illustrations.
Sewing For Kids: 30 Fun Projects to Hand and Machine Sew
Sale
Sewing For Kids: 30 Fun Projects to Hand and Machine Sew
Choosing the right sewing project for your kid is a crucial part of teaching them how to sew. You want them to have fun while learning, not to get annoyed and hate the hobby.
This neat book is full of fun projects for kids, both for sewing by hand and with a sewing machine. It's perfect for little sewing enthusiasts!
A Kid's Guide to Sewing
Sale
Did you have fun reading our list? Now you're ready to choose the best sewing books for yourself or your little one, and start mastering sewing by building your skills! Come back and let us know which sewing book you got and how you liked it down in the comment section. Have fun learning!
LEARN TO SEW RESOURCES:
6 Sewing practice sheets to perfect your stitches
Sewing magazines for beginners that are worth subscribing to!