6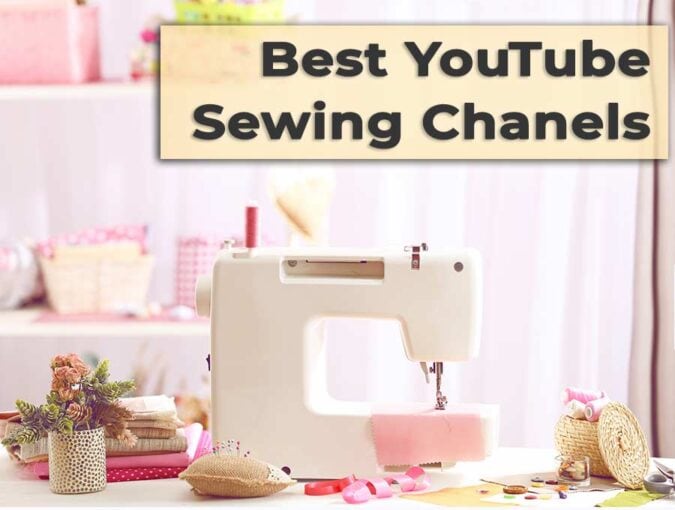 Best 15 Sewing YouTube Channels to Watch and Improve Your Skills
With YouTube around, learning how to sew has never been easier. If you always wanted to learn how to sew but couldn't find someone to teach you, YouTube is the place to go. You can easily find a simple project you're looking for and do it yourself, all during just one afternoon.
This list of youtube sewing projects and videos will help you find all the cool beginner projects – from plushies to cushions and kitchen necessities, from dresses to cool accessories and handmade gifts. But not all sewing channels on YouTube are equal – you can easily get in the rabbit hole and end up confused instead of learning something new.
That's why I decided to make this list for you! Here it is:
15 Best YouTube sewing channels I recommend
If you are the visual type and you prefer learning sewing by watching someone else do it, look no further than my very own sewing channel Hellosewing. We have tons of step-by-step instructional videos that are straight to the point and beginner-friendly.
All projects on my sewing channel are fun, practical, and quick to sew, so check them out! Here's my latest project:
Improve on your sewing skills one little project at a time!
Also don't forget to like and SUBSCRIBE to my channel (and hit that bell button) to stay up to date with my latest sewing videos.
A channel that pumps out new DIY instructional videos often, it's the Crafty Gemini! This channel will help you understand the basis of sewing and it will offer some useful tips for improving your skills.
They also have a special set of videos designed specifically for fresh beginners.
Who can teach you better than a professor? Professor Pincushion is a channel that teaches its viewers how to do various sewing projects. They are meant both for beginners, and ambitious enthusiasts with quite some experience.
There's a lot of fun tutorials on this channel, and new videos come out weekly, so check them out!
For all of you quilting enthusiasts out there, here is the my favorite quilting channel on YouTube, the Missouri Star Quilting! You will find a lot of helpful tutorials that will help you up your quilting game in a short time.
They also offer quilting supplies with a discount on their website.
When an old-school sewing expert with years of experience decides to share her knowledge in a modern way, you get Sew Very Easy.
Laura runs this channel and offers amazing insider tips and helpful suggestions that can help you improve your sewing by a lot. She teaches her viewers everything from pattern making, over properly using a sewing machine, to making beautiful quilts!
Aneka's channel aspires to teach its viewers how to become real pros in sewing. She makes tutorials that are detailed enough to be beginner-friendly, even though they show you how to do some really professional stuff.
Learn how to sew shirts, dresses, and much more with Aneka's Made To Sew!
This channel is run by charming Dana Willard, who enjoys sharing her sewing ideas with the viewers on her channel. All videos are relaxing and easy-going, which makes them ideal for complete beginners in the world of sewing.
Most of her tutorials are everyday projects that are simple but fun.
Those who say sewing isn't for men are so wrong. And Rob here from Man Sewing proves them wrong! He makes great tutorials that can teach you how to sew or quilt a lot of different stuff. His videos are meant for anyone who has a passion for sewing and quilting, no matter how skilled they are.
With more than 200 sewing videos under his belt, be sure to check them out!
Run by Lisa, this channel offers a wide range of useful sewing videos. These videos range from tips and hints to proper tutorials. This channel should help you upgrade your wardrobe without wasting a lot of money on finished products, but instead, sewing them yourself.
You can also purchase all kinds of fabrics from Lisa online!
Coming straight from South Korea, here are Nancy's unique and creative sewing project! All of the videos have useful and precise instructions, which makes them great for both beginners and experienced enthusiasts.
Nancy mostly makes handy stuff like bags, purses, various holders, and more. She also makes some amazing things we rarely see here on the West, like cute lunch bags or origami bags!
April's channel is all about DIY fashion and upcycling. If you love repurposing old clothes and turning them into fresh, new fashionable pieces, you'll love Coolipra.
She makes new videos on a weekly basis and most of her tutorials are about sewing clothing pieces. But she also makes cute stuff like puppets and various accessories. Her channel is probably best for sewing practitioners who are around the intermediate skill level.
An all-around sewing channel that can teach you everything from quilting to sewing all kinds of decorations. Craftsy is meant for all who have a passion for sewing. That means it has tutorials for beginners, intermediate practitioners, and experienced sewing veterans.
Let your creativity run wild with Craftsy!
Another amazing sewing channel from the far East. Aya likes to sew all kinds of clothing pieces and fashion accessories. She loves repurposing and upcycling, which makes this channel the best choice for all environmentally aware sewing enthusiasts.
Aya says her videos are for anyone who has an interest in sewing, so be sure to check them out!
Do you like dolls? Do you like making tiny cute clothes for them? Then this channel is just the thing you were looking for!
It's the official channel of Liberty Jane, which is a company that makes 18-inch dolls. These videos will teach you how to make a wide variety of miniature clothing for your favorite dolls. They even show you how to make tiny furniture!
Quick, fun, and easy sewing projects, that's what this channel is all about. Art Gallery Fabrics tutorials will teach you how to make things like fabric coasters, fabric jewelry, pillows, or a simple yet stylish kimono! They also have a lot of helpful videos that teach you some sewing techniques and tricks.
If you have about half an hour of free time for sewing, these tutorials are the perfect fit for you.
What's next?
Hope you liked our list of the best youtube sewing channels and videos! Be sure to check all these u tube sewing channels out and see which of those you like best. Although all of them are beginner friendly, each one is special in their own way.
So, what to do next?
Now that you've watched quite a few sewing videos, you're ready to attempt some of my favorite sewing projects for beginners and if you follow any of my easy step by step tutorials — I bet you'll whip them up in no time!
Want to learn to sew from A to Z? Check out these wonderful Online sewing classes (coming soon) With free and paid options there is something for everyone
Love reading? These sewing books for beginners are just for you! Pick one and start stitching
Support the industry – buy a subscription to one of these wonderful sewing magazines
Did you know that we have a sewing channel? You'll find some of our latest sewing projects and tutorials on Youtube. Straightforward and concise, as well as loads of fun, you can expect 2 new sewing videos EVERY week. You'll find both easy sewing videos for beginners and quick sewing projects for the more advanced sewists.
Also – if you decide to make any of my sewing projects, be sure to take a picture afterward and tag HelloSewing on social media as I love seeing your makes.
And don't forget to share your favorite sewing youtube channels or youtube sewing videos – I'm always on the lookout to add more to my list of favorites