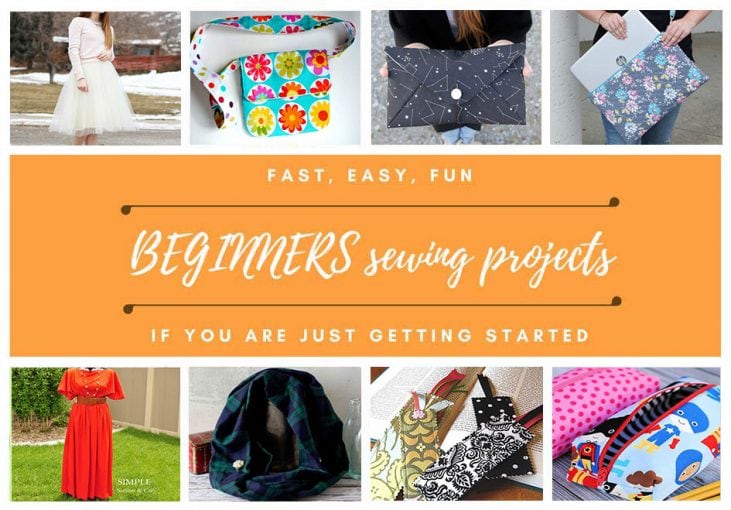 30 Super Cute and Easy Sewing Projects for Beginners
Try your hand at sewing with a ton of quick and easy sewing projects for beginners. If you want to sew unique and creative projects utilizing some fabric scraps, this list is for you! All of these beginner sewing projects are perfect for the sewing novice and don't take a lot of time to complete. From bookmarks and pillows to dresses, skits and pouches, these small sewing projects will help you improve and build on your sewing skills.
Without further ado, let's get dive in the list of quick, easy and fun things to sew for beginners. Not a novice? Below you'll find my all time favorite quick sewing projects.
30+ Beginner Sewing Projects You'll Love:
This list is broken into several smaller lists to make it easier to find the perfect beginner sewing project for you!
Useful Beginner Sewing Projects
1. Fabric Bins for Your Sewing Supplies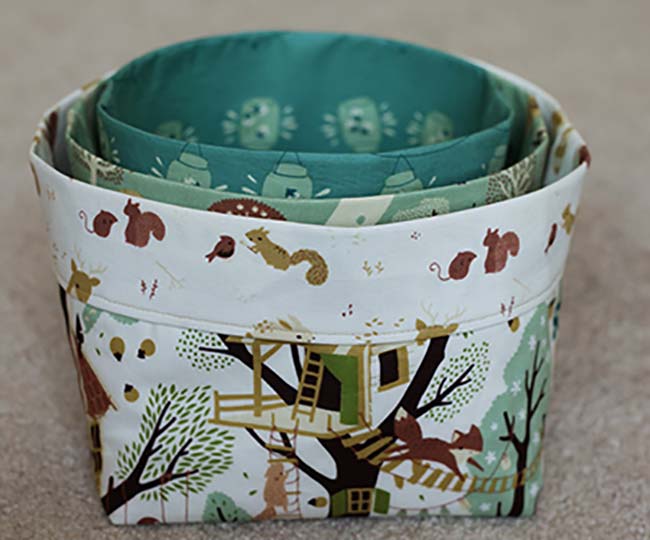 Create fabric bins for your sewing area, and not only will you make the room tidier and prettier, but you will also get a chance to work on those sewing skills some more. Simple, easy and fun – this project is perfect for a beginning sewist.
via Birch Fabrics
2. Easy Sunglasses Case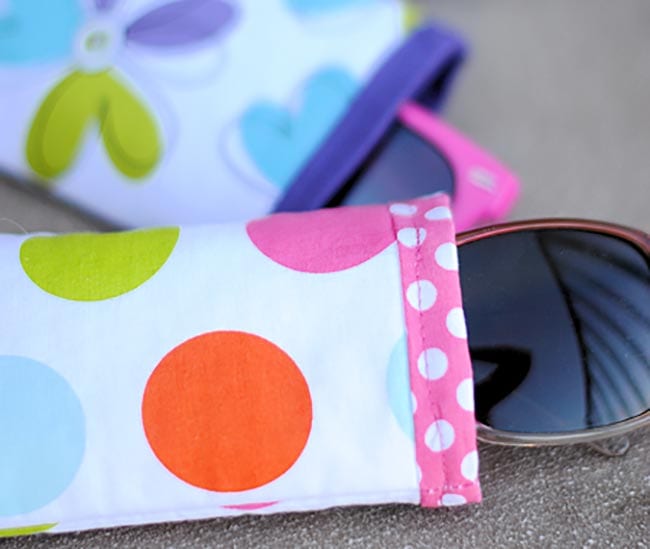 This is a great project for practicing your sewing, and the resulting case for sunglasses is an excellent gift you can make for someone special. You can also make a case for your phone your tablet or for any other handheld device.
via Crazy Little Projects
3. Cute Envelope Clutch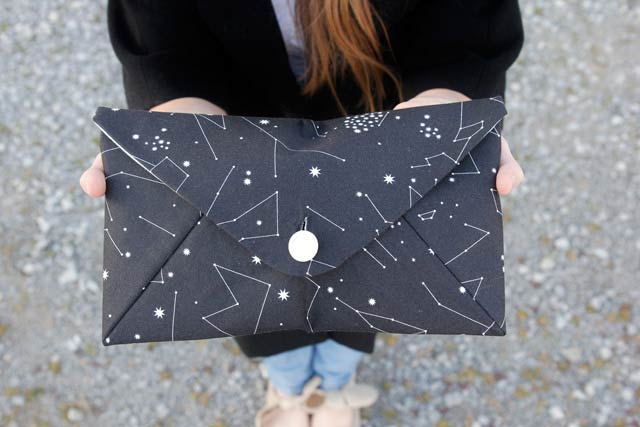 Make a stunning envelope clutch with 1 fat quarter of fabric and 1 fat quarter of lining as well fusible interfacing of the same size, and a button of your choice.
via See Kate Sew
4.Pool Bag with Pockets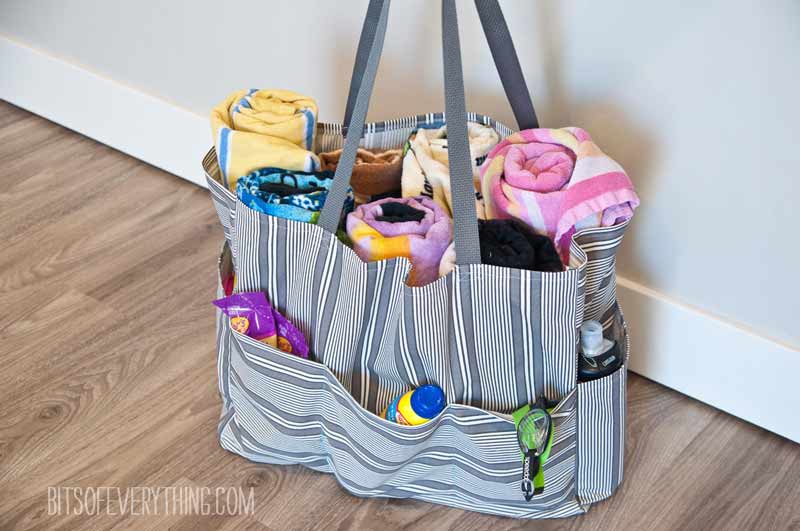 Make your own cool pool bag with the help of a yard of fabric, thread and straps. Follow the instructions and you will end up with an amazing and very fashionable bag, as well as with improved skills!
via Bits of Everything
5. Oh-So-Chic Napkin Tutorial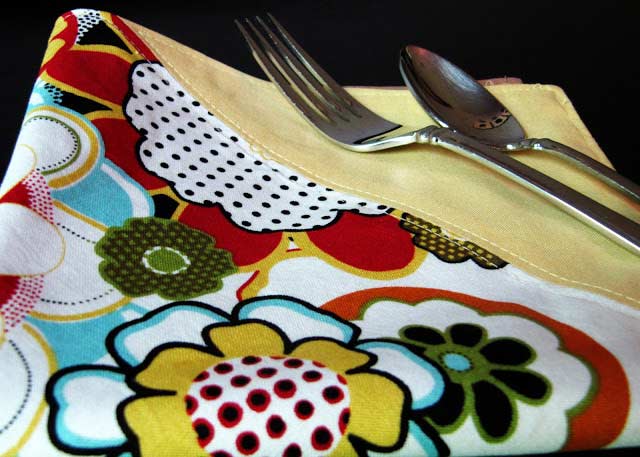 Make these pretty reusable textile napkins for you and your family, and not only will this help you improve your sewing skills but it will help you save money from using disposable paper ones instead.
via Positively Splendid
6. Wristlet Key Fob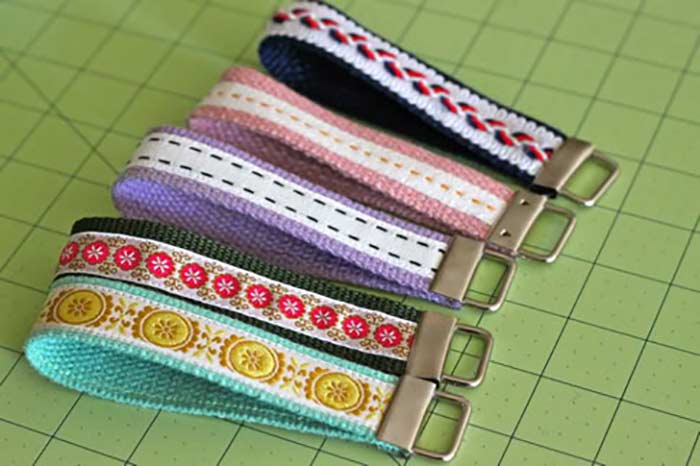 Use your imagination and enhance your sewing skills with this little project. You will need a key fob, some cotton webbing and a pretty ribbon of your choice.
via Pretty Prudent
7. Fruit Slice Purses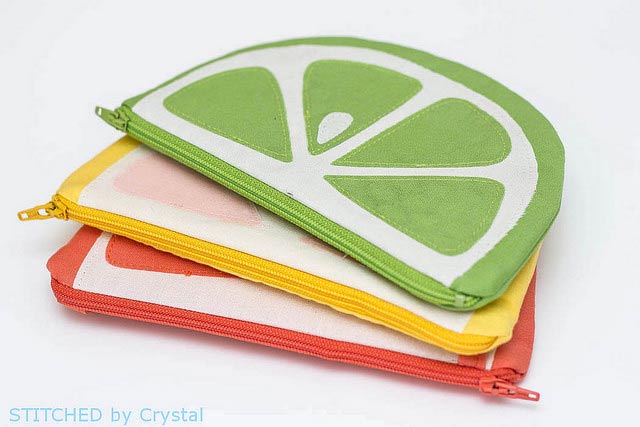 These cute purses shaped like fruit slices are a perfect gift for any little girl. You need some fabric, fusible fleece, an 8" zipper, Heat n Bond and a sewing machine and tools to create a wonderful little purse by yourself.
via Stitched by Crystal
8. Diy Laptop Bag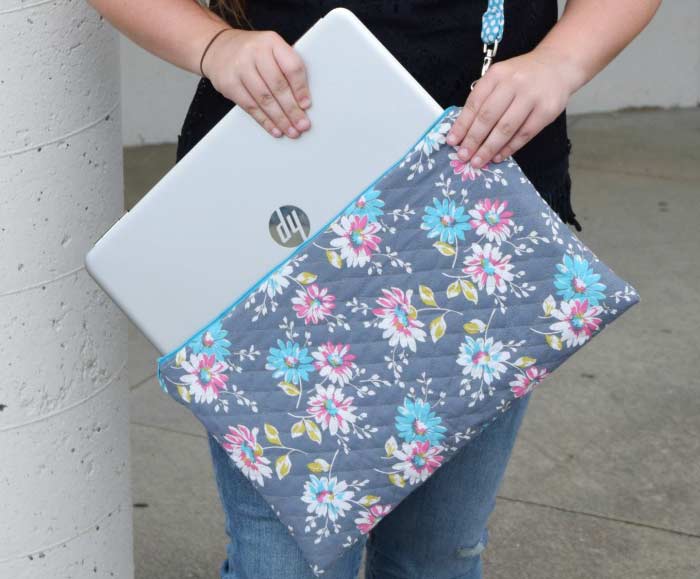 Work on improving your sewing skills and make a laptop bag for yourself or for a special gift. Get some pre-quilted fabric, a couple of swivel hooks and D rings and a zipper of about 10-12 inches and you can get started.
via The Tip Toe Fairy
9. Makeup Bag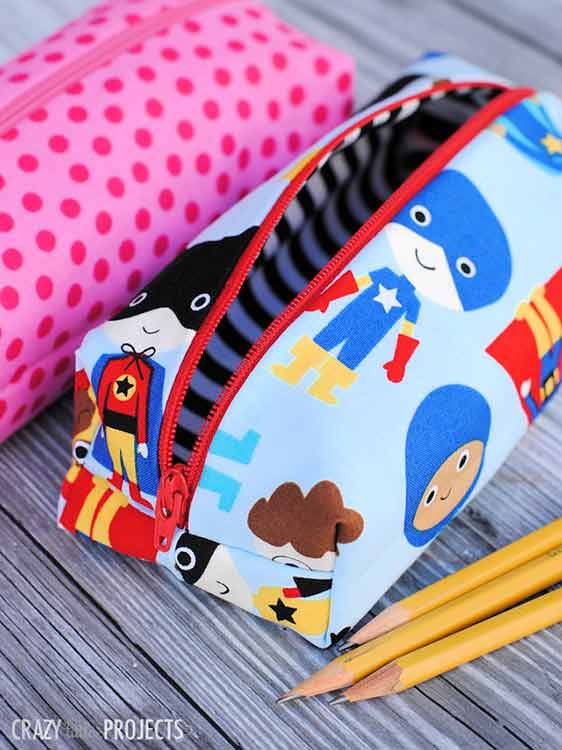 This is a project which will help you learn how to make a handy makeup bag which you can use yourself or give out as a gift. It is simple and easy and yet the end result is stunning!
via Crazy Little Projects
10.Fun Two-Color Pillowcases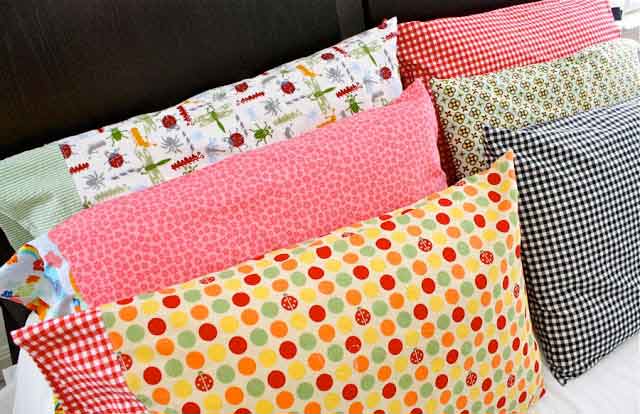 Learning how to make these pillowcases is not only an excellent sewing exercise but it is a very useful one too. You can make pillowcases for your home, or as a gift for a friend or relative.
via Made Every Day
11. Reversible Placemats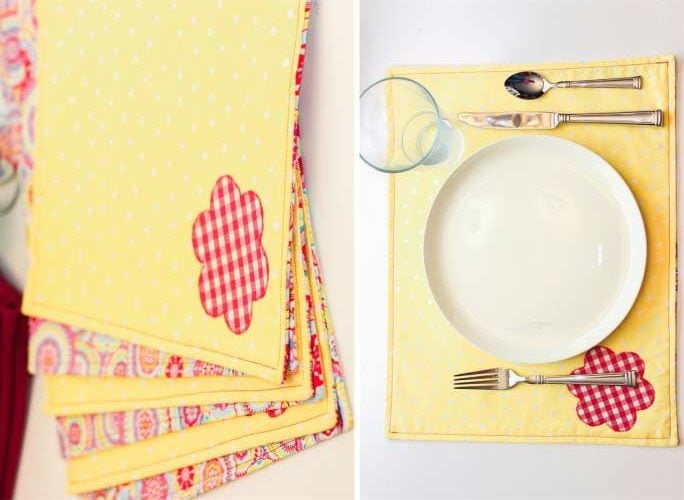 Make your own custom made placemats too suit your interior or to fit for a specific holiday or occasion. This is an easy project involving some simple and yet important sewing skills which you will need for future complicated projects.
via Real Coake
12. DIY Fabric Bookmarks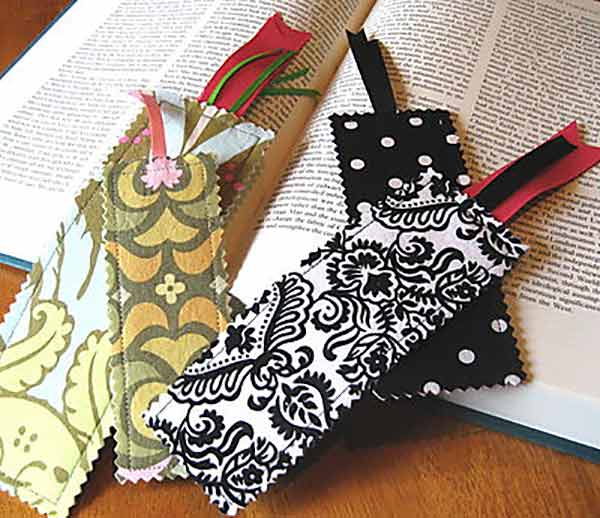 You can make bookmarks with the help of a little fabric, some interfacing and a ribbon. It is simple and yet very pretty, and will help you master those sewing skills.
via 7 Layer Studio
Easy Sewing Projects – Perfect for Gifts
13. Easy Drawstring Bag In Under 5 Minutes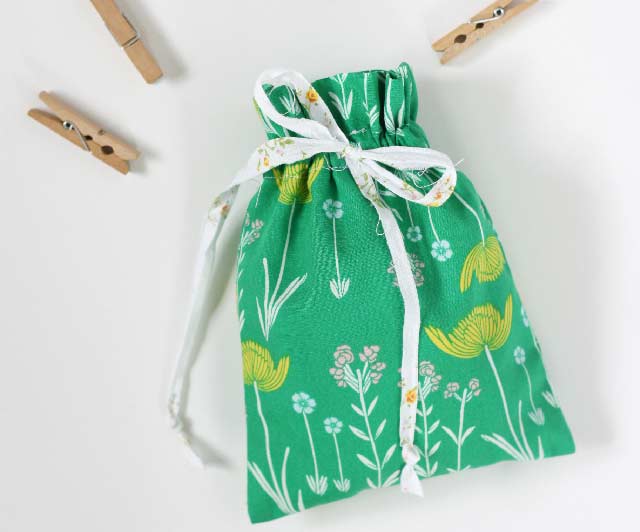 Make a useful drawstring bag which you can use for storing and carrying just about anything. All you need is ¼ yard of fabric and some ribbon, a pair of sharp scissors and a sewing machine (check this article for our top beginner models)
via See Kate Sew
14. Soft and Super Easy to Sew Baby Blanket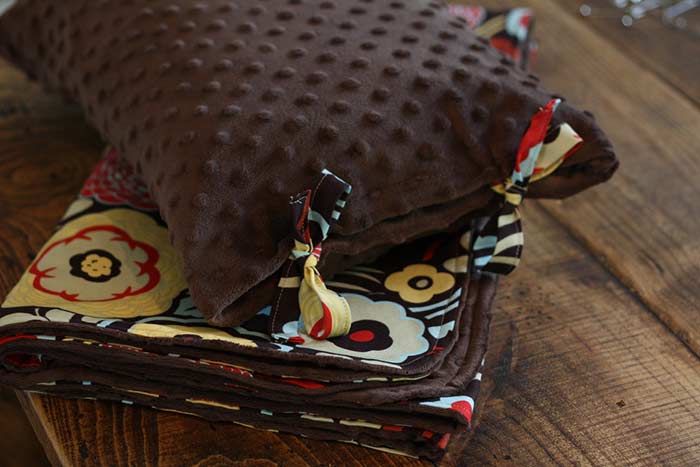 This is a perfect project for newbies who want to get better in sewing and also want to make their own baby blanket for their children or as a customized handmade gift for another baby.
via Melissa Dark
15. Fabric Letters For Any Occasion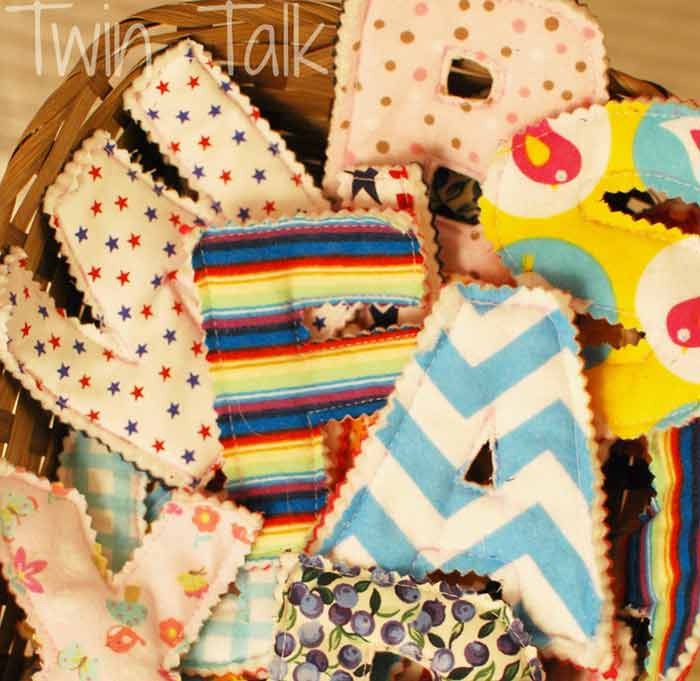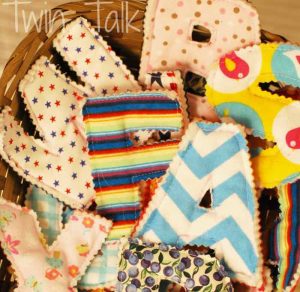 Whether you plan to use them as learning tools for an infant or for any other occasion, these fabric letters are very easy to make. Choose any type of fabric for your letters, some batting, get a pair of fabric cutting scissors, a good sewing machine for beginners and get going.
via Twin Talk Blog
16. Mini Reversible Messenger Bag for the Little Ones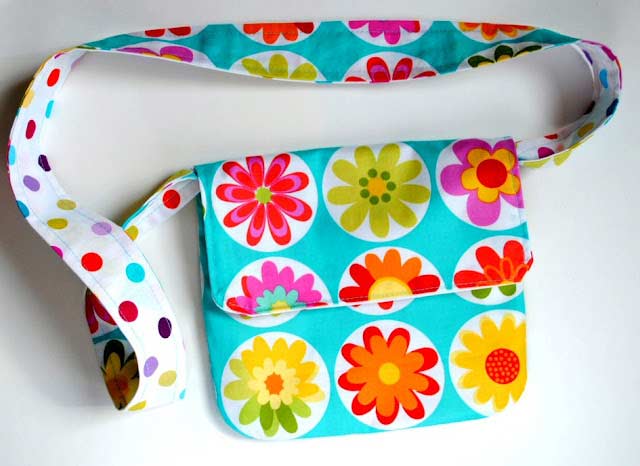 All you need for completing this project is 1/3 yards of two coordinating fabrics or ½ yard of one directional fabric. Then you will be able to practice your pattern tracing and cutting skills as well as your sewing.
via Crazy Little Projects
17. Toy Sack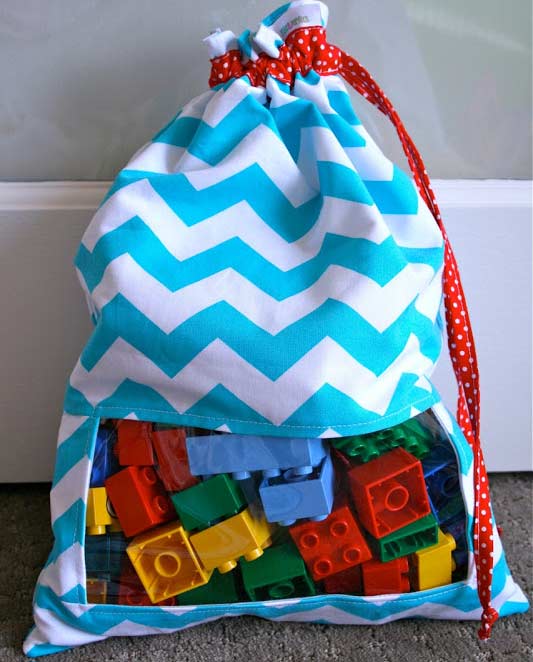 This project requires some fabric, lining, tablecloth plastic and some contrast fabric for the casing and drawstring. An excellent exercise for you which will help you make this cute toy sack for your child or for a friend.
via Toni Coward
Simple Sewing Projects to Wear
Easy Upcycled Pajames: from T-Shirt to Nightgown in 15 Minutes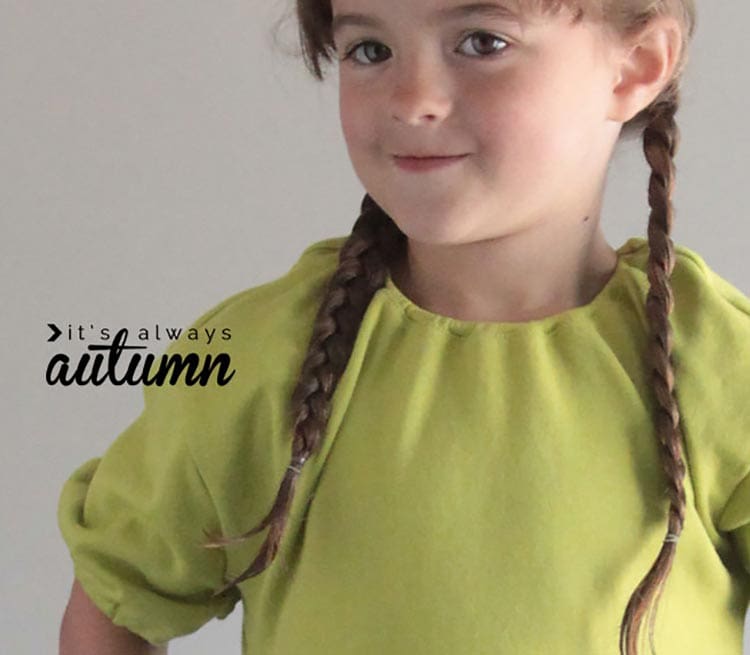 Upcycling is the new thing, so why not practice your sewing skills with this fun and useful project. You need a T-shirt and some elastic to make this amazingly cute nightgown.
via Its Always Autumn
Five-Minute Infinity Scarf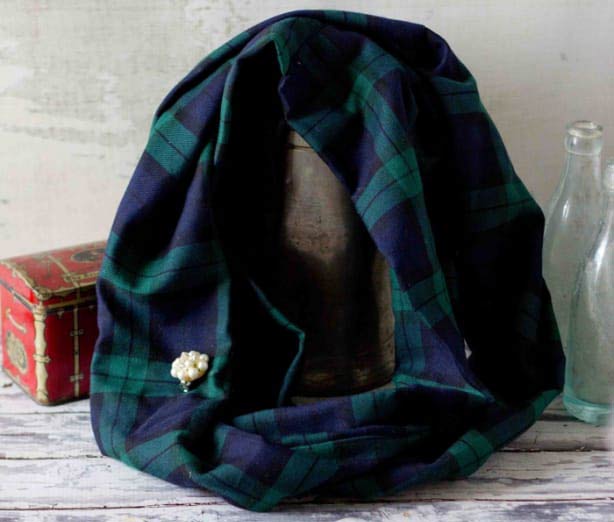 You can design and create your own infinity scarf easily and quickly with just a yard and a half of fabric and a needle and thread or sewing machine,. Choose any fabric and add some accessories of your liking.
via Sweet CS designs
Easy Pillowcase Skirt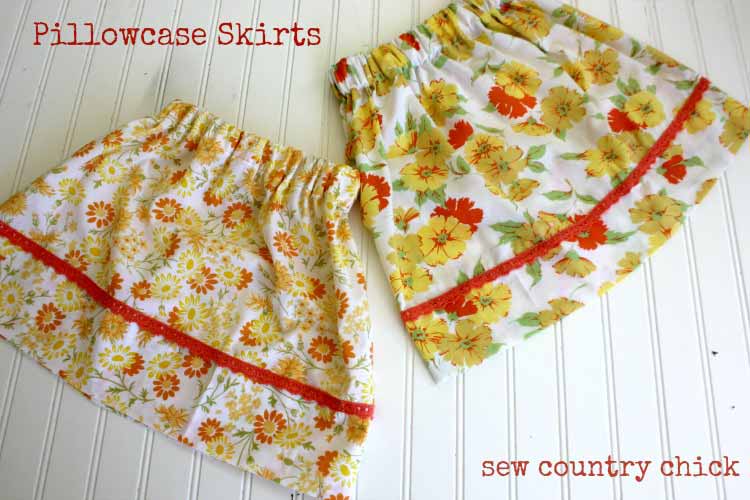 Refashion an unused pretty pillowcase into a real skirt with this amazingly easy project. You will need some elastic, pins, a sewing machine and some trim as an added touch.
via Sew Country Chick
Easy Ruffle Skirt Tutorial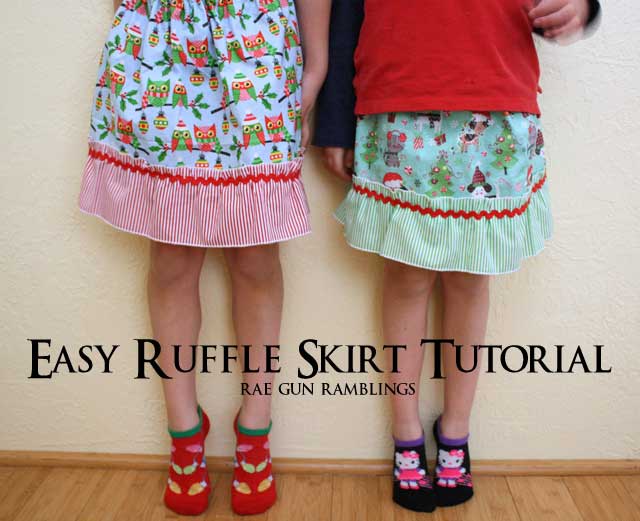 Learn and practice your garment making skills with this fun and very easy project.  You will need fabric for the skirt and ruffle fabric, some elastic and a rick rack for the making of this cute skirt.
via Raegun Ramblings
DIY Maxi Dress with Just One Seam!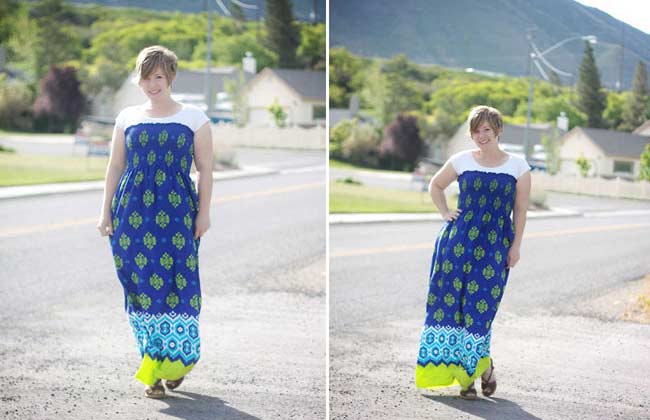 If you are really keen to learn how to sew your own garments, this is an excellent project to start from. Choose a fabric of your liking and get going. You will be so happy when you complete your first dress, that you will not want to take it off at all!
via Its Always Autumn
Fun Single And Double Layer Circle Skirt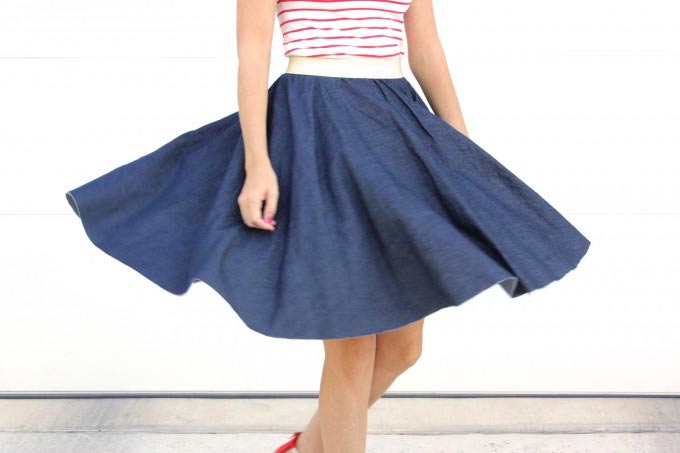 This is yet another simple and easy garment making project for newbies which will help you get a hang of the art of making clothing by yourself.
via Made Every Day
Roomy and Clouchy Ladies T-Shirt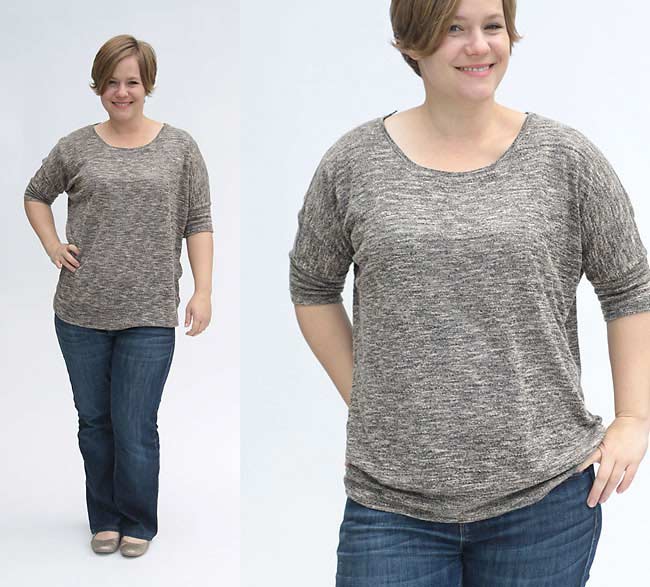 Work on your sewing skills while making this wonderfully comfortable and roomy T-shirt for yourself. It is easy to make and yet involves most of the basic sewing skills you need to master before moving ahead towards more complicated projects.
via Its Always Autumn
Easy Reversible Scarves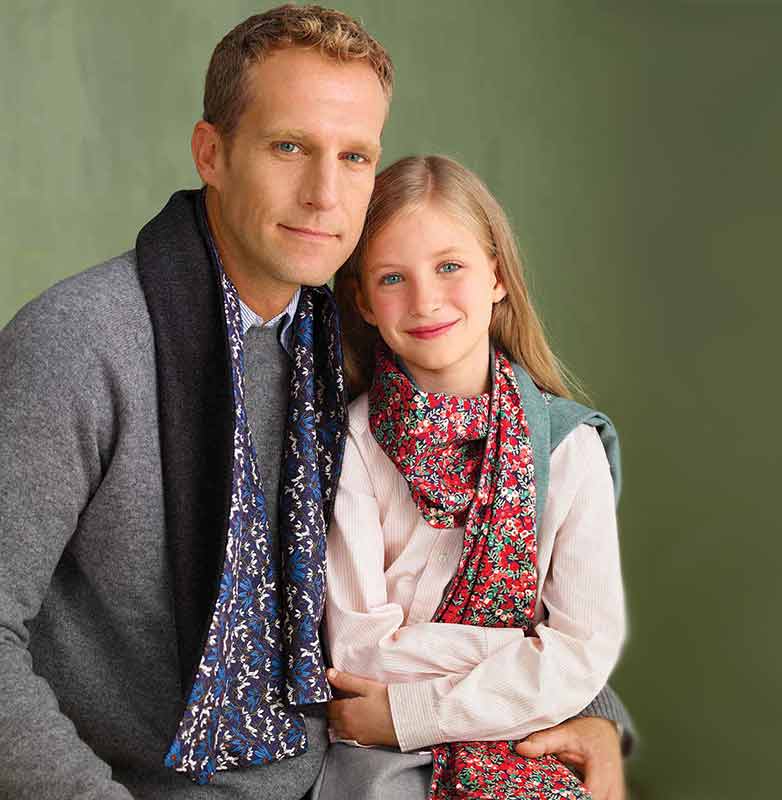 With winter coming around the corner, this is one project which will allow you to make a pretty and fashionable reversible scarf for the cold days. It requires some wool and cotton fabric and simple sewing tools and a machine.
via Martha Steward
Caftan Dress With Just 3 Seams And NO Hemming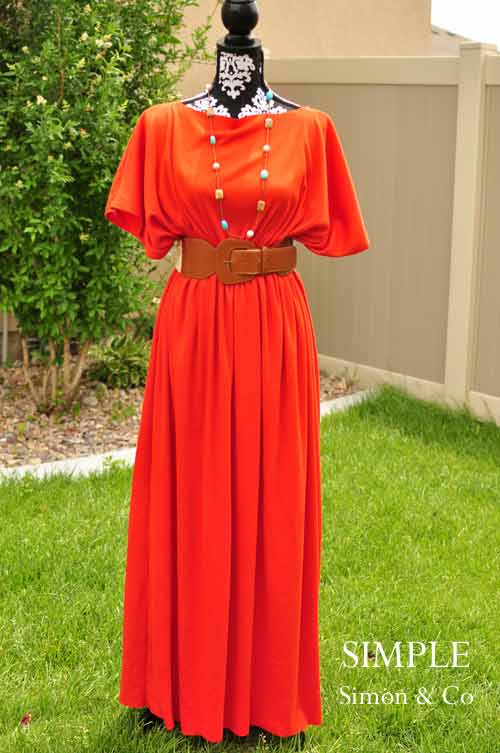 This dress is gorgeous and yet it is so simple to make that it is a perfect project for a person who is making their first steps in sewing.
via Simple Simon and Co
Gathered Skirt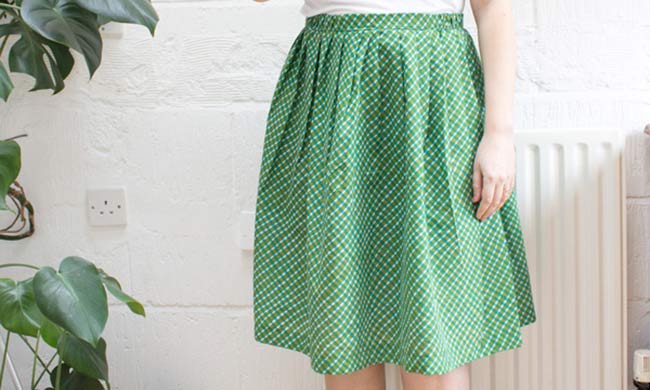 Make your own gathered skirt by completing this project. It involves learning and practicing how to take body measurements and based on that how to cut and sew your fabric.
via Tuts Plus Crafts
Quick T-Shirt Refashion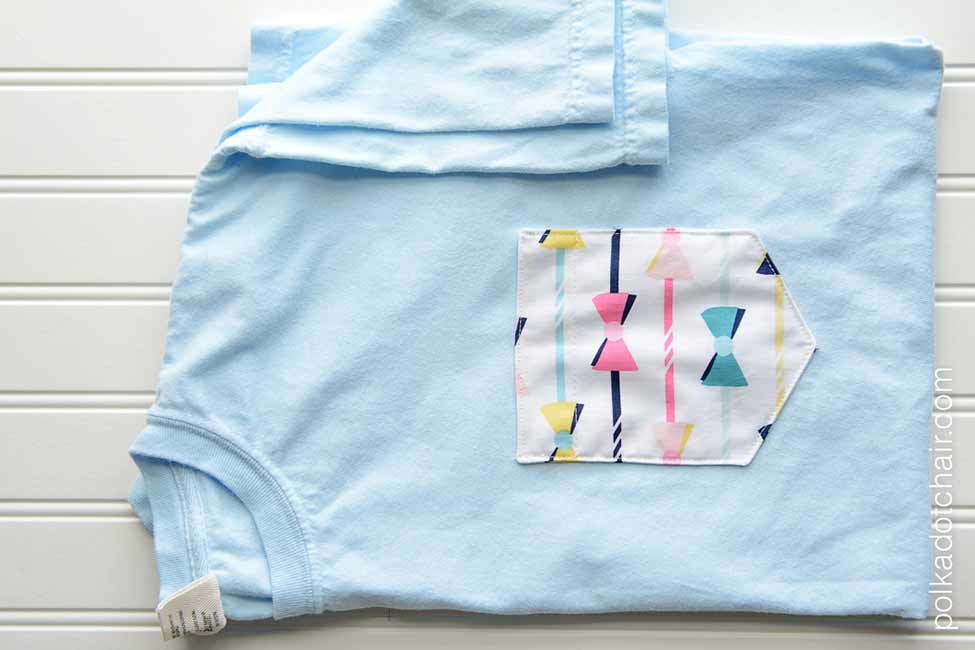 Refashion an unused T-shirt and create your own unique piece of clothing with this wonderfully easy sewing project. You need a T-shirt, some fabric of your choice, Heat N Bond Lite, scissors, thread and a machine and an iron.
via Polka Dot Chair
Pillowcase Dress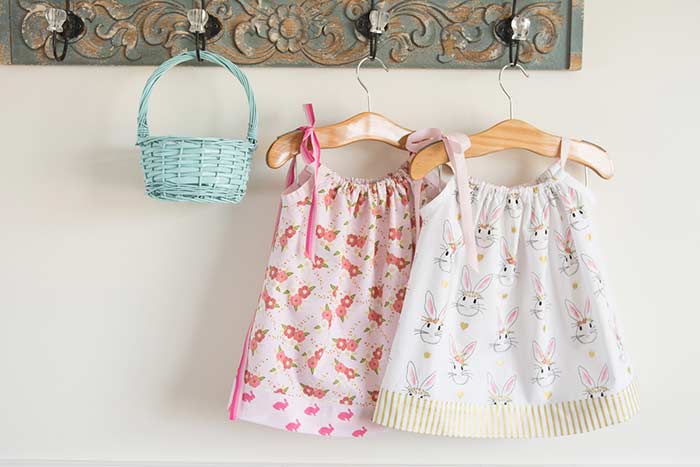 Use a pretty pillowcase to sew a dress by yourself. You can make a dress for various sizes by using the useful size chart included in this project.
via Polka Dot Chair
Gorgeous and Simple to Sew Tulle Skirt
Every little girl and young lady loves a ballerina like tulle skirt! This project will teach you how to make one by yourself from scratch. Get some tulle, lining and elastic for the waist and get started!
via Cotton and Curls
What's next?