3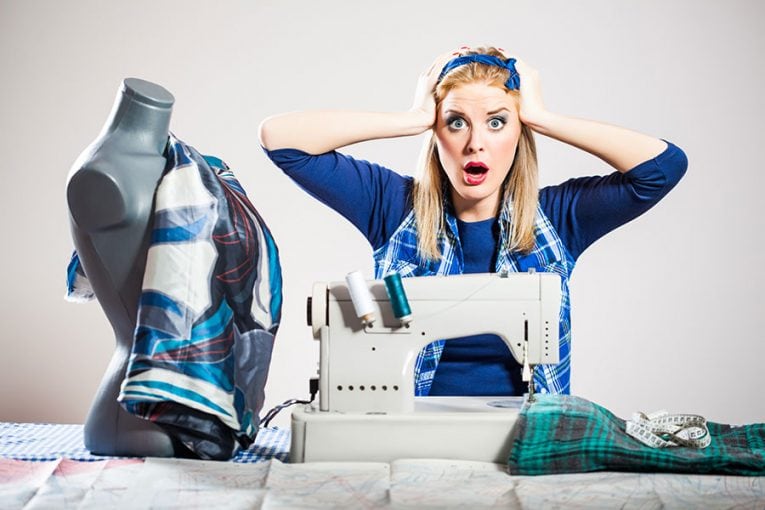 Best Sewing Machines for Beginners – Easiest to Use Starter Models
Why is it even important to start with a sewing machine for beginners? Why not just plunge in and get one that is filled to the brim with features, so you don't have to worry about it down the line?
Isn't that what you would do with TVs, smartphones, and computers?
The problem with this line of thinking is that a sewing machine requires close involvement, not a passive absorption of its features. As a result, an entry level sewing machine will not overwhelm you with features you will not know how to use, a starter machine will not veer you off the path of mastering the basics first, and most importantly, beginner sewing machines will not stifle your enthusiasm due to induced frustration.
A good first sewing machine is therefore important to get to love the sewing craft first, and only afterwards are you even capable of understanding all the nuances offered by the more advanced models.
We occasionally link to goods offered by vendors to help the reader find relevant products. Some of the links may be affiliate in nature meaning we earn a small commission if an item is purchased. Read my full disclosure here
The Selection Process
A guide on best beginner sewing machines would be rather vague if we first don't reveal the criteria with which we judged the huge variety of options that exist in the current market. We judged them based on these considerations:
Is it easy to use for the most common sewing tasks? What kind of buttonhole sewing does it have; is it a 1-step or 4-step process? How easy is the threading; does it have automatic needle threading?
How well does it perform? Is the stitching straight and precise without too much effort? Can it sew through thick materials with ease? Can it sew through multiple layers of fabric which depends on its feed dog adjustments?
What accessories does it include and how useful are they? Presser feet, extension table, etc.
What are the sewing tasks most suited for it?
Has it received a good overall rating? Accumulated feedback from thousands of reviews is a very valuable indicator.
What is the overall build quality and comfort level when working with the entry-level machine: weight, noise, lighting?
And finally, does the price justify its features, capabilities, and build quality?
If you need to get into the nitty gritty details, check the buying guide below. To see the top options, read on.
Which are the Best Sewing Machines for Beginners of 2019-2020?
Given all that you have learned so far, here are some actual options that exist on the market. Of course, we can't divine your specific needs, but we can give you an appropriate option for the widest use range, which is great for any newcomer.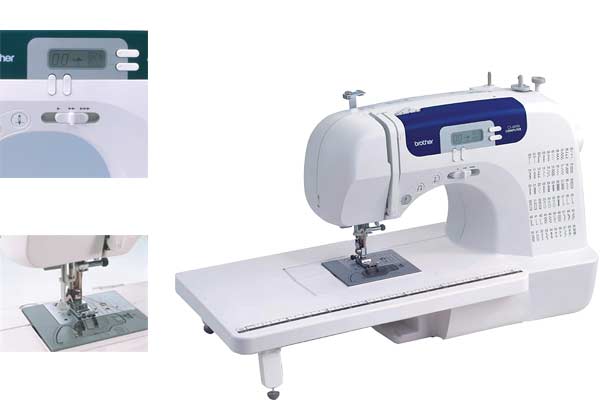 Receiving a Women's Choice Award is a good start, on top of Amazon's Choice label. From where does all this accolade come from? From the perfect balance of price and features, pinpointing the niche for a generalist beginner sewing machine. One that will serve you a long time.
It is computerized but not overwhelmingly so, settling at 60 in-built stitches, of which you have:
7 quilting stitches
7 one-step buttonhole stitches
20 decorative stitches
20 regular stitches
6 heirloom stitches
The Brother CS6000i has just the right range and distribution of stitching types.
Additional convenience for a new sewer that comes along with a computerized sewing machine:
Automatic needle threading
Programmable sewing speed (max speed is 850 SPM)
Automatic buttonhole sewing
Automatic thread cutting
Small LCD display for cycling through all the stitches and styles.
Free arm
Accessories are extremely generous as it comes with 9 presser feet, of which you will find most useful the walking foot and the quilting foot. The former caters to heavy fabrics, and the latter one is for quilts.
Another noteworthy inclusion is the detachable extension table, which gives you additional clue for Brother CS6000i's extended use case – quilting, big projects, and heavier fabrics. Without a doubt, Brother CS6000i deserves the title as the best beginner overall model of sewing machine.
-or-
Upgrade Pick: Janome HD1000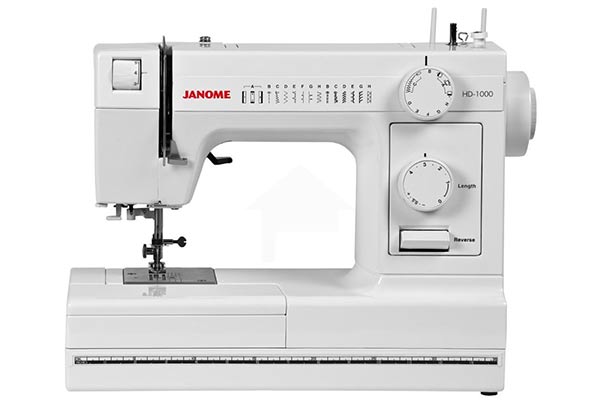 Janome HD1000 epitomizes everything previously said about mechanical machines. This model in particular comes with a very high build quality (all-aluminum frame), is heavy duty (HD), and offers just enough features to master each one.
Janome HD1000 offers 14 stitches, controlled via dial, and suitable for sewing buttonholes, collars, pants, cuffs, darning, curtains, jeans, canvas, and drapes.
Since it is not computerized, it doesn't have a one-step buttonhole process. Instead, you will have to settle for a 4-step buttonhole making. However, it does have an automatic needle threader (yes, mechanical sewing machines can have auto features) along with an auto-bobbin declutch system, which is handy for new sewers since it is a bottom-loading bobbin.
The tension control is manual, and it does have a lever for reverse and forward sewing.
Only 3 presser feet are included: zipper, hemmer, and buttonhole. Other accessories are standard.
Overall, Janome HD1000 may not seem like a cost-effective sewing machine geared towards beginners, but people swear by its powerful motor, adjustable speed, and precision-level sewing, no matter the fabric toughness and weight. Therefore, it's a worthy option as a simple and compact but heavy duty performer.
The machine is currently out of stock so check out the alternative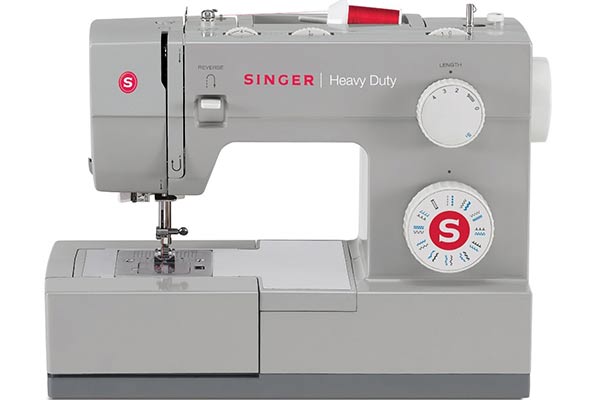 Not computerized but indeed a great sewing machine for beginners with almost double the stitch range compared to Janome HD1000.
23 stitches; for stretchy fabric, essential, and decorative.
High sewing speed befitting a heavy duty model, at 1100 SPM
It is beginner-friendly thanks to automatic needle threading and a single step buttonhole process. With that being said, we find that the Janome's HD1000 model does make more elegant buttonholes despite having a 4-step process.
Tension control is achieved through the included presser foot.
Furthermore, its build quality is formidable, literally, as it is all-steel build including the bedplate.
Such build quality translates to a very stable and smooth sewing adventure, without any bobbing and jamming. Just make sure you've read our guide on what to do if your sewing machine keeps jamming.
The extra high pressure foot for easier material feeding is perfect for multi-layered sewing work, hence the heavy duty label.
Unfortunately, one thing you can't discern from looking at the specs is the noise output, and Singer 4423 Heavy Duty is much louder than the Janome HD1000, in addition to not having an adjustable speed option (you can go either slow or fast). After all, there is a reason why HD1000 is so popular.
With that said, you can't beat the price tag for the Singer 4423 for a novice sewer .
To summarize, it is cheap, powerful, straightforward, and heavy duty. Whether it fits your needs or comfort level is another matter, but if you want to spend as little as possible and get right into sewing heavy fabrics like curtains, quilts and denim jeans without much study, the Singer 4423 Heavy Duty is a solid choice for a basic model.
Our Picks for Specific Brands and Types
Brother Starter Sewing Machines
Also known for its extensive offer of computer printers and scanners, Japanese Brother always tries to innovate at the lowest price possible.
Brother DZ2400 – upgrade computerized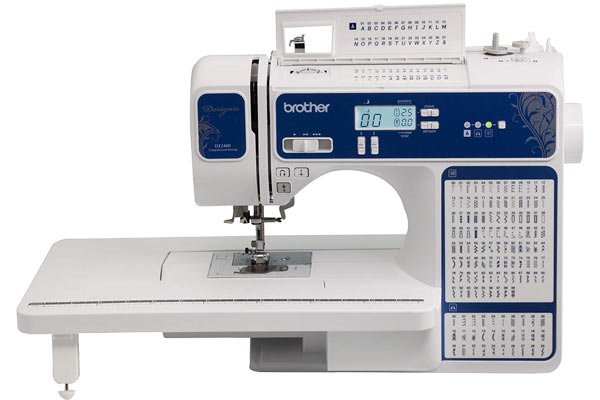 As a part of the Designio series, the DZ2400 is a well-rounded starter sewing machine offering you advanced features, once you have mastered the sewing basics and turn from a novice to an avid seamstress. Thanks to its computerization, it is packed with options:
185 built-in stitches, of which you have 130 sewing stitches (further divided into many other stitch types) and 55 alphanumeric stitches.
1-step buttonhole sewing, 8 styles, fully automatic, including sizing.
850 SPM speed.
Bobbin is the more convenient one – top drop-in – and one that is jam resistant and enables even stitching.
LCD screen serves its purpose, although it's not on par with your entry-level smartphone screen. More of an entry-level calculator screen.
The needle threading is not fully automatic, however, it is effectively on the same level with what they call an 'Advanced Easy Needle Threading System'.
Lever-adjusted stitching speed.
Accessories are rich, as you would expect from Brother. Most notably, along with the main foot controller, you get 11 additional presser feet: stitch guide, zipper, zigzag, 2 for buttonholes, blind stitch, overcast, quilting, monogramming, ¼ piecing, and a walking foot with quilt guide.
Along with a wide extension table, this gives you a pretty clear clue as to the best usage of the DZ2400 model: big sewing projects like quilting, dresses, garments, costumes, etc. Of course, that doesn't prevent you from engaging in minor sewing work as well, like repair, sleeving, hem pants, and the rest.
Some downsides, if you can call them that at this price point, is that the included LED lighting could have been brighter, and the monogramming feature is not something you should rely on due to only having one letter style and the size is just ¼ of an inch. Very basic feature that is just there so they can say it has it.
Still, if you want an affordable, portable (only 9.9 pounds), good computerized sewing machine to learn on that also performs well, it is a worthy upgrade from the beginner level.
The machine is currently out of stock so check out the alternative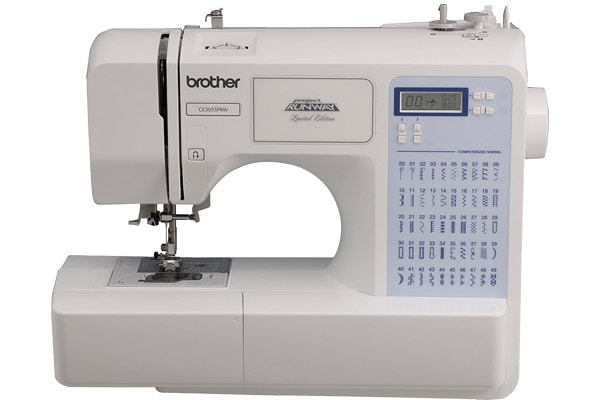 Another recipient of the Women's Choice Award of 2018, the PR in the naming scheme stands for Project Runway, clearly indicating its prowess to create clothing that would be worthy of showcasing new fashion designs. Its fully computerized nature is a great fit for newbies as an initial sewing machine as it results in:
50 stitch styles covering decorative, quilting, stretchy, general and heirloom. Just the right range – not too overwhelming and not too restrictive.
Automatic buttonhole sewing – one step with 5 styles/sizes.
Automatic needle-threading.
7-piece feed dog for leveling variedly thick fabrics.
850 SPM stitching speed.
Forward and reverse stitching lever.
6 feet pressers: 2 for buttonholes, overcasting, zipper, monogramming, and blind stitch.
As is usually the case with budget, portable, lightweight, compact sewing machines, the LED lighting could have been better along with its rather smallish compartment storage. However, those are very small gripes considering how easy it is to set it up and use. Even when you feed it a thicker fabric it runs smoothly, without drowning you with noise.
After all, it regularly comes in the Top 10 computerized, budget-friendly sewing machines, and the massive number of positive reviews have already vetted it thoroughly.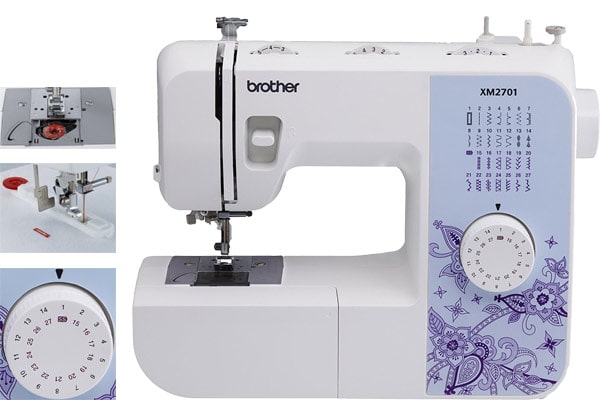 Still in the lightweight category at only 15.8 pounds, if you want simple but proficient and not overly restrictive, this is the one to get. It is mechanical so the stitch range is on the smaller side, but still high when compared to other inexpensive mechanical sewing machines.
27 stitches across 63 stitch functions: decorative, quilting, basic, stretchy.
Top-drop bobbin mechanism, automatic.
Automatic needle-threader.
One-step automatic buttonholer.
Free arm for tight sewing work like cuffs, collars, pants and shirt sleeves.
Easy dial knob for selecting stitch type, length and width.
Like the previous CS5055PRW model, it comes with 6 presser feet for the most common sewing work.
800 SPM speed.
With a superb price, portability, Amazon's Choice and Women's Choice Award, the Brother XM2701 is there to bridge the gap between mechanical and computerized thanks to its automatic needle threading and buttonhole sewing.
It is not intended to be used with heavy fabrics except for minor repairs, and the LED lighting is on the low side, but if you want a truly beginner, super cheap, easy-to-use sewing machine in which you control everything with a large intuitive dial, then Brother XM2710 is perfect. Especially as a gift, due to its under-$100 affordability and lightweight portability.
Brother LS2125i – another great choice
If you are looking for a super easy to use, super simple machine, look no further. The compact beauty is great for small home sewing tasks like alterations.
10 built in stitches that include blind hem, stretch,  straight, satin and zig zag stitches
Top-drop bobbin mechanism, automatic.
Automatic needle-threader.
Four-step auto buttonholer.
Free arm for easy work on smaller, cylindrical items like sleeves and pants's hems.
Easy dial knob for selecting stitch type, length and width.
It comes with 3 presser feet for the most common sewing work.
As we mention in our detailed review, the Brother LS2125i is simple, entry level model that should not be used with heavy fabrics except for minor repairs. However, given its simplicity of use and super affordable price, it is an great choice.
The machine is currently out of stock so check out the alternative
-or-
Singer Sewing Machines for Novice Seamstress
Singer One – computerized starter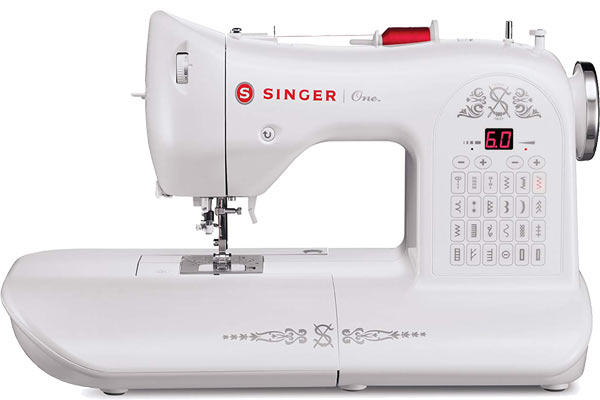 Not to be confused with Singer One+, which has much wider stitch range and is therefore more expensive, the Singer One is the best starter sewing machine out in the market from the American sewing machine company. At least when it comes to their premium category for novices, at least in 2019.
Moderately priced with a curious vintage design makes its stand out from the crowd. You cannot encounter too much style in today's market, but Singer One certainly has it with its topped off 'nose' and wide base. The red digital display is also a nice change from the dullish black-on-green LCD routine.
Singer One has the following features:
24 stitches: stretchy, decorative, basic.
Automatic needle threading
Automatic buttonholer, one-step
Automatic reverse sewing with a push of a button
Bright 3-setting LED lighting
Sturdy thanks to metal frame.
5 presser feet: all-purpose, blind hem, satin stitch foot, buttonhole, and zipper.
Super easy on-touch stitch selection
Singer One is an example of the previously mentioned rule – you can have very cheap beginner machines, and very expensive ones. This one is not expensive, but it is treading the middle price ground. It is not suitable for heavy material work, but it is very proficient for all other sewing work, especially for free sewing like embroidering and monogramming due to its extra-wide base.
Probably one of the most easiest to use machines, with a unique design and robust build, it is also very comfortable to use thanks to its low noise output, but it will be up to you to decide if the price is justified.
If you do get it, you can count to always go back to it from time to time, no matter what other upgrade you acquire in the meanwhile. View Singer One as a premium beginner sewing machine that is a joy to learn on.
Singer 7258 Stylist – computerized inexpensive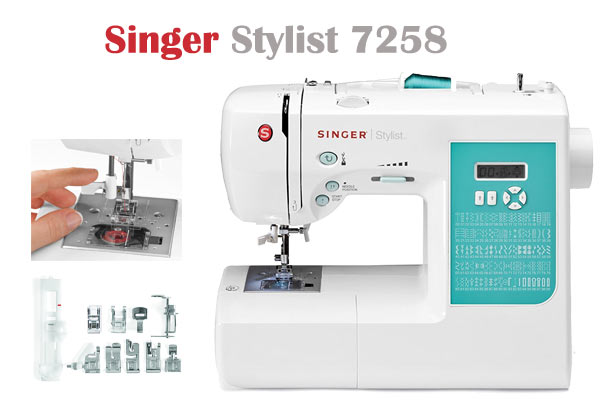 If you simply refuse to enjoy the premium feel of the Singer One, but high stitch range and extra features for a lower price are more important to you, then Singer 7258 Stylist will gladly comply.
A nice even number – 100 stitches – most of which are decorative (76). The rest fall into stretch stitches (8), garments (9), and buttonhole (7). Additionally, it is suitable for quilting and heirlooms
10 presser feet: general purpose, zipper, buttonhole, satin stitch, blind hem, overcast, darning/embroidery, and rolled hem.
Monochromatic LCD screen
Automatic needle threading.
Automatic buttonholer, one-step
Programmable stitching and sewing speed
Top drop-in bobbin
Ultra lightweight at mere 14.6 pounds, and also compact.
750 SPM stitching speed
Autopilot
The Singer Stylist 7258 is exceptionally priced for what it offers and the amount of control you get, alongside the ease of use as it is a fully computerized sewing machine. That being said, it is focused on decorative stitching, so that may be either a downside or an upside, depending on your sewing needs. The build is heavy duty, but it is a bit louder than the Singer One.
The machine is currently out of stock so check out the alternative
Janome Beginner Sewing Machines
With Janome, you can always count on the premium build quality, user-friendly design and smooth operation across the board. They don't make a special fuss about it. Instead, they build or subtract features upon that foundation, and adjust the price range accordingly. Therefore, you will rarely encounter a huge number of features that look good on paper but that you will rarely use. Janome makes the most of what there is.
Janome Magnolia 7318 – balanced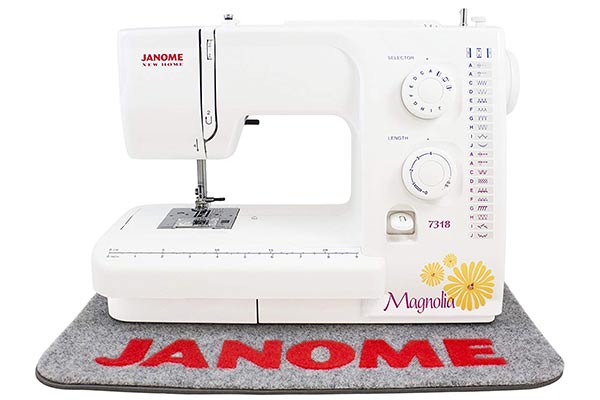 Unlike most first mechanical sewing machines, the Magnolia 7318 has not one, but two dials. This makes it much easier to operate as the focus on both is clear, the upper dial is for stitch selection, and the bottom dial is for width (5mm max) and length (4mm max) selection. All 18 stitches are clearly illustrated right next to the dials.
All in all, it is one easy machine to operate with, even if it doesn't have a one-step buttonholer.
18 stitches
5-piece dog feeder
4-step buttonholer, one style, it might be not as quick as a one-step process, but you do end up with nicely sewn buttonholes.
Top-loading bobbin system, jamming-proof (see what I mean on this page)..
Manual thread tension control
Manual needle threading
Lightweight at 17.6lbs
830 SPM stitching speed
Extra-high lift for presser foot, allowing for greater control
Free arm
3 snap-on presser feet: zipper, buttonhole, and blind stitch
Not much can be negatively ascribed to Janome Magnolia 7318, except for all that comes with the baggage of not being a computerized sewing machine. Accordingly, expect to first become well-acquainted with the manual in order to be able to competently complete the tasks that are usually done automatically.
However, this will give you a greater sense of accomplishment, and manual operation does offer a greater degree of control. The problem is that you have to get to that point. Nonetheless, the 7318 will ease that transition with its high build quality and professional-grade sewing prowess.
The machine is currently out of stock so check out the alternative
Janome MOD 19 – budget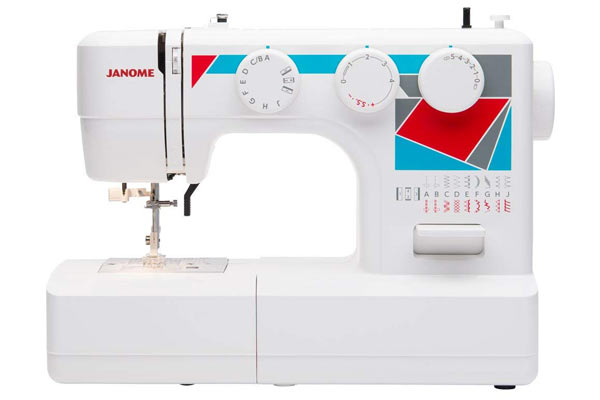 Another mechanical Janome offer, but this time one of the cheapest ones available, while still maintaining the quality you would expect from Janome. It is an excellent low cost sewing machine that is really easy to use.
19 built-in stitches
800 SPM stitching speed
Automatic needle-threader
4-step buttonholer, one style
3 dials: stitch selections and adjustable stitch length and width
Top drop-in bobbin system
5-piece feed dog mechanism
4 presser feet: buttonhole, all-purpose, zipper, blind hem. All are easy snap-on.
Free Arm
Snap-On Presser Feet
Ultra lightweight at 12 pounds
Specialty needle plate
Heavy duty interior metal frame
The Janome sewing machine is colorful and simple for home use and a variety of frugal sewing projects, you can easily share MOD 19 with your kids as it is very light, but still sturdy enough so it won't jiggle and bob as you sew. You can start sewing almost for free by watching online lessons and using scraps to learn on (more budget tips here).
Some measure of convenience exists in the form of a built-in needle-threader, which is on par with an automatic feature. You will find it extremely easy to set up and use immediately. Shortest learning curve ever combined with the legendary Janome reliability, what more could you want at this price range?
The machine is currently out of stock so check out the alternative

Best Beginner Embroidery Sewing Machine – Brother SE400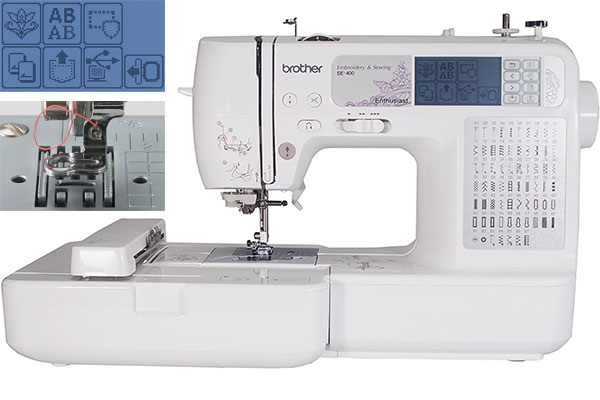 Of all the beginner sewing machines so far listed, how would you like to experience a true next-gen sewing machine for new sewists?
It comes in the form of USB connectivity, which means that you can download thousands of embroidery designs from the internet, and specifically from Brother's site at iBroidery.com.
This covers your embroidery design needs from every angle you can picture; from simple abstractions to intricately designed cartoon characters and themes.
Fully computerized Brother SE400 is not thrifty in other areas as well:
67 stitches: quilting, utility, decorative, heirloom, just to name the few categories.
70 built-in embroidery designs, expandable to thousands more.
710 SPM stitching speed
5 letter fonts and 120 frame patterns
4"x4" embroidery work area
Higher resolution, ample LCD screen that actually displays the designs.
Viewable tutorials on the LCD screen and feedback error reporting.
Automatic everything: buttonhole, threading, and thread cutting (one-touch).
7-piece feeder dog.
Easy bobbin winding system
6 presser feet: buttonhole, embroidery, overcasting, monogramming, zipper, blindstitch.
Brother SE400 is not just an embroidery sewing machine, as those specialists are much more expensive. Instead, view this model as the perfect solution if you have no idea what you want to do or what you may end up sewing.
This generalist, budget-friendly machine tries to covers everything, giving you an ample learning opportunity, especially for narrowing down your sewing interest in the future. However, it does have minor quirks like not always properly reporting why it can't do something. For example, if you choose a design that is outside of the allotted embroidery area, it won't tell you that this is the case. Nonetheless, you will quickly learn about these quirks and it will be easy to avoid them altogether. Most notably, its embroidery design expandability via a huge online library is unmatched at this price point.
The machine is currently out of stock so check out the alternative

-or-
BUYING GUIDE: What to Look for in a Beginner Sewing Machine
If you already have some very specific sewing goal in mind, like embroidering or monograming, then you are ahead in terms of narrowing down the right machine. On the other hand, if you intend to sew as your interests expand and your needs arise, the choice is more complex.
Your Sewing Needs
Heavy duty sewing machine will be necessary if you are going to deal with curtains, jeans, upholstery and all other projects that require heavy or multi-layers fabrics.
A compact lightweight machine would be great if you will use it only occasionally, or if you move around or have s sewing course to go to.
Although there are sewing machines specialized exclusively for embroidering (those are expensive by default) there are some that are suitable for this without restricting you from other sewing projects. However, in that case, you should be on the lookout for feed dog adjustment feature, as embroidering requires a lower level of feed dogs.
A basic sewing machine with an overlocker would be suitable for garment sewing.
This gives you an overall picture in order to narrow down your list of simple to use sewing machines. Of course, some models can cover almost all of these areas equally proficiently, but they will not be as affordable as you would like. Still, it is better to buy a top rated sewing machine for a wider use case than the one you would outgrow in a few years.
Your Projects and the Materials You Will Be Using
When you look at any sewing machine model, one of the most prominent features will be its speed, expressed in SPM – stitches per minute. This value determines the overall motor power of the machine, meaning if it will be suitable to work with heavy materials. Additionally, such machines will likely have an added moniker like 'heavy duty'.
Of course, in addition to having a respectable speed, you would also have to get the proper needle for such thicker materials, but more on that later. Without a doubt, when you get such 'heavy duty' sewing machine, you can rest easy that it will be well-suited for working with denim, leather, neoprene, and other such dense materials.
If you are wondering if the 'heavy duty' class is more expensive, don't worry. They can be both cheap and user friendly. The Singer lineup especially has a good showing of inexpensive simple to use sewing machines that are quite durable.
Alongside the motor/speed value, when dealing with heavy material there is another factor to consider – adjustable presser feet pressure. Presser feet allow you to ease the tension so the material can be fed through more easily. Having the ability to control the feed dog level with an adjustable foot presser will greatly speed up your sewing workflow, so definitely add it to your list of considerations. Getting lost in all those specific terms? Refer to our visual glossary of sewing terms
The Stitch Range
Alongside sewing machine power, the stitch range is right at the top of any sewing machine's feature list. Some have over 100 stitch range, while others have less than 20. Although it is not always the case that the more expensive models will have a higher stitch range and variety, it is usually the case that somewhere a compromise has been made. For example, you will often find that heavy duty models will have a much lower stitch range than generalist sewing machines.
However, more important than the number of stitches itself is their actual variety. Do you want 80% of those 100 stitches to be decorative, which is usually the case. If not, it is better to have a lower range but more equally distributed variety – quilting, garments, blind hems, stitches for stretch fabrics, etc. Definitely try to go deeper than the mere baseline stitch number, as this will give you a better idea for the machine's utility range. You don't want to end up with a sewing machine with a stitch selection that you will rarely use.
Easy to Use
How easy is to use a sewing machine overlaps across a whole host of features. You will unlikely find a low cost one that is also the easiest to use especially for those of you just getting started with sewing. However these are the recommended factors to take into account when you are figuring out if it will be easy to use for you.
What kind of navigation does it have for cycling through stitches, with a dial or via an LCD screen?
Is the digital display intuitive to navigate through or is it confusing and cumbersome? Machines will a lower stitch count will benefit greatly from a dial, instead of a digital screen.
Is it easy to thread through the needle. If the machine has automatic needle threading feature, the answer will be a definite yes. If not – don't fret, read our how to thread a sewing machine article and you will master it soon.
Are the presser feet easily changeable, or do you have to fiddle around with screws? This may not seem important at first glance, but not having easily changeable presser feet may inhibit you in switching between stitching styles. Snap-on presser feet would be ideal.
Can the machine create a buttonhole by itself in a one-step process, or in 4 steps?
Does it have an automatic thread cutter (check here what this means), or do you have to engage in this tedious task yourself?
Does the full package come with some kind of instructional video, or has the machine received enough positive ratings to have a wide presence on video platforms like Youtube? This could definitely shorten your learning curve!
What kind of bobbin loading system does it have? Bobbin mechanisms generally come in two types – front and top. The top loading system is the one to look for if you want to experience the easiest bobbin loading, and if you want to have the least amount of jams. Another convenience regarding the bobbin system is the casing transparency, so you can easily see how much thread you have remaining.
Included Presser Feet and Accessories
So far, you may have noticed that we mentioned presser feet several times. They are obviously quite important in order to fully utilize your first sewing machine, give you greater flexibility, and increase your productivity. It is rare to see even a super basic sewing machine model that comes with less than 5 presser feet, of which you can consider 4 to be most important ones: zipper, general all-purpose, buttonhole, and blind-hem.
They are self-explanatory, and you can always purchase a separate foot presser if it doesn't come with the new sewing machine. If you intend to work with heavy materials consider the 'walking foot', for feeding the fabric smoothly. Likewise, you have satin stitch foot for feeding dense satin.
There are many other feet presser specializing for certain tasks, but you will graduate to an advanced sewer long before you find the need for them.
Regarding other accessories, this should be at the bottom of your list of considerations, as they are all dirt-cheap to buy or replace, and they all come with the basically same set of needles, screwdrivers, bobbins, seam rippers, etc. However, a machine that comes with a hard cover or an extension table is preferable if all else is equal.
Price within Your Budget
First thing to dismiss from your mind when considering the budget. A sewing machine that is user friendly, or designed and marketed for beginners, can be either very affordable or very expensive. In no way does the signifier 'beginner' mean that a sewing machine has to belong within a certain price class. If you are not in a hurry, you can grab a great deal by keeping an eye on the items you want and nabbing one when it goes on sale. To save time and make sure you don't miss on anything, bookmark our convenient sewing machine Black Friday deals list. Sales happen at any time of the year though, not just on Black Friday.
Therefore, don't let the price tag lead you astray. Look for the aforementioned beginner-friendly features first, ones that would best satisfy your needs, and only then determine if the beginner sewing machine that fits this criteria also fits your budget. If not, it is compromise time!
Brands
Brands can always serve as an efficient shortcutting tool. With a brand in your mind, you can easily save yourself some time by dismissing hundreds of products, and focus only on the established manufacturers. And by 'established' we mean the following:
Brands that have been doing this for decades.
Brands that have a number of products that are top rated, or have received 'Amazon's Choice' and similar rewards on shopping platforms.
Brands that have a broad customer support, both for technical support and for the broad availability of accessories.
Brands that have numerous best-selling sewing machines in their lineups.
When it comes to sewing machines both for new and advanced sewists, you can count on these brands to fit all of the above criteria: Brother, Singer, and Janome.
Only Singer is an American company, while the other two are Japanese. Singer is also the oldest one, founded in 1851. The next one in maturity is Brother, founded about 120 years ago, although they do have headquarters in the US since 1954. Janome is the youngest of the three, founded in 1921 in Tokyo, Japan.
Mechanical vs Computerized – How to Choose?
Up to this point we have mentioned only one category that is apt for sewing machine categorization – heavy duty. However, there is an additional separation that is even more important – mechanical versus computerized.
In this context, a computerized sewing machine is also synonymous with electronic. The underlying difference lies in the type of mechanisms deployed. Both categories of machines have an electric-powered motor, but the mechanical sewing machines rely on gears and levers for their operation, unlike computerized sewing machines, which rely on delicate electronic circuitry and microchips for all the functions, just like your smartphone.
The first sign that you are dealing with a computerized sewing machine is the high built-in stitch range. It is impossible for a mechanical machine to offer anywhere near the stitch range that can be stored in the memory of an electronic one. Can you even imagine the complexity of gears that would require?
On the other hand, mechanical machines tend to be more reliable, capable of lasting for decades. Nonetheless, warranty is the same for both categories, so you potentially only alleviate the hassle factor, not the cost.
Another thing to keep in mind, some computerized sewing machines are further divided into computerized and 'fully' computerized. Singer in particular has a habit of doing this. Usually, this will translate to the built-in stitch range, presence of an automatic thread cutter, and the number of buttonhole styles.
But most importantly, should you opt for a mechanical or a computerized sewing machine given that you are looking within the beginner sector? Here is a quick overview to help you decide:
Mechanical Sewing Machines
Pros
Reliable, which means they last longer without a malfunction.
Simpler to use.
Often cheaper and better motor performance to compensate for lack of features.
It is quicker and easier to use analog dials instead of digital displays.
Cons
Lack of features that only a microprocessor would be able to take on. This means that you will manually have to perform tedious tasks that could have been automated (such as threading for example).
Computerized Sewing Machines
Pros
Huge range of options, from stitches to buttonhole styles.
Whole suite of automation – buttonholes and buttonhole styles, needle threader, tension control, thread cutting.
Cons
Likely to overwhelm you and overcomplicate operations, which is the opposite of what you are looking as a good beginner choice.
In the end, it is extremely tricky to decide which category to pick. Mechanical models do not guarantee a solid build quality, while computerized models may create too much hassle that would take a long time to untangle, creating a lot of frustration along the way.
Therefore, as a beginner option, it would be best to lean in the direction of a basic computerized model.
Tips: How to Use a Sewing Machine for Beginners
In order to remove the occurrence of frustration, follow our machine sewing tips and tricks along with the easy steps listed below no matter which model you will pick as the entry-level sewing machines to learn on.
Read the manual, or watch the instructional DVD first. Although most beginner sewing machines are designed to be intuitive, it would do you well to familiarize yourself with the machine's capabilities and an outline of its features.
You are confused about something despite the manual? Don't worry, as all the mentioned sewing machines have received a massive number of reviews. This means that you will find all of them on Youtube, from beginner mistakes to advanced tips! All you have to do is input the model name into Youtube search and peruse through the most pertinent video titles.
Decide what you want to do with your first sewing machine and with what kind of material, as this will determine what kind of needle you should put in, what kind of thread, and what kind of foot presser to attach.
Familiarize yourself with all the machine parts, before you start stitching, so you know at a glance what does what.
Safety always comes first! Familiarize yourself with the basic sewing machine safety tips to avoid injuries like sewing through your fingers (ouch)
Start sewing with the simplest, most straightforward sewing project you can think of. Check out our really easy sewing projects for beginners, I'm sure you will pick a great one. This can be a belt, a scarf, a key chain holder, pillow case…you get the picture. Once you finish such a simple project, then pick another one, you are in the phase of learning where you know what to expect from the machine and therefore you are not intimidated by it. Afterward, move on to minor clothing repair, and then to more complex sewing projects. Always master the most basic functions of the machine first before moving on to another feature. Need more tips? Check https://hellosewing.com/fundamentals-sewing-tips-tricks/
Takeaway and Our Top 3 Picks
Before you make your final purchasing decision, you should really consider the most discriminating feature of them all – the sewing machine's capability to deal with heavy fabrics like denim and leather.
Some may offer loads of other features, be very easy to work with, and very precise in their stitching, but it may all be for naught if the machine is simply not powerful enough to sew through dense fabric with ease. How important is that to you?
In that light, here are our top 3 picks.
1.    Brother CS6000i
All-rounder with a respectable speed and full suite of automation for the most repetitive and tedious tasks. Its impressive set of accessories and an extension table further makes it a great option for novice sewers.
2.    Janome HD1000
Although not computerized, you simply cannot outgrow heavy duty sewing machines, especially not ones from Janome which always focus on impeccable reliability, low noise, and accurate stitching above all else.
3.    Singer One
This model surprised us with its vintage look and premium build, while still offering a whole range of automatic features on a very wide sewing bedplate. Additionally, it is an exceptionally easy machine to use, and the comfort level is high due to low noise it produces.
With that being said, if embroidering is in your mind, the Brother SE400 should be at the top of your list.