1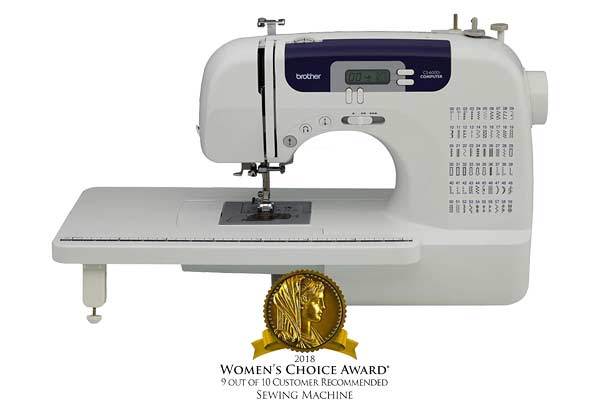 Brother CS6000i Review – a Gorgeous Sewing Machine for Newbies
Let's face it; not everyone is going to become the next Ralph Lauren or Giorgio Armani, even if one is completely engrossed in the world of fashion and the enthusiasm is overflowing.
In fact, most people who seek out sewing machines do so in order to repair their existing clothing, to save money, or have a particular taste to such an extent that they can't find products they like in the stores, so they are pushed into a satisfying creation of their own.
If you see yourself in any of those situations, you will be happy to know that the market has come up with a perfect solution for your woes, and for your range of needs. One that is not only exceedingly affordable, but effective as well. It comes in the form of the much lauded sewing machine – Brother CS6000i.
In this review, we break down why you should get the Brother CS6000i, the receiver of the Women's Choice Award.
We occasionally link to goods offered by vendors to help the reader find relevant products. Some of the links may be affiliate in nature meaning we earn a small commission if an item is purchased. Read my full disclosure here
Brother CS6000i Sewing Machine has all the Features a Beginner Needs
The low price of CS6000i clearly signals that it is a sewing machine intended for an entry level. However, do keep in mind that even the so called baseline sewing machines of today are still vastly superior to the most expensive sewing machines just a few decades ago.
Indeed, when you put it in such perspective, you will find that you will not be bound by this machine even at this entry level, but only by your own skill and discipline.
In time, only experience will tell you if you really need more features in order to elevate the level of convenience and effectiveness. But for now, here are the features you can enjoy with the eminently cheap, capable and, above all, user-friendly machine: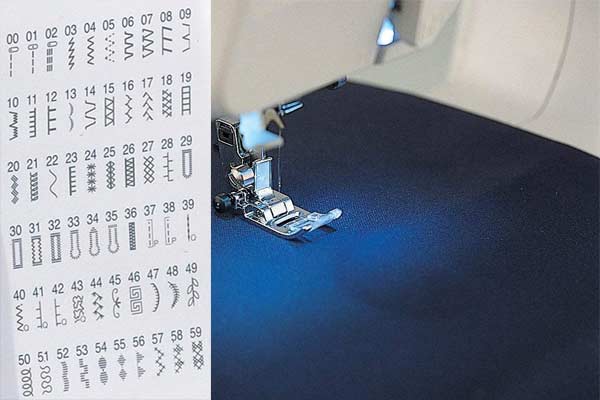 Stitch selection cycling – via the small, backlit LCD display you can easily select the stitch needed for the sewing job you are trying to execute.
Automatic needle threading –  you will notice a small lever on the side of the machine. Pressing it lightly will insert the thread into the needle, which means you are ready to start working.
Flexible sewing –  you can sew both forward and reverse. In practice, this enable you to deploy double-stitching for more advanced and robust designs, without having to stop the flow of the work by altering the position of the fabric.
Programmable sewing speed – by sliding the speed stitch feature, you will be able to fit the sewing speed as you need it. In the past, this was done with a pedal, but you will find this to be a more elegant solution. The maximum speed is at an impressive 850 stitches per minute.
Integrated lighting – sewing is a delicate work, even for the most basic effort, so you will need lighting positioned at just the right places and at just the right intensity. The work area is sufficiently lighted right out of the box.
Generously sized table – indeed, you get a full package. Not relying on satisfying their customers with a mere sewing machine, Brother includes a wide sewing table befitting projects that are large in scope and the amount of fabric needed.
A broad variety of stitches – you can cycle through 60 stitching modes, not as much as 100 with some pricier models, but still more than enough for a wide range of crafting work.
Easy buttonhole sewing – with a one step process, you can sew that perfect buttonhole every single time, thus boosting your sewing confidence.
Jam redundancy – to avoid jamming and halting, the machine is designed to not interrupt to flow of the sewing work.
Thread cutting –  a very convenient function.
Brother CS6000i's Strengths
Every sewing guide will tell you that a beginner should start with something you can manage to do without too much hassle and troubleshooting. Specifically, designs in the area of quilts, pillow covers, and other fabric decorations are both useful for learning, and productive. And these areas are exactly where it excels in and that is why HelloSewing picked it as a great first choice for beginners.
It accomplishes this by having three attachments ideal for quilting and other crafts:
Walking foot
Quilting foot
Quilting guide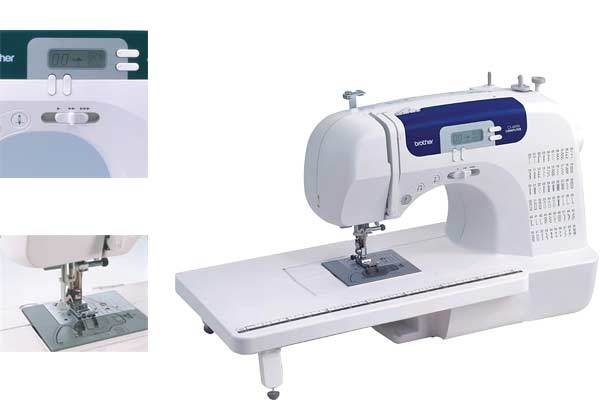 With the walking foot you can input numerous layers of fabric in a single go, while the latter two will keep the spacing of the stitches nice and even. Altogether, these attachments are pivotal in providing you with the means to produce professional grade results. Not bad for an entry-level model. At the same time it is so easy to use, that I even recommend it as a kids sewing machine!
Besides the aforementioned reverse and forward sewing, you can also effortlessly stitch zig-zag lines and overcast stitching in order to prevent fraying of the edges.
Of course, the main feature of the sewing machine is the selection of the type of stitching. As previously mentioned, you get to choose from 60 stitches total, which can be further broken down to:
7 1-step buttonhole stitches (basically automatic)
20 regular stitches
6 heirloom-specific stitches
20 decorative stitches
7 quilting stitches
Some Weaknesses
Although the CS6000i is impressive given the asked price tag, it does not cover all the basis by default.
For instance, it does come with included needles, but they are not good enough for serious work with leather and other types of thicker, denser fabrics. You will have to buy more suitable needles for such work.
Additionally, the lighting could have been brighter, especially if you are regularly working with dark fabrics. If not, you will not view this as something particularly negative. After all, you can always get a super cheap small lamp with a flexible stalk to achieve just the right lighting you need.
What's in the box? Let's check the accessories
Brother didn't leave anything to chance, so when you buy the CS6000i model you will be ready to start sewing right away thanks to its generous offering of accessories:
9 presser feet – you can opt in using them, but they are not necessary as you can use the LCD screen to slide through various options. Be sure to experiment in order to achieve the optimal level of control contrasted to the effort needed.
Cleaning brush
Bobbins – the Brother CS6000i bobbins are SA156 (a class 15 type bobbins)
Ripper, for ripping stitches when you make a mistake
Eyelet punch, for inserting those stylish metal circles into your designs
Needles
Screwdriver
Accessory bag
Power cord
Wide table, suitable for some serious workload and can be detached.
To top it all, the machine comes with an amazing 25-year warranty. Can you even think that long ahead?
It is a testament to the manufacturer's confidence in their product and should definitely be commended.
If you are struggling with the setup, here's a quick video to help you get started:
Takeaway
Of course, pricier sewing machines will bombard you with huge numbers of features, most of which you will not even comprehend the value of, let alone even use. To really understand them and make use of any of them, you will have to be a master-level sewer. And even then they might seem iffy.
If you don't think of yourself in those terms of master-level clothes-crafting sewer where you need every bell and whistle possible by the current technology no matter the cost, then CS6000i is a godsend.
The highly rated reviews speak for themselves, including the previously mentioned reward. Undoubtedly, it has received many other rewards from many other magazines and organizations.
All of the accolade that CS6000i gathers is achieved by a combination of factors:
Very affordable price tag.
Extra-long warranty of 25 years.
Compact design at only 13 pounds.
Generous offering of accessories.
Capability that is easy to set up, understand, and easy to work with.
In short, no matter if you are a beginner or an advanced sewer, the model covers such a broad usage at such a friendly price range, that it would be extremely difficult to find anything better.
To conclude, if you want a best budget sewing machine and start sewing on the same day of delivery, Brother CS6000i offers an outstanding opportunity.