Best Sewing Machine Black Friday Deals 2023: LIVE updates
Black Friday deals for sewing machines, fabrics and notions are still a fantastic opportunity to furnish yourself with amazing products at an amazing price, not to mention the potential for great gifts on affordable prices as well. All you have to do in order to avoid the shopping frenzy and craziness of other people is to opt for an online purchase of your new sewing machine, instead of physically walking into a store on that intense day or on Cyber Monday. I'll definitely do that!
Plus I'll update this LIVE during the week, so make sure to bookmark it and check often so you don't miss an opportunity!
We occasionally link to goods offered by vendors to help the reader find relevant products. Some of the links may be affiliate in nature meaning we earn a small commission if an item is purchased. Read my full disclosure here
Best Black Friday Sewing Machine Deals & Cyber Monday Sales:
QUICK OVERVIEW:
Amazon Black Friday Sewing Machine Deals
As you can see, they have made it quite convenient for you to not miss out on anything, without having to go through the possibly dangerous and frustrating hassle of getting into fights with other shoppers who spotted the same product as you did.
Furthermore, if you happen to miss out the Black Friday deals, there is always Cyber Monday. But no matter what they call it, the key to achieving great discounts it to keep an eye on the products you want in order to nab them at just the right time.
Without further ado, let's take a look at all the sewing machines you should track, as only some of them will have a deep discount, constituting it as a Black Friday or a Cyber Monday sale. All of them are excellent sewing machines, but some specialize in different areas and are suited for people with different needs.
Brother Sewing Machine Black Friday Deals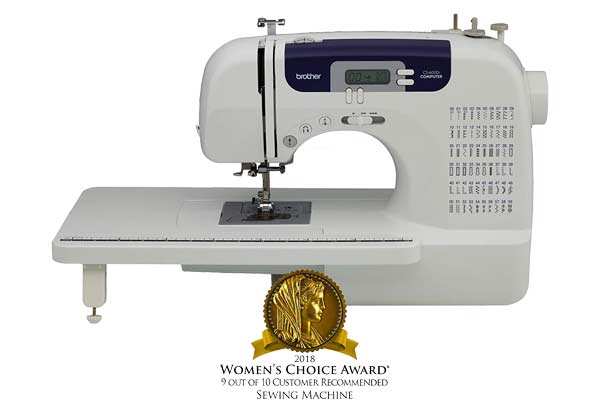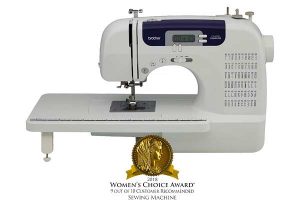 Amazon Choice label is there for a reason. Brother CS6000i is a rare blend of an affordable product filled to the brim with features that make it suitable for both beginners and experts: fully computerized (needle threading, thread cutting, buttonhole making), wide range of 60 stitches, and solid 850 spm speed that can be easily controlled are just the few features that stand out.
Moreover, it comes with an included extension table making it easy to complete big sewing projects. Additionally, you get a total of 9 presser feet, among other essential accessories.
With an already low price, a possible discount would make Brother CS6000i an ideal candidate for a gift.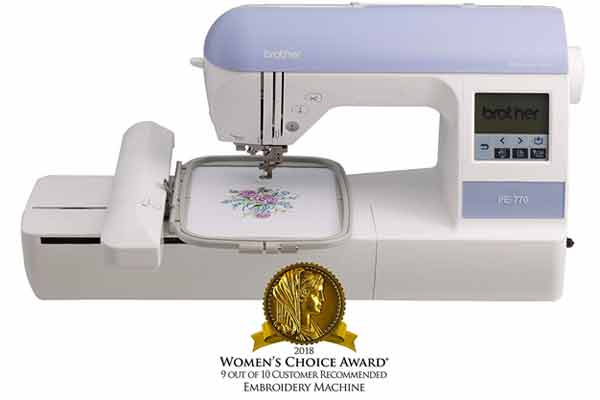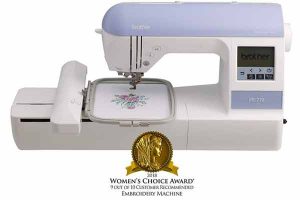 Embroidery specialist, the PE770 offers you a large 5×7 inch embroidery area with 6 letter fonts and 136 embroidery designs within its memory, in addition to 12 border styles and 10 frame shapes.
Most importantly, you can expand its range of embroidery designs through the USB port with a simple memory stick you can get for 5 bucks.
Needless to say, for this price, it offers a full range of automatic features that makes sewing that much easier and quicker. Also, you can thinker with embroidery designs by adjusting size, rotation, and mirror imaging, all of which can be done on its big LCD screen.
As embroidery specialists go, it comes with a high price tag, so if you need such a machine there is no better way to get it than through a massive discount deal which you can only get on Black Friday or Cyber Monday.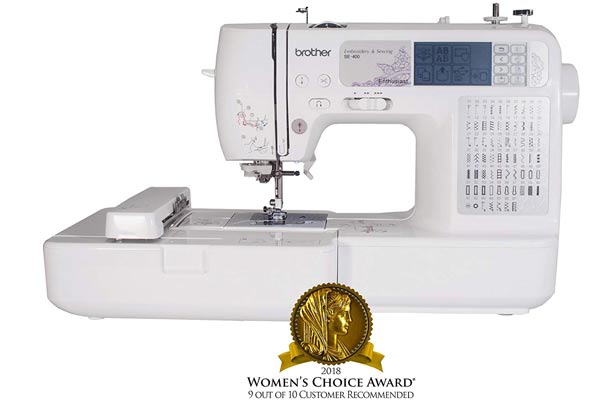 A reasonably priced generalist, the SE400 will take care of your sewing, quilting, and embroidery needs. The stitch range is 67, while you can choose from 70 embroidery designs from its large LCD screen. The embroidery area is not as large as with the PE770 model, but good enough at 4×4 inches. You can choose between 5 letter fonts, which is just one less than the PE770.
Prominent feature of the SE400 is its ability to drastically expand its embroidery designs by downloading them from the iBroidery.com and then plugging them in through the USB connection. This effectively means that you have thousands of embroidery designs to choose from, instead of the in-built 70.
Of course, the large digital screen indicates that it is a computerized machine, which means that it offers you the convenience of automatic needle threading, buttonhole making, and thread cutting.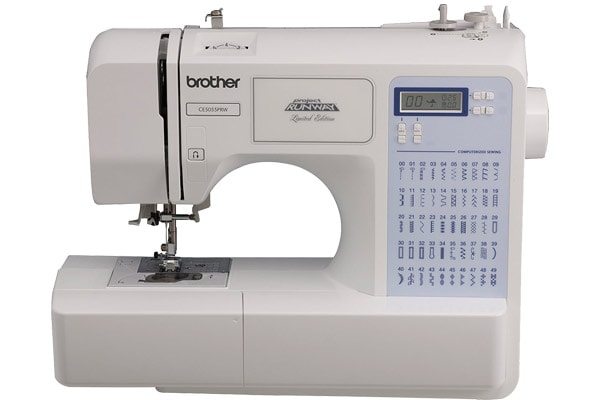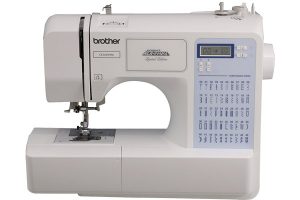 The 'runway' moniker of this model indicates its prowess in crafting precise, creative designs thanks to its outstanding stitch quality, of which you can choose from a range of 50. Of those, some are suitable for general clothing, while others are for quilting and heirlooms.
It comes with 6 specialized presser feet which allow you to take complete, couture-level control over all your sewing: zippers, buttons, knitting, blind hems, overcast edges, stretch fabrics, top stitches with twin needles, etc. etc.
Like most Brother sewing machines, it is computerized; from 5 styles of buttonholes to automatic needle threading and tension control. If you are not interested in embroidery but only high quality sewing, this is the one to keep an eye on.
Singer Sewing Machine Black Friday Deals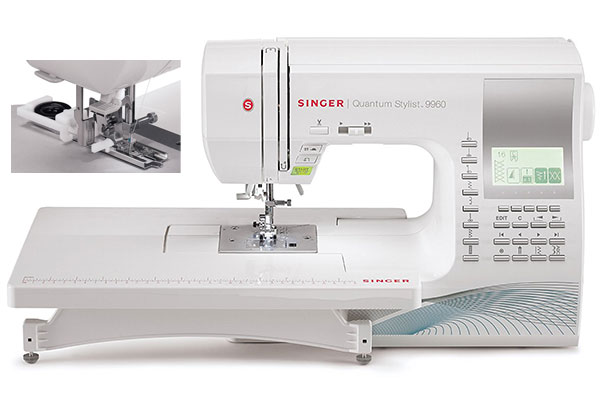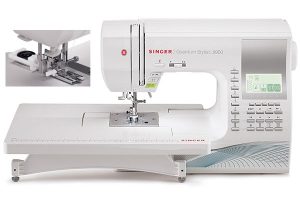 This is one of those costly sewing machines that you would want to see lowered in price. And for a good reason; it has an amazing 600 built-in stitch range, all selected via its backlit screen with a moderately high resolution. As you would expect, it is completely computerized, from automatic needle threading, automatic buttonhole sewing (it comes with buttonhole underplate and 13 buttonhole styles) to one-touch thread cutting.
Overall, with a speed of 850 spm, you can comfortably engage in quilting (included extension table will help), decorative stitching, and crafting of any clothing you've envisioned thanks to additional precision features such as stitch elongation and mirror imaging.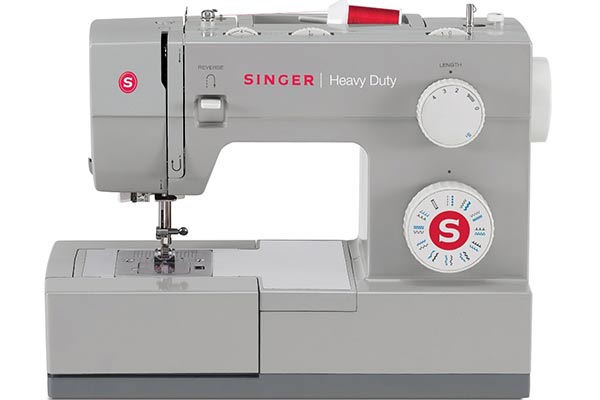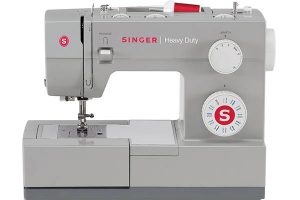 If 2017 is anything to go by, you can expect this heavy duty sewing machine to make a comeback. The 4423 model is a direct continuation of the modest 4411 model with its basic 11 stitches. The current heavy duty model has more than double that at 23 built-in stitches, of which 12 are focused on decorative stitching.
Another welcome upgrade is the 1-step (automatic) buttonhole sewing, and an automatic needle threader and we picked it as one of the best Singer sewing machines for beginners.
It may be lacking in the variety of stitches, but Singer 4423 is known as a powerful beast which translates to easy dealing with thick, tough fabrics like denim and leather. Furthermore, its default price is already low, so a Black Friday deal would make it an excellent addition to your stable of sewing machines. You never know when you may need the unrelenting power to deal with tough fabrics, and even multiple layers.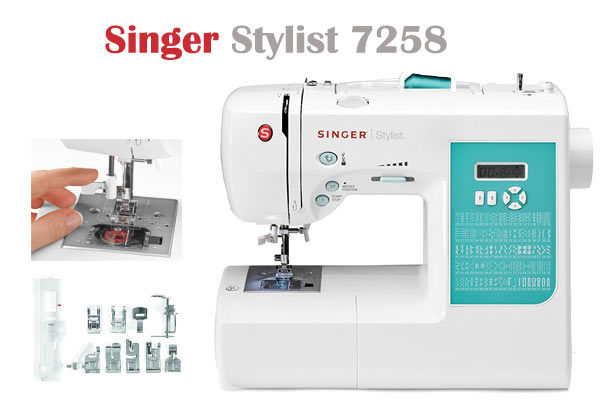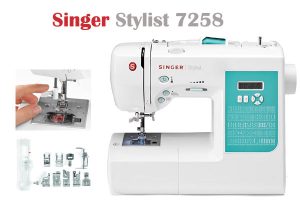 Middle of the road generalist sewing machine, the 7258 takes the load off your hands for the most tedious tasks due to its full computerization. This translates to an autopilot option, adjustable sewing speed, programmable needle-stitching speed, automatic buttonhole sewing and automatic needle threading.
Moreover, you will have the option to choose between 100 built-in stitches: buttonholes (7), stretch (8), decorative (76), quilting, garments (9), and heirlooms.
Tiny LCD display is sufficient for quick cycling through all of them on the fly.
Its many auto features and wide range of stitches and accessories make it an outstanding selection for both beginners and advanced users.
Janome Sewing Machine Black Friday Deals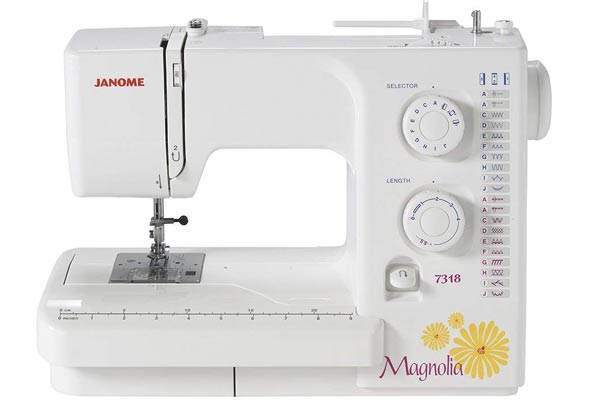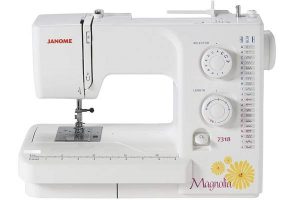 Japanese Janome is known for many things in the sewing machine arena: excellent build quality, smooth operation, reliability, and a relatively high price.
Although they are not usually packed to the brim with features as previous machines, people often swear by Janome's machines nonetheless. So, when you see one on a huge sale, think very carefully if you want to opt for a different brand instead.
The 7318 model has 18 built-in stitches, a free arm, detachable presser feet, drop feed, extra high foot presser, and 5-piece dog feeder.
Unfortunately, it largely requires manual operation of all the tasks, as the analoge dial gives you a clue. Accordingly, if you are someone who is used to not being assisted by a machine in every step of the way, this model is worth considering.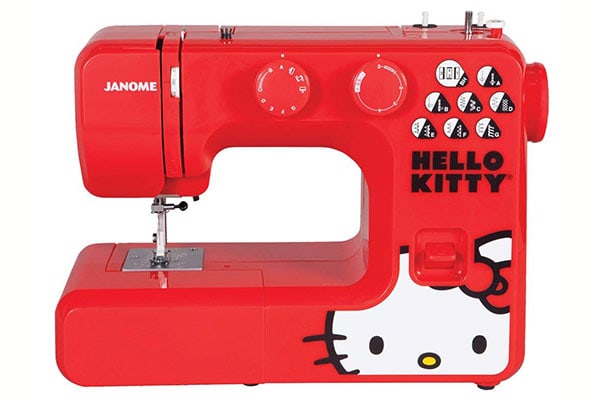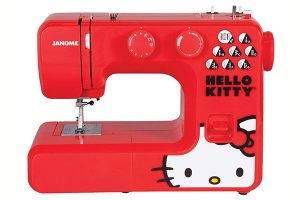 Combing the legendary prowess and reliability of Japan's Janome with the kid-friendly design and set of features. What more could you want as a perfect gift to initiate kids into the wonderful and productive world of sewing? Price! That's what you would want on top of it, and Janome doesn't disappoint.
As low as its default price is, keep an eye for an additional discount during the Black Friday and Cyber Monday. Especially, if you know that Hello Kitty cartoon is popular in your circle.
Hello Kitty series starts with the red model, but you can choose from light blue, green, and yellow as well. All are appropriately adorned and cute, while still being competent sewing machines that can, without a doubt, produce enviable results.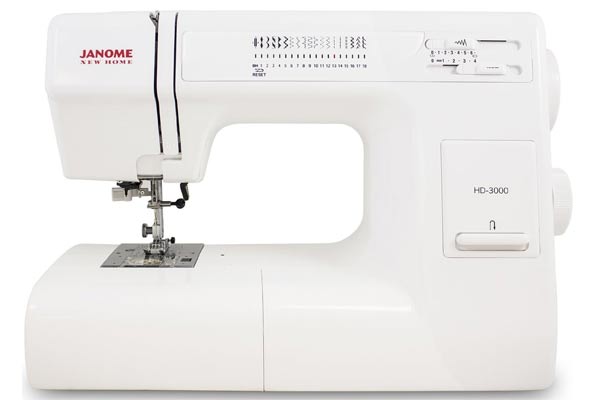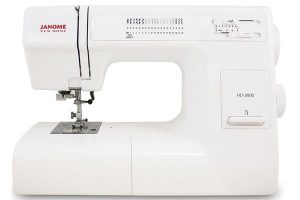 Another great machine that is expected to go on sale during the shopping frenzy. Make sure to keep an eye on the HD3000
Black Friday Serger deals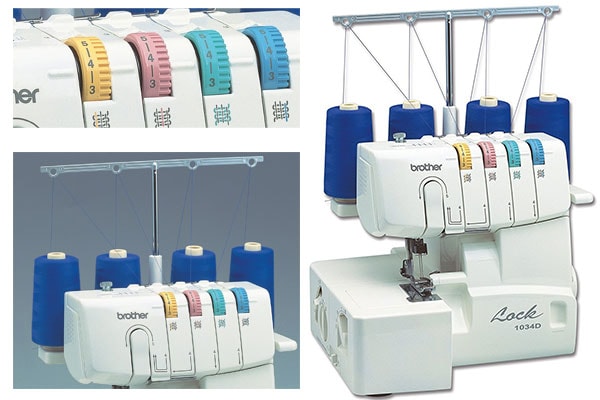 It would be a sin to list all of these sewing machines without considering a special class of machines – sergers. These are your both heavy duty and precision-oriented sewing machines, ones that are intended for professional use in order to create clothing with top-notch durable stitching and seams.
Brother 1034D serger is quite an impressive serger with a 1300 spm sewing speed, and 4 differential feeds for 22 built-in stitches. Further, it can sew with needles varying from 11 to 14 in size, to just name few of its features.
When you combine them all, you acquire an ability to perform ruffles, laces, decorative edges, gathers, spaghetti straps, ribbon lock stitches, sleeves for shirts and pants, rolled hems, bridal wear, heirlooms, denim, formal wear, home décor, stretchy and easily crumpled fabrics, and jeans.
But be warned, once you go serger it will be difficult to go back to your regular sewing machine.
Quilting Machines Deals for Black Friday&Cyber Monday
Going even further in specialization, if you know your sewing baseline is quilting above all else, consider these sewing machines:
All four are very pricey indeed, with the exception of the second one, the Singer Confidence Quilter 7469Q. Therefore, you should consider yourself very lucky if you find any of them on a Black Friday or Cyber Monday sale. Nonetheless, the deciding factor will be – how much are you focused on quilting?
Walmart Black Friday Sewing Machine Deals
The first thing you should do is get on the early access mailing list, if available. Do that for multiple large store chains that are guaranteed to have large online and offline presence:
All of these shopping giants should have you covered for the widest range of products possible, especially for sewing machines.
Keep in mind that online vs offline shopping still differs in some ways, as the online prices tend to be slightly higher, for obvious convenience and transportation reasons. Also, be mindful at what time they launch the deals and what time zone they use.
In addition to getting on the Walmart's early access mailing list, you should also install the Amazon app Prime Now which has a 'Watch a Deal' feature.
Takeaway
It's a shame that the media has very much maligned Black Fridays given that you can avoid the negative aspects of it entirely. If you are reading this, at this point, you are already informed enough to know exactly how to get the best of them, without suffering any disturbing jumble you might have seen on TV.
Get on the mailing lists, download the appropriate apps, and you will always be prepared to nab just the right product at just the right time. Ignore the clueless naysayers and you can make consumer regret become a thing of the past!