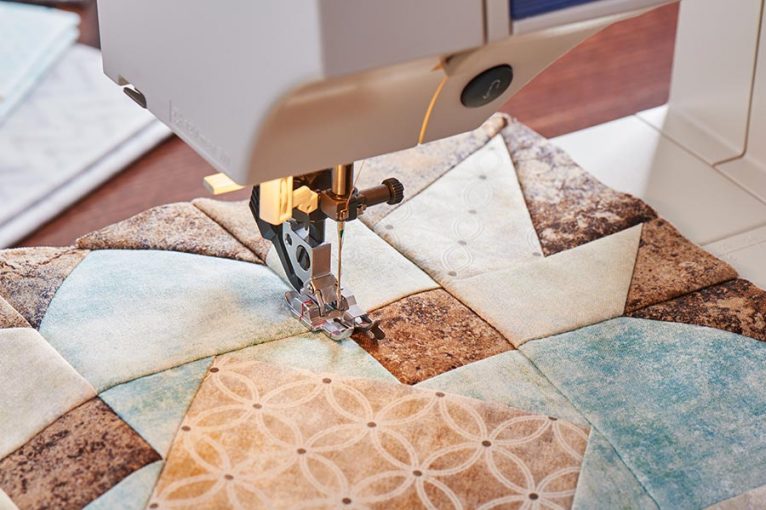 Best Sewing Machines for Quilting – for Home and Advanced Quilters
That's it. You've gotten the quilting bug. Before you know it, that sewing machine you started out with doesn't cut it anymore. Thread kept breaking or getting bunched up, your pieces fall apart when you hold up it because your bobbin came unthreaded. It's time for something better; something more powerful.
Getting a good sewing machine for quilting is an inevitable step if you're addicted to quilting. For one, you don't have to worry about your machine breaking down on you when you're letting your creativity run free. New machines come with a bunch of features that allow you to execute your wildest imaginations. Nothing frustrates more than not being able to see your quilt come to life just because your equipment is subpar.
We occasionally link to goods offered by vendors to help the reader find relevant products. Some of the links may be affiliate in nature meaning we earn a small commission if an item is purchased. Read my full disclosure here
Best Home Sewing Machines For Quilting in 2022
There's a lot of difference between the needs of beginner and advanced quilters. Beginner quilters need a machine with a slight learning curve since learning all the features of a complicated machine at once can be quite overwhelming. Advanced quilters, on the other hand, need a sewing machine that could make their vision a reality, no matter how complicated the design might be.
By the end of this article, you'll find the best sewing machine for quilting for your skill level!
Beginners Sewing Machines For Quilting
Best overall: Singer 9980 Quantum Stylist
Singer 9980
Singer is a household name for good reason – it's produced many reliable sewing machines we've all grown to love and cherished throughout the years. The 9980 Quantum Stylist is no exception. We love how it's designed for all skill levels. Beginners can challenge themselves with some of the more of it's advanced functions while veterans can just make use of them fully.
Highlights
820 stitches allow virtually unlimited quilt customizations
Stitch memory
Automatic threader to make threading a breeze
Automatic cutter that trims both threads with a touch of a button
13 presser feet including a walking foot
LED lights illuminate your workplace really well
Needle control: Up/Down button and 25 different needle positions
Presser foot sensor and feeding system
Pros
Easy to use: The 9980 comes with a variety of features that make life easy for you. For example, the automatic threader and cutter feature saves you a lot of time. The backlit LED screen helps remind you of your stitch settings and tension level for your thread while you're working on your quilt. And instead of fiddling with speed settings on the LED screen, you get an intuitive speed slider that allows you to change your sewing speed with a slight nudge of your finger.
User-friendly: What's the point of having fancy functions if you can't access them? That's the best part of the Singer 9980: everything is clearly marked on the machine! You don't have to waste any time fiddling with buttons and just get right to work!
Stitch variety:  It packs more stitches than you will ever need; 820 stitches to be precise. These stitches include 776 decorative stitches, 21 stretch stitches, 13 1-step buttonholes, 10 basic stitches, 5 alphabets, and numbers. Having different stitches allows you to customize your quilts. No two of your quilts will be the same!
Stitch memory: This handy little feature allows you to edit and save your stitch combinations from later use. So if you've done something that you're happy with, you can just recreate it with a touch of a button!
Built-in sewing assistant: As its name suggests, it helps guide you as you work on your project. It'll even make recommendations for presser feet usage.
LED lights: No matter what kind of lighting you have in your room, the two integrated LED  provide ample light, so you'd never have to strain your neck again!
Cons
Too many features: A machine jam-packed with a bunch of advanced features  might have a bit of a learning curve for a total beginner. However, you'll definitely get a hang of it once you start working on it.
Singer bobbins only: You can use bobbins from other brands, but it would most likely cause some minor mishaps like snagging.
Best budget: Brother XR3774 Sewing and Quilting Machine
Brother XR3774
Brother is another evergreen brand that's stayed on the work tables of our mothers and even grandmothers. The Brother XR3774 holds its own on this list as a feature-rich sewing machine is a reasonable price tag.
Highlights
37 built-in stitches to add more pizzazz to your work
Automatic needle threader
Wide quilting table to you can handle larger projects more easily
13 presser feet
Pros
Low price: One of the appeals of getting the Brother XR3774 is that it's low-priced compared to the other sewing machines on this list while still offering a lot of features.
Able to sew through a wide range of fabrics: It can definitely handle several layers of light to mid-duty fabrics.
Minimal maintenance needed: The machine comes pre-oiled, so you don't really have to maintain it that much.
Easy to use: The automatic needle threader and auto bobbin winding system is a godsend for people who prefers to spend more time quilting than going through the mundane motions of threading and winding your bobbin.
Virtually no learning curve: The Brother XR3774 is a machine designed for entry-level quilters. If you need support, the machine comes with Spanish and English manuals as well as a DVD. Brother also offers lifetime technical support to their customers, you can just pick up the phone and call them if you hit a snag.
Cons
Small throat space: This might be a problem for people who quilt large pieces, even with the aid of an extension table.
Loud: The Brother XR3774 is quite noisy for such a small machine. It may be quite annoying for you if you work on your quilts at night or for an extended period of time.
Best for clothing: Brother XR9500PRW Limited Edition Project Runway
Brother XR9500PRW
With the words "Project Runway" in its name, you know that Brother XR9500PRW is made for clothes. It's a versatile, computerized sewing machine that works great for both clothes making and quilting.
Highlights
110 built-in stitches to add plenty of variety to your work
Automatic needle threader
8 presser feet
Hard case and extension table
Pros
Easy to use: This is the most important thing for beginners. The controls on the Brother XR9500PRW are clearly labeled. The backlit LED screen also displays all the settings you're using for your projects so you can easily refer to it if you forget. The pictures for the stitches are printed on the machine itself, so all you need to do is to set the number of the stitch you want on the screen and you're good to go!
Able to work with a wide variety of fabrics: You can use it for a bunch of fabrics normally used for clothes like faux leather, faux suede, and even denim.
Economically-priced for a machine that's packed full of features.
Cons
No automatic thread cutters: The thread cutters on this machine are more like blades that are positioned to cut the thread, but you'd still have to do it yourself.
Not able to work with heavy-duty fabrics: Since it's not a heavy-duty sewing machine, you can't work on heavy fabrics like leather and upholstery on it.
Best for embroidery: Brother SE600 Sewing and Embroidery Machine
Brother SE600
The SE600 is a 2-in-1 sewing machine that sews and embroiders well despite not costing a kidney. It's an upgrade from its already-popular brother, the SE400, which garnered a lot of positive reviews from seamstresses for sewing.
Highlights
103 built-in stitches for endless styling options
80 built-in embroidery designs
6 embroidery letter fonts
Large embroidery work area so you can handle more easily your quilts
Automatic needle threader which is a godsend!
Colored LCD screen for added convenience
Pros
USB support: This is a feature rarely found in other embroidery sewing machines. You can import designs you like from the internet to your sewing machine with USB support.
Easy to use: The LCD touch screen provides a lot of support for beginners and advanced users alike. You can change the type of stitch you want or the color of the thread just by a simple tap on the screen.
Versatility: It's already a notch above other sewing machines solely because it sews and embroiders well. Its abundance of built-in stitches and embroidery designs just adds on to its versatility. You can let your imagination run free and create beautiful designs that never looks the same.
Cons
Steep learning curve for LCD screen: While most users could figure out the LCD screen pretty easily, it might be a steep learning curve for people who aren't tech-savvy.
Best for beginner quilters: Brother CS6000i
Brother CS6000i
The Brother CS6000i is one of the best sewing machines for beginner quilters since it's reasonably well-priced and easy to use. You won't have to worry about outgrowing it as well. The features on the CS6000i ensure that you unlock more exciting things to do with it as you get more experienced.
Highlights
60 built-in stitches which is more than enough
7 1-step buttonhole options
Quilting table to make handling larger quilt sandwiches much easier
Hardcover to keep the dist and dirt away
LCD control panel
Automatic needle threader for convenient threading
Pros
Easy to use: Your first sewing machine could make or break your quilting journey. The CS6000i is a great place to start because it's so intuitive. Not only is everything clearly labeled, but they've also put in features that make life easy like the automatic needle threader and jam-resistant, easy-wind bobbins.
Easy speed controls: The speed controls on the CS6000i makes it easy for beginners to tweak their sewing speed. This helps you avoid making mistakes and gives you the speed you need when you inevitably become more experienced.
Cons
Poorly placed LED lights: You have to have a keen eye when you're quilting. The dim LED lights on the Brother CS6000i makes it more difficult for you to see what you're doing while quilting.
Falters with layering: It does quite well by itself when it's sewing through light or mid-duty fabric. But it's not a heavy-duty sewing machine by a long shot. It's shown some difficulties working through multiple layers of fabric or thick fabric like upholstery and denim.
Quilting sewing machines for advanced quilters
Best for throat area: Juki TL2010q
Juki TL2010q
Juki TL2010q's wide throat area and hardy structure make it a favorite among seasoned quilters. It does take up a bit of space, but the stitching finesse makes it a worthy investment.
Highlights
200-1500 stitches per minute (adjustable!)
1 stitch in which it truly excels
Foot pedal thread cutter
Needle up/down button – it is a great quilting feature, just choose where you want your needle to remain
Automatic needle threader and bobbin winder to help you with your projects
Adjustable speed
Extension table to give you plenty of space to work on
Pros
Plenty of throat space: The ample harp space makes it easy for you to see what you're doing. It's also great if you love doing big quilting projects since it gives you so much space to move your quilt around.
Durable and sturdy: The Juki TL2010Q is made out of solid metal so it can take quite a bit of abuse. Since it's mechanized, you won't have to worry about computerized parts either. Rest assure that the Juki TL2010Q will stick by your side for a very, very long time.
Quilting-centric: It might seem like a disadvantage with only one stitch option, but the Juki2010Q is truly made for free-motion quilting. The extension table and wide throat space ensure visibility and space, while the adjustable stitch lengths give variation to your quilt.
Cons
Poor lighting: The LED light it comes with is weak so you might have more trouble seeing with the light on.
High maintenance: Its parts need to be oiled frequently. The cost of oiling adds up in the long run, but we don't find this particularly surprising for a sewing machine of this caliber.
Pricey: Given its manufacturer and features, it's no surprise that this hybrid between an industrial and home sewing machine is on the expensive side.
-OR-
Best for free motion quilting: Brother PQ1500SL
Sale
Brother PQ1500SL
If Juki TL2010Q is too expensive for you, we'd recommend the Brother PQ1500SL instead. It's designed for quilters in mind, making it the best for free motion quilting in our books.
Highlights
Knee lifter to keep your hands free
Quick-load needle threader
Automatic thread cutter
Fabric extension table to give you extra work space
Up to 1500 stitches per minute for faster work
Pros
Handles heavy fabrics: This Brother is a beast as it can sew through multiple layers of fabric easily. It doesn't falter when sewing with high speeds either. Regardless of how thick the fabric is, you can be sure of the smooth stitching done by this sewing machine.
Ease of usage: The Brother PQ1500SL comes with a couple of features that makes life easy for you, like the knee lift and quick-load needle threader.
Affordable: It's undoubtedly a quilting beast compared to other sewing machines in its price range.
Cons
Steep learning curve: It takes a while to master the controls on the Brother PQ1500SL. It could be bothersome to learn functions imperative to quilting properly, such as controlling the tension. You'd also need to spend time tweaking the settings for the needle threader and cutter for them to work properly but once you get the hang of it, the quilting will be a breeze
Bulky and non-portable: This is a common complaint for most machines built for seasoned quilters. Even though its bulk guarantees its durability and its stability when you're stitching high speed, it's important to consider if space is something you lack at home.
For dedicated quilters: Janome MC6300P
No products found.
Highlights
66 built-in stitches – give you plenty of variety
Automatic thread cutter – to save you a lot of hassle
Drop feed control to help your free motion quilting
Knee lift so you can focus on managing the quilt instead of fiddling with the presser foot
Pressure foot pressure control
Pros
Automatic features: The automatic thread cutter, bobbin winder, and automatic tension control would allow you to breeze through your work. There's also a recall feature that saves your last stitch, so it's perfect for people who dislike repetitive configuration.
Speed and stitch customization: You can adjust the length and width of the stitches with a touch of a button. You can also control the speed with the slider.
LCD screen: Conveniently displays all the necessary information about your current stitches.
Mid-range prices for a top-of-the-line product: It doesn't cost much given what it can do.
Cons
Bulky: You might need to clean your room out before installing the Janome MC6300P as it takes up quite a bit of space.
Lack of free-arm: This inhibits you from doing little things like sewing cuffs and so on.
Jack-of-all-trades: Janome MC8900QCP
Janome MC8900QCP
The Janome MC8900QCP can handle everything that you throw at it. It's a computerized model designed for quilting, embroidery, and sewing.
Highlights
Adjustable knee lift so you can keep you hands on your quilt all the time
Start/stop button
Single-handed built-in needle threader which I love
One-step needle plate conversion function
7-piece feed dog
5 LED lamps
Twin needle guard
Pros
Lots of convenient features: The Janome MC8900QCP is equipped with a lot of functions that make quilting a lot more convenient and efficient for professional quilters like the start/stop button, reverse button and the locking stitch button. These buttons are clearly labeled as well, so no confusion at all.
Quiet: The Janome MC8900QCP is quieter than a domestic sewing machine even when on full speed.
Extra large workspace: In addition to its wide throat space, the Janome MC8900QCP also has an generous workspace that will be able to handle all your quilting dreams
Loads of support from Janome: Asides from the 25-year warranty, the Janome customer service is top notch. If you have a problem or question, you'd get your answers from their friendly customer representatives for sure.
Cons
Inconveniently placed buttons: Although Janome offers many time-saving features, all those buttons are located in inconvenient locations. You might have to reach a bit to access these buttons, which defeats the point of having convenient features in the first place.
Heavy: Clocking in at just below 50 pounds, this machine is definitely not portable and will take up some space in your home.
What to look for in a good sewing machine for quilting?
If you're looking for an upgrade, you can't go willy-nilly and get a machine that you heard about from a friend of a friend. While recommendations are great, different people have different needs. What works for them might not work for you. So one of the first things we'd recommend you do is to come up with a list of features that you're interested in or a list of why your sewing machine is not working for you anymore. By pinpointing what you need or not, you can easily narrow down your buy list.
That being said, there are a couple of features that will definitely come in handy when you're quilting.
What you need in a good quilting sewing machine?
For one, quilters often complain about a lack of workspace when they've outgrown their current sewing machines. So definitely look for something with plenty of throat space (also called harp space) and/or an extension table. It'll save you a ton of headache from maneuvering your quilting projects, especially when they inevitably get bigger when you get better.
Speed control is a must for all quilters, whether you're a beginner or a seasoned seamstress. For beginners, speed control helps you retain control on your quilt, especially for free-motion quilting. It might be tempting to get a sewing machine with low to mid-range speed settings, but we guarantee that you'd want higher speed for when you get better.
Besides that, the thicker your project is, the less pressure is required. Overall, quilts need less pressure than say, patchwork piecing, because it's thicker. But with thick quilts, it needs even less pressure than usual. Having pressure controls would be really come in handy for preventing drags and puckering problems during straight line stitching.
A knee lift is the best when you need both of your hands to hold and position your quilt. It's a huge timesaver since you don't need to coordinate your foot to lift and lower your presser foot. All it takes is a slight jerk of your knee.
An automatic thread cutter is super convenient for a seasoned quilter since it can automatically cut threads by pressing a button on the machine or using the foot pedal. It saves you tons of time and thread when you're stopping or starting the quilt!
Some sewing machines come with a thread tension adjustment dials, which in our opinion, is better than fancy, computerized machines. When you're working on a quilt, you'd want to adjust things as simple as possible. Yelling at the non-responsive computer screen trying to tighten your thread tension is not a fun time.
How much money are you willing to put aside for your hobby? Quilting can be expensive when you take into account the money you spend on your sewing machine, fabrics, and extra tools like rotary cutters and cutting mats. For a beginner, you don't have to spend too much on quilting asides from getting a good sewing machine that takes care of your needs in the long run. However, if you're planning to use quilting as a way to fund your hobby, it might be more worthwhile to consider the potential returns on your quilts. There's nothing quite worse than finally being able to earn money with your hobby, only to have your equipment break down.
Long-arm vs. Mid-arm vs. Quilting Machines
When you're doing your research on the best quilting machines, you'd inevitably come across these terms: long-arm sewing machines, mid-arm sewing machines, and sewing machines for quilting. Let's explore these different sewing machines here.
Long-arm quilting machines
To put it simply, long-arm sewing machines are heavy, metal machines that load the top, batting, and back into a metal frame. Long-arms are a staple for serious quilters who quilt for a living. Why?
Pros
All three layers are loaded on the frame, so you can sew through them without basting.
One of the key differences between long-arm, mid-arm, and quilting machines is the work area. Long-arms are generally meant for industrious purposes, so they come with huge work area for the quilter to work with. It's especially useful for big projects or heavy quilts.
Powerful motor: Long-arms typically sport a more powerful motor compared to the others. While this doesn't mean that you can sew faster, you can definitely handle heavier materials with a more powerful machine.
The abundance of controls on long-arms allow advanced quilters to control how their quilt turns out down to the littlest details.
Cons
You can't sit down to work because of its bulky frame. It also takes up a lot of space..
The cost goes upwards of $10,000 depending on the brand.
Mid-arm sewing machines
Mid-arm sewing machines are becoming more and more popular as they are a hybrid between home sewing machines and long-arm quilting machines and combine the best of both worlds
Pros
Mid-arms are smaller than a long-arms, so they don't occupy much space while providing sufficient workspace for you to work on. Some mid-arms come with extension tables. Unlike long-arms, you can working sitting on a mid-arm sewing machine.
It provides ample harp space for you to handle even bigger quilts with ease and see what's going on with your quilting at all times.
Mid-arm sewing machines use a stationary needle, unlike long-arms with their moveable one.
Most mid-arms come with 2 types of bobbins: size M or L bobbins. Size L bobbins hold more thread so you don't have to change it out as often, but size M bobbins are better for detailed work. In most cases, the bobbins on a mid-arm sewing machine are below the table, so you don't even have to move your quilt to change your bobbins.
Stitch regulation helps you stitch more accurately and control your stitching speed. However, a stitch regulator is still a novelty in the market, so getting a mid-arm sewing machine with stitch regulation can hike up the price significantly.
Cons
Nothing's perfect. You need to baste your quilts before sewing.
Sewing machines for quilting
While you can use any sewing machine to quilt, a quilting machine is a specialized machine that's similar to a domestic sewing machine with a bigger frame.
Pros
Lets you move your quilt around easier than on a standard machine with a large work area. Most quilting machines also come with extension tables since having enough space to maneuver your quilt is one of the key priorities of quilting.
Quilting machines only come with one stitch, While it might be enough for some people, decorative stitches make your quilt more exciting.
Takeaway
All in all, all these machines we've mentioned above would fulfill your quilting need, regardless of whether you're a beginner or an advanced quilter.
Our main favorite is Singer 9980 Quantum Stylist since we feel that it would be great for both a beginner and advanced seamstress. It offers a ton of features that both these categories could use efficiently with a little bit of learning.
We'd recommend Janome MC6300P if you quilt for a living since it offers automated functions. This would definitely streamline your work process and make work a breeze for you.
Last but not least, we'd recommend Brother CS6000i if you've just caught the quilting bug and looking to expand your horizons. In our opinion, this machine is well-priced and easy to use for beginners but is sophisticated enough for the user to not outgrow it quickly.
Have you used any of these machines before? Do you agree with our choices? Let us know in the comments below!