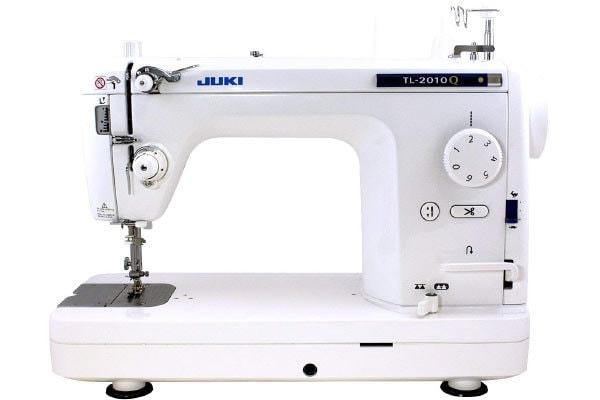 Juki TL2010Q Review – Professional Results at Affordable Price
A sewing machine that's fuss-free and easy-to-use is every seamstress dream come true. It's especially important for beginners – you really don't want an overly-complicated machine to damper your newfound passion.
Enter the Juki TL2010Q sewing machine.
This small-arm, single-needle sewing machine promises high performance and industrial-grade quality. Juki has been providing aspiring sewing enthusiasts quality products that both cater to home AND professional use since 1938. So, we were really looking forward to trying out the Juki TL2010-Q to see if it measures up to our expectations.
We occasionally link to goods offered by vendors to help the reader find relevant products. Some of the links may be affiliate in nature meaning we earn a small commission if an item is purchased. Read my full disclosure here
Features of the Juki TL2010Q
At first glance, the Juki TL2010Q looks like it has it all going for it – looks, credibility, and power. And it deserves a second look with its sleek, industrial design. The wide array of features it has complement each other to give you high-quality results in a surprisingly short amount of time. Without further ado, let's look at the great features this machine has!
Even seasoned quilters start sweating at the mention of threading the needle of a sewing machine. What's better than having the machine do it for you? Juki TL2010Q's automatic needle-threader would help you save tons of time! Now you can focus on sewing instead of aligning an impossibly thin thread into the hole.
Its sub tension unit helps you ensure that the thread feeding is smooth and twist-free. It also helps you keep the thread from quivering when you're sewing at high speeds.
It has a thread tension scale, which helps you adjust the tension according to the material and thread you use just by a simple twist of a knob.
Juki TL2010Q boasts a wide range of speeds: from a minimum of 200 stitches per minute to 1500 stitches per minute. The best part about this is that you can control it with a slider control, which makes it much easier to control the speed.
Despite being a larger machine, it is lightweight and portable without the extension table.
With the extension table, you'll be able to complete more challenging projects with heavier fabric and materials.
Juki has also improved the foot control on this model. Now, you can activate the cutter with the backpedal to trim your ends.
It has the drop feed dogs option that lets you disengage the feed dogs to move fabric freely and in any direction or shape you want which is great for free motion quilting
It also has two types of presser feet to give you the versatility you need to produce a great quilt. The free motion foot is great for basic quilting, while its ¼ quilt foot can be used for more precision.
Other considerations
The Juki TL2010Q review doesn't stop here. Asides from the in-built features of the sewing machine, we must also consider other factors that might make our quilting experience less pleasant than it should.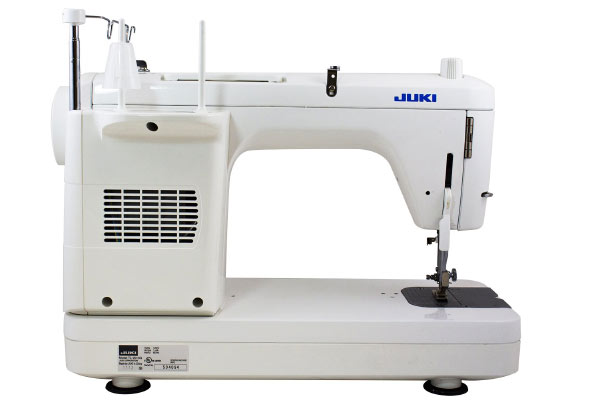 High throat area
One of the most common complaints we have about sewing machines that double as a quilting machine is its lack of visibility. It's particularly frustrating if you can't see what you're doing. Sure, we can work around lesser sewing machines, but straining your neck to see can be painful at its worst, especially if you spend hours working on a quilt.
We hail the Juki TL2010Q as one of our best sewing machines for quilting precisely because of how considerate Juki is for quilters. The harp is 8 1/2 inches from needle to machine and 6″ opening. The larger throat and slender arm on the Juki TL2010Q quilter ensure visibility and space. The extended table can also help make heavy quilting easier now that you can actually see what you're doing and adjust accordingly.
Low Noise
Industrial sewing machines should be kept in factories for a reason – they are loud and can be annoying to work with if your lunch doesn't depend on it.
We love how silent the Juki TL2010Q is even at the highest setting. For the average home quilting enthusiast, you won't have to get up in arms with your neighbors to defend your great quilting machine. It would also save you the headache you'd inevitably get with a noisier machine.
The Extensive Range of Fabrics
A powerful machine is nothing if not able to sew on a wide range of fabric. Once you put your sewing machine into the proper settings, the Juki TL2010Q is able to handle most types of fabrics under the sun, including leather, fine fabrics, fur, and even upholstery. You'll be able to easily sew through all kinds of fabric without breaking your needle, no matter how thick or stiff they are.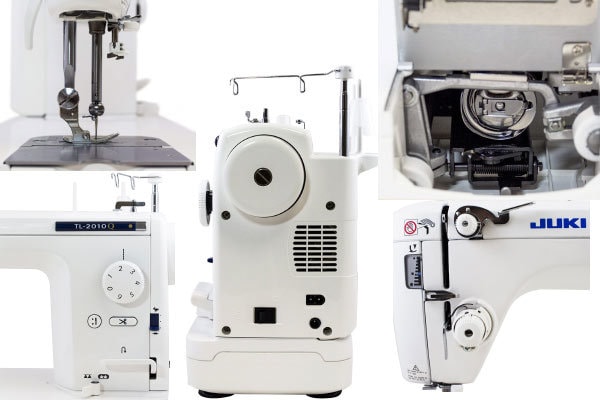 Ease of Usage
Beginners will benefit just as much from this machine as an experienced quilter. Asides from its intuitive and straightforward design, its clearly labeled knobs and buttons go a long way in preventing regrettable mistakes. Everything you need to be done with the Juki TL2010Q is either a button or a turn of a knob away.
If you're not a fan of computerized sewing machines, fret not! The Juki TL2010Q is mechanized, so you don't have to fiddle with a confusing computer screen. This would also prevent your quilting adventures from coming to an unexpected end when the computer parts break down, given the TL2010Q's sturdy build. See how easy piecing with this machine is in this quick video demo:
Additional Accessories
You can opt for additional accessories, but the TL2010Q comes with all the accessories you need on your quilting journey.
Lint brush
Needles
Spool cap
Dust cover
4 bobbins
Extension table
2 screwdrivers – small and exclusive
3 presser feet – zipper-attaching foot, even feed foot and ¼ quilting foot
Oiler
Knee lifter lever
Foot controller
Power cord
Drawbacks
Lighting
One of the key complaints of the Juki TL2010Q is the poorly placed LED light. Although it was obviously well-intentioned, the weak LED light makes it difficult to see your work. Without sufficient lighting, it can hinder your process or even ruin your project.
Maintenance
A well-oiled machine produces the best results, and the Juki TL2010Q is no exception. It's fairly reasonable to expect to have to oil a mechanized sewing machine once in a while, especially if you use it often. The oiling process might be greasy and messy if you're not used to it, but you'll find yourself a pro at it before long.
Price
Juki's reputation for quality products comes at a price. At close to $1000, its price point is admittedly on the high side, especially if you're only using it casually.
Overall Takeaway
We're not kidding when we say that the Juki TL2010Q is one of the top sewing machines for quilting in our books. This handy little sewing machine – albeit larger than the average sewing machine – definitely packs a punch for its size.
Even though it had its drawbacks, it's not enough to take away from the incredible quality given by this sewing machine. We believe that everyone interested in quilting, from beginners to experienced quilters, would find the TL 2010Q a great addition to their quilting gear.
The value you get from purchasing the Juki TL2010Q far exceeds the hefty price tag. You'd have to dish out a lot more to buy another sewing machine that can perform the same functions with the same quality as the TL2010Q. Besides that, if you're an avid quilter, you'll find that the TL2010Q is a great investment since it saves you so much hassle and time.

Did our Juki TL2010Q review help you make up your mind to add this fantastic quilting beast to your wish list? Tell us in the comments below.