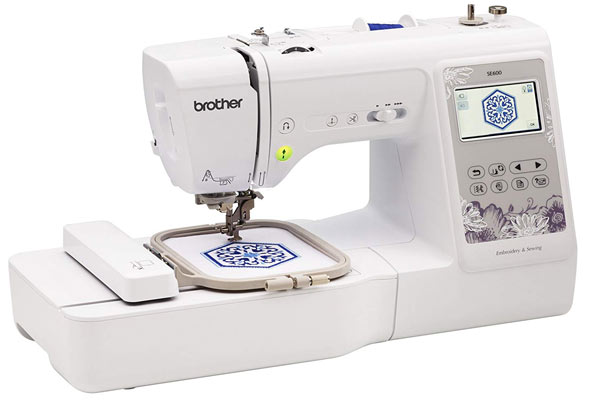 Brother SE600 Review – a Great Starter Embroidery Machine
If you are new to sewing (or embroidery), you might have heard that the Brother SE600 sewing machine is one of the top choices for beginners. But is it really? The truth is that most machines are not great for embroidery and those for embroidery don't perform too well for sewing. So what is it that makes the SE600 from Brother perfect for both? Well, that's what this review is about. I'm going to take you through the features, the accessories as well as the way it performs. By the time we're done, you should be able to tell if the model is the right for you.
Before I get into the Brother SE600 review, here are a few things to keep in mind when buying a machine:
– Will I use it majorly for sewing or for embroidery, or both?
– Does it have the right features for what I need it for?
– Is it affordable for me?
– Will I outgrow it in a hurry?
We occasionally link to goods offered by vendors to help the reader find relevant products. Some of the links may be affiliate in nature meaning we earn a small commission if an item is purchased. Read my full disclosure here
FEATURES of the Brother SE600 embroidery machine
I should mention that we are talking about a computerized machine here. This is as opposed to a manual, electronic or mechanical machine. Most beginners don't usually choose computerized models, but this one is great for newbies.
Convenient touch LCD display screen
A nice touch that lets you see your embroidery designs before you transfer them to the fabric. The size is convenient and at 3.2", you can work easily fine-tune your designs, change different thread colors and see everything in the preview mode before you begin stitching. It also helps that it's all in color. This will definitely speed up the embroidery process and you can tell if a pattern is going to work or not before going through all the trouble of stitching something you'll have to shove into the back of your wardrobe.
A sewing foot for almost any task
The SE600 embroidery machine comes with 7 different sewing feet to give your work the extra wow-factor without stress. This includes buttonhole, monogramming, zigzag, overcasting, zipper, and even blind stitch and button sewing feet. The versatility of these feet will give you the freedom to take on any project of your choice.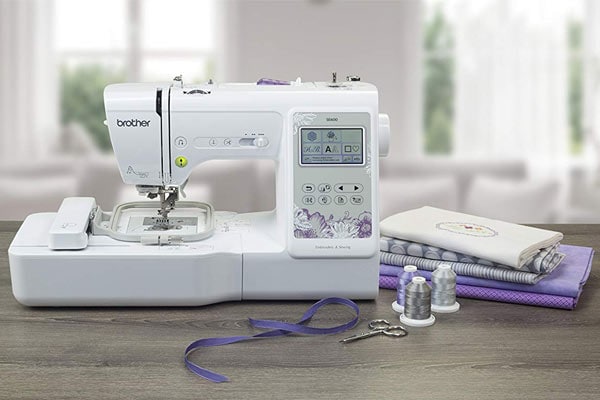 Over a hundred sewing stitches for any kind of project
This is one of my favorites! If you are not too choosy, the 103 preloaded stitches are more than enough for most of the projects you will undertake. Now, the truth is you are probably not going to use even half of these stitches, but it helps to know that you have so many to choose from. It gives your sewing versatility and when you are embroidering, you know that you're covered. And who knows, you might want to try decorative sewing with one of the many stitches, which include hearts, waves, feathers, greek key, stars, scallops and decorative scrolls. So many options to pick from.

LED lighting for sewing in the dark
Well, maybe not necessarily the pitch dark, but if you have to sew in a poorly lit area, then the lighting around the needle area of the Brother SE600 machine is just what you need. It makes a lot of sense as you'll definitely need to see the embroidery designs as they form on your fabric. And if you are working with a dark fabric, then the lighting area saves you from straining your eyes.
Work field
Most embroidery designs are created using 4"x4". The Brother SE600 embroidery machine is already aligned to help you with your embroidery and comes with a exactly that size of hoop so that re-hooping is a breeze. Don't forget that there is a detachable arm, which can be really helpful for sleeves or other small tricky areas. Coupled with the special embroidery foot, your projects will take on a new and better dimension.
Automatic needle threader
If you are working on a design that uses multiple colors, imagine the frustration of having to manually thread the needle each time you have to change yo a different color. The auto needle threader on the Brother SE600 does away with that. Save time as well as your eyes with a simple press of a lever. In my opinion, this feature is definitely a must for any machine you decide to buy.
In-built lettering fonts help make your embroidery interesting
There are 6 of them and they make it easy for you to give a personal touch to all your creations. They all come in three sizes – small, medium and large and you can get the fonts in capital and lower case as well as in numbers and symbols. Talk about to way to ramp up your creativity!
Importing your designs
This is one feature that really rocked! The USB port lets you to import your designs in .pes format real quick. Whether you created the designs yourself or you purchased them from one of the commercial sites selling embroidery designs, you can easily transfer them to your SE600 and start working on your creation. Note: the USB stick is not part of the package.
Expandable free arm makes embroidering easier
And not just that either. The expandable free arm creates some extra work space and reduces the stress of sewing a sleeve cuff or a trouser hem. Simply sleep it over the arm and get working.
Quiet while sewing
The SE600 machine from Brother is not a noise-maker. Something that is particularly handy for when you want to sew in the night, or if you have close neighbors. This quiet machine and makes so little noise that even those in your home may not know when you are working on the machine. This is definitely a plus for me, and I'm sure it is a huge plus for most sewists. Who wants to wake up the beasts when they are fast asleep?
Useful manual
The manual that is included with the Brother SE600 is both comprehensive and easy to understand. The language is simple and you can easily find solutions to most of your problems. While you can start using your SE600 practically right out of the box, it is better to first read the manual cover to cover so that you have less issues when you begin to use it.
Added accessories
The extra accessories that come with this machine also add a nice touch. It comes with a dust cover to protect your machine from dust and dirt. There is also a foot controller to help you get the right pressure with when using the sewing feet.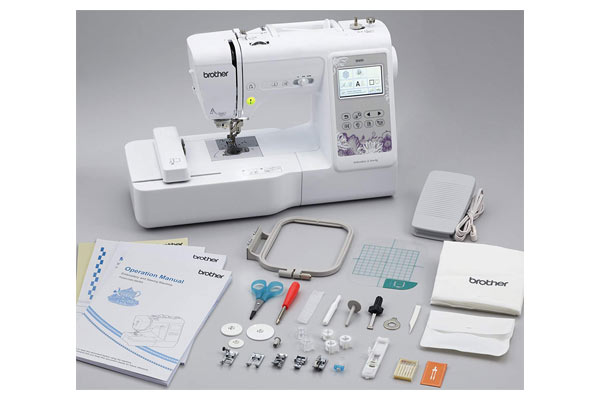 The Brother SE600 is best for…
The dual capabilities are awesome no matter whether you like to sew or embroider. As I've already mentioned, most machines are either good for sewing or for embroidering and if you do both, you would have had to buy two separate machines. However, the Brother 600 changes the game. Now you can do both on just one machine.
The next thing to consider in this Brother SE600 review is whether this is a machine that a beginner can use. Well, the answer is Yes. If this is your first time sewing or maybe it's just your first time on a computerized sewing machine, then this is exactly what you need.
Easy to set up and understand, the instructions are simple. This is not a complex machine at all.
But does that mean once you get any good at sewing and embroidery you are going to have to upgrade to a more sophisticated machine? The good news is, SE600 sewing and embroidery machine has all you will need in creating your crafts and you can use it for a very long time. No matter your skill level – novice or advanced seamstress – you will be able to bring your creativity to life.
Some issues you might have
The Brother SE600 is almost perfect, with the exception that you might face a few issues while using it and it only makes sense to know exactly what to expect before you go ahead and buy one.
The major issue is that for embroidery, you are going to have to buy some embroidery software before you actually start embroidering. If you already knew that, then this is not a big problem, but if you didn't know that, it can be quite frustrating.
Also, you are stuck with a small hoop size. The hoop that comes with this model is 4"x4", you can upgrade and buy one that's 7"x4", but you will always be stuck with the 4". That is all the length this machine can accommodate. Now, that is not much of a problem because most embroidery designs come in that size, however if you want to experiment and create a design using a larger size, it will definitely be a problem.
How different is the SE600 from the SE400?
LCD display screen – SE600 has a slightly larger screen which comes in color, which is missing on the SE400
USB ports – for the SE400, you need a cable to connect the USB device to the machine, while the SE600 comes with a normal port where you connect your USB device directly to the machine.
Embroidery card – the SE400 has that, the SE600 does not.
Others – when it comes to sewing stitches, the variety of lettering fonts for monogramming and the number of in-built designs, the SE600 is superior.
Takeaway
The Brother SE600 computerized sewing and embroidery machine performs as advertised and is really easy to set up. I tried it with someone who had never handled a sewing machine before and after a couple of false starts, she was able to get it up and running. That's how easy it is to set up.
I think the stitches are a bit extra, seriously who is going to use 103 stitches, unless of course you are doing commercial sewing or embroidering. But if it's just for your home crafting, then they are a bit too much. However, it feels nice to know that you have such wide number of options to choose from.
Whether you are a beginner or your sewing and embroidery skills are at the advanced level, the Brother's SE600 is one machine you can use for a very long time.