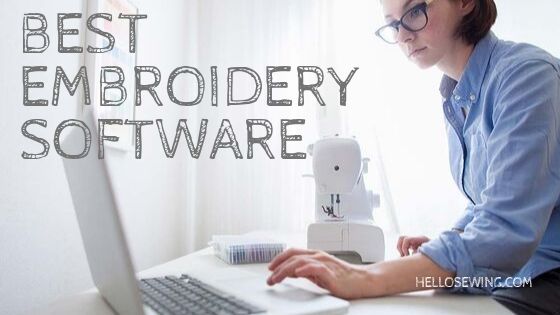 Best Embroidery Software in 2022 – Reviews with Handy Comparison Chart
Are you looking for great machine embroidery software that is not overly complicated? Do you want to change up a design you've bought? Resize or change the colors with just a few click. Do you want to create your own embroidery design from scratch? No worries – we'll show you which one has these powerful, yet simple to use features.
Most embroidery machines come with helpful, pre-loaded embroidery designs. But if you're tired of using them over and over again, a machine embroidery software can help you open and download new designs from the Internet. In addition to that, some of the best embroidery software provides resources like fonts and patterns to help you create custom embroidery that truly projects your own style. All you need to do is to install a good software.
Here's our rundown of the top of the line, easy-to-use embroidery software with powerful features. No matter whether you are looking for something that is designed specifically for the creative hobbyist and home embroiderers or if you need more robust commercial embroidery software, whether you are using MAC or Windows, we'll help you find the right one for you!
We occasionally link to goods offered by vendors to help the reader find relevant products. Some of the links may be affiliate in nature meaning we earn a small commission if an item is purchased. Read my full disclosure here
What makes a great machine embroidery software?
Compatibility: Not all software are created equal and not all are compatible with most devices. Before you invest in any software, make sure that it's compatible with both your computer and embroidery machine. You should also make sure that the file format for your software can be read on your embroidery machine. Otherwise, your software is as good as nothing.
Patterns offered by the software: The whole point of getting an embroidery software is to add new designs to your arsenal. So make sure to take a peek at the diversity of the patterns provided by the software. You don't want to hit another creative bottleneck because the type of patterns given by your software is limiting and ugly.
Customer support: This is especially important for newbies since they need some guidance to help familiarize themselves with the product. Pick a software company that offers great customer support. As a bonus, try and find a company with an informative and interactive forum where fellow embroiders share their experience and troubleshooting methods. Trust us, this will make your life infinitely better and easier.
Licensing: It's always tempting to get the free software over the licensed one but free software can be more trouble than they're worth. For one, they often don't offer product support since they are not monetarily incentivized to do it. They could also come with unwanted malware that might corrupt your computer if you're not careful. A licensed software offers so much more security and support if you're having trouble with it.
6 Best Embroidery Software in 2022
There are a lot of options in the market of embroidery software. We get it — it could get overwhelming when going through all of them. Now that you know what to look for in good embroidery program, let's look at the best embroidery software in 2022.
In this embroidery software reviews article, we're highlighting 6 that are great in different areas. Regardless of what you concerns are, there's bound to be a software on this list for you.
Overall top pick – Embrilliance Essentials
Sale
Embrilliance Essentials
Embrilliance Essentials is an all-rounder. The amount of features packed onto the software plus its affordable price tag makes it the overall top pick on our list. It helps that it works especially well on Brothers PE770 and SE400.
It allows you to customize your designs down to the tiniest details. Automatic stitch recalculation feature makes it possible to resize and color the elements to your design as well as convert the thread brands of your design. One of Embrilliances unique features is the ability to add very large letters and spiral texts to your embroidery. The interactive embroidery design is a great addition as well, since you can now create something that's truly yours instead of using default designs in the software
Post-design regret is real. To counter that, you can edit and save changes to the design you make again and again. With Embrilliance, you can zip your files to save space in your computer while merging your designs in virtually every existing format.
Now for the downsides.
You can't import a design into the software by scanning, which means that you can't put your friend's embroidery that you love into your embroidery machine. To avoid having issues with the serial number as reported by some users, it's best to check that out before investing in Embrilliance.
Embrilliance Essentials is the overall winner because of the amount of customization it allows you to do. The demo version is an excellent tool to help you decide if you want to invest in the software. Note: you can't save your designs in demo mode.
Best for beginners – Embrilliance Stitch Artist Level 1
Sale
Stitch Artist software
Embrilliance Stitch Artist is a three-level embroidery software that is catered for a range of skill level. Level 1 is the novice level, where complete beginners learn to get a hang of embroidery software.
Its simplicity and intuitive interface makes it a great platform for beginners to start learning machine embroidery on. Stitch Artist mostly focus on design creation; you can use different stitch types and properties to make a custom design. You can also complete projects like running stitch designs, fill simple shapes, fill in backgrounds, applique designs, and unifying components for design compositions with ease
What makes Stitch Artist perfect for beginners is its concern for progression. Since it's designed for beginners, experienced embroiderers would undoubtedly find limiting. That's why they made Level 2 and Level 3 for advanced embroiderers. With the increase of level, you'd unlock more features and resources to explore. You don't have to get Level 1 to get the higher levels, though. You can buy Levels 2 and 3 as standalone programs with a lower price.
Stitch Artist Level 1 is the top contender of the best embroidery software for beginners because they offer enough features without overwhelming the user. It's also pretty affordable for what it offers. The possibility of expanding the software with Levels 2 and 3 makes it a worthy investment as well.
Best budget and best for lettering – Amazing Designs LETTER IT! Embroidery Machine Software
Whenever you need something lettered, LETTER IT! is the software to go! The embroiderer can pick from 35 different and unique fonts for your embroidery. You can also choose from a wide spectrum of colors that would go with even the tiniest differences in your designs. It lets you create texts in different formats — a circle, multi-line, single-lined, curved, and vertical. You can even import your own designs into the software and incorporate lettering into your design.
Unfortunately, LETTER IT! is not supported on MacOS. Since its a software for lettering, it offers limited flexibility when it comes to designs. It doesn't come with a hard copy manual, and the PDF version online might be frustrating to read. But with enough practice, you'd get through it in no time.
Amazing Designs LETTER IT! Embroidery Machine Software is an amazing software for lettering with a modest price tag. The 30-day trial Amazing Designs provide should give you enough insight when using this software, so be sure to try it out before you buy it.
Best for Monogramming – Brother ELS Embroidery Monogramming Software
ELS program by Brother
In terms of monogramming, Brother ELS Software reigns supreme.
You're guaranteed a bunch of frames, styles, and fonts to play with when you run this software. To be specific, it comes with 20 built-in pre-digitized fonts, 5 monogram styles, over 40 decorative frames, 3 built-in texts, and 14 decorative fill patterns. Can you even imagine how many different variations of monogram possible on this beast?
It wouldn't hurt to ask your machine provider, but ELS Embroidery Monogramming Software works well with most machines in the market – even if it is a hat embroidery machine or a multi-needle commercial embroidery machine such as these. Some users have reportedly unable to edit their designs, but this seems to be a problem among a small group of ELS users. Although it works on all Windows OS, it might stop working once you upgrade your Windows from the older version. Some users also have trouble with the activation number. However, since this is an authentic product by Brother, all the solution to your problems is just a phone call away from Brother's helpful customer service.
The versatility provided by ELS Embroidery and Monogramming Software is a great addition to your must-have embroidery equipment. Since Brother is a named brand with a great reputation, you can always count on their customer service to help you out with the small amount of issues that come with the software.
Best for Organized Embroiderers – BuzzXplore V2 Premiere Embroidery Design Management
BuzzXplore V2
Right off the bat, BuzzXplore's Microsoft-eque interface seems familiar and easy-to-use. Its unique filing system makes it the best for organized embroiderers because you won't be able to lose a file here even if you wanted to
BuzzXplore V2 will keep any number of your embroidery safe. You can import and tweak as many designs as you want, but you won't find it difficult to find them afterward. If you're serious about organization, you can arrange your designs according to a wide range of formats. You can also quickly export your designs onto your external hard drive, USB cards, flash drives, and even Bernina drives with the Embroidery Drive Writing Wizard.
Given that it runs exclusively on WindowsOS, you can only run it on a MacOS via a Windows emulator. You can't convert a graphics file format to an embroidery file format unless you get Buzz-2-Stitches, which is an add-on extension for V2.
BuzzXplore V2 Premiere Embroidery Design Management lives up to its name of being the best organizer for embroidery designs despite having a couple of kinks in file format and device compatibility. Issues encountered on V2 is also fairly easy to solve.
For Advanced Embroiderers – Embrilliance Enthusiast Embroidery Software for Mac & PC
Sale
Embrilliance Enthusiast offers a wide range of options like stitch editing, baste hooping, multiple hooping, mirror x4, and more. You can control your embroidery down to the T with this mac embroidery software since it's one of the few programs that offer advance thread editor, advanced sizing control, and stitch properties (to see how it fares compared to other software, not mentioned here read our Sew What Pro vs Embrilliance comparison).
Features like Instant Repeat, Scatter, and Carousel make it easier to create and embroider repetitive patterns or designs. It also allows you to save in .png formats; great news for people who like to look at their designs on their phones as a picture. I especially like the multi hooping option as can split a 5×7 design for a 4×4 Brother hoop (e.g. for Brother SE600 embroidery machine)
Some users have complained about the lack of instructions to use the program. This is also part of the reason why we recommend this software to experienced embroiderers in the first place. There might also be a problem with the serial activation number, but that's easily solvable with a phone call to Embrilliance's customer service.
Features that allow the embroiderer to tweak and customize their embroideries to their hearts' content are important for expert embroiderers. Embrilliance Enthusiast definitely fulfills this criterion with their advanced features that are sure to make every enthusiast embroiderer's lives easier.
Takeaway
The abundance of embroidery software in the market makes it difficult to decide on which embroidery software to buy. There are many different factors to consider, like price point, skill level, and the features that you actually need.
Given all the factors, Embrilliance Essentials is definitely our top pick in terms of embroidery software. For a relatively cheap price point, it basically gives you all you'd ever need to make beautiful and personalized designs.
Although Amazing Designs LETTER IT!  is targeted towards lettering enthusiast, it's affordable price tag makes it possible for budget embroiderers to step into the world of machine embroidery without breaking the bank. It also offers a lot of value for such a modest price.
We also liked Embrilliance Stich Artist Level 1 as a platform for beginner embroiderers to learn machine embroidering since it's simple to use. The best part about it is that you can add on more difficult programs to further expand your skills after mastering Level 1.
Do you agree with our picks of embroidery software? Tell us about your experience in the comments below!