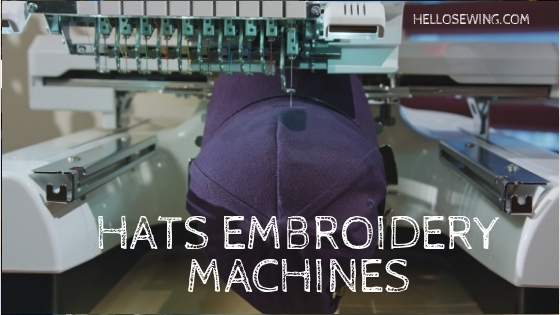 Which is the Best Embroidery Machine for Hats?
The art and craft of making hats used to be very appreciated in the past. Hats were made by hand. Therefore, each hat was 100 % unique. Hat makers were designing these genuine products based on the standard designs or were modeling the hats themselves. They were often adding embroidery which was the key factor in making unique pieces.
Today, the hat industry is less interesting, partially because fewer people wear hats nowadays, and partially because this branch lost some of its uniqueness. Today, most hats are made industrially. However, the development of technology led to engineering amazing embroidery machines for hats.
These machines are so sophisticated that hat designers cannot imagine working without them. The machines are usually equipped with lots of different useful features that all have two beautiful goals: setting your creativity free and delivering an impeccable product.
We know that it is not easy to choose a single best embroidery machine for hats from the rich offer available in the market today, so we rounded up the top products for you.
We occasionally link to goods offered by vendors to help the reader find relevant products. Some of the links may be affiliate in nature meaning we earn a small commission if an item is purchased. Read my full disclosure here
We can start by defining the leading embroidery machine brands. Some of the best brands include Brother, Singer, EverSewn, and Janome. These are the brands with a long tradition, innovative engineers, reputable and recognizable name, and lots of novelties. Furthermore, they offer good warranties and have repair services around the world. You can easily find spare parts, instruction manuals, and training videos for the machines made by these prominent brands.
Next, when choosing your hat embroidery machine, you should pay attention to several crucial features, including durability, ease of use, ease of design imports, the speed of the machine in relation to the volume of the work you have, as well as a number of needles of the specific model. Let's not forget the budget. As multi-needle embroidery machines are the most suitable types for hats, these machines tend to be somewhat expensive. On the other hand, investing in a high-quality, durable and versatile model is a smart decision that will pay off, especially if you don't plan to make the hats for yourself, but for your business.
We are bringing you the ultimate embroidery machine for hats buying the guide and short reviews of five best models in the market today.
Our Reviews of the Best Embroidery Machines for Hats in 2020
Brother PE800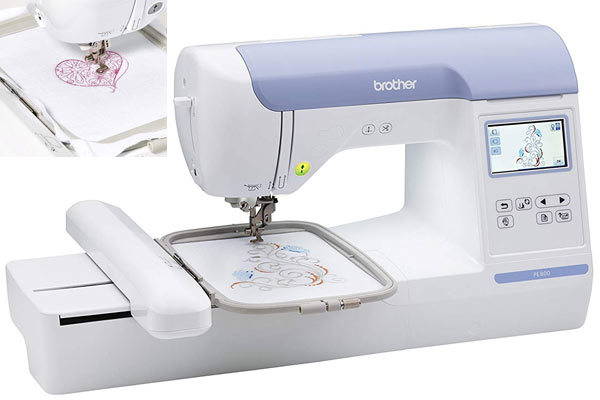 If the affordable price tag is something you are looking forward to, we recommend Brother PE800 hat embroidery machine. This is not a sewing machine. This is a specialized, embroidery-only machine with 5 x 7-inch embroidery area dimensions. The machine weights 13.74 pounds.
You will easily recognize different features that reveal its sole embroidery purpose, such as a high-quality color LCD screen, 138 built-in, and editable designs, as well as USB ports which allow you to use any other design you like.
The peculiarity of this machine is its extensive editing feature in combination with the already mentioned color LCD. These two features allow you to combine different colors, shapes, rotate the existing designs, and use many different effects, or preview your work before you choose to transfer it to the hat.
You can easily change the size of the given designs. This is especially important, as hats usually require smaller designs.
The PE800 model comes with 11 built-in fonts, 10 frames, unique scroll works, floral and geometric designs. Hat designers value interesting border styles. You can also change their colors and size.
The machine comes with 4 bobbins, a good needle set, dust cover and a manual, 4 spool caps and 3 screwdrivers. You get the seam ripper, bobbin cover and a cleaning brush. The automatic needle threader will save your time and energy. Extra-bright working area protects your vision and helps you work fast and precise.
In summary, these are excellent features for a single needle hat embroidery machine by the reputable Brother brand.
Singer Futura XL-550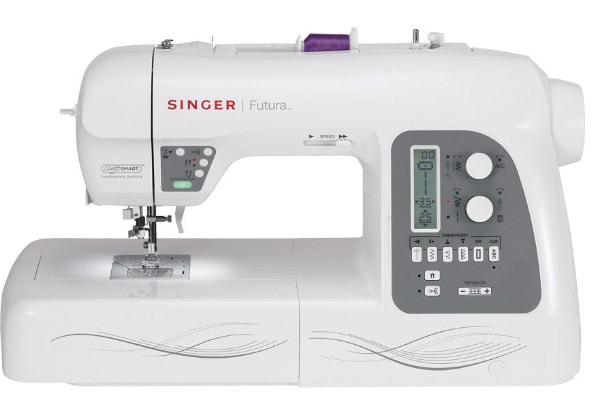 Singer is a well-known sewing and embroidery machine brand with more than 160 years of tradition. Millions of users around the world trust this brand and choose these embroidery machines for creating unique, mesmerizing hats. If you are looking for an upgrade to the previous model, we highly recommend Futura XL-550 hat embroidery machine by Singer.
This is not only an embroidery machine. This is a 2-in-1 device: embroidery and sewing machine with 250 embroidery designs, more than 200 built-in stitches, and lots of other useful features.
The peculiarity of this machine is its computerized embroidery system. The possibilities with this system are literally endless. You can combine two or more designs, their segments, overlap them, and create new unique designs. Imagine how many combinations you can make out of the given 250 designs? The possibilities are unlimited! You can also add lettering, borders, rotate, mirror, and change the size of your design, preview it on the screen and create 100 % unique embroideries.
Singer Futura XL-550 has extra-large working area is good for easy maneuvering of hats, especially if you use a larger stabilizer.
This state-of-the-art machine comes with a USB key. This means you can work on your designs on your computer independently. You don't have to have the machine connected to the computer all the time. Great compatibility is another asset of the Futura XL-580 model. It recognizes the following file formats: PSW, SEW, VIP, JEF, FHE, PCS, EXP, PEC, SHV, XXX, CHE, HUS, and DST.
The only drawback of this embroidery machine model is the fact that the users residing outside the USA or Canada will unfortunately not be able to benefit from the manufacturer's warranty.
-or-
Brother PE770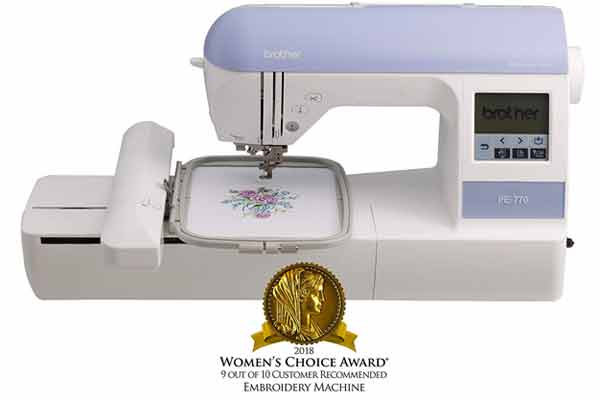 If your goal is finding the most affordable, quality hat embroidery machine, we recommend the PE770 model by Brother.  This is a  cheap machine when it comes to the amount of money you have to give, but some of its features are actually those of a more expensive, high-quality machine. If you are working from home and don't have extraordinary requirements when it comes to hat embroidery works, this machine will satisfy all your needs.
The Brother PE770 has an expansive embroidery field (5×7 inches) often found only on more expensive machines. Furthermore, it comes with built-in memory and a USB port. Therefore, if its 136 pre-set embroidery designs are simply not enough, you can always import new ones. It also comes with 6 different lettering fonts and 12 border styles. You can play with the available options via the rotate, resize, and mirror options. This model is also compatible with the embroidery cards. You can get the unique Brother designs and incorporate them into your hat models in no time via the embroidery card slot. Most users, especially, appreciate its compatibility with the popular iBroidery site for getting special embroidery designs, including various licensed characters.
Another surprising feature of this price range machine is the excellent embroidery speed. This model reaches 650 stitches per minute! The machine also has an LCD screen with a simple user interface.
This is a very durable machine with an excellent warranty. The manufacturer provides a 25-year warranty. The machine weights 26.9 pounds.
-or-
EverSewn Hero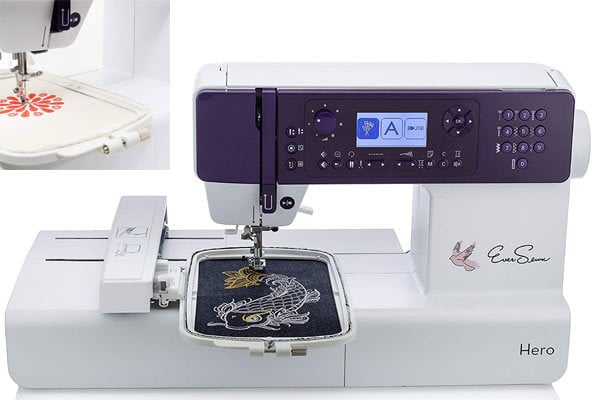 In case you are looking for a lightweight, convenient, compact, easy to use, and affordable embroidery machine suitable for hats, we believe that the EverSewn Hero sewing and embroidery machine is the best match for you. If you are ready to invest, you are only a step away from starting your hat design and embroidery home business.
This is a modern machine with convenient and easy to learn commands. It has a 110 x 170 mm embroidery area. The automatic needle threader, which has become a must in sewing and embroidery machines, is also included. It saves your time and delivers more precise and neat projects.
It comes with more than 400 stitches, borders, letterings, and decorative patterns. However, one of its rare flaws is a poor choice of built-in designs for embroidery. This model comes with only 40 different designs. On the other hand, many users don't see this as a drawback, as modern technologies and connectivity allow importing designs from the Internet. This machine enables it via a USB port. However, the only supported format is ZHS. It is not hard to convert the files of other formats to this one, but some users see this as a drawback.
It is important to emphasize that this model is lighter than other similar embroidery machines. It weighs 26 pounds. It has a good LCD, easy to use buttons, as well as a beautiful design.
It is a robust, durable machine. The manufacturer recommends this model for beginners, as well as the lower intermediate level of users dealing with sewing, embroidery and hat embroidery designs.
Janome MB-7
If you are looking for a professional, upper price range specialized embroidery machine, and your budget is the upper range, Janome MB-7 is a very good choice. Janome is a trusted embroidery machine brand with good repair service and spare parts availability. This is a durable, reliable, convenient machine.
Most professional hat embroidery manufacturers choose one of the Janome models for their hat embroidery works. The reasons are many.
This model supports DST, JEF, and JEF+ formats. These are suitable for the professional fashion industry. Even though it does not come with an impressive number of built-in embroidery designs (only 50), this machine comes with a USB port. You can easily pick your designs from the Internet or transfer them from any other media to your machine. It comes with 10 different lettering fonts. You can combine embroidery with monogramming and create your own, unique designs. The possibilities with high-quality, highly responsive machines like this one are truly endless. You will not lose time waiting for your machine to respond. You will be surprised by the effortless use and the opportunities it brings you. It is a programmable, adjustable, and flexible embroidery machine.
It comes with a screwdriver, 6 strong, white, LED lamps, a manual, instructional book, and a training video. It also comes with three different hoops and a hoop supporter.
The strongest asset of this embroidery machine is its speed. It reaches the amazing 800 stitches per minute! You can literally double the amount of work and profit, or save your precious time with this superb embroidery machine. It is very smooth, precise, and most users praise the quality of the end result.
Janome MB-4S Four-Needle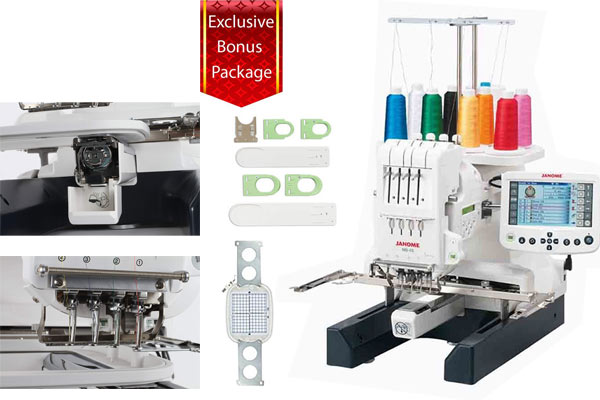 Another hat embroidery machine that belongs to the upper price category is the Janome Mb-4S four needle model. If you are ready to invest in multi-needle model for in your hat embroidery business, this model is a very good choice. This 4-needle machine will deliver your projects at a pace of 800 stitches per minute. You can easily decrease the speed for precise and complex projects.
The peculiarity of this model is the remote computer screen system. You can control all segments of your work and enjoy the precision of the amazing 65,536-color screen. This RCS is suitable for more machines, not only one.
It comes with 50 built-in designs, 10 monogramming options, as well as a USB port for importing embroidery designs. Its LED lights and special controls provide impeccable precision and additional control over your project. It is interesting that this machine is known as the first home-use machine with 4 needles. You will be able to finish your colorful and complex hat embroidery projects in no time, effortlessly! Hat embroidery rarely calls for more colors, but in case you need a machine that can handle more – I can certainly recommend you Janome MB-7 from our best embroidery machine for small business roundup. It's a beast!
This machine is good for sewing as well. You can use it for quilting, due to its large working area, as well as other types of embroidery, not only hats. Many professionals who have versatile products in their offer opt for this multi-functional machine by Janome.
BUYING GUIDE: Best embroidery machine for hats must-haves
Ease of use
Making hats with embroidery details can be pleasurable and effortless only if you have a high-quality embroidery machine designed especially for hats, or an embroidery machine with a strong and versatile hat program. Furthermore, you will have to constantly improve your skills.
If you will use your machine at home, you will definitely want a very simple one. You can get a classic embroidery machine with some features suitable for the hats, such as several needles or the specially designed hat attachment. If you need the best commercial embroidery machine for hats, you definitely need to invest in a machine with LCD screen with clear instructions, easy to use, but versatile and multi-functional.
Ease of designs import
Embroidery machines, in general, must be rich in designs. This is especially important for hats as those designs are supposed to be delicate and editable. Most embroidery machines for hats today are very rich in built-in designs. However, manufacturers never limit the users to those specific designs. They provide various modes of design imports. The most suitable ways are via a direct internet connection, connect to the computer or via USB port.
In order to produce eye-grabbing, unique pieces, you will have to carefully choose the design, make sure it suits the hat shape, and thoroughly think of the design colors. You might want to establish a contrast between the hat fabric color and the embroidery design, i.e. thread colors, or you may opt for a balance and harmony effect. This is why most users prefer a multi-needle embroidery machine.
If you are using a standard embroidery machine, not a model specifically made for hats, you want to make sure it has a strong design editing feature and can use at least a cheap machine embroidery software. You will probably adore at least half of the designs that come with your machine, but if you cannot change their size, you will probably find them useless for a hat. Furthermore, being able to rotate them or create the mirror effect is also important for a successful hat embroidery work.
Durability
The durability of the embroidery machine is another very important factor. This is also true for the best embroidery machines for hats. These machines are usually multi-needle models and are therefore not very cheap. You definitely want a durable model you can use for several decades.
You should look for machine sturdiness, materials used, and protection, i.e. machine case, as well as the quality of the stabilizers, and the thread and needle system.
Another aspect related to durability that you must consider when looking at our best embroidery machines for hats list is warranty. No matter how durable your machine is, sooner or later, you will need some kind of repair service intervention. It is good to take advantage of your warranty on these cases. Renowned brands such as Singer offer the best warranty for most of their models.
Speed and volume of your work
Another very important feature of any sewing machine is its speed and that is especially true for the best hat embroidery machines. This is also valid for home businesses, where the tempo of orders is not always clearly defined in advance and the deadlines tend to be surprising and tight. You may get a large order and your profit will depend solely on the speed of your machine.
Embroidery machines today have from 400 to 850 stitches per minute, on average. If you plan to use it for a home business, we recommend you to invest in a more expensive machine, with lots of needles and good speed. If you are working on complicated designs, you can always set the machine to a lower speed.
Good manual, training, and service
Large and reputable brands provide very informative, educational manuals, LCD screen instructions and training videos, and last but not least free-of-charge online training sessions for your hat embroidery skills. This is especially useful for beginners and users passing from older models to advanced, state-of-the-art and truly the best hat embroidery machines.
Number of needles
You must know that getting a multi-needle embroidery machine is the best choice for hats. However, you will also face the fact that they are much more expensive than the single-needle models. If you want to do complex designs in no time, multi-needle machines are your only choice.
Furthermore, various needle positions are also very important for the success, accuracy, and speed of completing your job.
Budget
Budget is a go/no-go factor for many users, especially when it comes to the home businesses. If you have a small manufacture, going with a middle price range machine is a good option. However, if you are working for larger dealers and shops, you will probably have to meet tight deadlines and deal with larger orders. In that case, you should not hesitate to invest in a higher price range hat embroidery machine.
FAQ:
Do you need to use special needles to sew hats?
Good hat embroidery machines usually come with suitable needles or needle sets. You should know that you will probably use thicker needles all the time, as the hat fabric requires so. However, if you are working on a very thin, unusual hat, you can use regular embroidery needles. You can also use silicone spray to prevent needle breaks.
Do you need to use a special thread?
This depends on your design and ideas. It also depends on whether you want shiny or matt look, flat or 3D embroidery. Related to these factors, you can use any thread you like. You can consider protecting the threads with the already mentioned silicone spray as well.
Tips for sewing hats
Sewing a hat with a sewing and embroidery machine can be very pleasurable if you have a good machine and some skills. There are some tips that can help you.
Keep the embroidery designs small. You don't want to overstuff the hat with the embroidery.
Use a somewhat larger stabilizer than you think you might need at first sight. This will increase the maneuverability. You will be able to manage the hat easily.
Use a thick needle. Hats usually have thick fabrics, so a thin needle won't be useful.
If you have a complex design, make sure you decrease the speed of the machine.
Test your projects first. Removing embroidery is definitely not an easy feat, but if you need to do it – here's how: how to remove embroidery from a hat
Takeaway
You can get a very good hat embroidery machine for as little as  500 USD if you are a beginner, or you can pay above 5000 USD for a professional, specialized machine. You should first evaluate your needs, the workload, type of work you will deal with, your level of proficiency and future aspirations, as well as the required machine speed. The prominent brands in the world of hat embroidery machines are Janome, Singer, Brother, and EverSewn.