1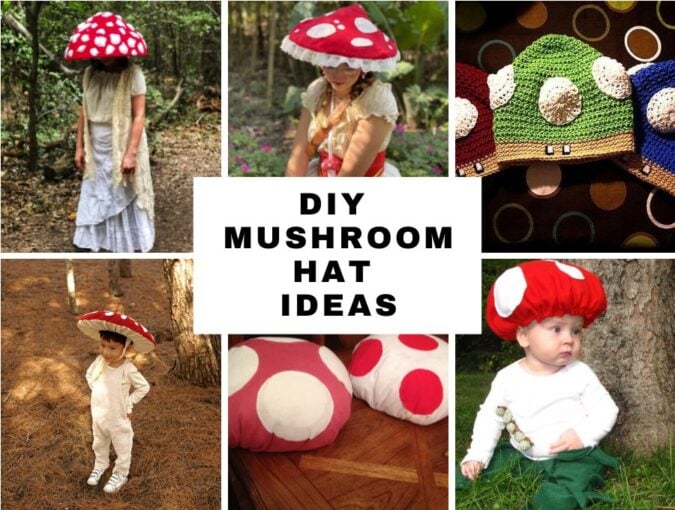 DIY Mushroom Hat Ideas – How to Make a Toadstool Hat in a Flash
If you want to be a mushroom this Halloween here are the best tutorials on DIY mushroom hat and what to wear with it. Learn how to make a no-sew mushroom hat and pair it with any white or off-white clothing you already have in your wardrobe.
The best part is that you can you can design the spots of your DIY mushroom hat in any shape and/or size you want. I will give you ideas how to make a mushroom hat / toadstool hat either by gluing it together, or by sewing or crocheting. The Mushroom hats tutorials below will give you detailed instructions as well as how to design it to fit your measurements, will advice on the spots and the gills of the mushroom. So many ideas, so little time. Try this quick and easy project for your or your kids Halloween costume.
How to sew a toadstool hat / mushroom hat
Turn yourself into a giant, walking and talking mushroom with this fun toadstool hat pattern that will let you make a round mushroom hat big enough to cover your shoulders, the top of which is bright red with a lot of white spots in different sizes, and a white bottom that has fabric strips and beaded threads spreading out from the head hole.
NO-sew mushroom hat costume out of felt
It doesn't matter if you don't have your sewing machine around, you can still make this adorable mushroom hat with red and white spots top section and a white bottom part, pair it up with all-white clothes, and your kid will have his mushroom costume!
by Woodlarkblog
How to make a mushroom hat out of cardboard (no sew)
Learn how to make mushroom hat quickly and easily with this pattern as you form a cardboard piece into a wide conical hat shape and cover its top with red or purple fabric and contrasting spots scattered across it, while you cover the underside with white ruffled fabric and recreate that characteristic look of a real mushroom.
Easy Mario-inspired mushroom hat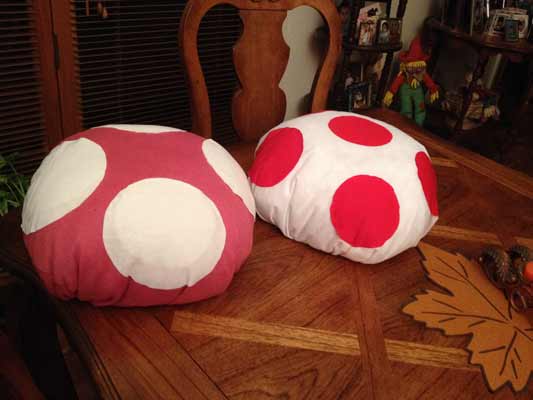 Take yourself back to the past and the days when you used to play Super Mario in front of the TV for hours with this hat identical to the one Toad wears in the game, featuring a puffy ball-shaped body in white color and large red spots, or with a red body and white spots, whichever you prefer.
Fantasia Inspired Boho Toadstool Mushroom Costume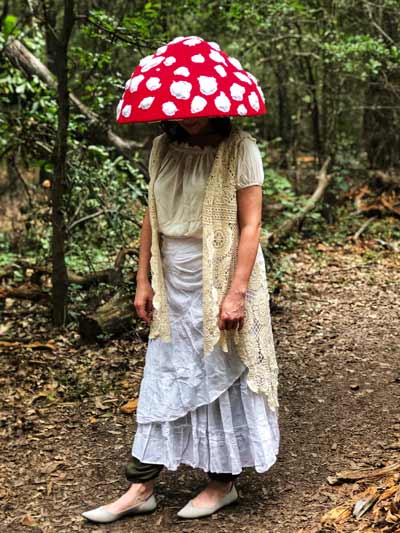 Those of you who prefer more detailed mushroom hats are going to love this one because it has a shape of a hemisphere with a bright red top side that has white bulges in various sizes and shapes spread out over it, and a bottom side made of white fabric in a way to wonderfully recreate the look of those mushroom gills.
How to make a mushroom hat /beret
Use the free mushroom hat pattern to make your own mushroom inspired barrette! Another idea is to use my beret pattern and add a few white spots on top in any shape and pattern you like.
If you ever wondered how to make a mushroom hat beret, here's an answer to your question, just follow these instructions and you'll get a hat that has an elastic head hole and an irregular circle gray body that's red on top with white spots sprinkled here and there.
Make a mushroom hat out of recycled materials (no sew)
Go green with this mushroom hat DIY as you upcycle materials like cardboard for the main body, paper mache for the spots, lace for the gills, and beads for the dew drops that will hand off the edges all around the mushroom.
Mushroom hat – free crochet pattern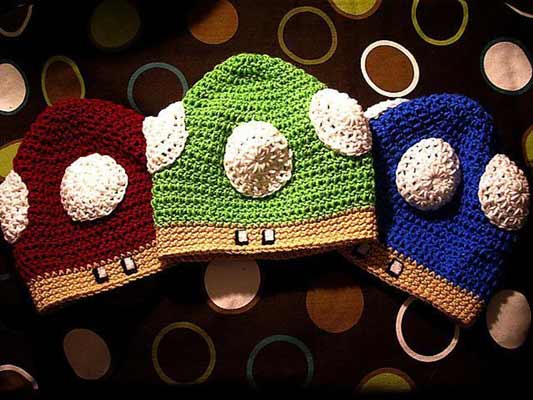 Fellow crochet enthusiasts, this one is for you, a pattern for a mushroom beanie that has a thin strip around the opening in light brown with two cute eyes in its middle and the rest of the hat in the color of your choice, with essential white spots as well.
by Lovecrafts
Complete Toadstool Costume
Become a full-fledged Toadstool who strikes dread into the bones of his enemies or whatever they do with this complete costume consisting of a mushroom hat with a red top and white bumps on it, beige bottom with gills, and a beige karate-style kimono outfit decorated with a miniature cloak make of leaves over your shoulders.
Easy baby mushroom hat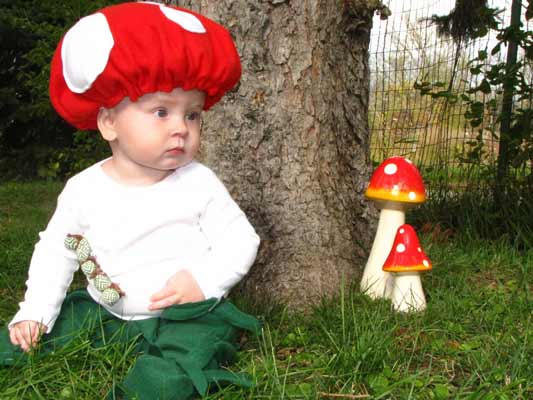 Give your little bundle of joy a new and adorable hat in the shape of a mushroom as you turn an old beanie into a red mushroom with white dots on top and filled with soft stuffing on the inside, together with a matching optional caterpillar decoration you can make out of yarn.
by Wispyhouse
mushroom hat diy no-sew (out of cardboard and fabric)
Let your sewing machine and those needles rest a bit because you don't need to sew to make this hat that features a conical body made of cardboard, covered with any white fabric from below and red fabric from above and glued together, with white cotton balls glued on top as the final touch.
The easiest mushroom hat
If this kid was able to make it, I see no reason why you shouldn't be able to make it too!
Minimalistic but extremely effective is what you can call this hat project that's so beginner friendly that even a kid can make it out of cardboard for the body and red and white papers that cover the underside and the top side, as well as decent white spots on the mushroom.
Easy complete mushroom costume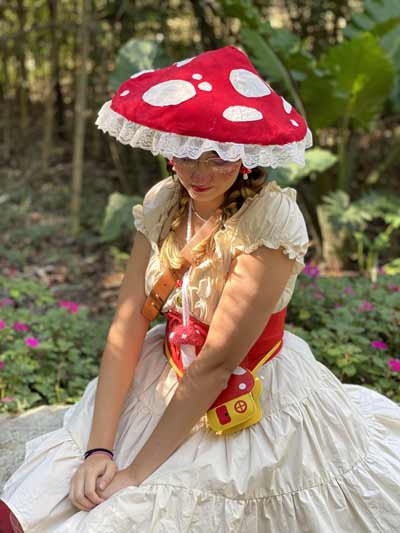 Transform yourself into a mushroom princess with this hat made of cardboard and white and red fabrics glued onto it to form the white gills and spots, and red main body, then complete the costume with some makeup and a long, light white or beige dress of your choice.
Boy, that was a lot of mushrooms I didn't even get to taste! But I guess these wouldn't taste good anyways so it's alright. As long as you enjoyed these mushroom hat patterns and found them useful! I hope you liked this roundup with DIY mushroom hat ideas you can make in few hours at most! Let me know which one you like best.
If you have a mushroom hat project you came up with, please share it with everyone in the comments below. And don't forget to subscribe to receive regular updates. Have fun in the woods, mushroom buddy!