1
Ingenious DIY T-Shirt Cutting Ideas – 19 Ways to Cut up a T-shirt
Transform an old t-shirt into something trendy you will want to wear all the time with these cool DIY t-shirt cutting ideas. So if you have an old t-shirt somewhere at the back of your wardrobe, take your scissors and give it a new life – turn it into an unique new shirt. Scroll through the t-shirt cut designs below and pick your favorite. This is a quick and cheap way to spruce up your wardrobe!
19+ Easy t shirt cutting ideas
Illusion v-neck t-shirt cutting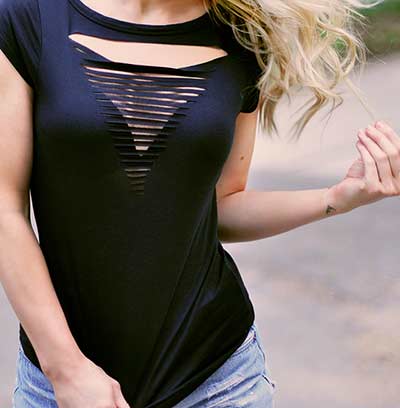 Use this pattern to turn a plain, boring T-shirt into a classy and attractive top with just a couple of precisely placed cuts with your rotary cutter that will create a V-neck-style set of horizontal gaps that start with a wide one, about an inch big, that is succeeded by multiple progressively narrower small gaps, resembling a tied corset.
by Lovemaegan
Cut out neckline tee
Breathe in new life into your old crew-cut T-shirt using this neat trick where you cut out seven triangles alternating in orientation arranged next to each other in a curve just below the neckline so that they form a fun cartwheel pattern.
One shoulder cutting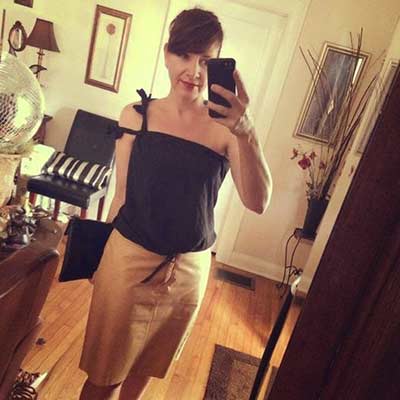 Less is more, so if you cut off a few parts of a T-shirt at the right places, you'll get a more stylish and elegant top like this one that features one bare shoulder and two straps on the other that you can tie up to have one strap on the shoulder and the other one on its side, keeping most of that shoulder bare as well.
by Wobisobi
Cross cutout tee shirt
Add an unexpected decoration to a shirt with the help of this tutorial that will show you how to cut out small rectangles on the shirt back in a way that they complete a large cross shape starting below your neck and ending near the bottom hem. You can also opt to cut out different shapes and create a heart, or wing shapes instead of a cross.
Geometric cutout shirt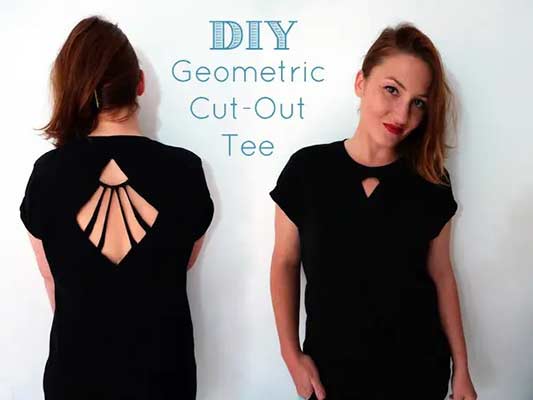 Here's a cutting trick that will give your shirt a subtle new decoration at the front in the shape of a miniature diamond shape below your neckline, and a larger shape on the shirt back that is also in the form of a diamond, but one made of a small diamond at the top, and thin strips protruding below, creating an effect of rays of light extending out of the top shape.
by Buzzfeed
Wings cutout shirt
Download this pattern and use it to cut out feather shapes that form a pair of gorgeous wings out of the back of your old T-shirt, so that everyone who sees you knows that you're a kind angel with a high sense of fashion and a creative soul. The pattern is just for one wing, so be sure to make a mirror image from it to get a full set of wings.
DIY chocker cutout t-shirt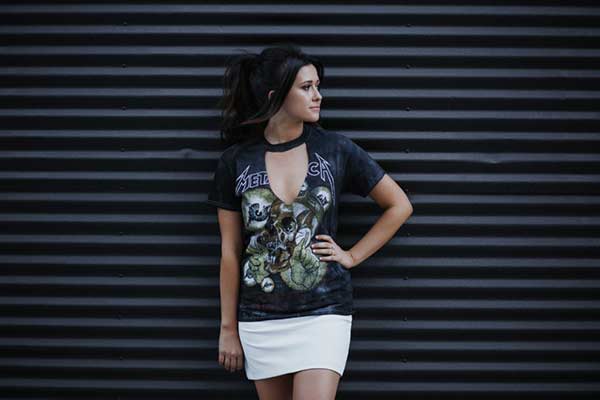 Great news for all of you, punk and metal fans, who love chokers, from now on you don't have to put them on separately because you can just transform your T-shirt so it has an integrated one just above a flattering deep V-neck that will flaunt your feminine attributes and demonstrate your rock spirit at the same time.
5 ideas to customize a t-shirt with cutting
Here comes a treat, five different cutting ideas in one, starting with one where you slice the bottom hem into fringes that you then tie together so they form adorable diamond shapes. The second one shows you how to use a pattern to cut out a cute butterfly on the shirt's back. The third design helps you turn your shirt into a short, open kimono-style cover that has long fringes at the front and the back. The fourth allows you to make a top with fringed cap sleeves and a tie at the bottom hem, while the fifth idea gets you a T-shirt with a bunch of fabric flowers on it and a high bottom hem that has a thin decorative rubber binding.
Bow back t-shirt (involves a bit of sewing)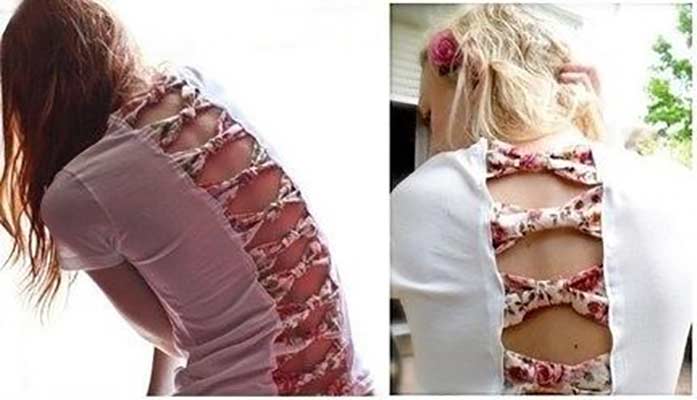 This idea will require a bit of sewing on top of the cutting, but it will be worth it because you'll end up with a T-shirt that has a wide gap going from the neck to the bottom, splitting the shirt open at the back, with intertwined horizontal fabric straps joining the ends together to stop the shirt from opening in a classy and creative way.
by Alldaychic
Muscle t-shirt for guys (Zumba t-shirt cutout)
One of the easiest zumba shirt cutting ideas – this doubles as muscle t-shirt for guys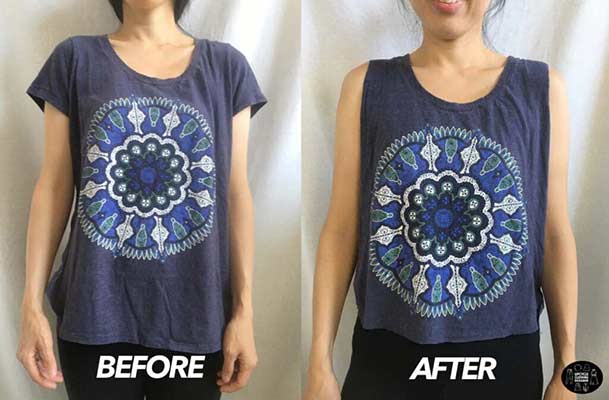 Make sure you're ready for a proper workout with adequate clothing like this T-shirt with sleeves that you cut off and get something like a tank top, and a bottom hem that you shorten so it comes just to your belly button to give you a bit of extra room for physical activities.
Crossover Back Tank From T-Shirt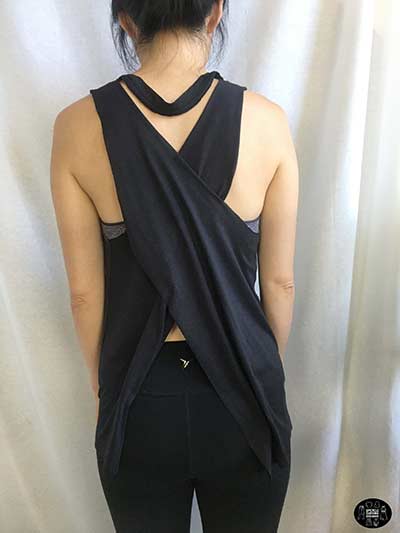 Stylish and comfortable, that's what this top is all about, with shoulder straps that have a deep cut below the armpits, and a back that is cut so it has two long, wide sashes starting at the shoulders that cross over each other and form an X mark on the bare back.
DIY Summer Beach Cutout Dress Coverup
Here comes a lovely cover dress for those trips at the beach that you can make out of a long T-shirt that you snip here and there to get the final result, a dress that looks like a high-waisted T-shirt and a mini shorts combo, joined together with a cute fabric bow at the bellybutton.
by Ann Le on YT
Off the shoulder t-shirt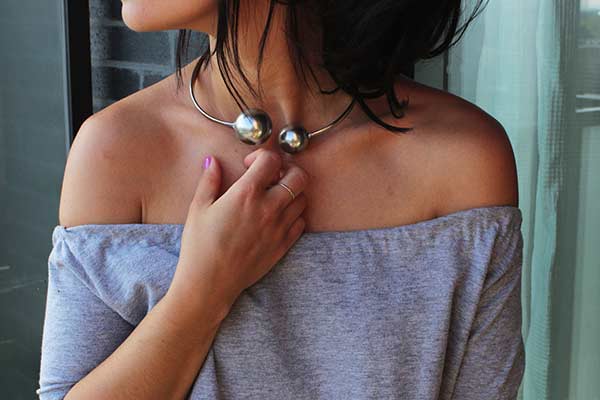 Tube top fans out there, this one is for you, a design that turns a T-shirt into a top that has bare shoulders and an elastic threaded through the top hem, as well as short sleeves that reach right about to your elbows, providing you with a gorgeous feminine summer look that will make a lot of heads turn.
Turn a shirt into a crop top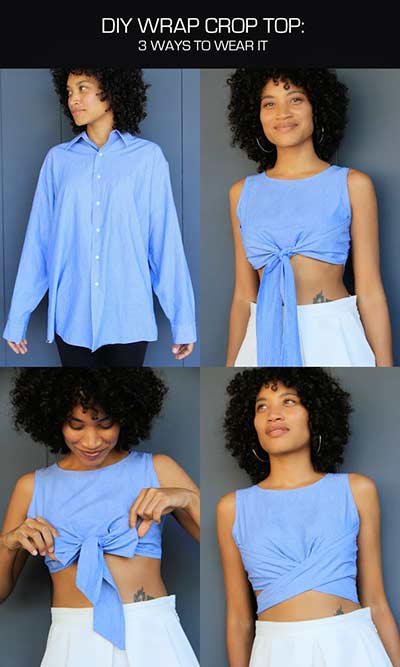 Crop tops have remained trendy for a while with a reason, just check out this adorable one you can whip up out of an old shirt, it has a crew cut neckline, it's sleeveless, has a high waist, and those two specific fabric sashes protruding from the middle of the bottom hem that you can tie into a bow or bunny ears at the front, or wrap them around your waist in an X shape and tie them at the back.
by Thefeltedfox
RELATED: More crop top sewing patterns right here
Shred the sleeves
This creative top has sleeves that are made of a bunch of loose threads and while it does seem difficult to make, all you have to do is to cut the sleeves a bit and then pull the threads until you get the results you desire. Then, to complete the look, just slice off the bottom hem at the front in an upward curve and the top will be ready for action.
by Gina-michele
DIY Bow Back T-shirt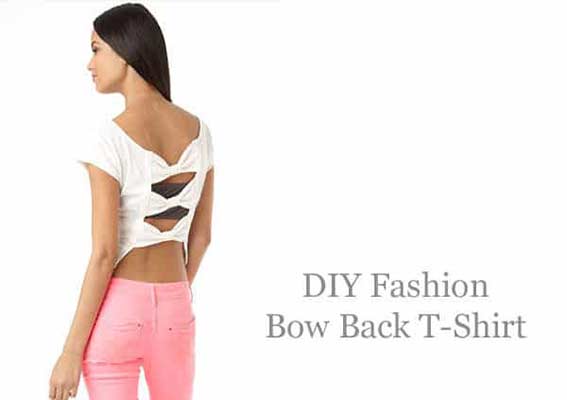 If you like bows, this project is for you, because it will show you how to cut your shirt so it has a deep neck at the back, on which you will place a beautiful bow and secure it in place at its ends. You can make the back opening larger as well, so it can accommodate multiple bows set below each other.
Your old and boring T-shirts better get ready, now you can and will gladly cut them up a bit to revive them as a brand new chic piece of clothing. Try to give all these diy t shirt cutting ideas a go, you might get inspired along the way and create your unique cutting design. When you finish up, subscribe to our mailing list and we'll notify you when new stuff comes out on the website. Have fun slicing and dicing shirts!
RELATED:
How to Cut the Sleeves off a T-Shirt: A Simple DIY Guide