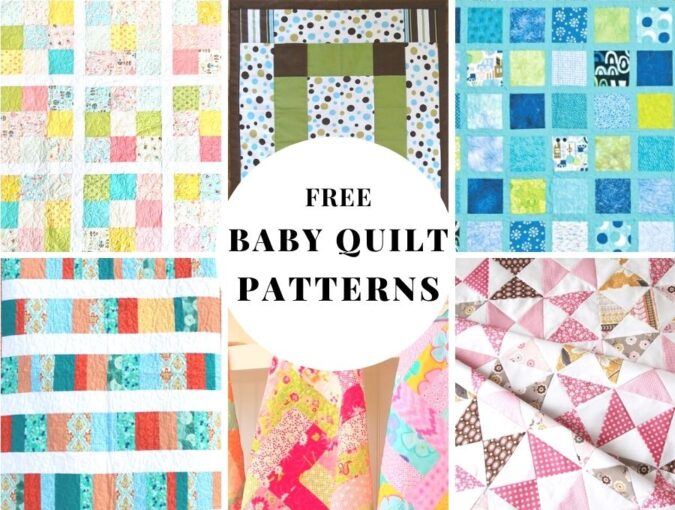 Free Baby Quilt Patterns – Classic, Modern or Unique Designs
Sewing a handmade baby quilt is one of the most meaningful gifts you can make. Something about a handmade quilt is so special, especially as there is so much time and effort involved, it's almost like there's a little bit of love added with every stitch. Oftentimes these mini quilts become family heirlooms, and are passed down to the next bundle of joy! Scroll down below to check out my list of unique baby quilts to make – there are quilts for boys, girls or gender neutral ones.  You will find anything ranging from classic to modern baby quilts. The best thing is that most require very basic sewing /quilting skills.
As always to get the free pattern, find the link below the image and click through to go to the tutorial and get the pattern at the designer's site.
Easy Baby Quilts for Beginners
Large blog simple baby quilt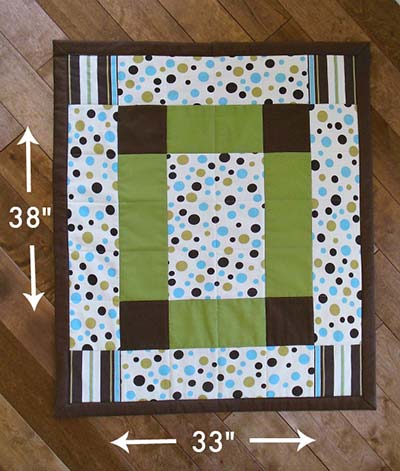 The first quilt on this list is rectangular, with a thin frame around the edges and a different color rectangular frame in its middle. Each corner of the central frame is made of squares in the same color as the outer frame. At the corners of the entire quilt sit four squares that are striped vertically, so it's relatively easy to make.
by So-sew-easy
Simple panel quilt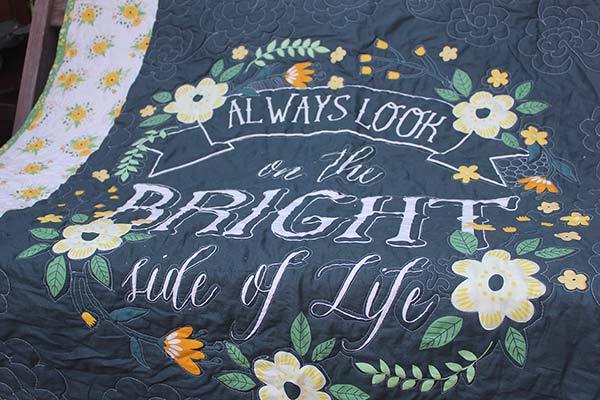 Next up is the bright side quilt. This one is also rectangular, with a wide floral frame around the edges and contrasting squares in the corners. The main section is decorated with a bright side of life text and floral motifs. There's also a thin green floral frame around the entire quilt that subtly adds extra depth to the whole thing.
by Fabric
Basic baby quilt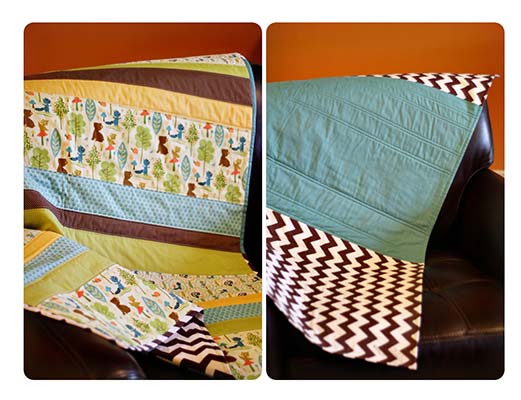 Here comes a bright and colorful pattern that will liven up the room just by being there, it's the basic baby quilt. This is one of the easier quilts you can make because it's made of stripes of fabric joined together. The finished quilt is rectangular, with stripes in different colors and different widths. The back is a bit different, consisting of two fabrics split into three wide sections.
Easy Charm baby quilt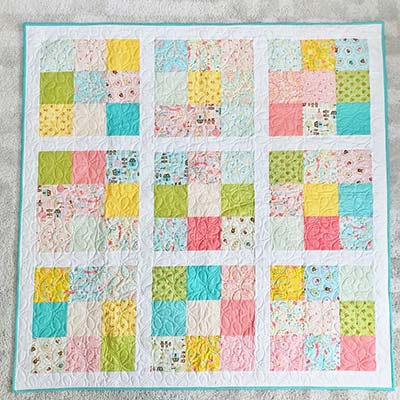 If you like squares on your quilts, check out this easy baby charm quilt. It's a square quilt that has a thin frame around the edges and a white background. On that background sit nine squares made of nine even smaller squares arranged in 3×3 order. The back of this quilt is uncolored.
by Jessicadayon
Jelly roll baby quilt pattern
The jelly roll is fun to work with and it always produces beautiful results, like this jelly roll baby quilt. To make this one you'll have to slice the roll into short stripes and then join those stripes together to form squares made of two rows of vertical or horizontal stripes. You'll need four squares with vertical stripes and five with horizontal ones, or vice-versa. Then just join them together in an alternating manner, arranged in 3×3 order and you're done!
Get the free pattern at Fatquartershop here
Baby Quilt Patterns for Girls
Cute pinkie promise quilt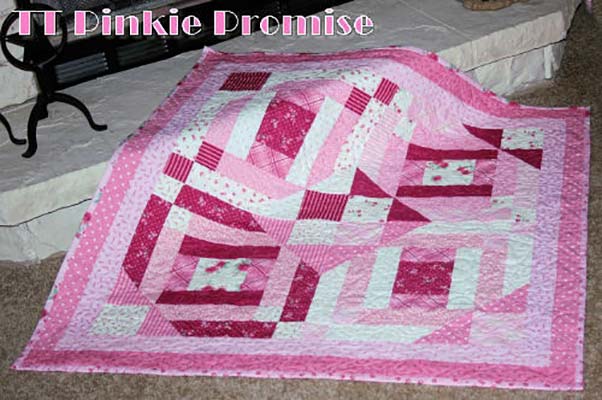 Now we switch over to the quilt patterns for girls, with the first one being this cute pinkie promise quilt. It's a rectangular quilt dominated by pink colors in different hues. The quilt has a relatively wide frame going near the edges and a lighter pink background as the base on which a large square made of short strips arranged in various manners sits. The corners have squares surrounded by triangles on them, and there's a colorful diamond with squares inside at the center of the whole quilt.
by Bomquilts
Classic pink quilt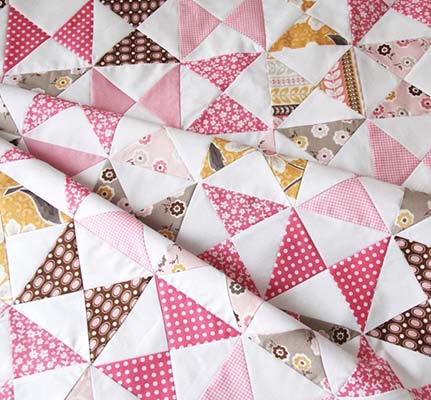 This next girls' quilt is just as adorable as the previous one, it's the classic pink quilt. Pink and white are the main colors here, with rows of fun hourglass shapes that alternate in position, some are upright and some are on their sides. Each hourglass is made of white and pink triangle pieces joined together to form a square.
Baby Quilt Patterns for Boys
Sunny crib handmade baby quilt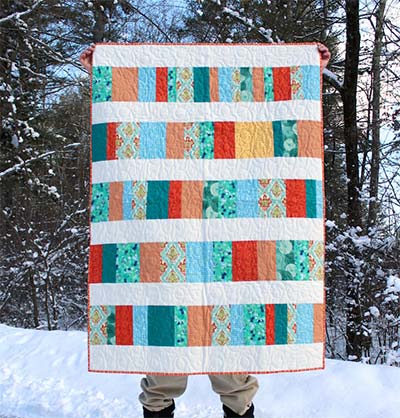 This sunny crib handmade baby boy quilt is a great gift for little gentlemen to be. The rectangular quilt has six white horizontal stripes with colorful wide stripes between them. The colorful stripes are made of short vertical strips of fabric in different colors joined together.
Framed Charm Squares Baby Quilt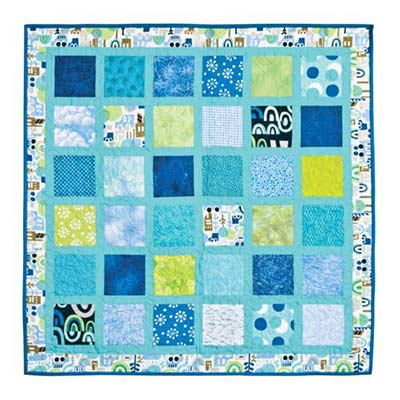 Next up is the framed charm squares baby quilt. This one is square and has a wide frame around its edges and a blue background. On that background sit 36 small squares in mostly blue hues arranged in six rows and six columns. Can't get much manlier than that.
by Accuquilt
Sparkle in the rain quilt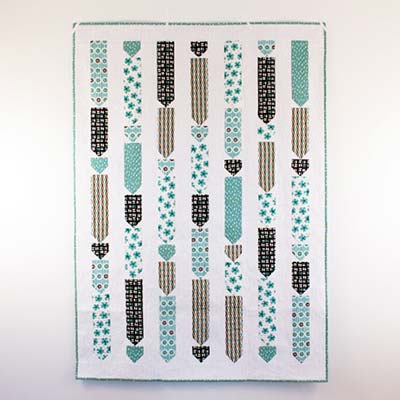 Here's a slightly different quilt from the ones we've had so far, the sparkle in the rain quilt. The rectangular quilt is white with a thin green frame at its edges. It has six columns of interesting blue, green, and green strips of various lengths with triangular bottom edges that are set one above the other to form a creative rainfall depiction.
by Cloud9fabrics <= To get it click through this link, then "download" at the bottom of the page- it will lead you to the collection page. The link to the pattern is the first image on the collection page.
Easy rag quilt pattern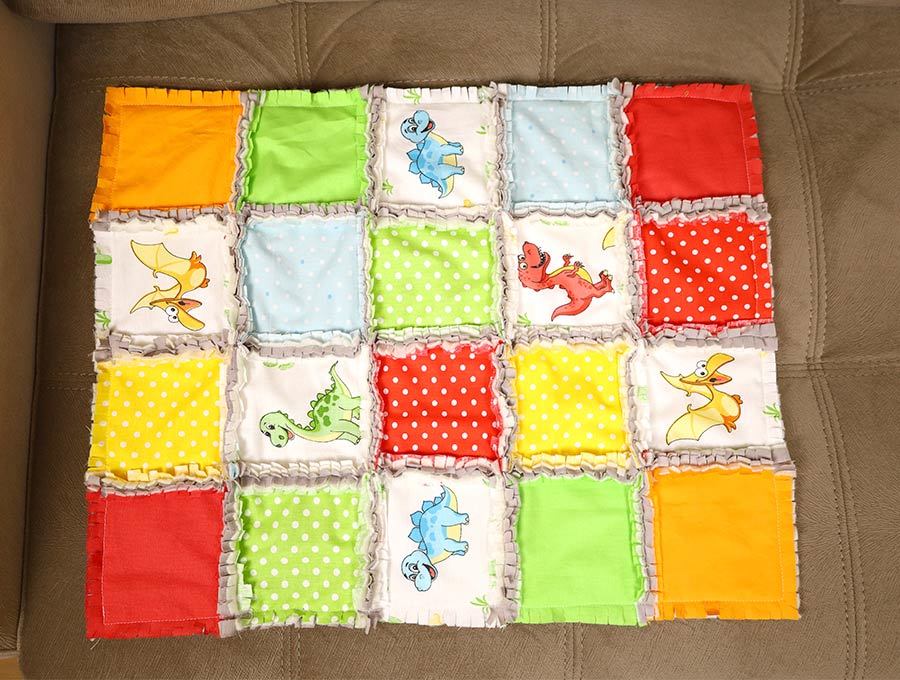 This easy rag quilt pattern has colorful squares set in five columns and four rows. The squares have ragged edges between them that give the quilt a bit of a butch appeal, making it ideal for boys.
Gender neutral baby quilt patterns
Monogram crib quilt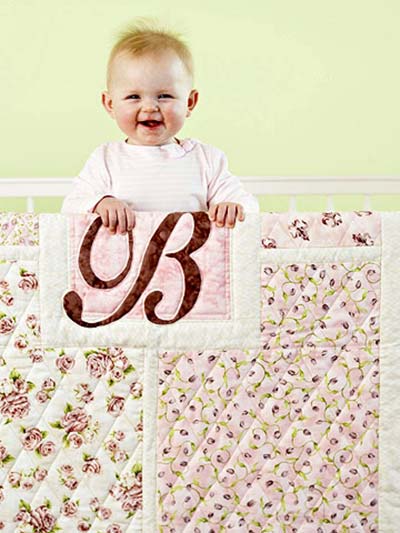 Here comes a quilt you can make for both boys and girls, the monogram crib quilt. This quilt is more personal because it has a gorgeous monogrammed letter on it that ties it closely to its intended owner. The letter is inside a rectangular frame at the center of the quilt as the main motif. Around and behind the frame corners are four vertical rectangles in different colors that make the monogram even more pronounced.
Contemporary twisted triangles baby quilt
This baby quilt has that colorful '80s and '90s look that will never turn dull or annoying. As the name implies, the quilt is made of twisted triangles or rectangles with their bottom-left and top-right corners stretched out. The colorful triangles are stitched together to form columns across the quilt.
I spy applique baby quilt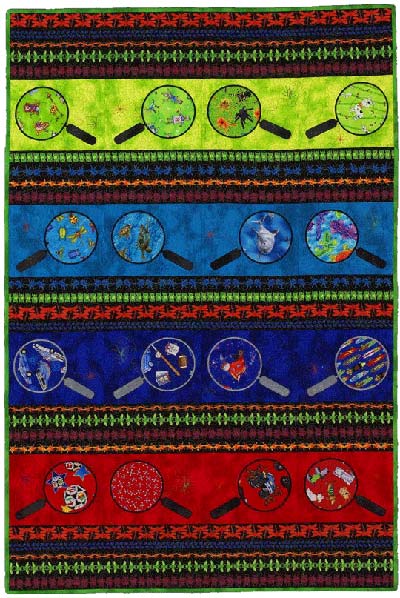 Here's a baby quilt pattern for the next Sherlock Holmes or Agatha Christy, the I spy applique baby quilt. This quilt is assembled from relatively wide horizontal stripes with magnifying glass motifs on them in green, blue, and red colors. Between those strips are narrow mottled fabric strips also in green, blue, and red colors.
Fat quarter friendly – one hour patchwork baby quilt top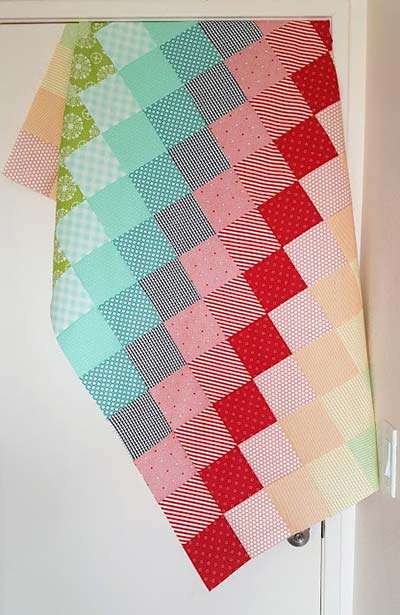 Gradient rainbow-colored quilts look stunning when done right, and this patchwork baby quilt top is one of the examples that are done right. Instead of forming the rainbow with horizontal strips of different color fabrics, this quilt achieves that rainbow effect with diagonal rows of colorful squares that change through all the rainbow colors gradient, going from the top-left corner to its diagonally opposite corner.
by Woodberryway
Kissing fish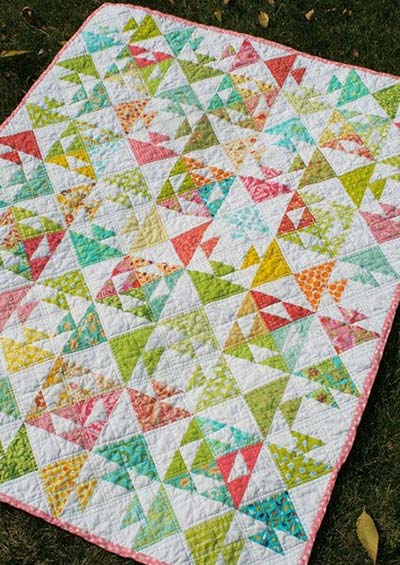 The colorful kissing fish quilt design is almost identical to the hourglass one, the only difference is that the triangles that form the hourglass aren't in the same color, even though the background fabric is uncolored as with the hourglass shape. This quilt alternates between kissing fish patches and squares in the same size that are made of four triangles joined together, and smaller triangles on top that form a diamond shape with a hollow square in its center.
 Arrows aweigh (fat quarter friendly)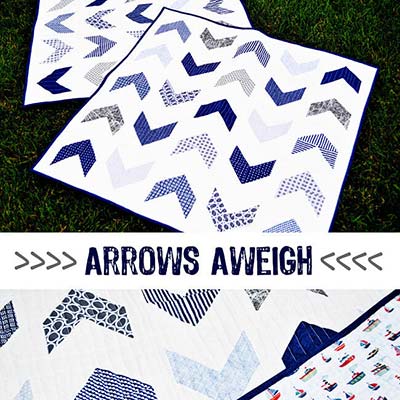 This is a quilt with a chevron stripes design in mostly blue and white colors, but you aren't bound to them, feel free to use different colors if you please. The quilt has a narrow frame around its edges and five columns of chevron arrows that alternate in color inside each column. They also alternate in pointing up or down by the column. The stripes have a bit of space between each other and between them and the outer frame.
Elephant Parade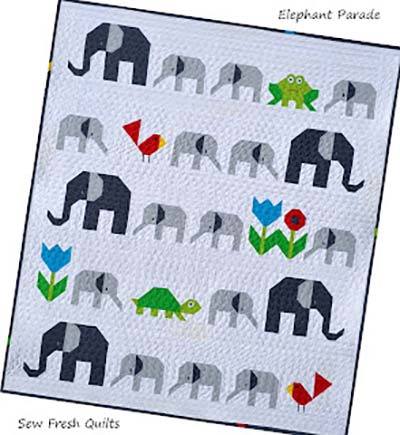 This next quilt is a challenging one, so it's recommended for expert quilters. The elephant parade baby quilt has a thin frame around its edges and five rows of small and big elephants walking together. The walking direction alternates by the row, and each row has one or two motifs that aren't elephants. Among those motifs are a bird, a turtle, flowers, and a frog.
This one is a paid pattern, but the designer offers the separate elephant quilt blocks for free on her site. If you are a confident sewist, you can attempt this one
Disappearing Nine patch baby quilt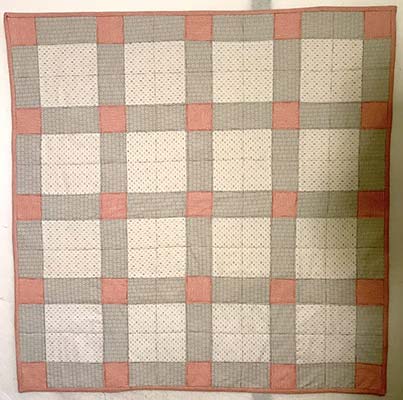 You can use as many colors as you wish for this one. The quilt is made of rows of squares that have frames around them. Those frames are made of four smaller squares in the corners and rectangular stripes between them.
by Createwhimsy
I hope you loved my roundup of easy and free baby quilt patterns. With this list at your disposal, you are ready to make a bunch of wonderful baby quilts to give as gifts or to keep as creative decorative pieces. Did you already find your favorite pattern on the list? Share your impressions with everyone in the comments below! And if you'd like to be informed when we post new lists and projects, go ahead and subscribe to our mailing list and we'll keep you updated.
Drop by in the comment down below and tell me which one are you going to make first. Are you making a quilt for a boy or a girl?
RELATED: