1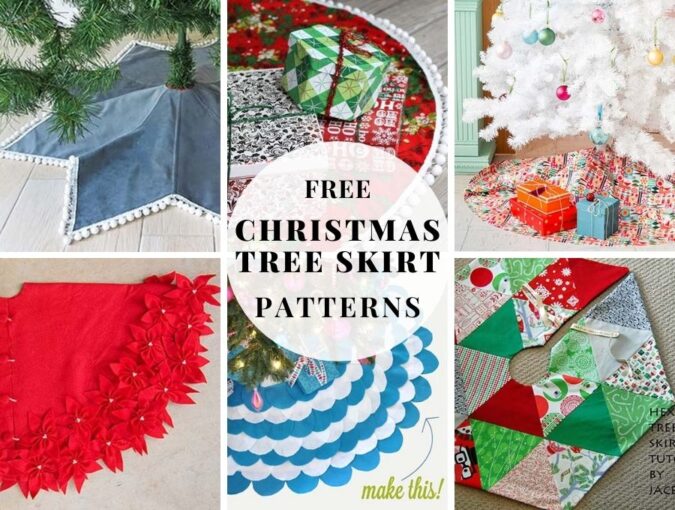 Best 25+ Free Christmas Tree Skirt Patterns
In my household, there's one decoration that is essential to finalizing the Christmas tree. It's the Christmas tree skirt! Having a pretty fabric covering it is way more appealing. Also, it makes a great surface for placing presents!
There are tons of different types of Christmas tree skirts out there, and even though we like to sew them ourselves, deciding with which pattern to go can be a bit tricky. That is why we have this list prepared for you! Check these 25 free Christmas tree skirt patterns and choose which one suits your decor the best in just a few minutes!
I'll show you 4 types of tree skirts – 1) sewn, 2) quilted, 3) embroidered 4) no-sew
List of 25+ tree skirt patterns
1) SEWN: Tree skirt sewing patterns
Felt Flower Tree Skirt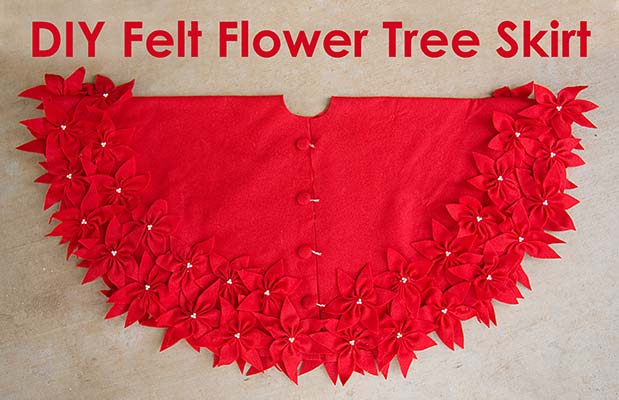 If you enjoy decorating your home with flower patterns, this tree skirt is just for you! It has a beautiful set of flowers at its bottom, which makes it creative and unique when compared to the other tree skirts.
It's easy to make and it's fun to make, so be sure to check it out!
Source: SugarBeeCrafts
Professor Pincushion's Christmas Tree Skirt
Quick to make, easy to make, fun to make, that's what Professor Pincushion is all about. This tree skirt is no exception to that philosophy.
It's a round tree skirt with a ribbon that can easily be secured to the bottom of the Christmas tree. Even though it's simple, this tree skirt is beautiful and it does its job wonderfully.
Source: Professor Pincushion on YouTube
Pom Pom Tree Skirt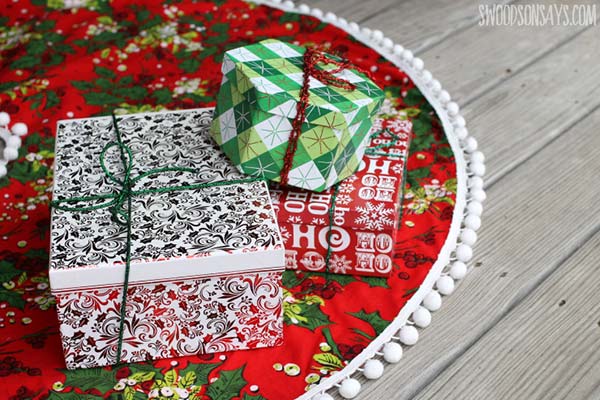 Make it look like there's a bit of snow under your Christmas tree with this neat tree skirt! This project is simple enough to finish even without your usual sewing tools! It's also great for upcyling some leftover decorative fabric you have laying around.
Source: SwoodsonSays
Burlap and Lace Tree Skirt
Add a touch of class to your Christmas tree with this stylish tree skirt. The combination of three fabrics, muslin, lace, and burlap arranged in three layers will give this tree skirt that wavy ruffle look that is reserved for luxurious decorations.
Source: DoItYourselfDivas on YT
Ruffle Edge Tree Skirt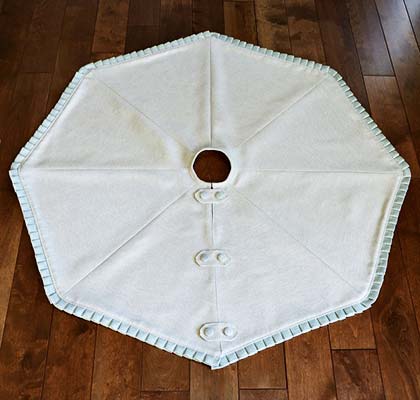 This one is a bit different than the previous few because it's not round, but octagonal. It's secured around the tree trunk by frogs, which makes it almost impossible to detach when picking up presents from the skirt. The ruffle edge adds a special touch of class to the entire thing.
Source: NewtonCustomInteriors
Scalloped Felt Tree Skirt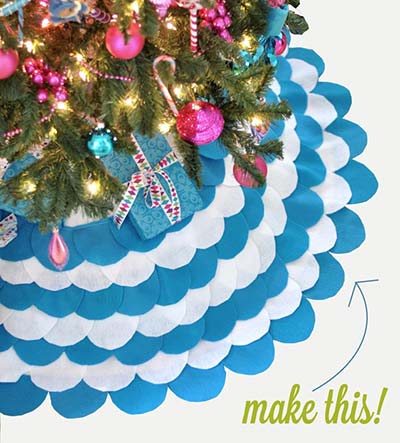 "We already had a scallop tree skirt in the previous suggestion!" is what you might be thinking. But this tree skirt is completely different, the only thing it shares with the last one is its shape.
This tree skirt consists of interchanged layers of felt in different colors and some cotton. When placed onto the tree, this skirt looks like a beautiful cloud!
Source: CentsationalStyle
Star Christmas Tree Skirt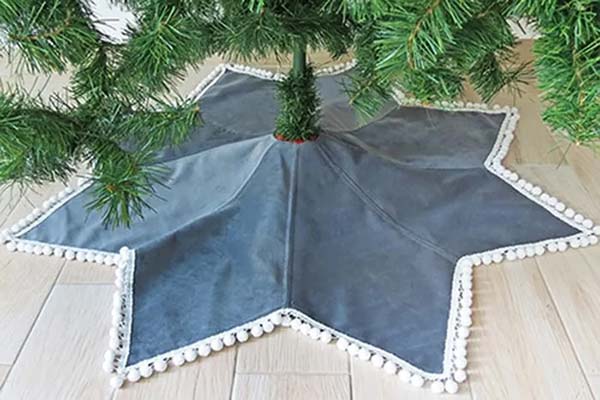 Who says stars can only go on the top of the tree? This tree skirt proves that stars can go to the tree bottom just as well!
Its shape isn't the only appealing aspect of it. The pom poms that go along its edge resemble snow, which completes the Christmas look and makes the skirt a wonderful addition to your home.
Source: OhohDeco
Velvet Tree Skirt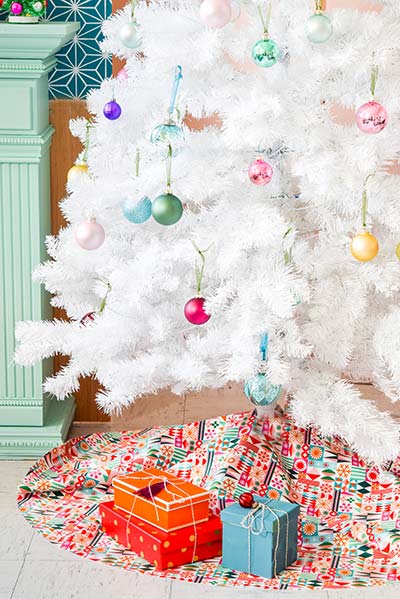 Super fast and super easy to make, here is the velvet tree skirt! This is probably the fastest project on our list, so if you don't have much free time, it's the perfect one for you.
The three straps hold the skirt secured to the tree, which means that it won't come off no matter how excited things get during the present opening!
Source: PmqForTwo.com
Tablecloth Tree Skirt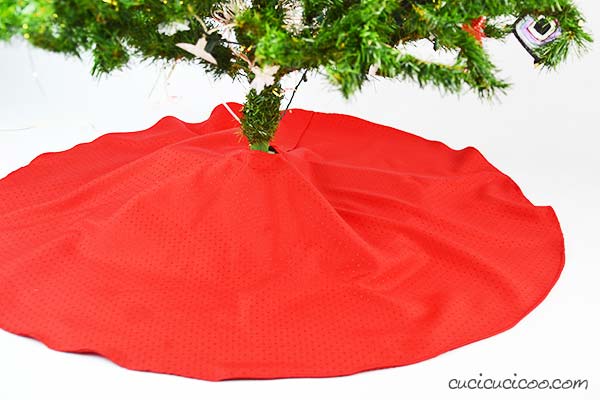 If you're short on time to go fabric shopping, or if you just like upcycling and being environmentally-friendly, this is the project for you!
You can transform an old tablecloth into a beautiful Christmas tree skirt in a short time!
Source: CuciCuciCoo
Felt Ruffle Tree Skirt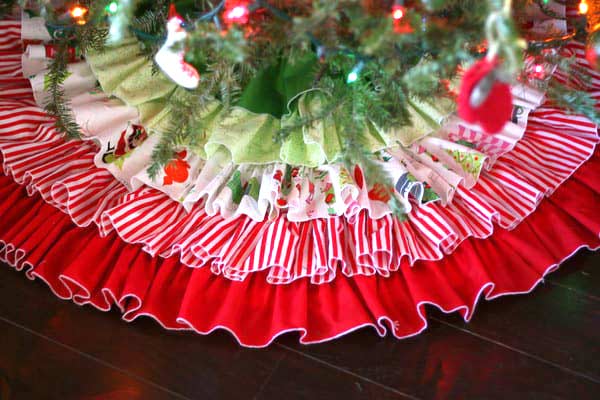 Layers, layers, and some more layers on top! This colorful Christmas tree skirt takes the ruffle design to the next level. To the level of multiple layers in varying colors. If you want your home to be lively and cheerful, this is the tree skirt for you.
Source: PrettyPrudent
Christmas Tree Skirt With Lights
Yup, you read that right, this tree skirt has lights in it! They are just plain old Christmas tree lights but they're cleverly sewn into the skirt. If you want to know how check out the source below.
Source: MelanieHam on YT
2) QUILTED TREE SKIRT PATTERNS
Bargello Tree Skirt
If you like working with kits ready to use, this tree skirt is for you. Just follow the instructions, put everything together, and enjoy the lovely red, white, and green Christmas pattern underneath your tree!
Source: ShabbyFabrics On YT
Quilted Christmas Tree Skirt
The beautiful star shape that hides one additional star inside it is this tree skirt's best feature. Combining colorful fabrics and creative designs with quilting allows you to make an original setting for those Christmas presents.
Source: JordanFabrics on YT
Log Cabin Christmas Tree Skirt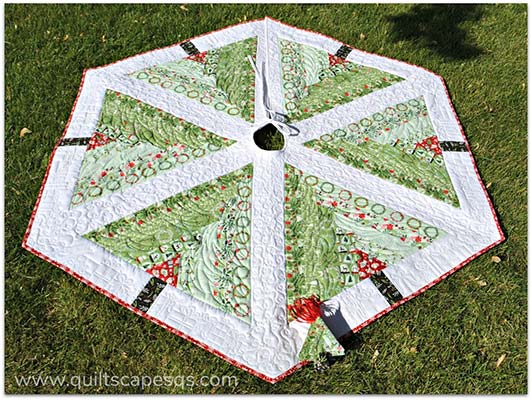 Bring that log cabin feel into your home with this creative tree skirt! Make this tree skirt by joining together multiple quilted triangle pieces into one hexagonal shape. Learn how by checking out the source below.
Source: QuiltScapesqs
Speedy Spiral Christmas Tree Skirt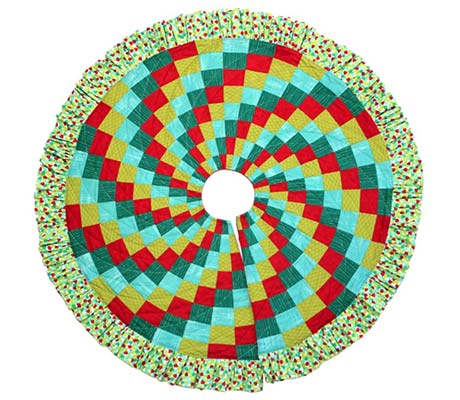 Spiral patterns aren't just for hypnotizing people, they also make beautiful decorations! Make this tree skirt fast and easy by following the instructions below. I promise you won't be hypnotized!
Source: Sulky
Hexagon Tree Skirt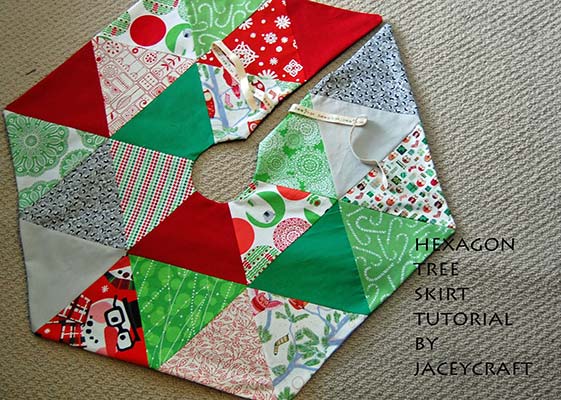 Make this colorful tree skirt by joining triangle pieces together into one big hexagon. This is a great way to use up those quilting fabric pieces you have leftover from your previous projects.
Source: JaceyCraft
Tree Skirt Quilt
Another hexagonal tree skirt, but this time, you won't be joining triangles together! Instead, you'll join small rectangles! A beautiful black and white combination makes this tree skirt extremely original.
Source: https://youtu.be/0GviU9O8AaI
3) EMBROIDERED TREE SKIRT PATTERNS
Snowflake Christmas Tree Skirt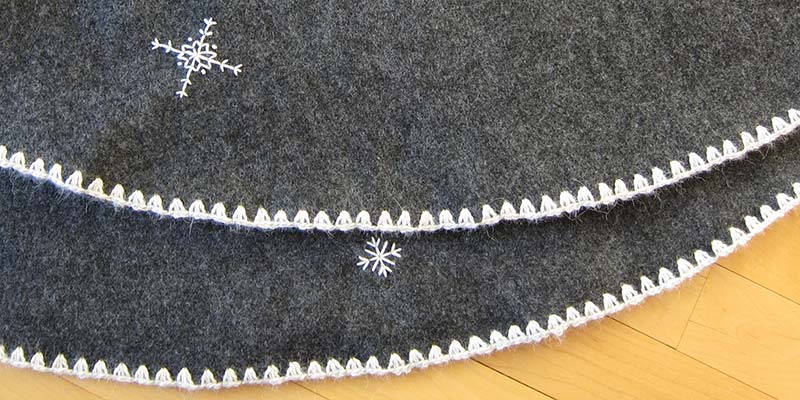 Simple and modern, yet beautiful and classy. This tree skirt will knock your socks off with its wonderful embroidered snowflakes pattern!
Source: Justcraftyenough
Vintage Tree Skirt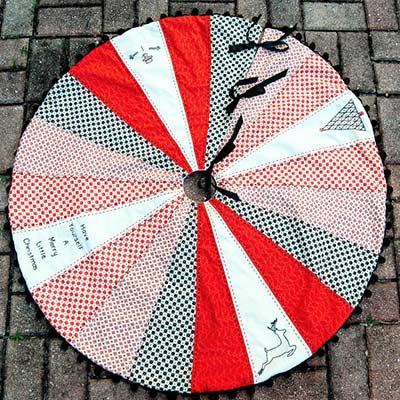 This colorful tree skirt holds all your favorite Christmas motifs. It has an embroidered snowman, Christmas tree, reindeers, as well as your personal messages and wishes!
Source: OliviaJaneHandcrafted
4) NO-SEW TREE SKIRT PATTERNS
Cute Felt Tree Skirt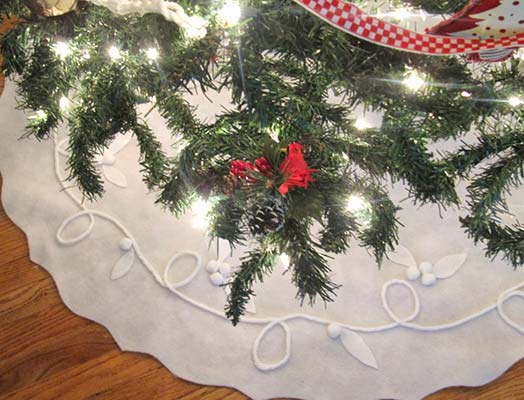 If you don't have any kind of sewing tools around, worry not. With s bit of glue, some felt, a string, and some pom poms, you can make an amazing tree skirt that's even better than some sewn ones!
Source: TheWickerHouse
Three No-Sew Tree Skirts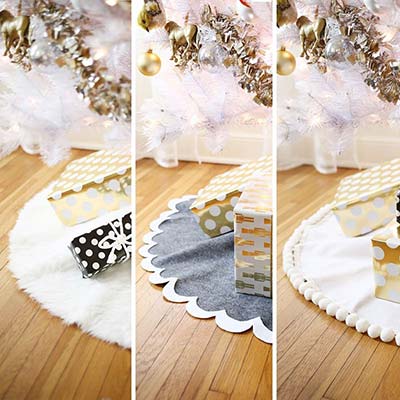 Simple, pretty, creative, and you don't even need to sew anything! You can make these three tree skirts quickly and easily with a bit of fabric, scissors, glue, and a few other things that are optional, like pom poms.
Source: aBeautifulMess
Dollar Store Tree Skirt
Make a lovely snow carpet for all your Christmas presents with just a few things you can get in a dollar store! Once you finish, you'll hardly notice that's not real snow under your Christmas tree!
Source: CityGirlPrairieLife On YT
No-Sew Burlap Tree Skirt
Yup, you can make a classy ruffled edge without sewing anything! If you want to add a touch of luxury to your Christmas tree, but you don't have your sewing tools around, this is what you've been searching for!
Source: OnlineFabricStore on YT
I hope you liked our list of free skirt patterns and tutorials! Go ahead and make one or two of these and tell us how they turned out in the comment section below! So, which one will it be? Have fun choosing and sewing your Christmas tree skirt!
Dress up your dinner table with these free table runner patterns. Add quick color and style to your home in any season with these amazing table runner quilt patterns. Make the décor pop before you even set out the food with a design that matcher your interior or make a seasonal table runner for an upcoming holiday.
RELATED:
Table runner patterns for every season