2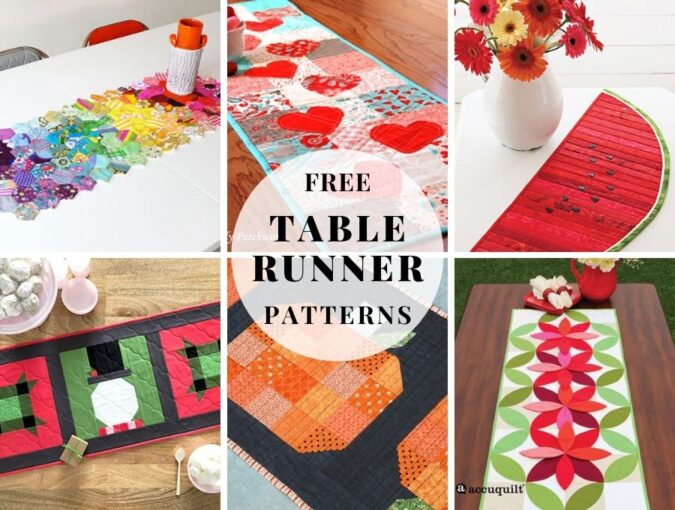 25+ Free Table Runner Patterns to Lift Your Mood
Dress up your dinner table with these free table runner patterns. Add quick color and style to your home in any season with these amazing table runner quilt patterns. Make the décor pop before you even set out the food with a design that matcher your interior or make a seasonal table runner for an upcoming holiday.
I've scoured the web to bring you the most beautiful quilted table runner patterns for Christmas, Spring, Summer and Fall. No matter the season, you can find a free table runner pattern for your table.
Free Table Runner Patterns for Every Season or Special Occasion
Easy Christmas Table Runner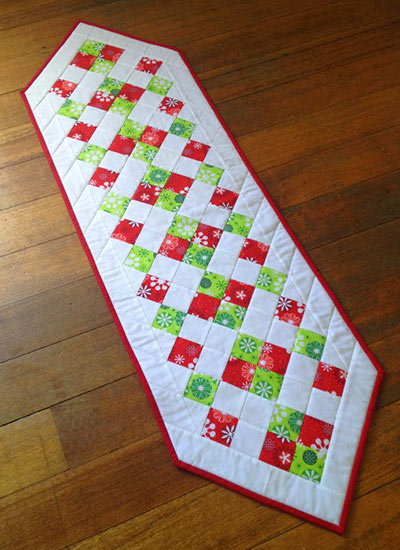 The first table runner on our list is this beautiful Christmas table runner. It's lively and colorful and t gives off that neat Christmas vibe. But it's not exclusively for Christmas, you can use it for any occasion. The elongated hexagon shape with colorful squares along the runner will freshen up your table in no time!
Merry Cheer Christmas table runner pattern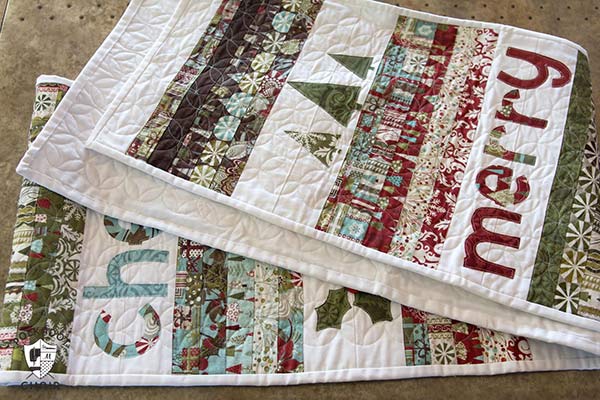 Another Christmas-themed runner with those adorable holiday motifs. This one is different from the previous one because it is exclusively for Christmas. It's rectangular in shape, with all kinds of Christmas motifs over it. Make two and have one write 'Merry' and the other one 'Cheer' and use them together!
via Polkadotchair
Easy 1 yd, 5 minute table runner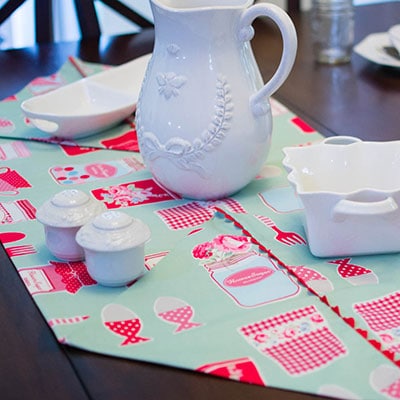 Want to decorate your table in a creative way but you're short on time? This table runner is ideal just for that! It's a fast project that requires only a yard of adequate fabric and about five minutes of your time. With that much, you'll make this elongated hexagon runner with origami-style corners and an interesting central seam finish.
via Sewcanshe
Burlap table runner with tassels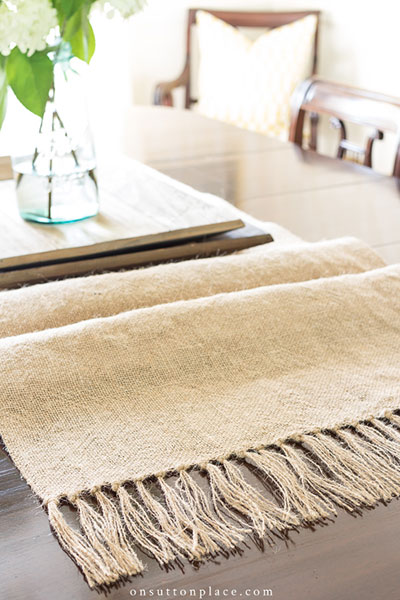 If you love farmhouse-style decorations and would like a table runner of that kind, here's a project for you. It's a rectangular burlap runner with wonderful tassels on both of its shorter ends. The best part about this project is that you don't even have to fire up your sewing machine because you won't be sewing anything!
via Onsuttonplace
Valentine's Day Table runner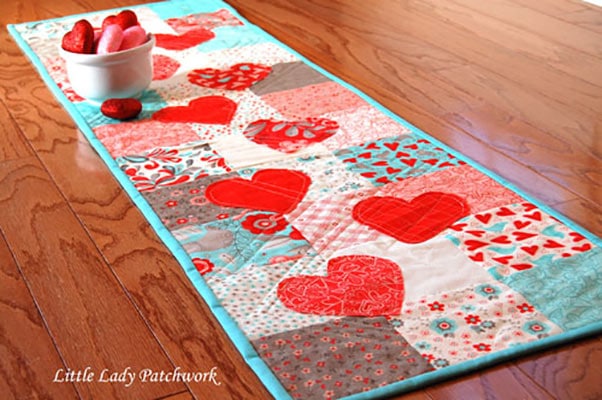 Mark that special romantic dinner with your loved one with this beautiful table runner. This rectangular runner with cute hearts all over it is the perfect table decoration for an unforgettable date with your soul mate.
Jelly Roll Table Runner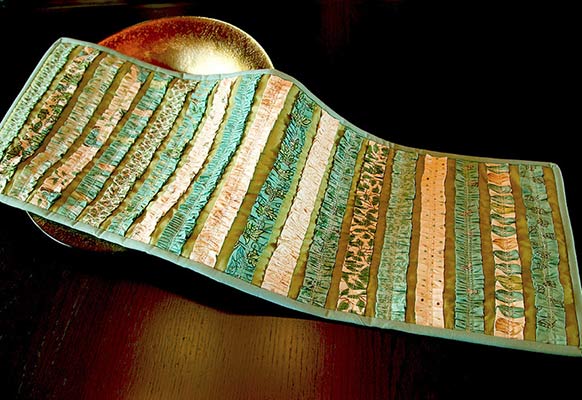 This table runner is another one of the more creative kinds because it helps you use a special fabric like a jelly roll piece in a fun and unique way. When you finish making it, you'll get a nice rectangular runner with jelly roll sections as ruffles along its entire length.
via Sew4home
Shamrock table runner for St.Patrik's day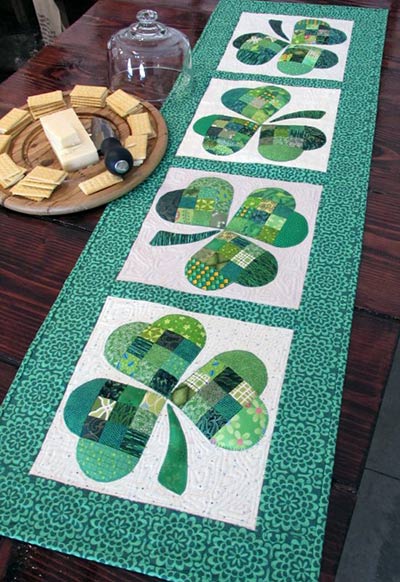 Time to bring Ireland to your home and your dining table with this St.Pats table runner! This rectangular green runner with three shamrock patterns on it will deliver the luck of the Irish straight to your dining room!
via WeAllSew
Candy Stripes Table Runner for Christmas
Candy canes aren't a good choice for dinner, but a candy cane style table runner definitely is! This rectangular Christmas-themed runner combines the characteristic candy stripes with various holiday designs to make a wonderful table decoration piece.
via SewDelicious
Jingle Jolly Table Runner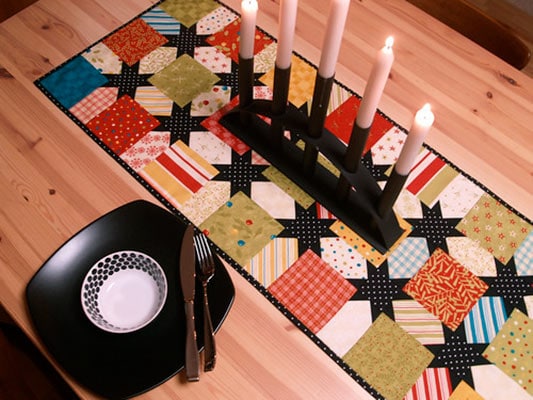 Here's a table runner that you can use when it's the holiday season, but also the whole year-round. It's a quilted runner in a rectangular shape, with colorful shapes over it. Take it out whenever you want to set a lively mood for a meal.
via TheHappyZombie
Easy strips Quilt Table Runner
This one is yet another quilt table runner, similar to the Jolly roll we mentioned earlier. It's a rectangular runner with fabric straps in various colors that are sewn over the base fabric one after the other, starting from one short edge and ending at the other.
Summertime Table Runner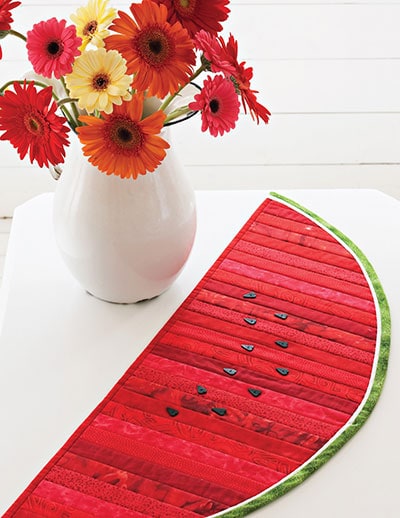 Here's an adorable table runner that will bring summer into your dining room, even if you're using it during winter! It's a runner that looks exactly like a watermelon slice! Complete with the seeds! It looks so real, you'll need to warn your guests not to bite into it!
via AllPeopleQuilt
Go Bloom Spring Table Runner
If you want to simulate that spring vibe in your dining room, this table runner will pique your interests without a doubt. It's a rectangular runner with beautiful flower petals and stem leaves sewn on in a creative manner by joining short, elliptical-shaped fabric bits together to form the final design.
via Accuquilt
Mr.Frosty Table Runner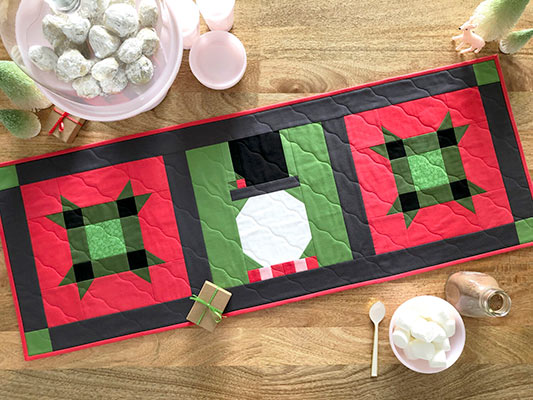 This table runner demonstrates how you can combine three main colors and a popular motif into something very modern, yet somehow still traditional. It's a Christmas runner in a rectangular shape, made of green and red squares on a black behind, with a cool Mr. Frosty in its center!
Tree Trunk Christmas table runner
Christmas trees on a table? Yup, but as table runner motifs! Here's another rectangular quilt runner that's a great decorative piece for your table during the holiday season. A beautiful white base with Christmas trees on it will place the winter idyll onto your table in seconds!
via MissouriStarQuiltingCompany
Bullseye Tumbling Table Runner Pattern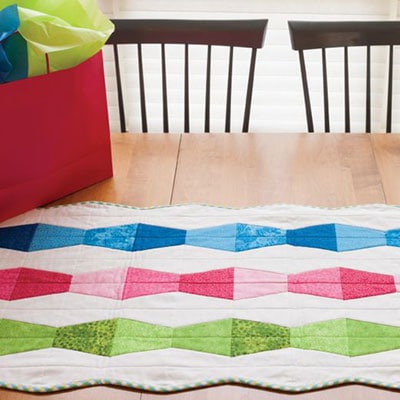 This table runner is a bit different from the usual ones mainly due to its shape. It's rectangular but the long edges are wavy, which makes the whole thing pretty unique and interesting. The base color is white, with three irregular lines different in color going across from one short edge to the other.
via AccuQuilt
Friendship Braid Table Runner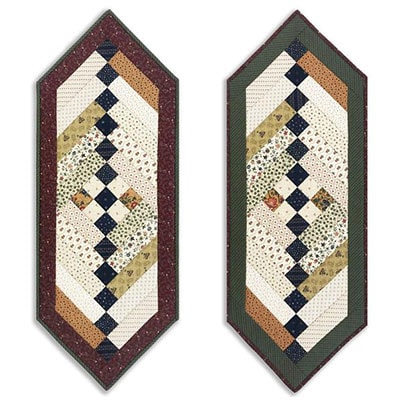 Quilting enthusiasts know well what a friendship braid is. Here's one table runner with that kind of style to it. The braids go from the center outward, with a green or brown border around them, forming an elongated hexagon shape. Make two of these and use them together for maximum effect!
via JordanFabrics
Hexagon table runner (advanced)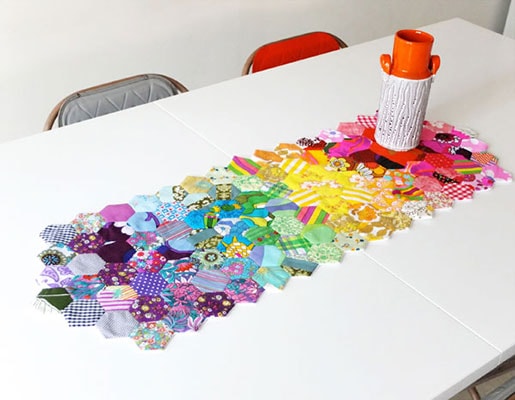 Here's a table runner tutorial that's a bit more complex but worth the extra hassle. It's an elongated hexagon table runner consisting of small hexagon pieces of fabric sewn together! It looks beautiful, especially if you use hexagon pieces in different colors and stitch them to achieve that rainbow hue effect.
via MyPoppet
Easter quilted table runner (advanced)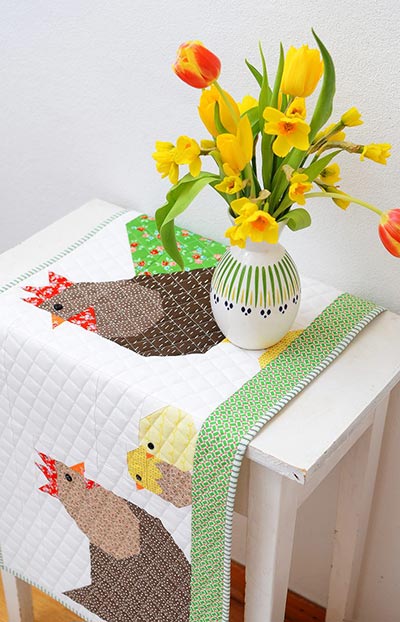 Another advanced project that will make your effort pay off. A table runner that is ideal for family meals on Easter! It's rectangular in shape and has a beautiful design with the cutest chicken family standing on a field of grass together.
Pumpkin table runner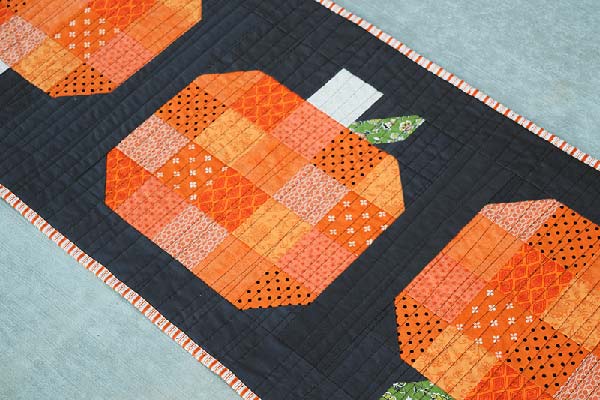 Thanksgiving is all about pumpkins, so why not make a table runner in the same spirit? This rectangular runner is black in color, with three adorable pumpkins set across its length. You can use it for Halloween as well!
No sew geometric table runner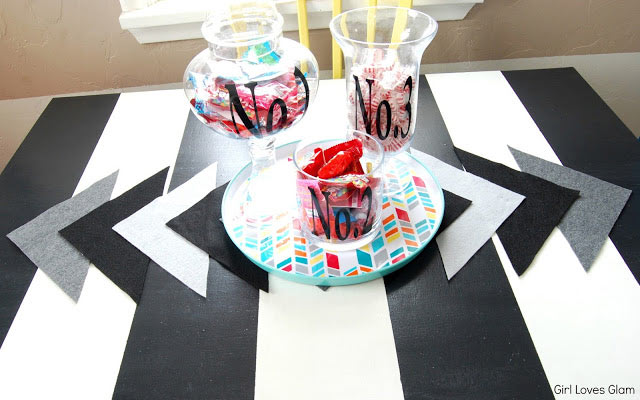 Minimalistic, modern, stylish, and simple! That's how you describe this handmade table runner. A rhombus piece in the center and a set of overlapping triangles facing away from it on two sides, all glued together into a classy runner!
via GirlLovesGlam
Holiday Moments Table runner and placemats pattern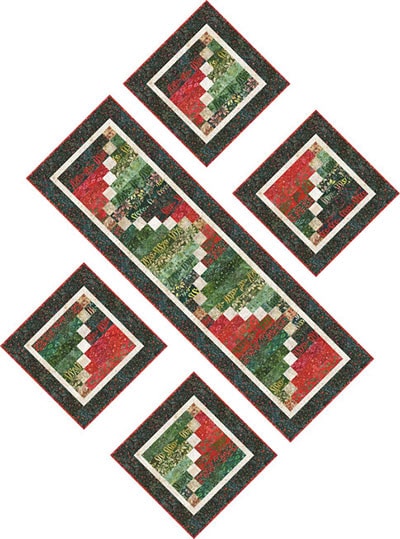 To finish off this fun list of table runners, here comes a treat. A set of placemats with a matching table runner! The colors green, black and red prevails in this rectangular runner that allows you to make full use of one batch of fabrics and make yourself a nice holiday-style table decorating piece.
via RobertKaufman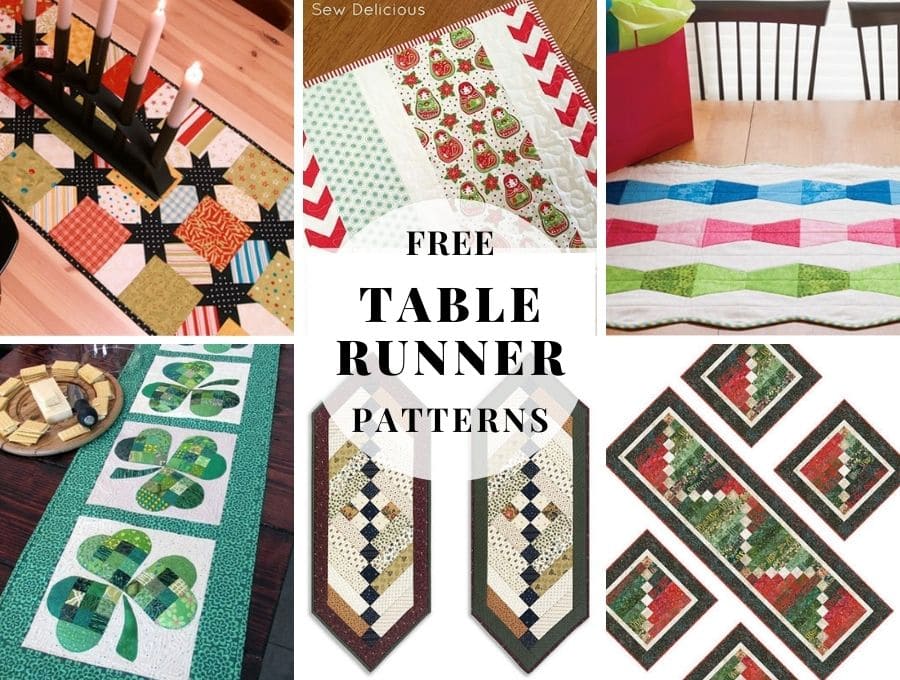 Create a stunning design using these free quilted table runner patterns. Use them to make your table pop as this is the quickest and easiest way to dress up your dining table. Seasonal or not, all of these free quilt patterns for table runners are simply breathtaking and will dress your table beautifully.
Love this list of patterns for quilted table runners? Pin for later
RELATED:
Free mug rug patterns to snack in style
Upcycle t-shirts into table napkins
What's the best fabric for napkins and placemats