3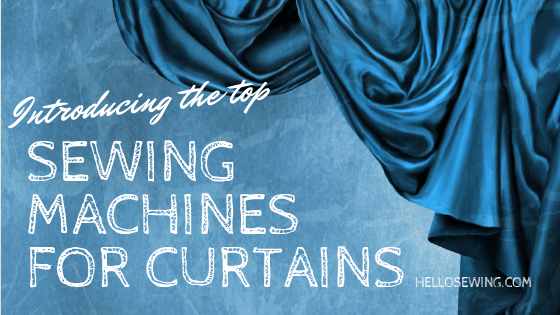 Best Sewing Machines for Curtains and Other Window Treatments
If there is one need that is poorly catered to on the market, and which a sewing machine can take care of beautifully, it's the selection of curtains and other window decorations.
Selecting just the right material that is complementary with the rest of the space is one thing, but making sure that the style of the curtain fits the space is another altogether. And a proper sewing machine for curtains will make sure it looks just like a professionally made one. After all, draperies and similar window adornments are highly visible, so you don't want to have half-assed creations setting the tone for your living space.
In short, certain models are better at doing this than others. By better, we mean easier, faster, more convenient, and more flexible.
We consider nine sewing machines that are best suited for this particular job, varying in price, looks and functionality. They don't differ drastically, and all of the sewing machines considered here are already good enough to do the job, but it is prudent to winnow down even the best of the best.
We occasionally link to goods offered by vendors to help the reader find relevant products. Some of the links may be affiliate in nature meaning we earn a small commission if an item is purchased. Read my full disclosure here
Your curtains will become the envy of your guests if you can do the following fundamentals:
If you can consistently perform tight, straight stitching, no matter the fabric type.
If you can do this with varied threads, no matter the weight.
Thankfully, although it's always good to have some skills which come with accumulated experience, a good sewing machine can compensate for them greatly. In fact, an excellent sewing machine for home decor projects will make the process of accumulating the experience needed a breeze. Most notably, you should look for the following features for this specific purpose:
Versatility. In order to expand your sewing prowess when it comes to curtains and window adornments, a high degree of versatility is needed.
Power and Speed: When you gather and compare all the features needed for a successful work with draperies, you will find that the ones listed are more than suited for the task. However, consider an additional factor – layered, heavy duty curtains. If you intend to work with those exclusively, it would be better to focus more on power and speed of the machines than on features of convenience, as you most likely won't be needing gazillion stitches. A dozen or so would be more than enough. Of course, in that case, you will also significantly reduce the budget requirement as well.
Precision:To that end, you would want to look for sewing machines that distinguish themselves through precision and options, more so than with raw power and speed.
The stitch range. You can be sure that those machines that offer stitches in the range above 50 will have majority of them in the decorative category, which is exactly what you would need for crafting original draperies.
Automatic vs non-automatic: Sometimes automatic sewing machines are often referred to as fully computerized, but you will often find that those that lack this label, will similarly be largely automated, in ways that count the most: automatic needle threading, buttonhole making, and tension control. However, fully computerized models will always have an LCD screen for easy cycling through the multitude of stitches. And some will even have a computer helper that will guide you through the sewing process, in addition to steer you away from errors.
Accessories offering: All the accessories you can buy cheaply and easily, but with one exception – the extension table. Curtains are usually long, and the material from which you will work with is even longer, so you will definitely need the convenience of an extension table, without having to poorly improvise.
So, without further delay, let's review the best candidates for the job.
My Recommended Sewing Machines for Curtains and Pillows in 2019-2020
Brother Project Runway CS5055PRW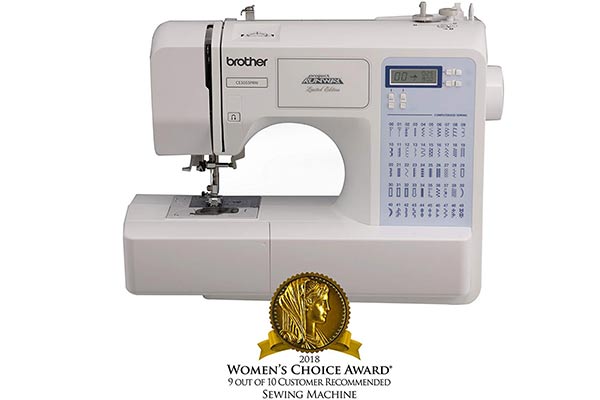 Recipient of the Women's Choice Award, this computerized sewing machine offers quite a lot for a moderate price. In fact, of the computerized lineup, it is one of the most affordable models. The 'runway' moniker in the name clearly indicates its wide professional use. And if you know anything about fashion, you know how diverse it is, requiring a lot of functions that CS5055PRW has in ample supply:
50 built-in stitches for quilting, general utility, decorative, stretchy fabrics, and heirloom
5-sized 1-step buttonhole making, get them right effortlessly/automatically no matter the size, every single time
Auto needle-threader
LCD screen for quick cycling on the fly
7-piece feed dog
Professionally fast bobbin wind system
Integrated LED lighting
Stitching span between 5mm length and 7mm width
Free Arm
6 feet pressers
Can stitch with dual needles, and you can change needle positions
Reverse stitch lever
Formidable 850 stitches per minute
This machine has accrued a massive number of reviews over time, and most of them are overwhelmingly positive, above 90% rating. Of course, it wouldn't have received the Women's Choice Award otherwise.
Brother CS5055PRW is very easy to get started with, thanks to both the easy setup and a well-written manual. It is lightweight and moderately sized, with a wide range of stitch options and a convenient bobbin system. Dealing with thick fabric is smooth while not producing overbearing noise even at max speed.
As to its potential flaws, the compartment storage could have been more expansive, and the integrated LED lighting could have been brighter.
Although it has a solid metal frame, it does have a lot of plastic parts that seem flimsy. You might want to take extra care for it to be used for the long haul.
-or-
Janome HD1000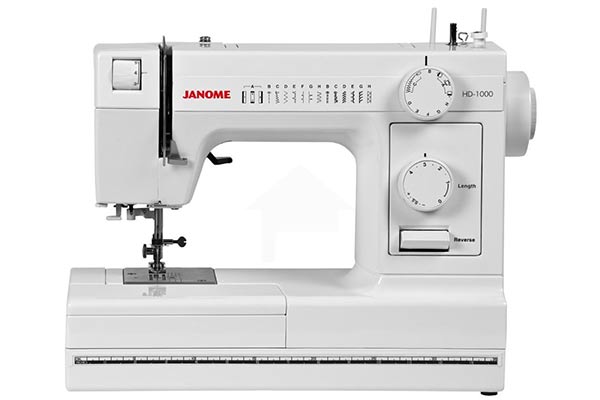 No, HD doesn't mean high fidelity, but heavy duty.
Although, you will get high fidelity in the sense that your stitches will be consistent across the board thanks to famous Janome reliability. HD1000 is not fully computerized due to not having an LCD screen for stitch control, but it does have some important automatic functions that will make your life easier:
14 built-in stitches suitable for collars, cuffs, pants, stippling, darning, buttonholes, and free motion sewing that fits well with curtains and drapes.
4-step buttonhole
Free arm for giving you a helping hand (removable).
Auto-needle threader
Presser feet: zipper, hemmer, buttonhole
Soft cover (hard-sided) and hem guide.
Full complement of accessories: needles, 2 screwdrivers, bobbins, seam ripper, felt.
3-piece dog feed system
Auto-bobbin declutch
Manual thread tension control
Reverse lever
Don't be concerned about the lower than usual number of built-in stitches, as you will hardly find yourself in a situation where you think to yourself, 'oh, I wish I had 50 more stitches'. And that concern will certainly not come up when your focus is on the window treatments.
Overall, it's very sturdy and stable build thanks to its all-aluminum frame. No type of material will prove to be an obstacle, no matter the thickness and weight, so it is a prime candidate for creating heavy duty curtains.
Unfortunately, relatively low number of stitch variety may impede your creation of windows adornments. Also, you may find the lack of automatic tension control troublesome.
Janome Magnolia 7318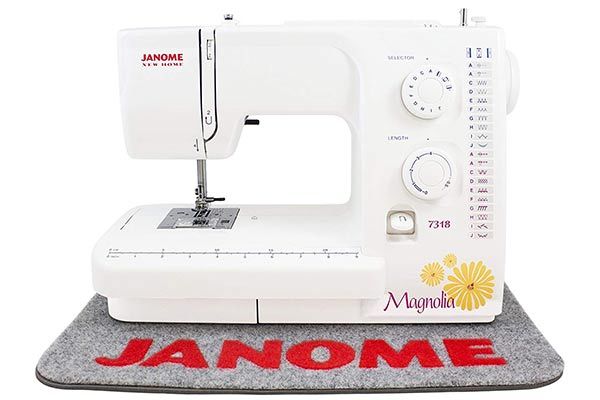 Very similar in price and features to the previous Janome model, with some key differences:
18 built-in stitches instead of 14.
7-piece dog feed system instead of 3.
Greater offer of accessories: 14 needles, 10 bobbins, muffling mat, 4 presser feet.
Automatic needle threading and automatic tension control, unlike the manual one in the previous model.
Additionally, you get an extension table. Everything else is pretty much standard for Janome; 4-step buttonhole, adjustable speed, length and width.
In short, looking at the features, and its 830 SPM speed, it is a superior model to HD1000 but it doesn't have that all-aluminum robust feel. It would definitely explain the slight price discrepancy, as this model is actually cheaper than the HD1000 despite offering more features.
The extension table will come especially handy for big projects like sewing window treatments of any size.
However, if you have an aversion to plastic bodies in the sewing machine arena, you may want to stick to the HD1000.
Singer 7258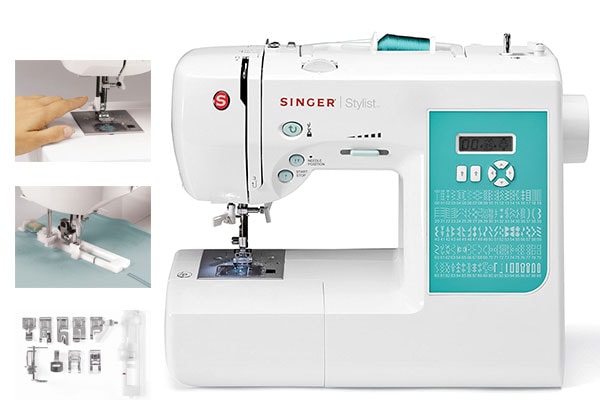 The first fully computerized sewing machine on the list, Singer 7258 may lack in performance compared to Janome in maximum SPM, at only 750, but it well compensates in the rich assortment of features:
100 stitch selection
Fully automatic: needle threading, thread tension, thread cutting
10 presser feet
7 1-step buttonhole sewing (one step means it's also fully automatic)
LCD screen
Free arm
Extension table
Adjustable speed, length and width
Of the enormous 100 stitches you get 76 decorative, 9 basic, 8 stretch, and 7 for the buttonholes.
It's all plastic, so not as nearly sturdy as Janome HD1000; however, it is very light at only 14.6 lbs, making it very popular for portable sewing demonstrations.
It is marked for intermediate to advanced users, but that is only if you intend to fully explore and combine all the 100 stitching types. Because it is fully automatic, it will actually be perfect for novice sewers, not to mention that the inclusion of the extension table will make the work of long drapes or heavy curtains that much easier.
Brother CS6000i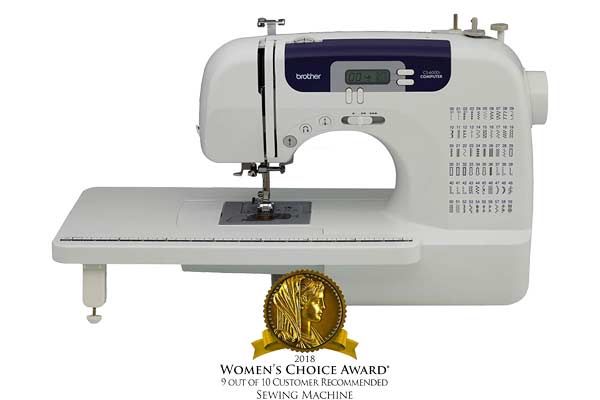 Extremely affordable to the point of being suspicious about its quality and features, Brother CS6000i is nonetheless another computerized sewing machine with quite a good range of stitching options:
60 stitches, of which 20 are regular, 20 are decorative, 7 for quilting, 6 for heirlooms, and 7 for 1-step automatic buttonholes.
Of course, it has automatic needle threading.
LED lighting.
LCD screen.
Jam-proofing.
Large table included.
9 presser feet.
The selection of accessories is standard fare: bobbins, needles, lint brush, seam ripper, screwdriver, accessory bag.
With the combination of high maximum speed at 850 SPM, large extension table, and the 20 decorative stitches, it's hard to not recommend it, as all of these features are essential for curtains and window adornment work.
Everything else are extra benefits that ease your work, with the exception of needles. They seem rather flimsy so you may want to buy needles that will be appropriate for thicker fabrics, which is frequently the case with curtains or the various home decor items.
Also, there are some reports that the lighting could be brighter, but that may depend on your own eyesight and the overall lighting of your work space.
Janome DC2013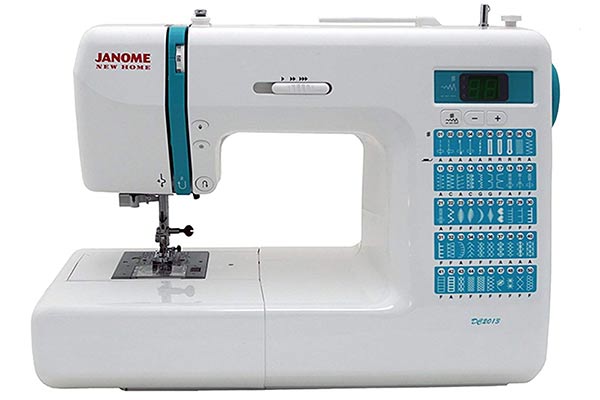 Finally, a Janome sewing machine that is fully computerized, but one that also comes with a hefty price tag. This is your higher end machine covering intermediate and advanced users.
As we look at the features, we can see why it is pricier than the other models:
High performance with 860 stitches per minute
50 built-in stitches
Fully automatic: needle threading, thread tension, thread cutting
Extension table
3 1-step buttonhole sewing (1-step always means it is automatic)
7 presser feet
Adjustable speed, length and width
Computerized needle direction
Knee lifter
Heavy 22.2lbs weight which ensures excellent stability
As you can see, the features included make it an outstanding choice for crafting thick, precise curtain fabrics. Thanks to the intuitive deaigned and awesome features you will be sewing drapes, curtains, valances, decorative shades or window blinds . Also, the Janome exclusive SFS (Superior Feed System) is worthy of note. It's not just a marketing term, as it rounds up the excellent professional feeling you get from working with this sewing machine.
Singer Heavy Duty 4423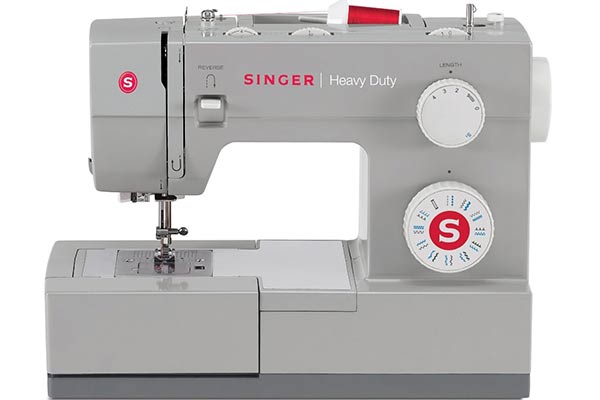 If you thought that Janome DC2013 is high-performing, you are in for a doozy with Singer's Heavy Duty 4423. When they say heavy duty, they truly mean it – 1100 SPM speed!
Such high top speed translates to the Singer sewing machine being able to work on any fabric, with no exception, which is of course perfect for curtains.
It's not fully computerized but it comes very close. The large dial replaces the stitch cycling through an LCD screen.
Speaking of stitches, you have:
23 built-in stitches, with a maximum width of 5mm
Automatic 1-step buttonhole,
Automatic needle threading
Automatic pressure foot for tension control
Automatic bobbin wind clutch
3 needle positioning
Stainless steel frame and bedplate
The only automatic feature it lacks is the automatic thread cutter.
Although it's solidly built at 14.5 lbs, it is quite compact, so you can easily stove it in a cupboard.
Unfortunately, it doesn't come with a super useful extension table, but it has one very important trick up its sleeve – its super affordable!
Combine that with the massive amount of performance, almost entirely automatic functions, and sturdy build, and you have yourself a mighty outstanding candidate for curtain work. In fact, you may view it at being specialized at just doing that.
Janome HD3000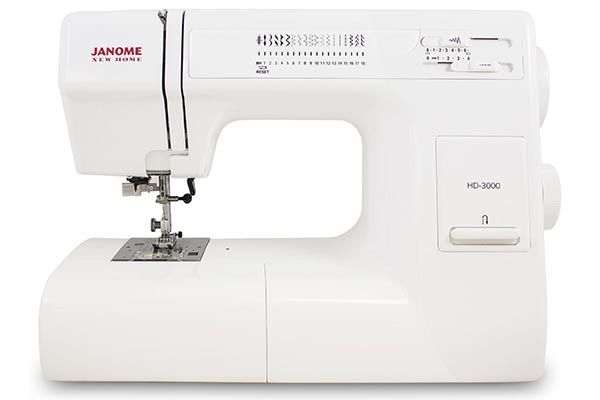 As we are nearing the end, we get higher performing sewing machines. At 1000 SPM, Janome HD3000 (heavy duty) is just 100 SPM slower than the Singer 4423.
And you get to experience that coveted Japanese reliability and smooth action in a high-performing, heavy duty form.
Of course, Janome is a valued brand for a reason, so you will pay accordingly for this model as well. As for the features:
18 built-in stitches
Automatic needle threading which comes convenient when sewing drapes and various window treatments
Automatic 1-step buttonhole sewing, 1 style
Extension table and free arm
Adjustable speed, width and length
Just 1 presser foot
Slide buttons for controlling the speed and stitch selection, instead of the usual LCD screen or a dial.
It's a shame it doesn't support automatic thread tension control and auto thread cutter. You be the judge if lack of those features is a deal-breaker, especially considering the high price.
Nonetheless, you will find that this all-white Janome is indeed a professional grade beast that will carry water for any project you employ it to perform.
Brother HC1850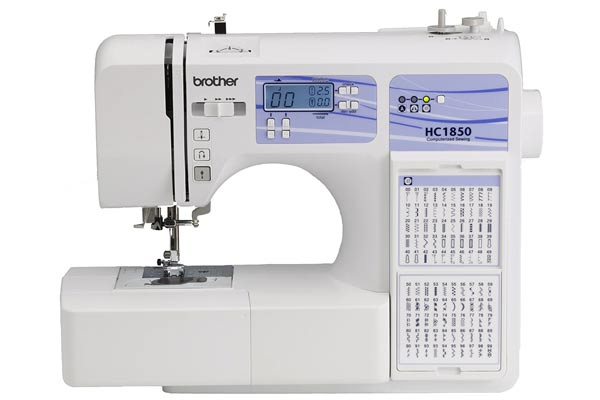 The last sewing machine in this comprehensive list is reserved for the king of the features:
130 built-in stitches, of which you have a choice between:
42 garment construction
14 quilting
94 decorative
12 heirloom
8 buttonhole styles, 1-step of course
Fully automatic/computerized: needle threading, tension and cutting, with a larger than usual LCD screen.
8 presser feet: overcast, monogram, zipper, zigzag, blind, buttonhole, button, quilting
Detachable extension table
850 SPM, 3 speed settings
LED lighting
Instructional DVD, instead of the usual manual in textual form.
Truly, we have no idea how Brother manages to cram in so many features, but still keep the price low. It is no wonder that Brother HC1850 is one of the most highly rated sewing machines, and of course it has that coveted 'Amazon's Choice' label.
It also comes with a generous pack of accessories: 3 needles, 3 bobbins, 3 spool caps, screwdriver, lint brush, seam ripper, eyelet punch, and extra spool pin.
The only "flaw" of this machine might be the issue of presser feet not rising enough to work on very thick quilts. Also, the neck is smaller than what you may find comfortable.
A Few Tips for Sewing Draperies
Make adequate preparation; which fabric will you buy, how much, do you have the proper measuring tools. Choosing the fabric for the curtains first is essential as it will determine which threads and needles to use, and always try to see or buy fabrics physically from the store, instead of online. It is difficult to get the sense of the fabric by just looking at them online. However, I admit that I always manage to find better fabric deals online.
Get a rotary cutting tool. Although it is mostly intended for quilts, cutting curtains with it is very efficient.
If you are a novice, follow the gradual approach. Start with the simplest design, and then advance further by adding ornamentation. It doesn't matter how good your idea is if you lack the experience to handle its execution.
Use normal-weighted silk thread for flowing curtains or lace-bordered silk for long drapes (floor to ceiling) – see this post for more information on how to choose.
Use thick cotton or thick silk thread for draperies made out of silk brocade, linen, or heavy cotton.
Use synthetic or thick cotton thread for rough or weaved cotton and hemp, especially for window valances.
You can make your drapes more effective against harsh sunlight if you sew decorative strips on them. Synthetic or thick cotton thread is recommended
Always have a vision in your head for the look of the entire space, unless you want to end up with an eclectic, jumbled mess of incompatible colors and shapes. Even the best fabric for napkins won't look good on the table if they don't match the rest of the decor. Look for patterns and colors online, and search wide for whole interior design, instead of just searching for "curtains" online.
Remember that the draperies can set the tone for the entire space.
Comparison table and Takeaway
Instead of a single best sewing machine for curtains recommendation, we give you this nifty table to help you determine the right choice for you:
| | | | | | | |
| --- | --- | --- | --- | --- | --- | --- |
| MODEL | SPEED (SPM) | STITCHES | EX.TABLE | BUTTONHOLE | COMPUTERIZED | PRICE |
| Brother S5055PRW | 850 | 50 | NO | 5, 1-STEP | YES | LOW |
| Janome HD1000 | 840 | 14 | NO | 1, 4-STEP | NO | MED. |
| Janome 7318 | 830 | 18 | YES | 1, 4-STEP | NO | HIGH |
| Singer 7258 | 750 | 100 | YES | 7, 1-STEP | YES | MED. |
| Brother CS6000i | 850 | 60 | YES | 7, 1-STEP | YES | LOW |
| Janome DC2013 | 860 | 50 | YES | 3, 1-STEP | YES | HIGH |
| Singer HD 4423 | 1100 | 23 | NO | 1, 1-STEP | NO | HIGH |
| Janome HD3000 | 1000 | 18 | YES | 1, 1-STEP | NO | HIGH |
| Brother HC1850 | 850 | 130 | YES | 8, 1-STEP | YES | MED. |
Keep in mind that, although some models are not 'fully computerized', they do have automatic functions like needle threading, tension control, and even buttonholes. So we are sure that each one of the models on this list are excellent sewing machines for making curtains, draperies and various window treatments.