22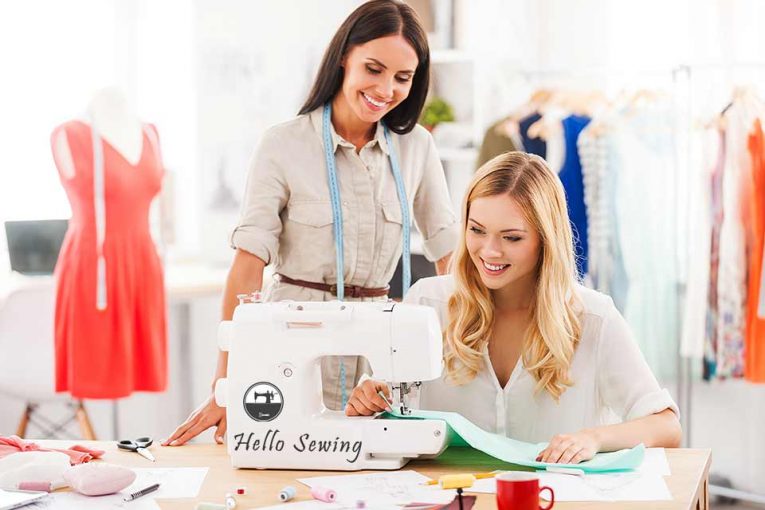 Best Sewing Machine for Making Clothes – 2020 Buying Guide
So, you have already made your first steps in sewing and feel confident enough to start making actual garments for yourself and for others? The first question which every beginning sewist or enthusiast planning on becoming the next big thing in the fashion world is – "what is the best sewing machine for making clothes at home"?
I have sorted out my top choices for you, but firstly, I would like to give you an overview of the most important characteristics and features you should look for when choosing a machine, as well as the best type of machine for the different types of sewing projects you are planning to pursue.
We occasionally link to goods offered by vendors to help the reader find relevant products. Some of the links may be affiliate in nature meaning we earn a small commission if an item is purchased. Read my full disclosure here
Best Sewing Machine for Fashion Designers and Dressmaking at-home
Tailoring custom-fit apparel and making successful alterations are easier than ever with the right gear. I have narrowed down a list of top picks for you, according to the most important characteristics from our buying guide at the bottom of this post. Here are some through reviews of the models of my choice which you can use as reference when choosing the best one for your personal needs and in accordance to your skills and future plans for dressmaking. Hopefully, this guide will help you pick the perfect machine to suit your needs and to meet your expectations, so that you can start making your first steps into the wonderful world of fashion and garment making.
Reviews of the Top Sewing Machine for Making Clothes:
Singer 7258 Stylist Computerized Sewing Machine – the budget choice
This computerized Stylist 100-stitch multi-purpose machine is certainly one of my favorites and a model which I can strongly recommend for the novice seamstress who want to make clothes at home. It is very easy to learn on and yet has some features which advanced stitchers will definitely enjoy as well. The best thing is that it is cheap and can fit in your starting budget. Here is what to expect from this product from Singer:
An adjustable sewing speed option, which is especially useful for learners and for those who are relatively inexperienced in dressmaking. This feature is excellent for precision stitching as well.
An intuitive push button feature for stitch selection of each of the 100 available stitch patterns with adjustable widths and lengths.
An automatic needle threader to save you the time and hassle of threading it manually.
Six different styles of automatic single-step buttonhole stitching to use for buttons of all different sizes and shapes.
Compact and light weight – it weighs 14 and ¾ pounds, which is a superb option if you need to put the machine away or carry it with you to sewing classes.
An easy to place and monitor top drop-in bobbin.
A LED work light which provides sufficient light for your working space.
A handy free arm compartment for accessory storage.
10 different presser feet (all-purpose/zig-zag, zipper, buttonhole, blind hem, rolled hem, embroidery, darning, gathering, straight stitch, overcast, satin stitch).
A very useful user manual – superb for learners, as well as a DVD with video instructions for quick and easy set up and use.
Additional accessories, such as: a lint brush, seam puller, screwdriver, spool pins, caps and felts, bobbins, needles, soft dust cover, foot pedal and others.
An easy programmable needle up or down position for easy fabric removal as well as for better appliqueing, pivoting or quilting.
A 25 year warrantee, and easy to access online technical support.
The Singer Stylist 7258 is a solid, affordable and very easy to use machine which is an excellent choice if you are buying your first ever sewing machine and yet want to get one with sufficient features and functionality which will serve you for longer and for the future once you become more advanced. It is a perfect option for learners as well as for those who pursue sewing as a hobby. The instruction manual and the multiple automated features and easy speed and needle position control are definitely superb for young children or for those of you who have no experience. Yet, the sewing machine also has a multitude of beautiful stitches, 10 presser feet and numerous other functions which are sufficient for making a professional looking garment too.
The machine is currently out of stock so check out the alternative

-or-
Juki Hzl-F600 Computerized Sewing and Quilting Machine – the top choice for clothing designer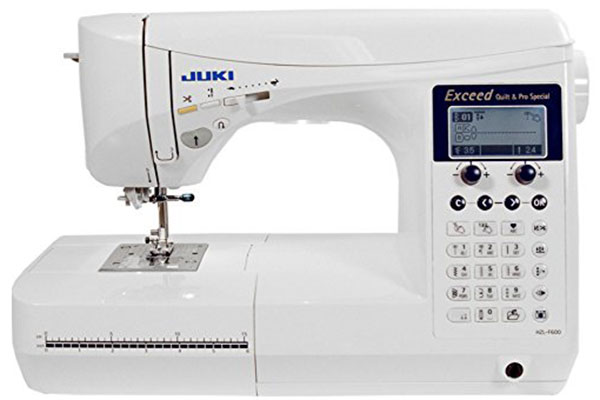 My top choice for those of you who are pursuing a clothing designer career is this Juki Hzl-F600 machine. It is a computerized professional rate model which every dress maker will be happy to use. Yes, it is quite an investment, but in turn for your money you will get:
255 pattern choices (decorative, alphabet and utility) as well as 4 different fonts.
An extensive work space which is 8×12 ¼ inches long, making it about 4 times larger than the average work space of other models.
An intuitive large LCD display (33x66mm) which allows for easy and quick stitch selection with just one touch. Also, with the stitch information, the display includes recommendations for the best presser button to be used. Plus, you can easily adjust the width and length of the stitch of your choice and it will be displayed immediately.
16 types of high quality industrial style buttonholer stitches – easy to adjust in width and style and for the specific type of fabric used.
Seamless, free motion stitching and sewing.
10 different snap-on presser feet.
A special box feed technology.
Smooth and quiet operation.
A wide extension table, a hard case, 4 bobbins, an eyelet punch, a quilt guide, different sized spool caps, a spool pin, twin needles, a seam ripper,.
Professional range, yet easy to set up due to the informative set-up DVD and very intuitive to use.
Built in foot pedal and accessory storage area for a neat and tidy sewing space.
An easy to insert and quick to thread bobbing case. You can continue sewing while winding the bobbins with just the push of a lever.
A quick and easy to use automatic needle threader.
Precise thread trimming options including: automatic, foot controlled and button controlled.
Programmable up and down position of the needle.
8 different language settings available, as well as contrast control for the LCD screen for better visibility.
A 7 point feed dog system for various kinds of heavy or light fabrics for your projects.
Auto and manual thread tension setting options for carious stitching effects.
Available memory for storing up to 70 different patterns in 10 separate folders, with a quick recall option.
A couple of bright LED lights.
Easy foot pressure adjustment.
Adjustable needle positioning.
Perfect for quilting – with unique, neat and even hand look quilt stitches.
An on-board useful guide.
Overall, if you are interested in purchasing a professional range sewing machine for making perfect garments, the Juki Hzl-F600 is my personal top choice. It combines all the features which every advanced or professional sewist needs for enjoying their hobby or making garments for commercial purposes. It is sturdy, durable, has a wide multitude of options and accessories, and is practically unbeatable in the higher range of computerized sewing machines available on the market.
Janome Dc5100 great for dressmaking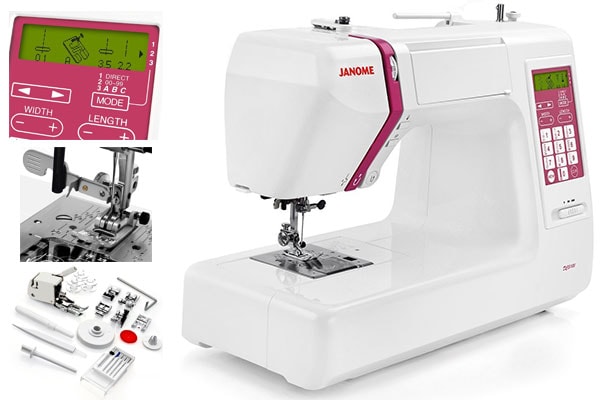 The DC5100 is very solid, reliable, quiet and easy to use. It is a superb choice both for beginner sewists as well as for those who are more advanced and want to pursue more complex dressmaking projects at home.
Making clothes with this machine is a smooth experience, and here is what grabbed my attention immediately:
A very comfortable and easy to use speed control slider which helps you control the speed of the stitching, which is essential for beginners as well as for stitching more difficult, curved areas and for precision stitching.
An intuitive LCD touchscreen display and touchpad for very quick and easy navigation and for stitch selection and width and length editing.
The machine will also recommend the best presser foot to use for the stitch of your choice – it is shown on the LCD display.
A wide range of stitches (167), including 5 different automatic one-step buttonhole stitches and an alphabet.
A built-in automatic bobbin winder for easy, fast and seamless winding.
A superb feeding system and easy switching of the available snap-on presser feet for different sewing tasks.
A useful lock stitch button.
A memory for storing up to 50 patterns of your choice.
An automatic needle threading system and a convenient thread cutter on the side.
Easy setting up of the machine – it can be set up and used straight out of the box.
A very solid and sturdy make. High quality and reliable machine.
It is very quiet and works smoothly providing neat and even stitching.
If you want a reliable, durable and easy to use sewing machine that has multiple features and stitching options, this particular model could be the most suitable one for you. It is an excellent investment to make, no matter whether you are new to sewing or you are pursuing a career in the fashion or dress making industry.
The machine is currently out of stock so check out the alternative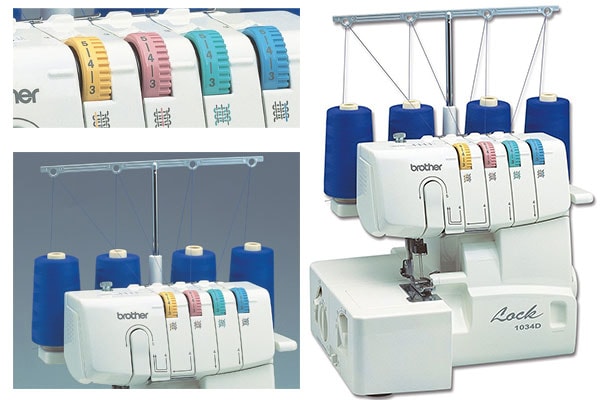 Great choice for the intermediate sewer who is looking for an affordable serger to give your garments a professional edge finishing, the 1034D model from Brother is definitely one to consider investing in and I definitely recommend it as the best beginner serger you can currently get. Here is what I liked:
It can deliver professional edge finishing on various clothing fabric types, including: different knits, linens as well as formal wear. You can use it to create fantastic looking decorative edges, ruffles, spaghetti straps, gathers as well as to serge narrow sleeves or join fine laces.
There are 22 great built-in stitches, including: 3-thread overlock, 4-thread overlock, rolled hem, narrow, ribbon lock, as well as special stitching functions for bridal and formal wear, heirloom, crafts and home décor and reinforced tape.
You can easily adjust the width of the stitches between 5-7mm.
The Brother Serger 1034D works exceptionally smoothly and well even on stretchy or knitted fabrics due to the differential fabric feed system.
Very easy to set up straight out of the box, as well as learn how to use with the help of the included video, manual and the detailed color coded and numbered threading for the upper and lower looper for easy and quick threading.
An adjustable on and off knife feature.
Easily adjustable foot pressure control.
It comes with a 25 year warrantee and free lifelong phone technical support in the US.
It is fitted with a free arm for sleeves and other narrow parts of a garment and flatbed convertible work space.
It has easy to replace snap-on presser feet.
A bright lit working space.
Provides consistent stitches along the edges via the removable stitch finger.
It is time saving as it can deliver up to 13000 stitches per minute – ideal for advanced or professional dressmakers.
It works with standard needles used by most home sewing machines.
It comes with a gathering presser foot and a multi-purpose guide foot. You can purchase additional feet to expand your options as well.
In conclusion, if you are specifically looking for a serger which you can easily afford and use at home to give your projects a professional finish, this specific model is an exceptional choice. It is durable and easy to use and will serve you for years to come. The only thing to keep in mind is that it needs to be oiled prior to its first use, and oiled periodically to ensure that it functions seamlessly.
-or-
Brother SE400 – excellent choice for making doll clothes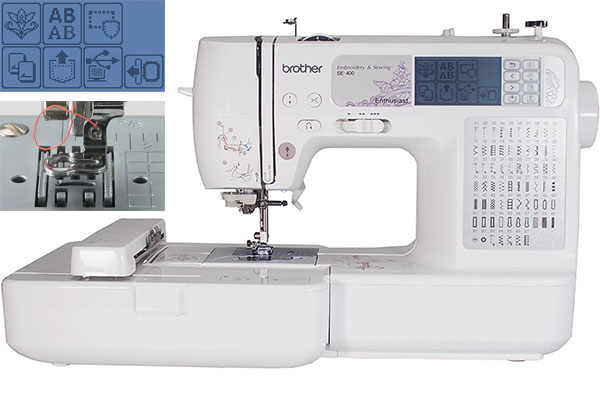 If your passion is making doll clothes, then you should consider purchasing the Brother SE400 sewing machine, because it is just what you will need for making those tiny cute garments. It is a superb quality which encompasses a number of features which I really enjoyed. Here are some of the main ones which I loved the most:
You can use it for sewing, embroidering and quilting, with its unique 4×4 inch embroidery functions.
It features 67 pretty stitches, alongside the amazing 70 embroidery patterns and 5 lettering fonts which you can use for even the more complex doll dress making and other garment or home decor making projects and crafts.
The big and easy to view LCD display gives you quick access and a quick view of all of the options to choose from.
This machine can be connected to a computer via USB which allows you to download hundreds of available embroidery designs online, such as those on: iBroidery.com, Stitch Era Universal, Bunnycap, Embiblary and others. This means that the possibilities and variations are endless. You can also update the computerized functions of your machine when new updates become available.
It features an automatic thread cutting function which will easily cut both the top and the bobbin threads quickly and with precision.
It has automatic needle threading to save you the time and hassle of having to do the threading by hand.
The patented Quick-Set drop in top bobbin combined with the easy bobbin winding system is another plus both for beginners and for advanced sewists.
The bilingual user manual is comprehensive, and the manufacturer offers lifelong phone support for the machine, as well as a 25 year limited warranty.
The machine is affordable, and yet your project will look professional and high end thanks to the complex and pretty designs and patterns available for use.
Smooth and seamless operation with the 7 point feed dogs of the machine.
Accessories included: a 4×4 inch embroidery hoop, a soft cover, an embroidery arm, 7 presser feet (for buttonhole, overcasting, zipper fitting, button fitting, blind stitching, monogramming and for embroidery), USB cable, bobbin thread for embroidery, seam ripper, cleaning brush, a set of needles, 2 screwdrivers, 3 spool caps, a touch pen, scissors and 3 bobbins.
In conclusion, I would like to say that this machine is a pure joy. It is easy to use, has numerous wonderful and cute functions and designs, and the products I ended up with looked absolutely professional. So, for aspiring dress makers and lovers of crafts, this is an excellent choice.
The machine is currently out of stock so check out the alternative

The machine is currently out of stock so check out the alternative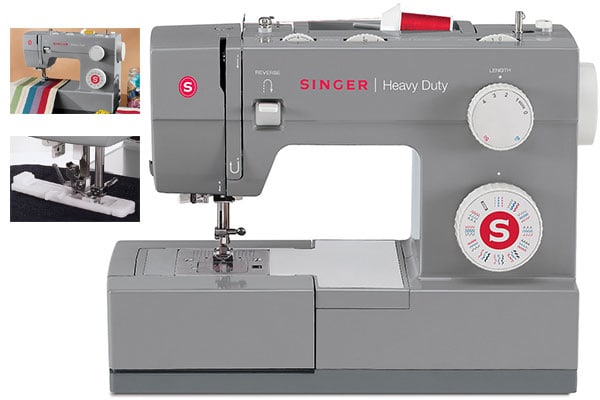 If you are planning to push your sewing machine to its limits with endless projects and dressmaking, then this heavy duty Singer is one of the options to consider. I have tested this wonderful tool from Singer thoroughly, and here are the reasons why I would recommend it to any advanced or intermediate sewist:
The all metal heavy duty frame helps keep the machine still and thus ensures a smooth and skip-free stitching and sewing experience. Plus, the metal skeleton of this machine will ensure that it serves you for years to come.
The bedplate is also made of stainless steel which allows for an incredibly comfortable and smooth fabric feed throughout the stitching process.
The motor is very powerful and thus it is easy to stitch even the toughest and thickest fabric. The singer 4423 is one of our top sewing machines for denim and leather as it handles them at a high and steady speed. The manufacturer claims that the machine's motor is 60% more powerful than previous ones, and that it can ensure an amazing speed of 1,100 stitches per minute.
The automatic needle threader is a great time saver.
It has an easy to insert or remove top drop-in bobbin covered with a clear cover allowing you to monitor the bobbin thread at all times.
In line with the latest technological advancements, Singer has released a very easy to use and helpful Singer Sewing Assistant App available for Android and iOS devices.
It has a 1 step buttonhole stitching feature – again a convenient time-saver for those of you who are looking forward to a seamless and easy-going process.
It has 32 built-in stitches, including: 6 basic ones, 7 stretch ones and 18 decorative stitches, plus the buttonhole stitch.
The accessories you will find in the box include: 4 presser feet: all-purpose, zipper, buttonhole and button sewing, as well as a seam riper, needles, a spool pin, a spool pin felt, needles, a lint brush, a foot controller, screwdriver and a soft dust cover.
It comes with a detailed and easy to understand user manual as well as a quick start-up guide to allow you to start sewing right after you take it out of the box. If you prefer videos – you can view the ones provided by the producer regarding the threading, presser feet training and bobbin installment processes.
At an affordable price and with an excellent quality make, this heavy duty sewing machine is definitely one of my top picks when it comes to buying a reliable, durable, powerful and fast workhorse.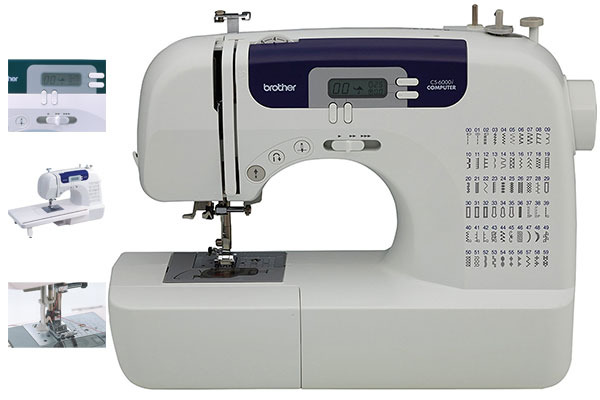 If you want to buy your own first machine and have little or no experience, then you must take a closer look at this particular model by Brother. It is the best beginner sewing machine for making clothes on this list! I have had the chance to test this machine on numerous occasions, and I must say that it has always left me impressed and satisfied with the results. Here is what you can expect if you choose to buy this one:
Easy stitching speed adjustment with a start and stop button, and without the need to use the foot pedal – this feature is very suitable for young sewists and for newbies who are making their first dressmaking attempts.
The top drop-in bobbin feature makes it very easy even for novice sewists to insert or remove the bobbin without hassle. A printed diagram on the machine gives clear instructions about how to properly wind the bobbin too.
The useful accessory compartment in the free arm of the machine can hold all your accessories for a neat and tidy sewing space and for easy access.
The large LCD display makes the selection of stitch type and width easy and intuitive.
It has a very convenient oversized table which is well-lit by the lamp installed in the machine.
The machine comes with a very detailed bilingual user manual, a start-up guide for a quick set up and introduction, plus the manufacturer promises its customers toll-free technical phone support at all times.
It is sold with a 25 year limited warranty.
The accessories you will get if you purchase this machine include: 9 presser feet (buttonhole, zig-zag, zipper, overcasting, monogramming, walking, button-fitting, quilting and spring action), a set of needles, 3 bobbins, a twin needle, a spool pin, a seam ripper, an eyelet punch, a cleaning brush, an oversized table and a hard case for protection.
It has 60 built-in stitches with 7 types of one-step buttonhole stitches.
The automatic and hassle free needle threader is a must for newbies.
Given all of these features, plus the excellent price of this machine, you should definitely consider purchasing it for yourself, especially if you are new to sewing and quilting. It will guide you along swiftly and will help you learn quickly how to work on and complete various dressmaking and quilting projects by yourself!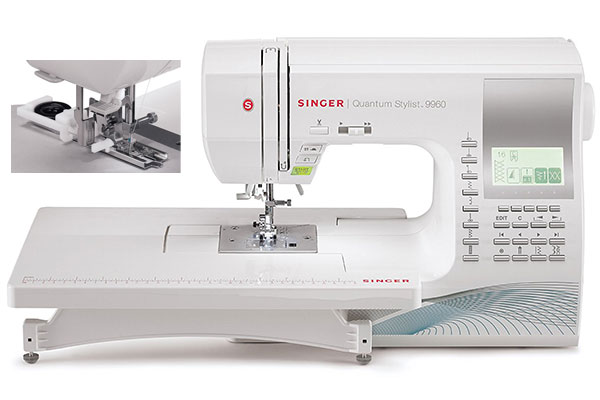 Many aspiring fashion designers and enthusiast dress makers have asked me for recommendations for the most suitable sewing machine, and the model which I have been recommending them in the majority of cases is this one. It is simply the best singer sewing machine for clothes! Here are the reasons why I strongly urge those who want to make beautiful garments to choose the Singer Quantum Stylist:
It is built with a durable, heavy duty metal frame which makes the sewing process smooth and skip-free.
The bedplate is made of stainless steel and provides a very smooth fabric feed for continuous and easy stitching.
The machine can be set up quickly and easily for use due to the automatic needle threader and the top drop-in bobbin features. There is also an automatic bobbin winding feature for quick and hassle-free thread winding.
It is equipped with 600 pre-installed stitches which include 13 types of automatic one-step buttonhole stitches and 5 fonts. This wide variety of stitches will give aspiring garment makers endless possibilities. There is an easy to view detailed stitch chart on top the machine with all stitch patterns visualized in diagram form.
The machine stitch editing features and the bright LCD display allow for easy control of the look and size of the stitch pattern along with a useful mirror imaging option as well.
The automatic thread cutter will trim both the upper and the lower threads with just one touch.
There is a great electronic speed control auto pilot which will help stitchers complete even the most complicated projects without error. This automatic speed control function is also very suitable for novice sewists, who can also take advantage of the easy to use stop and start control button as well as the special slow stitching speed option.
It comes with a wide array of 18 different presser feet (all-purpose, zipper, button fitting, buttonhole and underplate, blind hem, open toe, satin stitch, overcasting, darning, embroidery, cording, rolled hem, quilting, straight stitch, walking and even feed, bias binder, braiding, stitch-in-the-ditch, single welt cording, clearance place, fancy trim and presser foot shank) as well as a convenient wide sewing space.
Also in the package you will find: bobbins, needles, seam ripper, spool pin with a felt washer, a lint brush, spool caps, a seam guide, screwdrivers, an extra wide extension table and a hard dust cover.
Other useful feature include: automatic reverse and automatic stitch locking, electronic twin needle control, 25 different needle positions, two bright LED lights and a free arm for sleeves and pant hems.
The machine comes with a useful instruction manual and has a 25 year limited warranty.
I must say that this particular machine has it all – when it comes to functionality, ease of use and durability. The wide variety of stitch patterns, presser feet and the automatized speed control makes it perfect for any new or experienced dress maker who wants a reliable, versatile and durable sewing machine.
Janome 8077 Computerized Sewing Machine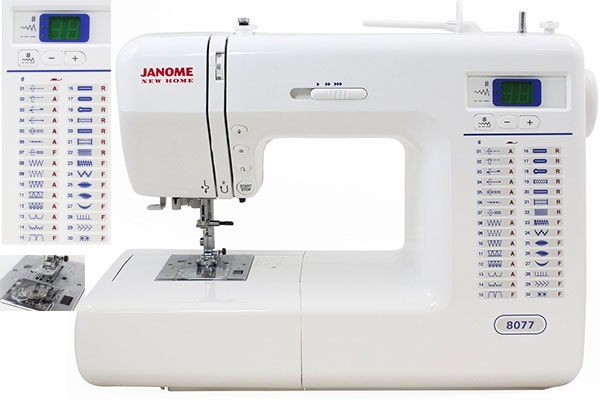 The Janome 8077 is one very nice model which has all the necessary stitching patterns and functions to allow newbies and more advances stitchers to learn how to complete all kinds of dress making projects in a blink. Here are some of the finest features:
It has 30 pre-installed basic stitches which can easily be picked and viewed via the bright LED display, the front stitch panel and intuitive controls. With just one touch you can easily adjust the width (7mm maximum) and length (5mm maximum) of the stitches.
It is compact so you can carry it to sewing classes or easily put it away when you are not using it.
It has 6 different one-step buttonhole stitches.
The built-in needle threader will save you time and spare you the frustration of threading a needle by hand.
The automatic memorized up and down needle control is also a very useful function especially for beginners.
The speed of the stitching can be controlled with a start/stop button, so newbies can feel more comfortable while getting used to using the foot pedal for speed control.
The auto bobbin winder, precise thread tension control and the button for easy reverse of the stitching direction are other features which people who are just getting their feet wet with dressmaking for beginners will find incredibly useful.
The auto bobbin winder, precise thread tension control and the button for easy reverse of the stitching direction are other incredibly useful features. Dressmaking for beginners can be difficult, and these auto features will definitely make it a lot easier.
The various snap-on presser feet are easy to replace and install for the different sewing tasks you undertake.
If you pick the bonus package, you will get a pretty purple or other colorful tote.
The price is affordable and although the Janome 8077 sewing machine is lightweight and compact it can handle all kinds of textiles and sewing and quilting projects.
Budget friendly, compact and yet solid, reliable and with multiple features and functions which will help you learn the art of sewing quickly and properly, the Janome 8077 is definitely one of my top picks as the most appropriate for newbies and for those who enjoy stitching and quilting at home.
The machine is currently out of stock so check out the alternative

Brother Project Runway CE7070PRW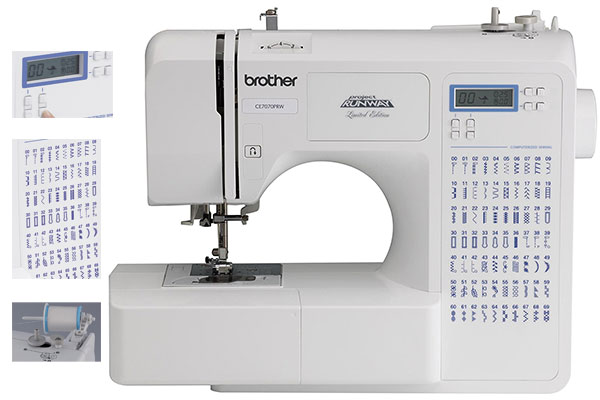 This one is possibly the sewing machine with the best price you will pay for the quality provided. This fantastic Project Runway model has multiple functions, is easy to use and is of high quality. I recommend it to both newbies and more experiences dress makers because:
The stitch quality is excellent – even and consistent.
It has 70 built-in stitches including: decorative, quilting, heirloom and clothing stitches. They can easily and quickly be selected and adjusted in accordance to your preferences via the large LCD display and the intuitive controls of the machine. Plus, all stitches are printed on a chart on the front of the machine.
7 built-in one-step buttonhole stitches to cover all your needs and button sizes.
Extra wide working table, which is perfect for sewing wedding or prom dresses, quilts or formal wear.
7 snap on presser feet for various sewing tasks.
Easy threading of both the upper spool and the bobbin.
Quick and easy bobbin winding, and a jam free, top-load drop-in bobbin.
An automatic needle threader and convenient needle plate markings which help you sew straight and consistent lines.
An excellent feed system and a free-motion quilting feature.
25 years limited warranty and an informative user's manual.
True, most of its parts are made of plastic, but this one is extremely lightweight, has an enormous amount of functions, stitching patterns and is very easy to use even by beginners. But most importantly, it comes at an incredibly low price for the value you will receive. If you are looking for an inexpensive and yet fully functional, good quality and reliable sewing machine – this is the right one for you!
The machine is currently out of stock so check out the alternative

BUYING GUIDE: What to look for in the best sewing machine for making clothes
I have carefully sifted through all possible important features which you should take note of when choosing the top sewing machine to suit your needs, and here are my top picks for the basic characteristics and what to look for and take into consideration when you are doing your pre-shopping research, based on my personal experience with various brands, models and projects throughout the years:
Matching the machine with your abilities
What is your level: novice, confident beginner or advanced stitcher?
Naturally, when you are planning on buying the best sewing machine for making clothes, you should make sure that it matches your abilities and experience. They vary from machines for beginners and youngsters, to mid-range machines suitable for stitchers with some experience and end with professional machines for those of you who have already excelled in the art of sewing and garment making and are looking forward to turning your hobby and passion into an actual profession. Of course you can always improve your dressmaking skills – read this article to learn how.
Mechanical or computerized
Nowadays all machines are electronic, but the simpler, budget friendly ones are non-computerized, while the ones on the higher end of the price scale are computerized and feature digitalized displays instead of knobs and much more functions than mechanical ones.
If you are buying your first machine, or are a novice to stitching, you may want to stick to the more affordable mechanical, noon-computerized models. Those are more than enough for those of you who just want to know how to start sewing your own clothes quickly and don't need all possible bells and whistles.
They do support all the basic functions you will need in order to master the art of sewing, and they will not cost you a fortune. For starters you will need a machine which can do some simple straight stitches, zigzags and buttonholes – these are plenty for making home decor, simple items and alterations like these.
On the other hand, if you are ready to enter the world of fashion, or feel like you are prepared to try out some more complicated projects and designs, you may want to invest in a more expensive computerized version, which has much more stitching options and additional options which you can experiment with and use for your garments.
Do you have a dedicated sewing space or do you need a lighter, easier to pack machine?
This question may not be the first one to come in mind when you are shopping, but believe me – it is essential. You need to figure out just how much space you are ready to dedicate to your sewing. If you are going to use your kitchen table or office desk for sewing, you need to get a machine which you can easily pack and put away when not in use.
If you have a large sewing space and you plan to work on your projects often or even on a daily basis, you can get a heavier, less compact machine which doesn't need to be moved around or tucked away all the time.
It comes to no surprise that the lighter and smaller machines are a much more affordable option than the heavier ones, so this is one other matter you need to clarify before proceeding to buy your machine too.
What stitches do you need?
This question again is related to the skill levels you have. If you are already comfortable with the basic stitching options of your simple non-computerized machine, are able to do basic pattern alterations and are ready to move forward toward more complicated projects, you may want to think about investing in a more modern, computerized sewing machine which has a wider range of different stitching options which you can experiment with and use for your garments. Not only will it provide you with some sassy decorative stitching options to use with our free sexy lingerie sewing patterns, but it will more likely be able to handle thicker fabrics as well as multiple layers of fabrics as well.
Also, higher end computerized machines usually feature some nifty features such as: automatic thread cutter, one-step buttonholer and others, which will make life much easier for you in the long run.
All metal parts
Whether you are a newbie, or an enthusiast or stitching pro, I strongly recommend that you purchase a sewing machine which has a metal chassis and all metal parts with a plastic case covering. These are much more durable and will last and serve you for longer as compared to the flimsy and easy to break plastic ones which are being offered on the market.
Advanced sewists and pros should definitely invest in a high end, professional type model. It will be heavier than the average ones, but it will be able to handle even the thickest fabrics and various heavy duty tasks as well. This is my firm recommendation if you have sufficient dedicated space for your sewing.
Adjustable speed control
Getting a machine which has adjustable speed control is highly recommended for beginners or for children. This feature will allow for easy slowing down and speeding up of the stitching, in accordance to your preferences. It is easy to control and thus much easier to master when such a function is available.
One step buttonhole
It may not seem that important, but I highly recommend that you consider getting a sewing machine with a one-step buttonholer function instead of the much more complicated and time consuming four-step buttonholer which other models have. This is one feature which can help both newbies and advanced sewists, but since it is usually available on the more costly models, I would recommend it for more advanced stitchers, and not so much for those who are buying their first  machine.
Needle position
This is another quite handy feature – it enables you to reposition your needle in accordance to your needs while working on your project. This is especially useful when sewing on zippers, for hemming as well as for top stitching (e.g. for the lingerie here). Pick a sewing machine which has more than one needle position is highly recommended, especially for those of you who are working on more complicated designs and garments.
Budget/Value
The money you are ready to spend on your new sewing machine is no doubt an essential part of the decision making process. If you are new to sewing, you may want to opt for borrowing it from somebody so that you can test it first and see if you are really up to learning how to sew and undertaking dressmaking projects (click here to read how to start making garments), before spending money on buying your own machine. The benefits of making clothes vs buying them are numerous and you will be able to make unique items while taking up a new hobby at the same time. You won't need to be content with only what is currently sold in stores, you can choose the fabrics and materials, you could even your wildest garment ideas into reality, and many more.
Another cheaper option is to look for used, second-hand sewing machines. You can find such a used sewing machine in good condition at an excellent price online or at a local garage sale or charity shop, so make sure you do some research before going ahead and buying a brand new machine. Even if it doesn't come with an instruction manual, you can easily find one online for your model, so don't fret about that either.
If you are firm in your decision to invest in a brand new one, you may as well spend a tad more but make sure that you are making a good and long-term investment in a higher quality and more durable machine with more features, rather than buying a cheap but flimsy machine which will probably break down pretty soon.
Of course, if you are planning on pursuing a career in sewing and making money out of the garments you make, you should consider spending more on a professional sewing machine, as it is more reliable and sturdy, and given the fact that it will pay off pretty soon once you start selling your garments and products.
Warranty
Always check the warranty which the manufacturer is offering before you purchase. On average, the warranty given for the mechanical parts is 20 years, 2 years for the electrical parts and 1 year for labor. Remember that you are making a serious investment, so make sure you get the best value for the money you are about to spend on your new sewing machine!
What's an overlocker and do you need one?
An overlocker is also known as a "serger" and is a function which is used to finish hems by trimming the fabric and at the same time sewing the hem. It is a feature which is used for commercially made garments and is very useful, but not necessary if you are a beginner and plan on working on some simple projects. The overlocker function is especially useful for working with knitted, stretchy and other tricky clothing fabrics (see here).
If you are a novice stitcher, you may stick to a model which has a simple zig-zag stitch for the hems. Pros and advance sewists who want to enter the world of dressmaking should consider getting one with an overlocker function as it gives the garment a more professional finish, but at the same time is a bit more complicated and difficult to use.