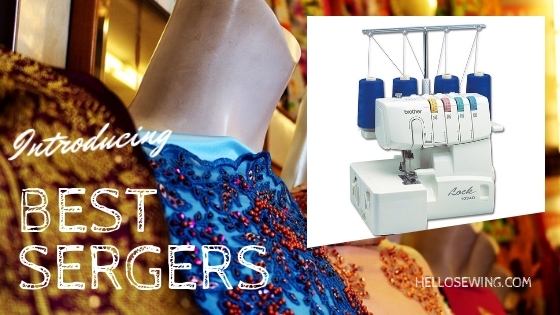 Best Serger Sewing Machines for Beginners and Pros!
If you are an intermediate or high skill level sewist then you know just how much of a difference a neatly and precisely finished edge makes. And when it comes down to performing that particular task, no one is able to do a better job than a serger machine. A specialty sewing machine which trims the edges and stitches them in a way that they never fray or get damaged from wear and tear or accidental unwanted sudden pulls or something similar. And they end up looking beautiful on top of all that.
But choosing a proper serger for yourself isn't an easy task at all. There are lots and lots of different models out there and considering the fact that most sergers cost a fair amount of money, making a wrong choice and getting yourself an inadequate machine could cause you some really unnecessary problems. So in order to avoid finding yourself in such a scenario, we'll be teaching you a few things about sergers in general and after that show you some of the best sergers you can buy so that you don't have to waste a lot of time on shopping. Shall we begin?
We occasionally link to goods offered by vendors to help the reader find relevant products. Some of the links may be affiliate in nature meaning we earn a small commission if an item is purchased. Read my full disclosure here
What to Look for in a Good Serger Machine?
Before we start listing the best serger machines currently on the market, we should first take a moment and talk about these useful sewing tools so that we can know what they're capable of and what kind of functions do they possess.
Sergers, or overlocking sewing machines are used for creating high quality seams and edges. They do that by first slicing off a tiny portion of fabric along the edge of the sheet you're using and then stitching over that edge. If you see an edge which has no thread pieces protruding from it, not even a little, you're probably looking at a job done with this type of machine. Most of them work with two needles and from two to five threads simultaneously, we'll talk about the difference between the number of threads in a moment. If you're thinking that some of the regular sewing machines also have the ability to work with two needles and are therefore the same as sergers, you're mistaken. They are very different as you can see in our serger vs sewing machine comparison. While it's true that some of them can sew with two needles, the seams they make are inferior to serger made ones. Sergers produce structurally strong and visually appealing edges that have the ability to stretch while normal sewing machines simply can't do that. They may be capable of stitching pretty seams but as far as strength and stretch characteristics go, they aren't even close to serger made ones. Also, these models are usually much faster than the plain home sewing machines which makes them a favorite among the professional sewists and fashion designers. They can create flatlock and overlock stitches in different variants as well as rolled hems and narrow hems, again in different variants depending on how many threads are used while stitching them.
Number of threads
So what are the differences between a two, three, four and five thread serger machine? Let's take a look.
Two thread overlock stitch:
The most commonly used type of overlock stitch, it's great for edging and seaming, stitching elastic materials to very thin ones like velvet, hemming and finishing seam edges. This kind of stitch uses only one needle. Use the left needle when sewing on thicker fabrics and use the right needle when working with lightweight materials.
Three thread overlock stitch:
Unlike the previous stitch, this one has decorative capabilities and is used for producing narrow rolled hems that make your garment have a much more professional looking finish. It's used for working with woven or knitted fabrics as well as finishing fabric edges. Once again, only one needle is required for stitching.
Four thread overlock stitch:
Here we have a more complex kind of stitch, compared to the previous ones. Along with the decorative capabilities, this stitch also possesses an ability of creating a mock safety stitch which is very strong and durable while being flexible and stretchable at the same time. If you're sewing on a high stress area that's bound to endure a lot of wear and tear, the four thread overlock stitch is the right choice for you. It's made by using two needles instead of just one which means that the individual stitches don't have a lot of space between them and are very thick, if we could use that word.
Five thread overlock stitch:
This is the strongest possible stitch that can be created so the fact that it can often be found on expensive apparel made by famous clothing brands shouldn't come as a surprise. It's tougher than a four thread one and also a bit more flexible. Mass productions prefer machines that have this function because they can make both strong seams as well as seam finishes so the worker doesn't have to switch between two machines. It also requires two needles for stitching, just like its previous counterpart.
Now that we've covered the basics and explained what a serger is, it's time to see which functions are recommended and sought after when choosing an adequate model for yourself.
Adjustable differential feed
First and most important feature you'd want your machine to have is the adjustable differential feed. With it, you can make the two sheets of fabric you're stitching together move at different speed, and by doing so, either stretch the material or gather it. A seam gauge goes well together with this because it ensures consistent sewing and cutting of fabric.
Next must have function is the adjustable stitch length and width, as well as easily adjustable seam width, preferably by using a simple dial to do so. Since we're talking about adjustable things, it's better to have a machine that doesn't go top speed at all times but instead has an option for you to set it yourself. Presser foot pressure should also be adjustable so that you can easily work with both thicker and thinner fabrics. It would be best if it has a snap-on foot that can be easily removed because that comes in handy when changing or threading the needles.
Removable stitch finger and a removable high quality blade that can be easily replaced or sharpened will make your maintenance work much easier and less time consuming. Individually secured needles, accessible inside of the machine, built in thread cutter and a color coded threading path as well as a tension release mechanism when the presser foot is lifted will cut your preparation time considerably and allow you to complete the finishing touches in a flash.
Oh and don't forget the sewing light, or your vision might deteriorate after those night sewing sessions. Working on very dark fabrics is also troublesome without it.
Well that's about it when it comes to desired features on a serger machine, so let's move on to our list of best sergers next.
My reviews of the best serger sewing machines in 2019-2020
Best overall serger Juki MO-654DE
MO-654DE is the best serger overall
We're starting this list with a serger that's coming from a proper powerhouse in the world of sewing machine manufacturing. This specific model offers a lot of functions to its potential buyers, together with a plentiful bonus accessory pack that comes with it. Versatile, simple and easy to use, this machine is a great choice for anyone who's looking for a serger with four threads.
Let's not waste time anymore and move on to listing the specifications and characteristics of this model.
Work with two, three or four threads and create all of the popular variations of flatlock stitches, overlock stitches and even rolled hems with one or two needles.
Adjustable stitch length and cutting width. Choose your desired setting by using the dial and selecting a specific option.
Consistent knife action provides clean and even cuts at all times, thanks to the dedicated drive which controls the operation. A handy seam gauge allows you to serge as you please by keeping track of the cuts.
Color coded threading guide lets you thread the machine in no time, while the removable lower looper offers easy threading of the loopers by just sliding the thread into the slot and snapping the looper back in its place.
Thread tension can be adjusted with a turn of the dial and will remain consistent during sewing at any speed due to special guides which hold the thread firmly in its place.
Adjustable differential feed – helps you create beautiful skirts or dresses with curly edges. Gather the fabric or stretch it out, it's your choice.
Bright light illuminates your workspace and prevents excessive eye straining when sewing in a poorly lit environment.
Maximum speed of 1500 stitches per minute allows you to wrap up your projects in record time.
A lot of goodies come with this machine. You'll be getting an electronic workbook CD, an instructional DVD video, nine presser feet, 50 Needles, eight cones of thread, two screwdrivers, a spare lower knife, spool caps, an oiler, a vinyl cover, a pair of tweezers, a brush and needle inserter, a needle threader, a guide bar, 2/3 thread selector, a spare light bulb, an instruction manual and more.
Drawbacks
There's not much that we can hold against this serger but it does have a few downsides naturally and we should mention them. It doesn't have a free arm which means that sewing cylindrical shapes might turn out to be troublesome. The fact that it can't do a blind stitch is a bit concerning. Cover stitch is also out of the question. And lastly, if you intend to use it outside of North America, you'll have to get a converter because of the voltage.
Best serger for beginners – Brother 1034D 3/4 Thread Serger
Sale
Brother 1034D 3/4 Thread is a great beginner serger for occasional users
So far it's nothing but Japanese manufacturers on our list but that was to be expected because they all make really good products and we're reviewing the best sergers here after all. Despite it being a budget model, it doesn't fall behind more expensive models in terms of performance. Having said that, let's take quick a look at what it offers to its potential buyers.
Finish seams or edges professionally with three or four threads and create decorative or durable overlock stitches. Alternate between using one or two needles for more various results.
Adjustable stitch width and length further expand your customization possibilities. Turn the dial to your preferred setting and you're good to go.
Adjustable differential feed lets you gather or stretch fabric as you sew, depending on the setting it's on.
Color coded guides for threading imprinted on the machine show you exactly how to thread it, thus shortening your preparation time.
Top speed of 1300 stitches per minute mean less time required for finishing your projects.
Removable trim trap collects all of the bits that were sliced off the material, keeping your workspace tidy and clean.
Free online and technical support at any time of day and night.
This model is most likely the best serger machine for beginners, and even though it has a ton of useful features as you will read in our detailed Brother 1034d review and you can get for less than two hundred dollars. Together with the machine itself, you'll get some complimentary accessory in the box as well. Instructional manual and DVD, two snap on presser feet, a soft cover, four mini spools of serger threads and some needles is what you'll get.
Drawbacks
There's s couple of drawbacks worth mentioning here and we'll start with the most important one which is the thread cutter. There is no thread cutter on this machine which means you'll have to cut the thread by yourself. Some people state that it exists but you still need to use a pair of scissors to break the thread and that's basically the same as if it didn't have it at all. Threading it a little tricky at first, despite the color coded instructions.
Upgrade pick – Janome 8002D Serger
Janome 8002D is our top premium pick for Serger sewing machine
Another renowned Japanese manufacturer of sewing machines brings us this affordable yet very much capable and reliable serger. This model is rather simple to use and it offers a decent number of customization possibilities for your project. Without further ado, let's take a look at its features and functions
Three and four thread stitching with one or two needles allow you to create simple stitches adequate for sewing lightweight sportswear or mock safety stretchable stitches that are both strong and durable as well as elastic and visually appealing.
Color coded threading path lets you thread the machine quickly and without any troubles.
Switch to rolled hem easily with the built in rolled hem changeover device.
Adjustable stitch length and cutting width let you customize your projects and add your own touch to them.
Presser feet are replaced or removed with ease due to the snap on mechanism. The presser foot pressure is adjustable as well which means that you can work with fabrics that are both thick and thin.
Adjustable differential feed ratio means you can make various original projects by gathering or stretching the fabric.
Upper knife can be retracted so you don't need to use it if you don't want to.
Maximum sewing speed of 1300 stitches per minute allows you to finish your work in a very short time period.
Warranty by Janome, length depending on your payment.
Accessories that come with the machine consist of a standard serger foot, an instructional book, a pack of needles, two screwdrivers and a pair of tweezers. Janome 8002D Serger has a bonus pack which consists of an additional blind hem foot and two packs of size 14 needles.
Drawbacks
This serger sewing machine is an affordable model so it's natural that it has a couple of drawbacks. The accessory tray is somewhat tiny so it doesn't fit all of the necessary items. Even though it should be able to do so, this model can't work with very thick or tough materials like leather and denim nor can it sew over multiple layers of middleweight fabric. The machine doesn't have a free arm so you won't be able to sew cuffs or sleeves on it without improvising a little. And lastly, it's a 110V only model so if you're living in a country which has a different voltage, you'll have to get a converter in order to use it.
-OR-
Juki MO644d portable serger
MO644d - best pick for a portable serger machine
Are you looking for a portable serger with all of the functions and features of a non-portable kind? If so, then look no further because here comes something that will fulfill your needs and give you precisely what you desire. Portable yet capable, this serger is a great choice for people who like to change locations often as well as those who don't leave the comforts of their home a lot. You can't use it on a train or on a mountain because it has to be plugged in but it's portable nevertheless.
Time to check out its specifications.
Possibility of switching between a two, three or four thread mode and sewing straight stitches, rolled hems or mock safety stitches.
Adjustable stitch length and differential feed offer you to demonstrate your creativity with various custom touches.
Threading the machine couldn't be any easier all thanks to the color coded threading path and breakaway loopers.
Built in thread cutter lets you wrap things up quickly after finishing sewing.
Safety first! Automatic safety switch locks the machine motor when the side cover is opened so you can't accidentally cut yourself while threading the serger. The knife also has a mechanism for consistent and even cuts at all times.
This one is among the faster models on our list with a top speed of 1500 stitches per minute.
Drawbacks
First drawback worth mentioning is the lack of a free arm which means you won't be able to easily sew cuffs or sleeves. The threading is theoretically easy but it can be a bit tricky first and maybe even second time around, until you get used to it. This model is a 110V only model so keep that in mind before purchasing it.
Brother Designio Series DZ1234 Serger Machine
DZ1234 cheap serger machine by Brother
Here we have something a bit different from the other models we reviewed because this is a serger that can add zippers apparently and that's not a common function for zippers. Advertised primarily as a great machine for making quick garment repairs or alterations but also as capable of creating lovely designer pieces.
Let's see what are its major features and functions.
Three or four thread modes let you create tough and durable elastic seams and edges, flatlock stitches, rolled hem stitches and mock safety stitches.
Thread the machine with ease and maintain a consistent tension with the help of color coded threading system.
Both the stitch width as well as stitch length are adjustable.
Differential feed radio provides you with a possibility of producing some very interesting results like lettuce edges on a skirt by gathering or stretching the fabric.
LED lighting illuminates your workspace so that you can work even at nighttime.
Free arm and a removable table section means you can make cuffs or sleeves very quickly and easily.
Trim trap collects leftover bits of fabric that were sliced off while serging. When not in use, it can act as an accessory container.
Maximum sewing speed of 1300 stitches per minute allow you to complete your tasks in a short amount of time.
Brother machines usually come with a lot of free accessories and this one is no exception. In the box, along with the serger, you'll be getting a soft protective case, four presser feet, four large white threads, a mini color thread, two needle sets, four thread nets, a thread and a spool cap, an instructional guide and CDs, a hexagonal wrench, a pair of tweezers and a cleaning brush.
Drawbacks
Once again, we have a 110V only model but this time, the manufacturer advises against using a converter. Is it a salesman's trick or a mechanical certainty, we can't be sure. You can't lower the sewing speed, it's always on maximum which can be bothersome when working with some.
Best 5 thread serger – Juki MO-735
Sale
JUKI MO-735 is 5 thread serger with coverstitch
Alright we've reached the classy part of the list which is the five thread serger reviews. These models reach prices of around a thousand dollars and are reserved for designers or anyone who's extremely in love with sewing. The serger in question offers you a possibility to create almost any kind of decorative stitch and truly demonstrate your originality. Apart from being the top five thread machine Juki MO-735 is also the best serger with coverstitch you can get!
Five threads and two needles let you sew anything from two thread overlock stitches to complex five thread safety stitches. Coverstitch, chainstitch and rolled hem pose no challenge for this model.
Adjustable stitch length and width as well as cutting width.
Extra high presser foot lift means that you can work with very thick fabrics or with multiple layers of middleweight materials.
Color coded thread path and looper threading help you thread the machine swiftly and easily.
Differential feed adjustment lets you gather or stretch the fabric, creating interesting and creative results.
Safety switch locks down the machine when the covers are open.
Cutting knife can be removed quickly if you don't want to use it. If you do however, the built in seam gauge and a special drive keep it consistent and make each next cut identical to the previous one.
Top speed of 1500 stitches per minute allow you to complete your projects in a flash.
Included accessories consist of a compensating presser foot for coverstitch, a large screwdriver, lower knife, a spool caps, an oiler, some threader nets, a vinyl cover, a needle set, a pair of tweezers a brush and needle inserter, a needle threader, a guide bar, a 2/3 thread selector auxiliary, a cover/chain stitch extension plate, a waste collector, an accessory bag, an instruction manual, a foot control and power cord, a spool holder, and an upper looper converter.
Drawbacks
Just because it costs so much doesn't mean that it doesn't have any drawbacks. Firstly, there's no free arm so you won't be sewing cylindrical shapes like sleeves on this machine without a little trouble. Next drawbacks is the fact that it can't sew leather which is pretty disappointing because it should be able to work with tougher materials since it's advertised that way. And lastly, once again it's a 110V only model so if you intend to use it somewhere with a different voltage, you'll need a converter first.
Budget 5 thread serger pick – SINGER 14T968DC
SINGER 14T968DC is a 5 thread serger for people on budget
The following machine has a close connection with the previous one because it represents its budget version or to be precise, a budget version of the five thread serger with coverstitch function. So what does this model offer? Let's take a look at its specifications and functions
Use 2-3-4 or 5 threads together with two needles and create beautiful edges and stitches like cover hems, chainstitches, flatlock stitches, rolled hems and more.
Color coded threading system simplifies threading and cuts your preparation time considerably.
Automatic tension setting provides consistent tension at all sewing speeds.
Differential feed lets you customize your projects as you please. Gather or stretch the fabric and create wonderful results.
Adjustable presser foot pressure allows you to work with both thin and thick materials.
Workspace is illuminated with a bright light so that you can sew in the dark or on dark fabrics without any problems.
A removable clean pocket collects all of the tiny bits of material that have been cut off, preventing unnecessary mess and keeping things tidy.
Maximum sewing speed of 1300 stitches per minute means that you'll be finishing your projects in a short amount of time.
The accessories you'll receive with this machine consist of seven presser feet, needles, tweezers, a brush, a spare knife, a spool cap and an anti spill thread net, an oiler, an instructional guide with a CD and more.
Drawbacks
Just like its expensive counterpart, this model doesn't have a free arm either so you won't be able to easily sew cylindrical shapes like cuffs or sleeves. Next drawbacks is the voltage once again, being at 110V only which means that you'll need a converter if you're living outside of North America.
However, is you are looking for a great budget serger coverstitch combo, this one is for you!
Best self-threading serger – Juki MO 1000
Juki MO1000 is the top self threading serger
.This one is quite pricey but it does offer something that neither one of the previous models we've reviewed has. An extremely easy threading system called Jet Air threading. You just put the looper threads into their individual holes and push a button and the machine is threaded. But let's see what else does this machine offer
Two or three thread stitching modes available, switch between them with a handy attachment on the machine itself.
Automatic threading of the entire serger and automatic needle threading make your preparation process very easy and quick.
Thread tension, cutting width and stitch length can be adjusted with a turn of a dial.
Adjustable differential feed allows you to easily stretch or gather fabric in order to produce lovely results.
LED light illuminates your workspace without heating it up or using a lot of electricity. Now you can work even at night, you don't need rest anymore!
A special system and design make this machine work very quietly so you don't have to worry about accidentally waking your family members up from their afternoon nap.
This is a fast one, maximum sewing speed of 1500 stitches per minute allow you to finish your tasks extremely fast.
Accessories that come with the machine include a waste collector, two screwdrivers, an oiler, a brush, a pair of tweezers, spool caps and thread nets, a pack of needles, a guide bar, a needle threader, 2/3 thread selector and more.
Drawbacks
Only two worth mentioning in this case. There's no free arm on this model so you'll have a bit of trouble if you wish to sew cuffs or sleeves. And again, this is a 110V only model so don't forget to get a converter if your country has a different voltage.
However, Juki MO 1000 is hands down the easiest serger to thread. If you are fed up with threading your machine over and over, Juki M01000 is just for you!
Takeaway and top 5 recap
That's about it, we've reviewed all of the best sergers currently on the market. Before we part ways let's make a brief recap.