1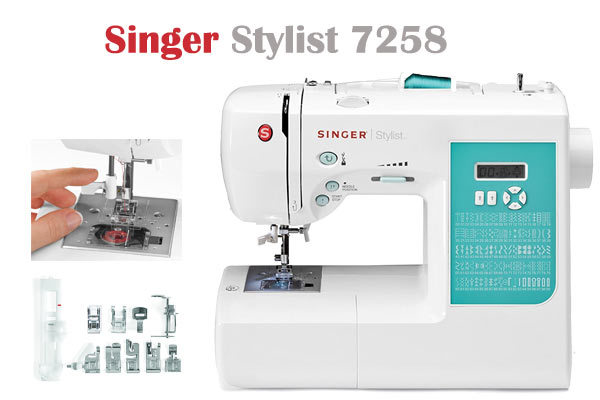 Singer Stylist 7258 Review – Create and Embellish Fashions with Ease
We have come a long way from your mother's huge sewing machine, producing enough noise to overpower every other sound in the home.
Today, sewing machines are relatively compact, computerized, full of options, and generate a pleasant, moderately loud hum. When it comes to an affordable sewing machine intended for everyone, hardly any sewing machine exemplifies these features more than the Singer Stylist 7258.
The thousands of reviews of this model speak for themselves, accumulating to an almost perfect 5-star score. However, in this review, you will find out why is it so hugely popular, and what resides in that margin, keeping it from achieving total score perfection for the price asked.
We occasionally link to goods offered by vendors to help the reader find relevant products. Some of the links may be affiliate in nature meaning we earn a small commission if an item is purchased. Read my full disclosure here
Intended Use of the Singer stylist 7258 sewing machine
It is strange to even talk about the experience level required to use the Singer 7258 Sewing machine.
Consider this – the most talented, experienced crafter of clothing would have been forced to use a sewing machine that is drastically inferior to this one, even just 15-20 years ago. And such sewing machine would have been considered "professional", along with being exceedingly costly.
In short, the technology has progressed so far that for a fraction of the price you can acquire a sewing machine that would have been undreamed of just a few short decades ago. We are always normalizing technological advancements that were previously inconceivable.
Therefore, it would be prudent to keep such perspective in mind. It helps you understand what you are actually getting, and how much more cost effective it is.
So, don't worry yourself if this machine is "professional" or something else equally arbitrary, as there is hardly anything you can't accomplish with the Singer 72588 Stylist. We are talking about nuanced degrees of advancement and convenience.
Singer Stylist 7258 Review – What You Get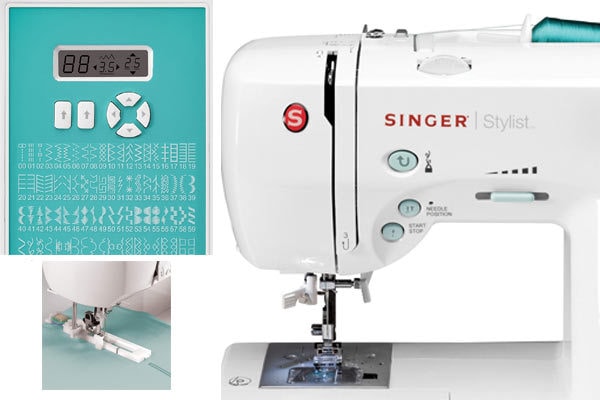 Now that we have sufficiently praised the new normal of sewing machines, let's see what are we actually getting for our hard-earned money, as little as that is in the case of the 7258.
Fully computerized mechanisms which take the load off from the most tedious work, but still allow for a high degree of control.
10 presser feet.
A 100-span stitch range, through which you can easily cycle via the LED screen.
LED display screen, monochromatic but up to the task.
Sewing speed that is adjustable as you work.
Needle-stitching speed can be programmable, giving you advanced control.
Needle-threading can be performed automatically.
Drop in bobbin system, as opposed to the front load bobbin system which is not as easy.
Weight at only 6 pounds.
One step buttonhole-making process with a consistently flawless execution.
An amazing 25-year warranty – if you were a betting person, it is more likely that in such a long time span you would already have an option of buying an autonomous robot to do all your work.
Performance Range
When you have a 100 stitch range, it's difficult to parse that number out. In practical terms, it translates to giving you enough flexibility to easily perform the following:
Elaborate sewing crafts ready for the latest fashion – 8 stretch variations.
Decorative – 76 variations.
Garments – 9 essential variations.
Buttonhole stitches – 7 variations.
Every mode is displayed on the handy LED screen. Although mono-colored, it is intuitive, simple, and effective. Furthermore, right below the LED display is a nifty diagram of all the stitch options, so the whole stitching process is additionally simplified. If you read this post you will find why these small touches make it our number one choice for the perfect sewing machine for making clothes both by advanced clothes-crafters and those just getting started.
The more advanced, and therefore more expensive Singer models, will offer a choice between dozens of stitch types. With this model, you get to choose a number that marks the stitch you would want to use. As you are sewing, you move the number on the screen, either up or down.
This may seem too focus-intensive, but it is better to have full control than to regret the final outcome of your sewing work.
On a special note, button sewing is regularly used as the most common feature and clothes repair. You will be very pleased to know that Singer Stylist 7258 does buttonholes automatically and perfectly, every single time.
Perfecting Your Craft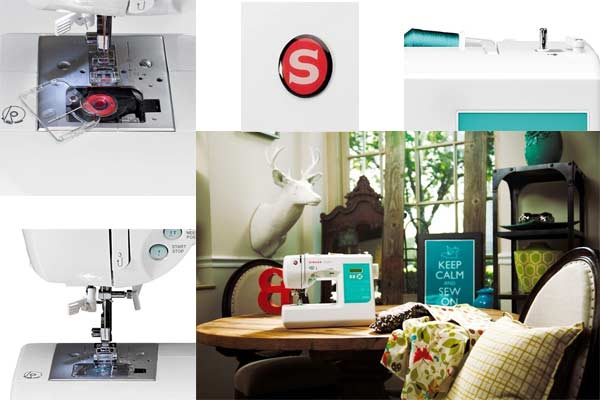 In addition to cycling through dozens of stitches you will also be able to vary the stitch width and length. This is done via the LED display as well.
Such flexibility will come in handy for the most comprehensive sewing projects, even those with thick fabrics.
For such fabrics that require more leeway, the Singer 7258 will provide all the leeway you need thanks to the programmable needle feature. As you manipulate the presser with your foot, you will be able to get the needle just were you want it. The left side of the machine holds a button through which you can program the position of the needle. In practical terms, this means that you can use the pedal as a controlling mechanism for where the needle lands.
Needless to say, this makes it possible to form perfect alignments. Of course, some practice would be required.
Once you feel comfortable with the sewing flow, you can opt for the automatic sewing features, without using the pedal but still being able to control the direction of the needle. In short, just the right blend of convenience and tight control.
Singer 7258's Accessories
In addition to 10 presser feet, the Singer Stylist 7258 sewing machine includes:
DVD, it serves its purpose, but you would be better off by just entering the sewing machine model name into the Youtube search, and look specifically for videos on exactly what you need. There are hundreds of useful tips to learn from!
Screwdriver, in case you have never owned a toolbox in your life
Spool pin, for holding the fabric
Spool felt, reduces the possible backlash from the spool pin.
Spool, container of the thread you chose to employ.
Seam puller, to ensure that tight alignment.
Lint brush, for removing the byproducts of sewing.
Storage arm for storing extra needles and other miscellaneous items.
Here is a detailed video tutorial by the manufacturer to help you get started quickly:
Takeaway
The Singer 7258 is an amazing offer for the price. You actually feel guilty for paying so little for so many options, such full control, while also having the comfort of using the automated options as well.
With a huge range of stitches, flexibility for length and width, as well as speed, your only barrier in creating fantastic clothing will be your imagination.
In comparison to other models of the current generation, you could say that it is relatively noisier, but definitely not enough to pose a big problem when you use it for prolonged periods of time.