5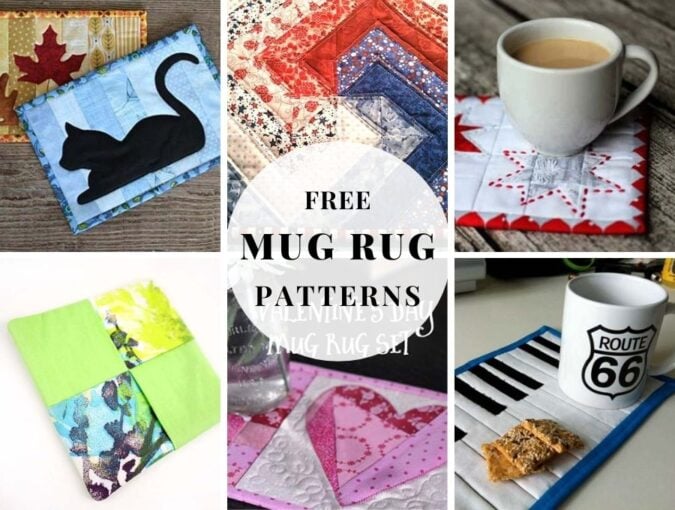 12+ Free Mug Rug Patterns to Snack in Style
Learn how to sew a mug rug with this collection of free sewing patterns and enjoy your breakfast tea or coffee on a mini quilt all year-round. Check out my handpicked collection of mug rug patterns – from scrappy to seasonal, there is a mug rug tutorial for everyone. If you have some scrap fabrics you can't bear to part with, raid your scrap box and make a mug rug or two – it's the perfect sewing project to use up some scraps! If you ponder what to get your lovely neighbors, dear friends, favorite teachers or service providers for Christmas, look no further.
What is a mug rug?
A mug rug is a quilted mat that is bigger than a coaster, and smaller than a placemat. Usually between a 4" x 7" and a 8" x 12" (metric: 10x 17,5cm to 20x 30cm) this mat is perfectly sized to accommodate a hot cup and a sweet treat such as a cookie, a cake, or a croissant. Also called a mug mat or snack mat, these mini mats are usually quilted, but it's not unusual to see a crocheted or a knitted mug mat. They make a perfect hostess or a housewarming gift!
12+ free mug rug patterns (and lovely coasters!)
Piano mug rug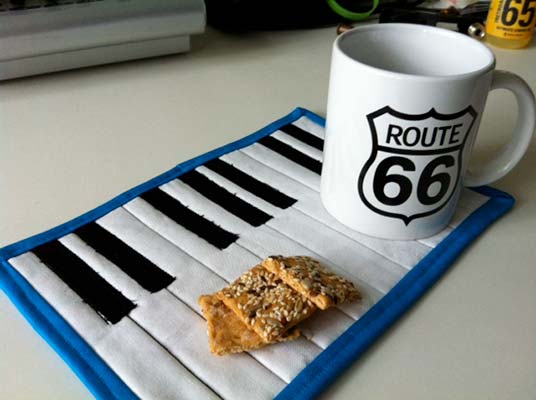 Make yourself feel like a professional pianist during your morning coffee with this adorable piano mug rug! This free mug rug pattern looks just like a miniature piano, which makes it fun and creative when compared to the others. Don't try to play it though!
Spiral mug rug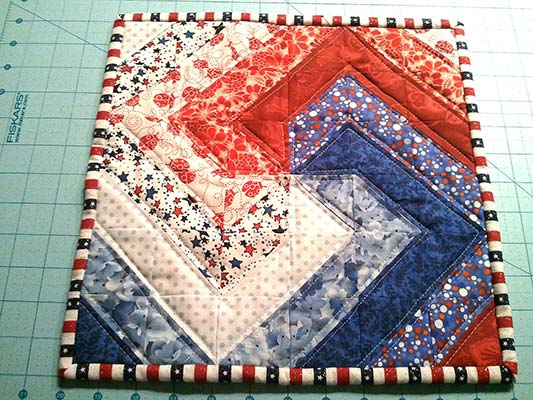 Don't worry, this spiral won't hypnotize you! Or will it? With its style and appeal, it might even do just that! The spiral design in white, blue, and red colors on this square mug rug pattern looks beautiful and will surely liven up your morning.
Holiday mug rug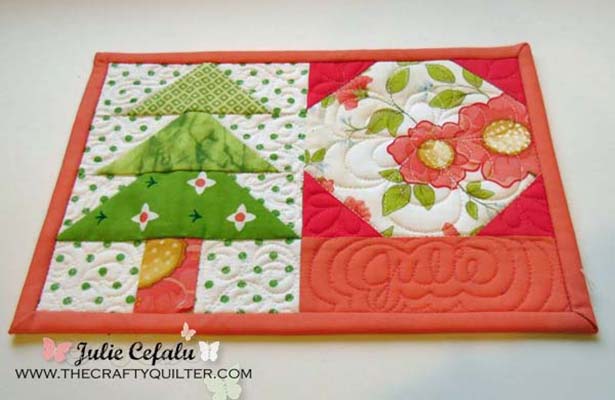 Here we have one of the holiday season free mug rug quilt patterns. It's a cute orange rectangular rug with an adorable tree and flower shapes stitched onto it. You can use it during Thanksgiving, Christmas, Easter, or any other holiday during the year.
Quilt as you go mug rug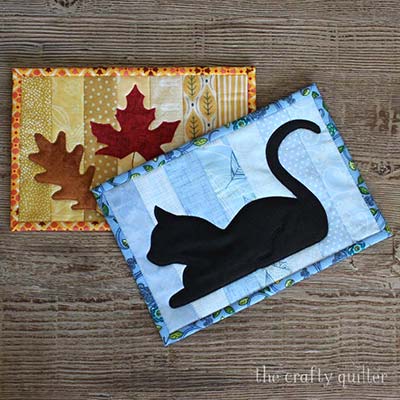 Put those quilting leftovers to good use with one of my favorite free quilted mug rug patterns. It's a regular rectangular mug rug. But with just a few additional details, like applique shapes, you can turn it into a whole different thing, Feel free to choose which kind you prefer!
Fabric coaster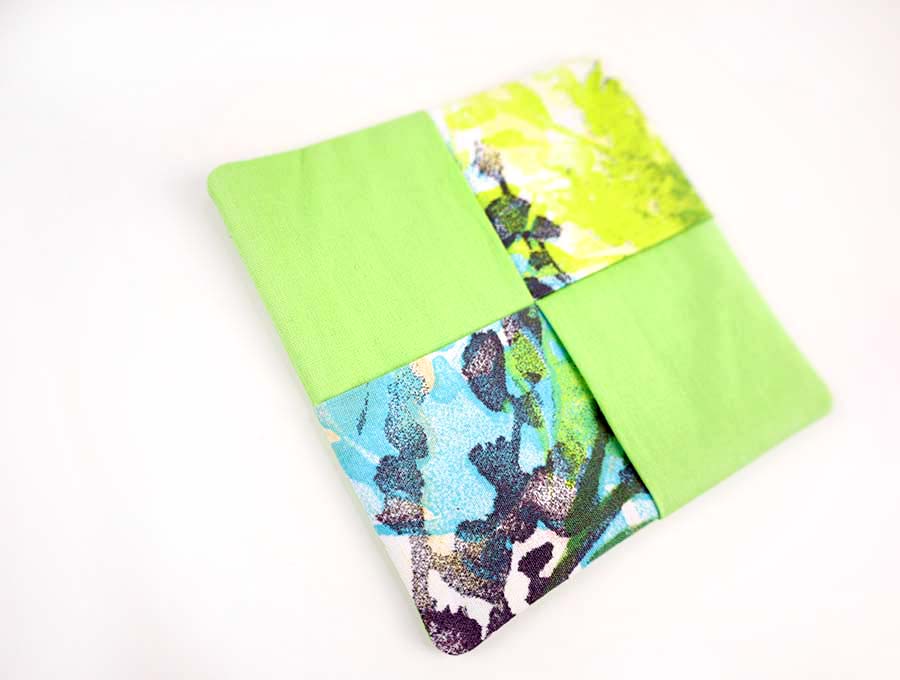 Here's one of the easiest mug rug patterns you can finish fast without sacrificing quality and style. It's a square fabric coaster with an interesting design. The surface consists of four small square sections different in color. Experiment with various color combinations to create the rug you fancy the most!
By HelloSewing
Tea for 2 mug rugs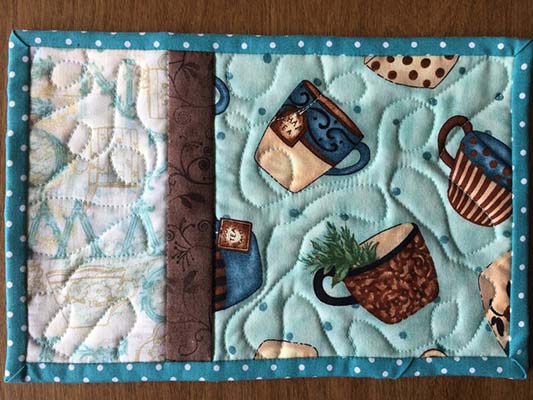 Drinking tea with someone is much better than drinking it alone, that's the idea behind these kinds of mug rug patterns. Make one and use it together with your tea partner, or make two and you'll both have extra space on your rugs for a few tasty cookies!
by sewinspiredllc (on Webarchive)
Simple 9 patch mug rug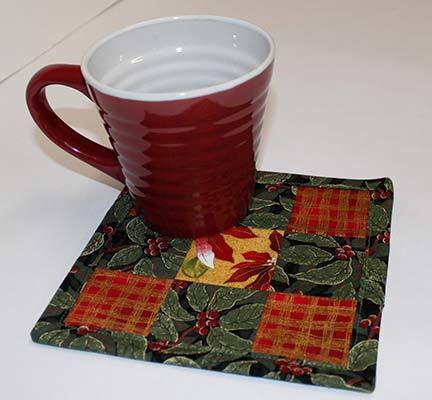 No need to throw away those tiny fabric scrubs, you can turn them into mug rugs! This project helps you join nine small square fabric pieces into one classy mug rug! Feel free to use fabric leftovers you have regardless of their color, the disparity will make the rug even more beautiful.
Pumpkin patch Halloween mug rug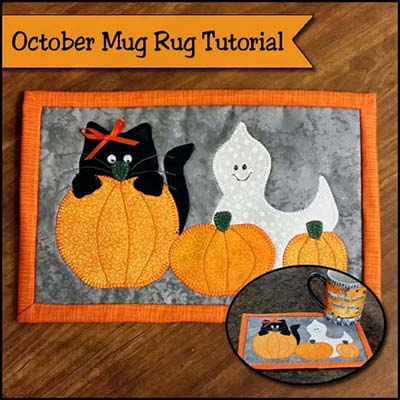 Another one of the holiday quilt mug rug patterns, this time it's for Halloween! Sew this rectangular rug with orange edges and then add the applique details of your choice to complete the scary look. Don't forget to add pumpkin shapes to it!
by SoSewEasy
I sew mug rug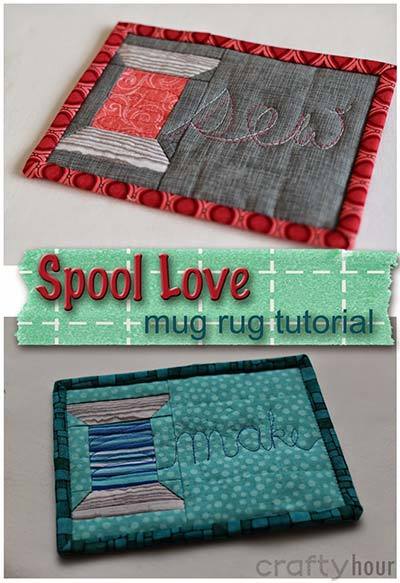 This is my personal favorite out of all these free patterns for mug rugs. The reason is obvious, it has a thread spool and the thread writes 'sew' or 'make' or anything else you'd like. How adorable is that? Sewing and coffee together, now that's a rug in my taste.
By craftyhour
Christmas star mug rug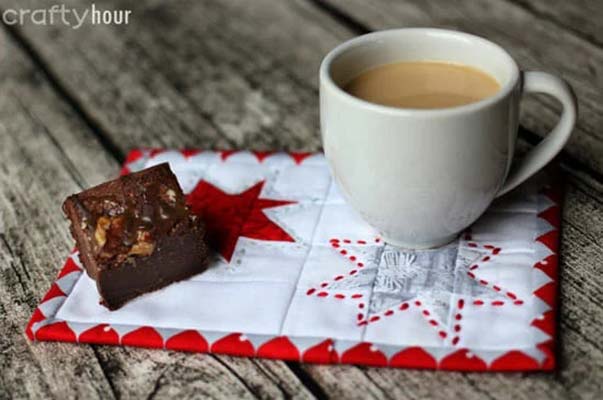 Feel that Christmas spirit as you're enjoying your morning cup of coffee with this cute winter-style mug rug. The red and white color combination, along with the embroidered stars on top recreate the winter magic you can feel only on Christmas.
By CraftyHour for SoSewEasy
Valentine's day mug rug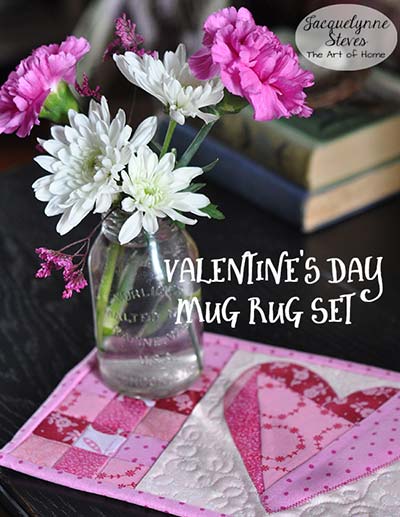 The last one of our free mug rug patterns is for the lovebirds. Share a romantic hot beverage and some sweet cookies with your significant other with the help of this Valentine's day rug. The combination of pink, white, and red fabric, together with the heart shape applique, will set the mood for that lovely early morning date at home.
I hope you enjoyed my collection of free mug rug patterns. I'd love to hear which one is your favorite, so make sure to drop by in the comment section below and let me know!
Now that you know how to make a mug rug or more of them, go ahead and sew a couple! Tell us how they turned out in the comments below. After that, be sure to subscribe to our mailing list so that we can let you know as soon as new projects get published on our site. Enjoy your hot tea and coffee!
RELATED:
A bunch of tutorials to take your table dressing to the next level: