3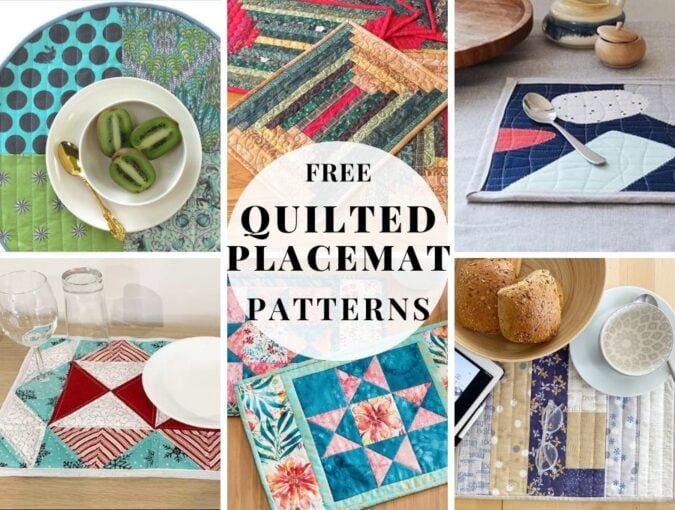 21+ Free Quilted Placemat Patterns in Round, Oval and Rectangular designs
Decorate your everyday or holiday table with a touch of handmade! Use my collection of free quilted placemat patterns to personalize your home décor. Most of these are quick and easy to make, and you can put together a whole set in couple of hours tops. Either use the free printable placemat patterns or follow the step by step tutorials and use the cut list to jazz up your table today. Who says a table setting has to be boring? Use fun, bright colors to make them pop or use subtle colors to match the rest of your home décor.
A collection of beautiful handmade placemats makes it simple to throw together a well-dressed table on the fly. A well-dressed table is every host's dream, adding a beautiful backdrop to all the hard work put into preparing the food. In round, oval, wedge and rectangular shapes, these quilted placemats are perfect for almost any occasion or table. Whip up a set of matching cloth napkins and/or a table runner for and create a curated designer look for the next gathering. Make them reversible and you can mix and match these placemats for an eclectic look or pick the design you like most and sew up a set of the placemats you've been searching for in stores.
21+ Free modern quilted placemat patterns
Simple: Reversible placemat tutorial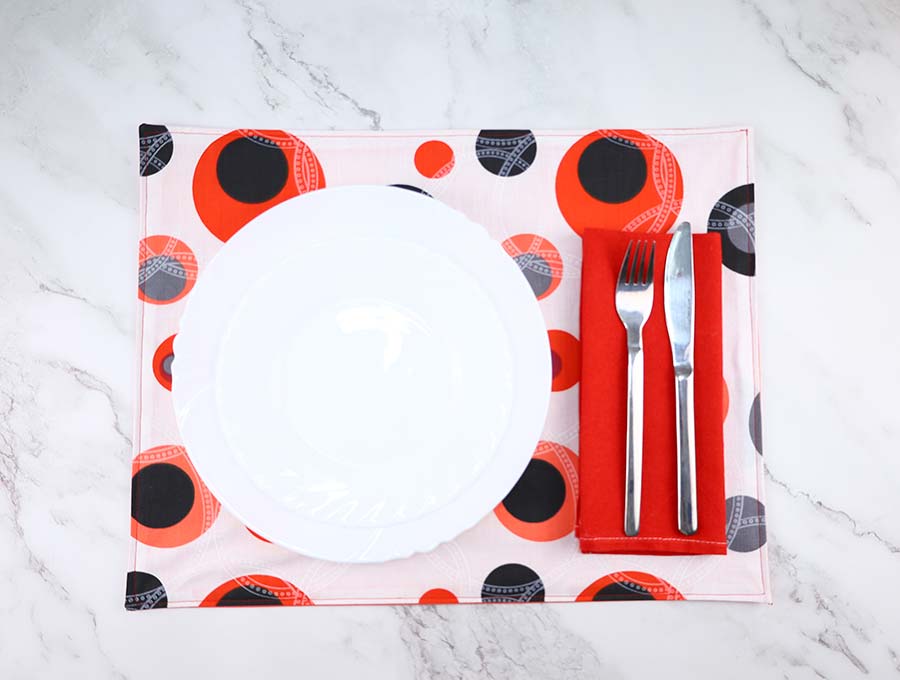 Let's start this list with this practical and beautiful reversible placemat pattern! It's a rectangular placemat that's easy and quick to sew, which makes it a nice choice for a holiday present for your loved ones. The fact that it's reversible makes it that much better since it means you get two placemats instead of one when you finish it.
How to make placemats – DIY reversible placemats tutorial by hellosewing
Wedge shaped placemat for a round table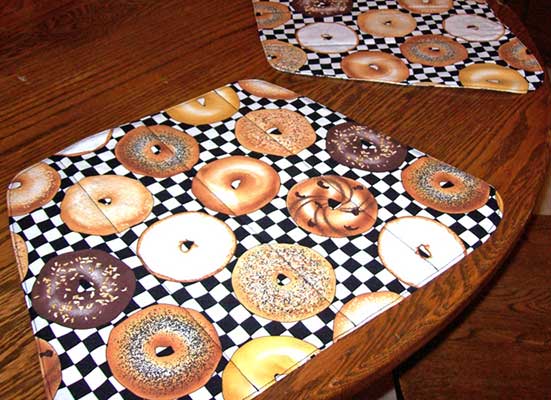 Next is a placemat that is ideal for round tables, the wedge placemat. This one has a shape that has one long curved edge at the bottom, two side edges that go towards each other, and a short straight edge connecting them at the top. The curved side will align with your round table edge perfectly, and that's why it's great for them.
by Sidquits
Christmas pinwheel placemat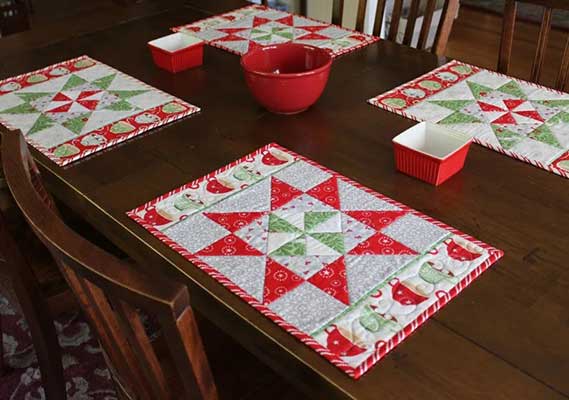 Here comes a placemat for the holidays, a Christmas pinwheel placemat! The rectangular placemat combines those Christmas colors into a joyful quilted base for your plates that everyone would like to have on their tables. A beautiful froebel star on the center is this placemat's main feature, together with a decorative rhombus at its core.
Christmas placemat from a panel
We're staying in the Christmas-themed category for this one, here comes a Christmas placemat that you can make out of a panel. It's an extremely simple quilting project, and one of the quicker ones on the list. Just get a panel you like, do some quilting magic, and you'll have new rectangular placemats before you know it.
by JordanFabrics on YT
Oval patchwork placemat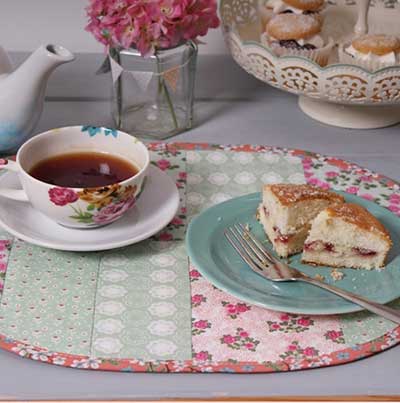 It's time for a patchwork quilted placemat! Here we have an oval placemat with beautiful edges and a patchwork body. You can use it for regular meals, or to serve cookies and tea to your friends in a stylish way when they visit. Use mild colors like pink and light green and you'll get a Victorian-style placemat!
by Hobbycraft
Modern quilted placemats pattern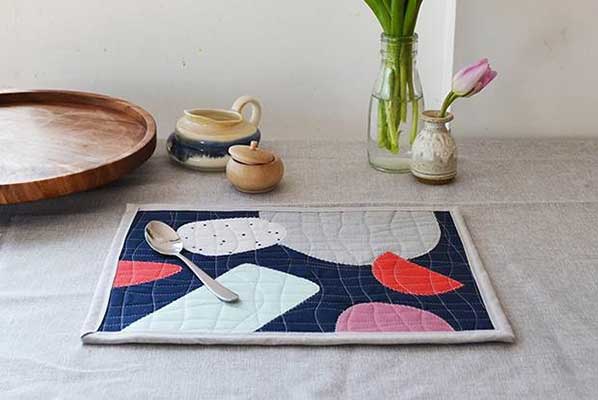 If you love modern style, this placemat will pique your interest, It's rectangular, with a lot of different geometric shapes in various colors all over it. Make the edges gray and the background dark, and you'll have a futuristic-style placemat like no other. It'll make you feel as if you're in the era of the Space Odyssey!
by Frankie
Placemats from charm squares
This charm square placemat is another one of the fast, yet gorgeous placemats on our list. It has a wide frame and a patchwork center with a star shape that looks a lot like a froebel star made out of triangles. This one is lively and you should use bright colored fabrics for maximum effect.
by JordanFabrics on YT
Spring butterflies placemat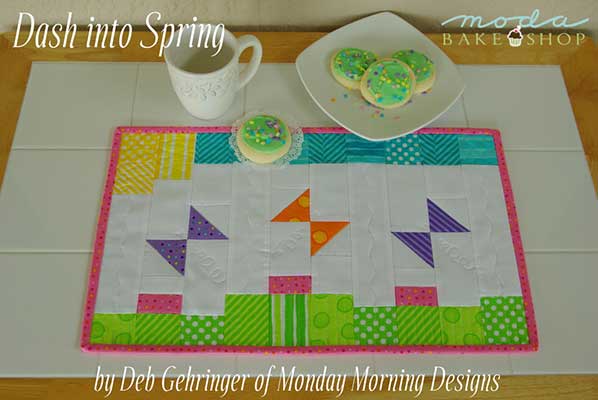 Make yourself feel like you're having a meal outside in springtime with this butterfly placemat. The rectangular placemat depicts a lovely green meadow with blue skies and sunshine, as well as a couple of joyous butterflies flying around the place. Kids love these placemats in particular, it makes their meals a lot more fun!
get the free placemat pattern here by Mondaymorningdesigns
Hexagon pieces placemat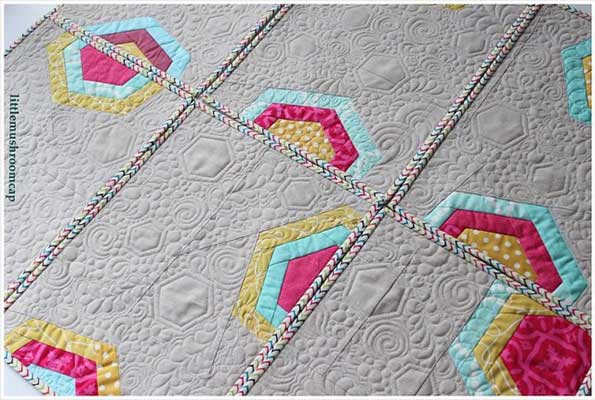 Hexagon shapes can turn a plain thing into something different, like this hexagon placemat shows. It's not hexagon in shape, it's actually rectangular. The hexagons are stitched onto it as a colorful patchwork that gives it a special appeal. They are concentric, changing color from the outside in, like a magical diamond!
Vintage placemat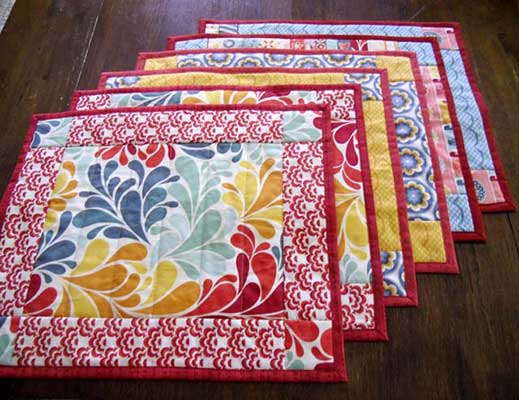 For all of you who love that retro style, here comes a vintage placemat. It has a wide border and colorful squares at the corners, together with a floral center section. This project utilizes the Quick Easy Mittered-Binding Tool to make your work a bit easier.
Valentine's day placemat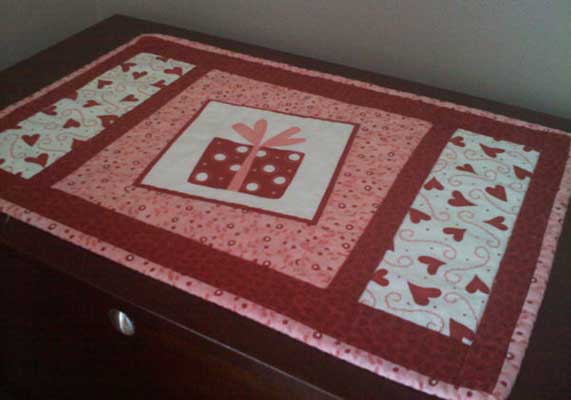 Make your romantic Valentine's day dinner even more special with this wonderful placemat. Rectangular in shape, the placemat has a frame with vertical columns on each side, filled with heart shapes. In the middle is a gift box in a white frame that represents the love that you give out to your special person.
Round quilt placemats pattern
Decorate your dining table with these stylish placemats! They are round, with a thin frame, and the main body that's made of four different color fabrics. The four fabrics cover a quarter of the circle each, giving the placemat a colorful and cheerful look.
by Sew4home
Fall diamonds placemat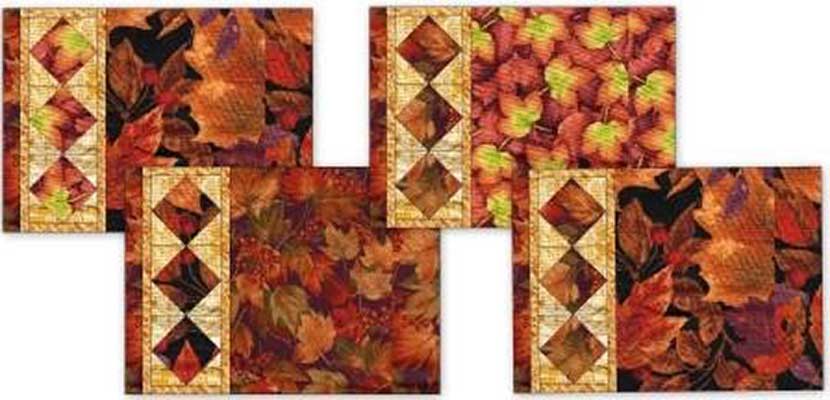 Get ready for the autumn with an adequate placemat. This rectangular placemat has an asymmetrical look, with a wide vertical column filled with three diamond shapes on the left side, and characteristic fall motifs such as leaves and branches on the right side. Use it from the beginning to the end of fall!
Framed star quilted placemat pattern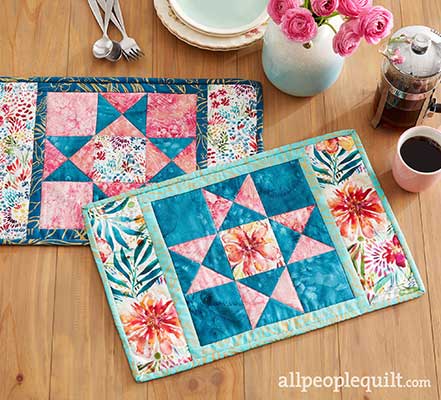 Star motifs look beautiful on placemats, so here's another one with them as the main feature. This placemat has floral vertical columns on each side and a froebel star in the middle. Combine pink and turquoise colors to get that Miami-style appeal and get the most out of this dining table decoration!
Christmas table runner and placemats set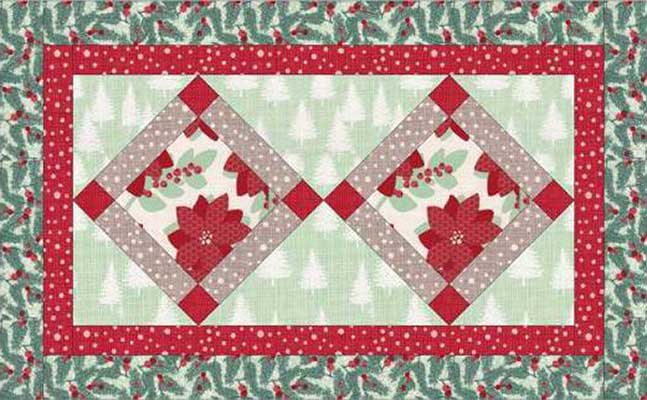 Complete a table decoration set with this Christmas table runner and placemats project. The placemats are rectangular, with a wide frame and two side-by-side diamond shapes with Christmas motifs in the middle. The table runner is almost the same, but since it's longer, there are four diamond shapes along its center.
Placemat with pocket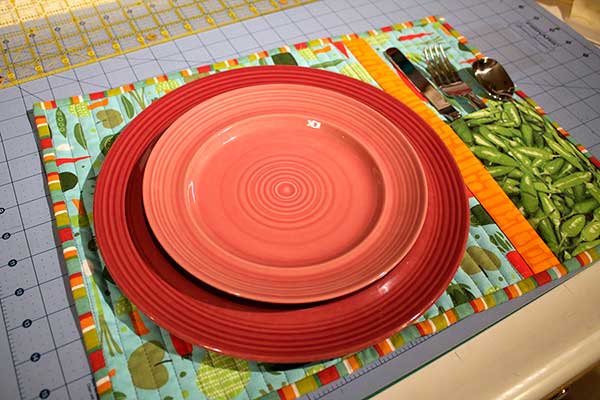 Don't you love smart designs? Like this placemat with a pocket! It's a colorful placemat with a thin frame and a nice little addition. It has a pocket on its right side! The pocket is there for you to slide the tableware into so that you won't accidentally hit it off the table before you start the meal. The pocket is separated from the main body with a vertical seam that goes across the placemat.
Modern scrappy placemats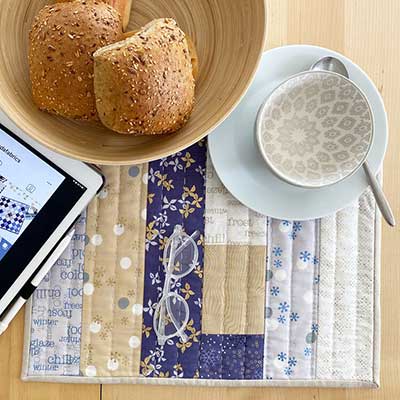 Use up the fabric scraps you have leftover in a creative way with this modern placemats pattern. Cut up the scraps into strips and align them vertically parallel to each other. Make a thin frame around them and stitch everything up. This project is intended for hand stitching, but you can use a sewing machine if you prefer finishing things faster.
Quilted log cabin placemats pattern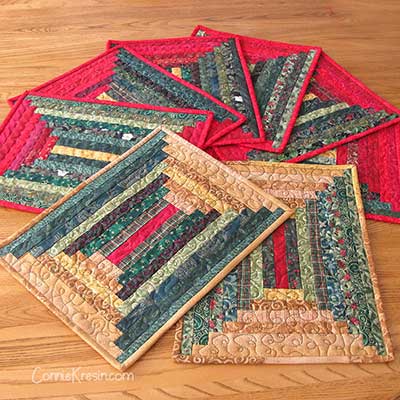 Log cabin style looks great on most sewing patterns, and this one is no exception. These log cabin placemats consist of many different color strips of fabric patched together in an interesting way. You set a strip horizontally in the center and then box it with other strips, placing the shorter ones close to the center, and using the longer ones as you work your way outward.
by Conniekresin
Flying geese placemat pattern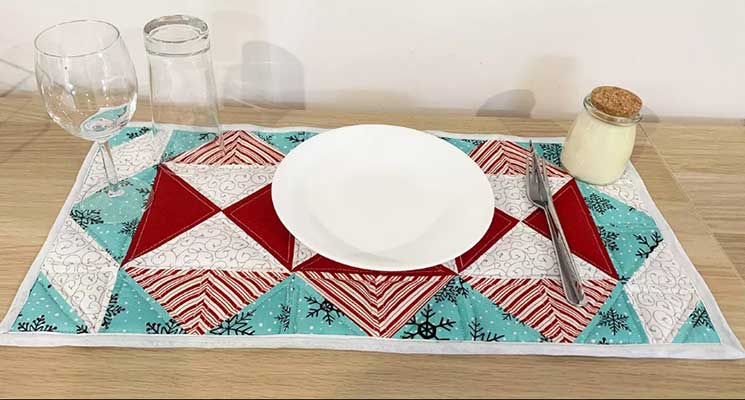 Is it a large placemat or a short table runner? With this flying geese Christmas placemat, it's you who decides that! The placemat consists of triangles arranged together so that they form three colorful horizontal squares in the middle, with triangles around their edges on each side. The play with triangle arrangement makes it seem as if the placemat is decorated with diamond shapes that change into squares, then triangles, and vice versa, depending on what you focus on!
by Singerco
Dresden placemat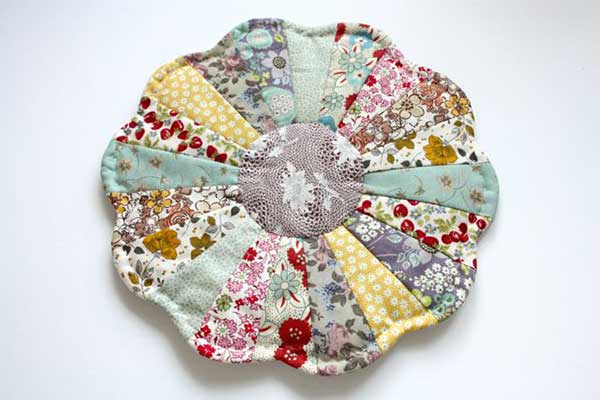 Dresden plate quilts are fun to make, so it's no wonder this Dresden plate placemat is just like that too! The triangular strips with curved short edges are arranged in a circle to form a nice round placemat. A small circle in the center of the placemat and the wavy edge around the whole thing make it look like a wonderful flower!
It's safe to say that you have enough patterns now to make yourself placemats for the whole year! If you have some thoughts and suggestions you'd like to share with us, feel free to use the comment section and let us know what you think. When you feel up for some more sewing, come back and check out what else we have prepared for you. Enjoy your meals with brand new unique placemats you made on your own!
============================
 RELATED:
Quilted table runner patterns and tutorials